December 2015
| | |
| --- | --- |
| | For answers to many questions, consult the CURRENT MONTHLY REVISED EDITION of the Official Traditional Catholic Directory, Listing All Traditional Latin Masses and Traditional Resources for North America. For further information, click on the TRADITIO Network's Official Traditional Catholic Directory department, provided to the TRADITIO Network by the National Registry of Traditional Latin Masses. |
For information about the protocol for sending messages to the TRADITIO Fathers, click on Ask the Fathers. First, here are some hints for locating items that have already been covered. The TRADITIO Network has the most varied and extensive repository of traditional Catholicism, collected over the 20 years of our existence on the internet, the longest of any traditional site. (1) Check the 16 departments listed in the TRADITIO Network's Web Site Map on our home page, www.traditio.com. (2) Check the 14 FAQs in the TRADITIO Network's Library of Files (FAQs and Traditional Apologetics) department, which answers your most common questions. (3) Use the Search engine on the TRADITIO Network's home page, www.traditio.com.
| | |
| --- | --- |
| | If you have you have personally benefited from the services of the TRADITIO Network, please support the continuation of the TRADITIO Network's Apostolate by clicking on the box to the left to made a donation easily, securely, and confidentially by bank account or credit card through PayPal. Regular contributors become Benefactors of the TRADITIO Network, and their intentions are specially commemorated at Traditional Latin Masses offered. Using PayPal reduces our administrative burden considerably, but if need to use a paper check, click on FAQ01: "How Can I Help the TRADITIO Network's Apostolate?" We have always refused to display those annoying "click" ads to raise money. We hate those ads, and we think you do too, so we have kept TRADITIO 100 per cent free of them and rely instead on you for voluntary donations. |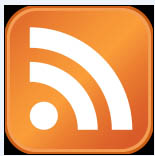 Subscribe to the Free TRADITIO RSS Feed
---
THE TRADITIO NETWORK HAS BEEN INFORMED BY THE NATIONAL REGISTRY OF TRADITIONAL LATIN MASSES THAT THE NEW DECEMBER 2015 MONTHLY REVISED EDITION OF THE 20TH ANNUAL EDITION (2015) OF THE OFFICIAL TRADITIONAL CATHOLIC DIRECTORY, LISTING ALL TRADITIONAL LATIN MASSES AND TRADITIONAL RESOURCES FOR NORTH AMERICA HAS BEEN PUBLISHED. FOR FURTHER INFORMATION, CLICK ON THE OFFICIAL TRADITIONAL CATHOLIC DIRECTORY DEPARTMENT, PROVIDED TO THE TRADITIO NETWORK BY THE NATIONAL REGISTRY OF TRADITIONAL LATIN MASSES. THE 2016 ANNUAL USE FEE IS NOW DUE FOR THOSE WHO WISH TO USE THE NEW 2015 ORIGINAL EDITION AND ITS MONTHLY UPDATE EDITIONS. BE SURE TO CHECK YOUR TRADITIONAL SITE'S LISTING FOR CORRECTNESS.
---
December 31, 2015 - St. Silvester, Pope & Confessor
Seventh Day of Christmas
Double Feast
A Reader Asks: "Have the 'Gates of Hell' Prevailed
Over the Catholic Church?"
From: Matthew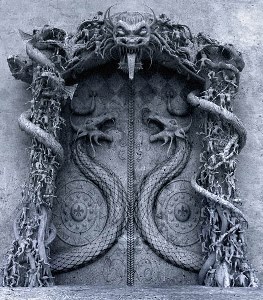 La Porte d'Enfer ("The Gate of Hell")
As Sculpted by the French Artist Auguste Rodin (1840-1917)
Christ Said that the "Gates of Hell" Would Not Prevail over His Church
But Christ Never Said that His Church Would Be Large
In Fact He Suggested just the Opposite
There Remain Many (Traditional) Catholic Priests and Bishops
All around the World
Dear TRADITIO Fathers:
Have the "gates of Hell" prevailed over the Catholic Church? After all, the papacy has been taken over by Satanic forces. The papal seat is vacant in the sense that an imposter and modernist sits in that chair doing the bidding of Satan. So in this sense, can we say that Hell has prevailed?
The TRADITIO Fathers Reply.
It is dogma that the "gates of Hell" -- the phrase used St. Matthew's Gospel (16:18) -- cannot prevail over the Church that Christ established. That having been said, Christ's Church certainly cannot the anti-Catholic New Order sect, of course, any more than it can be the Protestant sects that it apes. There remain many (traditional) Catholic priests and bishops all around the world having no connection with the New Order sect, the Protestant sects, nor, for that matter, with the Jewish synagogue or the Mohammedan mosque. But, remember, Christ never said that his Church would be large. In fact, He suggested just the opposite (Luke 18:8).
Far too much emphasis is now being placed on the person of the pope (whoever he may or may not be). This perversion of Catholic teaching is likely an offshoot of the personality cults of the late 20th and 21st centuries. Most Catholics in the early 20th century didn't even know the name of the pope. The Catholic candidate for United States President in 1932 against Franklin Roosevelt, New York governor Al Smith, when asked whether he agreed with the pope's latest encyclical, answered, "What's an encyclical?"
There is no reason why any lay Catholic essentially needs to know the name of the pope because no pope has any authority whatsoever to change Sacred Scripture or Tradition, dogma, morals, the Mass or the Sacraments. This is the clear dogma of the Church, as defined at the First Vatican Council (Constitutio Dogmatica Prima de Ecclesia Christi, "Pastor Aeternus," cap. 4, "De Romani Pontificis Infallibili Magisterio," July 18, 1870):
Neque enim Petri successoribus Spiritus sanctus promissus est, ut eo revelante novam doctrinam patefacerent, sed ut eo assistente traditam per apostolos revelationem seu fidei depositum sancte custodirent et fideliter exponerent.
[For the Holy Ghost was promised to the successors of Peter not so that they might, by His revelation, make known some new doctrine, but that, by His assistance, they might religiously guard and faithfully expound the revelation or Deposit of Faith transmitted by the Apostles.]
That dogma may surprise many who think themselves Catholic because they worship a pope, but in their error they in fact make the pope into a cult figure, holding press conferences and issuing press statements like an Obama or gallivanting all over the world like a James Michelin. They probably don't know either that Christ called His nominee for first pope "Satan," saying to Peter just after the more famous "Thou art Peter..." statement: "Go behind me, Satan, thou art a scandal unto me: because thou savourest not the things that are of God, but the things that are of men" (Matthew 10:23/DRV). Christ's devastating criticism of the first pope is even more apropos to the Newpopes of today!
---
December 30, 2015 - Sunday within the Octave of Christmas
[Postponed from December 27 because of the Higher Feastday of St. John the Apostle]
Sixth Day of Christmas
Francis-Bergoglio's Cowardly Newchurch Patriarch Orders:
Turn off the Christmas Tree Lights
From: The TRADITIO Fathers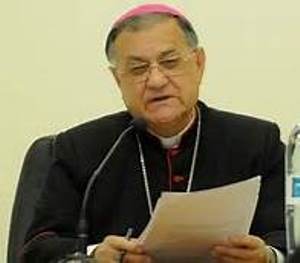 Francis-Bergoglio's Cowardly Newchurch Patriarch of the Holy Land
Fouad Twal, Orders Christmas Tree Lights Turned Off
He Himself Turned Them off in Bethlehem's Manger Square
Newchurch Is Running Scared from the Mohammedans
Whereas Illustrious Popes of Earlier Centuries
Fought the Mohammedan Infidels and Won Many Victories
In many countries across the world, Christians are fearful for their future, and some were even prohibited from celebrating Christmas. In Somalia, the government banned celebrations of Christmas in Mohammedan majority country, saying that the festivities might attract Islamist attacks. The same is true in oil-rich Brunei, where the country's authorities have threatened five-year jail sentences for those who violate a ban imposed on "open and excessive" celebrations of Christmas.
Francis-Bergoglio's Patriarch in the Holy Land, Fouad Twal, went so far as to order Newchurchers to turn off Christmas tree lights and himself turned them off in Bethlehem's Manger Square at 19:00 local time on Christmas Eve 2015. [Some information for this Commentary was contributed by Agence France-Presse.]
True Catholics, it is disgusting how the Newchurch of the New Order and Its head, Francis-Bergoglio is running scared from the Mohammedans, whereas illustrious popes of earlier centuries fought the Mohammedan infidels and one many victories. Newchurch does not have popes worthy of the title.
---
December 29, 2015 - St. Thomas of Canterbury, Bishop & Martyr
Fifth Day of Christmas
Double Feast
Anglican Head Says Mohammedans Are "Eliminating" Christians
While Francis-Bergoglio Remains Oecumenical to Mohammedans
From: The TRADITIO Fathers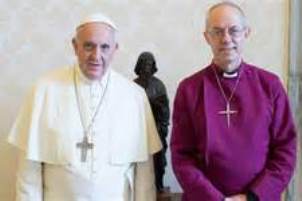 Who Is the Real Christian of the Two:
Francis-Bergoglio, Newpope of the New Order
Or Justin Welby, Anglican Archbishop of Canterbury?
Remarkable for a Liberalist Protestant Sect Leader
Welby Condemned Mohammedans for "Eliminating" Christians
In Vivid Historical Images from Sacred Scripture
And Calling Down God's Justice upon the Mohammedans
Bergoglio, on the Other Hand, Merely Deplores "Violence" Generically
And Prattles on about Phony "Mercy" without Repentance
It is remarkable when a liberalist Protestant sect leader speaks out strongly against Mohammedans as murderers of Christians. Newpope Francis-Bergoglio has been almost silent on the current Christian massacres in the Holy Land. In his Christmas address Urbi et Orbi, Bergoglio, who seems to be getting sick and sicker, described as "visibly pale and hoarse," barely mentioned the word "Christian," preferring to talk generically about "violence." Instead of taking one of his Newpapal junkets right into the center of the Mohammedan war against Christians, Bergoglio typically decides to fly off to more comfortable areas such as the United States and his own native South America.
Yet Justin Welby, the archbishop of the heretical Anglican sect, a flat-out liberalist, in his Christmas Day 2015 sermon, used no sugar-coated words, pronouncing that Christians face not just violence, but "elimination" in the Middle East by the Islamists, labelling the infidels a modern-day version of the tyrannical Biblical King Herod the Great, who massacred Bethlehem's male infants to prevent the prophesied rise of Christ, the Messias. Today the Mohammedans are killing thousands and uprooting ancient communities from ancestral lands. "They [the Mohammedans] hate difference, whether it is Muslims who think differently, Yazidis, or Christians, and because of them the Christians face elimination in the very region in which Christian Faith began. This apocalypse is defined by themselves [the Islamists] and heralded only by the angel of death."
The Marxist Newpope, Francis-Bergoglio, never sees human events in such Biblical terms. Traditionally, the Catholic Church celebrates on December 28, as a Double Feast of the Second Class, the Holy Innocents of Bethlehem as Martyrs. Welby went on to make a significant statement that is far more Christian than Bergoglio ever makes. Pronounced Welby: "To all who have been or are being dehumanized by the tyranny and cruelty of a Herod or an ISIL, a Herod of today, God's judgment ... promises justice." Welby 1, Bergoglio 0. Welby pronounced the unspeakable Biblical word, the word that Bergoglio refused to pronounce: JUSTICE!. If Newchurchers are waiting for Bergoglio to proclaim a "Year of Justice," they're never going to get it! [Some information for this Commentary was contributed by Agence France-Presse.]
True Catholics, the Holy Land of the Middle East are home to ancient Christian communities, but the Christian numbers have diminished rapidly in recent years, if not been wiped out entirely by the Mohammedans because of Mohammedan religious intolerance. History is proving that Pope Urban II, who called the First Crusade (1096-1099); St. Bernard of Clairvaux, who preached the Second Crusade (1144-1155); and St. Francis of Assisi, who accompanied the Fifth Crusade (1219-1221) had entirely the right idea of taking on the Infidels when they attacked innocent Christians making pilgrimage to the Holy Land.
---
DECEMBER 28, 2015 - THE HOLY INNOCENTS, MARTYRS
FOURTH DAY OF CHRISTMAS
DOUBLE FEAST OF THE SECOND CLASS
Today's Students Are "Stupid" Compared to Those of 150 Years Ago
Who Were Expected to Be Fluent in the Biblical Languages, Mathematics, and Science
From: The TRADITIO Fathers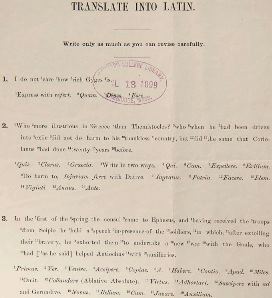 The First Page of the 1869 Entrance Examination
For Admission to Harvard University in the United States
150 Years Later U.S. High School Seniors Are Ignorant of the Biblical Languages
And Cannot Relate Scientifically to God's Creation around Them
In 1905 a Majority of U.S. Students Studied Latin, Now Barely One per Cent
It has been the experience of us TRADITIO Fathers that new visitors to the Traditional Latin Mass may be well intentioned, but most are quite ignorant of even the basics of the Catholic Faith. Their parents have failed to teach them, and they have failed to teach themselves using the many sources now open to contemporary people: the internet, DVD videos, CD audios, and television, not to speak of books.
Most new visitors to a traditional Catholic church can barely read the English in a layman's traditional Catholic handmissal, most of them written in grammatical English of the 1940s and 1950s, let alone understand the words of the traditional Catholic English version of the Scriptures, the Douay-Rheims. Most of them wouldn't know the Catholic Church's Latin from Swahili, and, as for the language in which Christ's New Testament was originally written, Biblical Greek, "it's all Greek to them." Moreover, they don't even want to learn anything to inform their ignorance. We are reminded of what the Greek poet Aristophanes wrote: "Youth ages, immaturity is outgrown, ignorance can be educated, and drunkenness sobered, but stupid lasts forever."
Recently, a copy of an 1869 entrance examination to Harvard University in the United States was republished and caused a shock when Americans were confronted with just how uneducated their "modern" high-school seniors are, for it is high-school seniors that would be taking this entrance examination. In 1869, barely 150 years ago, educated high-school seniors in the United States would be expected to:
Translate three sentences from English into Latin.
Answer four or more questions about Latin grammar.
Translate three sentences from English into Greek.
Answer six or more questions about Greek grammar.
Answer nine questions about History and Geography.
Answer eight questions about Arithmetic at the level of Pre-algebra.
Answer five questions about Logarithms and Trigonometry.
Answer nine questions about Algebra.
Answer eight questions about Plane Geometry.
In 1905, a majority (50.6 per cent) of American U.S. Public High School Students were enrolled in a Latin course, followed by German (22.5 per cent) and French (10.1 per cent), with Spanish and Russian enrollments less than 1 per cent. As of the year 2000, the percentage of Latin enrollment had dropped to 1.3 per cent. The anti-Catholic Newchurch of the New Order, which officially replaced the Catholic Church as the institutional Church in 1964, is responsible for a significant part of this fall and the resulting ignorance that it has produced. It is not hard to see that Newchurch and its officials are just plain stupid. [Some information for this Commentary was contributed by a Lew Rockwell report.]
True Catholics, even educated (traditional) Catholics are ignorant of the Biblical languages and cannot relate scientifically to God's creation around them, especially as it has been (outside of classical Greece and Rome) Catholic minds that have given the world most of the science that it knows. As true Catholics, we should make it a priority never to stop learning about our Catholic Faith and about the universe that Almighty God created. Yet all too many (traditional) Catholics are content to spend what free time they have in front of a boob tube or throwing a ball into a hoop, letting their God-given minds go to waste. To remedy this sad situation should be every traditional Catholic's New Year's resolution!
---
DECEMBER 27, 2015 - ST. JOHN, APOSTLE & EVANGELIST
THIRD DAY OF CHRISTMAS
DOUBLE FEAST OF THE SECOND CLASS
Almighty God Has Provided Us with a Rare Christmas Event
A Full Moon Will Occur on the Feast of the Nativity, December 25
From: The TRADITIO Fathers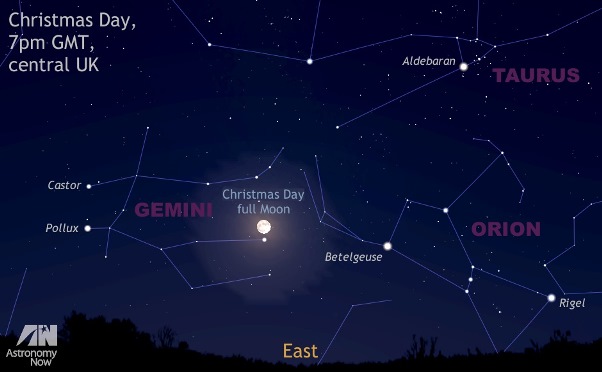 "Caeli Enarrant Gloriam Dei
Et Opera Manuum Eius Annuntiat Firmamentum (Psalms 18:2/DRV)
At 07:00 GMT on Christmas Day 2015
About an Hour after Full Darkness Has Descended
The Rising Full Moon Will Rise in the Zodiacal Constellation Gemini
Near the Bright Star Gamma Geminorum (Alhena)
Certainly the Magi Would Have Awed by Such an Event, as Should We
In 2015, for the first time in 38 years, and not to occur again for another 19 years, the full moon, known as the Full Cold Moon because it occurs just after the Winter Solstice (December 21, 2015), will occur on December 25, the Feast of the Nativity. The December full moon rises around sunset and sets around sunrise. This is the only night in the month when the moon is in the sky all night long. The rest of the month, the moon spends at least some time in the daytime sky.
As traditional Catholics have heard many times at Divine Office and Holy Mass during this season of Advent, the sun represents Christ, the sol iustitiae (sun of justice), whereas the moon represents His Blessed Mother. Almighty God could not have composed a greater tribute this Christmas to the Divine Son and His Blessed Mother.
Even more remarkably in 2015, the exact time of full moon will be at 23:11 GMT, within an hour of midnight, when at traditional Catholic churches, chapels, and oratories throughout the world, the first notes of the Introit for the Midnight High Mass of Christmas, Dominus Dixit, will be chanted. (The Newchurch of the New Order for the most part having dumped the traditional Midnight Mass of the Nativity). [Some information for this Commentary was contributed by Astronomy Now.]
True Catholics, as you approach your traditional church, chapel, or oratory to worship your God Incarnate at the Midnight Mass of the Nativity, look up to the heavens at the beauty that God has created for you. Stop pining for what you don't have and thank the Good God for the wonderful things that you do have. Our Apostolic precedessors, like St. Augustine, Great Father and Doctor of the Church, regarded nature, God's creation, as God's Second Testament, equal to the Biblical Testaments.
---
DECEMBER 26, 2015 - ST. STEPHEN, PROTO-MARTYR
SECOND DAY OF CHRISTMAS
DOUBLE FEAST OF THE SECOND CLASS
Francis-Bergoglio Taken Sick Again
Leading to Further Speculation that His Health May in Significant Decline
From: The TRADITIO Fathers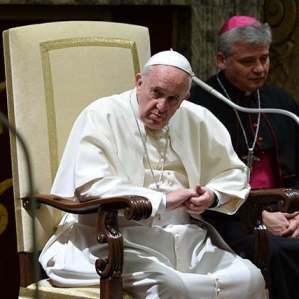 Francis-Bergoglio Partially Collapsed and Sounded Delirious
While Addressing a Christmas Meeting of the College of Newcardinals
He Just Turned 79 and Is Reported to Have Suffered
A Mild Apoplexy and to Have a Cerebral Carcinoma
For Which a Leading Neurologist Was Summoned in Secret
"I Don't Feel Strong," He Admitted
The Anti-Catholic Regime of Bergoglio May Be Quickly Nearing Its End
As he entered his 79th year of age on December 17, 2016, Francis-Bergoglio is again showing signs of declining health. Amidst reports that he suffered a mild apoplexy and has a cerebral carcinoma, for which a leading neurologist was summoned in secret, Bergoglio on December 21, 2015, the Feast of St. Thomas the Apostle, addressed the annual Christmas party of the College of Newcardinals in the Clementine Hall. He looked like death warmed over. He sounded delirious as he rambled on, attacking his fellow churchmen as he read an address to them.
Bergoglio admitted that he was not able to stand because he was racked with a virus for several days. "I don't feel strong," repeating what he had earlier told an earlier party for Newvatican employees and their families. [Some information for this Commentary was contributed by the Associated Press.]
True Catholics, the anti-Catholic regime of Francis-Bergoglio may be quickly nearing its end. Bergoglio has been mightily embarrassed and taken sick by revelations of corruption in his regime, detailed in two blockbuster books of investigative reporting by top Italian journalists, who relied on confidential documents that were leaked by whistleblowers from Bergoglio's papers. Bergoglio's current state strongly parallels that of Benedict-Ratzinger in early 2013. Ratzinger was similarly exposed as corrupt in confidential documents leaked by his own close aide-de-camp, who became scandalized by the Newpope's corruption. Ratzinger at that time was taken sick and eventually abdicated on February 28, 2013.
---
DECEMBER 25 - NATIVITY OF OUR LORD JESUS CHRIST - FIRST DAY OF CHRISTMAS
DOUBLE FEAST OF THE FIRST CLASS - HOLYDAY OF OBLIGATION
Omnibus Lectoribus Internexus TRADITIONIS
BEATAM NATIVITATEM!
Ex: Patribus TRADITIONIS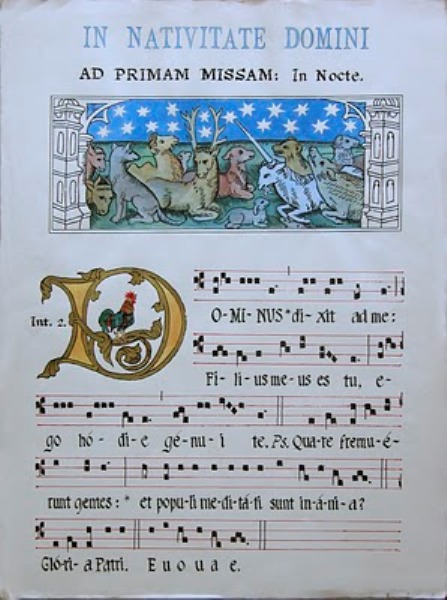 Introitus Cantandus in Missa Solemni Nativitatis D.N.I.C. in Nocte
"Dominus Dixit ad Me: Filius Meus Es Tu, Ego Hodie Genui Te"
Omnibus Lectoribus Internexus TRADITIONIS
Beatam Nativitatem!
The TRADITIO Fathers hope that you will be able to assist at a fully Traditional Catholic Latin Midnight High Mass on the Feast of the Nativity of Our Lord Jesus Christ, preceded by the Traditional Catholic Office of Matins of the Divine Office, augmented with the strains of the traditional Sacred Chant.
If you have this great gift, you are richer than the Magi. Be sure to offer a prayer in gratitude to Almighty God for your site, for its courageous traditional Catholic priest, who offers you this gift greater than gold, frankincense, and myrrh, and for the many traditional Catholics who do not have the blessing that you have. "For, amen, I say to you, many prophets and just men have desired to see the things that you see, and have not seen them, and to hear the things that you hear and have not heard them" (Matthew 13:17/DRV).
---
December 24, 2015 - Vigil of the Nativity
Star Wars Hero Converted to Traditional Catholicism
Sir Alec Guinness Had a Miraculous "Personal Encounter" with God
From: The TRADITIO Fathers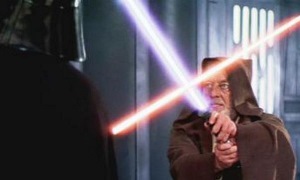 Traditional Catholics May Not Be Aware that Star Wars Hero
British Actor Sir Alec Guinness (1914-2000), Obi-Wan Kenobi, the Jedi Sage
Converted to Traditional Catholicism by Vow
As a Result of a Miraculous "Personal Encounter" with God
From 1956 until the Day He Died at Age 86 in 2000
Guinness Remained a Traditional Catholic
His Wife Followed Him a Year Later, as Did His Son
With the seventh installment of the Star Wars series, entitled "The Force Awakens," breaking all box-office records, traditional Catholics may not be aware that one of the series' greatest heroes, Obi-Wan Kenobi, the Jedi sage, was played by a confirmed traditional Catholic: distinguished British actor (1914-2000) Sir Alec Guinness.
Guinness had previously been known as a fine actor in many films on varied subjects, including a film of the priest-detective Father Brown, based upon the books of Catholic author G.K. Chesterton. Guinness, once noted for his anti-clericalism and anti-Romanism, had been received into the Roman Catholic Church on March 24, 1956. His conversion indirectly occurred during filming in France of the priestly role he played in his 1954 Father Brown film. He relates the circumstances in his autobiography Blessings in Disguise as follows:
By the time dusk fell, I was bored and, dressed in my priestly black, I climbed the gritty winding road to the village.... I hadn't gone far when I heard scampering footsteps and a piping voice calling, "Mon père!" My hand was seized by a boy of seven or eight, who clutched it tightly, swung it and kept up a non-stop prattle.... Although I was a total stranger, he obviously took me for a priest and so to be trusted. Suddenly with a ""Bonsoir, mon père," and a hurried sideways sort of bow, he disappeared through a hole in the hedge.... Continuing my walk I reflected that a Church which could inspire such confidence in a child, making its priests, even when unknown, so easily approachable could not be as scheming and creeping as so often made out [in Britain]. I began to shake off my long-taught, long-absorbed, prejudices [against Roman Catholicism].
What eventually made Guiness decide to convert into a full-fledged traditional Catholic in 1956 was a miracle and a "personal encounter" with God. His only child Matthew contracted polio at the age of 11 and was at risk of dying. Guinness began visiting a Catholic church and prayed that if his son survived, he and his family would join the Catholic Church. His prayers were answered, and his son recovered from the almost-fatal illness. Guinness was as good as his word and fulfilled his vow. From 1956 until the day he died at age 86 in 2000, Guinness remained a traditional Catholic. A year after he convert to Catholicism in 1956, his wife followed him, and his son also joined the church and was sent to a Jesuit school.
Other noted converts to traditional Catholicism have been:
Actor Gary Cooper
Actor Vincent Price
Actor John Wayne, on his deathbed
Actor Oscar Wilde, who made a Sacramental Confession and received Extreme Unction
U.S. President George Washington, who was probably baptized on his deathbed by a Jesuit priest from the church across the river, where Washington was known to slip into the Catholic Mass on occasion
Ludwig van Beethoven, who had been baptized as a baby, but had fallen from the Faith; he called for a priest and received Extreme Unction on his deathbed
True Catholics, it is sad to reflect that the true Catholic Church, in whose priests an innocent child could implicitly trust in 1956, has been transmogrified in 1964 into an anti-Catholic fraud, the Newchurch of the New Order, whose presbyters now (as Newchurch does not ordain priests in the Sacrament of Holy Orders) rape, sodomize, and otherwise sexually assault children with impunity while the New Order sect's bishops and Newpopes look on with de facto approval.
---
December 23, 2015 - Ferial Day
Great O Antiphon at Vespers: O Emmanuel [O God with Us]
Newcardinal Secretary of State Pilfered from Children
To Build Himself a Bigger Retirement Palace in Newrome
From: The TRADITIO Fathers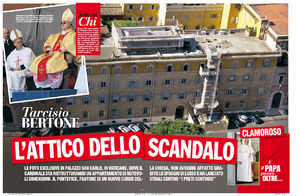 Newcardinal Secretary of State's Sumptuous Retirement Palace
A Scandal Erupted when It Was Revealed that Bertone
Had Converted Funds from a Children's Hospital to Pay for It
Other Newchurch-administered Healthcare Facilities Have Been Stung by Scandal
One Presbyter-in-Charge Has Been Placed under House Arrest
In Revelations that Have Come out of Classified Newvatican Documents
Leaked to the Press in the Scandal Known as "Vatileaks II"
Newcardinal Tarcisio Bertone, who served as Secretary of State, Newvatican's No. 2 post, under Newpopes Benedict-Ratzinger and Francis-Bergoglio, was revealed to have converted money from the Newvatican-owned Bambino Gesu (Baby Jesus) Children's Hospital to build a bigger retirement palace for himself. Bertone retired in December 2013. On December 19, 2015, he paid what is viewed to be a reparation payment of 165,000 dollars to the hospital.
Bertone's questionable renovation was one of the scandalous episodes cited in a new best-selling book by an Italian journalist based on Newvatican documents leaked in the scandal known as "Vatileaks II." The Children's Hospital's president stated: "He [Bertone] acknowledged that all that happened to damage our hospital and our foundation..., and thus he is making amends to us with a donation."
The Bambino Gesu Hospital is one of several Newchurch-administrated healthcare facilities that have been stung by scandal. Among them is a Rome dermatology hospital that is being investigated by Italian prosecutors for suspected embezzlement. Many workers there went unpaid for long stretches, and the presbyter in charge of the hospital administration is now under house arrest. [Some information for this Commentary was contributed by Associated Press.]
True Catholics, Newvatican is filled with corruption up to the highest seats. It tells you all you need to know about Francis "The Fraud" Bergoglio that when his regime's corruption was revealed to the world by Newvatican documents leaked to the press, Bergoglio decided to prosecute as scapegoats his three lower officials and two journalists, but to do nothing about the thefts and money-laundering that were revealed.
---
December 22, 2015 - Ferial Day
Great O Antiphon at Vespers: O Rex Gentium [O King of the Gentiles]
Mother Theresa Is Rushed to Newchurch Unsainthood
By Phony Miracles and a Phony Investigation without a Devil's Advocate
From: The TRADITIO Fathers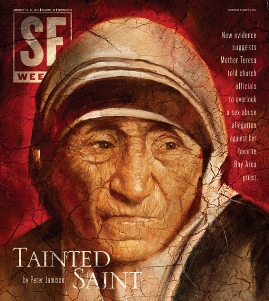 The Albanian New Order Nun Agnes Gonxha Bojaxhiu, AKA Mother Theresa
Is Being Rushed through for Phony Newchurch "Con-anization"
In Spite of the Fact that Her "Miracles" Have Been Proven Phony
In Spite of the Fact that She Was a Hindu Syncretist
In Spite of the Fact that She Was an Open Supporter of Convicted Paedophiles
In Spite of the Fact That She Took Donations from Swindlers and Murderers
And Then Allocated a Mere Five per Cent to Her Charity Cases
With its membership tanking, Newchurch is so desperate to have a poster-girl for the Newchurch of the New Order that having alleged one phony "miracle," Newchurch has now has approved a second for the Albanian New Order nun Agnes Gonxha Bojaxhiu, better known under her pseudonym "Mother Teresa." This is the woman whom JPII-Wojtyla put on the fast track to Novus Ordo "sainthood": the Hindu Unsaint, the notoriously syncretistic Mother Theresa of Calcutta, head of the organization known as the Missionaries of Charity. On December 17, 2015, Newvatican and Francis-Bergoglio alleged a second miracle attributed to the intercession of Mother Teresa of Calcutta, clearing the way for her con-anization. Newchurch makes these up these political "miracles" as it goes along. No date has as yet been set for her Novus Ordo con-anization, but September 5, 2016, just the nineteenth anniversary of her death, is being bandied about.
Any true Catholic cringes at the phoniness of the "miracle" alleged by the Unsaint JPII-Wojtyla. It was obvious fakery. A Bengali woman claimed that a beam of light emerged from a picture of Theresa, which she happened to have in her home, and relieved her of a cancerous tumor. Her attending physician swears that she didn't have a cancerous tumor in the first place and that the tubercular cyst she did have was cured in a purely natural way by a course of prescription medicine. When this physician offered to go to Newrome to set the record straight with the truth, Wojtyla, who embraced the forces of showbiz, superstition, and populism, wanted none of the truth and declared, No thanks!
Nineteen years is hardly enough time to check out Theresa's dubious background. Most true Saints wait centuries for many verifications and debates about the candidate's sanctity, including the arguments contra, advanced by the Advocatus Diaboli, the Devil's Advocate, a position abolished by Wojtyla in 1983. Joan of Arc, for example, waited almost 500 years. Even Pope Pius X, who was canonized when canonization was traditional and valid, waited an incredibly-fast forty years. Here are just a few of the disqualifying factors that we know about this unCatholic Unsaint Theresa:
She handed out the Novus Ordo cookie, in violation of Sacred Scripture and Catholic doctrine (if the cookie were actually the Sacrament, which it is not).


For all the false hoopla about her "charity," only about 5,000,000 dollars of the 100,000,000 dollars that she raised was ever used to care for the poor. God knows what she spent the other 95,000,000 dollars for!


Newchurch records that have been brought to light from the legal process of discovery in criminal cases reveal that Theresa had set up a worldwide system of "homes for the dying" that routinely failed to provide adequate care to patients.


Theresa took large sums of money from disreputable figures such as American savings-and-loan swindler Charles Keating and Jean-Claude "Baby Doc" Duvalier of Haiti, who presided over a brutally repressive regime under which most Haitians lived in abject poverty, while Duvalier's own lifestyle was luxurious, thanks to revenue from his participation in the drug trade and practice of selling dead Haitian citizens' cadavers overseas.


Theresa was an active participant in Newchurch's Great Sex & Embezzlement Holocaust. According to an investigation by the San Francisco Weekly, Theresa knew that one of her presbyter favorites, Donald McGuire, was an out-of-control paedophile criminal and had been removed from the Newchurch ministry for raping a San Francisco child in 1993. Nevertheless, she supported the paedophile presbyter and, in a 1994 letter, urged his Newjesuit superior to put McGuire back on the job. As a result, the paedophile presbyter was allowed to resume his Newchurch ministry and was convicted of raping at least eight additional children.


Theresa was not a Catholic, but a Hindu syncretist. Her subleader of the Missionaries of Charity, Sr. Donata Johnson, said that Theresa was "control freak," who engineered her own Novus Ordo "sainthood" under JPII-Wojtyla when he became non compos mentis because of Parkinson's Disease. Since her death in 1997, more information has come out about the abyss of Theresa's own spiritual life: her "dark nights" of the soul and her feeling of absence from God.
True Catholics, Newchurch is so desperate to fabricate a populist Novus Ordo "saint," in view of Newchurch's tanking membership, that two miracles have been "doctored" up for Theresa, whereas her doctors say these are not "miracles," but natural occurrences. Given the Unsaint JPII-Wojtyla's 1983 gutting of the millennial traditional canonization process, which emphasized truth and validity, to become a merely political process, the fix was in. Thank God, the Newchurch "con-anization" process is no longer valid, and Catholics, on the authority of Catholic popes and of the Catholic Church's Principal Theologian, St. Thomas Aquinas, can readily reject any Novus Ordo Unsaint. Novus Ordo "con-anizations" are most definitely not infallible. For further information, click on FAQ10: How Do You Explain These Traditional Catholic Beliefs? in the section "Canonizations - New Order " in the TRADITIO Network's Library of Files: FAQs and Traditional Apologetics department.
---
DECEMBER 21, 2015 - ST. THOMAS, APOSTLE
GREAT O ANTIPHON AT VESPERS: O ORIENS [O DAYSTAR]
DOUBLE FEAST OF THE SECOND CLASS
Francis-Bergoglio Announces Next Stage of Protestantizing
Newchurch to Eliminate even the Notion of the Newpapacy
From: The TRADITIO Fathers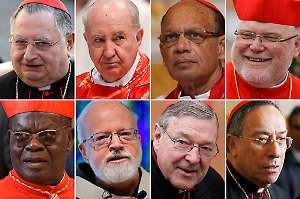 Executive Committee of Eight Newcardinals plus One
To Whom Francis-Bergoglio Has Delegated the Running
Of His Uncatholic Newchurch of the New Order
Bergoglio Wants to Proceed with the "Decentralization" of Newchurch
And the Elimination of the Newpapacy
In Order that National Newbishops Conferences May Have Authority
To Make up Newchurch Doctrine, Morals, and Worship
Just as the Arch-heretic of Protestantism, Martin Luther, Instituted
The Marxist Newpope Francis-Bergoglio sees a Newchurch in which all doctrine, morality, and worship is fluid. In some Newdioceses, "gay marriage" will be permitted; in others, not. In some Newdioceses, divorce/remarriage will be permitted; in others, not. Some Newdioceses will look the other way when their presbyters and Newbishops rape, sodomize, and sexually assault children; other Newdioceses will prosecute these crimes.
The first document of the Vatican II Anti-council, promulgated by Newpope Paul VI-Montini on December 4, 1963, is best known for destroying the validity and even the institutional existence of the Traditional Latin Mass, but it did something much more that even most traditional Catholics don't realize. Working from the arch-heretic Martin Luther's own manual, it set up "National Bishops Conferences," which were to run Newchurch in the respective countries. No longer would bishops have authority in their own Newdioceses. There would be no more St. Augustines, St. Athanasiuses, St. Basil the Greats, and St. Martins who would individually stand up against heresies and heretical popes. No, the institutional Church would become a bureaucratic entity, like the Protestant sects, taking votes on doctrine, morals, and worship.
Bergoglio has already already turned over the governing of Newchurch to an Executive Committee of nine Newcardinals on April 13, 2013. On December 10-12, 2015, they held their twelfth meeting. The topic of the meeting was Bergoglio's order to "decentralize" Newchurch -- that is a code word for turning it into a Protestant-style voting assembly to determine doctrine, morals, and worship.
But Bergoglio wants to go even farther than that. In his November 26, 2015, document Evangelii gaudium, Bergoglio mapped out a "conversion of the [New]papacy" to "a juridical status of episcopal conferences that would see them as subjects of specific attributions [of power], including genuine doctrinal authority, has not yet been sufficiently elaborated." READ THAT SENTENCE AGAIN! In Bergoglio's anti-Catholic Newchurch, the Newpapacy will be eliminated, and in its place National [New]bishops Conferences will have the authority to change doctrine. Changes can be expected as early as the next meeting in February 2016.
At the October 2015 Anti-Synod on the Family, the Bergoglio's Plan was invoked by Abbot Jeremias Schroder to delegate to each National [New]bishops Conference the power to implement his own doctrinal conclusions on such matters as homosexuality and divorce/remarriage. It was said that a majority of the Anti-Synod was in favor of taking centralized doctrinal authority way from the Newpope and delegating it to the National Newbishops' conferences.
Newcardinal Reinhard Marx, a member of Bergoglio's Executive Committee, has demanded that Newpapal powers be delegated to the National Newbishops' Conferences, not even to Newchurch-wide synods. "We are not just a subsidiary of Rome," he puffed. "Each bishops' conference is responsible for the pastoral care in its culture and has to proclaim the gospel in its own unique way. We cannot wait until a synod states something, as we have to carry out marriage and family ministry here." [Some information for this Commentary was contributed by LSN.]
True Catholics, you are indeed living in historic times. You are seeing with your own eyes the destruction of the Catholic Church as the institutional Church and its being turned into a Protestant sect. It must be obvious to you by now that Newchurch is not the Catholic Church. God is truly favoring you in giving you the opportunity to join with your predecessor Catholics in the early Church, who had to stand against government attacks against their Catholic Faith, against heretics in their midst (including Church clergy), and against false popes. Many of your predecessor Catholics for their courage saved their souls and now see God in the face. You too have that opportunity, if only you stand with Christ and His true Faith against the anti-Catholic Newchurch and its false Newpopes.
---
December 20, 2015 - Fourth Sunday of Advent
Great O Antiphon at Vespers: O Clavis David [O Key of David]
Semidouble Sunday
A Pioneer of Traditional Catholic Movement Is Dead
Bishop Robert McKenna Formed the Orthodox Roman Catholic Movement (ORCM)
From: The TRADITIO Fathers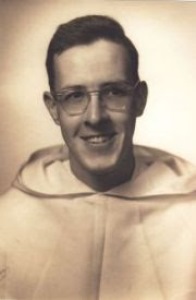 Traditional Catholic Bishop Robert McKenna (07/08/27-12/16/15)
Like the Founder of the Traditional Catholic Movement, Fr. Gommar DePauw
McKenna, as a Young Dominican Friar Immediately Rejected
The Replacement of the Catholic Church
As the Institutional Church on November 21, 1964
By the Uncatholic Newchurch of the New Order
McKenna Joined with 14 Other Traditional Catholic Priests
In Forming the Orthodox Roman Catholic Movement (ORCM)
Which Became a Refuge for Traditional Catholics in Those Dark Days in the 1960s
When Many Catholics Were Confused about What Was Happening
To Destroy the True Catholic Church
Traditional Catholic Bishop Robert McKenna passed to eternity on December 16, 2015, at age 88. He was a pioneer of the Traditional Catholic Movement. As a Dominican friar, steeped in the deeply Catholic theology of the Church's principal theologian, St. Thomas Aquinas, Fr. McKenna immediately rejected the replacement of Catholic Church as the institutional Church on November 21, 1964, by the unCatholic Newchurch of the New Order, which introduced anti-Catholic changes in doctrine, morals, and practice as a result of the Vatican II Anti-council (1962-1965).
Like the Founder of the Catholic Traditionalist Movement, Fr. Gommar DePauw, and unlike modern-day Neo-cons and pseudo-traditionalists who remain in the New Order sect that they deplore, Fr. McKenna did something: he joined with Fr. Francis Fenton and 13 other priests in forming the Orthodox Roman Catholic Movement (ORCM), which became a refuge for traditional Catholics in those dark days in the 1960s when many Catholics were confused about what was happening to destroy the true Catholic Church.
Fr. McKenna, while a Dominican friar, was ejected from the Dominican monastery, now turned New Order, because of his traditional Catholicism. McKenna refused to say the "New Mess" and the Novus Ordo "Liturgy of the Hours," which replaced the traditional Catholic Divine Office. He joined Fr. Francis Fenton and 13 other priests in forming the ORCM. On January 21, 1973, McKenna opened Our Lady of the Rosary Chapel in Monroe, Connecticut, where for his entire life he celebrated the Traditional Latin Mass in the traditional Dominican Rite. Later he formed an order of traditional Dominican nuns there. A Pontifical Requiem Mass was celebrated for the repose of his soul on December 19, 2015, 15:00, at St. Dominic's Chapel in West Highland, Michigan by independent traditional Catholic bishop Robert Neville.
True Catholics, too many of us are ignorant of the pioneers of our Traditional Catholic Movement. Many know of Archbishop Marcel Lefebvre, but few know of the founder of the Movement six years earlier, in 1964, Fr. Gommar DePauw, a remarkable man who was present as a peritus at Vatican II and immediately saw how it was destroying the Catholic Church, while most of the bishops there remained clueless. We TRADITIO Fathers have written many times of Fr. DePauw in our Daily Commentaries to publicizing his remarkable work in founding our Movement. Bp. McKenna was another of these pioneers, who also remains largely unknown. The Newchurch of the New Order and Bernie Fellay's Neo-SSPX wants you to remain ignorant of these pioneers of the Traditional Catholic Movement in order that they may better fool you into selling out to the anti-Catholic New Order sect.
---
December 19, 2015 - Ferial Day - Ember Saturday
Great O Antiphon at Vespers: O Radix Iesse [O Root of Jesse]
Newchurch Has Learned Nothing since the Protestant Revolt
Some Newchurch Officials Are Still Charging for Francis-Bergoglio's "Mercy"
From: The TRADITIO Fathers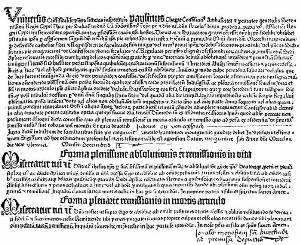 Much as the Selling of Indulgences (Above) in the Early Sixteenth Century
Was One of the Causes that Led to the Protestant Revolt
Francis-Bergoglio's Newchurch Officials Have Been Caught in Fraud
Selling Counterfeit "Blessing" Parchments Signed by Bergoglio
Meanwhile, the European Regulatory Watchdog Was Calling
Francis-Bergoglio and His Vatican Bank a Fraud
Because They Engage in Money-laundering, Embezzlement
And Financing of Terrorists
Francis-Bergoglio admitted on December 16, 2015, that his New Order "Year of Mercy" is becoming a fraud, as his officials are charging Newchurchers to pass through fabricated "Holy Doors" at Newchurch cathedrals around the world. Even in Rome itself, Newchurch officials have been getting away with fraud. Italian police confiscated 3,500 counterfeit parchments bearing blessings by Bergoglio, being sold to Newchurchers coming to Rome.
The scandal was reminiscent of one of the activities that triggered the Protestant Revolt in the early sixteenth century: the selling of indulgences. Bergoglio's New Order "Year of Mercy" attempts to contradict Catholic teaching by essentially ignoring for mercy the necessity of repentance for sin and a firm purpose of amendment to avoid sin in the future. Bergoglio never mentions the Capital Moral Virtue of Justice, which must be balanced against mercy; otherwise, mercy becomes a ridiculous caricature of God's law.
Meanwhile, the European financial watchdog agency Moneyval was also calling Francis-Bergoglio and his Vatican Bank a fraud, because they engage in money-laundering, embezzlement, and financing of terrorists. The regulators told Bergoglio to "get serious" and start prosecuting his Newchurch officials for fraud and criminal ends. Moneyval concluded about Bergoglio's lack of action against financial criminals: "There still remains, however, a continued lack of indictments for money laundering or for related serious proceeds-generating offences in the three years since (the 2012 report)." [Some information for this Commentary was contributed by Reuters.]
True Catholics, just as the Newchurch of the New Order defrauds Newchurchers with anti-Catholic doctrine, anti-Catholic morals, and an anti-Catholic, not to say invalid, Mess and "Sacraments," the Francis-Bergoglio regime is defrauding the world by suborning financial crimes, and even terrorism, though its Vatican Bank. As Christ said of the corrupt Church of his time: "My house shall be called the house of prayer; but you have made it a den of thieves" (Matthew 11:13/DRV). Certainly, nothing has changed in Francis-Bergoglio's Newchurch of today.
---
December 18, 2015 - Ferial Day - Ember Friday
Great O Antiphon at Vespers: O Adonai [O Lord]
Presbyter Who Translated the New Mess into English Is Dead
He Recanted His Work in 2002 and Denounced the New Mess as Probably "Invalid"
From: The TRADITIO Fathers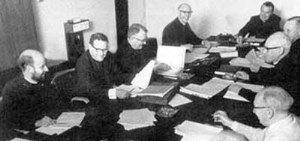 The Notorious International Committee on English in the Liturgy
Whose Purpose Was to Protestantize the Novus Ordo Mess into Vulgar English
Presbyter Somerville, One of the Committee's Nine Members, Later Recanted
He Admitted in 2002 that "the Second Vatican Council
Was Early Commandeered and Manipulated and Infected
By Modernist, Liberalist, and Protestantizing Persons and Ideas"
And that the New Mess of 1969, Still Used by Newchurch
Is "Sacrilegious and Could Well Be Invalid"
One of the architects of the anti-Catholic New Order Mess after the Vatican II Anti-council (1962-1965) is dead. At least presbyter Stephen Somerville recanted before his death at age 86 on December 12, 2015. Nevertheless, he remained affiliated to the Newchurch Archdiocese of Toronto, Canada, and in typical New Order fashion -- straddling both sides of the fence -- on occasion, associated with Bernie Fellay's pseudo-traditional Neo-SSPX.
Presbyter Somerville was well-known as "Canada's liturgist," having participated on the infamous International Committee for English in the Liturgy (ICEL), which "translated" the invalid "Missal of Paul VI-Montini" into English from the original Novus Ordo Latin. ICEL was constructed in 1964 to provide liturgical "translations" of the invalid New Order Mess of 1969 into the vulgar tongue of English and consisted of nine notoriously Modernist, New Order presbyters, including Somerville.
The New Mess was "translated" (the very notion of "translation" is a misnomer, as no language can be faithfully rendered into another) by ICEL using a bogus method, now condemned even by the Newchurch of the New Order, called "dynamic equivalence." In other words, the ICEL "translators" didn't have to make any effort to render the original closely, but could freely rephrase the text to conform to their own beliefs, which were Protestant.
In his later years, Father Somerville regretted his work on ICEL. He came to the conclusion that Newchurch's rejection of the Traditional Latin Mass, the only valid Mass of the Roman Catholic Church (outside of a few small Eastern and Western rites) was a "grievous error" and "damaging" to the Faith. He issued on September 7, 2002, his rebuke of ICEL and an apology for his participation in its now repudiated and disgraced work, which is still essentially used in Newchurch. Somerville, however, never abandoned the dogmatically-condemned parody of Mass in the vulgar tongues.
As late as 2011 Somerville was still fiddling around with an English "translation" of the Gloria of the invalid New Order Mess, for which he even wrote music in the vulgar tongue. To Somerville, it was not the invalid New Order Mess and the Newchurch of the New Order that were the problem, but mere so-called "mistranslations." He did admit that "the Second Vatican Council was early commandeered and manipulated and infected by Modernist, Liberalist, and Protestantizing persons and ideas." Of the Novus Ordo service he wrote: "Such a litany of defects suggests that many modern Masses [sic] are sacrilegious, and some could well be invalid."
True Catholics, presbyter Stephen Somerville never formally broke his ties with the anti-Catholic Newchurch of the New Order, to which he maintained connections up to his death. Someville at least had the courage to recant, if not to carry that recantation into act by rejecting completely the anti-Catholic Newchurch, which replaced the Catholic Church in 1964 as the institutional Church. Newchurch personnel, lacking the grace of a valid Mass and Sacraments, lack the theological and moral graces. That is the cause of their sinking into an anti-Catholic and moral abyss.
---
December 17, 2015 - Ferial Day
Great O Antiphon at Vespers: O Sapientia [O Wisdom]
Newchurchers Denounce Francis-Bergoglio for Sacrilege
Bergoglio Pimped out St. Peter's as a Backdrop for a Political Light-show
From: The TRADITIO Fathers
The Great O Antiphons of Advent are a series of seven antiphons chanted or recited before and after the Magnificat of Vespers of the traditional Divine Office on the last seven days before the Vigil of Christmas (December 17-December 23). Their name comes from the Latin interjection of invocation, O, with which they all begin. Nothing similar precedes any other feast. Longing for the coming of the Messias, which is the characteristic mood of Advent, is seen most poetically in these O Antiphons. The melody to which they are chanted is marvelously expressive of the intense desire with which the patriarchs, the prophets, the Jewish people, and now the Gentiles wait for God's presence in the Messias, Jesus Christ.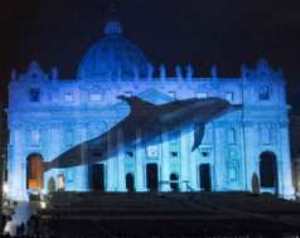 Francis-Bergoglio, Who Was just Designated by the Radical
"Save the Animals" Group PETA as Its Man of the Year
Sacrilegiously Pimped out St. Peter's Archbasilica as a Backdrop
For a Political Light-show Entitled
"Catastrophic Man-Caused Global Warming"
Newchurch Leaders Rose up to Denounce Their Newpope for "Sacrilege"
Francis-Bergoglio Is a Marxist Who Uses Marxist Propaganda Techniques
Who Praises Marxists while He Condemns Traditional Catholics
"Sacrilege!" screamed Newchurch leaders when Francis-Bergoglio pimped out St. Peter's Archbasilica as the backdrop on December 8, 2015, for a political light-show in favor of "climate change" to inaugurate his fabricated "Year of Mercy." Newchurch leaders denounced Bergoglio for turning "this most sacred space, St. Peter's Basilica, into a backdrop" for a political propaganda screed entitled "Catastrophic Man-Caused Global Warming." Bergoglio had recently been proclaimed Man of the Year by the radical "animal rights" group PETA (People for the Ethical Treatment of Animals), known for violently attacking people who eat meat and fish, and put their dogs on leashes.
Politically-slanted images of overcrowded city centers, depictions of pollution, and negative portrayals of industry, were projected onto the facade of St. Peter's Archbasilica, one of the holiest shrines in Catholicism. The screed has nothing to do with religion, but was a knockoff of Barack Obama's rainbow projection onto the White House after the Supreme Court approved "gay marriage."
Newchurch leaders also denounced Bergoglio for perpetrating this sacrilege on one of the most important Marian feastdays, the Immaculate Conception, when Catholics celebrate Mary being conceived in the womb of her mother Anne without the stain of original sin. Many Catholic leaders from around the world said that they are flabbergasted Bergoglio would allow St. Peter's Archbasilica to be used as a backdrop for promoting the political "climate change" agenda. [Some information for this Commentary was contributed by Catholic World News.]
True Catholics, Francis-Bergoglio's sacrilege should not surprise you. The man is clearly a Marxist, associates with Marxists, and praises Marxists while he condemns traditional Catholics. He uses the political techniques of Marxists and was trained in Buenos Aires, which is a cesspool of Marxism. Bergoglio is clearly no Catholic, and no Catholic can have anything to do with him and his anti-Catholic activities.
---
December 16, 2015 - St. Eusebius, Bishop & Martyr
Semidouble Feast - Ember Wednesday
Francis-Bergoglio's Top Financial Newcardinal Pell
Fails to Appear at Paedophilia Trial; "I'm Sick," He Says
From: The TRADITIO Fathers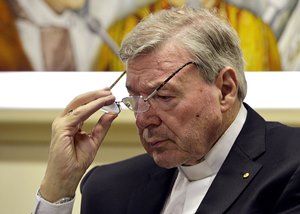 Francis-Bergoglio's Top Financial Newcardinal
Can't See Testifying at His Paedophilia Trial in Australia
"I'm Sick," He Now Claims
But the Australian Presiding Judge Insists that He Appear in Person
To Answer for Transferring Criminal Presbyters
From One Newparish to Another to Avoid Repercussions to Newchurch
The Presiding Judge Has Rejected Pell's Excuse
And Rescheduled His Personal Cross-examination to February 2016
Australia has had it with Newchurch's paedophile prelates and has summoned Francis-Bergoglio's top financial Newcardinal, George Pell, now the Prefect of Bergoglio's Secretariat for the Economy, but once the Newcardinal-Primate of Australia, to appear in person for Cross-examination on his involvement in Newchurch's sex crimes against children.
Pell had no problem taking an active role in the recent Anti-Synod on the Family, staged in Newvatican on October 4-25, 2015, but now he is begging off testifying in the paedophile trial because he is "sick." He claims now to have a heart problem. But he hasn't resigned from his top Newvatican post as a result of his alleged condition. Pell was subpoenaed to appear on December 16, 2015, before the Royal Commission into Institutional Responses to Child Sexual Abuse, the highest form of investigatory body in Australia.
Pell's lawyer tried to get him to testify by videolink from Rome, but the Presiding Judge refused the request and insisted that Pell appear in person for cross-examination before the violated children, as he had previously promised that he would. Pell's cross-examination has now been rescheduled to February 2016. He is charged with transferring presbyters suspected of crimes against children to other Newparishes where their crimes were not known and where Newchurch could avoid repercussions of the crimes. [Some information for this Commentary was contributed by Reuters.]
True Catholics, Newchurch has been and continues to be a veritable cesspool of sex crimes against children. Newprelates such as George Pell pull every legal manoeuver in the book to avoid prosecution. And why shouldn't they? The Three Paedophile Newpopes, the "Unsaint" JPII-Wojtyla, Benedict-Ratzinger, and now Francis-Bergoglio, have all supported their Newprelate criminals rather than the violated children. As the superiors of their presbyter and Newbishop criminals, the Newpopes bear a heavier moral responsibility, and even in Bergoglio's fabricated "Year of Mercy," Newpopes have no power to forgive themselves!
---
December 15, 2015 - Octave Day of the Immaculate Conception
Double Major Feast
"Both the Catholic Church and the Devil Are Acutely Aware
Of the Language of Music that Shapes the Human Soul"
From: The TRADITIO Fathers

The Gregorian Chant to the Famous Advent Antiphon Rorate Coeli
Bishop Williamson Rightly Points Out in His Latest Bulletin
That Music Influences the Direction which a Soul Is Taking
Towards Heaven (by Gregorian Chant)
Or Towards Hell (as the Victims of the Recent Paris Massacre
Just Then Partaking in a Rock Song that Called on the Devil)
Christ Sang, and Every True Catholic This Advent
Should Raise His Voice Daily in the Beautiful Advent Antiphon:
Rorate Coeli Desuper, et Nubes Pluant Iustum
Bishop Richard Williamson, informal advisor to loosely-bound organization known as the Catholic Resistance, may have gone off the dime in recent months with his refusal to condemn once and for all the Protestant-Masonic-Pagan New Order Mess, but he does seem to have a good sense of music. His bulletin of December 12, 2015, features Ludwig van Beethoven, a baptized Catholic. Williamson makes a important point, often ignored by pseudo-traditional Catholics, like those of Bernie Fellay's Neo-SSPX, who are often found to be Philistines when it comes to the Liberal Arts. Williamson writes:
Let nobody despise music. Both the Catholic Church and the Devil are acutely aware that it is a language uniquely capable of expressing and of shaping what goes on in the human soul, and therefore of influencing the direction which a soul is taking, towards Heaven (by Gregorian chant, for instance) or towards Hell (were not the victims of the recent shooting in Paris just then partaking in a Rock song that called on the Devil?).
Almost every human being has some music or other in his soul, and that music normally runs deep, for good or ill. It would hardly be an exaggeration to say that if a man does not have in him the music of his religion, he will have in him the religion of his music, e.g., the Devil. Catholics who realize that the music they love flies not much higher than Pop or Rock, may well seize the opportunity to get a handle on classical music.
Traditional Catholics often look at music in religious services as some kind of optional ornamentation. To the contrary, the Catholic Church has always taught that the human voice is part of God's highest creation and is to be exhibited as much as possible at Missae Cantatae, chanted Masses, with the Church's proper music, Gregorian chant, being given the primary place. Many traditional Catholics are unaware that Sacred Scripture records that Christ Himself sang. Moreover, the Psalms, which are songs themselves, written by King David to be sung to the lyre, constantly refer to praying in song, as imitating the Holy Angels, who never cease to sing to the glory of God.
True Catholics, this Advent, a season that is characterized by some of the most beautiful chant in the Catholic repertoire, sing your prayers. Every day, at least raise your voice with the beautiful Advent Antiphon Rorate coeli desuper, et nubes pluant iustum [Dew down heavens from above, and clouds rain down the Just One [Messias]. If you don't have the short melody memorized, have your traditional priest or choir member teach it to you. And if you have the great gift of a choir at your church, chapel, or oratory or, even better, a Gregorian schola, support it with your presence and attention ever time that it offers to Heaven, in your name, the voices of Angels.
---
December 14, 2015 - Within the Octave of the Immaculate Conception
Semidouble Feast
New York Presbyter Stole over 2,000,000 for Sex Romps
Newcardinal Dolan Himself Was in on It and Is Now Charged with Fraud and Theft
From: The TRADITIO Fathers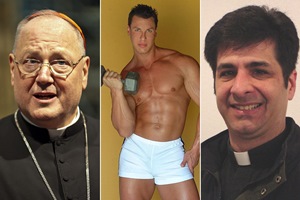 Timothy Dolan (Left), Francis-Bergoglio's Newcardinal of New York
And His Presbyter Peter Migueli (Right)
With "Sex Master" Keith Crist (Center) in Their "Threesome"
All the While Dolan Had Been Personally Informed by an Eyewitness
Detailing the Most Vile Sex Practices
Not to Speak of the Theft of over 2,000,000 Dollars
To Purchase Sex Toys, Sex-slave Sessions, Drugs, Expensive Booze
And Property on Which a Sex Dungeon Was Maintained
While Blasphemously a Statue of the Blessed Virgin Mary Stood out Front
Francis-Bergoglio's Newchurch is now reeling with revelations that the Newcardinal of New York, New York, Timothy Dolan; one of his presbyters, Peter Migueli, and a "boy toy," Kevin Crist, were involved in a virtual "threesome," which Migueli stole over two million dollars from collection-plates to support. A witness has come forth publicly to denounce Dolan, whom she said she personally told about the escapades, with lurid details of sado-masochism, urolagnia, and coprolagnia, during which the presbyter was dressed in a dog-collar and a chastity belt. Dolan, however, turned a blind eye to the goings-on.
On December 10, 2015, Newparishioners of St. Frances de Chantal Newparish in Bronx, New York, made public their charges that their pastor, presbyter Peter Migueli, had stolen over 2,000,000 dollars since 2003 from collection-plates to pay for his "boy toy," Kevin Crist, for their "drug-fueled sex romps" that featured 300-dollar bottles of Scotch. The Newparishioners have now brought a lawsuit against Migueli, Crist, and Newcardinal Dolan himself, known as the "Laughing Cow" for his habit of laughing off anything serious.
The lawsuit also charges that with the money stolen from the collection-plates, presbyter Migueli bought a 264,000-dollar home in New Jersey. The home boasted a statue of the Virgin Mary out front, while there was a "full-blown dungeon in the house." Migueli also rented a 1,075-dollar a month East Harlem apartment in New York for his "boy toy," whom he called his "sex master," from stolen Newparish money. Migueli also took trips to Florida and Italy from his congregations' stolen funds. Migueli at one point was housing his "boy toy" Crist in the rectory.
In what is the even more scandalous part of the affair, the lawsuit goes on to charge that Newcardinal Dolan personally knew of the presbyter's "illegal scheme," but refused to do anything about it. The lawsuit charges that Newcardinal Dolan stood by while Migueli used the stolen money to act out unholy fantasies as a "sex slave" to his "boy toy," spending more than 1,000 dollars at a time of Newparish money on bondage-and-discipline, urolagia, and coprolagia sessions with sex toys, where Crist acted as the presbyter's homosexual "sex master."
The lawsuit charges that during the summer of 2014, maintenance workers at St. Frances de Chantal saw "several unstacked piles of cash," each half a metre high, scattered throughout presbyter Miqueli's rectory residence. In addition to skimming 20-dollar bills from the collection-plate, Miqueli had stolen money raised to buy a new pipe organ and diverted it to his sex-and-drug sessions with Crist, whom he put in charge of the Cabrini thrift shop, and destroyed financial records to cover up the theft. Crist's former girlfriend told the New York Post that she personally reported Crist's sexual escapades with presbyter Migueli to Newcardinal Dolan, describing them as so extreme that Crist injured his knees in their bathtub "playground." The Newarchdiocese's lawyer confirmed that Dolan had received the E-mails from the girlfriend, detailing luridly all the bizarre sex activities in which presbyter Migueli and "boy toy" Crist engaged.
Francis-Bergoglio's right-hand man in America, Newcardinal Timothy Dolan, has been personally charged with "negligent supervision, breach of fiduciary duty, fraud, and unjust enrichment." In other words, Dolan has personally been denounced as a thief in the scheme. The plaintiff's attorney rightly asked: "How could this guy be acting this way for nine years or so, and the [New]archdiocese [Timothy Dolan] does nothing?" [Some information for this Commentary was contributed by the New York Post.]
True Catholics, Newchurch has gone since 1964 from intellectual crimes of heresy, blasphemy, idolatry, and sacrilege now to downright filthy, vile, and disgusting acts befitting animals rather than human beings. St. Paul said the last word about such vile criminals as presbyter Peter Migueli, Newcardinal Timothy Dolan, and, of course, the man who claims to be Newpope of the Catholic -- blasphemy! -- Church, the ringleader and capo di capo, Francis-Bergoglio: "They who do such things are worthy of death, and not only they that do them, but they also that consent to them that do them" (Romans 1:32/DRV).
---
December 13, 2015 - Third Sunday of Advent - Gaudete Sunday
Semidouble
In Another Rejection of Christianity, Francis-Bergoglio
Officially Decrees: Christians Are Prohibited from Converting Jews to Christ
From: The TRADITIO Fathers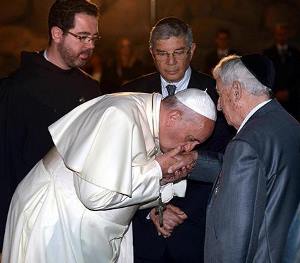 Francis-Bergoglio Kisses the Ring of a Jewish Rabbi
Bergoglio Has Now Officially Decreed through His Commission
That Newchurchers Are Prohibited from Converting Jews to Christ
Instead, They Are to Work together with Jews against "Anti-Semitism"
He Told the Press: "Inside Every Christian is a Jew"
Several Noted Christian Leaders Immediately Denounced Bergoglio
As Being as Anti-Christian and Anti-Biblical
Francis-Bergoglio has decreed through his Commission for Religious Relations with Jews that Newchurchers are prohibited from converting Jews to Christ. To the contrary, Newchurchers should "work with them [Jews] to fight anti-Semitism." The major formal document, released on December 10, 2015, was immediately condemned as being anti-Christ, joining Bergoglio's other anti-Christian policies, such as acceptance of sodomy and divorce/remarriage, both specifically condemned in the Bible.
Such a policy has been hinted at ever since the Vatican II Anti-council (1962-1965), but now it has become official in Francis-Bergoglio's Newchurch of the New Order: Christians are prohibited from converting Jews to Christ. Immediately, noted Christian leaders condemned Bergoglio's false teaching. The first to condemn the Newpapal pontification was St. Paul, the noted Christian missionary, who issued a press release from his headquarters in Tarsus, Turkey. In fact, he released a formal Epistle rejecting Bergoglio's anti-Christian decree, titled Epistle to the Hebrews, which is available in bookstores throughout the world.
Even respected Protestant missionary William Graham, from his home in Montreat, North Carolina, issued a statement implying that Francis-Bergoglio's reported brain cancer must be addling his mind. "The Apostles," said Graham, "all preached that Jews must convert to Christ, just as they themselves had."
Traditionally, going back to the time of the Apostles, the Catholic Church has publicly prayed for "faithless" (perfidi) Jews who reject Christ, "that our God and Lord would withdraw the veil from their hearts: that they also may acknowledge our Lord Jesus Christ." Bergoglio is now teaching the heresy, implicit in Vatican II's document Nostra aetate (1965) and explicitly contradicted in the New Testament, that God "never annulled his covenant with the Jewish people" and that "the two religions [Newchurch and Judaism] are intertwined." Bergoglio already proclaimed to Spain's La Vangardia newspaper on June 13, 2014: "Inside every Christian is a Jew." [Some information for this Commentary was contributed by Reuters.]
True Catholics, you can clearly see where Newchurch is going: to Hell. The anti-Christian, even Marxist, Newdoctrines of Francis-Bergoglio are just the latest incarnation of the worst heresies and immoralities to come along yet in the Newchurch of the New Order, which replaced the Catholic Church as the institutional Church on November 21, 1964. Bergoglio's ideal Newchurcher is now a bigamist "gay" Marxist Jew, who is avowedly anti-traditionalist!
---
December 12, 2015 - Within the Octave of the Immaculate Conception
Semidouble Feast
An Invalided Francis-Bergoglio Nearly Collapses at Door Mess
He Shuffled through a Highly-modernized Version of a Once-holy Ceremony
From: The TRADITIO Fathers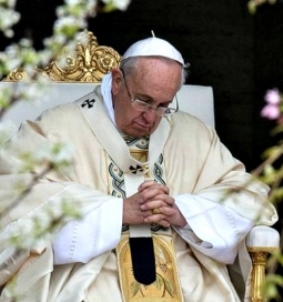 At the Outset of the Mess to Open His Fabricated "Holy Year" of Mercy
Francis-Bergoglio Was Observed in a Kind of Collapse
As if He Were Experiencing Another Mini Stroke
He Mumbled through the Rest of the Ceremony
Sounding Like the Unsaint JPII-Wojtyla in the Throes of His Parkinson's
And Shuffled off to the Holy Door, Which Wasn't even Bricked up as Before
Apparently because Bergoglio Is No Longer Physically Competent
To Remove even a Single Previously-loosened Brick
Francis-Bergoglio looked to be on his last legs at the December 8, 2015, Mess at the Opening of the Holy Door to inaugurate his fabricated "Holy Year of Mercy." As the Mess began, he collapsed in his Big Chair, which substituted for the papal cathedra, as if he were experiencing another mini stroke. He mumbled unintelligibly all of his prayers, which were in vulgar tongues, in a modernized version of a once-holy rite that was one of the Church's holiest.
Bergoglio was beginning to look more and more like his predecessor, the Unsaint JPII-Wojtyla, who mumbled unintelligibly and shuffled through Newpapal ceremonies. At least Wojtyla had an excuse: he was dying of Parkinson's complications. The evidence is beginning to mount that Bergoglio is very sick, probably with cerebral carcinoma and/or apoplexy.
This "Phony Year" has been yet another Bergoglian anti-Catholic ruse from the start, from its implicitly-heretical teaching that God is not a God of Justice as well as of mercy, that God accords mercy to the willfully unrepentant sinner. This ruse is definitely not part of the Roman Catholic tradition of seven centuries. There is really no surprise in that. The Marxist Bergoglio specifically chose the date to coincide with the fiftieth anniversary, to the day, of the end of the Vatican II Anti-council (1962-1965), during which the Roman Catholic Church was replaced as the "Establishment Church" by the Newchurch of the New Order.
One of the most solemn ceremonies of the true Church, the Opening of the Holy Door at the centennial jubilee year -- such jubilees were not proclaimed higgledy-piggledy any old time on a papal whim -- was completely abdicated by Francis-Bergoglio, the Marxist Newpope who is publicly committed to tearing down even the remnants of the Church, with vicious hatefulness calling true Catholics " doctrinaire, ideologue, rigid, ritualistic, rigorous, scary, closed in the past, Pelagian, Donatist, neurotic, pious, and fundamentalist."
Most notable was Bergoglio's contumely by openly breaking, once again, with the Roman Catholic Church in using, almost exclusively, a Babel of vulgar tongues for the once-sacred rites. This break with Catholicism was so obvious as to be noted even by the international press. Moreover, Bergoglio was so physically incompetent, apparently, that the whole rite of opening the Holy Door of St. Peter's Archbasilica, on past occasions bricked up for the ceremony and accompanied by the most beautiful Gregorian chant, was gutted, and Bergoglio simply opened a set of double-doors, as if to the drawing room at his Newpapal Hilton. Quite an anti-climax. [Some information for this Commentary was contributed by Agence France-Presse.]
True Catholics, Newchurch may soon be burying its two most recent Newpopes. The discredited and abdicated Ex-Newpope Benedict-Ratzinger was rolled out for the occasion to give a cameo at Bergoglio's charade. Ratzinger was bent over and hobbling. Even at that, he almost better looked better than his gravely-invalided accomplice, Bergoglio!
---
December 11, 2015 - St. Damasus, Pope & Confessor
Semidouble Feast
Bergoglio Is Stung by Criticism of His Corruption and Hypocrisy
He Floats Trial Balloon of "Excommunication" for Strident Words
From: The TRADITIO Fathers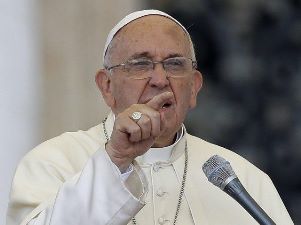 Francis-Bergoglio, Who Never Hestitates to Point the Finger at Others
With Hateful Words, Particularly against Traditional Catholics
Himself Doesn't Want to Be Criticized
His Pontifical Council President Proposes "Excommunicating"
Those Whose Criticism of Bergoglio Is "Strident"
It Seems that Bergoglio Will Now Be Pseudo-excommunicating Half the World!
Francis-Bergoglio charged five people who simply reported the truth about him from his own documents, in what is known as the "Vatileaks II" scandal. NOw Francis-Bergoglio's Pontifical Council President, Rino Fisichella, has threatened with pseudo-excommunication all those who offer "strident" criticism of Bergoglio, purportedly under a New Order Canon Law applying that penalty upon those who do "physical violence" against the pope. Fisichella failed canon law, New Order or Catholic. This provision has never been interpreted to mean anything other than intended serious physical injury to the pope, in essence, papocide. For 2,000 years popes have been subjected to every form of public criticism -- by kings, by cardinals, by religious, and by pew Catholics. Such criticism has been regarded as necessary for the integrity of the Catholic Faith, starting with St. Paul, who rebuked Peter for heresy to his face before the Apostles assembled (Galatians 2:11).
St. Thomas Aquinas, the Catholic Church's principal theologian, enunciating the Biblical doctrine for the necessity of criticizing popes, even harshly (Summa Theologica, IIa IIae, Q. 33, A. 4), must be turning in his grave to hear that the wimpy Newpope Francis-Bergoglio is considering pseudo-excommunicating people for criticizing him. Bergoglio is desperate. It has taken only two years for the world to recognize his criminal corruption and hypocrisy. What is the first thing that lawless and autocratic leaders do? They shut down free speech. That is what Joseph Stalin did. That is what Mao-Tse Tung did. And that is what the "Marxist" Newpope Bergoglio wants to do. [Some information for this Commentary was contributed by Catholic World News.]
True Catholics, don't you worry! The laugh on Bergoglio is that his Newchurch, which has lost the power of a valid Mass, which has lost the power of valid Sacraments, which has lost the power of the true priesthood, has no power whatsoever to "excommunicate" anyone, any more than it has the power to "canonize" phony Unsaints. The frauds and even crimes that Francis-Bergoglio have been suborning are worthy of the harshest public criticism. That is a perfectly-just Catholic response to deal with a lawless, Marxist autocrat, crafty as he is to present himself as "Mr. Humble." That is all part of the fraud, you see.
---
December 10, 2015 - Within the Octave of the Immaculate Conception
Semidouble Feat
Yet Another Newchurch Diocese Goes into Bankruptcy
As the Wages of Its Presbyters Sodomizing Its Children
From: The TRADITIO Fathers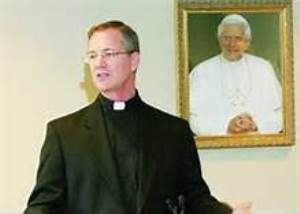 Newbishop Paul Sirba Stands under a Portrait
Of the Second Paedophile Newpope, Benedict-Ratzinger, Who Appointed Him
Sirba's Newdiocese of Duluth Has Been Bankrupted by Paedophilia
Just as in His Newarchdiocese of St. Paul-Minneapolis
The Newarchbishop Allowed Presbyters to Run Rampant
Sodomizing, Raping, and Otherwise Sexually-assaulting Children
Now They Are Beginning to Pay the Price for the Sin of Victimizing Children
Which Is Biblically One of the Four Sins that Cry out to Heaven for Retribution
On December 8, 2015, the thirteenth United States Newdiocese sank into bankruptcy, paying the penalty for allowing its Newclergy to sodomize, rape, and otherwise sexually assault its children. Duluth, Minnesota admitted in court that because its sins against children were so great, the Newdiocese had no money to pay the just damages decreed by the courts.
A month previous, a jury had found the Duluth Newdiocese, headed since 2009 by its Newbishop, Paul Sirba, a Benedict-Ratzinger appointee, primarily responsible for a child's victimization in a whopping award of 8,000,000 dollars. Minnesota's Newchurch archdiocese in St. Paul and Minneapolis had already sunk into bankruptcy on January 16, 2015, for the same crimes. Its Newarchbishop, John Nienstedt, was forced into resignation by his congregatioans, while Francis-Bergoglio stood by and twiddled his thumbs while his Newbishops and presbyters twiddled with the children. [Some information for this Commentary was contributed by Reuters.]
Here is the Dishonor Roll of Newdioceses that have sunk into bankruptcy by their despicable acts in Newchurch's Great Sex & Embezzlement Holocaust:
Davenport, Iowa
Fairbanks, Alaska
Milwaukee, Wisconsin
Portland, Oregon
Spokane, Washington
Tucson, Arizona
San Diego, California
Wilmington, Delaware
Gallup, New Mexico
Stockton, California
Helena, Montana
St. Paul-Minneapolis, Minnesota
Duluth, Minnesota
Others are expected to follow, such as Winona, Minnesota. In addition, two Newchurch religious orders have fallen:
Society of Jesus - Oregon Province
Christian Brothers Institute
True Catholics, Our Lord Jesus Christ made it clear that the worst sinners are the top officials of the Church and those who victimize children. In fact, this sin is one of the biblical Four Sins that Cry out to Heaven for Retribution. The punishment that Christ provided for such churchmen is death by drowning: hanging a millstone about the neck of the criminal churchman and drowning him in the depth of the sea (Matthew 18:6/DRV). The current Newpope, Francis-Bergoglio, as well as his two predecessor Newpopes, because they have been accomplices to these crimes, are subject to the same penalty ordained by God.
---
December 9, 2015 - Within the Octave of the Immaculate Conception
Semidouble Feast
A Reader Asks: "Does a Spiritual Communion Confer the Same Graces
As In-person Sacramental Communion?"
From: The TRADITIO Fathers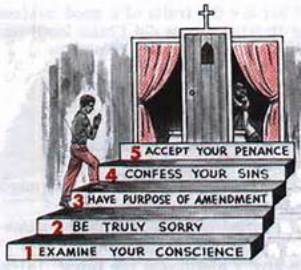 The Five Steps Required for a Valid Confession
Saying an Act of Contrition Is Far from Sufficient
Without Repentance for Sin and a Firm Purpose of Amendment
Words Make No Difference Whatsoever
A Spiritual Communion Is an Act of Devotion
And Does not Confer the Same Graces
As an In-person Sacramental Communion
Dear TRADITIO Fathers:
When a person makes a spiritual communion, does he receive the same graces as if he had received in-person sacramental Communion? Also, when one says an Act of Contrition, does he receive God's forgiveness for mortal sins immediately, even though he is still required to go to sacramental Confession and intends to do so?
The TRADITIO Fathers Reply.
Spiritual Communion is a devotion, operating through the devotee (ex opere operantis). Actual Communion is a Sacrament, operating through Christ (ex opere operantis). Therefore, only personal attendance at the Holy Mass can carry with it the fullest graces conferred by the Sacrifice of Our Lord Jesus Christ.
While it is true that one who has perfect contrition -- a high standard indeed -- is in a state of grace, the mere "saying an Act of Contrition" is not in itself sufficient. One must have true repentance for sins, at least mortal ones, and a firm purpose of amendment. One can mouth whatever words one wants, but if these two necessary requirements -- repentance and a firm purpose of amendment -- are absent, words make no difference whatsoever.
---
DECEMBER 8, 2015 - FEAST OF THE IMMACULATE CONCEPTION - HOLYDAY OF OBLIGATION
DOUBLE FEAST OF THE FIRST CLASS
Newchurch Pays off Lawyers in Paedophilia Cases with Five Million
Everyone in the New Order Sect Makes out Like Bandits except the Sodomized Children
From: The TRADITIO Fathers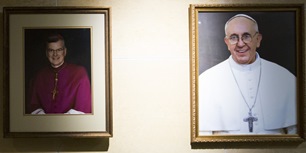 Photographs of Newarchbishop Nienstedt and Francis-Bergoglio
Are Coming off the Walls of the Newarchdiocese of St. Paul and Minneapolis
Which Is Now Bankrupted because of Its Newclergy Sodomizing Children
Newchurch Property Will Go on the Auction Block to Pay the Children Just Damages
Nienstedt Was Hounded out of Office by His People
Can the Third Paedophile Newpope Bergoglio Be Far Behind?
Newchurch's Great Sex and Embezzlement Holocaust, bad enough under Benedict-Ratzinger, the Second Paedophile Newpope, is getting worse and worse under Francis-Bergoglio, the Third Paedophile Newpope. The United States Federal Judge has revealed on December 3, 2015, that Newchurch is paying 5,000,000 dollars to lawyers in the Newarchdiocese of St. Paul and Minneapolis, Minnesota, to handle the Newarchdiocese's bankruptcy on account of paedophilia. The children sodomized by Newchurch's immoral Newclergy in this Newarchdiocese aren't getting a penny of this money.
The Newarchdiocese's corrupt Newarchbishops Harry Flynn and John Nienstedt, under whom the sodomies were perpetrated, have been forced out, not by Francis-Bergoglio, who openly tolerates paedophilia, but by their own congregants. Bergoglio's organization in St. Paul is "reorganizing" in bankruptcy after its mucking in the mire of sodomy up to the highest Newchurch offices was exposed in document after document. The bankruptcy process is taking longer than expected because of the "large number of claims" of child rape being revealed as time goes by. [Some information for this Commentary was contributed by the Associated Press.]
True Catholics, Francis-Bergoglio is the criminal capo da capo, as the Mafia terms it, of a Newchurch structure completely drowning in immorality of the worst kind -- against children. On December 8, 2015, Bergoglio is going to proclaim his phony New Order "Year of Mercy [without Justice]". Bergoglio is acting just like those corrupt Roman emperors, whom he succeeds, who perpetrated so many vile crimes, yet had themselves declared "gods," so that they wouldn't go to Hell. Sorry, Jorge, it doesn't work that way in Christianity! The Church teaches that popes are more likely to end up in Hell than Purgatory or Heaven because they bear a higher responsibility for evil.
---
December 7, 2015 - St. Ambrose, Bishop, Confessor & Doctor
Double Feast
Francis-Bergoglio's Hit-Newcardinal O'Malley Prevails
Newchurchers Suffer Double Whammy: Paedophilia and Church Closure
From: The TRADITIO Fathers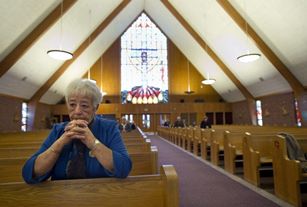 And Then Their Were None
An Lone Lady Laments the Fact that Benedict-Ratzinger, Francis-Bergoglio
And Now the Supreme Court of Massachusetts Have Slammed Shut Her Church
Boston's Newcardinals Have Been Supporting Their Rampant Paedophile Clergy
And Closing One out of Five Churches
In What Was Once One of the Most Catholic Cities in the United States
You really have to wonder why the clueless Newchurchers persist in their false loyalty to the anti-Catholic Newchurch of the New Order. Take the case of the Newparishioners of St. Frances Cabrini Newparish in Scituate, Massachusetts. After Newcardinal Bernard Law, of Boston, stood by while his Newclergy sodomized the church's boys, Newcardinal Sean O'Malley then proceeded to slamm shut the doors of their church.
The Newchurchers at Cabrini, having turned their Church over to the New Order and its invalid Protestant-Masonic-Pagan service and "sacraments" without a peep, finally stood up too late to the anti-Catholic Newchurch, then lead by Ex-Newpope Benedict-Ratzinger and now by the Marxist Newpope Francis-Bergoglio. They occupied in a sit-in their church building in 2004 when O'Malley closed it and one out of five other churches in the Boston Newarchdiocese because Bostonians were no longer putting their shekels in the immoral Newchurch collection-plate after Law's paedophilia holocaust burst into the international press in 2001.
The Cabrini Newparishioners slipped in through a forgotten door and have been holding a round-the-clock occupation of their church ever since. O'Malley proceeded to "deconsecrate" the church in July 2015 in advance of selling it off for many millions of shekels to secular interests. On May 4, 2012, Benedict-Ratzinger officially turned his back on the church and refused to intervene. In turn, the Newparishioners turned their back on Ratzinger and continued their occupation of the church.
Of the 69 churches that O'Malley slammed shut, eight were occupied in sit-ins by their Newparishioners. Five of these Newparishes have given up. Now, on December 4, 2015, the highest secular court in Massachusetts has confirmed a verdict of trespassing against the occupiers. [Some information for this Commentary was contributed by the Associated Press.]
True Catholics, what has Newchurch brought to its members but paedophile clergy, closed church buildings, and a phony anti-Catholic Mess and "sacraments"? The time is long past for these clueless Newchurchers to get a clue. It is as if the Devil now possesses their faculties to the point of dementia.
---
December 6, 2015 - Second Sunday of Advent
Semidouble Sunday
In His "Year of Mercy" Francis-Bergoglio Shows No Mercy
To the Five Whistleblowers Who Exposed the Corruption of His Regime
From: The TRADITIO Fathers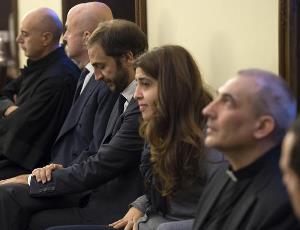 The Five Whistleblowers Appear in the Dock
Of Francis-Bergoglio's Kangaroo Court
In the Wake of the "Vatileaks II" Scandal
Bergoglio Has Unleashed a Blitzkrieg against the Whistleblowers
Who Have Revealed that Bergoglio's Regime Is Riddled with Corruption
Yet in His New Order "Year of Mercy"
Bergoglio Shows No Interest in Rectifying His Corruption
Only in Persecuting the Whistleblowers
In his latest persecution of the five whistleblowers who have exposed the corruption of his regime, Francis-Bergoglio has engineered a December 1, 2015, raid on the home of his Public-relations Officer, Immacolata Chaouqui. This appears to be the latest move in the saga of Bergoglio's corrupt Vatican Bank, which has long been accused of money-laundering for top political officials, such as Silvio Berlusconi, the former Prime Minister of Italy.
In November 2015, Bergoglio's Newvatican was rocked by revelations of corruption published by two noted Italian investigative journalists in two separate books, Avarice by Gianluigi Nuzzi and Merchants in the Temple by Emiliano Fittipaldi. Bergoglio has been persecuting these two journalists for revealing the truth, as well as two more of Bergoglio's employees, Newmonsignor Luicio Balda and Nicola Maio. [Some information for this Commentary was contributed by the Italian News Agency ANSA.]
True Catholics, the two books reveal that Francis-Bergoglio, far from being the "Mr. Humble" and the "Mr. Innocent" that his worldwide propaganda portrays, is running a Newvatican that is mired in waste and mismanagement, as well as financial crimes. Yet the hypocritical Bergoglio, who has declared 2015-2016 a "Year of Mercy," has demonstrated no interested in actually rectifying his financial crimes, nor the paedophilia that is rampant in his Newchurch clergy, but only in prosecuting the whistleblowers who have documented his corruption and brought it to the attention of the world.
---
December 5, 2015 - Ferial Day
Mother Angelica, the Cable TV Arm of Newchurch, Is Worsening
Her EWTN Operation, Never Traditional, Is Now in the Hands of Open Heretics
From: The TRADITIO Fathers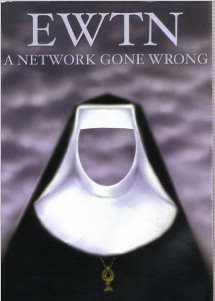 EWTN: A Network Gone Wrong
The 2006 Book that Blew the Lid off the Anti-Catholic Charade
That the EWTN Cable Network Had Become
It Is Run under the Authority of the Modernist American Newbishops
Since 2001, when Mother Angelica Was Sidelined by a Stroke
The Heretical Lay Officials -- Protestant Ministers and Paedophile Presbyers
That She Had Appointed to Run EWTN
No Longer even Maintain the Conservative Facade
But Operate a Now Full-blown New Order Anti-Catholic EWTN
On December 1, 2015, the cable Eternal World Television Network (EWTN), which has operated as an arm of the Modernist U.S. Conference of Catholic [Sic] Bishops (USCCB) since 1981, announced that its founder, Mother Angelica, now aged 92, has been placed on a feeding tube, and her condition is markedly worsening. She ended her active control of EWTN in 2001, when she suffered a stroke.
Although she could be described as a Neocon, Mother Angelica was never a traditional Catholic when she headed the cable Eternal World Television Network (EWTN) that she founded in 1981. Instead, she functioned as an arm of the rabidly-Modernist U.S. Conference of Catholic Bishops (USCCB) and of the anti-Catholic Newchurch of the New Order. When she suffered a stroke in 2001 and was sidelined, the heretical lay officials that she had appointed to run EWTN no longer even maintained the conservative facade, but became more and more anti-Catholic, employing Protestant ministers like the rabid Protestant Evangelical Scott Hahn, and employing New Order presbyters, like John Corapi and Benedict Groschel, various of whom were exposed as associated with drugs, prostitution, and paedophilia.
Finally, the lid was blown off the anti-Catholic charade that EWTN had clearly become in the 2006 expose, EWTN: A Network Gone Wrong: How the Eternal Word Television Network Is Contributed to the Spread of the "Silent Apostasy" in the Roman Catholic [Sic] Church.
True Catholics, the post-Angelica operators are very devious, throwing just enough Latin into their televised services to dupe the clueless Newchurchers into believing that ETWN is "traditional." Nothing could be further from the truth! Just listen to the presbyters and Newseminarians singing in the vulgar tongue like the Protestant Anglican-Episcopalians and reading Scriptural passages in the vulgar tongue. They sound as if they had never heard of the Bible or any of the passages they they read -- and certainly don't understand Catholicism.
---
December 5, 2015 - St. Peter Chrysologus, Bishop, Confessor & Doctor
Double Feast
Is Bishop Williamson Losing His Traditional Catholicism?
This Tragic Feature Seems to Be Retreating Again into Pusillanimity
From: The TRADITIO Fathers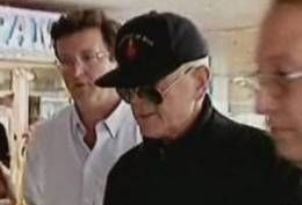 Bishop Richard Williamson Scuttles off in Mufti
As He Is Expelled from Argentina in February 2009
Williamson Is an Ambiguous Figure in the Traditional Catholic Movement
In Williamson's Entire Career of Almost Fifty Years
One Sees Courageous Acts, and One Sees Cowardly Acts
Williamson Now Seems to Have Retreated into His Hamletian Mind
And Is Musing Again after Fifty Years
About whether the New Order Mess Is Actually Valid after All!
As we TRADITIO Fathers have pointed out in previous Commentaries, Bishop Richard Williamson is an ambiguous figure in the Traditional Catholic Movement, who reminds us of Shakespeare's famous Hamlet character. "To be or not to be," spake Hamlet. "That is the question." If one looks at Williamson's entire career of almost fifty years, one sees courageous acts, and one sees cowardly acts. Many in the Traditional Catholic Movement have looked to him at various time to lead. Sometimes he has done so -- a little, and unenthusiastically -- but most times he has failed to step forth with the courage of a truly Catholic bishop.
Williamson seems most happy in the intellectual world, not the real world dealing with the realities of the practical situations that traditional Catholics have to deal with. He sends out a weekly bulletin -- one might well, using the Hamlet analogy -- call it a soliloquy. His latest topic in his bulletins of November 21 and 28, 2015, is the question of the New Order Mess. These are a follow-up to his earlier statement at a conference, at which a layperson asked him about the invalidity of the New Order Mess, and Williamson managed to fumble answering the question for several minutes.
Although Williamson is much closer to the traditional Catholic ideals of Archbishop Marcel Lefebvre, Founder of the original Society of St. Pius X (SSPX), than is Lefebvre's successor, Bernie Fellay, who leans toward a sellout of his reorganized society, the Neo-SSPX (NSSPX), to the anti-Catholic New Order sect, Williamson, certainly an intelligent man, as was Hamlet, after fifty years can't seem to make up his mind about the invalidity of the anti-Catholic New Order service, admittedly fabricated by a Freemason presbyter and his Committee of Six Protestant Ministers after the forms of the heretical, invalid Protestant services.
After fifty years of Newchurch perpetrating the circus of the half New Order Vatican II "Latin" Mess of 1962, the full-blown New Order Mess of 1969, the "Indult Mess," the "Motu" Mess, the "Extraordinary Mess," and all the other anti-Catholic fabrications perpetrated by officials of the New Order sect, Williamson cannot see the obvious truth: the New Order does not have a valid Mass; it is an invalid Protestant service. It's author, the infamous Bugnini, even admitted so in his thousand-page book, La Riforma Liturgica (1948-1975) (1980).
Williamson reminds us of the Ex-Newpope Benedict-Ratzinger, a purported intellectual, who actually published a "scholarly" book in which he denied that there were animals present in the manger at the Nativity. The Evangelist tells us that the Holy Family stayed in a cave "because there was no room for them in the inn" (Luke 2:7/DRV), a cave where animals were housed. How do we know this? The Evangelist tells us: "they laid him [Christ] in a manger," a manger being a food trough for animals in a stable. In fact, the word is derived from the Latin word manducare, meaning "to eat." Even the Great Church Father, St. Ambrose, speaks of the animals. But that is not enough for "Doubting Thomas" Ratzinger!
So now Williamson, having boldly stepped up in 2012 to be at least an informal advisor to what was once referred to as the SSPX of the Strict Observance (SSPX-SO) and now as the Traditional Resistance, now seems to have retreated into his Hamletian mind and is musing again after fifty years about whether the New Order is in fact really valid after all. The best that Williamson can come up with after fifty years of meditation is that the New Order Mess, which even Williamson admits "favors heresy and has led numberless souls out of the [true] Church" is "ambiguous." Get real, Richard, heresy is not ambiguous!
True Catholics, we have received communications from many of you stating how scandalized you are by Williamson's failure to stand up courageously for unadulterated traditional Catholicism and the invalidity the New Order sect, its Mess, and its "sacraments" in clear terms that any Catholic can understand. It seems that Williamson, in his intellectual fancies, has lost track of the words of Our Lord Jesus Christ, well-known for His plain speaking: "But let your speech be yea, yea: no, no: and that which is over and above these, is of evil" (Matthew 5:37/DRV).
---
December 3, 2015 - St. Francis Xavier, Confessor
Double Major Feast
Benedict-Ratzinger's Attempt to Appease the Jews
With the "Extraordinary" Mess in 2008 Has Come Back to Haunt Him
From: The TRADITIO Fathers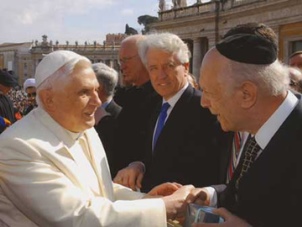 In 2008 Benedict-Ratzinger Tried to Appease the Jews
With the Half New Order "Extraordinary" Latin Mass of 1962+
He Dared to Contravene His Purported Papal Authority
By Replacing the Catholic and Apostolic Prayer of the Good Friday Mass
With One of His Own Modernist Warped Conceit
Now His Newbishops Are Rejecting even That Watered-down Prayer
They Want the Full-blown New Order Prayer in the "Extraordinary Mess"
Which, Contrary to the Explici Words of the Bible
Allows the Jews to Remain in Their Infidelity and Not Convert to Christ
Now that the erroneously-named "Extraordinary Form," that is the Half New Order Vatican II Mess of 1962+, is under the control of the Newchurch of the New Order, it is going to be changed gradually to make it conform to the New Order Protestant-Masonic-Pagan service, just as Benedict-Ratzinger promised in his 2007 Summorum pontificum.
The matter of making the traditional Good Friday litanical prayer for the Jews "politically correct" just won't go away because Newchurch personnel wish to deviate from the Catholic prayer that goes back to the early Church. Benedict-Ratzinger in 2008 contravened the teaching of the Catholic and Apostolic Church when he took it upon himself to violate Apostolic Tradition, which true popes are bound to follow or find their acts invalid. He composed a brand-new prayer, which no true pope has the authority to do. He tried to find a middle path between the Catholic and Apostolic prayer and the desires of the Jews. This compromise of the Faith did not take. We TRADITIO Fathers had predicted at the time that it wouldn't.
On November 24, 2015, the Newbishops of England and Wales are demanded that the Good Friday litanical prayer for the Jews in the "Extraordinary Mess" be "updated" to the New Order prayer, which is essentially heretical. The traditional Catholic and Apostolic prayer is as follows:
Oremus et pro perfidis Iudaeis: ut Deus et Dominus noster auferat velamen de cordibus eorum; ut et ipsi agnoscant Iesum Christum Dominum nostrum. Omnipotens sempiterne Deus, qui etiam iudaicam perfidiam a tua misericordia non repellis: exaudi preces nostras, quas pro illius populi obcaecatione deferimus; ut, agnita veritatis tuae luce, quae Christus est, a suis tenebris eruantur.
[Let us pray also for the faithless Jews: that God and Our Lord take away the veil from their hearts; that they themselves may acknowledge Jesus Christ Our Lord. Almighty, eternal God, Who does not reject even the Jewish faithlessness from Thy mercy; hear our prayers, which we offer on account of the blindness of that people; that, if they have acknowledged the light of Thy truth, Which is Christ, they be rid of their darkness.]
Clear and Catholic, right? But Ratzinger dared to violate his purported papal office by telling the Holy Apostles that they had prayed wrong. He replaced the prayer in the phony "Latin Mass," that is the Vatican II 1962 "Extraordinary Mess," with the following prayer:
Let us also pray for the Jews: that our God and Lord may illuminate their hearts, that they may acknowledge that Jesus Christ is the Savior of all men. Almighty and eternal God, Who wills that all men be saved and come to the acknowledgment of the truth, grant propitiously, that by the fullness of the Gentiles entering into the Church, all Israel be saved.
Yet even this does not go far enough for the anti-Catholic Newbishops of the New Order sect. They want to replace even Ratzinger's half New Order version with the full-blown New Order prayer:
Let us pray for the Jewish people, the first to hear the word of God, that they may continue to grow in the love of his name and in faithfulness to his covenant. Almighty and eternal God, long ago you gave your promise to Abraham and his posterity. Listen to your Church as we pray that the people you first made your own may arrive at the fullness of redemption.
Wow! This New Order prayer isn't even Catholic, is it? St. Paul and the other Apostles of the New Testament, all Jews who converted to Christianity, would spit that wording out of their mouths. According to the New Order, Jews are better than Christians because Jews were first. The Jews, unconverted to Christianity, are free to follow their Old Covenant, which the Church teaches expired when the Messias, Our Lord Jesus Christ, the incarnated Son of God, brought the New Covenant. Essentially, the New Order prayer is heretical.
But the English & Walesean Newbishops' Committee for Catholic-Jewish Relations joins the German Newbishops Conference in maintaining that even Ratzinger's "compromised" replacement prayer had caused "great confusion and upset in the Jewish community." The Unsaint JPII-Wojtyla had proclaimed in 1980 the heresy that the Old Covenant of the Jews had not been revoked. This statement is explicitly contrary to the New Testament, the Holy Apostles, and all the Fathers and Doctors of the Catholic Church. The goal of the Newchurch bishops is not the clear expression of Catholic and Apostolic doctrine, but, in their own words, "to help progress Catholic-Jewish dialogue." [Some information for this Commentary was contributed by the U.K. Catholic Herald.
True Catholics, the Newchurch of the New Order, currently headed by the Marxist Newpope Francis-Bergoglio, is not the Catholic. Like the institutional Church of the fourth century, which was taken into heresy by several popes and most bishops -- this according to the authority of St. Athanasius, St. Jerome, and other Great Saints and Doctors of the Church, no true Catholic can have anything to do with the Newchurch. As St. Athanasius, Defender of the Faith, so directly put it in his Letter to His Flock:
Who has lost and who has won in the struggle -- the one who keeps the buildings or the one who keeps the Faith? The true Faith, obviously. That therefore the ordinances which have been preserved in the churches from old time until now may not be lost in our days,... rouse yourselves, brethren,... seeing them now seized upon by aliens.
---
December 2, 2015 - St. Bibiana, Virgin & Martyr
Semidouble Feast
Francis-Bergoglio Declares that Christmas Is a "Charade"
As His New Order "Year of Mercy" Is Blown to Smithereens by the Paris Massacres
From: The TRADITIO Fathers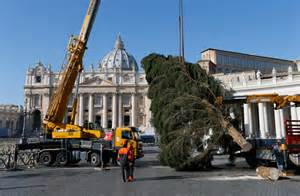 Newvatican's Christmas Tree Will Not Stand This Year
Francis-Bergoglio Has Declared that Christmas
Is a "Charade" because of Secular Wars
He Overlooks -- or Rejects -- the Teaching of Sacred Scripture
And the Meaning of the Dogma that Is at the Very Center
Of the Catholic and Christian faith: the Incarnation
On November 27, 2015, Francis-Bergoglio declared that Christmas is a "charade," at one of his invalid Novus Ordo Protestant-Masonic-Pagan services in the Domus Santae Marthae. The Domus is the sumptuous Newpapal Hilton in Newvatican where Bergoglio has decided to live like a prince instead of in the traditional papal apartment equipped in Spartan fashion like a humble monk's cell. "There will be lights, there will be parties, bright trees, even Nativity scenes all decked out.... It's all a charade," he homilized about Christmas.
Bergoglio claims that the world is at war, and that makes Christmas a "charade." For Bergoglio, God becoming Incarnate is a charade. The travails of Mary and Joseph at the Nativity are a charade. The perilous journey of the Magi to Bethlehem at the Epiphany is a charade. Bergoglio is so steeped in secular affairs that he overlooks -- or rejects -- the teaching of Sacred Scripture and the meaning of the dogma that is at the very center of the Catholic and Christian Faith: the Incarnation.
Poor Bergoglio! His contrived "Year of Mercy," which was supposed to start on December 8, 2015, with the lighting of the Christmas tree in Newvatican, is blown to smithereens in the wake of the Paris massacres of November 13, 2015. Bergoglio's New Order "Year of Mercy" contradicts Christ in purporting to teach that sin is forgiven without repentance on the part of the sinner. It contradicts Christ in purporting to teach that Catholics can divorce and remarry at a whim and can munch the invalid Novus Ordo Cookie and swill the Novus Ordo Kool-Aid.
True Catholics, it seems that Francis-Bergoglio is beginning to learn that "God is not mocked" (Galatians 6:7/DRV) -- even by his purported vicar!
---
December 1, 2015 - Ferial Day
A Reader Asks: "Isn't the Neo-SSPX's Use
Of 'Corpus Christi' to Distribute Communion the Novus Ordo Practice?"
From: Ivan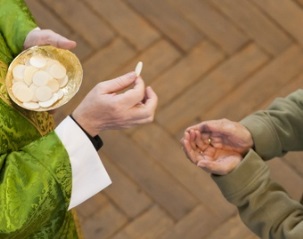 Our Reader Reveals that in Australia
Some of Bernie Fellay's Neo-SSPX Priest Presbyters
Are Administering "Communion"
Using the Novus Ordo (New Order) Formula
This Formula, Introduced by Newchurch in 1964
Was Modeled after Protestant Practice
In Which the "Body of Christ" Refers to the Congregation
Not a Sacrament (Which the Protestants Do Not Have)
Dear TRADITIO Fathers:
At a site here in Australia, Bernie Fellay's Neo-SSPX priest-presbyters are distributing "Communion" with the formula "Corpus Christi." Isn't this the New Order (Novus Ordo) formula, not the traditional Catholic formula?
The TRADITIO Fathers Reply.
It is the New Order (Novus Ordo) formula, which was introduced as one of the first changes, in 1964, after the Modernist Vatican II Anti-council began its despicable work. The communicant is then supposed to respond "Amen." To this day, that decapitated formula is used to hand out the invalid Novus Ordo cookie in the invalid Protestant-Masonic-Pagan New Order service. The decapitated formula was introduced so that it would become vague just Who/who or What/what the Body/body was. This now out-of-context phrase could refer to the invalid cookie or to the congregation itself, as in the heretical Protestant usage.
The reference of traditional formula for administering Holy Communion is crystal clear; it is to the Sacramental Presence of Christ in the Holy Eucharist: Corpus Domini nostri Iesu Christi custodiat animam tuam in vitam aeternam. Amen. [May the Body of Our Lord Jesus Christ keep thy soul unto life everlasting. Amen.] Note that in the traditional formula it is the priest, not the communicant, who says "Amen."
It appears from your report that Bernie Fellay's Neo-SSPX is already beginning to introduce elements of the New Order service at selected Neo-SSPX locations, to soften up, as it were, his congregations for his eventual sell-out to become a member in good standing of the anti-Catholic New Order sect. We have received other reports of Novus Ordo practices, and even Novus Ordo presbyters, being introduced at Neo-SSPX services.
---

Return to Daily Commentaries from the TRADITIO Fathers.