November 2016
| | |
| --- | --- |
| | For answers to many questions, consult the CURRENT MONTHLY REVISED EDITION of the Official Traditional Catholic Directory, Listing All Traditional Latin Masses and Traditional Resources for North America. For further information, click on the TRADITIO Network's Official Traditional Catholic Directory department, provided to the TRADITIO Network by the National Registry of Traditional Latin Masses. |
For information about the protocol for sending messages to the TRADITIO Fathers, click on Ask the Fathers. First, here are some hints for locating items that have already been covered. The TRADITIO Network has the most varied and extensive repository of traditional Catholicism, collected over the 20 years of our existence on the internet, the longest of any traditional site. (1) Check the 16 departments listed in the TRADITIO Network's Web Site Map on our home page, www.traditio.com. (2) Check the 14 FAQs in the TRADITIO Network's Library of Files (FAQs and Traditional Apologetics) department, which answers your most common questions. (3) Use the Search engine on the TRADITIO Network's home page, www.traditio.com.
| | |
| --- | --- |
| | If you have you have personally benefited from the services of the TRADITIO Network, please support the continuation of the TRADITIO Network's Apostolate by clicking on the box to the left to made a donation easily, securely, and confidentially by bank account or credit card through PayPal. Regular contributors become Benefactors of the TRADITIO Network, and their intentions are specially commemorated at Traditional Latin Masses offered. Using PayPal reduces our administrative burden considerably, but if need to use a paper check, click on FAQ01: "How Can I Help the TRADITIO Network's Apostolate?" We have always refused to display those annoying "click" ads to raise money. We hate those ads, and we think that you do too, so we have kept TRADITIO 100 per cent free of them and rely instead on you for voluntary donations. |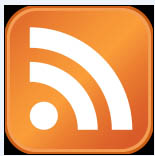 Subscribe to the Free TRADITIO RSS Feed
---
THE TRADITIO NETWORK HAS BEEN INFORMED BY THE NATIONAL REGISTRY OF TRADITIONAL LATIN MASSES THAT THE NEW NOVEMBER 2016 MONTHLY REVISED EDITION OF THE 21ST ANNUAL EDITION (2016) OF THE OFFICIAL TRADITIONAL CATHOLIC DIRECTORY, LISTING ALL TRADITIONAL LATIN MASSES AND TRADITIONAL RESOURCES FOR NORTH AMERICA HAS BEEN PUBLISHED. FOR FURTHER INFORMATION, CLICK ON THE OFFICIAL TRADITIONAL CATHOLIC DIRECTORY DEPARTMENT, PROVIDED TO THE TRADITIO NETWORK BY THE NATIONAL REGISTRY OF TRADITIONAL LATIN MASSES. THE 2016 ANNUAL USE FEE IS NOW DUE FOR THOSE WHO WISH TO USE THE NEW 2016 ORIGINAL EDITION AND ITS MONTHLY UPDATE EDITIONS. BE SURE TO CHECK YOUR TRADITIONAL SITE'S LISTING FOR CORRECTNESS.
---
REMEMBERING YOUR HOLY SOULS IN PURGATORY DURING NOVEMBER
The Church has taught from Apostolic times that we here on earth have a responsibility as members of the Communion of Saints to help the Holy Souls in Purgatory to hasten their admission to Heaven. If you wish to have a fully Traditional Latin Mass celebrated for your faithful departed, click on FAQ02: How Do I Submit a Mass Intention? in the TRADITIO Library of Files (FAQs and Traditional Apologetics).
---
NOVEMBER 30, 2016 - ST. ANDREW, APOSTLE
DOUBLE FEAST OF THE SECOND CLASS
Francis-Bergoglio Prays for His Marxist Atheist "Friend"
The Murderous Tyrant Fidel Castro, Dead at 90
From: The TRADITIO Fathers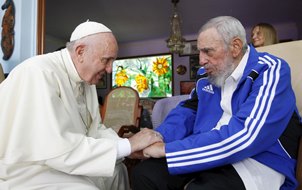 Two Marxist Buddies, Francis-Bergoglio and Fidel Castro
Shoot the Breeze in Havana, Cuba, September 2015
Francis-Bergoglio and Fidel Castro Are Like Two Peas in a Pod
They Were Both Trained by Liberationist Newjesuits
Both Are Marxists
Bergoglio Has Gone into Mourning for the Excommunicate
Curiously, Castro Died within a Week
After Bergoglio's Fabricated "Year of Mercy" Ended
Francis-Bergoglio, who met the Tyrant of Cuba in September 2015, and Fidel Castro, dead at 90 on November 27, 2016, are like two peas in a pod. They are both trained by Newjesuits who specialized in murderous "Liberation Theology." They are both Marxists. And with Bergoglio swerving into more and more anti-Catholicism in recent days, one wonders whether they aren't both atheists too. Rather than invoking Brutus's Sic semper tyrannis upon killing the tyrant Julius Caesar, Newvatican announced that Bergoglio was going into mourning for the tyrant. [Some information for this Commentary was contributed by Reuters.]
Castro was baptized as a Catholic and became an atheist excommunicate. Therefore, the Catholic Church teaches that he cannot be prayed for publicly. There is always the sliver of a chance that in articulo mortis Castro sincerely repented of his hatred of Our Lord Jesus Christ and his murderous acts during life. Yet there is no evidence that this "miracle" occurred. Best to leave Castro to Christ the Just Judge. Curiously, Castro died within a week after Francis-Bergoglio's fabricated "Year of Mercy" ended.
---
November 29, 2016 - Vigil of St. Andrew, Apostle
Francis-Bergoglio Calls His Newseminarians Too Moral, "Rigid"
The Heretic Newpope Also Calls Principal Catholic Theologian St. Thomas Aquinas "Decadent"
From: The TRADITIO Fathers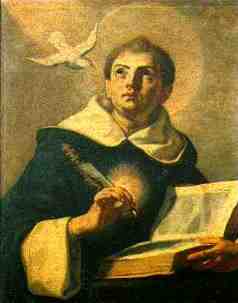 Francis-Bergoglio Has Dived Again over the Cliff of Anti-Catholicism
In an Address Just Published, He Denounced Objective Right and Wrong
In Favor of a "Moral Relativism" and "Situational Ethics"
Strongly Condemned by the Catholic Church
He Also Denounced as "Decadent"
The Principal Theologian of the Church, St. Thomas Aquinas
Canonized by Pope St. Pius V
And Universally Praised by Catholic Popes
Now Bergoglio's Own Newcardinals and a Growing Number of Newchurchers
Are Calling the Newpope a Virtual Heretic
Francis-Bergoglio, who in recent days has been called a virtual heretic by four of his Newcardinals for his false teaching on marriage and the family, has again dived over the anti-Catholic cliff. On October 24, 2016, just published on November 25, 2016, Bergoglio, at the General Congregation of the Newjesuits, denounced his Newseminarians as "rigid," the same word that he recently used to describe traditional Catholics. That is hard to understand because the Newjesuits are now radicalized, having been trained in murderous "Liberation Theology."
Bergoglio denounced the Newseminarians for being too moral, for seeing objective right and wrong instead of the gray "Moral Relativism" and "Situational Ethics" preached by the Modernists, a philosophy that is condemned as evil by the Catholic Church. Then Bergoglio went on to denounce the Catholic Church's principal theologian, the St. Thomas Aquinas, the Dominican, whose 3000-page Summa Theologica details bedrock Catholic theology.
St. Thomas Aquinas has been variously called by Catholic Popes: Doctor Angelicus (Angelic Doctor), Doctor Communis Ecclesiae (Common Teacher of the Church), Doctor Universalis (Universal Doctor of the Church), and Princeps Theologorum (Leader of Theologians). Pope St. Pius V himself proclaimed St. Thomas the Doctor of the Universal Church in the year 1567, just three years before that Pope canonized the Traditional Latin Mass in perpetuum (in perpetuity) in his solemn Papal Bull Quo primum of 1570. Crowning the testimonies of Catholic Popes in praise of St. Thomas Aquinas is that of Pope Innocent VI (1352-1362):
His doctrine above all other doctrine, with the one exception of the Holy Scriptures, has such a propriety of words, such a method of explanation, such a truth of opinions, that no one who holds it will ever be found to have strayed from the path of truth; whereas anyone who has attacked it has always been suspected as to the truth.
It is this Doctor Saint whom Francis-Bergoglio presumes to denounce calling him "decadent." Thus, again, Bergoglio places himself outside the Catholic Church. For good measure, Bergoglio also denounces the other great theologian of the Church, the Franciscan St. Bonaventure.
Among the other anti-Catholic positions mouthed by Newpope in his address, Bergoglio hyped "inculturation," the Vatican II Anti-council's heretical doctrine that there should be no uniformity in faith or worship, but everything can be modified to suit various local "cultures." [Some information for this Commentary was contributed by the Italian Newjesuit journal La Civiltà Cattolica.]
True Catholics, Francis-Bergoglio is spewing out heresy again, this time of Moral Relativism, the philosophy that there is no right and wrong, only a myriad of "situations." This philosophy is condemned as evil by the Catholic Church. Bergoglio is a disgusting gnat compared to the giant bedrock Catholic theologian and Saint, Thomas Aquinas. Bergoglio sinks lower and lower, proving day by day that he is not Catholic, but a heretic. And now his own Newcardinals and a growing number of his own Newchurchers are calling him just that.
---
November 28, 2016 - Ferial Day
Neo-SSPXers Are Lucky that Francis-Bergoglio Blew Them Off
Once the Hardliners Are Cleared out, Newchurch "Conservatives" Get Control
From: Peter, the TRADITIO Network's Canadian Correspondent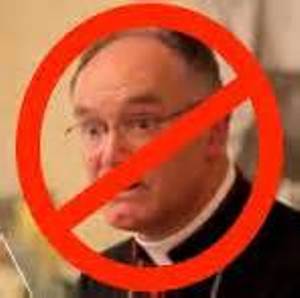 The Neo-SSPXers Haven't a Clue How Lucky They Were
When Francis-Bergoglio on November 20, 2016
Blew off Their Neo-SSPX and Their Superior-Dictator Bernie Fellay
The "Personal Prelature" Arrangement That Had Been Proposed
Would Have Bound the Neo-SSPX
And Made It an Entity of the Newchurch of the New Order
Let's Face It: Fellay Has Been Completely Fooled
By the Usual Modernist/Liberalist Fake Smiles
Dear TRADITIO Fathers:
The Neo-SSPXers haven't a clue how lucky they were when Francis-Bergoglio, in his November 20, 2016, document Misericordia et misera blew off their Neo-SSPX and their Superior-Dictator Bernie Fellay. The "personal prelature" arrangement that had been proposed (personal to Bergoglio, that is, not to Fellay) will bind the Neo-SSPX and made it an entity of the Newchurch of the New Order.
Under a personal prelature all the real property of the Neo-SSPX will be transferred to the shiny new structure. The Neo-SSPX will need permission from each local Modernist Newbishop to open an apostolate in his see. Such an arrangement will destroy the very advantage of Archbishop Lefebvre's original traditional Society of St. Pius X, which Fellay has abandoned to create a Neo-SSPX after his own image. The whole point of the Archbishop was to be free from the local Modernist Newbishops, who are the very worst enemies of the Holy Catholic Church.
What does Our Lord Jesus Christ teach us? That if you do the wrong thing, you will lose even that which you had. Fellay drools to be Baron Fellay of a worldwide province in Newchurch. Instead, he will lose even the bailiwick that he now has. He will find himself back at work as a presbyter at a Novus Ordo parish in a village in Suisse Romande, whence he came. There's always a hospice somewhere that needs an assistant chaplain.
Meanwhile, once the hardliners are cleared out of the shiny new personal prelature of the Neo-SSPX, Newchurch "conservatives" will get control of the Neo-SSPX's remaining churches and chapels. Fellay's Half New Order Vatican II "Mess of 1962" will be replaced with a full-blown "New Mess of 1969," for a brief time in Latin, thenceforth only in the vulgar tongues. Fellay will be forced by Newchurch to "modernize" his calendar too, imposing the Divine Mercy fraud on Low Sunday, moving the Feast of Christ the King to the end of November, and intruding Newsaints such as the Marxist Oscar Romero and the Unsaint JPII-Wojtyla.
Let's face it: Fellay has been completely fooled by the usual Modernist/Liberalist fake smiles. "Welcome to my parlor," said the Newchurch Bergoglio to the Fellay fly. Instead, Fellay should fly from Modernist Rome, have the humility to retire from his 18-year dictatorship and back a new leader who will reject Newchurch as the heretical Protestant sect that it is.
---
November 27, 2016 - First Sunday of Advent
Semidouble Sunday of the First Class
A Reader Asks: "Would It Be Sinful to Abstain on Saturday
Instead of Friday for Purposes of a Party?"
From: Theresa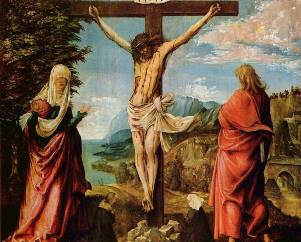 Albrecht Altdorfer's "Crucifixion" (1535)
You Can Be Sure that Our Lady and St. John the Apostle
Were Not Eating Fleshmeat on Friday
The Practice of Friday Abstinence (Not Saturday)
Goes Back to the Apostolic Church
You Might Be Able, as St. James Says
To Convert Someone from the Error of His Way
And Save His Soul from Death
Dear TRADITIO Fathers:
We have been invited to a get-together on a Friday night, and only fleshmeat will be served. Would it be sinful to abstain on Saturday instead of Friday that week?
The TRADITIO Fathers Reply.
Yes, it would be Mortally Sinful against the Second Precept of the Church. The only exceptions are Holydays of Obligation falling on a Friday, which are by their nature feast days; therefore, penitential practices do not pertain to those days. The Friday abstinence from fleshmeat goes back to the Apostolic Church. For further information, click on FAQ11: How Do You Explain These Traditional Catholic Practices? in the TRADITIO Network's Library of Files: FAQs and Traditional Apologetics department, in the section "Friday abstinence."
It is hard to believe that nothing but meat will be served at this party. Is your hostess completely out of touch? Many people today don't eat meat, for various reasons. Are there to be no side dishes: salads, pasta, vegetables, desserts? Just skip the meat. If anyone were to comment to you -- certainly a boorish breach of etiquette! -- what a wonderful opportunity will you have to smile state simply: "I am Catholic, and I don't eat meat on Friday as a little penance for my sins."
Who knows? You might get a sinner to rethink his own state of soul and save that soul. And as St. James tell us (5:19/DRV): "My brethren, if any of you err from the truth and one convert him: He must know that he who causeth a sinner to be converted from the error of his way shall save his soul from death and shall cover a multitude of sins."
After all, this little sacrifice is supposed to be a penance and have a little inconvenience to it. Our Lord suffered the agony of crucifixion on Friday to make your salvation possible. But you have to do your part. Compared to Our Lord's sacrifice, skipping meat one day is a walk in the park!
Addendum. For those of our traditional Catholic readers in the United States, who celebrate Thanksgiving Thursday (November 24, 2017), the TRADITIO Fathers have been amused to see the Novus Ordo-leaning Neo-SSPX conveniently "find" something it calls the "Turkey Indult," purportedly to excuse eating meat on Thanksgiving Friday. The Neo-SSPX even scandalously invokes the name of Pope Pius XII by claiming without evidence that such an indult was issued by him "in the 1950s." This convenient "rumor" has been making its way around "conservative" sites on the internet, yet no specific date and no specific title for any such "indult" has ever been published! Caeci sunt duces caecorum (Matthew 15:14/V). Friday is a day of abstinence from meat. God gave Americans refrigeration. Their turkey sandwiches can wait one day while they do a little deserved penance!
---
November 26, 2016 - St. Sylvester, Abbot
Double Feast
In New Document Newpope Has Rejected Fellay and His Neo-SSPX
Fellay Is Now Left with Egg on His Face and an Internal Civil War
From: Peter, the TRADITIO Network's Canadian Correspondent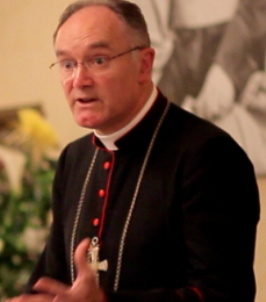 Bernie Fellay, Superior-Dictator of the Neo-SSPX
Looked Dumfounded when Informed that Francis-Bergogolio
Has Rejected Him and His Neo-SSPX
Instead of Receiving Fellay into the Newchurch of the New Order
At the Close of the Fabricated "Year of Mercy" on November 20, 2016
Bergoglio Merely Extended a Previous Pittance of a "Grant"
Even That Is Invalid, as the Newpope
Who Was Never Ordained as a Catholic Priest
Or Consecrated as a Catholic Bishop
Cannot Give to Others What He Doesn't Have Himself
Dear TRADITIO Fathers:
Well, the news is in: Francis-Bergoglio has rejected Bernie Fellay and his Neo-SSPX. In spite of a number of rumors that Fellay and his Neo-SSPX would be fully received into the New Order at the close of Bergoglio's fabricated "Year of Mercy," November 20, 2016, Newpope in his November 20, 2016, document Misericordia et misera give Fellay only a pittance. Bergoglio merely extends his purported "grant" to make Neo-SSPX confessions valid and licit, as if Bergoglio's own Newchurch confessions were valid. The Newpope, who was never ordained as a Catholic priest or consecrated as a Catholic bishop, cannot give what he doesn't have.
And Bergoglio extends this pittance of a "grant" only "until further provisions be made." What this indicates is that the sellout structure is still being dangled in front of the clueless Fellay -- a structure that could come any decade now -- or sooner or later -- or probably never!
Bergoglio could have taken this opportunity to add to the original "grant" and thereby suggest that he really is as "merciful" as his propaganda falsely paints him to be. He could have publicly recognized that Fellay's Neo-SSPX Masses fulfil the Sunday obligation for Newchurchers, something Newrome absolutely refuses to do. And why this refusal? Because Gerhard Mueller, head of the "Ecclesia Dei" Commission and of the Congregation for the [New Order] Faith, the heretic who denies a literal Resurrection of Our Lord and a literal perpetual virginity of Our Lady, who has persecuted the Neo-SSPX in the past, and who is a disciple of the Marxist agent Gustavo Gutierrez, needs to rope in the Neo-SSPX to bind it to the Vatican II Anti-council.
Not one more supposed "concession" will be granted until Fellay binds his Neo-SSPX to the heresies encoded in the Vatican II documents. Assez! Es Reicht! Basta! Enough! No more "concessions" to the pseudo-traditionalists!
Before Mueller came along, the "Ecclesia Dei" Commission under Newmonsignor Camille Perl admitted to enquirers by letter that in the eyes of Newchurch, Neo-SSPX Masses do indeed fulfil the Sunday obligation. But Mueller and his new deputy, Guido Pozzo, soon put a stop to that. They couldn't contradict themselves without undermining what little authority they have left. So they wrote that they would "limit themselves" to say that one shouldn't attend Neo-SSPX Masses. It's an indirect and Jesuitical way of saying "We refuse to answer your question." It's the sort of tactic that you would expect from the bureaucratic-contortionist Sir Humphrey Appleby of the British comedy Yes, Minister.
These Newchurch officials, right up to the top dog, are -- it needs to be said -- perverts. They play games with people's souls. Nobody is lower. Newchurch prelates have clearly proven over the past forty years that:
they have no Catholic Faith
they drive out their Newchurch parishioners
they enrich themselves when they sell off their beautiful traditional churches
they are barbarians, having no taste in music and the arts
they are paedophiles, especially skilled at raping children
So the 64,000-dollar question is: Why does Fellay want to dance with the devil? Shouldn't he be walking with Christ instead? Shouldn't he change direction before it is too late? What happened to the Institute of the Good Shepherd will happen to the Neo-SSPX. The Institute was "granted" in its new statutes a clause to use the Half New Order Vatican II "1962 Mess" exclusively, but once Newrome roped the Institute in, it was betrayed, and the clause removed. Zap! Now you see it; now you don't. These Conciliar Romans are worse than the mafia. No truly traditional Catholic organization should touch any Newchurch official, right up to the top dog, with a barge pole.
The TRADITIO Fathers Add:
Bishop Richard Williamson's November 12, 2016, call for a civil war within the Neo-SSPX against Bernie Fellay is sure to gain steam, now that Fellay has been denuded not only in front of truly traditional Catholics, who have rejected his sellout posture, but in front of the whole Newchurch.
---
November 25, 2016 - St. Catherine of Alexandria, Virgin & Martyr
Double Feast
Francis-Bergoglio's "Year of Mercy" Was a Bust
He Is Now Afraid of Open Revolt against Him on the Part of His Newcardinals
From: The TRADITIO Fathers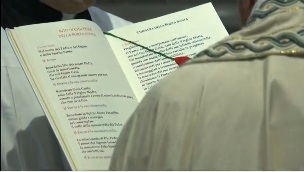 To Close the Fabricated "Year of Mercy"
Francis-Bergoglio Used Not the Soaring Traditional Latin Ceremonial
That Had Been Used for over 700 Years since the First Holy Year Was Declared
But Vulgar Italian
Not even All of His Own Newchurch Bought into His "Year Of Mercy"
Division Reared Its Head when Four of His Own Newcardinals
Made a Public Challenge to Francis-Bergoglio
That His Teachings in His Document Amoris Laetitiae (The Joy Of Sex)
Preached Heresy on Important Moral Issues Pertaining to Marriage and the Family
In another "modernized" and abbreviated Novus Ordo ceremony, Newpope Francis-Bergoglio of the Newchurch of the New Order closed the Holy Doors of St. Peter's Archbasilica on November 20, 2016, once and for all ending his fabricated Newchurch "Year of Mercy." Instead of chanting the soaring traditional Latin that has been used for over 700 years since 1300, when the first Holy Year was declared, Bergoglio mouthed vulgar Italian.
For this reason and the increasing cries against Bergoglio, most recently coming from four of his own Newcardinals, that he is a virtual heretic because of his public contradiction of Biblical doctrine on marriage and the family, the Novus Ordo "Holy Year" was a bust. Newroman authorities had hoped for attendance similar to that during the last Holy Year in 2000. Those numbers failed to materialize. Most of the people who showed up were from day-trippers from the environs of Rome itself.
Because the signs of a revolt within his own Newcuria are increasing, Bergoglio failed to meet with the College of Newcardinals previous to a consistory on November 20, 2016. Newvatican sources tell us that he was afraid to convene the group because he feared that, if they assembled together, more Newcardinals would join the four in denouncing his teaching as heretical. Other sources tell us that some theologians in Newrome are now researching how to depose a heretic pope.
Not even all of his own Newchurch bought into Francis-Bergoglio's "Year of Mercy." Division reared its head when four of his own Newcardinals made a public challenge to him that his teachings in his March 19, 2016, document Amoris laetitiae (The Joy of Sex) preached heresy on important moral issues pertaining to marriage and the family. [Some information for this Commentary was contributed by Reuters.]
True Catholics, it may be that, after just four years of Francis-Bergoglio, we are finally seeing a revolt against his anti-Catholic teachings. It is clear that Bergoglio did not expect this reaction -- the Marxist Newpope thought that he could get away with his Marxist ploy. He has become defensive and afraid of the growing revolt. We may soon see a second Ex-Newpope to join the Paedophile Newpope Benedict-Ratzinger in abdication.
---
November 24, 2016 - St. John of the Cross, Confessor & Doctor
Double Feast
Francis-Bergoglio Visibly Stung by Newchurch Conservatives
He Lashes out against Missionaries and Praises Arch-heretic Martin Luther
From: The TRADITIO Fathers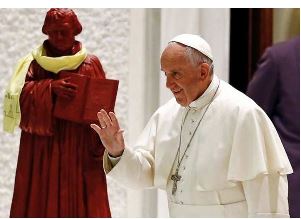 Francis-Bergoglio Praises Arch-heretic Martin Luther (Left)
For Rejecting the Catholic Church
Bergoglio, Stung by Criticism
From Four Newcardinals and Conservative Newchurchers
Seems to Be Losing His Mind
It Is Undeniable Now Clear that He is Not a Catholic, but a Heretic
It Is Rumored that Some in Newvatican Are Now Researching
How to Depose an Heretical Newpope
With Francis-Bergoglio at the head of Newchurch, it's no wonder that his membership is plummeting while Protestant numbers are growing. Now he's even denouncing missionaries -- of whom there are few left in Newchurch because of its heretical teaching on "oecumenism" ("all religions are the same," "we all worship the same god"). On November 18, 2016, Francis-Bergoglio angrily defended himself in the Italian Newchurch daily Avvenire against his own Newchurchers, who publicly criticized him for participating in "oecumenical" events honoring the Arch-heretic Martin Luther and the 500th Anniversary of the Protestant Deformation. They have criticized him for "Protestantizing" the Faith. His only response was an ad hominem attack: he called his critics "nasty."
Bergoglio, who denies that he is affected by the growing criticism, actually seems to be obsessed with it. He has lashed out against his conservative critics as "arrogant, closed in the past, defensive, doctrinaire, Donatist, fundamentalist, hypocritical, ideologue, idolater, legalistic, nasty, neurotic, obsessed, obstinate, Pelagian, pietistic, rebellious, restorationist, rigorous, ritualistic, scary, self-absorbed." He has also said that they have "psychological problems." Some of his remarks appeared to be directed to the four Newcardinals who recently accused him of virtual heresy in his document Amoris laetitia" (The Joy of Sex), which is distinctly anti-Christian and anti-family.
In fact, Bergoglio has refused to convene the customary pre-consistory meeting of Newcardinals before the November 19, 2016, consistory to create seventeen more Newcardinals. According to one Newvatican source, Bergoglio is afraid of a revolution by the Newcardinals if they are allowed to assemble together. He fears that more will join the four Newcardinals who have accused him of virtual heresy.
In addition to conservative Newchurchers, Bergoglio has now taken on missionaries. Contradicting yet another Catholic dogma, coming straight from the lips of Our Lord Jesus Christ Himself, Francis-Bergoglio has heretically declared: "Proselytism is a grave sin." Yet Christ Himself commissioned His Apostles and their successors: "Going therefore, teach ye all nations: baptising them in the name of the Father and of the Son and of the Holy Ghost" (Matthew 28:19/DRV). Scandalously, Bergoglio went on to praise the Arch-heretic Martin Luther for rejecting the Catholic Church. [Some information for this Commentary was contributed by Catholic World News.]
True Catholics, it is Francis-Bergoglio himself who has the psychological problems. He claims that his critics act "with a nasty spirit to sow division," but, in reality, it is Bergoglio who is sowing division by rejecting Catholic doctrine and embracing numerous heresies. He even stoops so low as to praise the Arch-heretic Martin Luther for rejecting the Catholic Church. Yet this is the man to whom Newchurchers -- though increasingly fewer of them -- continue to genuflect. But not for long. It is rumored that some in Newvatican are already researching how to depose an heretical Newpope.
---
November 23, 2016 - St. Clement I, Pope & Martyr
Double Feast
The "Mercy" Clock Is Running out on the Neo-SSPX's Fellay
At Midnight He Becomes a Virtual Excommunicate Again
From: Peter, the TRADITIO Network's Canadian Correspondent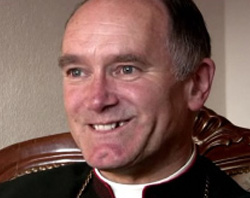 Something Is Missing in Bernie Fellay's Neo-SSPX World
The Clock Is Running out on the "Year of Mercy"
And Fellay, in Francis-Bergoglio's Eyes
Will Become Illicit and Invalid Again
Fellay Is No Longer an Immediate Concern for Bergoglio
Now He Has to Deal with the Revolt of the Four Newcardinals
Who Have Publicly Called Him a Virtual Heretic
Dear TRADITIO Fathers:
The "mercy" clock will run out at midnight, November 20, 2016. At that point Francis-Bergoglio will close his unholy stable door on mercy, and mercy will be no more. There are only hours left for some gesture for Bernie Fellay's Neo-SSPX. Without this gesture it would appear that, in the eyes of Bergoglio, Fellay's absolutions in confession will suddenly, like magic, become illicit and invalid again -- as if Bergoglio had any power to confer validity when he himself has not even been ordained as a priest or consecrated as a bishop.
Meanwhile Francis-Bergoglio has bigger problems on his mind, like the revolt of the four Newcardinals who have publicly called him a virtual heretic. He is said to be furious against them. If they force him to back down from his manifest rank heresies, he loses face and will therefore no longer have the confidence that he needs to continue his claim to the Newpapacy. If he stands firm, he risks a growing revolt that might end in a declaration by leading Newprelates that he has excommunicated himself and has therefore lost his office.
What is Francis-Bergoglio to do? Kiss a baby? Meet with some more defrocked priests to congratulate them? He might pretend to drop his glasses and then step on them to get some laughs and divert attention away from his bungling of the Newpapal office. But, somehow, I don't think that that will work.
Newchurch is so heretical and corrupt that its conservative heretics and its liberal heretics are now cancelling each other out. And we real Catholics get to sit by and watch it all unfold. Pass the popcorn!
---
November 22, 2016 - St. Cecilia, Virgin & Martyr
Double Feast
Four Newcardinals Publicly Challenge Francis-Bergoglio
They Accuse Him of Perpetuating the Odor of Heresy
From: The TRADITIO Fathers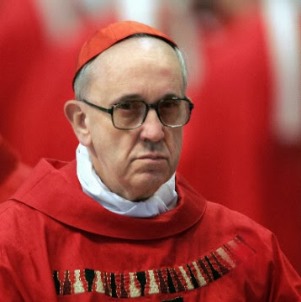 Francis-Bergoglio Is Not a Happy Camper These Days
Four Newcardinals Have Virtually Accused Him of Heresy
In a Brief Sent to Several News Organizations
They Claim that His Document on Sex Contains Heresy
When He Refused to Reply to Their Brief, They Went Public
So that His False Teaching Could Be Overruled
On November 14, 2016, four Newcardinals, two German (Walter Brandmuller and JoachimMeisner), one Italian (Carlo Caffarra), and one American (Raymond Burke), went public, demanding that Francis-Bergoglio clarify his April 8, 2016, document entitled Amoris laetitiae (The Joy of Sex) so that the odor of heresy on five issues (dubia) contained in it could be abated. The Newcardinals had previously, on September 19, 2016, made their demand of Bergoglio privately, but because Bergoglio refused to reply, the four Newcardinals have gone public. Such an open challenge to the orthodoxy of a supposed pope has only rarely occurred in the history of the Church. Curiously, Bergoglio's document has never been released in its official Latin form, only in vulgar versions.
The Newcardinals, in a brief sent to several news organizations, accused Francis-Bergoglio of sowing confusion on important moral issues such as homosexuality and divorce with remarriage, and demanded that Bergoglio "resolve those doubts that are the cause of grave disorientation and great confusion." The Newcardinals pointed out that even Newbishops were offering "contrasting interpretations" of the clear Biblical teaching against divorce with remarriage. The Newcardinals charged that Bergoglio's document violates Catholic teaching (and was therefore tantamount to heresy).
On November 18, 2016, Francis-Bergoglio responded -- scandalously in an "interview" given to the Newchurch daily newspaper in Milan, Avvenire, not in an official Newchurch document -- to the five dubia in the way exactly contrary to Catholic teaching, siding in each case with the philosophy of condemned Moral Relativism ("there is no black and white in morality"), which is condemned as evil by the Catholic Church. [Some information for this Commentary was contributed by the Italian weekly L'espresso.]
True Catholics, things are getting hot for Francis-Bergoglio these days in Newchurch. After four years many elements in Newchurch have finally seen what was obvious to traditional Catholics from the beginning: the man is spouting heresy and immorality. Bergoglio seems to think that he is above God and above God's Word in Sacred Scripture. Bergoglio obviously doesn't understand basic Catholic dogmatic teaching, that he is God's "vicar" (subordinate), not His master. When he preaches such a teaching, he is a heretic, pure and simple.
---
November 21, 2016 - Presentation of the Blessed Virgin Mary
Double Major Feast
A Reader Writes: "There's an Uproar in Novus Ordo Land
Presbyter Pavone Is Being Investigated for a Dead Baby's Corpse on His Altar
From: Michael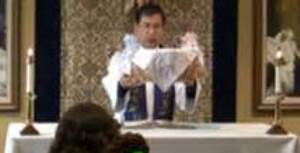 Presbyter Frank Pavone Desecrates His Altar
By Elevating above It the Corpse of an Aborted Baby
Pavone Is Now under Investigation even in Newchurch
Pavone Is Too Politicized to Believe that He Desecrated the Altar:
In Reality there Are No Altars in Newchurch
Because there Are No Valid Masses or Priests in Newchurch
Only "Eucharistic Dinner Tables" with "Cookies" and "Kool-Aid"
Dear TRADITIO Fathers:
There's an uproar in Novus Ordo land because presbyter Frank Pavone, the national director of Priests [sic: Presbyters] for Life, faces an investigation from his Newchurch bishop for placing an unborn baby's corpse on his altar in the Priests for Life's chapel. I think that Pavone is too politicized to believe he desecrated the altar. In reality there are no altars in Newchurch because there are no valid Masses or priests in Newchurch. They are just "eucharistic dinner tables," at which "cookies" and "Kool-aid" are handed out.
Given that Pavone is the best that the Neocon Newchurchers can offer, it's long past time for Newchurchers to pack it in. Newchurch is anti-Catholic, heretical, immoral, and has no sacramental grace to offer because it has no valid sacraments. Those who stay in Newchurch are simply corrupting their souls, in all likelihood permanently.
The TRADITIO Fathers Reply.
We have written before in our Daily Commentaries about presbyter Pavone. He is an example of what we call "Neocon Newchurchers" -- those who may be a tad conservative politically, but have lost the true Catholic Faith, having sold their souls to the Protestantized New Order sect. You are exactly right in what you say. If Pavone were a true Catholic, he would have gotten out of Newchurch long ago. But he didn't because he thinks that being officially with Newchurch give him some kind of power and cache. He's dead wrong.
---
November 20, 2016 - Twenty-seventh and Last Sunday after Pentecost
Semidouble Sunday
Francis-Bergoglio Is "Bitterly Shocked" at Trump's Election
Bergoglio and His Newvatican Backed Rabid Pro-abortionist Clinton
From: The TRADITIO Fathers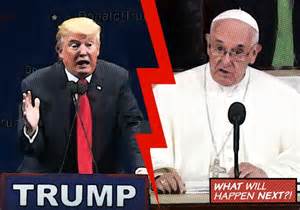 U.S. President-elect Donald Trump and Newpope Francis-Bergoglio
An Italian Daily Newspaper Has Reported that Bergoglio
Is "Greatly Shaken" and "Bitterly Shocked" by the Election of Trump
Who Often and Publicly Stated His Opposition to Abortion
Bergoglio and His Newvatican Had Supported Hillary Clinton
Who Often and Publicly Preached that Unborn -- and even Half Born -- Babies
Can Be Killed with Impunity by Their Mother
It Is Impossible to Call the Marxist Pro-abortion Newpope "Catholic"
All those readers who wrote us TRADITIO Fathers over the months about the immorality of supporting a candidate who openly preached that a pro-abortion candidate cannot morally be voted for should take note that Marxist Newpope Francis-Bergoglio was supporting pro-abortion candidate Hillary Clinton for the office of U.S. President in the November 8, 2016, election. Bergoglio was reportedly "stunned" when voters in the United States elected the conservative, anti-abortion Trump, whom Bergoglio had thought to be "unelectable," over the liberalist, pro-abortion Clinton.
The Italian daily newspaper Corriere della Sera, of Milan, has reported on November 10, 2016, like so many Modernists/Liberalists, Francis-Bergoglio was "greatly shaken" and "bitterly shocked" by the election of populist-conservative Donald Trump as the next President of the United States. Bergoglio and his Newvatican were not so secretly backing liberalist Hillary Clinton.
Francis-Bergoglio's support of a pro-abortion, liberalist candidate should come as no surprise. We TRADITIO Fathers have already reported that Bergoglio is softening Newchurch's stand against abortion, calling the anti-abortion position "rigid." The Milanese newspaper says that Francis-Bergoglio has, as a result, become enraged at the United States, calling it "radicalized." This fact should surprise no one as Bergoglio is a Marxist. However, it is ironic that the Newpope, who claims to be Catholic (but is in reality not), should support a candidate who has consistently and openly preached that unborn -- and even half-born -- babies can be killed with impunity by their mother. Donald Trump, on the contrary, has consistently and openly stated that he is "pro life" and believes that there should be some civil penalty for those who commit abortion.
Conservative, anti-abortion Trump was not acceptable to the Marxist Newpope because Trump wanted to enforce national borders against terrorist Mohammedans and to deport illegal aliens with criminal records. To the contrary, Bergoglio supports Mohammedan terrorists and criminal aliens, and wants them to have free access to all the countries of Europe, and apparently the United States as well. But Bergoglio refuses to allow wide-scale encampments of potentially-terrorist aliens within the thick walls of his own Newvatican City. He instead wants the terrorists to flood such countries as Germany, France, and the Netherlands, where they have already committed deadly terrorist acts. "Not in my backyard," is Bergoglio's chant.
As previously reported in these Daily Commentaries, Donald Trump took on the Newpope once before over the rights of nations as taught in traditional Catholic theology -- and won. Trump was then able shrewdly to characterize the Modernist/Liberalist Bergoglio as a buffoon. So publicly anti-Catholic has Bergoglio become that even a leading Neocon Newchurcher wrote after the election what previously he never would dare to state:
I can't help but wonder if the Vatican is becoming the enemy of authentic Catholicism.  It sure seems that way. As for [New]pope Francis, I was certainly willing to give him the benefit of the doubt in the early months of his pontificate, as were most other orthodox Catholics.  Sadly, his pontificate has turned out to be a huge disappointment.
He loves to give off-the-cuff remarks to members of the media about important moral matters that deserve far more serious and thoughtful treatment; he thrives on ambiguity in his speech and writing; he prides himself on being humble and merciful -- "Who am I to judge?" -- yet his words and actions toward orthodox clergy and laity have been insulting and arrogant. And he has seemingly embraced the left's political agenda.... Dare I say that President-elect Trump just might be a bit more humble than the [New]jesuit from Argentina?
True Catholics, it is too bad these clueless Neocons, who continue to support the Novus Ordo, didn't wake up before and come on board with us "authentic Catholics," us "rigid" traditional Catholics! The problem for the Marxist Newpope is that the United States is the Marxist Newpope's breadbasket. Clueless American Newchurchers still donate more to Peter's Pence -- which, as previously reported in these Daily Commentaries -- has been exposed as a fraudulent charity, serving as a conduit for under-the-table payoffs to Bergoglio and his lieutenants -- than any other country in the world. And for Bergoglio, who has lost the Catholic Faith (if he ever had it), money is power.
---
November 19, 2016 - St. Elizabeth of Hungary, Widow
Double Feast
A Bedrock Catholic Book that Reflects Real Catholicism
Which Fifty Years of the Vatican II Anti-council's Heresies Have Dulled
From: The TRADITIO Fathers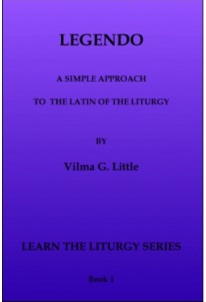 Vilma Little's Bedrock Catholic Book Legendo
The First Book in Her "Learn the Liturgy" Series
Written for Average Lay Catholics in the 1940s and 1950s
Reflecting the Real Catholicism that Fifty Years
Of the Vatican II Anti-Council's Heresies Have Dulled
In the Minds Of even Traditional Catholics
Vilma Little Brooks of No Compromise
With a Phony Vulgar-Tongued "New Mess"
But Decisively States Catholic Teaching that the Exclusive Use Of Latin
Is Not only Doctrinal, but Demonstrates the Providential Hand of God
Vilma G. Little was one of the most popular Catholic authors in the 1940s and 1950s for her Learn the Liturgy Series, available in reprint, which consists of three books for laypeople:
Legendo: A Simple Approach to the Latin of the Liturgy (1943)
The Chant: A Simple and Complete Method for Teachers and Students (1938)
The Sacrifice of Praise: An Introduction to the Meaning and Use of the Divine Office (1957)
When we TRADITIO Fathers recently perused these books, we were struck by several things. First, although the books, of no more than 100 pages, were written for average lay Catholics in the 1940s and 1950s, the Catholics then were clearly more educated in the Faith than lay Catholics in the 21st century. These books would be challenging to most lay Catholics today. (The same can be said of Fr. John Laux's contemporaneous A Course in Religion, which was written for high-schoolers and today would challenge college graduates.) So far has Newchurch killed -- and that deliberately so -- knowledge of the Catholic Faith.
Vilma Little's books reflect bedrock Catholicism -- the real Catholicism that fifty years of the Vatican II Anti-council's heresies has dulled in the minds of even traditional Catholics. Here, for example, is her statement about the irrevocable and essential place of Latin in the Catholic Church. She brooks of no compromise with a phony vulgar-tongued "New Mess," and slippery phony doctrines expressed in the vulgar tongues, but decisively states that the exclusive use of Latin is not only doctrinal, but demonstrates the Providential hand of God. Here is part of the introductory chapter of her Legendo about the essential importance of the Latin language to the Roman Catholic Church:
It would be well to fix that idea in mind: the power of Rome and the language of Rome destined to preserve and propagate the Church's doctrinal teaching.... In the light of history it certainly does look as though divine providence had watched in a special way over the forging of an instrument which was to play such an important part in the economy of the world's salvation....
It is a language which has all the solidity of rock. Whether the style be rugged and massive, or chiseled and highly polished, it always retains a certain hardness which does not admit of frills or loose ends.... It thus prevents hasty opinions and helps to form a far-seeing mind. It is both precise and concise, incapable of being translated without losing something either of its force or its meaning.... Here then we have a body prepared, as it were, to enshrine the soul of the Church's doctrinal teaching, thereby preserving it from change and corruption.
What Mass in the vernacular would mean, we dare not contemplate. Apart from the loss of unity of language, visible sign of the unity of faith, how much of its inner spirit would be lost or wrongly interpreted? What subtle shades of meaning might be overlooked?
For further information, click on LATNECES: Necessity of Latin for the Roman Catholic Church, From the writings of Roman Catholic Saints, Popes, and Theologians in the TRADITIO Network's Library of Files: FAQs and Traditional Apologetics department.
True Catholics, just five years after Legendo was published, in 1948, the Freemason Hannibal Bugnini, who was later to become the Chief Architect of the New Order "liturgy," was appointed to run the newly-formed Pontifical Commission for a General Liturgical Reform. By some twenty years later the Catholic Mass was entirely replaced by an invalid Protestant-Masonic-Pagan "New Mess." Vilma Little became a prophet. Pius XII also became a prophet, as he had said: "The day the Church abandons her universal tongue [Latin] is the day before she returns to the catacombs." And that is where the true Catholic Church is today -- in the catacombs, with a heretic Newpope conducting the Protestantized services of His Newchurch of the New Order in the vulgar tongue of Italian.
---
November 18, 2016 - Dedication of the Archbasilica of Sts. Peter & Paul, Apostles
Double Major Feast
Bishop Williamson Takes off the Gloves against Fellay
He Calls for a Civil War within Fellay's Neo-SSPX
From: The TRADITIO Fathers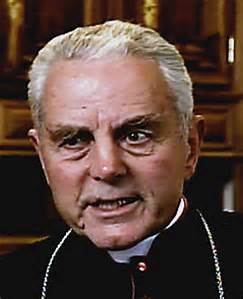 An Angry Bishop Williamson Calls for Civil War within the Neo-SSPX
He Publishes a Characterization of the Neo-SSPX's Superior Dictator, Bernie Fellay
As a "Liar, Misleader, and Seducer"
If Williamson Had Been That Courageous in 2012
Fellay Would Years Ago Have Been Expelled
And Archbishop Lefebvre's Original Traditional Catholic Society of St. Pius X
Could Have Been Restored as a Powerful Enemy Army
Against the Anti-Catholic Newchurch of the New Order
In the past, Archbishop Marcel Lefebvre's SSPX senior bishop, Richard Williamson, has been somewhat restrained in his criticism of the Neo-SSPX's Superior-Dictator, Bernie Fellay, whom he abandoned to go independent in 2012 because of Fellay's desire to sell out to the Newchurch of the New Order. But Williamson was no longer restrained in his November 12, 2016, weekly bulletin, in which he quotes the Traditional Catholic Resistance priest, Fr. Olivier Rioult, in his excoriation of Fellay as a liar, misleader, and seducer.
Williamson characterizes Fellay's constantly contradictory statements, variously against and for Catholic Tradition, as either those of a "confused and confusing liberal torn between Catholicism and Conciliarism" or those of a "true wolf in sheep's clothing, using words merely as political instruments to enable the [Conciliar] Romans to absorb Archbishop Lefebvre's once Catholic Society into their Conciliar Newchurch." On this issue Williamson quotes Fr. Rioult's uncompromising denunciation of Fellay.
Fr. Rioult condemns Fellay in that he "has in the past so often said one thing and done another that his words are of no value so far as truth is concerned." In other words, Fellay is that kind of creature that Our Lord Jesus Christ so often harshly condemns in Sacred Scripture: the hypocrite. Fr. Rioult denounces Fellay for actions that "work steadily in favor of Conciliar Rome." "Conciliar Rome" is the term that the Archbishop used of popes and subofficials in the Newchurch of the New Order, who are wed to the heresies of the Vatican II Anti-council (1962-1965). Such actions on the part of Fellay that he specifically condemns are:
Fellay's acceptance of the phony "excommunications" of SSPX bishops being "lifted" in 2009 (Newchurch can't lift what was never legally imposed in the first place)
Fellay's acceptance of Newchurch "jurisdiction" for confessions (Newchurch can't give others "jurisdiction" that Newchurch itself does not have)
Fellay's capitulation to submitting names to Newchurch authorities for those seminarians whom he proposes to ordain (presumably giving the Marxist Newpope Francis-Bergoglio veto power over them)
Fellay's purging of Neo-SSPX leaders who do not agree with his desire to sell out to the Newchurch of the New Order
Fellay's promotion to top Neo-SSPX positions of docile youngsters who will not stand up to him instead of experienced priests who speak their mind against Fellay's virtual acceptance of the Anti-council and its heresies
Fr. Rioult points out that such actions are deviously in line with the joint statement of Fellay and Newcardinal Mueller, the nefarious Newprefect of the Doctrine of the [New Order] Faith, after their meeting in September 2014, that the incorporation of Fellay and his Neo-SSPX would "proceed in stages ... taking the time necessary to iron out difficulties ... with a view to achieving full reconciliation [sellout]."
In the past, when Fellay was supposed to sign sellout documents, he was foiled first by Bishops Williamson, Tissier de Mallerais, and Galarreta and then by his District Superiors' meeting. Now Fellay and Mueller realize that such a "decision document" should be avoided so as not to stir up Fellay's Neo-SSPX rank and file. The last time matters came to a head, in 2012, over 100 of Fellay's 600 priests abandoned him and joined the Traditional Catholic Resistance or went independent, including his senior bishop, Williamson.
Fr. Rioult sagely points out that avoiding a "decision document" allows Fellay to speak contradictions and create a confusing smokescreen to lull his Neo-SSPXers to sleep. In this way, Fellay is putting an end in his Neo-SSPX to resistance to the New World Order religion, currently headed by the Marxist Newpope Francis-Bergoglio.
True Catholics, Bishop Williamson concludes his bulletin with a startling cry for civil war within Bernie Fellay's Neo-SSPX. Williamson calls upon Neo-SSPXers, many of whom are still loyal to him, to "block and finally get rid of" Fellay and his "Menzingen mafia." If Williamson spoken that courageously in 2012, Fellay could years ago have been expelled, and Archbishop Lefebvre's original traditional Catholic Society of St. Pius X could have been restored as an enemy army against the anti-Catholic Newchurch of the New Order.
---
November 17, 2016 - St. Gregory Thaumaturgus, Bishop & Confessor
Double Feast
Bergoglio Can't Keep his Marxist Politics even out of Christmas
Newvatican's 2017 Christmas Tree and Creche Will Feature Political "Ornaments"
From: The TRADITIO Fathers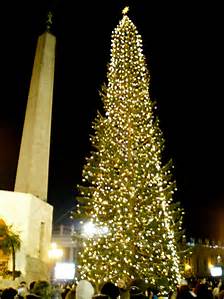 Newvatican's 2016 Christmas Tree and Creche
Here Pictured beside the St. Peter's Pagan Obelisk
Will Feature Francis-Bergoglio's Marxist Politics
With "Environmental" Ornaments and a Terrorist-associated "Migrant" Boat
In Bergoglio's Marxist World Christmas Is No Longer the Great Feast
Of the Nativity of the Lord and His Incarnation
But Just Another Cheap Secular Holiday
In Servitude to Modernist/Liberalist Causes
Newvatican's 2016 Christmas tree and Nativity scene will feature politics, not religion, because of Francis-Bergoglio's Marxism. The tree will feature ornaments representing the faux Newchurch doctrine of "environmentalism." The 35-metre Christmas tree will come from the northern province of Trent, where the greatest modern council of the Church was held in the 16th century to set off the Catholic Counter-Reformation to Martin Luther's Protestant heresy. Of course, Newvatican did not mention that fact. Newchurch despises the dogmatic Council of Trent because of its bedrock Catholic orthodoxy.
The Nativity scene will be donated by Malta and feature terrorist-associated elements of "migration," which has been turning European countries such as Germany into enclaves of terrorists. The 17-metre scene will feature seventeen figures dressed in traditional Maltese attire, as well as replica of a "luzzu," a Maltese boat, which represents "the realities of migrants who in those very waters sail on makeshift boats to Italy." [Some information for this Commentary was contributed by the Catholic Herald]
True Catholics, Francis-Bergoglio can't keep his Marxist politics even out of Christmas. In Bergoglio's Marxist world Christmas is no longer the great feast of the Nativity of the Lord and His Incarnation, but just another cheap secular holiday in servitude to Modernist/Liberalist causes, and his Newchurchers -- and the world -- are just pawns in his Marxist political schemes.
---
November 16, 2016 - St. Gertrude the Great, Virgin & Abbess
Double Feast
Is Bergoglio Getting Ready to Go Soft on Abortion?
All the Signs Have Been Pointing to It
From: The TRADITIO Fathers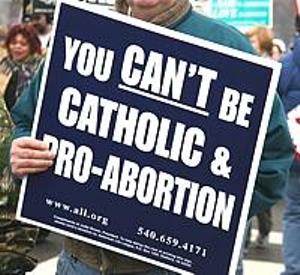 Francis-Bergoglio May Be in the Process of Changing and Softening
In His Newchurch the Teaching that Abortion Is Tantamount to Murder
He Has Recently Eliminated the Pro-life Vow
For Members of the Pontifical Academy for Life
And Added Instead a Mandate against "Global Warming"
At the Same Time He Has Denounced
Those Who Work to Protect Foetal Life as "Rigid"
By Newpapal decree, announced on November 11, 2016, Francis-Bergoglio eliminated the pro-life vow for members of the Pontifical Academy for Life and added instead a mandate against "global warming." Members will no longer sign a declaration that they will follow Catholic teachings on the sanctity of human life. On the other hand, Bergoglio is now requiring a commitment to promote "an authentic human ecology" -- whatever that means.
The previous statutes, issued in 2004, required members of the Pontifical Academy who work in medical and scientific fields to sign a "Declaration of the Servants of Life." That requirement has been eliminated in the new statutes. The Declaration included a commitment to reject "destructive research on the embryo or fetus, elective abortion, or euthanasia."
The new statues also provide for Francis-Bergoglio to remove all current members of the Academy and to install up to seventy members "independently of religious orientation." Why? Several members of the Pontifical Academy for Life have been strong defenders of Catholic doctrine against Bergoglio's rejection of Catholic teaching on marriage and the family. Bergoglio can now appoint his own Modernist/Liberalist shills. [Some information for this Commentary was contributed by Catholic World News.]
True Catholics, Francis-Bergoglio has always been "soft" in his denunciation of abortion. He has denounced those who worked to protect foetal life "rigid." One has to wonder whether the now-official changes that soft-pedal opposition to abortion is his way of beginning officially to soften the doctrine that abortion is tantamount to murder, a position that, by the way, is confirmed by modern scientific work on DNA and the human genome.
---
November 15, 2016 - St. Albertus Magnus, Bishop, Confessor & Doctor
Double Feast
Francis-Bergoglio Restricts the "Extraordinary" Latin Mass
And Denounces Those Who Still Want It as "Rigid"
From: The TRADITIO Fathers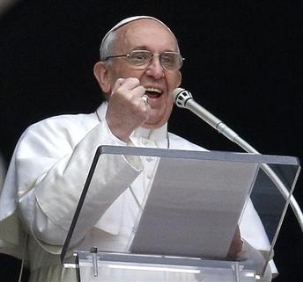 A Crazed Francis-Bergoglio Again Raises His Fist
To Strike down Traditional Catholics
He Calls Them "Rigid" and "Defensive"
True Catholics Are in Fact Defensive: They Defend God's Truth
Bergoglio Wants to Overturn That Truth
The Marxist Newpope Dares Not Ask Himself
Why Do Many, including Young People
Reject the Invalid Protestant-Masonic-Pagan New Order Mess
After Fifty Long Years
In an interview released on November 11, 2016, in the Newjesuit periodical Civiltà Cattolica, Francis-Bergoglio again denounced those who still want the "Latin Mass" and called them, especially young people, "rigid." Bergoglio declared that the Novus Ordo Mess (which is not a Mass) is "here to stay and to speak of a 'reform of the reform' is an error." Bergoglio went on to declare that the so-called Extraordinary Mess, that is, the Half New Order Vatican II Mess of 1962, is "an exception." This erroneously-termed "Extraordinary Mess" mentioned in Benedict-Ratzinger's 2007 Motu Proprio is most certainly not the Traditional Latin Mass, but a perversion of it after two rounds of "modernization" to lead more easily to the full-blown, invalid New Order Mess of 1969.
Francis-Bergoglio seems obsessed with those who reject his phony Mess. He even questioned the motivation of his own Newchurchers who are trying to seek something Catholic. "I ask myself," he speculated, "Why so much rigidity? Dig, dig, this rigidity always hides something, insecurity or even something else. Rigidity is defensive. True love is not rigid." "True love" is some fantasy that you read about in cheap romance novels. It has nothing to do with Catholicism, but true Catholics are in fact defensive: they defend God's truth. Bergoglio wants to overturn that truth.
The Marxist Newpope has often blasted the "excessive rigidity" of Catholics who believe in moral absolutes: those who follow God's teaching that homosexuality is damnable, that abortion is intolerable, that atheism is an affront to God. Bergoglio is at best wavering on these points. True Catholics aren't. That is why true Catholics want nothing to do with Bergoglio's anti-Catholicism. [Some information for this Commentary was contributed by Catholic World News.]
True Catholics, the Marxist Newpope dares not ask himself why so many, including young people, still reject the invalid Protestant-Masonic-Pagan New Order Mess after fifty long years. Francis-Bergoglio seems to be obsessed with the fact that he cannot threaten his Newchurchers into accepting this phony Mess, whereas there is a significant number of even his own Newchurchers who just won't accept the Novus Ordo. Most true Catholics, in accordance with long-standing Catholic theology, have long ago abandoned his temples of the New Order with their phony Mess and sacraments, their false doctrine, and their immorality.
---
November 14, 2016 - St. Josaphat, Bishop & Martyr
Double Feast
Francis-Bergoglio Declares that Catholicism Is Not the True Faith
The Marxist Newpope's Shocking Declaration Is Outright Heresy
From: The TRADITIO Fathers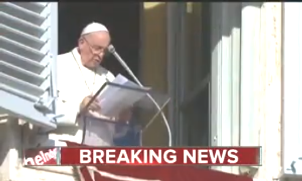 Francis-Bergoglio Proclaimed Heresy on November 10, 2016
When at a Meeting with a Plenary Session of His Pontifical Council
For Promoting Christian Unity He Declared
That Christian Unity Was No Longer to Be Based upon Incorporating
The Heretical Protestant Sects into the Catholic Church
And that Bringing Heretics into the Catholic Church Was Not to Be Practiced
Because It Was "Poison for the Oecumenical Journey"
Bergoglio's Declaration Is Outright Heresy
Every Catholic knows -- or should know -- the dogma that the Catholic Church (the traditional one, that is; the Newchurch of the New Order is not the Catholic Church) is (est) the only Church of Jesus Christ. The Vatican II Anti-council rejected that dogma and proclaimed the heretical doctrine: "Unica Christi Ecclesia ... subsistit in Ecclesia catholica [The sole Church of Christ ... subsists in the Catholic Church....] in its Constitution on the Church, Lumen gentium, promulgated November 21, 1964, on which date the Anti-council replaced the Catholic Church as the "institutional" Church with the Newchurch of the New Order.
The Anti-council's change of one word -- est to subsistit -- was a bombshell. It meant that the Catholic Church was, in the view of the Anti-council, not the only true Church of Jesus Christ, but one of many, including the heretical Protestant sects and the schismatic Eastern Orthodox sects. It meant that the Vatican II Anti-council was openly heretical.
And the originator of this heresy was none other than Josef Ratzinger, later to style himself Newpope Benedict. The story goes like this. A German Protestant, Pastor Schmidt, an observer invited by Cardinal Bea to take part in the Anti-council, made the written proposal that the word est be replaced by substitit in. He gave the proposal to Fr. Ratzinger, who was at the time the peritus (advisor) of Cardinal Frings of Cologne. Fr. Ratzinger in turn gave the proposal to Cardinal Frings, who presented it before the Anti-council, and the words subsistit in were incorporated into Lumen Gentium.
Now the Marxist Newpope Francis-Bergoglio on November 10, 2014, has declared at a meeting with a plenary session of his Pontifical Council for Promoting Christian Unity that Christian unity is no longer to be based upon incorporating the heretical Protestant sects into the Catholic Church, which he called "going back in time," nor was proselytism, that is, bringing Protestant heretics into the Catholic Church, to be practiced, because it was "poison for the oecumenical journey." Bergoglio's declaration is outright heresy. Bergoglio further revealed that he came upon this (heretical) notion primarily from his meeting with leaders of the Lutherans in Sweden on the occasion of the 500th anniversary of the Protestant Deformation led by the Arch-heretic Martin Luther. [Some information for this Commentary was contributed by Vatican Radio.]
True Catholics, it cannot be denied that Francis-Bergoglio, the Marxist Newpope, is an outright heretic. It is not possible to interpret his clear words otherwise. According to the teaching of the Catholic Church, he and his Newchurch must be rejected completely. There is no compromising with it. Those who do attempt to compromise with it, such as the Neo-SSPX's Superior-Dictator Bernie Fellay, "suffuse themselves," as the Church doctrine goes, "with the odor of heresy." For further information, click on POPELIM: Limitations of Papal Authority to Change Sacred Tradition, From the Writings of Roman Catholic Popes, Councils, Saints, and Theologians in the TRADITIO Network's Library of Files: FAQs and Traditional Apologetics department.
---
November 13, 2016 - Twenty-sixth Sunday after Pentecost
Semidouble Sunday
First Earthquakes, Now Tornados Attack Italy and Rome
Is God Trying to Teach Newchurch Who Is Really in Charge?
From: The TRADITIO Fathers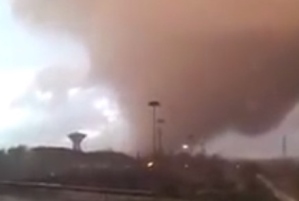 A Large and Deadly Tornado Ripped through the Neighborhood of Rome
Just as Central Italy Is Recovering from Devastating Earthquakes
Which Have Destroyed Churches, Chapels, and Monasteries
They Are Always a Reminder for Mere Men -- Certainly including Men in Newrome
To Maintain Christian Humility
Newchurch "Authorities," however, Have Regarded Themselves to Be above God
Able to Change God's Ordained Worship, Doctrine, and Morality
To One that Corrupt Men Would Prefer
On November 6, 2016, a large and deadly tornado ripped through Italy near Rome, killing two, seriously injuring several people, and causing extensive damage. Central Italy is still recovering from devastating earthquakes during August through October 2016, which have destroyed churches, chapels, and monasteries and have killed nearly 300 people. [Some information for this Commentary was contributed by News Watchers.]
True Catholics, while such extreme meteorological and seismic events are unusual, they can be explained in the natural order. Yet one can never become too complaisant. They are always a reminder for mere -- certainly including men in Newrome -- to maintain Christian humility, not to consider themselves petty potentates. Over the last 50 years, however, the Newchurch "authorities" have regarded themselves to be above God, able to change God's ordained worship, doctrine, and morality to one that corrupt men would prefer. Such hybris, as the Classical Greeks well understood, leads to self-destruction. Just ask Oedipus!
---
November 12, 2016 - St. Martin I, Pope & Martyr
Semidouble Feast
Fellay Literally Tripped up at His Neo-SSPX Seminary Opening
And Broke His Foot while Inaugurating the Prison-style Edifice
From: The TRADITIO Fathers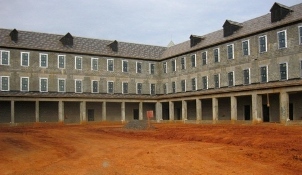 Bernie Fellay's Superfluous Neo-SSPX Seminary Built in Prison Style
It Does Not Remind One of the Best of Catholic Architecture
But More of a Prison Run by a Tyrant
It Has Become Known as Fellay's "White Elephant"
An Extravagant Expenditure on Something that Is Unnecessary
Because Archbishop Lefebvre's Current Facility at Winona, Minnesota
Can Handle the Tottering Neo-SSPX
Fellay, However, Is All Too Willing to Sell Out
To the Newchurch of the New Order, along with Its Modernistic Trash Art
A month late, on November 4, 2016, Bernie Fellay, the Neo-SSPX's Superior-Dictator, opened his superfluous seminary in the remote mountains of Virginia in the United States. But in yet another stumble, Fellay tripped up during the opening ceremonies and badly injured his foot.
This seminary was supposed to have opened at the beginning of October 2016. The seminary has been the source of much acrimonious debate within Fellay's Neo-SSPX, reports of which have, of course, been suppressed by Fellay & Co. However, the TRADITIO Network has its inside sources. Many Neo-SSPXers have withdrawn their financial support from the project, which has become known as Fellay's "White Elephant," an extravagant expenditure of their hard-earned money on something that is unnecessary, because Archbishop Lefebvre's current facility at Winona, Minnesota, can handle the needs of the tottering Neo-SSPX.
True Catholics, the absolutely grotesque architecture of the new structure is in perfect keeping with Fellay's tyrannical style: it does not remind one of the best of Catholic architecture, but only of a prison run by a tyrant -- a tyrant who, however, is all too willing to sell out to the Newchurch of the New Order and its trash Modernistic trash art.
---
November 11, 2016 - St. Martin of Tours, Confessor
Double Feast
Underground Chinese Newchurch Doesn't Trust Francis-Bergoglio
It Has Consecrated Bishops without Bergoglio's Acquiescence
From: The TRADITIO Fathers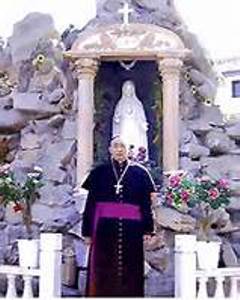 Chinese Newbishop Julius Jia Zhigou under the Blessed Virgin
Fearing that Francis-Bergoglio Is Going to Sell out the "Underground" Newchurch
To the Communists in Beijing, Has consecrated a Newbishop against Bergoglio
The So-called "Underground" Newchurch Is Fighting against Atheistic Communism
But the Perfidious Bergoglio Has Recently Indicated that He Plans to Sell Out
His Courageous Undergrounders to the Beijing Communist Government
On November 7, 2016, a Chinese "Underground" Newbishop, fearing that Francis-Bergoglio, as he recently indicated, is going to sell out his "underground" Newchurch to the Communists in Beijing, has consecrated a Newbishop without Bergoglio's acquiescence. The so-called underground Newchurch is fighting against atheistic Communism in Red China, but the perfidious Bergoglio has recently indicated that he plans to sell out his courageous undergrounders to the Beijing Communist government.
Reports indicate that an underground presbyter, Dong Guan Hua, was ordained by an underground Newbishop, Julius Jia Zhigou, a prominent leader of the underground Newchurch, and has indicated his intention to consecrate other Newbishops. The Newcardinal of Hong Kong, Joseph Zen, has castigated Francis-Bergoglio for his planned sellout, concerned that Bergoglio will forsake loyal Newchurchers by reaching an agreement with the Beijing Communist government that Bergoglio will appoint Newbishops only from a list of names submitted by the Communists. Bergolio's plan has caused intense concern among members of the underground Newchurch, which fears that such an agreement would give the Communist government control over Newchurch in China. [Some information for this Commentary was contributed by Catholic World News.]
True Catholics, Newchurch's situation in Red China, always problematic, is now becoming far worse under Francis-Bergoglio, who apparently plans to throw his undergrounders under the bus in order to recognize the government-approved Chinese Patriotic Catholic Association, which, ironically, still maintains in some locations the Traditional Latin Mass and Sacraments from before the Communist regime took control in 1949.
---
November 10, 2016 - St. Andrew Avellino, Confessor
Double Feast
The Slab on Which Christ Was Entombed Has Been Uncovered
And the Aediculum that Held His Body Has Been Opened
From: The TRADITIO Fathers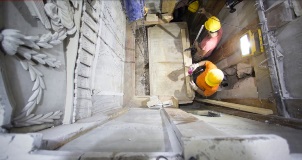 Archaeologists Have Removed the Top of the Tomb of Jesus Christ
In the Church of the Holy Sepulchre in Jerusalem
The Marble Cover Was Pulled Back to Reveal the Original Rock Surface
On Which, according to Tradition, the Body of Jesus Christ
Was Laid on a Burial Bed Following His Crucifixion
The Aediculum, or Little Chamber, that Held Jesus' Tomb
Has Now Been Opened for the First Time since 1808
When It Was Repaired after a Fire
Archaeologists in November 2016 uncovered a stone burial slab on which, according to tradition, Jesus Christ's body was laid just a few metres from the site of His crucifixion. The original surface of the tomb was uncovered in the Church of the Holy Sepulchre in the Old City of Jerusalem during restoration work and has been covered by marble cladding since at least 1555.
The marble cover was pulled back, and archaeologists were surprised by the amount of fill material beneath the covering. They will finally be able to see the original rock surface on which the body of Christ was laid. According to the Gospels, the body of Jesus Christ was laid on a burial bed, or slab of limestone, following His crucifixion.
In June 2016, a team of experts began renovations on the church and the Aediculum, or little chamber, that held Jesus' tomb. The Aediculum has now been opened for the first time since 1808, when it was repaired after a fire. The exposure of the burial bed will allow archaeologists to answer questions about the original form of the tomb. It is hoped that analysis could enable them to learn more about the limestone cave from which it was first carved nearly 2,000 years ago.

The rock tomb is among the holiest sites relics in Christianity since it was first identified by St. Helena, mother of the Roman Emperor Constantine, in 326. A year later the Church of the Holy Sepulchre was commissioned by the Emperor Constantine to house the burial slab. [Some information for this Commentary was contributed by National Geographic.]
True Catholics, it will be of interest to you that because possession of the Church of the Holy Sepulchre is divided between the Eastern Orthodox and the Roman Catholics, the Law of Status Quo was imposed by Ottoman officials in 1852, when its empire governed the Holy Land. The Eastern Orthodox and the Roman Catholics (or which poses for them today) are bound to maintain everything as it was in 1852 -- and that includes the Traditional Latin Mass and Divine Office.
---
NOVEMBER 9, 2016 - DEDICATION OF THE BASILICA OF OUR SAVIOR
DOUBLE FEAST OF THE SECOND CLASS
Italy's Radio Maria Broadcasts: Devastating Italian Earthquakes
Were "God's Punishment" for Italy's Approval of "Gay Marriage"
From: The TRADITIO Fathers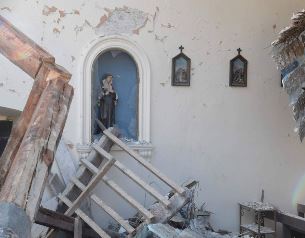 Just One of Numerous Churches Destroyed in Earthquakes
Which Devastated Churches, Chapels, and Monasteries in Central Italy
From August through October 2016
Italy's Radio Maria Ascribes the Devastation to "God's Punishment"
For That Once-Catholic Country's Approval of "Gay Marriage" and Human Sins
Francis-Bergoglio Decried the Attribution as "Offensive" and "Scandalous"
But Could Not Deny the Possibility
An Italian Newchurch radio station, Radio Maria, on November 4, 2016, attributed the series of devastating earthquakes that hit Central Italy in the past three months to "God's punishment" for that once-Catholic country's approval of "gay marriage" and for human sins. Homophiliac Francis-Bergoglio's mouthpieces were quick to call the opinion "offensive for believers and scandalous for non-believers." But Newvatican could not deny the possibility. The earthquakes from August to October 2016 have killed nearly 300 people and leveled churches, chapels, and monasteries in Central Italy. [Some information for this Commentary was contributed by Reuters.]
True Catholics, Francis-Bergoglio should have pulled down his Bible, dusty from disuse, to read St. Paul's Epistle to the Romans: "Who hath known the mind of the Lord?" (11:33/DRV). God has punished the human race before for deliberately clinging to sin, most notably in the case of the Great Flood, when He declared: "The earth is filled with iniquity through them, and I will destroy them with the earth" (Genesis 6:13/DRV). God is merciful, yes, but he balances mercy with justice. In God's justice there can be no mercy for unrepentant sinners.
---
November 8, 2016 - Octave Day of All Saints
Double Major Feast
In Significant Measure, It Was Corruption in the Catholic Church
That Spawned the Arch-heretic Martin Luther 500 Years Ago
From: The TRADITIO Fathers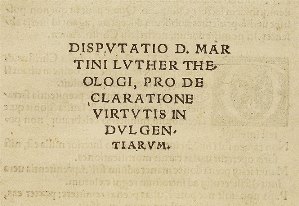 Title Page of Martin Luther's Disputatio pro Declaratione Virtutis Indulgentiarum
Commonly Known as the "95 Theses"
Which Essentially Founded the Protestant Sect on October 31, 1517
Many Catholics Are Unaware of the Fact that the Protestant Deformation
Had Been Building up for Some Time before Martin Luther
And, In Many Ways, Was Caused by the Corruption of Church Officials
A Situation Not Dissimilar to the One We Are Experiencing at the Present Time
"To defeat your enemy, you must know your enemy." As the 500th anniversary of the date, October 31, 2017, on which the Arch-heretic Martin Luther posted his Disputatio pro Declaratione Virtutis Indulgentiarum, commonly known as the "95 Theses" on the door of the castle church of Wittemburg, Germany, it is imperative for true Catholics to know the facts about this event, particularly as Newpope Francis-Bergoglio has in our era sunk to a previously unknown nadir of condemned syncretism (later renamed "oecumenism") with heretical Lutheran leaders.
Many Catholics are unaware of the fact that the Protestant Deformation had been building up for some time before Martin Luther and, in many ways, was caused by the corruption of Church officials, a situation not dissimilar to the one we are experiencing at the present time in the post Vatican II era. Three principal causes were:
the Great Western Schism, during which there were three claimants to the papacy
the corruption of the papacy of the "Bad Pope," Alexander VI-Borgia
the beginnings of Modernism in devotions
Great Western Schism (1378-1417). This schism was one of the worst in the history of the Catholic Church. It had heavily damaged the papacy, and at one point there were three men who claimed to be pope, each excommunicating the other. Even the Saints at the time disagreed on who was the true pope.
"Bad" Pope Alexander VI-Borgia (r. 1492-1503). Luther was born just nine years before this pope's corrupt reign began. In Alexander VI we can see some of the same characteristics as we see today in Francis-Bergoglio' support of paedophilia and homosexuality. So corrupt was this pope that Cardinal Giuliano della Rovere, later Pope Julius II, endeavored to instigate the convocation of a council to depose Alexander VI for simony, bribery, and notorious and public lechery. The influential Dominican preacher, Fra Savonarola, of Florenc, proclaimed: "He is no longer a Christian. He is an infidel, a heretic, and as such has ceased to be pope." But in spite of the fact that Alexander VI was personally corrupt, he maintained, and even enhanced, the public worship of God. No so the Newpopes after the Vatican II Anti-council
Devotio Moderna (15th century). In this "modern devotion," based in "private devotion," we can see the beginnings of the heresy of Modernism, which was so condemned by the popes of the 19th and early 20th centuries and which took over the "institutional" Church at the Vatican II Anti-Council (1962-1965). Public devotion toward God, comprising the Divine Office and the Holy Sacrifice of the Mass, was gradually replaced by "private devotion." In the Protestant sect the Mass and Office were eventually done away with entirely. In our own age, we see, even among those who think themselves traditional Catholic, a tendency to replace the Holy Sacrifice of the Mass, and certainly the Divine Office, by "private devotions," such as an excessive attachment to "Fatima." These misguided people talk far more about side issues like "Fatima" than about the centrality of God in the Person of Our Lord Jesus Christ, after Who our very religion takes its name.
This "modern devotion" began in Catholic Spain in the 15th century. It can be seen in the hyper-emotional Spanish religious art of that period and in the Jesuit order from then until now. This "modern devotion" depreciated the Holy Mass and Divine Office and emphasized emotionalism in religion over God's logical truth, as St. Augustine and St. Thomas Aquinas had. This personal emotionalism brought about an individualistic idea of religion, which has led not only to Evangelical and Charismatic Protestantism but also to "Cafeteria Catholicism," in which every "Catholic" can individually choose to approve of abortion and homosexuality, for example. It has brought about in some "Catholics" the heretical notion that privately reciting the Rosary is more important than assisting at the Holy Sacrifice of the Mass or at the Hours of the Divine Office.
True Catholics, thus you see that the environment that led to the Protestant Deformation came, in significant measure, from corruption within the Catholic Church itself. Many illustrious Catholics of the time, such as St. Thomas More and Venerable Erasmus, were not hesitant publicly to call a spade a spade and condemn such corrupt churchmen as Pope Alexander VI-Borgia. The environment that brought about the Protestant Deformation bears an uncanny resemblance to our own post-Vatican II times. We hope that this time, instead of an Arch-heretic, the times will produce Saints like Popes St. Pius V, who started the Catholic Counter-reformation, and Pope St. Pius X, who fought so vehemently against the heresy of Modernism, which he termed "the synthesis of all heresies."
---
November 7, 2016 - Within the Octave of All Saints
Semidouble Feast
Chinese Newcardinal Condemns Francis-Bergoglio's Planned Sellout
Of Newchurch to the Communist Government in Beijing, Calling the Plan "Ridiculous"
From: The TRADITIO Fathers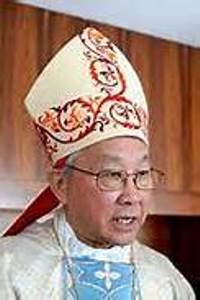 Newcardinal Joseph Zen, of Hong Kong, Publicly Condemned Francis-Bergoglio
For Planning to Sell Newchurch out to the Chinese Communists
Bergoglio's Plan Calls for Newvatican to Designate Its Newbishops
Only from a List Furnished by the Communist Government In Beijing
Thus, the Government Would Control Appointments
Nominating Only Candidates Prepared to Recognize Atheistic Communism
And to Serve as "Puppets Of The Beijing Regime"
Bergoglio Himself Is a Marxist, if Not a Communist
He Is Probably an Atheist as Well
As He Condemns (Traditional) Catholics and Praises Atheists as His "Best Friends"
In a stunning announcement, Chinese Newcardinal Joseph Zen, of Hong Kong, told the Wall Street Journal on November 3, 2016, that he is publicly condemning Newpope Francis-Bergoglio for his plan to sell out Newchurch to the Chinese Communists in Beijing. Bergoglio's announced plan, says Zen, would give the atheistic Chinese government control over Newchurch. Bergoglio is a known Marxist, if not a Communist, who openly praises atheists and calls them his "best friends."
Bergoglio plans to "recognize" bishops who had been installed by the Chinese regime without Newchurch approval. Zen warned that such a "flippant" plan would make Newchurch "totally subservient to an atheist government." Zen indicated that Bergoglio is so obsessed with signing an agreement with Beijing -- any agreement, whatever its contents -- that he will surrender Catholic principles. Zen was brutally forthright in stating: "I'm sorry to say that in his [Bergoglio's] goodwill he has done many things which are simply ridiculous."
Zen called Bergoglio an ignoramus, who "has no real knowledge of communism." Bergoglio's plan calls for Newvatican to designate its Newbishops only from a list furnished by the Communist government in Beijing. Thus, the government would control appointments, nominating only candidates prepared to recognize atheistic Communism and to serve as "puppets of the Beijing regime." Bergoglio's plan would do nothing for the "underground" Newbishops and presbyters, who are now subject to government harassment and arrest.
True Catholics, Newcardinal Zen is not the first to condemn Francis-Bergoglio for his Communist leanings. From the beginning of Bergoglio's regime we TRADITIO Fathers have not hesitated to call a spade a spade: Bergoglio himself is a Marxist, if not a Communist. He is probably an atheist as well, as he condemns (traditional) Catholics and praises atheists as his "best friends." What Bergoglio is not is a Catholic -- not by any stretch of the imagination. True Catholics are prohibited, by Catholic Church doctrine, from following such a man, even if he be a pope, into schism, heresy, and immorality.
---
November 6, 2016 - Twenty-fifth Sunday after Pentecost
Semidouble Sunday
Gibson Describes His Sequel to "The Passion of the Christ"
"The Resurrection" Will Include a Dante-esque Descent into Hell
From: The TRADITIO Fathers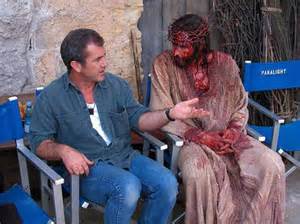 Mel Gibson (Left) Giving Direction to the Christ
Played by James Caviezel in the 2004 Passion of the Christ
Gibson Recently Announced that He Is Working on a Sequel
Entitled The Resurrection, to Be Released around 2019
Gibson Intimated that a Focal Point of the Film
Will Be the Christ's Descent into Hell, "a Little Inferno"
Referring to the 14th-century Work of the Italian Poet Dante Alighieri
Whose Inferno, in Its Vivid Description of Hell
Has Captured the Imagination of All Succeeding Generations
And Has Won the Praise of Catholic Popes
For Its Conformity to Catholic Doctrine
Mel Gibson announced that he has been working on a sequel to his 2004 blockbuster Passion of the Christ, entitled The Resurrection, covering the three-day period after the Passion to the Resurrection. He expects release of the film around 2019.
Gibson revealed some of the details about the new film on All Souls Day, November 2, 2016, to Stephen Colbert on The Late Show. Gibson said that The Resurrection will not be "a chronological telling of just that event," but he plans to develop "the things around it ... to enlighten what that means." Gibson stated that there would be "bad guys" in the film, "in another realm," apparently indicating the Devil and his demons. Gibson believes fervently in the Biblical teaching about the presence of demons in the world. Taking a leading role will be Luke Bracey, a 27-year-old Australian actor, currently appearing in Gibson's 2016 Hacksaw Ridge.
Gibson intimated that a focal point of the film will be the Christ's descent into Hell, "a little Inferno," referring to the 14th-century work of the Italian poet Dante Alighieri, whose Inferno, in its vivid description of Hell, has captured the imagination of all succeeding generations. Pope Benedict XV in a 1921 encyclical letter termed Dante, a Third Order Franciscan, "the greatest of all Catholic artists," and many popes have praised Dante's conformity to Catholic doctrine.
---
November 5, 2016 - Within the Octave of All Saints
Semidouble Feast
Francis-Bergoglio Can't Quite Say No to Priestesses in Newchurch
As He Is Meeting with Increasing Resistance from within His Own New Order Sect
From: The TRADITIO Fathers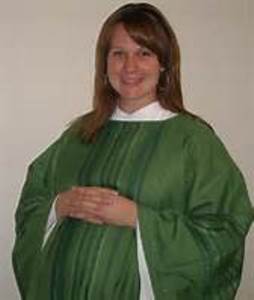 Mrs. Presbyter Frances, Coming to a Novus Ordo Temple Near You
Francis-Bergoglio Has Once More Departed from Catholic and Biblical Teaching
After He Engaged in Condemned Sycretistic Prayer
With the Heretics on the 500th Anniversary of the Revolt by the Arch-heretic Martin Luther
Like a Good Anti-Catholic Newpope, Bergoglio Couched His Denial
With Weasel Words Reminiscent of the Vatican II Anti-Council
Which Destroyed the Catholic Church as the "Institutional" Church in 1964
Francis-Bergoglio has once more departed from Catholic and Biblical teaching in his prattling on the airplane home on November 2, 2016, from his schmoozing with the Lutheran leaders in Lund, Sweden, where he engaged in condemned sycretistic ("oecumenical") prayer with the heretics on the anniversary of the revolt by the Arch-heretic Martin Luther. He said that there would not be priestesses -- really presbyteresses, as Newchurch has not ordained priests since the New Ordinal of 1968 -- in the Newchurch of the New Order, but not definitively.
Like a good anti-Catholic Newpope, Bergoglio couched his denial with weasel words such as "likely not." He alluded to his fellow Newpope Unsaint JPII-Wojtyla as stating in his 1984 Apostolic Letter Ordinatio Sacerdotalis that priestesses were divinely prohibited. Yet Bergoglio has cunningly started to move in that direction by looking at deaconnesses, which is a "slippery slope" to priestesses. [Some information for this Commentary was contributed by the Christian Science Monitor.]
True Catholics, Bergoglio & Co. would just love to impose a married priestess/presbyteress in every Newchurch parish, but he is meeting with increasing resistance from within his own New Order sect to his Modernist, Marxist ideas. Already women are running around the Novus Ordo dinner table and handing out invalid cookies and Kool-Aid at the invalid Novus Ordo Mess. For all intents and purposes, they're priestesses now!
---
November 4, 2016 - St. Charles Borromeo, Bishop & Confessor
Double Feast
St. Benedict's Historic Cathedral Falls in Earthquake
It Was Built over the Birthplace of the Saint and His Twin Saint Sister
From: The TRADITIO Fathers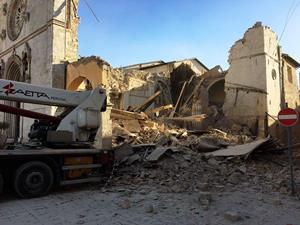 The Basilica of St. Benedict in Nursia, Italy
Almost Destroyed in the October 26, 2016 Earthquake
All the Other Historic Churches, Monasteries, and Chapels
Were Destroyed in the Earthquake
The Cathedral Was Built over the Birthplace of St. Benedict
And of His Twin Sister, St. Scholastica
Shortly after the Roman Empire Fell In 476
St. Benedict Founded His Order to Preserve Western Civilization
By Copying the Libraries of Classical and Christian Works
And by Keeping Alive Catholic Monastic Life
A major earthquake, of magnitude 6.6 on the Richter scale, struck the town of Nursia, Italy, on Friday, October 26, 2016. Nursia (known in Italian as Norcia) is intimately linked with St. Benedict of Nursia (480-ca. 543), but the monks there deserted the town some 190 years after the Benedictine community was suppressed by the French Emperor Napoleon Bonaparte, when he took control of swathes of Italy. The quake hit the same central regions that have been rocked by repeated tremors over the past two months, reducing to rubble many historic Catholic churches, monasteries, and chapels.
All the churches in Nursia fell. The roofs caved in on all of them. Among these was the imposing thirteenth-century Basilica of St. Benedict, which stood in the main square of Nursia and was supposedly built over the birthplace of St. Benedict, the patron saint of Europe, and his sister St. Scolastica. Shortly after the Roman empire fell in 476, St. Benedict founded his order to preserve Western Civilization by copying the libraries of Classical and Christian works and by keeping alive Catholic monastic life. Only the Basilica's gothic facade now remains standing. Also affected were the Cattedrale di Santa Maria Argentea, which lies in ruins, its roof caved in, and the nearby Convent of Sant'Antonio, which is badly scarred. [Some information for this Commentary was contributed by Reuters.]
True Catholics, it is sad beyond belief when these great structures of the true Catholic Faith are destroyed. But the Catholic Faith that used to be lived in them was already destroyed half a century ago, when the Vatican II Anti-Council (1962-1965) destroyed the Catholic Church as the "institutional" Church and replaced it with the Protestant-Masonic-Pagan Newchurch of the New Order, which is definitely not the Catholic Church. Like St. Benedict of Nursia, traditional Catholics likewise, though small in numbers, as were St. Benedict's followers, are keeping alive the true Catholic Faith in the face of the continuing fall of Western Civilization and the Church around them.
---
November 3, 2016 - Within the Octave of All Saints
Semidouble Feast
Neo-SSPX Sellout Could Come by November 20, 2016
That Is the Day on Which Francis-Bergoglio's Fabricated "Year of Mercy" Ends
From: Peter, the TRADITIO Network's Canadian Correspondent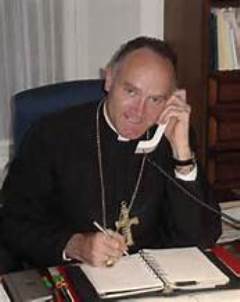 Are the Phone Wires between Menzinger and Newrome Heating Up?
Our Correspondent Points out that the Period before November 20, 2016
Is a Critical One for a Sellout of Fellay's Neo-SSPX to Newrome
Bergoglio's Fabricated "Year of Mercy" Ends on That Date
Bergoglio Claimed to Have a "Little Gift"
In Store for the Perfidious Fellay
It Could Be the "Act of Mercy" that Destroys
The "Gift" that Just Keeps on Killing the True Church
Dear TRADITIO Fathers:
TRADITIO readers should be aware that Francis-Bergoglio's fabricated Novus Ordo Year of Mercy ends on Sunday, November 20, 2016. He hinted months ago that he had a "little gift" in store for the Neo-SSPX. If he ever accepts Fellay's Neo-SSPX sellout to the Novus Ordo, this would be a critical time to do so. Then Fellay could execute his long-expected sell-out. The "act of mercy" that destroys. The "gift" that just keeps on killing the true Church.
Francis-Bergoglio, like Benedict-Ratzinger, likes to do things on significant dates. The only one of these between now and November 20 is All Saints Day, which happens to be the birthday of Archbishop Lefebvre's original traditional Catholic Society of St. Pius X in 1970, from which Fellay has separated himself to form a de facto Neo-SSPX. Therefore, there is some expectation that the sellout could take place on that date. After all, if Bergoglio waits much longer, all the persons involved could very well die of old age.
It remains to be seen whether Fellay's other two bishops, Bernard Tissier de Mallerais and Alfonso Galarreta, will lead a revolt out of the Neo-SSPX and join Richard Williamson, the SSPX's senior bishop, who left in 2012 to found the The Resistance. If the deal is sealed, at least some Neo-SSPX priests will join in leaving Fellay and decamp either to Resistance bishops Jean Michel Faure and Tomas Aquin, or to status as independent priests.
---
November 2, 2016 - All Souls Day
Double Feast
Australian Police Have Targeted Their Man:
Top Newcardinal George Pell Is Implicated in Paedophiliac Sex Crimes
From: The TRADITIO Fathers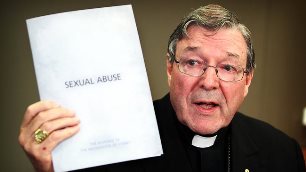 Newcardinal George Pell Remains under the Protection
Of a Newvatican Diplomatic Passport Provided by Francis-Bergoglio
Pell Was Interrogated at Newrome over Charges of Sex Crimes
Against Children as Young as Age 8
Just before and during the Time
When He Was Newarchbishop of Melbourne and Sydney
Pell Refuses to Leave the Newvatican Enclave
Claiming that He Has a Heart Condition
Which, however, Does Not Prevent Him from Continuing
In One of the Most Pressure-Laden Offices In Bergoglio's Regime
On October 26, 2016, Australian police flew to Newrome to interrogate one of Francis-Bergoglio's top Newcardinals, George Pell, Newvatican's financial czar, about accusations of sex crimes. Pell has been dogged by evidence of his involvement in sex crimes involving boys as young as age 8 just before and during the time when he was Newarchbishop of Melbourne and later Sydney. Pell's answers to the police were apparently not good enough. A policespokesman summed up after the interrogation: "Further investigations are continuing."
Pell has admitted before an Australian Royal Commission that he "mucked up." Even Francis-Bergoglio now refuses to comment, undoubtedly afraid that any connection with Pell would expose his own complicity in sex crimes throughout his Newchurch regime. However, in 2014, Bergoglio spirited off his accused Newcardinal to the safety of a diplomatic passport behind Newvatican walls. Pell refuses to leave the Newvatican enclave, claiming that he has a heart condition, which, however, does not prevent him from continuing in one of the most pressure-laded offices in Bergoglio's regime. [Some information for this Commentary was contributed by the Agence France-Presse.]
True Catholics, Francis-Bergoglio's Newchurch continues to be infested with paedophiles at the highest levels. Newchurch's Great Sex & Embezzlement Holocaust continues unabated. It caused the abdication of Benedict-Ratzinger, an accomplice to his paedophile Newclergy for over thirty years. The hypocritical Bergoglio mouths compassionate words at the children, but is so afraid of what will undoubtedly come out about him that in his over four years as Newpope, he has failed to appoint all the members of his internal paedophilia-investigation commission or to give it its operating charter.
---
NOVEMBER 1, 2016 - ALL SAINTS DAY
A HOLYDAY OF OBLIGATION
DOUBLE FEAST OF THE FIRST CLASS
The Future of the "New Mess": 1 per Cent Attendance
Some Anglican Parishes Have only 4 Attendees on a Typical Sunday
From: The TRADITIO Fathers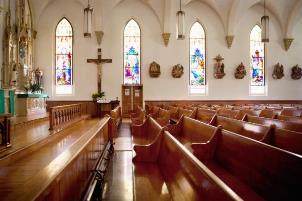 As the Anglican Sect Goes, So Goes the Newchurch of the New Order
Anglican Churches Are Now Virtually Empty
With Sunday Service Attendance at About One per Cent
Attendance at Newchurch's "New Mess" Has Sunk since Vatican II
To Less than 10 per Cent in Many Places
The Fact Is that, in the End, True Catholics Don't Like Heretical Modernism
Or Vulgar Tongues in Sacred Worship
In the Anglican Church, or Church of England, known as the Episcopalian Church in the United States, Sunday congregations have slumped to an all- time low, according to a new survey. Official statistics from the Anglican Church show that just over 1 per cent of the population of England now attends its services on a typical Sunday, one-third of the level in the 1970s. In 2015, an estimated 810,600 attended a Church of England service on an average Sunday, 2 per cent lower than in 2014 and down 7 per cent over five years. One in 20 Anglican parishes in England now has only four attendees on a typical Sunday, far lower than even the smallest independent traditional Catholic churches.
As the Anglican Church goes, so goes the Newchurch of the New Order, which replaced the Catholic Church as the "institutional" Church in 1964. In fact, the invalid Protestant-Masonic-Pagan "New Mess" of 1969, which is neither Catholic nor a Mass, is taken substantially from the invalid and heretical Anglican service. Newchurch is experiencing similar precipitous drops in attendance at its services. Moreover, like Francis-Bergoglio's Newchurch, the Anglican church has become "gay" friendly and "divorce and remarriage" friendly.
Even at Christmas, attendance is low. In 2015, 2,500,000 Anglicans attended services, whereas 2,700,000 attended secular carol performances. By contrast, 7,200,000 Britishers watched the Queen's 2015 Christmas speech, and 6,600,000 viewed the British soap opera Downton Abbey. And how does the hierarchy attempt to explain the steep decline? The Anglican Church's Secretary General said: "The Church of England is setting out on a journey of renewal and reform." [Some information for this Commentary was contributed by the U.K. Telegraph News].
True Catholics, that mantra of "renewal and reform" was the ruse perpetrated at the Vatican II Anti-council to destroy the Catholic Church as institutional Catholic Church in 1964. The fact is that, in the end, people don't like heretical Modernism or vulgar tongues in sacred worship. Newchurch, like the Anglican Church, is experiencing precipitous drops. The "New Mess" just doesn't cut it with true Catholics. Services in the vulgar tongues don't cut it. Presbyter Bojangles doesn't cut it. But Newchurch is by now too committed to the invalid anti-Catholic "New Mess" and the invalid anti-Catholic "New Sacraments" to back out now. Thus, the New Order sect will rapidly sink into the cesspool of secularism -- just as is happening to its Anglican counterpart.
---

Return to Daily Commentaries from the TRADITIO Fathers.