March 2018
| | |
| --- | --- |
| | For answers to many questions, consult the CURRENT MONTHLY REVISED EDITION of the Official Traditional Catholic Directory, Listing All Traditional Latin Masses and Traditional Resources for North America. For further information, click on the TRADITIO Network's Official Traditional Catholic Directory department, provided to the TRADITIO Network by the National Registry of Traditional Latin Masses. |
For information about the protocol for sending messages to the TRADITIO Fathers, click on Ask the Fathers. First, here are some hints for locating items that have already been covered. The TRADITIO Network has the most varied and extensive repository of traditional Catholicism, collected over the 20 years of our existence on the internet, the longest of any traditional site. (1) Check the 16 departments listed in the TRADITIO Network's Web Site Map on our home page, www.traditio.com. (2) Check the 14 FAQs in the TRADITIO Network's Library of Files (FAQs and Traditional Apologetics) department, which answers your most common questions. (3) Use the Search engine on the TRADITIO Network's home page, www.traditio.com.
| | |
| --- | --- |
| | If you have you have personally benefited from the services of the TRADITIO Network, please support the continuation of the TRADITIO Network's Apostolate by clicking on the box to the left to made a donation easily, securely, and confidentially by bank account or credit card through PayPal. Regular contributors become Benefactors of the TRADITIO Network, and their intentions are specially commemorated at Traditional Latin Masses offered. Using PayPal reduces our administrative burden considerably, but if need to use a paper check, click on FAQ01: "How Can I Help the TRADITIO Network's Apostolate?" We have always refused to display those annoying "click" ads to raise money. We hate those ads, and we think that you do too, so we have kept TRADITIO 100 per cent free of them and rely instead on you for voluntary donations. |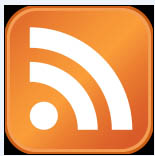 Subscribe to the Free TRADITIO RSS Feed
---
THE TRADITIO NETWORK HAS BEEN INFORMED BY THE NATIONAL REGISTRY OF TRADITIONAL LATIN MASSES THAT THE NEW MARCH 2018 MONTHLY REVISED EDITION OF THE 2RD ANNUAL EDITION (2018) OF THE OFFICIAL TRADITIONAL CATHOLIC DIRECTORY, LISTING ALL TRADITIONAL LATIN MASSES AND TRADITIONAL RESOURCES FOR NORTH AMERICA HAS BEEN PUBLISHED. FOR FURTHER INFORMATION, CLICK ON THE OFFICIAL TRADITIONAL CATHOLIC DIRECTORY DEPARTMENT, PROVIDED TO THE TRADITIO NETWORK BY THE NATIONAL REGISTRY OF TRADITIONAL LATIN MASSES. THE 2018 ANNUAL USE FEE IS NOW DUE FOR THOSE WHO WISH TO USE THE NEW 2018 ORIGINAL EDITION AND ITS MONTHLY REVISED EDITIONS. BE SURE TO CHECK YOUR TRADITIONAL SITE'S LISTING FOR CORRECTNESS.

---

HOLY WEEK & EASTER: A TIME TO HELP

The TRADITIO Network has now been furnishing information about all facets of traditional Roman Catholicism, answering questions both privately and publicly, for over twenty years now, longer than any other traditional site on the Internet. When we started, even the Vatican site didn't exist! We wish that we could show you all of the personal letters we have received from troubled souls who have found here clear, traditional, and honest answers to their questions, free of organizational bias. Thousands of these have reverted or converted to the traditional Roman Catholic Faith as a result. Our work has always been done free of charge, but at this time of year, we like to remind you, particularly if you have benefited personally from the TRADITIO Network, to remember to make a donation to TRADITIO as part of your almsgiving at this time of year. You may most easily make a donation to TRADITIO's work by using the convenient Make a Donation box on this page.

---

Solemn Rites of Holy Week and Easter
It is most unfortunate that many traditional Catholics do not have access to the Solemn Rites of Holy Week and Easter in the fully-traditional rites before they were "modernized" in 1956. Even some of the so-called "traditional" groups scandalously use the "modernized" version instead of the traditional rites going back to the early Church. Fortunately, the St. John Schola has made available to the traditional Catholic faithful these significant rites on CD. For further information, click on the TRADITIO Network's Gregorian Chant department for Volume IX of that Gregorian schola's recordings of Holy Week and Easter. For you traditional Catholics who do not have the opportunity to attend these singular rites in person, at least you may participate in them spiritually through these recordings. Do not lose the opportunity. These rites are an essential part of your traditional Catholic Faith.

The Sacred Triduum These three days -- Maundy Thursday, Good Friday, and Holy Saturday -- are the most sacred in the entire liturgical year. For this 72-hour period, the Church, and we, meditate upon the truths most central to our Roman Catholic Faith: the Passion, Death, and Resurrection of Our Lord. The drama of these days is transfixing as we hear the various Evangelists' versions of the treachery of the Church establishment (Annas, Caiphas, the Sanhedrin), the abandonment of Christ by the first pope (the three denials of Peter) and the Apostles, the Faith beginning to touch the Gentiles (Pontius Pilate, the centurion Longinus), and the small number who stood by Christ in the end (the Marys and St. John). The liturgy of these days is the most ancient in the Church. Much is preserved from the very time of the Apostles, including the use of Greek in the Good Friday service. Up until a few hundred years ago, these were Holydays of Obligation, and no Catholic would think to miss them. Traditional Catholics should make even heroic efforts to be present at these sacred services, in the traditional form, the ancient form that existed before 1956. Those who do not have access to the traditional rites should take ample time during this period to read the sacred services in their missals, listen to the marvelous chant appointed for these days available on recordings, perform the Via Crucis, read the Passions in Scripture, review the Imitation of Christ, and engage in other such practices.

---

March 24, 2018 - St. Gabriel, Archangel
Double Major Feast As Newchurch Crumbles, So Does Notre Dame Cathedral
France, Once the "Eldest Daughter of the Church," Won't Repair It From: The TRADITIO Fathers

Newchurch Has Let Notre-Dame Cathedral Fall into Ruin
Francis-Bergoglio Is Too Busy Spending Newchurch Money
On His New Communications Centre
And Expensive Foreign Junkets for Political Causes
To Be Bothered
With Preserving the Religious Monuments of the Catholic Church
Of Which the Marxist Newpope Is Not a Member
France was once known as the "Eldest Daughter of the Church," but as the Newchurch of the New Order, founded in 1964, took over the buildings of the Catholic Church, France's greatest Catholic treasure, Notre-Dame Cathedral, is crumbling into ruin, just like Newchurch that now owns it. Moreover, the French won't fix it. As at the time the French Revolution, France is now anti-Catholic. So, a few Frenchmen are hoping once again to get a bailout from the United States, which previously bailed them out in the two World Wars.
The cornerstone of Notre-Dame was laid in 1163. Notre-Dame was one of the first Gothic cathedrals to use the flying buttress and stained-glass windows. The cathedral contains priceless Holy Relics, including the Crown of Thorns, a fragment of the True Cross, and one of the Holy Nails.
Just as it has already closed and destroyed so many Catholic edifices, Now Newchurch has allowed the mediaeval Catholic monument to Our Lady to fall into disrepair. Walls are chipping, stones are stapled together, Gothic gargoyles are replaced with plastic pipes, stone railings are replaced with wood, the famous flying buttresses are eroding. The whole cathedral is at risk of falling to ruin under the custody of Newchurch. [Some information for this Commentary was contributed by CBS News.]
True Catholics, what of the anti-Catholic French, who, like the Irish once, were considered the most Catholic in Europe? They refuse to spend money on Notre-Dame. And Francis-Bergoglio is too busy spending money on his new Communications Centre and expensive foreign junkets for political causes to be bothered with preserving the religious monuments of the Catholic Church, of which the Marxist Newpope is not a member. Thus does Newchurch treat Our Lady's great cathedral. No wonder she has turned her back on Bergoglio's anti-Catholic New Order sect.
---
March 23, 2018 - The Seven Dolors of the Blessed Virgin Mary
Double Major Feast
A Newseminarian Writes: "I Cannot Show My Love
Of the Traditional Latin Mass at the Newseminary"
From: James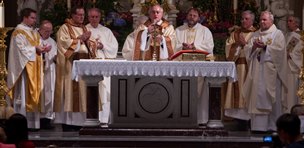 Presbyter-Ministers Herd around the Novus Ordo Dinner Table
This Newseminarian Apparently Doesn't Know
That Newchurch Has Not Ordained Priests since 1968
When Newchurch Adopted the Protestantized New Ordinal
Since Then Newchurch Merely "Installs Presbyters"
No Better than Protestant Ministers
Who Have No Power to Celebrate the Holy Sacrifice of the Mass
Thus, Newseminarians in Newchurch Seminaries
Will Never Be Ordained as Priests
Nor Will They Ever Be Able to Celebrate a Valid Traditional Latin Msss
Dear TRADITIO Fathers:
As a traditional Catholic, I cannot be myself here in the Novus Ordo seminary. I am always pretending to be someone else. I feel like I am playing a game with the rector and the other "priests" here, putting on a facade in order to please them, so that I do not get into trouble. This exhausts me especially not only spiritually but also physically.
At the center of my desire to become a priest is my love for the Traditional Mass. It is that love that I cannot show here. I have to suppress my love for the Traditional Mass and never let it show, for the faculty would see that in a negative way, and that would affect my future in the Newdiocese and might even prevent me from being ordained.
The other guys here who have the same love for the Traditional Mass have the common attitude to go with the current flow, keep their head down, smile, never let the rector know what they are thinking until they are ordained. Then it is safe to come out of the liturgical closet so to speak. Even writing that last sentence dismays me that I should say such a thing.
So I ask myself: Do I want to spend three more years not being honest about who I am and what drives me? Will not this have a bad effect on me personally, and if I am ordained, will not this way of living, this self-denial in a deep sense, not continue and make my priesthood a sham?
The TRADITIO Fathers Reply.
Yours is a story that we hear all the time. Traditional Catholics think that they can survive in the anti-Catholic Newchurch if they play along, but they end up suffering a very real schizophrenia and often lose they souls. You are in the wrong place. Newchuch doesn't have the Traditional Latin Mass. At best it has the Half New Order Vatican II New Latin Mess of 1962, but doesn't ordain priests to celebrate it.
Since 1968, Newchurch has adopted a Protestantized New Ordinal to "install presbyter-ministers to preside over the assembly of the people." It does not "ordain priests to offer the Sacrifice of the Mass for the living and the dead and to forgive sins." Thus, even if you survived the lie, you will never be ordained in Newchurch as a Catholic priest, nor will you ever be able to celebrate a valid Traditional Latin Mass. You must get out of the Newseminary now, before you waste any more time and further jeopardize your immortal soul. Instead, click on the TRADITIO Network's Official Traditional Catholic Directory department and find a truly traditional Catholic seminary that is not affiliated with the anti-Catholic and invalid Newchurch of the New Order.
---
March 22, 2018 - Ferial Day of Lent
Pastor of Newchurch's New Latin Mess Removed for "Improper Conduct"
Will the New Mess Be Shut down at St. John Cantius in Chicago?
From: The TRADITIO Fathers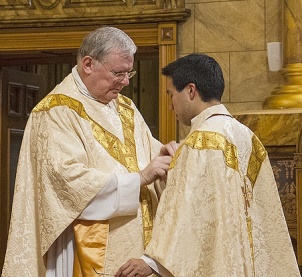 Presbyter Frank Phillips (Left) of St. John Cantius Newparish
Has Been Removed from the Presbyterate on Account of
"Improper Conduct involving Adult Men"
Phillips Was Known for Starting the Pseudo-traditional
Canons Regular of St. John Cantius
And Simulated the "Triple Whammy":
The 1962 New Latin Mess
The 1969 Novus Ordo Latin Mass
And the 1969 Vulgar-tongued Novus Ordo Mess
Reportedly, the Homosexual Cesspool at St. John Cantius
Was Known to Many Pseudo-traditionalists There for Some 25 Years
Yet They Preferred to Cover up the Immorality with Some Latin
The "conservatives" in Newchurch still haven't gotten it. They are pseudo-traditionalists, who think that the solution to their problem is to embrace Newchurch presbyters (who are not priests since Newchurch's implementation of the Protestantized New Ordinal of 1968, which merely installs presbyter-ministers) who simulate the New Latin Mass, aka the "1962" Mess, aka the "Extrordinary" Mess. They "hide out" with such pseudo-traditionalist groups as the Fraternity of St. Peter (FSSP) and the Institute of Christ the King (ICRSS). The problem is that not only are such Messes not valid because of defect of lack of a priest, but they are associated with the immorality and corruption of the Newchurch of the New Order, which is certainly not the Catholic Church, and its head, the Marxist Newpope Francis-Bergoglio.
A case that became public on March 19, 2018, has caused scandal and horror in the pseudo-traditionalist communities that "perform" the New Latin Mess in newchurches. One of their most revered personages, one Frank Phillips, who founded the so-called Canons Regular of St. John Cantius and who headed since 1988 Newchurch's New Latin Mass activities as pastor of St. John Cantius Newparish in Chicago, Illinois, has been removed from his Newpastorate on account of "improper conduct involving adult men" (sodomy). Phillips has been prohibited from "performing" Newchurch Messes, whether in Latin or the vulgar tongues.
St. John Cantius Newparish was, in any case, a fake as a "traditionalist" site. Phillips oversaw not just the 1962 New Latin Mess, but the 1969 Novus Ordo Latin Mass, and the 1969 vulgar-tongued Novus Ordo Mess. A local report to the TRADITIO Network has indicated that the homosexual cesspool at St. John Cantius was known to many of the pseudo-traditionalists there for some 25 years, yet they preferred to cover up the immorality with some Latin. [Some information for this Commentary was contributed by the Chicago Tribune.]
True Catholics, this is a common problem with Newchurch's pseudo-traditional sites: when personnel change, the site can be shut down or seriously compromised ad nutum Episcopi. Such sites have no security whatsoever, and there have been numerous cases of overnight shutdowns of the New Latin Mass. For now, the invalid New Latin Mess of 1962 will have a place beside the Novus Ordo Latin Mess of 1969 and the vulgar-tongued New Mess of 1962, but that could change overnight. Newchurch is a filthy cesspool, and the Newchurch pseudo-traditionalists in Chicago and elsewhere have now been warned by this latest case once again to get out of Newchurch.
---
March 21, 2018 - St. Benedict, Abbot
Double Major Feast
Newchurch's Own Study Documents Precipitous Drop in Membership:
Down More than One-Quarter in just Two Decades
From: The TRADITIO Fathers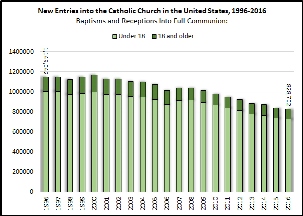 Newchurch Membership Has Sunk by More than One-Quarter
Over the Last Two Decades: 28 per Cent
The Drop Was the Same among Hispanics
While the U.S. Population Increased, Especially among Hispanics
Fewer than One-quarter in the U.S. Now Identify Themselves as Newchurchers
By 2016, Only 29 per Cent of "Marriages" of Newchurchers Were Valid
More than Two-thirds of "Marriages" Were Invalid
Having Been Conducted by Heretic Ministers or by Civil Officers
And the Parties Thus Excommunicated Themselves from the Catholic Church
On March 16, 2018, the results of the Center for Applied Research in the Apostolate (CARA)'s Newchurch membership study set off shock waves. Membership in Newchurch in the United States has continued to sink since the beginning of the decade. Although the overall U.S. population increased over eight per cent from 2010 to 2016, membership in Newchurch has fallen about one per cent in just those six years. Fewer than one-quarter (23 per cent) in the U.S. now identify themselves as Newchurchers. Baptisms and marriages are way down as well.
Nor are Hispanic illegal and legal immigrants making up for the shortfall any longer. The drop was the same among Hispanics, although their growth in the U.S. population increased by 16 per cent. Those entering the Church in the last twenty years has fallen by 28 per cent. By 2016, only 29 per cent of "marriages" of Newchurchers were valid. More than two-thirds of "marriages" in Newchurch were null and void, having been conducted by heretic ministers or by civil officers, and the parties thus excommunicated themselves from the Catholic Church. [Some information for this Commentary was contributed by Catholic World News.]
True Catholics, Newchurch is sinking fast. Newchurch has nothing spiritual to offer: no graces, no valid Masses, no valid Sacraments (except perhaps Baptism and Matrimony). The "worship services" that replace the valid Mass are the worst of Protestantism and have no spiritually uplifting factor. Thus, Newchurchers much more readily abandon their sect than true Catholics who have the immorial Traditional Latin Mass, Traditional Latin Sacraments, and real grace that does along with them. Newchurchers have lost Faith, Hope, and Charity.
---
March 20, 2018 - Ferial Day
Francis-Bergoglio Lets off Another Paedophile Newarchbishop
Anthony Apuron of Guam Gets only a Slap on the Wrist for His Crimes
From: The TRADITIO Fathers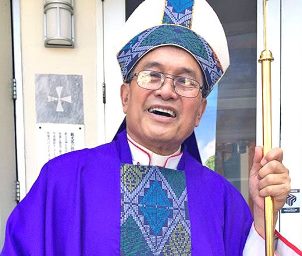 Newarchbishop Anthony Apuron, of Guam
Who Was Convicted on the Basis of Five Sex Crimes
Against Novus Ordo "Altar Boys," including His Own Nephew
Was Let off by Francis-Bergoglio
And Presiding Judge Hypocritical Newcardinal Ray "Bully" Burke
With a Slap on the Wrist
The Guamanian Newarchdiocese Is Currently a Defendant
In 96 Sex-crime Lawsuits, involving Apuron
13 Presbyters, a Newchurch Schoolteacher
And a Newchurch School Janitor
On March 16, 2018, the long-delayed verdict of Francis-Bergoglio's court was announced: Guamanian Newarchbishop Anthony Apuron, although found guilty of numerous unnamed paedophile crimes, will get only a slap on the wrist. He has been relieved of his Newarchbishopric, but he had already been relieved, so nothing changes.
Bergoglio even dragged in the shill Newcardinal Ray "Bully" Burke to go to Guam to preside over the preliminaries personally, but the resulting verdict indicates that Burke is in reality a stooge of Bergoglio's corrupt regime. In fact, the verdict is said to have been reached in October 2017, but was not announced until now, while Newchurch in Guam was in a state of pandemonium over Apuron.
A cleric found guilty of paedophile crimes is supposed to be laicized, that is, kicked out of the clergy entirely and stripped of his position and offices. The slap on the wrist given Apuron is a complete contradiction of the verdict. But the three Paedophile Newpopes Francis-Bergoglio, Benedict-Ratzinger, and JPII-Wojtyla have regularly let off the worst criminals among their Newbishops and Newcardinals.
The most recent charge against Apuron was made on January 10, 2018, by his own nephew, who has filed a lawsuit on the charge that his uncle raped him in a Newchurch bathroom in 1990. This was the fifth lawsuit to charge the Newarchbishop of sex crimes against children during his time as a Newpastor and Newbishop. Apuron had also been charged with four other accusations from former Novus Ordo "altar boys." [Some information for this Commentary was contributed by the Catholic News Agency.]
True Catholics, the Guamanian Newarchdiocese is currently a defendant in 96 sex-crime lawsuits, involving Apuron, 13 presbyters, a Newchurch schoolteacher, and a Newchurch school janitor. The corruption of the Newchurch of the New Order and its three Paedophile Newpopes stinks to High Heaven. No true Catholic can have anything to do with its immoral leaders, its false doctrines, or its phony "liturgy" and unordained presbyter-ministers.
---
MARCH 19, 2018 - ST. JOSEPH, SPOUSE OF THE BLESSED VIRGIN MARY, CONFESSOR
DOUBLE FEAST OF THE FIRST CLASS
Francis-Bergoglio Opens the Second Inquisition
He Hires a "Gay" Law Firm to Shut down Web Site Critical of Him
From: The TRADITIO Fathers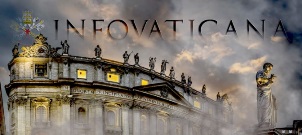 Francis-Bergoglio Doesn't Like
The InfoVaticana News Agency's Criticism of Him and His Programme
So He Is Attempting to Take Over the News Agency
Because It Uses "Vatican" as Part of Its Name
Newvatican's Position Has Been Likened To
What Would Be The Absurd Position
Of the Government of the United States
If It Were to Attempt to Take over the News Periodical
Titled USA Today
Or the State of New York
If It Were To Attempt to Take Over The News Periodical
Titled the New York Times
The InfoVatica news agency, based in Madrid, Spain, was founded in 2013 to report worldwide on Newvatican's goings-on. Its coverage, as has been that of the TRADITIO Network from long before that, has been strongly critical of Francis-Bergoglio. Bergoglio, like all tyrants, doesn't like to be questioned, so he has directed his henchmen to attempt to force the news agency to transfer its domain to Newvatican. You see, InfoVaticaana is going against Bergoglio's Newvatican "brand" and the new Communications Centre for his Newreligion, on which he has spent tens of millions.
On March 12, 2018, InfoVaticana announced that it will fight like a St. Paul against the tyrannical Newpope Bergoglio, who has in fact shown himself to be not merciful and kind, but a supporter of crimes against children and a basically Narcissistic and nasty individual. InfoVaticana says that it is a free and independent medium with the vocation of serving the true Catholic Church and society. It has denounced the corruption of Bergoglio's Newchurch of the New Order, the powerful lesbian-gay-transsexual lobby that Bergoglio has publicly admitted runs his Newchurch, Bergoglio's heretical document Amoris laetitia, and his illegal takeover of the autonomous Knights of Malta.
Newvatican has been ridiculed for its objection to the use of "vaticana" in the InfoVaticana title. Newvatican's position has been likened to what would be the absurd position of the government of the United States if it were to attempt to take over the news periodical titled USA Today, or the State of New York if it were to attempt to take over the news periodical titled the New York Times. [Some information for this Commentary was contributed by LS News.]
True Catholics, out of all the law firms in the world from which Bergoglio could have chosen to represent it, he chose the Irish law firm of Baker & McKenzie, which represented the radical homosexual organization Stonewall and the pro-abortion organization Planned Parenthood. In addition, it is an active promoter of so-called "transgender" sex-changes in its own firm. Truly, Francis-Bergoglio is a Marxist dictator, who takes as his example from the dictator Joseph Stalin. No wonder one of the best-selling books in Rome this year is Il Papa Dittatore (The Dictator Pope)!
---
March 18, 2018 - Passion Sunday
Semidouble Sunday of the First Class
Francis-Bergoglio's Newvatican Doctored Benedict-Ratzinger's Letter
In Which Ratzinger Actually Refused to Read Francis-Bergoglio's New Theology Book
From: The TRADITIO Fathers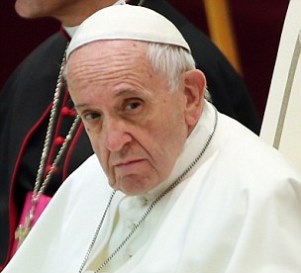 Francis-Bergoglio and His Newvatican Have Confessed to Lying
To the International Press by Blotting out a Paragraph
In a Letter from Benedict-Ratzinger
In Which the Ex-Newpope Refused to Give Bergoglio an "Imprimatur"
For His New Theology Book
Ratzinger in Fact Said that He Had No Time for Reading It
Newvatican and its Newpopes Have Been Caught in So Many Lies Now
That No One Can Trust Anything They Say
The Associated Press, which has been investigating various aspects of Francis-Bergoglio and his Newvatican, has caught them in yet another lie. As previously reported in these Commentaries, Bergoglio wanted to get ex-Newpope Benedict-Ratzinger's "imprimatur" on his new theology book. Ratzinger was reported to have issued a letter that Bergoglio's theology was "in continuity" with Ratzinger's own. Now it turns out that Newvatican lied about Ratzinger's statement.
On March 14, 2018, under pressure from the Associated Press and other international news organizations, Francis-Bergoglio's Newvatican was forced to admit it doctored a paragraph of Ratzinger's letter by smudging out a paragraph in which the abdicated Newpope admitted that he had no time for reading Bergoglio's new theology book. Bergoglio was hoping for a ringing endorsement from Ratzinger of his anti-Catholic, Marxist theology, and when he didn't get it, Bergoglio's Newvatican blurred the paragraph in which Ratzinger refused to do so. [Some information for this Commentary was contributed by the U.K. Catholic Herald.]
True Catholics, because Benedict-Ratzinger hadn't even read Francis-Bergoglio's new theology book, his statement that Bergoglio's theology was "in continuity" with his own seems also to be a deliberate lie. Newvatican and its Newpopes have been caught in so many lies now that no one can trust anything they say, not only on religious matters but even in such a simple thing as a book review!
---
March 17, 2018 - St. Patrick, Bishop & Confessor
Double Feast
As More and More in Newchurch Censure Francis-Bergoglio's Heresy
Newvatican Rolls out the Infamous Modernist Benedict-Ratzinger for Support
From: The TRADITIO Fathers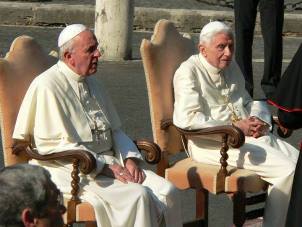 Newpopes Tweedledum and Tweedledee
Francis-Bergoglio (Left) and Benedict-Ratzinger
Bergoglio Has Been So Censured
By His Newcardinals and Newbishops for His Heresies
That He Has Rolled out His Infamous Predecessor, Benedict-Ratzinger
Who Abdicated in Disgrace because of Widespread Reports
Of His Support for Paedophile Clergy in Newchurch
But of what Possible Validity Is an Endorsement by the Notorious Leader
Of the Modernist Heresy at the Vatican II Anti-council?
Things are heating up in Newrome these days. Francis-Bergoglio is coming under increasing censure from his own Newcardinals and Newbishops for pushing the heresies concerning marriage and bigamy contained in his March 19, 2017, document Amoris laetitiae (The Joy of Sex). So desperate is he now to regain control of Newchurch that on March 12, 2018, he rolled out for an endorsement Ex-Newpope Benedict-Ratzinger, who abdicated in disgrace because of widespread reports of his support for paedophile clergy in Newchurch.
Ratzinger was forced to issue a letter that Francis-Bergoglio's Marxist doctrines were "in continuity" with his own. Thus, Ratzinger admitted what we TRADITIO Fathers have consistently reported, that Ratzinger is no "traditionalist," and never was. He is and has always been a flaming Modernist, preaching the heresy that Pope St. Pius X had condemned as "omnium hereseon collectum, the aggregation of all heresies. [Some information for this Commentary was contributed by Vatican News.]
True Catholics, what else is the Ex-Newpope Ratzinger, who is being held under virtual arrest within eyesight of Bergoglio in the Vatican Gardens, supposed to say? And of what possible validity is an endorsement by the notorious leader of the Modernist heresy at the Vatican II Anti-council, Josef Ratzinger? Clearly, Francis-Bergoglio is showing how deeply the censures of his heresies are getting to him, just more evidence that his Newpapacy may not last much beyond his fifth year this March 13, 2018.
---
March 16, 2018 - Ferial Day of Lent
Elderly Nun Drops Dead in a California Court
Fighting the Heretic Newarchbishop of Los Angeles, Jose Gomez
From: The TRADITIO Fathers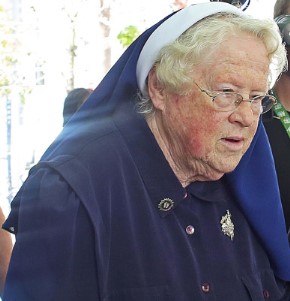 Sister Catherine Holzman, Age 89
Was One of Two Surviving Elderly Nuns
Fighting Los Angeles Newarchbishop Gomez
Who Wants to Hand Over Their Convert
To Gutter-Trash Singer Katy Perry
But the Two Remaining Nuns Refused
To Turn over Their Convert to Gomez
And Were in the Midst of a Fierce Court Battle
When Sister Catherine Collaped and Died
Sister Catherine Rose Holzman, at age 89, was fighting tooth and nail against the Newchurch archbishop of Los Angeles, California, Jose Gomez, who wants to take possession of her Convent of the Immaculate Heart of Mary, in Los Feliz, California. The nuns have owned the convent independently for forty years, but Gomez wants to hand it over to gutter-trash singer Katy Perry, known for her filthy lyrics and indecent costumes. Sister Catherine was one of two elderly surviving nuns of their order, because women today don't want to enter convents in the anti-Catholic Newchurch of the New Order.
On March 9, 2018, Sister Catherine collapsed and died during a court hearing on the case. Sister's last words were: "To Katy Perry, please stop. It's not doing anyone any good except hurting a lot of people." Perry attempted to steal away the convent form the elderly sisters by waving 15,000,000 USD before Jose Gomez. The grasping Novus Ordo archbishop, who needs money to pay off judgments for his paedophile Newclergy, took the bribe like a red flag waved in front of a bull.
The gutter chanteuse Katy Perry, a Protestant, even attempted to win over the nuns by staging a performance of her execrable music for them. But, to the contrary, the nuns were disgusted by Perry's lascivious lyrics and her "Jesus" tattoo blasphemously displayed on her exposed body. [Some information for this Commentary was contributed by Fox Television-Los Angeles.]
True Catholics, Jose Gomez was all condolences when his stalwart opponent died. He even offered a phony New Mess for her. It would appear that Sister Catherine didn't need it, but Gomez should pray for himself because he seems to be bound in the opposite direction. This is just another injustice perpetrated against true Catholics by Francis-Bergoglio's fake, anti-Catholic Newchurch of the New Order.
---
March 15, 2018 - Ferial Day of Lent
C. Iulius Caesar Interfectus Est XLIV Ante Christum
A Reader Asks: "Is Red Wine Required to Be Used
At the Traditional Latin Mass?"
From: Maria Theresa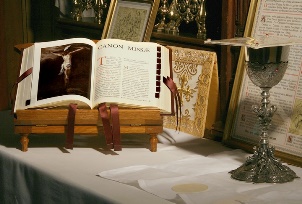 The Page Beginning the Canon of the Traditional Roman Missal
What Kind of Wine Is in the Chalice, Here Covered with the Pall?
The Valid Material for the Wine that Is to Become the Most Precious Blood
Is Not Required to Be Red
In Fact, from Sacred Scripture It May Be Any Fermented Juice of Grapes
The Variety and Color of the Wine Is Immaterial
In Fact, Priests Often Use White Wine out of Practicality
Because Red Wine Stains the Sacred Linens
And Is More Difficult for the Priest to Wash Out
Dear TRADITIO Fathers:
Is red wine required to be used at the Traditional Latin Mass? Several women at the Traditional Latin Mass that we attend offered by an independent traditional Catholic priest object to the priest's using white wine and as a result will not receive Communion because of it. Does using white wine make the consecration invalid?
The TRADITIO Fathers Reply.
It is scandalous that such ignorant women would set themselves up as judge and jury against the traditional Catholic priest that charitably makes available to them the true Mass. These biddies should be on their knees thanking Almighty God for him rather than giving him problems. What they are doing is quite sinful because we must assume that they didn't first bring to him their question so that he could inform their ignorance. And indeed, in their spiteful ignorance, they are mortally wrong.
The valid material for the wine that is to become the Most Precious Blood has always been the fermented juice of grapes (not of other fruits, such as apple wine), according to Sacred Scripture and Catholic Sacramental Theology based upon it. Thus, the variety and color of the wine is immaterial, and it may even be fortified wine, such as sherry or port. In fact, priests often use white wine out of practicality, because red wine stains the sacred linens and is more difficult for the priest to wash out. A compromise, if a priest wishes to preserve a reddish appearance (which is not at all necessary), would be to use a rosť or a "pink" wine, such as "pink" cabernet sauvignon, from which some, but not all, of the erythematous factor (the grape skins) has been removed.
It should go without saying that it is based on a Protestant heresy that the invalid Novus Ordo service distributes wine to the congregation. In fact, the material is often not even wine, but grape juice (like the Protestants) or Kool-Aid. For further information, click on FAQ10: How Do You Explain These Traditional Catholic Beliefs? in the TRADITIO Network's Library of Files: FAQs and Traditional Apologetics department, in the section "Communion under One Species."
---
March 14, 2018 - Ferial Day of Lent
Francis-Bergoglio Becomes an Official Schismatic
He Gives Newchurch Money to Build Greek Orthodox Monastery
From: The TRADITIO Fathers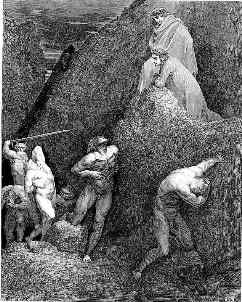 Gustave Dore's (1832-1883) Depiction of Schismatics in Hell
As Described by Dante Alighieri in the Inferno
These Sow Dissension, So a Demon Slashes Their Bodies in Half
Francis-Bergoglio Has Been Closing Newchurch Monasteries Worldwide
He Gave 100,000 USD
To Build the First Schismatic Greek Orthodox Monastery in Austria
And Announced that He Wanted "Many Others" to Contribute
By Their Prayers and Material Help" to the Schism
While Francis-Bergoglio has been closing Newchurch monasteries around the world, it was revealed on March 7, 2018, that he gave a large sum from Newchurch funds, some 100,000 USD, to build the first schismatic Greek Orthodox monastery in Austria.
Bergoglio's representative, Newcardinal Kurt Koch, presented to schismatic "Oecumenical" Patriarch Bartholomew I the gift at a festive ceremony in the Greek Orthodox cathedral in Vienna. Kock announced that Bergoglio wanted "many others" to contribute by their "prayers and material help" to the schism. [Some information for this Commentary was contributed by the U.K. Tablet.]
True Catholics, Francis-Bergoglio's purpose is clear. He hates the Catholic Church, so he takes Newchurch money and gives it to schismatic sects. Because of his Marxism and rejection of the Mass, Sacraments, doctrine, and morality of the Catholic Church, we know that Bergoglio is a heretic. Now he has shown himself to be a schismatic as well, just like the Greek Orthodox.
---
March 13, 2018 - Ferial Day of Lent
Newchurch's 2019 Synod Will Focus on "New Pathways"
This Theme Is Widely Believed to Be a "Back-door" for Uncelibate Clergy
From: The TRADITIO Fathers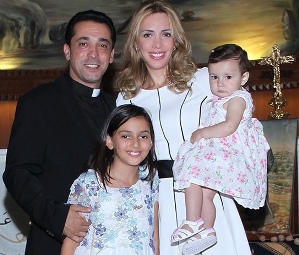 The Future of Newchurch under the Marxist Newpope Francis-Bergoglio:
An Anti-Catholic Uncelibate Newclergy
Taken Right from the Protestant Revolution
In Which the Arch-heretic Martin Luther Married a "Nun"
History Tells Us that whenever Newchurch Uses the Word "New"
More of Catholic and Apostolic Doctrine and Tradition Will Be Scrapped
And More Protestantism Will Be Added
We know that Newchurch is not the Catholic Church, but it is a stretch even for Newchurch to hold a synod devoted to -- ecology? What in the world does that have to do with Catholicism, or even religion? Yet that is the theme announced on March 9, 2018, by Francis-Bergoglio for the Special Assembly of the Synod of Bishops of the Pan-Amazon Region to take place in October 2019: "Amazonia: New Pathways for the Church and for an Integral Ecology."
Yet even the theme of ecology is a cover for the Marxist Newpope Francis-Bergoglio to destroy more of the Catholic Church. It is common knowledge that he will use this opportunity to introduce an end to Catholic and Apostolic celibacy of the Newclergy. Bergoglio, together with his anti-traditionalist predecessor Benedict-Ratzinger, has already chipped away at that with the acceptance of married Eastern and Anglican ministers into Newchurch.
The theme of the synod, in addition to "integral ecology" includes "new pathways for the [New]church." It is the Vatican II Anti-council all over again. History tells us that whenever Newchurch uses the word "new," you can be sure that more of Catholic and Apostolic doctrine and tradition will be scrapped, and more Protestantism will be added.
And, to be sure, Francis-Bergoglio has stacked the deck. He appointed to the council that will prepare the synod Newcardinal Claudio Hummes and Newbishop Edwin Krautler, who are both outspoken advocates of destroying Catholic and Apostolic celibacy of the Newchurch clergy, not to say the installation of priestesses. [Some information for this Commentary was contributed by the National Catholic Register.]
True Catholics, the vehicle for accomplishing the goal of an uncelilbate clergy and priestesses will undoubtedly be the "back door" of delegating the decision-making power to local Newbishops' conferences. This was the vehicle that was used by the Vatican II Anti-council to introduced a phony "New Mess" and "New Sacraments." It was a technique that comes straight from the innovations of Martin Luther and the Protestant Revolution. Is it any wonder that Newchurch is not Catholic?
---
March 12, 2018 - St. Gregory the Great - Pope, Confessor & Doctor
Double Feast
Francis-Bergoglio Disses Neo-SSPX and Traditional Catholics
By Moving a New Latin Mess of 1962 Church to Post Falls, Idaho
From: The TRADITIO Fathers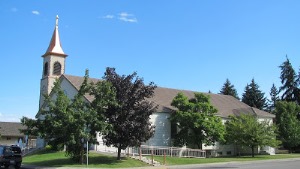 Bernie Fellay's Neo-SSPX Church & Priory in Post Falls, Idaho
Francis-Bergoglio Has Given Fellay Yet Another Slap in the Face
He Is Moving in the Pseudo-traditionalist FSSP "Indult" Group
Which Is Half Novus Ordo Already, to Knock Heads with the Neo-SSPX
Clearly, Bergoglio Wants to Wipe out the Traditional Latin Mass
Because the Small Town of Post Falls
Already Has Five Independent Traditional Catholic Churches
Bergoglio Is Too Afraid to Put His Half Novus Ordo New Latin Mass
Smack in the Middle of New York City!
What is described by its Newchurch pastor as a "small community church" in Coeur d'Alene, Idaho, is going to move to Post Falls and spend 10,000,000 USD on a 2,600 square-meter property run by the Newchurch of the New Order, as announced on March 8, 2018. The Novus Ordo temple is currently run by the pseudo-traditional Fraternity of St. Peter, a Novus Ordo-associated group that uses both the New Order service and the New Latin Mess of 1962.
One could well wonder why such an astonishingly expensive move is being made, when Idaho is the 39th in order of population of the 50 United States, and Post Falls has a population of fewer than 30,000 souls. If Newchurch and its FSSP agents were serious about bring the 1962 Mess to the United States, Post Falls is one of the last places that an ten-million dollar church project would be undertaken. So why does Newchurch want to move its Half Novus Ordo Vatican II New Latin Mess of 1962 to Post Falls?
Clearly because Newchurch and Bergoglio, on the contrary, hate the Traditional Latin Mass. The small Idaho community already has two independent traditional Catholic churches, two Traditional Resistance churches, and one Congregation of Mary Immaculate traditional church, in addition to the Novus Ordo-leaning Neo-SSPX church. Of all the places in the world, Post Falls is the last place the FSSP should go. Obviously, the purpose of the Newchurch's FSSP, as was revealed by the Unsaint JPII-Wojtyla himself in 1988, is to lure traditional Catholics away from the Traditional Latin Mass and Sacraments by means of the "indult" ruse, originally set up in 1988 to counter traditional Archbishop Lefebvre, to the Vatican II New Latin Mess of 1962.
But the ruse will not work because true traditional Catholicism is obviously strong in Post Falls. Archbishop Marcel Lefebvre, the founder of the original traditional Catholic Society of St. Pius X (SSPX), had Newchurch's number, and exposed its anti-Catholic stratagem in 1989, the same year in which the head of the perfidious "Ecclesia Dei" Commission, Newcardinal Augustin Meyer, admitted that the purpose of the "indult" Mess was intended to be only a "temporary solution," until recalcitrant "traditionalists" could be moved to the (invalid) Novus Ordo Mess.
Those pseudo-traditional "indult" groups, like the Fraternity of St. Peter (FSSP), the Institute of Christ the King (ICRSS), the Fraternal Society of St. John Vianney (SSJV), and the Institute of the Good Shepherd (IBP), in addition to having only Novus Ordo-based unordained presbyters and unconsecrated Newbishops, their announced purpose is expel the Traditional Latin Mass and traditional Catholic priests with the ruse of the Protestantized Vatican II New Latin Mess. [Some information for this Commentary was contributed by the Post Falls Press.]
True Catholics, the Newchurch FSSP's decision to go to Post Falls shows graphically how weak Bernie Fellay and his Neo-SSPX are. If Francis-Bergoglio had any respect for Fellay, he certainly wouldn't allow such a slap in the face to Fellay by setting up shop in the Neo-SSPX's own priory site. But it has been clear from the beginning that Bergoglio does not respect Fellay, but that Fellay, for his part, has shamelessly pandered to the Newpope of the Newchurch of the New Order.
---
Mach 11, 2018 - Fourth Sunday of Lent - "Laetare" Sunday
Semidouble Sunday of the First Class
Newchurch's Next Two Unsaints Are the Worst Yet:
The Newpope Who Destroyed the Catholic Church and a Marxist Revolutionary
From: The TRADITIO Fathers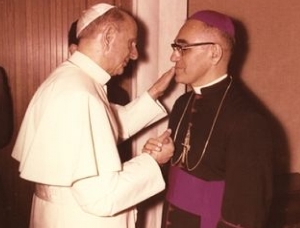 The Newpope Paul VI-Montini (Left)
Who Destroyed the Catholic Church as the "Institutional Church"
And the Marxist Revolutionary Archbishop, Oscar Romero
Will Become Newchurch's Newest Unsaints in October 2018
Now that the Marxist Newpope Francis-Bergoglio Has Overruled
The Newchurch Congregation for the Causes of [Un]saints
To Raise the Pair to the Dishonor of the Novus Ordo Dinner Table
Newchurch has truly hit bottom, now that Francis-Bergolio announced on March 7, 2018, that its next two Unsaints to be con-anized in October 2018 will be the Newpope who destroyed the Catholic Church as the "institutional" Church and a Marxist Revolutionary Newarchbishop, Paul VI-Montini and Oscar Romero. And the Newpope who will con-anize the pair is an anti-Catholic like Montini and a Marxist like Romero.
Paul VI-Montini, who served as Newpope from 1963 to 1978, personally signed and promulgated every single one of the Vatican II Anti-council's sixteen documents that destroyed in the Novus Ordo sect the Catholic Mass, the Catholic Sacraments, Catholic doctrine, and Catholic morality. Montini also created thereby a phony Newchurch of the New Order to replace the Catholic Church.
Oscar Romero was killed in 1980 when Newarchbishop of San Salvador, El Salvador. He was a promotor of the murderous "Liberation Theology" Movement in Latin America, in which Newjesuits take up weapons to fight conservative governments and fight with violence for "social and economic justice." Romero became the victim of his own violent philosophy, killed while simulating an invalid New Order Mess. Before Francis-Bergoglio, Newchurh's Congregation for the Causes of [Un]saints had blocked Romero's con-anization because it deemed Liberation Theology to be an atheistic Communist philosophy. However, Bergoglio, a Marxist himself, unblocked Romero's con-anization. [Some information for this Commentary was contributed by the National Catholic Register.]
True Catholics, you don't have to pay any attention to this nonsense. Even you were to accept the Newchurch of the New Order as the Catholic Church (which it isn't), canonization is not invariably held to be an act of papal infallibility and is certainly not a primary exercise thereof. St. Thomas Aquinas (Quodlibet IX, Q. 8, a. 16) holds that canonization is merely a pious belief (pie credendum est), not a dogma. St. Robert Bellarmine, Doctor of the Church, holds that it is quite possible for the pope "to err in particular controversies of fact that depend chiefly on human information and testimony." Newvatican has gone one step further than that; it has made up "miracles," which even medical authorities dispute!
---
March 10, 2018 - Forty Holy Martyrs
Semidouble Feast
Pew Study: Francis-Bergoglio's Ratings Fall
He Is Viewed as a "Major Change for the Worse" by More than Twice as Many U.S. Newchurchers
From: The TRADITIO Fathers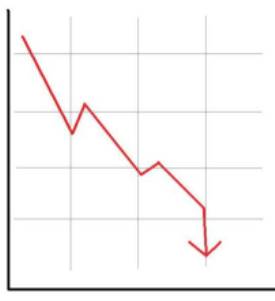 In Just Four Years Francis-Bergoglio's Unfavorables
Have More than Doubled among U.S. Newchurchers
He Is Viewed a "Major Change for the Worse"
"Too Liberal," and "Naive"
One Quarter to One Half Rate Him as "Fair to Poor"
Among Conservative Newchurchers
His Ratings Are Even Worse
According to respected Pew Research Center, which has gathered statistics for many years on religious and other social issues, Francis-Bergoglio's reputation is rapidly sinking among his own Newchurchers in the United States. The Pew study, released March 8, 2018, shows that in just four years, 2014-2018, his unfavorables have more than doubled. Bergoglio is now described as:
"a major change for the worse" (up 133%)
"unfavorable" (up 125%)
"too liberal" (up 78%)
"naive" (up 60%)
Bergoglio is rated "only fair to poor" in:
addressing Newchurch's sex scandal (45%)
spreading the Catholic [sic] Faith (25%)
standing up for traditional morals (26%)
Each category shows a significantly larger number of Newchurchers rating Bergoglio low in each of these categories. Among conservative Newchurchers his ratings are even worse.
True Catholics, these ratings were taken before the Associated Press exposed documents in Francis-Bergoglio's own hand showing that he lied when he claimed ignorance about the activities of the paedophile Newbishop he appointed in Chile and before the scandal broke in Italy concerning the infiltration of Newchurch seminaries by male prostitutes, with customers including Newbishops. Bergoglio is on a decided decline, not least because there are fewer Newchurchers to poll. Tens of millions of them are turning their back on Bergoglio and walking out on his Newchurch of the New Order.
---
March 9, 2018 - St. Francis of Rome, Window
Double Feast
Francis-Bergoglio's Newchurch Is Bleeding Cash
So It Is Trying to Throttle Its Own Former Bank Officials for Money
From: The TRADITIO Fathers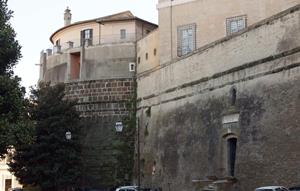 Behind the Walls of Francis-Bergoglio's Vatican Bank
The Corruption Continues
But in Order to Misdirect Attention Away
His Regime Has Focused on Alleged "Historical" Financial Irregularities
From Ten to Twenty Years Ago
Bergoglio Is Trying to Throttle Money out of His Former Officials
Because Reports Are that Newchurch Is Desperate for Money
As It Has Been Suffering Financially for Years
Owing to Newchurch's Great Sex & Embezzlement Holocaust
Newchurchers Are Quitting the New Order Sect in Large Numbers
It is curious that Newvatican, which seems all to ready to gloss over "historical" crimes of rape and sodomy by Newchurch presbyters and bishops, now wants to throttle its former Vatican Bank officials to make them pay up into Newchurch's coffers. It was announced on March 5, 2018, that the Bergoglio regime was going aver two former officials of its bank for bad real-estate sales 10-30 years ago.
Reports are that Newchurch is desperate for money as it has been suffering financially for years because of Newchurch's continuing Great Sex & Embezzlement Holocaust, particularly under Benedict-Ratzinger and Francis-Bergoglio. Newchurchers are quitting the New Order sect in large number because of the paedophile crimes that Ratzinger and Bergoglio merely wink at. [Some information for this Commentary was contributed by the Associated Press.]
True Catholics, while Francis-Bergoglio's Newvatican tries to squeeze money from former officials who operated under Benedict-Ratzinger and JPII-Woytla, Bergoglio seems to have turned a blind eye to the corruption in his own Vatican Bank that is going on right now. It's just another case of misdirection, to turn focus onto past irregularities from for ongoing corruption under the Newpope who is becoming known around the world by the moniker Francis "The Fraud."
---
March 8, 2018 - St. John of God, Confessor
Double Feast
Francis-Bergoglio's Latest Sex Scandal Explodes onto Italy
As a Male Prostitute Identifies Scores of Criminal Presbyter-Johns
From: The TRADITIO Fathers
All Italy Is Abuzz with Francis-Bergoglio's Latest Sex Scandal
Francesco Mangiacapra, a Male Prostitute, Has Outed Scores
Of Presbyters and Newseminarians for Sex Perversions and Crimes
Caught in the Dragnet were Two Newbishops
Charges Include Fraud, Drug Distribution, Embezzlement
Extortion, and Money-laundering
The Prostitute Outed the Newchurch Clergy
Because He "Couldn't Stand Their Hypocrisy Any Longer"
He Says that He Has Received Death-threats
Probably from Francis-Bergoglio's Operatives
On March 8, 2018, the Newchurch archdiocese of Naples, Italy, sent to Francis-Bergoglio a 1,200-page dossier in which a male prostitute identifies scores of presbyter-johns and Newseminarian-johns operating in Italy. The prostitute told the Italian media that he outed the presbyters and Newseminarians because he "couldn't stand their hypocrisy any longer." It is well known that Newchurch seminaries are hotbeds for all kinds of perversion and crimes. The prostitute says that he has received death-threats, probably from Francis-Bergoglio's operatives.
In February 2018 a high official of Newvatican, in fact a judge himself, pled guilty in a Rome (not Newchurch) court on sex-crime charges. On March 8, 2018, a presbyter-pastor of two Newparishes known as "Don Euro" because of his extravagant lifestyle will appear in court on charges of blackmail, fraud, drug distribution, embezzlement, extortion, and money-laundering. He particularly extorted the elderly and needy over twenty years of tens of millions of dollars. He was turned in by the male prostitute because the prostitute believed that the financial source for the presbyter's lavish expenditures was the Newparishes' collection plate.
"Don Euro"'s Newbishop wasn't going to do anything to the criminal presbyter until national television announced that it was going to expose the scandal. The Newbishop then had the temerity to excuse the presbyter-pastor's vile crimes by claiming that they were "due to sickness." It turns out that "Don Euro" had blackmailed two Newbishops, who then paid him hush-money from Newdiocesan funds. The Newbishops are under investigation as well.
In a particularly blasphemous scam, the presbyter-pastor "Don Euro" would tell individual Newchurch parishioners that he had seen Padre Pio in the "host" (which is, of course, an invalid Novus Ordo cookie) and that Padre Pio had mentioned the individual by name. Then the presbyter would then demand money from the Newparishioner for "Padre Pio's protection." [Some information for this Commentary was contributed by the Associated Press.]
True Catholics, Newchurch has really hit bottom when male prostitutes are more honest than Newpope Francis-Bergoglio and his minions! Bergoglio has been a hypocrite and, as a Marxist, a hater of the Catholic Church from the beginning of his regime, which is now almost five years old. With all the scandals exposing Bergoglio's lies and ties with paedophilia and perversion, he may soon be joining his predecessor, Benedict-Ratzinger, under house arrest in the ex-Newpope's residence, for complicity with the most despicable of sins and crimes.
---
March 7, 2018 - St. Thomas Aquinas, Confessor & Doctor
Double Feast
Newcardinal Reveals that Newchurch Is No Longer Catholic:
"High-ranking Prelates Are Trying to Change Christian Morality"
From: The TRADITIO Fathers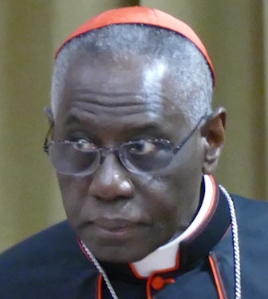 Newcardinal Robert Sarah, Newchurch's No.3 Man
Has Lashed out at Francis-Bergoglio's Newprelates
Warning that High-ranking Newprelates
In the United States and Europe
Are Trying to Change Catholic Morality
On Life, Marriage, and the Family
Through Pressure Groups
"With Powerful Financial Means and Ties to the Media"
It has taken 25 years, but now what we TRADITIO Fathers have been warning about since the founding of the TRADITIIO Network is being admitted by Newchurch leaders themselves: Newchurch is no longer Catholic, but is teaching an anti-Catholic doctrine and morality. Newcardinal Robert Sarah, prefect of Newchurch's Congregation for Novus Ordo Worship, has now warned that high-ranking Newprelates are trying to change Catholic morality [which Newchurch has actually lost already] on life, marriage, and the family.
In a February 28, 2018, speech in Belgium, Sarah accused high-ranking Newprelates from "opulent nations" [the United States and Europe] of trying to change Catholic morality through pressure groups that "with powerful financial means and ties to the media, attack the natural purpose of marriage and commit themselves to destroying the family unit."
What Sarah didn't admit was that the same ilk, like the Freemason presbyter Hannibal Bugnini and Newpope Paul "the Gay" Montini, had already changed the Catholic Mass and Sacraments in the 1960s and had thus deprived the Newchurch institution, founded in 1964 to replace the Catholic Church, of divine grace. Thus it is that Newchurch has fallen into depravity liturgically, doctrinally, and morally. Sarah himself still clings to the invalid and heretical "New Mess" and Protestantized Newchurch "sacraments."
As if to prove Newcardinal Sarah right, on the very next day, March 1, 2018, Newchurch bishops in Germany announced that they were changing Catholic doctrine on marriage to allow heretic spouses to munch the (invalid) Novus Ordo cookie and swill the (invalid) Novus Ordo Kool-Aid, falsely claiming that that it was an "emergency situation." Newcardinal Gerhard Muller, echoing similar concerns as Sarah, denounced the German Newbishops as playing a "rhetorical trick" and proclaimed that "an interdenominational marriage is not an emergency situation." [Some information for this Commentary was contributed by the U.K. Catholic Herald.]
True Catholics, just as we TRADITIO Fathers predicted those many years ago, the phony, anti-Catholic, and now Marxist Newchurch is unravelling before the eyes of the world. The same week that Protestant preacher Billy Graham was laid to rest, praised, heretic though he may have been, as a humble and Christ-centered man, Francis-Bergoglio was being condemned in the world press as a liar, a supporter of paedophile Newbishops and presbyters, and a disciple of Karl Marx. As Scripture teaches us (Esdras 4:41): "Magna est veritas, et praevalet" (Great is the truth, and it prevails).
---
March 6, 2018 - Sts. Perpetua & Felicitas, Martyrs
Double Feast
Francis-Bergoglio Tries to Cover up His Paedophilia Support
By "Resurrecting" a Marian Feastday that His Own Modernists Had Suppressed
From: The TRADITIO Fathers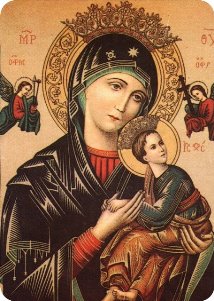 In the 1960s Newchurch of the New Order Decimated Mary
Removing Many of Her Feasts from the Novus Ordo Calendar
Together with the Feasts of St. Christopher, St. Valentine
And Hundreds of Others
The Feast of the Maternity of the Blessed Virgin Mary on October 11
Was Dumped by Newchurch
Now Francis-Bergoglio Is Trying to "Resurrect" It
To Cover up His Blasphemies against the Blessed Virgin Mary
By His Support for His Paedophile Newbishops and Presbyters
Perpetuated by Lies Exposed by the AP's Investigation
Even most traditional Catholics probably think that the only thing that the Vatican II Anti-council (1962-1965) did was to "translate" the Traditional Latin Mass into the vulgar tongues -- Swahili, Chinese, English, and the rest. Nothing could be further from the truth. More than two-thirds of the Mass was wiped out, and verbiage from heretical Judaeo-Protestant services substituted. Even the Sacred Canon, which had not been touched since the early Church was essentially dumped and a Protestant service substituted. What resulted was an invalid, heretical, sacrilegious, idolatrous, and blasphemous "New Service" that was not a Mass. But that wasn't all that the Modernist heretics perpetrated.
Another side of the Newchurch liturgical shenanigans that is infrequently mentioned pertains to the dumping of Saints and the musical-chairs played with their feastdays, so that now no one, including Newchurch presbyters, has any grasp of when Saints' feastdays fall. St. Christopher is gone. St. Valentine is gone. The three Archangels were degraded. Even the Blessed Virgin Mary was decimated.
Now, on March 3, 2018, Francis-Bergoglio claimed to be creating a Novus Ordo feast of Mary as Mother of the Church. He apparently has been so distracted of late in paedophile scandals that he forgot that before his New Order took over, there already was a Feast of the Maternity of the Blessed Virgin Mary. The feast goes back to the 18th century and was extended to the Universal Church by Pope Pius XI in 1931, until Newchurch essentially dumped it in the post-Vatican II period. [Some information for this Commentary was contributed by the Catholic News Agency.]
Moreover, there is an implicit idolatry in the notion that Mary is "mother of the Church," as that would imply that Mary, a human being, is above the Church and its divine Founder, Jesus Christ.
True Catholics, Francis-Bergoglio cannot now "resurrect" the feast to cover up his blasphemies against the Blessed Virgin Mary by his support for his paedophile Newbishops and presbyters, perpetrated by lies that were recently exposed by the Associated Press's investigation. The rub is that in many years, as in 2018, the Newfeast falls on higher liturgical days and will be suppressed. In 2018, May 21 falls on Pentecost Monday, a traditional Double Feast of the First Class, so Mary is again out in newchurch.
---
March 5, 2018 - Ferial Day of Lent
Newcardinal George Pell Gets a "Lucky Break"
As One of the Child Victims Dies
From: The TRADITIO Fathers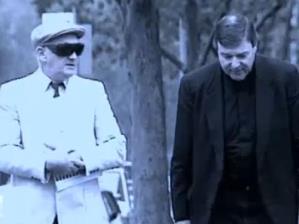 Newcardinal George Pell (Right) Pictured Walking Side by Side
Into Court with Gerald Ridsdale, Australia's Worst Paedophile Presbyter
Whom Pell Supported, Later Calling His Support a "Mistake"
Pell's Preliminary Hearing Starts on March 5, 2018, in Australia
He Faces Numerous Charges of Sex Crimes against Children
Though One Has Been Withdrawn because the Child Victim Has Died
Newcardinal George Pell, who was compelled in July 2017 to return to Victoria, Australia, to face sex-crimes charges, has had one "lucky break." One of the child victims died and therefore cannot testify against him, so that one count of the indictment was withdrawn on March 2, 2018. The exact number of remaining charges have not yet been made public, though it is believed to be at least fifteen.
A month-long preliminary hearing on the charges against Pell is to start March 5, 2018. The child victim who died, along with his fellow classmate at St. Alipius Newchurch school, accused Pell in 2016 of sex crimes when they were minors. Pell had previously been accused of sex crimes against children dating as far back as 1961. [Some information for this Commentary was contributed by the National Catholic Register.]
True Catholics, Pell had been riding high at Newvatican as a member of Francis-Bergoglio's Executive Committee of nine Newcardinals to run the Newchurch and as Prefect of the Economy (Chief Financial Officer). He had come up with a number of excuses why he couldn't return to Australia to face the music, but when fifteen of the child victims went to Newrome in 2016 to plead their case in person, the international press coverage went through the roof, and Pell had no choice but to return to Australia. So Newchurch's Great Sex & Embezzlement Holocaust continues unabated.
---
March 4, 2018 - Third Sunday of Lent
Semidouble Sunday of the First Class
Did Billy Graham Foresee that the "Catholic Church"
Refounded as the Newchurch, Would Sell out to Protestantism?"
From: The TRADITIO Fathers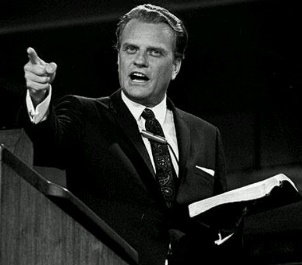 The Once Fire-and-Brimstone Protestant Preacher Billy Graham
Who Died on February 21, 2018, at the Age of 99
Actually Converged with Modernist "Catholic" Prelates of the 1950s
Like the Television Personality Fulton Sheen
On the Same Modernist, Oecumenist Religion that Was Fabricated
At the Vatican II Anti-council (1962-1965)
And Was Condemned with Excommunication by Pope St. Pius X
Which Taught that "All Religions Are Equally True"
And that "We All Worship the Same God"
One would have thought that Southern Baptist preacher Billy Graham, who died on February 21, 2018, at age 99, would have been forthrightly anti-Catholic, just as Catholics would be forthrightly anti-Protestant. It turns out, however, that the once fire-and-brimstone Protestant Graham and the Modernist "Catholic" prelates of the 1950s actually converged on the same Modernist, Oecumenist Religion that was fabricated at the Vatican II Anti-council (1962-1965). This syncretistic religion, condemned with excommunication by Pope St. Pius X, teaches that "all religions are equally true" and that "we all worship the same god."
There were many signs that lead to this conclusion. For example, Graham and Bishop Fulton Sheen, the television personality of the 1950s, had a close association. Sheen's highly-popular television program, which ran from 1951, was not known for its unadulterated Catholicism. The programme was a whitewashed version of the Catholic Faith, and much of the programme was not identifiable as particularly Catholic at all. It was the precursor of the Modernist Heresy of Oecumenism that broke out full blown at the Vatican II Anti-council and led to the replacement of the Catholic Church as the "institutional" Church by the Modernist, Oecumenist, Newchurch of the New Order on November 21, 1964.
Sheen had received an advanced degree from the Catholic University of the Louvain with honors. His superior academic background was in many ways equivalent to that of the Founder of the Catholic Traditionalist Movement in 1964, Fr. Gommar DePauw, who as a Triple Licensate in Canon Law, Moral Theology, and Ecclesiastical History. Sheen was a full-throated supporter of the Anti-council, whereas Fr. DePauw, who was a peritus (expert) at the first session in 1962, saw immediately, like Archbishop Marcel Lefebvre, that it had been engineered by the Modernists (though not Pope John XXIII) to found a Newchurch of the New Order in place of the Catholic Church.
After the Anti-council, however, Sheen realized in part the error of his ways. By the early 1970s, he was speaking about the errors being spread in the name of the Anti-council. However, the man who had written in 1958 the beautifully-illustrated, best-selling book on the Traditional Latin Mass, This Is the Mass, persisted in performing the heretical and invalid New Mess of 1969 and pandering to the Newpope Paul VI-Montini, who had cooperated with the Freemason presbyter Hannibal Bugnini, and others, to destroy the Catholic Church as the "institutional" Church.
Graham even had a particular affinity for the "Unsaint" JPII-Wojtyla, who was responsible for perpetuating Newchurch's Great Sex & Embezzlement Holocaust and who was known as a notorious Oecumenist, who prayed with pagans in their "sacred forest" and allowed himself to be anointed with cow dung by a Hindu priestess, among some one hundred other documented heretical sacrileges.
Just as traditional Catholics have the number of the anti-Catholic Newchurch of the New Order, many of Graham's fellow evangelicals denounced Graham for his oecumenism, even calling him "Antichrist." One Protestant leader summed up Graham's fall from grace in these words: "Graham's concessions are sad words from one who once spoke on the basis of Biblical certainties."
True Catholics, it is possible that Billy Graham, who by the 1950s was falling away even from Biblical Protestantism, associating with Newchurch leaders to be, like Fulton Sheen, foresaw that the true Catholic Church, detested by Protestant Evangelicals, would sell out and eventually meet him in the Modernist Heresy of Oecumenism, fabricated by the Vatican II Anti-council. The irony is that even at the time of his death, Billy Graham was more Christian than the members of Newchurch of the New Order, currently headed by the Marxist Newpope Francis-Bergoglio, which is not only fully Protestantized, but is well on its way to full-blown atheistic paganism -- for that is what Marxism is.
---
March 3, 2018 - Ferial Day of Lent
Undercover Teen Nabs Paedophile Newchurch Presbyter
As Francis-Bergoglio's Great Sex Holocaust Continues Unabated
From: The TRADITIO Fathers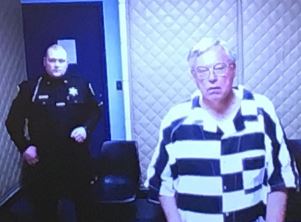 Presbyter Robert DeLand, Jr., Shown Here in Custody of Police
Was Apprehended for "Detestable" Crimes
Exposed by a Teenager Working Under Cover for Police
The Newchurch Pastor Has Been Charged with Three Crimes
Five More Are Pending, with More Coming In
Ironically, DeLand Served on the Council
For the Prevention of Child Abuse and Neglect
It Appears that DeLand Was Using His Positions as a Lure
To Contact Minors and Commit Sex Crimes upon Them
This Pattern Is Common among Perverted Newchurch Clergy
The fact that Newchurch's Great Sex & Embezzlement Holocaust is continuing unabated under Francis-Bergoglio was splashed into the headlines yet again when Presbyter Robert DeLand, Jr., age 71, was apprehended in sex crime by a teenage victim working undercover. (Actually, Newchurch doesn't have altars any longer, merely "eucharistic" dinner tables.)
DeLand, who is pastor of St. Agnes newchurch in Freeland, Michigan, was arrested on February 25, 2018, and charged with sex crimes after months of investigative work by a teenage victim working under cover. A 17-year-old boy and his parents had to police concerned about DeLand's relationship with the boy. The teen, whom the presbyter attempted to ply with liquor and a "date rape" drug called Ecstasy, agreed to work undercover to expose the perverted Newchurch presbyter, who was subsequently charged with two counts of sexual assault upon a minor and indecent exposure. The presbyter's church and rectory were raided.
The Newchurch pastor has now been lassoed to an electronic tether. He is prohibited from any contact with persons under 21 and is banned from the school district where he serves as a board member. Ironically, DeLand served on the Council for the Prevention of Child Abuse and Neglect. It appears that DeLand was using his positions as a lure to contact minors and commit sex crimes upon this. This pattern is common among perverted Newchurch clergy.
The arresting officer summarized the depravity of the Newchurch presbyter by stating: "What I seen through this four-month investigation has been detestable, and I've been doing this for 35 years. The activities, in this case, are detestable." Yet clueless Newchurch parents described DeLand as "charismatic and extremely jovial." Such Newchurch parents have clearly lost their Catholic Faith. Lucifer (the "Light-bearer") fraudulently presents himself as beautiful, not as evil, in order to entice the weak. [Some information for this Commentary was contributed by Saginaw, Michigan, MNEM News.]
True Catholics, Newchurch "authorities" in the Newchurch Diocese of Saginaw, as usual in these cases, pled ignorance. Newpope Francis-Bergoglio, who pretends to be concerned about his presbyters' and Newbishops' crimes against children, has remained mute on the case. The Newbishop in charge of Presbyter DeLand, one Joseph Cistone, claimed to be "distressed." Yet he was blind to the depravity of his underling. As an auxiliary Newbishop of Philadelphia, Cistone, according to court documents, oversaw the shredding of documents containing the names of paedophile presbyters and lied about it to a grand jury. ANY PARENT WHO SENDS HIS CHILD TO A NEWCHURCH SCHOOL OR HIMSELF ATTENDS A NEWCHURCH TEMPLE MUST BE REGARDED MORALLY AS AN ACCOMPLICE TO AND A FACILITATOR OF PAEDOPHILIA.
---
March 2, 2018 - Ferial Day of Lent
Jews' Plan to Tax Christian Churches in Jerusalem Foiled
Money Talked when Christians Slammed Shut the Holiest Church in Christendom
From: The TRADITIO Fathers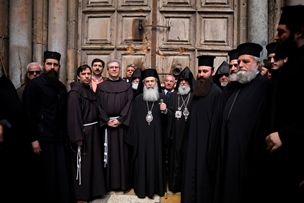 A Group of Mostly Greek Orthodox Clergy
With Just a Sprinkling of Newchurch Clergy
Reacting to a Jewish Plan to Tax Christian Churches in Jerusalem
Courageously Slammed Shut the Doors of the Holiest Church in Christendom
The Church of the Holy Sepulchre in Jerusalem
Built over the Place where Jesus Christ Was Entombed and Resurrected
And to Which Tourists from around the World Flock
During This Season of Lent, Holy Week, and Easter
Realizing How Much Tourist Money They Would Be Losing
The Jews Quickly Suspended Their Plan against Christian Churches
When push came to shove, Jews in Israel rated tourist money in their pockets more important than anti-Christian discrimination. When Jewish leaders hatched a plan to violate the terms of the Status Quo agreement and to impose taxes on Christian churches in Israel, the Guardians of the Church of the Holy Sepulchre charged bad faith on the part of the Jewish authorities.
On February 25, 2018, the Guardians courageously slammed shut to tourists the doors of the holiest church in Christendom, the place where Jesus Christ was entombed and resurrected. Tourists from around the world flock to Holy Sepulchre during this season of Lent, Holy Week, and Easter. Realizing how much tourist money they would be losing, the Jews quickly suspended their plan against Christian churches in the Holy City. On March 1, 2018, the Guardians reopened Holy Sepulchre. [Some information for this Commentary was contributed by U.S. News & World Report.]
True Catholics, the Jews had also been violating the Status Quo agreement by selling Christian church lands in Jerusalem. This Jewish violation too was stopped by the shuttering of Holy Sepulchre. It is rare that Christians these days stand up to Jews. Most Christians, particularly Newchurchers, have been emasculated through the heretical Vatican II doctrine of "oecumenism," condemned by the Catholic Church as the grave sin of "syncretism" ("all religions are equally true," "all gods are the same"). Even many "Evangelical" Protestant sects scandalously speak as if they were Jews themselves and advert far more from the Old Mosaic Testament than the New Testament of Jesus Christ, Who they claim to be their God.
---
March 1, 2018 - Ferial Day of Lent A Reader Asks: "Is It Catholic to Receive Holy Communion
On Good Friday, when Our Lord's Death Is Commemorated?" From: Marie

In 1956, without the Approval of Pope Pius XII
Freemason Presbyter Hannibal Bugnini, Chief Architect of the Novus Ordo
Fabricated a Protestantized Rite of Holy Week that Prepared the Way
For the Half Novus Ordo Mess of 1962 and the Full Novus Ordo Mess of 1969
Since Apostolic Times, No Communion Is Received on That One Day
True Catholics Should Shun Attending
The Protestantized Holy Week Rites of 1956
And Even Now Prepare to Find a Site
Where the Fully-traditional Catholic Rites (pre-1956)
Of Holy Week Are Celebrated
Dear TRADITIO Fathers:
With Holy Week coming up, somebody had the audacity to tell me that I would be "schismatic" for refusing to receive Holy Communion on Good Friday where it is offered on that day. It was claimed that Pope Pius XII allowed every Tom, Dick, and Harriet to violate Catholic and Apostolic Tradition and to receive Communion on Good Friday, in spite of the fact that Good Friday is the only day on which no Sacrament can be confected, out of mourning for the suffering and death of Our Lord on the Cross. Even many traditional Catholics are ignorant of this principle, so your answer on whether Communion can be received on that Good Friday would be appreciated.
The TRADITIO Fathers Reply.
You are absolutely not schismatic; you are a true Catholic. In fact, it is those who attend such half Novus Ordo "communion" services who are in error. You are quite correct that on Good Friday, from the earliest times, there is no Mass and no Communion. Only the celebrant consumes the one remaining Host that had been pre-consecrated on Maundy Thursday.
From the earliest times, Good Friday has been an a-liturgical day; that is, Holy Mass is not celebrated on this day, the only such day in the Universal Roman rite. Instead, a rite without Mass is conducted as prescribed in the Missale Romanum and canonized in perpetuum by the dogmatic Council of Trent.
In 1956, the Catholic and Apostolic Sacred Rites of Holy Week, which are contained in the canonized Roman Missal, were corrupted by the same Hannibal Bugnini who was the fabricator of the invalid Novus Ordo Protestant-Masonic-Pagan Mess of 1969. Pius XII never affixed his signature to this abominable document, which essentially Protestantized the most sacred rites of the year, which prepared the way for the half Novus Ordo service of 1962 and the full-blown invalid Novus Ordo service of 1969.
Neither Pope Pius XII nor any other pope has the authority to change substantially the canonized Catholic and Apostolic Universal Rite of the Church. The Dogmatic Theologians of the Church (Torquemada, Cajetan, Suarez, et al.) teach that if a pope were to attempt to do so, he would be the schismatic. After the Mass of Maundy Thursday until the First Mass of Easter at noon on Holy Saturday, it is prohibited that the Holy Sacrifice of the Mass be celebrated. No Sacraments of the Church -- no baptisms, no confessions, no marriages, no funerals -- are permitted during this period.
True Catholics should not attend the corrupted 1956 services of Holy Week, but even now prepare to find a site where the fully-traditional Catholic rites (pre-1956) of Holy Week are celebrated.
---

Return to Daily Commentaries from the TRADITIO Fathers.