Bernie Fellay, Renounce Newrome or Resign!
By Patricius Anthony

                           TRADITIO Traditional Roman Catholic Internet Site   
                 E-mail: traditio@traditio.com, Web: http://www.traditio.com
  Copyright 2008 P. Anthony.  Reproduction prohibited without authorization.

Bernie Fellay, Renounce Newrome or Resign!
By Patricius Anthony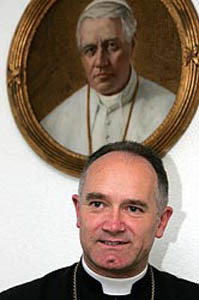 Bernie Fellay, Superior General of the Society of St. Pius X (SSPX)
Traditionally, Advent has been the season not only to celebrate the Divine Savior's birth, but to prepare and reflect upon His Second Coming. The Church has taught that the Second Coming will be that of judgment, when those who have followed Christ's dictates and have remained loyal to His teachings will attain eternal happiness, while those who have not will face everlasting punishment.
Of course, Newchurch has wisely purged itself of references to this aspect of the Christmas season, knowing full well that the Divine Savior's Second Coming will be quite different from His first humble appearance. All of Newchurch's grave and pervasive crimes, cover-ups, and faithlessness to the Catholic Faith will be judged, and no payoffs, "apologies," or bribery will be able to atone for what will surely be a harsh, but just sentence.
The Society of St. Pius X's Superior General, Bernie Fellay, as the rest of Newchurch's conservatives, indultarians, and semi-traditionalists, who have, in most cases, enthusiastically supported Benedict-Ratzinger's "Motu" Mess hoax should likewise think deeply about the Second Coming. For their fate, as well as that of every Catholic, will depend, in part, on their relationship with the New Order.
Did they seek "compromise" with Newrome and its novel ways, false oecumenism, and invalid Sacraments? Did they ignore the thousands of egregious and criminal actions in which Newchurch presbyters and bishops have engaged? Did those individuals and groups who had the means and wherewithal to do so publicly condemn the Newchurch hierarchy right up to and including its very pinnacle for the abetting and cover-up of sex and embezzlement crimes? During Advent such questions need to be contemplated by Fellay and his fellow SSPX bishops.
The Society's current leadership has not taken the heroic path of its founder, Archbishop Marcel Lefebvre, who repeatedly denounced, in no uncertain terms, the Church of the New Order for not being Catholic. Once again, Fellay is cozying up to Newrome and seeking its "forgiveness." The latest attempt to curry favor is another "Rosary Crusade" in the hope that Benedict-Ratzinger will lift the "excommunications" that JPII placed on Archbishop Lefebvre and the four bishops whom he consecrated.
That an excommunication from Newchurch still bothers the SSPX hierarchy speaks loudly of its leadership's sycophancy toward the Newchurch of the New Order. Archbishop Lefebvre, in contrast, held a decidedly different view toward Newrome's censure, considering it a "badge of honor." While Fellay addresses Benedict-Ratzinger as "Holy Father," Archbishop Lefebvre called Cardinal Ratzinger an "anti-Christ." Such frank assessments of the New Order Church by the Archbishop can no longer be seen on SSPX web sites, nor can such statements be readily found in SSPX publications. They have been removed to curry favor with Newrome!
Instead of worrying about condemnation from an organization full of apostates, criminals, perverts, and rapists, Fellay and his fellow bishops should question the ecclesiastical credentials and legitimacy of Benedict-Ratzinger. The courageous Archbishop certainly did so! Moreover, by seeking forgiveness from Newchurch, Fellay automatically places himself on the defensive. Such an approach demonstrates his naiveté, which has been, and will continue to be, taken advantage of by the likes of Benedict-Ratzinger, his lackey Hoyos, and the other Newchurch wolves in sheep's clothing who seek souls to devour.
Strategically, all too often, even in traditional circles, counter-action against the Novus Ordo revolves around private devotions like the Rosary or the veneration of apparitions. But there are more efficacious ways to combat neo-Modernism than reliance on private devotions, the study of apparitions, or the deciphering of "secrets." The quickest way to bring the New Order Church to its knees is through public liturgical action -- the establishment of authentic Mass sites -- not phony "Motu" Mess knockoffs, and the encouragement of traditional vocations among men and women and support of their spiritual formation. Private devotions are fine and have a place, but they pale in effectiveness to the power of the Holy Sacrifice of the Mass and the development of traditional priests and religious.
Most importantly, one cannot compromise with error, as Fellay is apparently doing, or, worse, one cannot give up to it, as his fellow bishops seem to have done with their silence. No "Motu" Mess is going to cure the corruption, immorality, and apostasy that pervade the Newchurch establishment. Instead, what is needed is a fearless and unrelenting assault on Newchurch, exposing its nefarious ways, as Archbishop Lefebvre did.
Although Fellay seems to have learned nothing from the Archbishop and the last forty years of conciliar trickery, the only solution to the current crisis is to remain totally separate from the New Order Church and to work for its eradication. No other approach is Catholic. No other approach will work. Reconciliation to error will only benefit Newrome and lead to perdition.
Fellay and the leadership of the SSPX have not demonstrated either the fortitude or the smarts, as the great Saints and Martyrs of the past did, to combat wickedness and false teaching. If guidance is needed in regard to dealing with the likes of Benedict-Ratzinger, the SSPX need to look no farther than its own founder or St. Athanasius, who battled faithless Church authorities in a time very much like our own. St. Athanasius did not compromise, but stood with Christ, His saints, and Sacred Tradition and eventually defeated Arianism.
Just as the resignation of Benedict-Ratzinger has been called for from several quarters for his continued support of the perverts, felons, and apostates that surround him, a similar call should be made of Fellay and the SSPX's hierarchy unless they at once refuse to engage in any discussion, negotiation, or even contact with New Order authorities -- until the time when Newchurch abandons its neo-Modernism and returns in full to the traditional Faith. Anything less is unacceptable.