Benedict-Ratzinger and His Deluded Newchurcher Friends:  They Deserve Each Other
By Patricius Anthony

                           TRADITIO Traditional Roman Catholic Internet Site   
                 E-mail: traditio@traditio.com, Web: http://www.traditio.com
  Copyright 2008 P. Anthony.  Reproduction prohibited without authorization.

Benedict-Ratzinger and His Deluded Newchurcher Friends:
They Deserve Each Other
By Patricius Anthony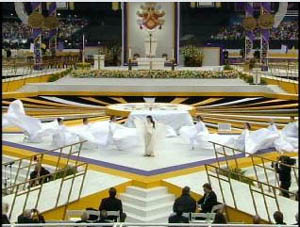 Dancing Girls before the Papal Altar
During Benedict-Ratzinger's Novus Ordo Mess
At Yankee Baseball Stadium on April 20, 2008
"It is the grace of all American Catholics to have Pope Benedict XVI visit this country."
So wrote a neocon Newchurch commentator in the wake of Benedict-Ratzinger's papal Mess at Washington Nationals Baseball Stadium on April 17, 2008. Although the writer grieved over the ungodly spectacle, he somehow believed that it would usher in a return to the Church's sacred-music tradition! He called on Catholics who participate in Gregorian scholae and other sacred-music endeavors to continue in their efforts and to look to Benedict-Ratzinger as a guide in such matters:
Let us use this occasion to recommit ourselves and re-tool ourselves to the Church's own liturgical language. Let us close the chapter on this event and move on. Let us stop what we have been doing to our heritage of inestimable value. We can do better. We must. Benedict's own writings show the way [emphasis mine].
The lengths to which the papolators (those who, contrary to Catholic doctrine, ascribe an almost semi-divine status to whatever the pope does) will go in order to exonerate Benedict-Ratzinger from full responsibility for the Novus Ordo Mess knows no bounds! To begin with, there was nothing "grace worthy" about Benedict-Ratzinger's week-long junket to the United States. He was an embarrassment, perhaps not as flamboyant as his clownish predecessor, but, nonetheless, an embarrassment. Anyone with even a semblance of critical reasoning could understand the purpose for the junket. It certainly was not to preach Christ. No, it was an attempt to shore up the dire financial crisis in which the Novus Ordo Church finds itself as a result of all of its payouts in the ongoing Great Sex & Embezzlement Scandal. Everything else was secondary.
The only positive aspect of the junket was that it further confirmed traditional Catholics' view that Benedict-Ratzinger is nothing but a rank Modernist. The last sentence of the above-quoted passage, "Benedict's own writings show the way," demonstrates how easily neocon Newchurchers are deceived. Traditional Catholics, however, pay no attention to the meaningless words of the Conciliar popes. It is action –- purposeful behavior -- that matters to them.
While Benedict-Ratzigner sounded at times "traditional" during his U.S. junket, his actions –- the simulation of two Novus Ordo Messes in baseball stadia, visits to a New York synagogue and the United Nations, phony photo ops with abuse victims –- speak volumes to what he truly believes. Another case in point of words belying actions: why didn't Benedict-Ratzinger celebrate his "Motu" Mess while in the United States, where he has received some of his strongest support for this hoax? Again, it is action, or in this case, his inaction, that matters.
A favorite line of defense that papolators have used stretching back to the time of Paul VI has been that of purported "ignorance:" "if only the pope knew of the liturgical abuses"; "the 'Holy Father' is being kept in the dark by sinister ecclesiastics"; "the pope was unaware and surprised by the 'liturgical' itinerary at the papal Woodstocks" (sorry, World Youth Days). While these excuses might have limited validity in the years prior to the age of instant communications, only a fool would attempt to use such an argument today. Yet, the same neocon Newchurch commentator tries: "In the name of 'multiculturalism,' the pope was subjected to music suitable to dingy halls than Christianity" [emphasis mine].
As has been reported by a number of sources, Benedict-Ratzinger and his personal staff were well aware of what was to take place at the "Baseball" Messes, and, in fact, gave their "blessing" to the Messes. Nor did Benedict-Ratzinger look perturbed, pained, or outraged in the least at these hootenannies. In fact, he seemed to enjoy them! The defense of Benedict-Ratzinger is, therefore, reprehensible. Those who defend him are in league with the temporal and spiritual forces that are at war with Christ's Mystical Body and seek its destruction. Thus, there can be no compromise, "dialogue," or discussion with the Conciliar establishment despite whatever pretense of "traditionalism" they may occasionally demonstrate.
Traditional Catholics, rather, seek the removal of Benedict-Ratzigner and his supporters, who are leading millions to the spiritual ruin of the New Order. Only with the intercession of the indomitable Archangel, St. Michael, will this necessary removal be accomplished.