A Model Against Heresy: St. Hermenegild
By Patricius Anthony

                          TRADITIO Traditional Roman Catholic Internet Site
                E-mail: traditio@traditio.com, Web: http://www.traditio.com
  Copyright 2018 P. Anthony. Reproduction prohibited without authorization.
                                                     Last revised: 04/23/18

A Model Against Heresy: St. Hermenegild
By Patricius Anthony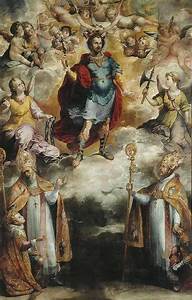 The lives of saints, while certainly edifying in their own time, can also be a source of tremendous value and insights not only for their spiritual inspiration, but as modes of conduct for traditional Catholics in their struggle against the wretched Novus Ordo sect. The recent feast day (April 13) of St. Hermenegild provides such an example.
St. Hermenegild was the son of the Arian Leovigild, King of the Visigoths (see the account of St. Hermenegild by St. Gregory the Great in Dom Prosper Gueranger's Liturgical Year, Vol. 8, Book 2, pp. 302-07.) St. Hermenegild was converted from his adherence to Arianism by the preaching of St. Leander, bishop of Seville. Leovigild pressured him in every conceivable way to renounce the True Faith and return to Arianism, even depriving him of his rightful possession to the throne. Leovigild became so incensed after his many attempts to make his son apostatize that he had him "put into close confinement with chains on his neck and hands." These sufferings, however, emboldened Hermenegild to become more resolute.
At Easter, Leovigild sent an Arian bishop to Hermenegild with a message that if he would receive "communion" from the heretical bishop, his father would return to him his position at court and give him his rightful inheritance to the throne. St. Gregory in his Dialogues describes Hermenegild's response to his father and the Arian bishop's wicked enticement to give up the Faith:
True to his Creator, the man of God gave a merited reproof to the Arian bishop, and, with holy indignation, rejected his sinful offer; for though his body lay prostrate in chains, his soul stood on ground beyond the reach of tyranny.
Not surprisingly, the demented Leovigild went beserk and ordered Hermenegild's murder. He sent his henchmen to his imprisoned son, and they brutally carried out the king's order, slaying Hermenegild with an ax to the head.
As proof of his sanctity, St. Gregory describes what happened after the murder of the Saint:
Miracles soon followed, whereby heaven testified to the true glory of Hermenegild; for during the night there was heard sweet music nigh to the body of the king and martyr -- king indeed, because he was a martyr.
Despite the riches, honors, and power that awaited Hermenegild had he apostatized, the saint chose to follow his Divine Master and the True Church. No doubt he had known and taken seriously St. Paul's wise admonition about shepherds that preach false doctrines: "But though we, or an Angel from heaven, preach a gospel to you beside that which we have preached to you, let him be anathema" (Galatians, 1:8/DRV).
A similar situation presents itself today. The Novus Ordo should be seen and treated as St. Hermenegild did. It is invalid and should be shunned and rejected despite the fancy garments that its "prelates" wear, the buildings and structures that it possesses, and the approval from the world that it so wantonly craves.
Not only is the Novus Ordo not Catholic, but it should be shut down because it is a thoroughly corrupt and criminal organization that has terrorized, raped, and abused thousands of young boys and girls and has done very little to punish the perpetrators of these heinous crimes that cry to Heaven for vengeance. Instead, it has shielded and abetted many of these individuals and, in some cases, promoted them in its vile organization.
Hermenegild's martyrdom produced the most glorious of consequences. His brother and co-regent Reccared, an Arian, was converted to Catholicism by St. Leander at the behest of his dying father, Leovigild. While Leovigild never recanted his heresy, he must be credited with the conversion of his son and future king, Reccared.
Reccared governed his realm as a fervent Catholic and in St Gregory's words:
...led the whole Visigothic nation to the true faith. He would not allow any man to serve in his armies who dared to continue the enemy of the God of hosts by heresy. Neither is it to be wondered at that being the brother of a martyr, he should have become a propagator of the True Faith, for it was by Hermenegild's merits that he has succeeded in reconciling so many thousands to the great God of Heaven.
While the peoples of the Iberian Peninsula were reinvigorated by the rule of Reccared and the merits of Hermenegild's ultimate sacrifice, it would be only a few generations until their land was overrun and conquered by the Muslims. A number of commentators have suggested that Islam's victory in Spain was heavenly reprisal for the plague of Arianism that took so long to vanquish.
It is scary to think of the Divine consequences that is in store for those who have adopted and acknowledge the Novus Ordo! St. Hermenegild, pray for us!