John Wayne's Catholic Legacy
By Patricius Anthony

                           TRADITIO Traditional Roman Catholic Internet Site   
                 E-mail: traditio@traditio.com, Web: http://www.traditio.com
  Copyright 2007 P. Anthony.  Reproduction prohibited without authorization.

John Wayne's Catholic Legacy
By Patricius Anthony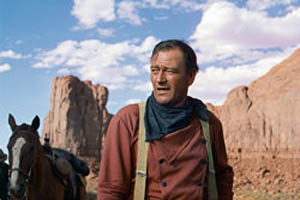 John Wayne in The Searchers (1956)
May 26, 2007, marked the centennial of the birth of arguably the greatest motion picture star in American film history, Marion Michael Morrison, a.k.a., John Wayne.
Throughout the past year there have been numerous tributes in celebration of Wayne's life and career as a movie star and an American legend. Wayne was an active and outspoken conservative, a rarity in Hollywood then, as now, a fact that no doubt played a large part in the actor's failure to receive, until True Grit (1969), his due recognition for superb performances, especially in what most consider the greatest Western ever made, The Searchers (1956). Nor was he even nominated for an Academy Award for his role in another John Ford classic, The Quiet Man.
Owing to his beliefs, the contemporary conservative/libertarian movement has sought to adopt Wayne as one of its own. For hawkish neoconservatives, the actor's many war films, which were often, but not always, sympathetic to American wars, are exalted, while for paleo-libertarians, the "rugged individualism" that he personified on film is lauded.
Neither the Right nor those liberals who begrudgingly admire his films while detesting his politics, have spoken about the most important act that John Wayne ever performed -- his death-bed conversion to Catholicism. While the world has celebrated his life, the ultimate measure of a man is not his earthly accomplishments and fame, but the state of his soul at death.
It was not as if Wayne had been anti-Catholic. On the contrary, he had a number of Catholic friends (John Ford being one), while all three of his wives were members of the Faith. Wayne's children were all raised Catholic and schooled in parochial institutions, which the actor credited for their "turning out well." He boasted that there was not a "Jane Fonda in the bunch." In high school, he himself was president of the school's Latin club.
Despite this background, however, John Wayne was married three times, was involved in a number of affairs, and at the time of his death was estranged from his third wife. He had always regretted the breakup of his first marriage, but complained that at the time there were "too many priests in and out of the home."
Wayne's rise to stardom coincided with America's ascendancy to global dominance. Naturally, as the nation became the world's preeminent political, military, and economic force, its cultural mores spread. As the twentieth century wore on, the moral condition of American society was increasingly shaped by the film, television, and music industries. From its inception, the entertainment field was far from a haven of Christian virtues with its depiction of rampant divorce, fornication, radical feminism, and the acceptance of "alternative lifestyles," which were all part of the Hollywood life. Gradually, this outlook was incorporated into films, television programming, and music and had immeasurable cultural impact. Eventually, the "sins" that were once associated primarily with stars and starlets of the movies would become part of the American mainstream.
While Wayne did not openly flaunt his own vices, he, nonetheless, became part of the societal decline that rapidly accelerated in the 1960s. Though he was "patriotic" at a time when it was unfashionable to be so, because of his personal life, he could not be a bulwark against the leftist cultural onslaught that radically altered nearly every sector, institution, and belief of society.
Had Wayne and other prominent conservatives lived exemplary lives and been members of the true Faith, the malignant cultural forces unleashed over the past half century might have been defeated, or at least mitigated. Similarly, in the spiritual realm, if only a few clerics and laymen had stood up to the Vatican II revolutionaries, such as Joseph Ratzinger, the New Order religion might never have taken hold.
Despite the accolades, the love of his family, the hero-worship of him, and his indulgence in the delights and pleasures of this world, there was, apparently, still a void in John Wayne's life, which, from reports at the time, was miraculously filled just before his passing in 1979. His son, Patrick, who acted with his father in a number of films, movingly recalls his father's last days:
Although Dad wasn't religious, and not Catholic (we were raised in the Catholic Faith by my mother, Josie), he used to say if he was anything, he was a "presbygoddamterian." By the time he was dying in the hospital, he still hadn't been baptized. He was in a coma for his last ten days. I would go and sit and talk with him, even though he was in a coma. The Saturday night two days before he passed away, he came out of the coma, and my brother Michael, Toni, and half sister Aissa were there. He was awake for two hours, talking and responding, and then went back to sleep. We thought he was indestructible. On Monday, I was there and he was slowly getting worse and worse. The phone rings, and it was the Catholic chaplain who wanted to come by. Even though Dad was still in his coma, I said , "Dad, the chaplain wants to see you," expecting no response. I started to leave the room when I heard him say, "Okay." I was stunned, but I called the chaplain, who showed up in forty minutes. With him still in a coma. I said, "Dad, the chaplain is here," and, once again, he said, "Okay. I left them alone for fifteen minutes and could hear them talking. When the chaplain came out, he told me he had baptized Dad.
The personal void that existed in John Wayne's life is the same component that at one time defined the Western world, but has been tragically abandoned. Until it is rediscovered and once again becomes society's prevailing ethos, the cultural rot will continue. John Wayne's conversion to Catholicism, one must presume as traditionally-oriented, is the most important aspect of his legacy and one which needs to be emulated by a spiritually-broken people.