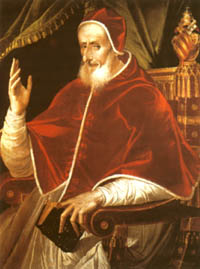 Pope Saint Pius V (1566-1572)
Canonized 1712 by Pope Clement XI
Antonio Michaele Ghislieri (1504-1572)
Cardinal Ghislieri was no respecter of persons. He prosecuted eight French bishops for heresy. Moreover, he did not hesitate to oppose even Pope Pius IV to his face when the pope wished to elevate a thirteen-year-old member of the Medici family to the Sacred College of Cardinals. He rebuked the pope again when he wished to subsidize his nephew out of the papal treasury. After his election as pope, Pius V vigorously undertook the task of translating the work of the dogmatic Council of Trent from theory into practice. In 1567 he declared St. Thomas Aquinas a Doctor of the Church and directed that an edition of his works be prepared and printed in seventeen volumes. In sacred music, he was the patron of arguably the Church's finest polyphonic composer, Giovanni Pierluigi da Palestrina. In affairs of state, he courageously excommunicated Elizabeth I of England for her schism and savage persecutions of Catholic laymen and priests, the English martyrs. The last great event of his pontificate was the victory at Lepanto of the greatly-outnumbered Catholic forces over the Mohammedan Turks, who threatened to overrun Europe. The saintly pope attributed this victory to the intercession of the Blessed Virgin Mary, in recognition of which fact, he instituted a new Marian feast, Our Lady of Victory.