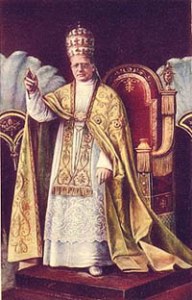 Pope Pius XI (1922-1939)
Ambrosio Damiano Achille Ratti (1857-1939)
His professional life being spent primarily as a librarian, lastly as Prefect of the Ambrosian Library at Milan, Pope Pius XI resolved the Roman Question with the Italian government, when the Lateran Treaty was signed in 1929, assuring the Holy See sovereignty over a minimum area of territory and sacred buildings, thereby guaranteeing the independence of the Church. He expounded Catholic doctrine on Christian Education in his encyclical Divini Illius Magistri (1929) and on Christian Marriage in Casti Connubii (1930). In his Apostolic Constitution Divini Cultus he encouraged the training of seminarians in sacred music, the chanting of the Divine Office, the formation of choirs, instrumental music, and the use of the organ.