May 2005
For answers to many questions, click on TRADITIO's Home Page about how to order the 10th Annual Edition (2005) of the Traditional Directory or consult the Library of Files (FAQs and Traditional Apologetics). For information about the protocol for sending messages to Fr. Moderator, see Ask Fr. Moderator.
| | |
| --- | --- |
| | Participants who have benefited from the unique educational work of the TRADITIO Apostolate often ask how they might personally support the TRADITIO Traditional Roman Catholic Internet Site. Click on the box to the left to made a donation easily, securely, and confidentially by bank account or credit card through PayPal. By doing so, you will be part of the habitual intentions specially commemorated at Masses and partake in the fruits of the Benefactor Masses offered. For other methods, see FAQ01: How Do I Help to Offset Expenses? |
---
ON MAY 27, IN THE ELEVENTH YEAR OF OUR EXISTENCE ON THE INTERNET
TRADITIO HAS JUST PASSED REACHING 2,000,000 PARTICIPANTS.
TRADITIO was the first traditional Roman Catholic site to appear on the internet. We were here even before the Vatican was! We thank the Lord for our two million participants over these years and for our hundreds of dedicated correspondents from all over the world, who keep us current on everything going on in the bowels of Newvatican, in the inner sancta of various traditional organizations, and at many Traditional Latin Mass sites.
To this raw data, we give in return a perspective not of some lay armchair theologian, not some neophyte convert from Protestantism, but of a mature perspective of half a century of "cradle" Roman Catholicism, even from before Vatican II. We are touched by the thousands of messages we have received from Novus Ordinarians who say that they have been converted, or reverted, to the traditional Roman Catholic Faith because of our uncompromising, independent commentary and materials.
---
May 31 - Queenship of the Blessed Virgin Mary (Double Feast of the Second Class)
Novus Ordo Doctrine Czar Admits that He Is only Half "Catholic"
From: Fr. Moderator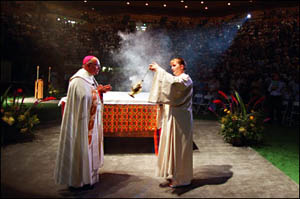 Newchurch Archbishop William Levada, of San Francisco
Benedict-Ratzinger's Choice for Faith Czar Goes Right Along with the New Order "Abuses"
Here He Is Incensed by a Servette
Archbishop William Levada's appointment by Benedict-Ratzinger to be Prefect of the Newchurch Congregation of the Faith has been sharply criticized even by the Novus Ordo "conservatives," who normally support the pope, because Levada's career has been strewn with compromises of the Faith and denial of its moral teachings. He has flitted from the worst diocese in the United States (Los Angeles), to a diocese he helped run into bankruptcy (Portland, Oregon), and finally to the most immoral diocese in the United States (San Francisco), where he suborned "gay marriage" and ran the gay radical rainbow flag up the cathedral flagpole.
As TRADITIO has said previously, one does not need secret sources to know what is going on in Newchurch. Its officials readily admit their falling from the Roman Catholic Faith to impose the unCatholic New Order Faith upon their ignorant sheep. Case in point. Levada has now admitted that he is only half "Catholic" at best. He has said: "I consider myself to be in the exact middle of the road as to where I should be as a bishop."
Middle of the road?! How quickly these Novus Ordo bishops forget their oaths. They are supposed to preach the gospel uncompromisingly, yet this one has never, to anyone's knowledge, preached against the sin that cries to Heaven for vengeance, which holds his archiepiscopal city in its grip. Moreover, he did next to nothing to oppose "gay marriage" and offered benefits to diocesan employees' "gay partners."
Can you image Bishop Ambrose not speaking out on such an issue? Ambrose, who stood at the door of the Milan Cathedral and refused, at peril of his own life, to let the Roman emperor enter, since he had committed a grave sin in destroying a Greek city to the ground, together with all the women and children in it. Can you imagine Bishop Leo not speaking out on such an issue? Leo, who rode out to meet the barbarian leader Attila the Hun, at peril of his own life, to save the city of Rome from being sacked?
No, Levada has no intention of standing up for the Roman Catholic Faith and morality. By his own word, he is going to be "middle of the road." This is one issue upon which we explicitly know the judgment of God Himself. For He has spoken clearly in Scripture: "Because thou art lukewarm and neither cold nor hot, I will begin to vomit thee out of my mouth" (Apocalypse 3:16/DRV).
---
Novus Ordo Trashes Benediction
From: Anastasia
How right you are about the dangers of a little Latin in the liturgy. I know of people coming away from the Novus Ordo in a state of high excitement, thinking that Tradition had been restored because Ave Verum Corpus was sung, or the Pater Noster was recited in Latin. It doesn't take much to please them, poor deceived souls!
But it's not just the Mess that's been messed around with; it's "Benediction" too. I have memories of the travesty of "Benediction Lite" in the Novus Ordo way. It's just made up as you go along, with a bit of Latin here and there interspersed with the Protestant-sounding Evening Prayer, improvised prayers, meditations, and hymns in English, in fine vestments, to be sure, but with no real appreciation of what the ceremony means.
One young priest who had never been trained to do it had to ask the few parishioners who came along, "What's the procedure?," and he took his instructions from them even though they themselves hadn't much of a clue. We were horrified to see the presbyter standing to incense the "Blessed Sacrament" (a posture that was unheard of before Vatican II), and we also noticed that during the Evening Prayer the people would sit in front of the exposed "Sacrament," the ladies with their heads uncovered!
In one case we even had a presbyter who did the entire ceremony facing the people, and on another occasion a different priest officiated from the side! It was weird. Of course, the new "rules" have done away with the genuflection on both knees that was customary to show special reverence when passing the Blessed Sacrament on the altar.
No wonder there is a loss of reverence for and belief in the Blessed Sacrament. The Novus Ordo doesn't have it: only the invalid cookie. And the Novus Ordinarians know it and show it by the way they act. A little Latin won't make a cookie the Corpus Christi. How can lay people understand the need to fall down on their knees and adore the host when they carry it about in their pockets and handbags?
---
May 30 - Within the Octave of Corpus Christi (Semidouble Feast)
Lastest Novus Ordo Trick: The "Latin Mass"
From: Fr. Moderator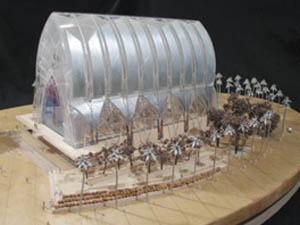 The "Hothouse" Chapel at Naples, Florida
Incipient Novus Ordo "University" Is One of Many around the U.S.
To Feature an Invalid Novus Ordo "Latin Mass" to Fool Catholics
"A Little Latin Is a Dangerous Things" as far as the New Order Goes
We have been receiving reports from around the United States that the Novus Ordo, having failed to quash the large number of Traditional Latin Masses offered at independent, SSPX, SSPV, and CMRI sites, has turned to a ruse: offering a "Latin Mass." Basing this ploy on the ignorance of all too many Novus Ordinarians that the sacrilegious, blasphemous, irreverent, idolatrous, and invalid Novus Ordo service of 1970 can be concealed in Latin, so-called "Latin Masses" are popping up around the country. Several "indult" Masses (purportedly 1962) have been converted to Novus Ordo "Latin Masses" of 1970. Even newspaper articles confuse the two.
Let's be perfectly clear about this: the Novus Ordo service in Latin is just as sacrilegious, blasphemous, irreverent, idolatrous, and invalid as it is in one of the vulgar tongues. In fact, the Masonic architect of the "New Mass" originally issued it in Latin. An invalid rite cannot be made valid by saying it in Latin. Another ploy is to throw a little Gregorian chant in to make it seem "traditional." It isn't -- not by a long shot.
True Catholics must be very careful to ensure that they are getting the unadulterated Traditional Latin Mass, of the 1962 form at the absolute minimum, but better the form before changes were introduced in 1956. In no case, should any Catholic accept the invalid 1970 Novus Ordo Protestant-Masonic-Pagan service, whether in Latin or any other language.
---
May 29 - Sunday within the Octave of Corpus Christi (Semidouble Sunday)
Newchurch Bishop's Lie May be Golden Opportunity for Traditional Catholics
From: Fr. Moderator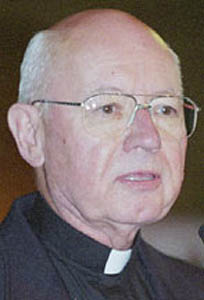 Newchurch Bishop William Skylstad, of Spokane
Uses a Unique Argument to Get His Diocese out of Bankruptcy That Could Turn out to Give Traditional Catholics
Their Biggest Opportunity Yet to Retake Newchurch Parishes
Newchurch bishops, never known for their honesty, are now trying to play legal games to avoid their responsibility for permitting, and even suborning, rampant crime. Portland, Oregon, and Tucson, Arizona, have filed for bankruptcy. As has Spokane, Washington. But Newchurch bishop William Skylstad, of Spokane, has upped the level of Newchurch deceit in his filing with the U.S. Bankruptcy Court. He claims that he doesn't own the assets of the 81 parishes in his diocese. Liar, liar, cassock on fire!
The corrupt Skylstad is trying to make it out as if the Newchurch parishes are like Protestant churches, which are locally owned and controlled by lay boards. Skylstad may not realize the gravity for Newchurch of the "nuclear option" that he has chosen to argue. If he can get away with the novel argument that parishes are independent of the diocese, then the parishes can thumb their nose at the bishop. They have the right to hire and fire clergy, to fund the parish, to choose the Mass that they want to have celebrated, and so forth, just like their Protestant brethren. The Newchurch bishop will have authority only over diocese-wide charities.
If such an argument is sustained by the court, the United States can revert back to independent parishes, as was the legal situation in the 19th century. Now, maybe independent parishes are not the ideal, but maybe they are the right legal situation for our times. At least parish boards would then have the authority to hire independent traditional priests and require the celebration of the Traditional Latin Mass, just as the Protestant church boards can.
Skylstad may actually be opening the Pandora's box that will do far more for restoring the true Church than some fabled "universal indult." For if only a few hundred parishes across the United States hired independent traditional priests and turned their churches back to the Traditional Latin Mass and Sacraments, there would be a popular groundswell back to the traditional Faith. This legal reconfiguration has the potential of starting a wildfire built on the burning embers of the hostility of the Novus Ordinarians to their corrupt bishops. The corrupt bishops could huff and buff, but they would have no legal authority to blow the house down. Are you listening, Boston? Are you listening, St. Louis?
And it is ironic that in Spokane is the headquarters of one of the largest traditional Catholic organizations, the Congregation of Mary Immaculate Queen, which has priests stationed across the United States that celebrate only the Traditional Latin Mass and Sacraments, in the more traditional form before the 1962 "modernizations" at that.
---
May 28 - Within the Octave of Corpus Christi (Semidouble Feast)
TRADITIO Correspondent Attends Papal Mess
From: Max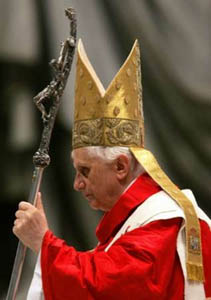 Benedict, Yet Another Modernist Pope
Wears Not the Papal Tiara, but a Mere Mitre Holds the "Bent Crucifix," Which Some Say Has Satanic Associations
Dear Fr. Moderator:
Yesterday, I was at Benedict-Ratzinger's Mess for Corpus Christi. Contrary to what even I had hoped for after JPII's funeral, the pope clearly has no intention at all of clearing up the Church's current liturgical mess. Aside from the Sequence and some music and communion time, the entire service proceeded from start to finish in vulgar Italian. Most of the music sounded as if it came from an Italian Baptist kindergarten Sunday School room.
Fr. Moderator Replies.
The Feast of Corpus Christi: what an opportunity that would have been for Benedict to announce the restoration of the true Mass, but no, he and Newchurch will continue with the invalid Counterfeit Mess. Forget "universal indults" and fixing "abuses" and all the other propaganda of Newchurch and its officials. Right up to the pope, they don't have the slightest intention of doing away with the Novus Ordo circus.
---
May 27 - Within the Octave of Corpus Christi (Semidouble Feast)
Complete Friday Abstinence
Another Novus Ordo College Turns Non-Catholic and "Gay"
From: Fr. Moderator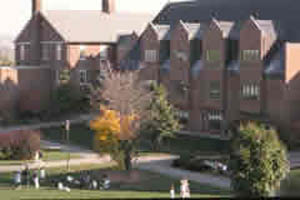 St. Michael's College, of Colchester, Vermont
Institution Once Founded by French Priests
Now Chooses a Non-Christian, "Gay" Dean
Archbishop Sheen's Warning against "Catholic" Colleges Proven Prescient
Archbishop Fulton Sheen (1895-1979) was well known for his many books, radio and television appearances, and popular preaching. While teaching at the Catholic University of America for nearly 25 years and dealing with students, he noted with deep concern what was happening in Catholic education and the fact that many young people were losing the faith since Vatican II (1962-1965). His advice on higher education, given around 1967, was as prophetic as it was startling:
You are better off going to a state school where you will have the chance to fight for your faith, than going to a modern Catholic university where you will have the new watered-down, modernist version of the faith spoon-fed to your unsuspecting minds, so that you will be apt to lose your faith.
Archbishop Sheen's assessment that so-called "Catholic" education has not been Catholic since the 1960s is confirmed when we read, as the latest proof of his statement, that St. Michael's College in Vermont, established in 1904 by the Society of St. Edmund, a group of French priests, has made history by hiring an openly-homosexual dean. As if the immorality of the man weren't enough, it turns out that he is a member of that weird group called Unitarians, who don't even have a clear belief in a Christian God. He is not the first non-Catholic to be dean of the college, but he is the first public homosexual dean of the college.
The crazy administration of this college, which the French priests who founded it would now disown, is so far from Catholic that it praised its new non-Christian homosexual dean because he "fit with the overall mission of the college." What is the college's mission? Certainly not Catholic.
So, what should students about to enter college do? First of all, follow Archbishop Sheen's advice and don't go to a self-proclaimed "Catholic" institution. They're no longer Catholic, and because of their deception, they are more harmful to one's spiritual life than a secular institution that doesn't pretend to be Catholic. Institutions associated with the New Order and the New Mess, even when billed as "conservative," should be particularly avoided, as even more deceptively non-Catholic.
The best practical choice, when possible, is a conservative liberal arts college. The best major is Classics (Latin and Greek), which, in addition to giving the foundation for all secular and religious study, is usually one of the most conservative departments at any given institution. In addition to getting a thorough grounding in the classical languages, other courses that should be emphasized are philosophy (particularly classical and mediaeval philosophy), music (particularly early and classical music), history (particularly ancient and mediaeval history), mathematics and the natural sciences, psychology and the social sciences (one must be careful here in choosing conservative courses), and oratory and rhetoric (sometimes called "Speech").
---
UPDATE ON FR. EUGENE HEIDT. Fr. Heidt, of Portland, Oregon, an independent traditional priest who was thought to be at death's door from cancer, has, according to his brother, surprisingly recovered to the point that the cancer is in remission, and Fr. Heidt is walking, eating, and celebrating Mass again.
---
May 26 - Corpus Christi (Double Feast of the First Class)
Newchurch Bishops Are As Corrupt As Ever
From: Fr. Moderator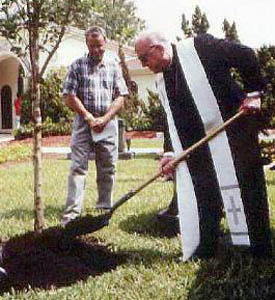 Digging His Own Grave Is the Newchurch Archbishop of Miami, John Favalora
He Is Persecuting a Presbyter for Blowing the Whistle
On Sexual and Financial Crimes in the Archdiocese
Favalora Has Used Old Novus Ordo and Mafia Tricks in Retaliation
Unlike the pope and Newchurch bishops, TRADITIO has spoken out against supporting the perversion that grips Newchurch. It is a fantasy that Newchurch has done anything to clean up the rampant immorality that goes all the way up to the pope himself. TRADITIO has also been outspoken that Novus Ordinarians who plunk money into the collection plate must know that they are funding perversion and embezzlement. No Novus Ordinarian can plead ignorance. Even the pope has admitted the problem in the Novus Ordo, but he has taken no significant public action against it.
Moreover, the Newchurch bishops are still trying to attack whistleblower presbyters by the old technique of alleging "psychological problems." This trick started in the 1960s against religious who would not go along with the New Mess, the new religious habits, etc. The traditional nuns and priests were shuttled off to mental hospitals -- the same technique effectively used by the Communists to silence objectors.
In fact, it was in Boston that one presbyter, the vice rector of the diocesan seminary, reported to his Newchurch bishop that there were immoralities going on at the seminary. Rather than being thanked for his information, he was committed by an agent of the archdiocese, a woman who was merely posing as a psychologist and had no authority to commit anyone. The court freed the presbyter, who subsequently sued the archdiocese for millions. (If anyone in Boston knows how that case turned out, we would be very interested. Of course, we know that the cardinal in charge has now been forced out of office in disgrace.)
Currently in Miami, Novus Ordo presbyter Andrew Dowgiert has sued the archdiocese on several counts: for wrongly firing him, slander, and whistle-blower retaliation when he blew the whistle about financial improprieties and rampant homosexual activity and fraud by another presbyter. To counter Dowgiert's accusation, Newchurch archbishop John Favarola attempted to commit him for "psychological treatment." Apparently on the grounds that anyone who attacks Newchurch must be demented!
Dowgiert said that he was removed after refusing to sign checks for "excessive" amounts while the pastor was on vacation with his "homosexual lover." Apparently, this was an active "liaison." One check that Dowgiert refused to sign was $5,000 for a bed! Apparently, too, the pastor had another "liason" going with a "domestic partner," who frequently visited the rectory, about whom Dowgiert had complained. It appears that Dowgiert was temporarily in the diocese on loan from Poland. Therefore, he was not under the thumb of the Newchurch archbishop like the diocesan priests. Favalora is, of course, denying everything and calumniating Dowgiert's reputation. It's a common tactic of bishops in the Newchurch of Love. [South Florida Sun Sentinel]
Two chairmen of the U.S. Conference of [Newchurch] Catholic Bishops, one a former FBI agent and attorney general, the other an appellate-court justice, have publicly exposed the bishops for Mafia-like tactics in suppressing information about crimes and for having no intention to clean up the rampant immorality and embezzlement in their dioceses.
What is even more shocking now is the immorality of the Novus Ordinarians who continue to pony up their money to support their immoral Newchurch bishops (yes, every one of them, whether by commission or omission, are involved).
The Novus Ordinarians cannot possibly be ignorant of where their money is going: to support the continuance of sexual perversion and embezzlement. This is a matter of public record. In criminal law, these Novus Ordinarians are no better than accessories after the fact. In church law, they are cooperators in evil, and morally culpable themselves in the crimes of those whom they knowingly fund. If they didn't fund the crimes, the crimes would stop, as they need money to continue.
---
May 25 - St. Gregory VII, Pope & Confessor (Double Feast)
The New Age Unicorn in the Novus Ordo Sanctuary
From: Fr. Moderator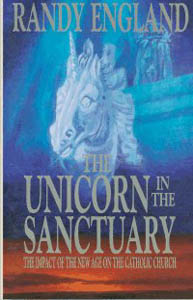 In 1990 Randy England Exposed the New Order Religion as New Age Paganism
In His Expose, The Unicorn in the Sanctuary
Now, in 2005, in Ransomed from Darkness
Moira Noonan Again Demonstrates that Newchurch Is a Front for New Ageism
TRADITIO has consistently maintained that the New Order Religion is not Catholic. It is not, as the "conservative" Novus Ordinarians cluelessly maintain, a matter of getting a "better translation" of the Protestant-Masonic- Pagan Novus Ordo service or of getting Newvatican to take a clear Catholic moral position. No, the New Order Religion is a counterfeit, and worse than that: a deceit to draw the innocent into (in the words of a current popular movie) "the dark side."
Now Moira Noonan has authored a devastating critique of the New Order (Novus Ordo) Religion, entitled Ransomed From Darkness (North Bay Books, 2005), which tells the story of her conversion from the New Age spirituality to which she was exposed in the New Order Church and its accessory dioceses and parishes. Noonan believes that most Novus Ordinarians are being insidiously exposed to New Age ideas in the Church. These people think that they are in the Catholic Church, but really they are in the New Order / New Age Religion that poses as Catholic. Noonan describes various elements of the New Age paganism found in the New Order Religion.
RCIA. Noonan relates that she was first ensnared into the New Age through Newchurch's RCIA program. This is the New Order's purported "baptism" study, but, as TRADITIO has reported before, it is used to initiate its victims into caricature "Catholicism," marked by New Age fanaticism, Oriental paganism, and Modernism. (For further details, see FAQ10: How Do You Explain These Traditional Catholic Beliefs? in the article Charismaticism. Renew, Focolare, Cursillo, "Theology of the Body," and Wicca (Gaia) are other examples of such programs in Newchurch.
Reincarnation. Noonan relates that the New Order constantly bombarded her with the notion of reincarnation so prevalent in the New Age. Reincarnation, which comes from Hinduism and Buddhism, is a rejected belief in the New Testament. Noonan calls it "one of the biggest demonic heresies in the world.... All New Agers believe it."
Lesbianism. Noonan met no male homosexuals in the New Order / New Age movement, but writes that "the lesbian movement is huge in the New Age. This is what's happened to some women's religious orders. Many of them were feminists who turned to Wicca or white witchcraft. It's much more pervasive on the East Coast."
Enneagrams. Noonan relates that she used to go to what she thought was "confession" at the Cathedral downtown. One time, when she walked in, she saw a book on the enneagram (a New Age personality type test) sitting on the presbyter's chair. It's a personality exercise, not a spiritual one. "It relies on the human spirit, rather than something divine."
Psychism and the Occult. The New Age / New Order uses for spiritual direction the Celestine Prophecy, a popular New Age novel which, like the Da Vinci Code, is implied to be factual, but in reality slanders the true Faith. "It's all about developing psychic powers."
False Doctrine. Noonan relates that when she attended a basic catechist course run by a local diocese, which was training people to be religious- education teachers in Newchurch parishes, she was told by the instructor not to mention the Bible, Blessed Virgin Mary, the rosary, statues, novenas or "any of that superstitious stuff." Yet the instructor herself (usually these New Order "catechists" are females, and lesbians) was deeply embedded in New Age superstition!
Just think how many times you have heard of these things in connection with Newchurch: RCIA, the Celestine Prophecy, the DaVinci Code, etc. The Novus Ordo service has a good dollop of this pagan, man-centered religion in it: in the Offertory, the made-up "Eucharistic prayers," and other components. The Novus Ordo is, in its essence, so much more corrupt than the Anglican service of the 19th century, which Pope Leo XIII held to be invalid, that no true Catholic can justify actively attending the Novus Ordo service -- ever. It is a grievous sin against the First Commandment, a substantially pagan ritual that replaces God at its center with man -- sometimes with subtlety, more often brazenly.
Moira Noonan is not really telling us anything new, but updating Randall England's Unicorn in the Sanctuary of 1990, which had already exposed the New Order as a front for the New Age. Yet her documentation indicates that in the ten years or so since Noonan's book, the situation has gotten much worse, and will undoubtedly deteriorate further under Benedict XVI.
---
UPDATE ON SOLANGE HERTZ. As was previously reported here on TRADITIO, Solange Hertz, prolific traditionalist Catholic writer, had a stroke several months ago. We are informed that after extensive rehabilitation, she is finally back in her own home. Although in advanced old-age and fragile now, she walks very well with no hesitancy, and she can converse, but sometimes has a hard time getting her words out. Her ability to read is limited too, and she is not back onto computer.
---
May 24 - Ferial Day
The Cathedral of Lies
From: Fr. Moderator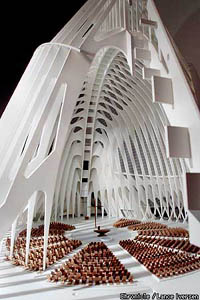 It's a Bird; It's a Plane; It's Newcathedral!
Oakland, California's Incipient Newchurch Cathedral of Light
Third Cathedral of "Devil's Triangle" in California
Is More Suggestive of Protestant Monstrosities than Anything Catholic
Above you see depicted the plans for the Cathedral of Lies of Oakland, California, for which ground was broken on May 21. This incipient Cathedral of Light takes its inspiration not from the Roman Catholic architecture that before Vatican II was the envy of the world, but from such structures as Protestant Minister Robert Schuller's ghastly Crystal Cathedral of Garden Grove.
Far from representing anything religious, it has been described by one writer as a "woven wooden basket" surrounded by concrete and glass. It is a pure product of Vatican II. Even its name is taken from one of the Modernistic Vatican II documents, Lumen gentium. But why do we call it the Cathedral of Lies?
First of all, when Oakland's 19th-century cathedral, a beautiful example of traditional Old World craftsmanship, was damaged in the 1989 earthquake, radical Newchurch bishop John Cummins claimed that it couldn't be repaired. That was Lie #1. Even Protestant groups wanted to restore the cathedral for its historical value, but the "Catholic" bishop would have none of it. He publicly had it announced that he wanted to turn the property into a mini-mall! He even enlisted the help of California's corrupt courts to help him smash (literally, with the wrecking ball) St. Francis de Sales Cathedral.
Then Cummins said that Oakland didn't need a new cathedral, that Our Lady of Fatima church next to the chancery office could serve that purpose. Then Cummins went back on that statement. A few years later he turns up to be the chairman of a group pushing a new cathedral with a price-tag of $131,000,000. Lie #2.
Now the Big Lie. Cummins and his successor Allen Vigneron, noted for his celebration of the "Tet" Mess (see Novus Ordo Service Photo Gallery), filched $131,000,000 from unsuspecting individuals for a purportedly "Catholic" cathedral, when there is nothing Catholic about it. It is a pure fantasy of the New Order, which will join the Taj Mahony of Los Angeles (which replaced the traditional St. Bibiana's Cathedral) and St. Mary Maytag of San Francisco (named for its washing-machine agitator architecture) to form the "Devil's Triangle" of the New Order in California.
---
May 23 - Ferial Day
Muslims Flush Holy Bible Down the Toilet
From: Fr. Moderator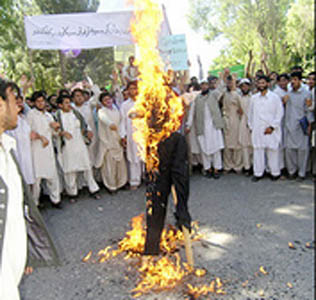 Mohammedans Riot and Murder in Phony Koran Incident
U.S. Government Apologizes for a Non-event
But When the Holy Bible Was Desecrated, the Government Was Mute
A false Newsweek report last week claimed that U.S. interrogators of terrorists flushed the Koran down the toilet, and Mohammedans around the world rioted, burned buildings, and murdered some two dozen people as a result. U.S. government officials in responding were careful to call this a "holy book" or the "Holy Koran." When was the last time you heard a government official refer to the Christian Bible as the "Holy" Bible?!
Rather than deifying this book, filled with slurs against Christians, Christ, and the Saints, the government officials should have pointedly reminded these Mohammedans of what they did just three years ago to desecrate the Holy Bible, in an incident reported in the TRADITIO Commentaries at the time.
In May 2002, Mohammedan gunmen occupied the Basilica of the Nativity in Bethlehem and desecrated the church built on the site of the grotto where Jesus Christ is believed to have been born. They got themselves drunk, in spite of the Muslim ban on drinking alcohol. They tore up the Holy Bibles in the church for toilet paper and flushed the soiled pages down the toilet.
Where was the government outcry when the Holy Bible was desecrated? Meanwhile, in the United States this last week, yet another public-school principal ripped Holy Bibles out of the hands of students whose only "crime" was to read the Bible on their lunch hour. It seems that not only JPII and Benedict-Ratzinger, but even the U.S. government, are too craven to defend the Holy Bible while being cowed by Mohammedan propaganda on the "Holy" Koran.
---
May 22 - Trinity Sunday (Double Feast of the First Class)
Is there No Difference Between "Indult" and Novus Ordo?
From: Lynn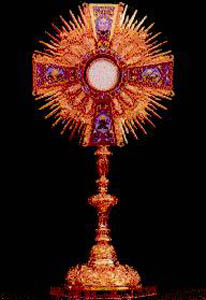 Sanctissimum Altaris Sacramentum
At "Indult" Sites One Has to Be Very Careful
What One Is "Adoring"
Dear Fr. Moderator:
A priest from an "indult" organization at the High Mass here on Pentecost Sunday stated the following from the pulpit when asking for volunteers for the adoration chapel of the Novus Ordo parish where the "indult" Mass is held: "If the reason you are not volunteering is that it is Novus Ordo, then you should not be at this ["indult"] Mass. We make no distinction between the Latin ["indult" Mass] and the Novus Ordo."
Fr. Moderator Replies.
That is at least an honest statement. Many indultarians don't realize that by attending an "indult" Mass, they are, by the terms of the "indult" Quattuor abhinc annos of 1984, and later Ecclesia Dei of 1988, publicly declaring their adherence and allegiance to the New Order. That is the price they pay for getting an "indult" Mass, many of which are now being corrupted with various features of the Novus Ordo.
The New Order does not really want people to have a truly Traditional Latin Mass. That is why they try every trick in the book, such as using the Novus Ordo "readings" instead of the traditional Epistle and Gospel or using the cookies from the Novus Ordo tabernacle to distribute at the "indult" Mass, etc. That is why "eucharistic adoration" is so problematic there. Are you actually adoring the Corpus Christi, or merely a cookie from the Novus Ordo Protestant- Masonic-Pagan service? Often the indultarians don't know.
Your example indicates that the people at the "indult" Masses are getting more wary about what is now being pulled over on them in all too many "indult" sites.
---
Newchurch Recognizes Schismatics
From: Fr. Moderator
Next time you get that ignorant blather from the Novus Ordinarians that you, as a traditional Roman Catholic, are "schismatic," you can hurl this right back in their teeth: Newchurch itself recognizes and "credentials" schismatics!
In dioceses in the United States, such as in the New York and San Francisco archdioceses (the latter being the home diocese of William Levada, prefect-designate of the Doctrine of the Faith), bishops have granted "faculties" to presbyters of the schismatic Chinese Patriotic Association. This is the organization that operates under the authority of the Chinese Communist government and therefore does not recognize the pope.
These CPA presbyters are allowed to offer the Novus Ordo service publicly in Novus Ordo churches and to administer other Novus Ordo sacraments openly in parishes. No specific mention is made in parish bulletins that the presbyter in question belongs to the CPA, and no explanation is made about the schismatic nature of the CPA. The CPA is essentially in the same situation as the Eastern Orthodox and the Old Catholics, who are similarly valid. Newchurch has not regarded them as "schismatic" since the pontificate of Paul VI.
Therefore, that outright lie that liberalist Novus Ordinarians say about traditional Catholics being "schismatic" is held neither by the pope, Newvatican, or the Newchurch dioceses. It's all a ruse to force sincere Catholics away from the Traditional Latin Mass.
---
May 21 - Pentecost Saturday (Semidouble Feast) - Ember Saturday
Partial Fast
Anyone Can Be a Newchurch Bishop
From: Fr. Moderator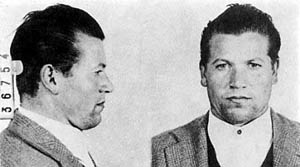 Latest Newchurch "Bishop," Bernardo Provenzano
Mafioso Leader Disguises Himself as a Newchurch Bishop
Costa Nostra Meeting Doesn't Blink an Eye at a Bishop in Their Midst!
TRADITIO has pointed out that Newchurch bishops are bishops in name only. They routinely violate their episcopal oath to guard the Faith and Tradition, instead imposing a Counterfeit Mess and Sakraments on their congregations. They routinely fail to preach Catholic doctrine (when is the last time a Novus Ordinarian heard a sermon on Hell or against homosexuality?). They routinely fail to uphold Catholic morality, instead conspiring with one another to abuse children and adults, embezzle Church funds, convert Church property to their own purposes, etc.
One has to wonder where Newvatican comes up with these creatures, not a one of whom acts like a real bishop. It seems that even a Mafioso can wear a Newchurch bishop's vestments these days. Certainly a Rembert Weakland and a Thomas Dolan can!
Bernardo Provenzano, the Sicilian Mafia's "boss of bosses," has eluded capture for more than four decades by dressing up as a Newchurch bishop. He turned up to a summit of Cosa Nostra leaders in 1992 in a bishop's purple vestments. Although is "it seemed strange that someone would show up at a meeting dressed as a bishop," apparently the mafiosi were familiar enough with Newchurch bishops to think that he was one of them! [MSN]
---
May 20 - Pentecost Friday (Semidouble Feast) - Ember Friday
Fast & Complete Friday Abstinence
Put the Petitions Away
From: Quentin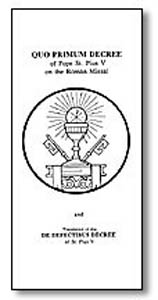 Papal Bull Quo Primum
The Traditional Latin Mass Is Canonized in Perpetuity
True Catholics Cannot Honestly Approach Newchurch
For Permission for What Is Their Right and Obligation
Dear Fr. Moderator:
The organization that I represent is all under age 25. We don't want to take sides on the controversy in the Church now, but base our petition on Quo Primum. We would like to ask you to take a few minutes to look over our petition in support of the traditional Latin Mass and Sacraments. Since TRADITIO have had so much experience in this area and unwavering preaches the Roman Catholic Faith, what advice would you give us?
Fr. Moderator Replies.
While what you say sounds good on the surface, you have actually taken sides without realizing it. You have determined that Quo Primum does not mean what it says, but that true Catholics have to go hat in hand to a pope and bishops who are pushing a New Order. By your approach, you have bought the false line that the Traditional Latin Mass is not the right and obligation of Catholics, but a political plaything that can be fiddled with by any bishop or pope on a whim. That is certainly not what Quo Primum says. You need to reread it.
You say that you are all under 25, so we can understand how your inexperience would lead you to an oversimplified view of the situation. An "indult" is merely a privilege; it is not a right. You must understand this, since you yourself used the word "permission." No one needs "permission" to do what is their right and obligation under Apostolic Tradition, as dogmatically codified in perpetuity in Quo Primum. Such "permission" can be, and has been, controlled and yanked at the will of any bishop. Even if you get a broader "indult," you end up with an "Indult Mass," which is likely to be the 1962 Modernized version, replete with Novus Ordo add-ons and changes.
This petition idea has been tried over and over since 1963 and has ended up nowhere, except dividing traditional Catholics and wasting their energies. Even if you were successful, you would still have to accept the New Theology, the New Morality, and the New Mass as Catholic. They're not. So, you yourselves become involved in a lie. The end does not justify the means. That's not Catholic either.
You ask for our advice. Why not just do everything you can to facilitate the establishment of traditional churches and chapels through the country, regardless of auspices, whether independent, SSPX, SSPV, CMRI, etc.? Then you would truly not be taking sides. By engaging in this petition idea, you are simply wasting your time and playing right into the hands of the New Order. So you yourselves become part of the problem, not its solution. We can understand how, being as young as you are, you are ignorant of the history and what has happened before. You should really study the history assiduously. That is the only way that you will understand the Big Picture.
And, by the way, it's not the "Latin Mass," as you call it, but the Traditional Latin Mass. The extra word makes all the difference. The New Order service can be said in whole or in part in Latin, and often the Newchurch bishops try to pull that substitution over on uneducated Catholics. The New Order service is just as false in Latin as in the vulgar tongues.
---
The SSPX in Perspective
From: Wallace
Objectively speaking, how important is the SSPX to the Traditional Catholic Movement? I agree with your assessment that Bishop Fellay has been a little "soft" in the past and does seem to be taking a harder stand nowadays. But his "softer" stand needs perspective.
Fr. Moderator Replies.
Objectively speaking, SSPX is about 19% of the movement (in the United States), though it certainly gets more coverage than any other part, partially because its organizational structure is more patent.
What you have indicated below -- that a Newchurch bishop here or there might have said some complimentary things -- sheds no real light on the subject. Those of us who were around at Vatican II and have seen the course of Church history since then realized long ago that this is just the old shell game. It is like trying plug a pin-hole on the Titanic and ignore the gash in the hull produced by the iceberg. The SSPX can be pulled into wasting its energies in more pointless "negotiations" with the New Order. That is what we are predicting will happen.
What difference does it make if a bishop here or there is a "conservative" or "semi-traditionalist"? What difference does it make if a few more "Indult Masses" come about, which are half Novus Ordo already, when one has to accept with them the New Theology, the New Morality, and the New Mass? Newvatican has made it clear that in exchange for the few crumbs it is willing to dish out, the full-blown New Order has to be accepted by the suppliants. Newvatican will undoubtedly try to get the SSPX again to waste its resources on pointless "negotiations." Don't you think that Benedict-Ratzinger and his sidekick "Lefty" Levada want to see this headline splashed across the world's newspapers: "SSPX Capitulates to Vatican; Finally Accepts Vatican II"?
If Fellay is smart, he will "just say no" to Newvatican and invest the Society's resources full bore into expanding its own program. Then, if he is successful, Newvatican will be forced eventually to capitulate to true Catholic Theology, Morality, Mass, and Sacraments. Otherwise, SSPX is likely to have new leadership come this February. You must negotiate from strength, not from weakness.
---
May 19 - Pentecost Thursday (Semidouble Feast)
One of Levada's Priests Spills the Beans
From: Fr. Eugene Heidt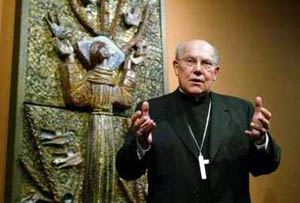 William Levada Shrugs off His Sacrilege
"So I Celebrated a Mess with a Lutheran Minister.
So I Used Cookie Dough and Grape Juice. What of It?"
One of Levada's Priests from Portland in 2004 Published an Expose
Of the Bishop Now to Become Pope's Head of Doctrine
[Fr. Eugene Heidt used to be a cleric under William Levada, newly selected by Benedict-Ratzinger to head the Newchurch Congregation for the Doctrine of the Faith, when Levada was archbishop of Portland, Oregon, in 1986 to 1995. The excerpts below were taken from Priest Where Is Thy Mass, Mass Where Is Thy Priest? Fr. Heidt left Levada's Newchurch diocese and established an independent chapel. Unfortunately, we are informed that Fr. Heidt now lies seriously ill, but his words still cry out.]
When Archbishop Levada had first come to the Archdiocese, I was the first one to have an appointment with him after he was installed. I went in there for an hour and a half, and I poured out my heart to him, because I was told he was a good, traditional, orthodox bishop, and that he was going to straighten this Archdiocese out. So I really churned my heart out to him, and he just sat there. He was like an episcopal vacuum cleaner, sucking all this stuff up and listening to it. I told him about the homosexuality in the Church, and I said, "I can name six or seven homosexual pr[esbyters] in the diocese. They call themselves the 'altar society.'" He said, "You've come in here with a bunch of rumors, and I'm not going to listen to that." I said, "Well, one day, somebody is going to have to pay!" But he wouldn't listen. [Fr. Heidt was right. This year the diocese of Portland was the first to go into bankruptcy because of rampant sex crimes under Levada, among others.]
I think there is only one pastoral letter he wrote, supposedly on the Mass and the Eucharist. I read the thing, and I took it to his office, and I said, "Did you write this? Is this supposed to be a complete treatise on the Eucharist and the Mass? How did you manage to get through this whole thing without once mentioning Transubstantiation?" "Well, that's such a long and difficult term anyway," he said, "and we don't use that term anymore."
The "next item" was his having gone to Our Lady of Atonement Parish -- that's what they called a "Catholic-Lutheran joint parish," where they have a pr[esbyter] on one end of the altar and a Lutheran minister on the other, and they go back and forth. I asked, "What did you do over there?" and he answered, "We concelebrated liturgy."
When I went back to see him, after the sabbatical was over, he told me that, because I had said the [Traditional] Latin Mass in "excommunicated" chapels, mainly Portland and Veneta, he could no longer use my services. So I said, "Okay. You do what you have to do. But you're going to have to tie me up in chains to stop me from offering the [Traditional] Latin Mass." He threatened to suspend me if I didn't stop.... [The diocesan attorney told me:] "Besides, the Traditional Latin Mass is a thing of the past, and within ten years it will be nothing more than a footnote in the history of the Church." ...The next thing I knew, the Archbishop sent me a letter of suspension. I never did have a hearing. [Now the Traditional Latin Mass thrives outside diocesan auspices, and the diocese itself has gone into bankruptcy.]
Archbishop [Levada] started out with one of the directives that came from Rome, and he said that the Masses of priests who use anything other than unleavened bread and sacramental wine are to be questioned. But the Archbishop himself was pooh-poohing the idea. So these pr[esbyters] got the idea that they could go ahead and use pita bread, cookie dough, whatever. You could go down to Safeway and get a jug of wine or even grape juice! It didn't seem to make too much difference to him.
So, this is Benedict-Ratzinger's choice for new head of the Doctrine of the Faith. A Newchurch bishop who promoted invalid matter and phony Novus Ordo Messes? A bishop who "concelebrated" Messes with Lutheran ministers. A bishop who essentially denied the doctrine of Transubstantiation. Watch out, you foolish Novus Ordo "conservatives" and "semitraditionalists." Benedict- Ratzinger and Levada have just snapped you in the derriere with the pointed red tail!
---
SSPX "Reconciliation" Is "Not Going to Happen"
From: Fr. Moderator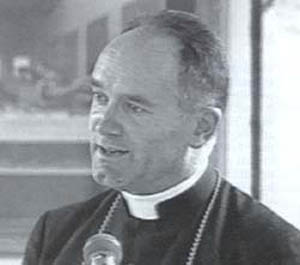 Will Fellay Succumb to Newrome's Blandishments
To Embrace the New Order Structure?
His Wavering Positions Keep SSPX Adherents' Heads Spinning
William Dinges, Associate Professor of Theology and Religious Studies at Catholic University of America, has recalled that the last time the Society of St. Pius X dealt with then-Cardinal Joseph Ratzinger, Ratzinger tried to persuade SSPX founder Archbishop Lefebvre to accept the modernist changes of Vatican II. Lefebvre (rightly) rejected that pressure.
"To try to reconcile the traditionalists with the Church would be an implicit rejection of Vatican II, and that's not going to happen," says Dingis, understanding the practical reality.
It remains to be seen whether SSPX Superior General Bernard Fellay will be led down the Newvatican's garden path again for "negotiations" with the New Order. He has shown an inclination in past years to sell out to the New Order, but more recently has pulled back from that position under pressure from influential French SSPX abbots and the other SSPX bishops.
TRADITIO's prediction is that Benedict-Ratzinger will try to resume "negotiations" with the SSPX as a P.R. ploy. He may make a slight concession of some sort to "sweeten" the pot, but his record shows that he has no real intention of making the true Mass generally available throughout Newchurch. Even if he did, the Newchurch bishops would not stand for it. They would threaten him and get him to back down, as they did JPII in 1986. Even the vaunted "universal indult" would never be implemented by local Newchurch bishops. They have resisted now for almost 20 years the 1998 "indult." Half the dioceses in the United States still don't have even one "indult" Mass. And even if they did, many "indult" Masses have become so corrupted that they are almost as bad as the Novus Ordo service.
Practically speaking, Newchurch could never accept a diocesan "dualism," in which there would be the Novus Ordo structure and the SSPX structure. Benedict- Ratzinger would have to give the Newchurch bishops the ultimate control. And so, the Novus Ordo counterfeit religion and service would still be defined as the real one. How can SSPX adherents lie down with a false religion? Their whole ethos would be undercut, and they would become a laughing-stock.
This reality was confirmed on Vatican Radio by Dominican Rev. Augustine DiNoia, an American who has worked with Card. Ratzinger as undersecretary in the Congregation for the Doctrine of the Faith, who said that Benedict-Ratzinger would go JPII one further and hand off a substantial amount of the papal authority to local bishops. DiNoia said that it was "significant" that the new pope had included the bishop's miter in his papal coat of arms rather than the traditional papal tiara. He said that the choice indicated Benedict did not want to be a traditional pope, but a colleague, just another bishop of Rome. "It can be seen to express an enthusiastic embrace of collegiality," Di Noia said.
Moreover, if Fellay capitulated to Newvatican, it would be the end of the SSPX. Already our internal sources tell us that "the natives are restless." If Fellay should go over, the SSPX would go into internal schism, with at least half of the adherents refusing to go with Fellay. The SSPX has already had one internal schism, when in the mid 1980s some of its best priests could not go along with concessions made to the New Order and formed the Society of St. Pius V (SSPV), which now has fully traditional Mass sites all over the country.
---
May 18 - Pentecost Wednesday (Semidouble Feast) - Ember Wednesday
Partial Fast
The Modernist Record of William Levada
From: Fr. Moderator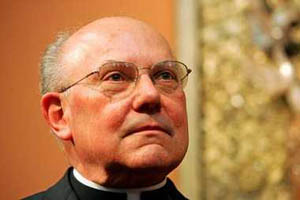 William Levada, Picked by Benedict-Ratzinger to Supervise Faith & Morals
Leaves Behind Him a String of Persistent Immorality, Corruption
And a Signal Failure to Preach Catholic Morality
Among many others, the clearest sign that Benedict-Ratzinger is far from the "conservative" that many ignorantly portray him as, but rather is strongly skewed to Modernism, is his selection of William Levada, Newchurch archbishop of San Franciso, as his successor to head the Congregation of the Doctrine of the Faith, which is the pale post Vatican II counterfeit of the former Holy Office.
Many Novus Ordo "conservatives" and semi-traditionalists fell into the trap, believing the false press that Benedict-Ratzinger was a "conservative." They urged withholding criticism of the obvious Modernist, who was one of the principal architects of the New Order at Vatican II (as has been previously documented on TRADITIO). Then the boom fell. Levada! Now even they, less than a month after the papal election, are wailing to the heavens. They should have read TRADITIO, and they would have been prepared.
Information has been coming out about Levada's Modernism by the shovel1fuls.
From 1986 to 1995, Levada, as Archbishop of Portland, Oregon, left behind him a diocese riddled with sexual scandal and now in bankruptcy because of sex abuse lawsuits against his clergy. What did Levada do to correct the situation in his own diocese? Nothing. He left it. And now Newvatican is putting Levada in charge of faith and morals in Newchurch?! So much for Levada's administrative abilities.


From 1986 to 1993 he served as the only American bishop on the Editorial Committee of the Vatican Commission for a Catechism of the Catholic Church. This was the Modernist-based progeny of Vatican II, which introduced erroneous, untraditional teachings on capital punishment, limbo, Hell, etc.


From 1995 to the present, Levada, as Archbishop of San Francisco, has signally failed to speak out against homosexuality and gay marriage. In 1997, when the city of San Francisco required organizations like Catholic Charities, which received money from the municipal government, to offer benefits to unmarried partners of their employees, including gay partners, Levada at first resisted for public consumption. But quietly he capitulated to the homophile municipal government, tinkering with the language so the church agreed to give benefits to everyone in the household. This is exactly what Benedict- Ratzinger does: makes strong public statements for popular consumption, then sells out the Faith behind the scenes. No wonder Benedict-Ratzinger picked Levada. They're two Modernist peas in a pod!


In 1999, Newchurch bishop Patrick Ziemann, of Santa Rosa, just north of San Francisco, was accused by one of his presbyters of sexual assault. The presbyter, who is not homosexual, said that Ziemann began sexually assaulting him shortly after his ordination and that the bishop made him wear a pager "so that he could beep him for sex." Ziemann also left the diocese $30,000,000 in debt from "financial mismanagement" (embezzlement?). And what was Levada's reaction to these crimes on the part of his colleague? Outrage that a bishop would so pervert his office? Of course not. Levada said that he joined "friends throughout California and beyond in thanking him [Ziemann] for the energy and gifts he has shared far and wide." The energy of sexual assault, and the gift of embezzlement? So much for Levada's morals. And this guy is going to become head of Newchurch's congregation on Faith and Morals? No wonder Newchurch is crashing and burning, and Benedict-Ratzinger is lighting the torch.


In a November 2004 interview with National Catholic Register, Levada indicated his detestation of Pentecostals and Evangelicals -- not because they err from Catholic doctrine, but because they believe Catholic doctrine: the existence of Hell and the possibility of damnation, and want to save souls from it. "They are not people touched by the vision of oecumenism," criticizes Levada. Levada is supposed to have been a bishop since 1986, yet you will not find any letter, homily, speech, interview, or book produced by Levada in the past 20 years that addresses with pastoral concern the fact that souls may end up in Hell as a consequence of their actions. So much for "oecumenism." So much for "pastoral concern."


In 2004, when San Francisco broke the law by issuing certificates for "gay marriages," Levada made statements against the policy, but participated in only one public demonstration. Again, all talk for P.R. to fool the Novus Ordinarians, but no action. When the Roman emperor violated Christian decency by viciously wiping out a Greek city and killing all its women and children, St. Ambrose stood on the steps of the cathedral at Milan and prohibited the emperor from entering, even at the risk of Ambrose's own life. Levada took no action against the law-breaking mayor of San Francisco promoting the evil of "gay marriage," which cries to heaven for vengeance. Instead, Levada told him that he was welcome at Levada's cathedral. "He has been to the cathedral many times," said Levada at a press conference. Undoubtedly, he took the Novus Ordo cookie too!
With the entire Newchurch hierarchy to choose from, this is the man that Benedict-Ratzinger elevates to the post of doctrinal and moral watchdog: a bishop who leaves behind him a trail of scandal, bankruptcy, and compromise of the Faith. Levada, upon his appointment, himself said that he expects to be a "cocker spaniel," not a Rottweiler -- in other words, he is not going to be a vigorous promoter of Faith and Morals.
This signal from Benedict-Ratzinger is clear. We are going to have yet another pontificate that continues the ruinous Vatican II Modernism. And you thought that JPII was bad? Benedict-Ratzinger is well on his way to outdoing JPII's sorry record.
---
May 17 - Pentecost Tuesday (Double Feast of the First Class)
Benedict-Ratzinger Pushes Beatification of Discredited Pope
From: Kevin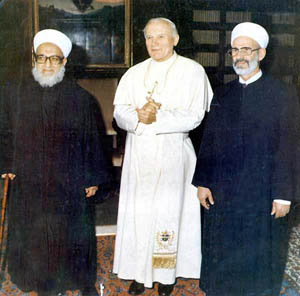 John Paul II Surrounded by Two Mohammedan Muftis
JPII Did More than Anyone Else to Push the "All Religions Are Equal" Line
Even when It Came to the Mohammedan Infidels
Yet This Is Now the New Order's Posterboy for Subito "Sainthood"
Dear Fr. Moderator:
Now that it was announced by Benedict-Ratzinger on Friday the 13th that the current pope has bypassed the meager five-year wait-for-sainthood approved by JPII, it appears that it will not be long before Newvatican shoehorns JPII to the pantheon of New Order "saints." The bald-faced presumption on the part of Newchurch to believe that it has the power to "fast-track" anyone to sainthood leaves me speechless!
I would not be surprised if Benedict-Ratzinger institutes a toll-free number to call in your miracles -- the New Order's version of American Idol. I'm sure that Benedict & Company will fall all over themselves to slip through the most contrived cases of cancer cures and sight restored to the blind. (Remember the phony "miracle" used for Mother Theresa; even the doctors didn't believe it.) I would bet that it will be a matter of mere months before JPII accumulates the required number of "miracles" (one!).
Since the Holy Ghost will never leave the true Church of Christ, will it now be absolutely clear to the "conservatives" and the "indultarians" where the true Church is -- and is not?
Fr. Moderator Replies.
We doubt it. These "conservatives" and "indultarians" are the same ones who try to convince us that Benedict-Ratzinger is "traditional," when he is even more modernistic in his theology than the late JPII. It's just that B-R hides the truth better with a dollop of German schmaltz.
JPII's papacy was a disaster. Over his 25+ years as pope, he introduced so much confusion into theology, liturgy, and morality that no one knows what "Catholic" means any longer. European "Catholicism" is so diseased that Novus Ordo Mess attendance has sunk to below 5% in many countries. Religious orders, like the Christian Brothers, the Salesians, and even the Dominicans, may be dead in a generation. He so trivialized even the Novus Ordo Mess that atheists were allowed to steal "hosts" and auction them off. The rest of the leftover cookies from one Mess were simply tossed into the drink.
The only silver lining in the cloud was that Benedict-Ratzinger at least made the public announcement in Latin, whereas his predecessor would probably have made it in 100 or more vulgar tongues of the world. Yet covering the offal in Latin doesn't change the smell underneath.
Thank God that beatifications and canonizations are not invariably infallible, according to the Church's Principal Theologian, St. Thomas Aquinas. For further details, see FAQ10: How Do You Explain These Traditional Catholic Beliefs? in the article Canonizations, Post-Conciliar.
---
May 16 - Pentecost Monday (Double Feast of the First Class)
Benedict-Ratzinger Picks a Failure for Doctrine of Faith Congregation
From: Fr. Moderator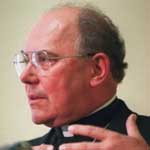 Newchurch Archbishop William Levada, of San Francisco
Benedict-Ratzinger Picks Bishop of Most Corrupt Diocese in the U.S.
To Head Congregation in Charge of Newchurch Morals
In Just a Month, the Papacy of Benedict-Ratzinger Is Sinking into Rampant Modernism
Even Novus Ordinarians Are Outraged
Think about this. If you wanted to pick a someone to head the Newchurch Congregation for the Doctrine of the Faith, what would you look for? Someone who was a total failure at cleaning up rampant immorality in his diocese? Someone who so pandered to immorality that he allowed the "gay-lesbian" flag to fly from his cathedral's flagpole? Someone who couldn't stand up to city officials on paying benefits to "gay partners"? Someone who hid rampant immorality of his presbyters, both sexual and financial?
Well, if you're Benedict-Ratzinger, that's who you'd pick: William Levada of that Sodom by the Bay, San Francisco, who was appointed to the post on Friday the 13th.
"Regarding abuse in the San Francisco archdiocese, Levada has been slow to act, harsh to victims, and committed to secrecy," said a statement from The Survivors Network of Those Abused by P[resbyters]. About 160 civil sexual abuse cases have been filed against eight northern California dioceses, including San Francisco. Levada has served as archbishop of San Francisco since 1995; before that, he was archbishop of another largely liberal American city, Portland, Oregon. Okay, folks, get ready for softening Novus Ordo "doctrine" on "gay marriage," non-celibate clergy, abortion, euthanasia, and priestesses.
It amazes us how even many "conservatives" and "semi-traditionalists" have concocted a phony picture that this pope is even "conservative," let alone "traditional." Every action that he has taken since his election indicates that he is moving rapidly in the Modernist direction. But we suppose that the "Dilbert Principle" is at work here: promote a man beyond the level of his competence. Or, as in this case, pick a man of proven incompetence.
What a wonderful sign it would have been that Benedict-Ratzinger really believed in Catholic morality if he had appointed someone who was a public hardliner against sexual and financial immorality among the Newchurch clergy. Instead he appointed -- Levada?!
---
May 15 - Pentecost (Double Feast of the First Class)
Will Benedict-Ratzinger Turn Around on the Turn-Around?
From: Fr. Moderator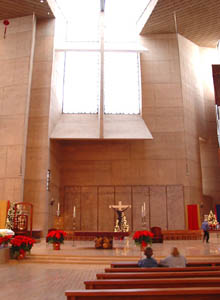 The Crucifix at Los Angeles's Taj Mahony
Rearranging the Poop Deck Is not Going to Fix the Novus Ordo
In his book, Der Geist der Liturgie, of 1999, Card. Ratzinger wrote against the Novus Ordo service facing the people because it "desacralizes" the service by overemphasizing its role as a meal and slighting its re-presentation, through the prayers of the presbyter, of Christ's sacrifice on the cross. "Less and less is God in the picture." He ruefully recalls how Mass versus populum (toward the people) established itself after Vatican II, even though Vatican II hadn't directly decreed the change.
But as in so many areas, Benedict-Ratzinger is all talk and no action. Both he and JPII talked a lot about "abuses" in the Novus Ordo service (as if the service itself weren't the abuse!), but did nothing. In an Italian interview once, Ratzinger said that he intended to do nothing about it. Just philosophical musings to sell books.
The new pope has not indicated that he is itching to execute a mass rollback of the Novus Ordo service facing the people. Instead, he wants to readjust the position of the crucifix, just as it has been rearranged in that ghastly new Taj Mahony cathedral in Los Angeles. If more dominant crosses are the only change Benedict's election brings to the New Order service, conservatives and semi- traditionalists will be sorely disappointed.
Yet, all of this is just rearranging deck chairs on the Titanic. The Novus Ordo service is finished. Its novelty has worn off. Even the Novus Ordinarians are leaving it in droves. Newchurch can't publicly acknowledge the fact, of course, so it is stuck in a rut of decline that even Benedict-Ratzinger has often admitted publicly. Now is a time for a bold move back to Roman Catholicism on the part of Newchurch, but it won't happen because Benedict is going to be too busy being the "Oecumenical Pope" to outdo JPII.
---
May 14 - Vigil of Pentecost
Fast & Partial Abstinence
"JPII the Great Saint" Campaign Turns out to Be a Fraud
From: Fr. Moderator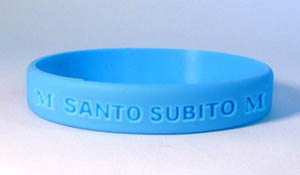 Buy Your Santo Subito Wristband Here!
Cries for JPII Sainthood Were Manipulated by the Focolare Movement
A Modernist One-World-Religion Organization
The New Order has so corrupted the processes of the Catholic Church that the Novus Ordinarians are stooping to fraud and deceit to make its "saints." Remember all the folderol about the "spontaneous" Santo subito ("immediate saint") cries and signs at the JPII funeral? TRADITIO at the time called it phony, and now the evidence of that is mounting: it was all manipulated. For further details on Focolare and related Modernist movements, see FAQ10: How Do You Explain These Traditional Catholic Beliefs? at the article Charismatic Movement.
Corriere della Sera reports that banners had already been made up days before the funeral. In fact, it seems that the whole campaign was manipulated by Focolare. The Focolare movement is a Modernist oecumenical movement, whose founder, Chiara Lubich, is noted for quoting not only from the Christian scriptures but also from the Koran and Mohammedan mystics. We know how this works. In a similar way, Caiphas, the high priest, stirred up the Jews to cry for the crucifixion of Christ. Appeals to a mad mob are certainly nothing new. Moreover, a mail campaign, modeled on a radical American political scheme in which form mail seeks to overwhelm the system, was phonied up.
In an instance of rare prudence, Newvatican has rejected the concocted emotionalism and manipulation. José Cardinal Saraiva Martins, prefect of the Congregation for the Causes of Saints replied:
The placards do not mean much because the reputation of sanctity amongst the faithful must go beyond the emotional level. The miracles before death are not valid for the beatification. The letters arriving at the Secretariat of State don't mean anything either they don't replace miracles. The faithful must give evidence that the person has truly practiced virtue at an heroic level. We investigate, the faithful must give signed evidence, and that is what counts for the reputation of sanctity.
---
May 13 - St. Robert Bellarmine, Bishop, Confessor & Doctor (Double Feast)
Complete Friday Abstinence
It's a Miracle: The Pope Benedict XVI Jelly Bean
From: Fr. Moderator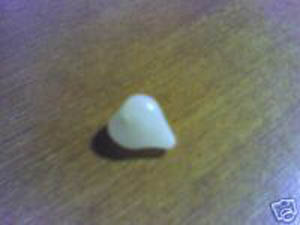 "Miracle" Jelly Bean Offered for Sale
Changed Shape at Election of Benedict XVI
Doesn't this just keep getting better and better?! The Novus Ordo religion has become such a laughing-stock that now a "miracle jelly bean" has been offered to the world on the eBay internet auction site. It is stated by the seller that on "Tuesday, April 19th [the date on which Benedict XVI was elected], I took the bag [of jelly beans] and noticed the change in shape of the Jelly Bean. It resembles a few things now, depending on the angle it is viewed at. A heart is the most obvious. But also it seems as if it has a dove-like look to it. It has also the shape of a tear drop. It almost looks as if something is trying to get out of the bean or as if the Jelly Bean itself was [sic] reaching out to the heavens. It was on the TV and was subjected to the Vatican news non stop, and it has a true apex to it where it's reaching out."
Of course this is ludicrous. But there is a moral here. This is what the Novus Ordo nonsense has done to people's minds. They satirize the Roman Catholic Faith, which, before Vatican II, was considered to be the most elevated of faiths, producing the world's greatest theology, morality, liturgy, music, art, architecture, and law. Now the theology has been trivialized, the morality vitiated, the liturgy fabricated, the music gutterized, the art demonized, the architecture deconstructed, and the law revised to serve evil ends.
And everybody knows it, whether they want to admit it or not. eBay is simply reflecting the common mind.
---
Boston's "Indult" Moves to Chinatown!?
From: Fr. Moderator
Didn't TRADITIO tell you that these Newchurch bishops treated the "indult" as a plaything? Holy Trinity Church in Boston's South End had the only "indult" Mass in the diocese, and it is being closed. Politically, Sean O'Malley couldn't shut the "indult" Mass down totally, as he is already under so much fire for incompetence that he didn't want any more headaches. So what did he do? He moved it where it will die: to Chinatown!
We remember some years ago the situation of the "indult" Mass in San Diego, California. The indultarians there naturally thought that their Newchurch bishop would appreciate the fact that they had a well-celebrated Mass, other sacraments, active catechism and choir groups, and so forth. Then a new bishop came in and shut the "indult" down. The indultarians were flabbergasted and agitated to keep the "indult" alive. The bishop had the last laugh, however. He said, "Fine, I'll give you a church" and assigned them the chapel at the mausoleum "because, he said, "this is a dead Mass!"
So, don't count on the "indult" Mass. Not only is it beholden to Newchurch and probably corrupted by features of the New Order, but it can be taken away ad nutum episcopi. That's what an "indult" is: not a right, but merely a privilege that can be taken away "in the twinkling of an eye." That's not what the Apostles, Fathers, Doctors, Popes, and Councils had in mind. To them, the traditional Mass was not so much a right, but an obligation. The "indult" is typical Newchurch thinking, issued only because Archbishop Lefebvre's courageous action of June 30, 1988, in consecrating traditional bishops for the Church scared the pants off JPII & Company.
---
And You Don't Think that Newchurch Is Dying?
From: Fr. Moderator
After the announcement that three dioceses in the United States have filed for bankruptcy, the diocese of St. John's, Newfoundland, in Canada has announced that it will sell every single one of its 150 churches, missions, and rectories to pay off lawsuits. Even the more than $10,000,000 proceeds from the sale will not be enough. The dead are safe, however. The diocese isn't (or can't) sell its forty cemeteries!
Newchurch in Canada, which is even wackier (if possible) than Newchurch in the United States has seen other bankruptcies. St. George's diocese is kaput. The Christian Brothers of Canada are history.
---
Benedict-Ratzinger Continues Going Modernist
From: Fr. Moderator
More pieces that are falling into place that show Benedict-Ratzinger to be a Modernist, just like his predecessor.
Rumors persist that he is seriously considering as his replacement at the Congregation for the Doctrine of the Faith Abp. William Levada, of San Francisco. Although the ignorant press and the Novus Ordinarians will call him a "conservative" (but far from traditional), Levada has done absolutely nothing to address the rampant immorality that cries to heaven for vengeance at Sodom by the Sea, of which he has been archbishop since 1995. As a matter of fact, he waffled when the city put pressure on him to accept the concept benefits for "gay spouses." It has also been reported that he has allowed the rainbow flag of the radical "gay and lesbian" movement to be flown from the archdiocesan flagpole.


26 Newvatican representatives will attend the Protestant-based World Council of Church's eight-day conference in Athens, May 9-16. The World Council of Churches is a fellowship of 347 churches, including Evangelicals, Pentecostals, Charismatics, Fundamentalists, and a smattering of Eastern Orthodox schismatics. So it appears that Benedict-Ratzinger will not put a stop to the rampant Indifferentism ("all religions are equal") that he has pushed in many of his own books.
---
Kingdom of Heaven Is an Mohammedan Propaganda Piece
From: Fr. Moderator
The recently-released Kingdom of Heaven is being described by a host of Mohammedan and Crusades experts as "Osama bin Laden's version of history." Members of the HAMAS-front group CAIR (Council on American Islamic Relations) and ADC (American Arab Anti-Discrimination Committee), who support Islmaic terrorist groups, just love Kingdom.
The historical reality is that the Crusaders left their homes at great personal sacrifice to reclaim the Holy Land from Mohammedan terrorists (even then), who were murdering and enslaving Christian pilgrims. In this film, however, Christian Crusaders are crass, violent murderers. They lie, sleep around with multiple women, and father multiple illegitimate, abandoned children. They are stupid, foolish, power-hungry, and vengeful. They are boors warring for land, not principles, and kill fellow Christians -- even priests -- over nothing.
On the other hand, Mohammedans, especially their leader, Saladin, are honorable, devout, decent, peaceful people. They just want to be left alone and only attack when attacked. They are wise, honest, kind, generous, and even offer Christians safe passage. The cinematography shows Moslems in prayer, but not as religious zealots. No such scenes exist for the Christians (or Jews), who are shown mostly drinking, sleeping around, and killing -- they're the religious zealots in this film.
In reality, unlike his portrayal in Kingdom, Saladin:
Personally beheaded many of the Crusaders living in and around Jerusalem and watched while his soldiers cut the bodies to pieces to satisfy their lust for revenge


Sent poisoned wine and flour to a Greek leader to distribute to Crusaders as Holy Communion


Fought violently with rival Shi'ite Moslems, dissecting one of their leaders and keeping his hands and head as trophies (Saladin, a Kurd, was a Sunni)


Persecuted Jews and Christians, denying them even the basic dignity of riding on horses or mules, requiring they ride in humiliation on donkeys and painful pack saddles.


At the time of Saladin, the 12th century, there were Mohammedan Crusades in Spain and North Africa, involving a century-long massacre of Jews and Christians by the Berber al-Mohad Muslims (or al-Muwahideen), which began in 1113.
For further details on the Holy Crusades, see FAQ10: How Do You Explain These Traditional Catholic Beliefs? at the article Crusades.
---
May 12 - Octave Day of the Ascension (Double Major Feast)
Pope's "Holy Hair" Goes Begging
From: Fr. Moderator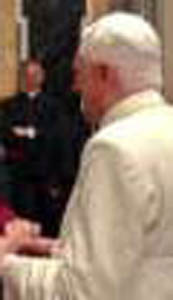 eBay Offers a Hair from the Head of Benedict for $35,000
The Novus Ordo Cult of the Papacy Is Getting Truly Ridiculous
The cult of the papacy developed since Vatican II has gotten truly ridiculous. Now a purported "holy hair" from the head of Benedict XVI was offered on the eBay internet auction service at a starting bid of $35,000! There were no bidders. By contrast, three strands of the hair of JPII are being offered for an opening bid of only $50.00, which did get a bidder.
Very likely the Benedict hair was satire aimed at the Novus Ordo cookie offered for sale on eBay from one of JPII's "Messes," which someone from San Jose, California, actually bought for $2,000. A number of Novus Ordinarians got exercised about the sale of the cookie on eBay, even though a cookie is a cookie is a cookie, whether the pope or someone else "performs" the invalid Novus Ordo Protestant-Masonic-Pagan service.
---
May 11 - Within the Octave of the Ascension (Semidouble Feast)
Marine Rakes Jesuits over the Coals
From: Fr. Moderator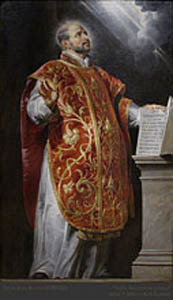 St. Ignatius of Loyola, Founder of the Jesuit Order
Here Depicted Celebrating the Traditional Latin Mass
In a Painting (1620-1622) by Peter Paul Rubens
He Wouldn't Recognize His Modern Progeny
A Marine recently wrote a public letter to the Jesuits as follows, in part:
I am appalled by the condition of my beautiful Catholic Church and, especially, by the decline in obedience and fidelity to the Deposit of Faith as manifested by the Jesuit Order over the past three decades. You once-strong and faithful defenders of the papacy have become just the opposite: enemies of the teaching authority of the Church and especially of the Vatican. What happened to our once-proud and faithful Jesuits!?
St. Ignatius would say, "Stop this nonsense and let's get going! Soldiers of Christ do not fall prey to the Enemy! Time is growing short. Let there be no more dissention, disruption, disagreement, disturbance, dissidence, disarray, or discombobulation. Get your acts together! Remember, you are Jesuits!
Good as the intentions of this Marine are, he has apparently been out of it for too long. Obedience in error to a pope pandering a New Order religion and its bureaucracy is not the answer. The Marine needs to look deeper. He needs to find where the True Church really is.
The religious orders that came under the Novus Ordo have basically dissolved. The Jesuits, often in trouble (they were disbanded by the pope for forty years around the American Revolution and become gun-carrying guerillas for the Latin American Communists in the 1960s), are now down the tubes. The Franciscans and Dominicans aren't far behind. Some religious orders have not had a single postulant in several years.
People know that the Novus Ordo is not the Catholic Church. They vote with their feet. Novus Ordo attendance has dropped since Vatican II almost into the single digits, where it has been in Europe for many years. Benedict XVI laments this fact, but he himself was one of the leaders in dissolving the allegiance of Europe to the Roman Catholic Faith in favor of false oecumenism! It just another one of those illogical contradictions that are so common with New Order personnel.
---
May 10 - St. Antoninus, Bishop & Confessor (Double Feast)
Card. Ratzinger Caught Handing out Communion Cookies to Protestant Ministers at JPII's Funeral
From: Fr. Moderator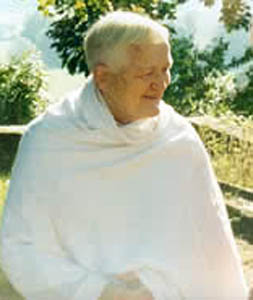 Swiss Protestant Pastor Roger Schutz
Received the Novus Ordo Cookie
Directly from the Hands of Ratzinger-Benedict
The Cookie Is not Catholic
When JPII gave the Novus Ordo cookie to British Prime Minister (and Anglican) Tony Blair, even Novus Ordinarians cried "scandal". Now it turns out that Benedict-Ratzinger has done the same thing -- within the last month.
At the funeral Mass for JPII, Card. Ratzinger communed the Rev. Roger Schutz, a Swiss Protestant pastor and founder of the Taizé oecumenical community in France. A German Lutheran theologian well known to the cardinal told United Press International that he, too, received the sacrament from his hands.
At a time when certain Novus Ordinarians are getting exercised about the sale of Novus Ordo cookies on the internet auction site eBay, it seems ironic that the new pope is handing out the cookies to Protestants. Some people don't like our calling the invalid material "cookies," but that's obviously how Newchurch itself regards them, right on up to the pope!
---
May 9 - St. Gregory Nazianzen, Bishop, Confessor & Doctor (Double Feast)
R.I.P.: FOUNDER OF CATHOLIC TRADITIONALIST MOVEMENT DIES
From: Fr. Moderator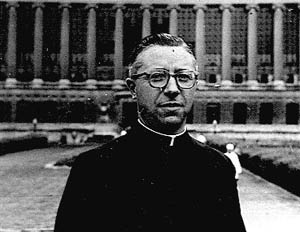 Fr. Gommar A. DePauw+
Founder of Catholic Traditionalist Movement in 1964
Passes to His Eternal Reward at the Age of 86
Collaudabunt multi sapientiam eius
Many will praise his wisdom (Ecclesiasticus 39:12)
The Founder of the Catholic Traditionalist Movement, Fr. Gommar A. DePauw, died last Friday, May 6, a traditional First Friday. To his dying day, he remained the fiercely independent pastor of Ave Maria Traditional Roman Catholic Chapel in Westbury, Long Island. TRADITIO had been keeping you up to date on his medical condition, which had been deteriorating in recent months.
Compared to the extravaganza upon the death of JPII, Fr. DePauw's passing will receive little notice. Probably so-called traditional publications will hardly mention him. Yet in many ways his influence for the good of the true, traditional Roman Catholic Church outstripped JPII and more vaunted modern lights.
TRADITIO has mentioned the pioneering work of Fr. DePauw many times in the past, so we refer our readers to the TRADITIO Search Engine on our Commentaries from the Mailbox department to find the details of his pre-eminent contributions to the Traditional Catholic Movement. Thank God, he lived long enough to see the movement that he started in 1964 blossom to the point that a number of traditional Catholic organizations (SSPX, SSPV, CMRI, etc.) and an even greater number of independent traditional Catholic priests, like him, spread the True Faith throughout the United States and the world.
Every person who calls himself a traditional Catholic, whether independent, organization-based, or even indultarian, has an obligation to offer a prayer for the repose of his soul, for, without him, none of us would be where we are now.
---
May 8 - Sunday after the Ascension (Semidouble Sunday)
What Is the Point of "Dialoguing" with the Ecclesia Dei Commission?
From: Anastasia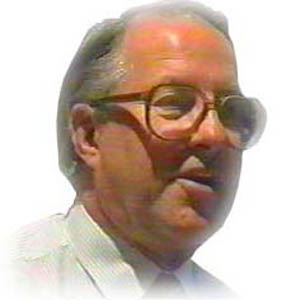 Michael Davies, Late of Una Voce
Good Intentions, Perhaps
But Even He Had to Admit that He Was Taken for a Ride
By the Ecclesia Dei Commission
Dear Fr. Moderator:
It beats me how anyone can believe that the Ecclesia Dei Commission was set up to preserve the Traditional Latin Mass, given the premises on which it was based (as a political "fix" to lull traditional Catholics into thinking that their needs were being cared for) and the hostility of its permanent bureaucrats (Msgrs. Perl and Calkins), who do not believe that it is in any way their task to persuade bishops to guarantee the celebration of the Traditional Latin Mass.
Nor does the new President of the Ecclesia Dei Commission, Card. Hoyos, give a toss about traditional Catholics' concerns. He promised Una Voce, the "indult" advocacy group, that he would intervene personally with the world's bishops on behalf of traditional Catholics, but he has done nothing, and they're still waiting (which says as much about the futility of such "indult"-favoring groups as Una Voce as it does about the "indult" itself)!
The late Michael Davies has stated that many letters sent to the Commission asking for its help in persuading bishops who refuse their requests for the Traditional Latin Mass have been ignored. On September 4, 2000, Hoyos was presented with two dossiers of letters addressed to the Commission, which it had chosen to ignore and in some cases not even to acknowledge. Does this represent the vaunted Vatican II "pastoral concern" (which is a chimaera)?
At the Una Voce 1999 General Assembly in Rome, Msgr. Perl, Secretary of the Ecclesia Dei Commission, made a public speech denouncing traditional Catholics. When it came to question time, he refused to answer politely- formulated questions and just walked out in a huff. Michael Davies said that he once mentioned to Perl the distress Una Voce members felt at the fact that the Commission that is supposed to represent the interests of traditional Catholics did virtually nothing to help them. Perl's reply was that the Commission in no way represents traditional Catholics, but only the Conciliar Holy See (of Vatican II). Just goes to show who's side the Commission is really on!
So what is the point of trying to "dialogue" with such a commission? Davies had known Msgr. Calkins for about ten years, and throughout that time he did his best to build up a friendly relationship with him, but in vain. He spent many hours talking with him in his office, he took him out to lunch or dinner frequently, he invited him to the General Assembly of the Una Voce Federation in Rome, and even invited him to preach at their assembly Mass. And for his pains he got kicked in the teeth!
Fr. Moderator Replies.
You hit the nail on that head. This is what TRADITIO has consistently been saying: "What is the point of trying to 'dialogue' with such a commission?" It is an utter waste of time. The Commission is set up to make traditional Catholics think that they have a voice in Rome, whereas they really haven't. The Commission is set to be a spy against traditional Catholics and to rat on them to Newchurch bishops. This has been the consistent procedure of the Commission, as has been previously revealed here.
Michael Davies was taken for a ride. Maybe he accepted the Una Voce Presidency with the thought that he could do some good. However, it was clear from his initial public statements that he was pretty puffed up about consorting with violet and scarlet. He became a pawn of the New Order, a fact that he understood and reflected upon in his last reports upon leaving the presidency.
Davies was so co-opted into the Novus Ordo circle for a time that he revised several of his books to make them more compatible with Novus Ordo theology. He even came up with a belated and preposterous interpretation of the doctrine of "indefectibility" that would please his new bosses at the Commission, so that they would (he thought) accept him better. He didn't realize until too late that they were playing him for the fool, as they do all who place faith in the Commission.
The usual argument about Vatican II and its horrific aftermath is that the council was pastoral rather than dogmatic. After 40 years of this delusion, one has to doubt whether the council was even pastoral. At least its agents of the "New Springtime," or whatever silly name they want to call it now, exhibit a decidedly anti-pastoral hatred toward traditional Catholics.
Meanwhile, organizations, like Una Voce, which are pushing the "indult," are simply agents of the New Order. They tell you to be polite and patient sycophants to the very Newchurch bishops that are out to destroy the Catholic Faith and substitute a counterfeit New Order for it. These are the same bishops who are steeped in a corrupt Protestant-Masonic-Pagan faith, a parody of the Catholic Faith, and in immoralities that make barn animals seem clean (our apologies to barn animals, not to Newchurch bishops)!
Of course, the "indult solution" is not a solution at all. It is a ploy, a deception. It weds its adherents to the New Order as the price of getting a tossed-off (usually) semi-traditional Mass. As TRADITIO has been saying all along, toss the words that they so often issue into the fire. Of what use are "documents" when they are used to quash the True Faith and True Mass? Instead, look at the acts of these Newchurch bureaucrats. As you say, Anastasia, it is their acts that tell the reality: these people are not operating to save the Mass, but to destroy it. Yet, even now, many are still deluded by the superficial politesse with which they operate.
Why is a phony "indult" needed, in any case, to attend or to celebrate the Mass of Sts. Peter and Paul, the Mass of Sts. Augustine and Ambrose, the Mass of St. Thomas Aquinas, the Mass of 260 popes and thousands of Saints, the Apostolic Mass canonized in perpetuity by Pope St. Pius V and the dogmatic Council of Trent just so that no Catholic would ever have any scruples in the face of the prattling Protestants of the time? Why indeed? The Catholic faith have a right and an obligation to the True Mass.
The indultarians need to wake up and smell the coffee. This is not Oz, but the real world, and rose-colored glasses are of no help whatsoever. We're with St. Paul, fighting the good fight!
---
May 7 - St. Stanislaus, Bishop & Martyr (Double Feast)
The Skinny on the "Indult" Mass
From: Robert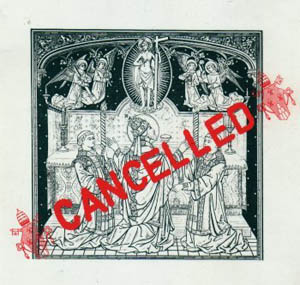 The Traditional Latin Mass - Canceled by the New Order
The Mass of St. Peter, the Immemorial Mass of the Roman Catholic Church
Of the Apostles Peter & Paul, Canonized in Perpetuity by the Pope
The New Order Wants to Subjugate to the Whim of a Newchurch Bishop
Dear Fr. Moderator:
Are all the "Indult" under the Newchurch bishops deficient and puppets of the local diocesan parishes? We are flourishing here without diocesan restrictions, as far as I know.
Fr. Moderator Replies.
As far as you know; there is the key. Even in the so-called better "indult" situations, there are diocesan restrictions that most indultarians are totally unaware of, or at least don't think about. These restrictions are usually fall into two major categories.
First, the site has to go by New Order doctrine and practice. For example, if pressed, the indultarian parishes will tell you that Catholics are not obligated to observe the traditional Friday abstinence, which has been observed in one form or another since Apostolic times. They will tell you that the untraditional (and sacrilegious) New Order Eucharistic "fast" is just 15 minutes or so before the start of the Mass. The traditional Ember Days are wiped out, the traditional calendar is gutted, etc., not to speak of the fact that in the modernized 1962 version of the Missale Romanum, the traditional and ancient rites of Holy Week have been gutted.
"Indult" sites can be, and have been, yanked by the New Order bishop or a new bishop, or converted into the Novus Ordo, as has happened not infrequently in the past. This is a bit of a "dark secret" that the indultarians don't like to get out. New "indult" sites are trumpeted, but previous "indult" sites that have closed are passed over in silence. So, even with the so-called better "indult" sites, one should not be too smug. It could all be gone overnight. Just ask the people in a certain city on the West Coast, among others.
But perhaps the most troubling aspect of the "indult" is the fact that attendees at "Indult Masses" are publicly accepting the Protestant-Masonic-Pagan Novus Ordo "service" as the real rite of the Catholic Church, with the True Mass being unavailable except at the whim of a New Order bishop. Most indultarians are unfamiliar with these terms of the 1984 "indult" Quattuor abhinc annos, upon which the 1988 Ecclesia Dei "indult" is an addendum. From the perspective of bimillenial doctrine and practice, this is untenable for Catholics. For further information, see Ecclesia Dei -- Before and After the "Indult."
As defective as is the best-case scenario with the "Indult" Mass, let's look at the problems with the average such Mass, as reported to us by our correspondents from around the United States and the world.
First, such Masses need to be evaluated carefully on a case-by-case basis to determine whether they are in fact Traditional Latin Masses at all, or rather hybrids to one degree or another of the Traditional Latin Mass with the Novus Ordo (New Order) service of 1969. In a few places the Novus Ordo service is offered in Latin instead of the vulgar tongue and is called a "Latin Mass," but it is not a Traditional Latin Mass. Needless to say, the Novus Ordo (New Order) service, even clothed in Latin, is still the Novus Ordo service, not the Traditional Latin Mass of the Roman Rite.
Moreover, since Protocol 1411 of July 3, 1999, issued by the Vatican Congregatio pro Divino Cultu, "indult" organizations have been forced into a collaboration with the Novus Ordo service. More and more "Indult Masses" are including texts and rubrics from the post-Vatican II Novus Ordo service, "indult" priests are now forced to offer the Novus Ordo service, hosts from a Novus Ordo service are mixed with Hosts consecrated at the "Indult Mass," and other profanations are occurring. Such pseudo-traditional services typically deviate also in one or more ways from the traditional practices in force even in 1962, such as:
using the vulgar (vernacular) tongues instead of the Sacred Latin in parts of the Mass
using the new calendar, the new lectionary, or the new rubrics of 1964 or later
giving communion in the hand
using lay "eucharistic ministers"
enforcing standing rather than kneeling at the Canon or to receive communion
eliminating the Leonine prayers after Low Mass
transferring or eliminating traditional holydays
holding Saturday "anticipated" services instead of Sunday Mass
radically limiting the traditional Eucharistic fast and traditional days of fast and abstinence
engaging in other non-traditional deviations not in force in 1962
Such sites do not offer the Traditional Latin Mass and should be scrupulously avoided by the faithful.
---
May 6 - St. John before the Latin Gate, Apostle & Evangelist (Double Major Feast)
Complete Friday Abstinence
More JPII Mania from Newchurch Lawbreakers
From: Fr. Moderator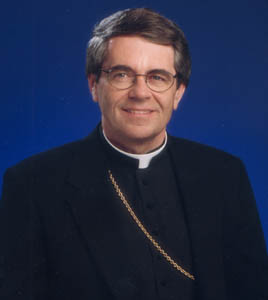 George Thomas, of Helena, Montana
A Newchurch Bishop Who Can't Even Obey Newchurch Rules
Don't you just love the New Order that criticizes traditional Catholics for "disobedience" and then proceeds to break even their own Novus Ordo laws?!
It seems that in Big Fork, Montana, Newchurch Bishop George Thomas will violate even Novus Ordo canon law and name a church for JPII. Sorry, George, you can't do that. Even under your 1983 conciliar law, you can't name a church after a mere mortal. What's next? Martin Luther King Jr. "Catholic" Parish? Mahatma Ghandi "Catholic" Community? Adolf Hitler "Catholic" High?
As usual, the Novus Ordinarians and their counterfeit faith give us our laugh for the day. Don't try to argue with these people. They've lost their minds. Just follow St. Paul's dictum: "Stand fast: and hold the Traditions, which you have learned" (2 Thessalonians 2:15). Then you'll be safe from the mania of the New Order.
---
May 5 - Ascension of Our Lord (Double Feast of the First Class)
A Holyday of Obligation
Ratzinger Did Me In!
From: Brother A.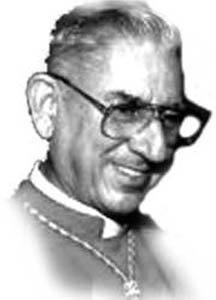 Dario Cardinal Castillon Hoyos, the Latest Ecclesia Dei President
What a Record!
In Almost 20 Years, Half the U.S. Newchurch Dioceses Don't Have
Even One "Indult" Mass
Dear Fr. Moderator:
I can add my own personal testimony concerning Ratzinger's untrustworthiness. In 2001, when I still hoped that men like Ratzinger wanted a restoration of the traditional Catholic Faith, I wrote the then cardinal a personal letter and asked his advice about the traditional religious life, what bishops might be willing to help me, and where I should go. I marked my letter "personal." The cardinal, however, violated the confidentiality of my personal correspondence by handing my letter over to the Pontifical Commission Ecclesia Dei without my permission.
I received a letter from the Commission's secretary, Msgr. Camille Perl, in which he stated:
The Church does not favor the use of the traditional Missale Romanum since the official liturgical books of the Roman Rite remain those reformed by Pope Paul VI in 1970.
The letter then went on to recommend that I join one of three suggested Novus Ordo communities, none of which allows the Traditional Latin Mass!
As an aside, may I just add that RAI, the Italian television network, broadcast an interview with Cardinal Arinze, whom the "conservative" Novus Ordinarians claim as one of their own, in which he made this bold statement, laughingly, loudly, and with a very sinister expression on his face, as he spoke of those who criticize the new pope as a hardliner and an ultra-conservative: "He will very soon puncture the prejudices of all his critics!"
Fr. Moderator Replies.
The "conservative" Novus Ordinarians and "indultarians" are always demanding proof that the "indult" is a sham. Well, here you have provided just one of many evidences that we have seen. The Ecclesia Dei Commission, far from having as its goal the restoration of the Traditional Latin Mass, is a creature of the New Order, set up to flim-flam indultarians into the New Order. Moreover, it typically "rats" on people who write it to their local Newchurch bishop, so that the bishop can then threaten them with "schism" for writing to the Commission. It's the old bait-and-switch tactic.
The "indult" has been a flop. In almost twenty years now, look at the evidence of its failure. Of some 500 Newchurch dioceses in the United States, maybe half of them have one -- count it -- one Traditional Latin Mass. More often than not, this isn't even a Traditional Latin Mass, but a hybridized "1962 Mass" with Novus Ordo elements added. A few dioceses have more than one, but many of those that have one don't even have it weekly! Twenty years of deception, game-playing, and propaganda have been used to mislead "conservatives" and "indultarians" into playing right into the hand of the New Order.
And, yes, Card. Arinze knows the truth: Benedict-Ratzinger is far from the "hardliner" and "ultra-conservative" that the ignocenti make him out to be. For further details, see Cardinal Arinze's Changing Church by noted traditional author Patricius Anthony.
---
Update on the eBay Novus Ordo Cookie Sales
From: Fr. Moderator
TRADITIO reported previously on the contretemps that arose when eBay, the online auction site, included a Novus Ordo cookie for sale. This the same type of cookies that were stuffed into burlap bags and thrown into the Hudson River after the pope's New York service. This is the same type of cookies that are found left on Novus Ordo temple floors. This is the same type of cookies that contain invalidating ingredients (sugar, nutmeg and cinnamon, baking powder, salt, Crisco, etc.), according to official Newchurch diocesan "recipes".
Well, eBay has now decided to withdraw these invalid cookies from sale because some Novus Ordinarians, who have become accustomed to invalid cookies instead of the Corpus Christi, made a ruckus.
Too bad, isn't it, that these daft Novus Ordinarians (most of whom don't believe in the cookie anyway, so Gallup Polls say) are so exercised about a few cookies, but that they didn't lift a finger to save the True Mass, which only can confect the Corpus Christi! So they still are quite happy to jitterbug their way through an invalid and counterfeit Novus Ordo "service," which is shared with Lutherans and Episcopalians.
If a little intimidation of eBay could produce this result, think what would have happened back in 1969 if these people had objected so vociferously to the Counterfeit Mess! The New Order would not have been able to impose its Counterfeit Faith upon good Catholics, and we wouldn't be in the situation we are in now.
---
May 4 - St. Monica - Vigil of the Ascension (Double Feast) - Rogation Day - Lesser Litanies
What Archbishop Lefebvre Said about Card. Ratzinger
From: Cal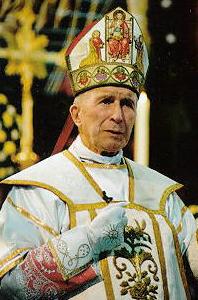 Traditional Archbishop Marcel Lefebvre Preaching; Said to Card. Ratzinger:
"Even if you give us the traditional Mass, we go in two opposite directions."
Dear Fr. Moderator:
It is important to read what Archbishop Lefebvre wrote about Card. Ratzinger, now Benedict XVI, especially in the book They Have Uncrowned Him. He said that the spirit of the cardinal is "a liberalism that leads to the suicide of the Church."
When he met Ratzinger in July 1987, Archbishop Lefebvre told him:
We cannot have any agreement with you. We are working for Christ the King, and you uncrown him. Even if you give us the traditional Mass, we go in two opposite directions. So we cannot have any agreement together.
In April 1994, to the Italian review Il Regno, Ratzinger said:
We must defend Vatican II against Archbishop Lefebvre. It is a duty of the whole Church [of the New Order], and a constant necessity.
Fr. Moderator Replies.
Archbishop Lefebvre was a wise man, quite experienced, as head of one of the largest religious congregations, with the wiles of Newvatican. Would that Archbishop Lefebvre's successors listened to his wise advice and stayed away from even considering "negotiations" with Newchurch.
---
May 3 - Finding of the Holy Cross (Double Feast of the Second Class)- Rogation Day - Lesser Litanies
Novus Ordinarians Plan to Disobey New Pope
From: Fr. Moderator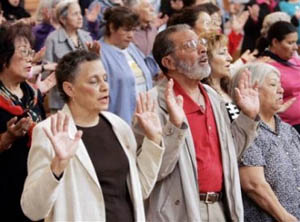 Novus Ordo Charismatics at Los Angeles Newchurch Cathedral
74% of Novus Ordinarians Say that They Will not Obey the Pope
It's a new pope, but an old story with those Novus Ordinarians. They falsely say that traditional Catholics "disobey" the pope for following the 2000-year teachings and practices of the Roman Catholic Church, but the Novus Ordinarians have no intention of obeying the pope themselves. It is just one of those silly Novus Ordo red-herrings. Don't fall for it!
An April 19 Gallup Poll of Novus Ordinarians indicated that they intend to treat the new pope in the same way as they treated the old pope: they will enjoy him as a "personality," but they will pay little, if any, attention to what he teaches. This follows the pattern under the last papacy, in which the mantra was: "We love JPII, but we don't listen to a thing he teaches."
74% of Novus Ordinarians told the Gallup Poll organization that they would not follow the teachings of Pope Benedict on moral issues, but follow their own light. Now do you understand why TRADITIO calls the Novus Ordo Protestant?
God grant us a pope who is hated by the world, but preaches the true Catholic Faith.
---
May 2 - Feast of St. Athanasius, Bishop, Confessor & Doctor (Double Feast) - Rogation Day - Lesser Litanies
Learning Our Lesson about the "Indult" in Boston
From: Jan (Boston Correspondent)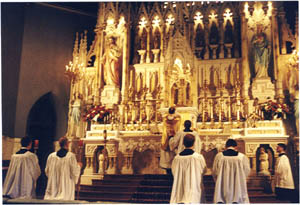 Holy Trinity in Boston
After Vatican II Forced to Settle
For an "Indult"-Novus Ordo Arrangement
Now to Be Closed July 1
We here in Boston have learned the hard lesson of why one cannot trust the diocesan structure to preserve even the mere possibility of celebrating the Traditional Latin Mass under the "indult." The church where the "indult" Mass was held here is being closed by the diocese. So, yet another "indult" Mass is ripped away, as so many of them are by dioceses. Of course, we were tolerating the Novus Ordo service as the price of getting our scrap.
This proves why one has to flee to the CMRI, SSPV, CMRI, SSPX, or an independent chapel to have the Traditional Latin Mass in a clean and sound structure, that is, outside the diocesan structure, where you are not sure about your Mass and where you are forced to co-exist with the Novus Ordo service. These games with the "indult" simply confirm that "independence" has nothing to do with schism, but is merely with a realistic and necessary approach to the present situation. One cannot rely on local Novus Ordo parishes.
---
May 1 - Feast of Sts. Philip & James, Apostles (Double Feast of the Second Class)
Ratzinger under Suspicion by Holy Office
From: Fr. Moderator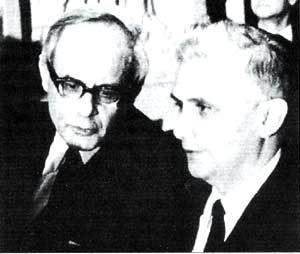 Fr. Karl Rahner (l.), S.J., Who Had Been Silenced for Heresy by Pope John XXIII
With Fr. Joseph Ratzinger (r.), Who Had Been Placed under Suspicion by the Holy Office
Sporting Coat and Tie at the Vatican II Council
The plot thickens. Tradition in Action has revealed that on April 28, 1969, when appointed by Paul VI as a founding member of the International Theological Commission, Informations Catholiques Internationales (n. 336 - May 15, 1969, p. 9) noted that Fr. Ratzinger had been naguère suspecté par Saint- Office [previously suspected by the Holy Office (of heresy)]. The Holy Office was the traditional predecessor of what later came to be called the Congregation for the Doctrine of the Faith, of which Ratzinger, having been created a cardinal in 1977 by Paul VI, became the Cardinal-Prefect in 1981.
Informations Catholiques Internationales also noted four other members of that commission who had been publicly suspected of heresy: Fr. Yves Congar O.P. (condemned by Pius XII); Fr. Henri de Lubac, O.P.; Fr. Karl Rahner, S.J. (silenced by John XXIII); and Fr. Hans Urs von Balthasar, S.J.; all of whom played a pivotal role in hijacking Vatican II to Modernism, as Ralph Wiltgen discusses in one of the best analyses of the Council, The Rhine Flows into the Tiber. Ratzinger was unquestionably an associate of this quartet, having proposed at the Council the infamous formula, "The Church of Christ subsists in the Catholic Church," to please the Northern European Protestants.
---

Return to Commentaries from the Mailbox.