January 2006
For answers to many questions, consult the Official Traditional Catholic Directory, Listing All Traditional Latin Masses and Traditional Resources for the United States and Canada (11th Annual Edition - 2006). To order the full 147-page paperback edition, click on the button below: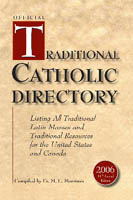 Buy the 2006 Traditional Directory.
For information about the protocol for sending messages to the Fathers, see Ask the Fathers.
| | |
| --- | --- |
| | If you wish to support the work of TRADITIO, click on the box to the left to made a donation easily, securely, and confidentially by bank account or credit card through PayPal. Regular contributors become Benefactors of TRADITIO, and their intentions are specially commemorated at Traditional Latin Masses offered. Indicate in the Message section of your payment "For TRADITIO." For other methods, see FAQ01: How Do I Help to Offset Expenses? |
---
January 31 - St. John Bosco, Confessor
Double Feast
A Great Catholic Composer's 250th Anniversary
From: The Fathers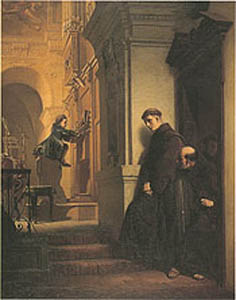 The Young Mozart (1756-1792)
At the Organ of the Franciscan Church in Ybbs
From an Oil Painting by Heinrich Lossow, 1864
Mozart Was just One of Many Polyphonic Composers
Who Were Inspired by the Roman Catholic Church
Before Vatican II Destroyed Serious Church Music
The Church's own proper music is, of course, the Gregorian chant. However, the Roman Catholic Faith has been an inspiration to polyphonic composers as well. In fact, up to Vatican II there was hardly any major composer who had not written a Mass, a Requiem, a Te Deum, or some other significant Roman liturgical work, usually more than one. And usually the most significant work of a composer was his religious work. One has only to think of Giovanni Palestrina's Missa Papae Marcelli, Johann Sebastian Bach's High Mass in B Minor, Beethoven's Missa Solemnis, Josef Haydn's Lord Nelson Mass, Hector Berlioz' Requiem, or Ralph Vaughan Williams' Mass in G Minor.
On January 27, 2006, we celebrated the 250th anniversary of another great Catholic composer, Wolfgang Amadeus Mozart. His output of Church music, mainly for the Archbishop of Vienna, was copious. He wrote 17 Masses, one Requiem Mass, two Litanies, two Vespers, two sublime Motets: Ave verum corpus and Exsultate, iubilate, five separate Kyries, and 18 short sacred works.
One can well imagine how the cathedral of Vienna resounded with this glorious music, elevating the souls of those present at Mass or Vespers to spiritual sublimity. It is all the more pathetic that all the New Order after Vatican II seems to be able to offer is the insipid campfire ditty Kumbaya. Anyone calling the New Order Church the Catholic Church, let alone the Roman Catholic Church, truly has to be deaf, dumb, and blind!
---
Embezzlement -- The Hidden Side of Newchurch's Great Sex & Embezzlement Scandal
From: The Fathers
We should not forget that although the sex is the tip of the Newchurch Great Sex & Embezzlement Scandal iceburg, there is a lot of embezzlement going on too, which has generally been ignored by Newchurch. For example, the Seattle Post Intelligencer reported some months ago on the details of twelve cases of Newchurch embezzlement and said that it didn't have the staff to research in detail almost 100 more similar cases. This leads to the question that all Novus Ordinarians must ask themselves: "Do you know where your donations to Newchurch are going?"
The New York Daily News has reported that a Newchurch presbyter accused of filching church funds to support an extravagant lifestyle may have stolen almost twice as much as originally believed, according to a lawsuit filed in Manhattan Supreme Court. The suit claims that Msgr. John Woolsey, the former pastor of Church of St. John the Martyr on the upper East Side, stole $1,300,000 from church coffers -- $500,000 more than prosecutors charged him with in 2005.
---
SSPX Going Sour
From: Francois (SSPX Correspondent Reporting from France)
Dear Fathers:
I cannot but confirm the bad news that some of us lay members of the SSPX have already been reporting. Back in Europe, and especially in France, the immediate future of the SSPX looks pretty gloomy. Some SSPX priests have created a web site, the main purpose of which is to counter all those inside the SSPX who are too vocal in their dissatisfaction with the Society's present policy. You should see the violent and vicious attacks laid against "whistleblowers" among the SSPX membership, who are denouncing the indisputable Schmidberger-driven schmoozing with Newrome!
One ploy is falsely to call all their opponents "sede-vacantists," when these opponents simply want the Roman papacy to live up to its constitution under the dogmatic decree Pastor Bonus of Vatican I. One of these opponents is an SSPX "whistleblower" who happens to be merely a real Catholic and does not want to see SSPX joining the Newrome gravy train. Besides, he recently published a well-documented study about the invalidity of Newchurch bishops' consecrations, the Anglican-like rite of which was signed by no one else than Paul VI, most probably under Bugnini's influence.
And since the SSPX "thinkers" never had the honesty and/or the nerve to reveal it, as they should have done a long time ago, they are attacking their own priest who has denounced this scandal -- instead of denouncing the scandal itself! Now, how's that for courage and brains? It is hard to believe that mean and insulting they are toward one of their own! It is sad to see such things happen within the Society created by Archbishop Lefebvre (who certainly deserved a better celebration of his hundredth birthday), and particularly in his fatherland of France! But it only shows that the "remnant" is climbing Golgotha in its turn. Thank you again for your well-informed web site.
---
"They Have a 'Plant' Here," Says SSPX Priest
From: Fr. X (Priest with SSPX)
Dear Fathers:
I am a priest with the SSPX. They are great actors, and I am sure they have a "plant" here, as every time I speak about what is taking place (going back to Newchurch), I am "refuted" by someone who claims that he has his information from the very top. Everything TRADITIO has told us is right on the mark.
---
OBITUARY. We have been informed that Fr. Gregory Hesse, of Austria, who gave some traditional lectures in the United States, went to his eternal reward at 01:00 on the night of January 25, 2006, the Feastday of the Conversion of St. Paul, from complications of diabetes and high blood pressure. Funeral arrangements are pending with his only living relative, a sister, who lives in the United States. It is currently expected that an independent traditional Catholic priest, who was a friend of Fr. Hesse, will offer the Requiem Mass. For a necrology of traditional priests and religious, see TRADITIO's Prayers for the Living and Deceased department.
---
January 30 - St. Martina, Virgin & Martyr
Semidouble Feast
Newpope's Man Subpoenaed in Sex-crimes Affair -- Again
From: James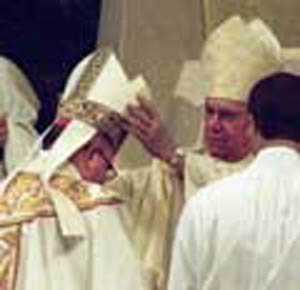 If the Mitre Fits....
William Levada (r.), Benedict-Ratzinger's Sex-crimes Czar
Has Been Subpoenaed Yet Again
This Time the Victim Was Very Close to Home
Of All People, Why Did Newpope Have to Appoint Him?
Dear Fathers:
It seems that Newpope's hand-picked Sex-crimes Czar, William Levada, just can't evade being hauled into court himself. When Levada returned to San Francisco from Newrome under court order, he was hit with a subpoena to appear for yet another deposition in San Francisco in March -- this in the case of a Marin County woman who has sued the Newchurch Archdiocese of San Francisco for sexual abuse by a presbyter during Levada's own tenure as archbishop there.
Levada's appointment by Benedict-Ratzinger as his Sex-crimes Czar is like appointing Enron Chairman Kenneth Lay to be Federal Reserve Chairman or Chief Investigator to the Securities and Exchange Commission! Clearly, Leveda's track record is suspect. Both dioceses he headed are now immersed in sex crimes and financial scandals. Then he escaped to Vatican City to dodge subpoenas to testify. It was only when the courts threatened to revoke his U.S. passport if he failed to appear that Levada condescended to leave the bosom of Benedict. Why would Newpope have been so foolish as to appoint such a person whose own reputation was under such doubt in the courts? Does he have something on Newpope?
---
Newpope's First Encyclical Letter a Dud
From: The Fathers
Those who were expecting Benedict-Ratzinger to be a "conservative" tiger were shocked on January 25, when his first encyclical letter, Deus caritas est, turned out to be a dud. Far from calling the Catholic Church back to its Apostolic doctrine and tradition, Newpope mouthed an uncontroversial meditation on New Order "love."
Associated Press reported that even Newvatican officials expressed surprise at the vapidity of the topic, in view of the fact that Ratzinger was Newchurch's chief doctrinal watchdog and could easily have delved into a more problematic issue such as bioethics in his first letter. No, as TRADITIO pointed out in May 2005 when he was elected, Newpope will be pusillanimous. If you expect him to stand courageously for the true Faith, you are going to be gravely disappointed.
He went down the New Order line even more than that in his encyclical letter, however. The letter precluded Newchurch charities from proselytizing for the Catholic (that is, New Order) Faith. Has Newpope now presumed to overrule Christ, Who commanded his disciples to proselytize, to go forth and baptize all nations in the name of the Father, the Son, and The Holy Ghost? By the time Benedict-Ratzinger gets through with it, Newchurch will have become thoroughly non-denominational!
---
January 29 - Fourth Sunday after Epiphany
Semidouble Sunday
Mel Gibson Funds a Second Independent Traditional Catholic Church
From: The Fathers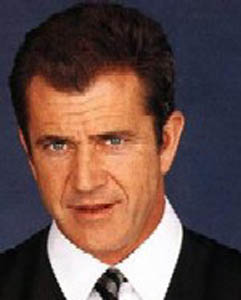 Producer-Director-Star and Outspoken Traditional Catholic Mel Gibson
Gibson and a Number of Other Hollywood Actors
Have Incorporated the World Faith Foundation
Which Is Now Funding Its Second Independent Traditional Catholic Church
Producer-Director-Actor Mel Gibson, who has long declared himself publicly a traditional Catholic against the New Order Faith, built, at a cost of several million dollars, his first independent traditional Catholic church in 2004, the 930 square metre Holy Family Church, constructed in California Mission-style on a 66,000 square-metre plot in Agoura Hills, California, outside of Los Angeles. Now Gibson is funding the construction of a second independent traditional Catholic church, in Lycippus, Pennsylvania, outside of Greensburg.
The Gibsons are independent traditional Catholics. They have consistently eschewed the Society of St. Pius X as going too far toward the New Order. (Current events have certainly proved them right about that!) Hutton Gibson had said that he despises the casual dress and lack of piety of today's mainstream "Catholics." "The Mass of the church has been held for centuries," he said. "Vatican II just didn't translate it into English. They changed the rite." Hutton has now moved to West Virginia from Texas.
The California-based World Faith Foundation purchased the 11-hectare property in Lycippus for $315,000 in September 2005 and is renovating the interior of an existing structure as St. Michael the Archangel Church, with plans to build further. The World Faith Foundation was incorporated on May 2, 2005 by a number of undisclosed Hollywood figures to forward independent traditional Catholicism and other projects.
Stay tuned. Independent traditional Catholicism, which is even more important now that the Fellay-Schmidberger faction of the SSPX seems to be ready to sell out to the New Order, may be on the verge of getting a boost from Gibson's World Faith Foundation.
---
"We Are Getting Closer and Closer to the End of the SSPX"
From: Horace (SSPX European Correspondent)
Dear Fathers:
Some news about the SSPX from here in Europe. Good sources within the Society have informed me that, just as TRADITIO already indicated some time ago, the bribe for Fellay to become a Newchurch cardinal and Schmidberger to become a Newchurch bishop, as a payoff for selling out the SSPX, is to be taken very seriously. In fact, the detailed outline of a plan has just been circulated in France by an SSPX "whistleblower." n other words, it looks like we are getting closer and closer to the end of the SSPX....
---
We Are Resisting!
From: Judy
Dear Fathers:
I attend an SSPX chapel. We are resisting Fellay-Schmidberger. I have spent much time and expense making sure people know what is happening. Many of us SSPXers have complained to each other. Why haven't the SSPX priests said anything from the pulpit? One of us did ask our priest, and he gave no answer. We are being kept in the dark up to about two weeks ago. However, a lady friend of mine called a highly-placed person in the SSPX, and he confirmed everything that TRADITIO has been saying.
I must tell you that some SSPXers are having a hard time believing, but many of us already know where we stand, and it will not be with SSPX if they make their move to unite with Newrome. The "traditional" periodicals are not warning us about the seriousness of this merger or giving us enough information on the goings-on. That is why we are reading and circulating as widely as we can the information from TRADITIO.
The Fathers Reply.
The SSPX priests are not going to speak out because, for the moment, the Fellay-Schmidberger liberalists in the SSPX are in control of the Society, and everybody is afraid to speak out against them. Fellay-Schmidberger are using the same vicious compulsion that the Newchurch they want to join has been using against children who are victims of their presbyters and bishops and against traditional Catholics who stand up to them. Even though the organizations may be different (Newchurch and SSPX), the modus operandi is often scary in its similarity.
---
We Have Got the Jump on the SSPX!
From: Jim
Dear Fathers:
Not all of us in the SSPX are siting still for the Fellay-Schmidberger rapproachment with Newchurch. I have stopped going to my local SSPX site and have started going to a site run by an independent priest. I have also notified the SSPX of my move. Of course, they claim that there is no "split" within the SSPX, which I don't buy. Keep up the good work.
---
January 28 - St. Peter Nolasco, Confessor
Double Feast
A Pro-Abortionist to Be Newchurch's Next Saint?
From: The Fathers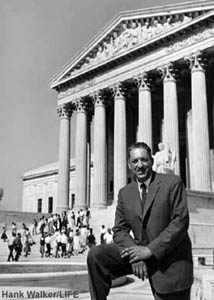 "Saint" Thurgood Marshall Poses in Front of the U.S. Supreme Court Building
Marshall Ruled for Abortion on Demand in Roe v. Wade (1973)
Now He Is Proposed for Sainthood in Newchurch's Sister Church
The Episcopalian Diocese of Washington is to consider a resolution on January 27, recommending that the late Supreme Court Justice Thurgood Marshall be considered a Saint. The diocese of the nation's capital stated: "If the resolution passes, and is approved by consecutive meetings of the Church's national convention, Episcopalian churches will have the opportunity to celebrate May 17 as Marshall's Feast Day." Marshall was regarded to be one of the most liberalist members of that court. In 1973 he joined the majority of the court in approving abortion on demand in Roe v. Wade.
Newchurch carefully watches what its sister Episcopalian Church does, and usually follows it, eventually. Many New Order churches have already de-facto recognized St. Martin Luther King Jr. and erected shrines to him in their temples. Will pro-abortionist Thurgood Marshall eventually join the Newchurch heavenly choirs? Stranger things have happened in Newchurch!
---
Why Was There No Resistance?
From: Rhett
Dear Fathers:
How could it be that when the Novus Ordo Mess was imposed upon the Church, there was so little resistance?
The Fathers Reply.
For two principal reasons. First, the New Order Mess was imposed gradually, so that the people's Catholic Faith was boiled alive, but by an unnoticed gradual rise of the temperature to the lethal point. If the New Mess were immediately implemented on the day after the "last" Traditional Latin Mass was celebrated around the world, there would have been much more of an outcry. Hannibal Bugnini and his Protestant advisors were very clever to implement the invalidating changes gradually. They had learned the historical lesson well from Archbishop Cranmer under Queen Elizabeth I, who used the same strategm to change Catholicism in England to Protestant Anglicanism.
Secondly, the New Mess was imposed under the guise of false authority, and all too many Catholics had been raised to be unquestioningly "obedient" to anything "prelates" told them. Of course, this is an essentially unCatholic attitude, rejected by St. Thomas Aquinas and the Church Fathers, but the unquestioning obedience did not have too many negative practical consequences until New Order tried to wear the mantle of the true Church. One still sees this attitude -- worse -- in the Newchurch prelates. They still demand "obedience," even when it involves the vice of false obedience to a phony, invalid Mess, to false doctrine, and to morals stinking to high heaven.
But is the lack of resistance really so hard to believe? Don't we see exactly the same thing today? The Fellay-Schmidberger liberalist faction of the SSPX is obviously pandering to, and probably about to the sell the Society out to, the New Order, yet where is the outcry? SSPXers, for the most part, sit silent, taking in hook, line, and sinker the propaganda of the SSPX's liberalist faction, who are seeking only their own aggrandizement with the New Order. After all, "we are what we do, not what we say."
If the SSPX topples, aren't the SSPXers going to regret not having spoken out now? Unfortunately, all too many seem to have missed the clear lessons of the Vatican II period. And "those who cannot remember the past are condemned to repeat it" (George Santayana).
---
January 27 - St. John Chrysostom, Bishop, Confessor & Doctor
Double Feast
Complete Friday Abstinence
Polish Bishop Says: "Traditional Brotherhood Is Extending Its Tentacles among Us"
From: The Fathers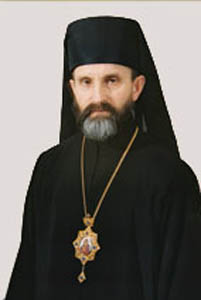 Greek Catholic (Unitate) Bishop Igor Vozniak, of the Ukraine
Staged a Protest March against Traditional Catholics
He Is Afraid as Traditional Catholicism Is Increasingly Finding Support in the Region
The Tablet reports that Polish and Ukrainian bishops are so afraid of the invasion of traditional Catholic churches that they have warned local presbyters in a special communique. "The Lefebvrist brotherhood is extending its tentacles among us and winning over laypeople by trying to open its own chapels," proclaimed Bishop Wiktor Skworc, of Tarnow, Poland. "There is a serious threat of division in the Church."
Skworc said that he plans to discuss the problem with Newvatican officials during the Polish bishops' current ad limina visit to Rome. He is livid about any sellout of Newchurch to the SSPX and is demanding "clarification" of Newvatican's stance following Benedict-Ratzinger's conversation in August 2005 with the Lefebvrist leader, Bernard Fellay. This may be just the beginning of the New Order bishop (rightly) putting the kibosh on Fellay-Schmidberger.
Meanwhile, the newly installed Greek Catholic (Uniate) Archbishop of Lviv in neighboring Ukraine, Igor Vozniak, joined parish groups in Janov on January 21-22 for a prayer march against the SSPX, who have run a seminary and convent in the area, as well as several parishes. Several East European bishops voiced fears in the 1990s that the Traditional Catholic Movement could find support in the region by opposing Novus Ordo reforms and appealing to traditional members of Newchurch.
The Polish Catholic Information Agency (KAI) carried a lengthy and sympathetic assessment of the traditional movement on January 23 to mark the centenary of the birth of Archbishop Marcel Lefebvre. It said that the archbishop had been "one of the most controversial twentieth-century Catholic Church figures" and should be remembered for his "great role" in highlighting "the importance of tradition" in the Church.
In view of the growth of traditional Catholicism around the world, the most puzzling aspect about all of this is that at the very time when the Traditional Catholic Movement is growing by leaps and bounds, Fellay & Schmidberger want to sell out Archbishop Lefebvre's movement and make the SSPX a captive to the New Order in Newrome. Is this perverse or what -- diabolical? It is as if Julius Caesar, having defeated Pompey in the Civil War, laid down his arms as victor and turned himself over to the vanquished general! The East Europeans may not have anything to worry about if the Fellay-Schmidberger faction of the SSPX completes its sellout to Newchurch.
Now is the time to proclaim the traditional Catholic faith around the world. The SSPX should be using every cent of the huge donations it gets from French royalists to proclaim the true Faith around the world. Instead, what does it do? It remains quiet and engages in pointless labyrinthine "negotiations" with the Newchurch that it supposedly calls the enemy of Catholicism, and Fellay is fileted!
TRADITIO has heard from several SSPXers who are so incensed by the notion of an SSPX sellout to Newchurch that they are deleting the SSPX from their wills. A Hollywood actor, Mel Gibson, did more for the Traditional Catholic Movement during the publicity for his traditional film, The Passion of the Christ, than the Fellay-Schmidberger Co. has!
---
Newchurch Has Institutionalized Crime from Newpope on Down
From: Greg
Is the Great Sex & Embezzlement scandal due only to the fact the perpetrators are Novus Ordo? I believe that abuse, money problems, and other scandals pre-date Vatican II.
The Fathers Reply.
Of course sin is not confined to Newchurch. Human nature being what it is, even before the advent of Newchurch there will have been those clerics who fell prey to various sins.
The point that we have tried to emphasize is not so much the individual sins, but the institutionalization of sin by Newchurch. Bishops, cardinals, and even the recent popes have covered up, aided and abetted, and even been accomplices to the crimes -- or been criminals themselves. Two distinguished chairmen of the sex-crimes committee of the U.S. Conference of [Newchurch] Catholic Bishops, one a state governor and former FBI agent, the other an appellate justice of a state court, have publicly called the U.S. bishops a "Mafia," as they have conspired with one another in these crimes. Even the current pope was subpoenaed to testify in a Texas court as an unindicted co-conspirator, as his guilty fingers are all over Newvatican documents that gave Newchurch prelates the green light to cover up and obstruct justice.
This scandal has gone far beyond a few individuals falling to sins of the flesh. We are talking about a wholesale destruction of Catholic moral doctrine and its practice by the institutional structure of Newchurch. That is why now anyone who attends or finances Newchurch makes himself a criminal, as one can hardly plead ignorance any longer of the immorality of Newchurch, and significant amounts of collection money are going for sex-crime payoffs.
In recent weeks, you have heard papal representatives trying to do away with limbo and its associated doctrine of Original Sin. You have heard papal representatives trying to "rehabilitate" Judas, the betrayer of Christ, whom Our Lord Himself condemned. In effect, Newchurch is teaching the world that there is no sin or penalty for sin and that you can deliberately do any crime you please, and God will forgive your unrepentant self -- or at least Newpope will.
It all fits together, when you realize that Newchurch has lost its doctrinal compass, its moral compass, and its sacramental compass. Instead of receiving divine grace from every celebration of the valid, traditional Mass, Newchurch receives divine opprobrium for the performance of the invalid, sacrilegious Novus Ordo service. No wonder Newchurch is "going to the devil," as the expression is.
---
Newchurch Officially Blesses Sex Show
From: The Fathers
No surprise here. Considering how deeply Newchurch clergy have sold their souls to the flesh, why would they not bless sex shows? So now we find that the head Catholic presbyter, Msgr. Isidore Rozychki, will bless a new Hooters restaurant in Waco, Texas. And who's outraged? Not the Novus Ordinarians -- but the Protestants. At least their moral beacon is straight on this one.
The national restaurant chain, named after the fact that the "hooters" of the waitresses are exposed to titillate the clientele. Ruddy Rozycki justifies the blessing as follows: "You bless the building so it will be a safe haven, so that the families that enter will be blessed." So Rozycki considers a sex palace a suitable place for families! Rozycki's reply: "It's a fun place.... It's great food."
In Newchurch, which is supposed to be so oecumenical these days, Rozycki has drawn fire from local religious leaders. About 60 local ministers signed a letter this fall in which they expressed their disapproval of the restaurant. They said they oppose Hooters because it exploits women and bases its marketing campaign on sexual innuendo. But Ruddy Rozycki wants to "reach out and serve the community." (He doesn't explain exactly how exposing children, or even adults for that matter, serves the community.)
We're still waiting for Newchurch bishop Gregory Aymond to issue his papers of termination of Ruddy Rozycki. We expect to be disappointed. Probably Aymond will be personally present at the Hooters opening!
---
January 26 - St. Polycarp, Bishop & Martyr
Double Feast
Terri Schiavo's Sister Accuses Newchurch of Her Sister's Death
From: The Fathers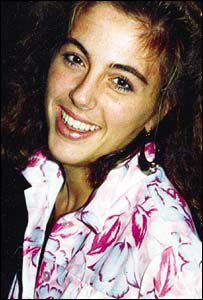 Terri Schiavo, Killed on March 31, 2005, by Court Decree
Terri's Sister Suzanne Now Lays the Killing at the Feet of Newchurch
St. Peterburg's Newchurch Bishop Gave Little, if Any, Support to Save Terri's Life
The sister of Terri Schiavo shocked the attendees at the "Stand up for Life" rally on January 21 at the South Caroline state capitol in Columbia when she laid blame for her sister's death at the feet of the Newchurch clergy. Terri Schiavo was the woman who was ordered to be starved to death by a Florida judge, in spite of a special Act of Congress and a Presidential endorsement. Terri's relatives, with the exception of her adulterous husband (who married his paramour on January 21), all believed that Terri was not in a "vegetative state" and wanted her to be receive food.
Suzanne said that if Newchurch clergy had strenuously denounced what was happening to her sister, "there would have been such an enormous outcry of support from parishioners in our diocese and from Catholics [sic] around the world that my sister could very well be alive today." Newchurch bishop Robert Lynch, of St. Petersburg, made it a point to hide in Rome, unavailable, while Terri and her family were fighting for her life.
---
January 25 - The Conversion of St. Paul
Double Major Feast
Benedict-Ratzinger as Much a Clown as His Predecessor
From: The Fathers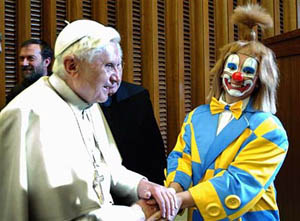 Benedict-Ratzinger with the Poster-Boy of Newchurch
These Post-Conciliar Popes Seem to Love Clowing Around
With the Catholic Mass, Sacraments, Faith, and Morals
What is it about these post-Conciliar popes and clowns? Do they instinctively sense that the post-Conciliar New Order and Newchurch are a joke? JPII sure went for the clowns and performed Clown Messes, or at least Clown Audiences. Now Benedict-Ratzinger in his dottage is playing with clowns! (And they say that he wants to make Newchurch more "traditional" and "dignified." If you believe that, we have a bridge in Brooklyn to sell you!)
Benedict-Ratzinger invited this clown to perform during his weekly General Audience on Wednesday, January 18, 2006. It used to be that the faithful would be grateful to receive the papal blessing and a few words about the Faith. But that was before Vatican II. Now the Novus Ordinarians need entertainment! The clown's appearance was coupled with Newpope's announcement of his first encyclical on -- you got it -- love. You'd think that Newchurch would have had just about as much "love" in the last few years as it could take.
Benedict-Ratzinger's announcement came out at the same time that it was revealed at least 500 females in Ireland are conducting clandestine affairs with Newchurch presbyters. An indication of the extent of fornication within Newchurch was given after it was disclosed that one Presbyter Maurice "Mossy" Dillane, 73, had fathered a child with his 31-year-old "girlfriend." Studies have shown that 80% of Newchurch presbyters in Ireland have engaged in fornication with females on one or more occasions. Yes, Ireland, once one of the most Catholic of countries, has taken a real dive since Vatican II!
---
Schmidberger Holds Smoke-Screen Meeting to Quell Upset SSPXers
From: Joan (SSPX)
Dear Fathers:
Concerning the "conference" that Franz Schmidberger of the SSPX gave last week at Ridgefield, Connecticut, I would like to report to your readers that it was about an hour and a half of smoke screen.
Part I: A History of the First Pope Peter, in which every Scripture possible was read to waste time.
Part II: Are the Conciliar Popes Valid?
Part III: Attack the Sede-vacantists.
Part IV: Archbishop Lefebvre's Statement of 20 Years Ago.
I was not impressed with this propaganda tirade. Of course, TRADITIO was attacked too as a "hater of SSPX." That is, of course, business as usual with Fellay & Schmidberger. Attack the messenger who speaks the truth. I've seen them do this before to anyone who dares to stand up to their nonsense.
The Fathers Reply.
Thanks for the report. It amuses us when the Fellay-Schmidberger Co. attacks TRADITIO (that's probably why our readership counter has been going way up!) for "hating the SSPX" when, to the contrary, we have said many positive things about the Society's good aspects: its saintly Archbishop-Founder, its other three bishops (who somehow get lost in the shuffle of Fellay's self-focus), its press, etc. If these two really knew anything about TRADITIO, they'd see various Society publications recommended here.
What is revealing in your report is that it seems now that if you disagree with the exalted personages of Fellay & Schmidberger, you automatically "hate the SSPX." It seems that Fellay & Schmidberger hold such a high regard for themselves that can't separate their persons from the organization that they are supposed to serve. The SSPX is them -- according to them! No, Bernard & Franz, it is not. The Society founded by Archbishop Lefebvre is a much bigger organization than merely you two, who are so focused on aggrandizement of your own personal positions within Newchurch that you have become blinded to the Big Picture.
Frankly, we think that Fellay & Schmidberger are getting really antsy now at the end of their twelve-year terms (longer than Adolf Hitler had control of Nazi Germany!). That's why there's all the hoopla now about these latter-day meetings with Newrome. Fellay has to move fast if he's going to move at all. Why do you think that Schmidberger flew all the way across the Atlantic to keep the U.S. SSPX troops in line? He and Fellay are afraid that significant numbers of SSPXers are becoming disheartened with the idea of a sellout to Newrome, as they learn more about the details of what is going on.
Messages coming to our mailbox from SSPX members around the world prove this. Moreover, we have been getting reports that the SSPX's District Superiors are getting pressure for them to line up with Fellay and Schmidberger or lose their posts. The Angelus magazine, which used to have a wide variety of edifying articles, has turned, in its last few issues, to a series of "puff" pieces to buoy up the Fellay-Schmidberger faction. (Don't take our word for this. Examine the issues yourselves.)
The latest issue of the Angelus gives full-throated approval of the New Order's new Ordinal, which several traditional theologians, including some from the Society itself, have seriously questioned. In fact, the SSPX shows by its actions that it doesn't believe that the New Ordinal is unquestionably valid. Otherwise, why does the SSPX routinely "re-ordain" Novus Ordo presbyters who try to enter the Society? Why did this lengthy article (which omits some of the stronger points in contra) take up so much space in the latest issue? Because Fellay was asked to help buoy up Benedict-Ratzinger, who is under question as the first Bishop of Rome not consecrated in the unquestionably valid, traditional rite of the Roman Catholic Church. Cardinal Hoyos admitted as much in his latest interview, previously reported on here.
It is clear that more and more SSPXers are turning to TRADITIO, "The Independent Voice of Traditional Roman Catholicism," to read unadulterated analysis of what is going on. Where else are they going to get independent, knowledgeable analysis free of the organizational propaganda that the Fellay & Schmidberger Co. dish out to their rank and file? Just one example of the kind of messages we are receiving from SSPXers that are not buying the Fellay-Schmidberger propaganda:
I attend Mass at an SSPX chapel. In yesterday's parish bulletin, the chapel's priest attacked TRADITIO. I completely disagree with my dear priest. It is too bad that some in the SSPX want to be "Fellay-olators" in the same way the "conservative" Novus Ordinarians want to be "papolaters." I thank TRADITIO for being the #1 voice and source of information for Traditional Catholics. Please keep fighting the good fight. Thank you.
It seems that TRADITIO's analysis has hit a little too close to home, eh? Otherwise, why would Fellay & Schmidberger be so terrified of the hard-hitting analysis of TRADITIO spreading among their people? They would just shrug it off. Too bad Fellay & Schmidberger don't have the same fear of the New Order and the Newvatican! You notice that they aren't really denying the essence of TRADITIO's independent analysis, based on our sources inside Newrome, inside the SSPX, and around the United States and the world, just resorting to their typical ploy of personally badmouthing anyone who doesn't tow their line. They have a long-standing reputation for this kind of thing.
Dissatisfaction in the ranks of SSPX clergy because of this autocratic approach led to the split in the mid-1980s between the SSPX and the SSPV, in which the SSPX lost many of its best priests. That dissatisfaction continues. Some place as high as 20% the number of SSPX priests worldwide leaving the Society because of it. We have been receiving numerous communications to the effect that the Society has been consistently turning down pleas for assistance from traditional communities; it just can't keep enough clergy. With a different type of leadership, more like that which the Archbishop supplied, clergy dissatisfaction wouldn't be such a problem.
The more Fellay & Schmidberger attack TRADITIO's independent reporting, the more the SSPXers catch on to the fact that the Fellay-Schmidberger faction of the SSPX is merely trying to hide its personal ambitions for cushy positions in Newchurch, and the higher the TRADITIO readership grows. Remember, TRADITIO is read by far more readers than the SSPX site itself! Thank you, Bernard & Franz, for your support of TRADITIO and helping our analysis spread further among the SSPX and the traditional Catholic community at large. With your wonderful diplomatic skills, no wonder Newrome leads you around by the nose!
---
Why Did the SSPV Split from the SSPX?
From: Dave (SSPX)
Dear Fathers:
I thank God for the SSPX Mass here. I'm also grateful for TRADITIO's news and analysis. I've never heard anything negative about TRADITIO from my SSPX priest or anyone else. Learning about these recent events inspires much curiosity about the cause of the exodus of priests who created Society of St. Pius V (SSPV) -- when and why? I also wonder why SSPX uses the "Indult" 1962 Missal instead of a more traditional version.
It's clear that the True Faith is gone in Rome. I recall reading a prophecy, years ago, that this, or the next, pope would be the last. It's questionable whether the pope is valid.
The Fathers Reply.
As we have said before, there are many fine priests in the SSPX, who stand fast with TRADITIO and object strenuously to any sellout by the Society to Newrome. Unfortunately, these are the very priests who suffer most under the Fellay-Schmidberger regime. Remember that Fellay & Schmidberger and their faction are only a part of the Society, which happens to be in organizational control on the basis of an election that was conducted twelve years ago. They do not speak for the whole Society, probably not even for its majority, although for purposes of their negotiations with Newrome they want to make it seem that way. Much less do they represent the larger percentage of the Catholic Traditional Movement, which includes the independent priests, the Society of St. Pius V, the Congregation of Mary Immaculate Queen, and several other smaller traditional groups.
Although personalities had some role in the SSPX-SSPV split, basically, the traditional priests who eventually formed the SSPV were apparently dissatisfied with the more "liberalizing" slant that the Society was undergoing at the time (the mid 1980s). The SSPV, since its foundation in the mid 1980s, has remained staunchly traditional, has not made overtures to Newchurch, and celebrates the more traditional form of the Mass and Divine Office, before even the liberalizations of 1951, 1956, 1960, and 1962.
Why did the SSPX adopt the 1962 Mass instead of a more traditional form? Since Tres abhinc annos in 1984, the 1962 Missal had become the standard for the "indult," so the Society fell in line with that standard. However, Archbishop Lefebvre expressed grave reservations about that Missal. He insisted that his priests not remove the Confiteor before the distribution of Holy Communion to the people because he believed that that omission undercut the doctrinal nature of the distinction between priest and people in the Holy Sacrifice. He also objected to the changes in the most ancient rites of the Church, namely, those of Holy Week, which were engineered under Hannibal Bugnini in 1956, without Pope Pius XII's approval in forma specifica.
It is our belief that were Archbishop Lefebvre alive today, seeing the corruptions that have entered into the "Indult" Mass since 1988, he would have returned to an earlier, more traditional form of the Mass and rubrics.
---
January 24 - St. Timothy, Bishop & Martyr
Double Feast
Newvatican Official Plays an Old Vatican II Trick
From: The Fathers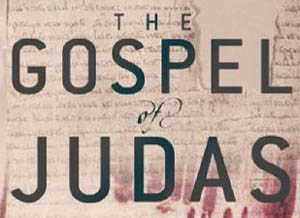 The Gnostic Pseudo-Gospel of Judas
Pontifical Committee Head Now Disavows His "Rehabilitation" of Judas
Such "Trial Balloons" Are Standard Post-Conciliar Modus Operandi
You remember the recent news reports that the head of Benedict-Ratzinger's Pontifical Committee of Historical Sciences is now telling Novus Ordinarians to look kindly on Judas, as he was just "fulfilling his part in God's plan" and that this Walter Brandmueller was supported by Vittorio Messori, a prominent Catholic writer close to both Benedict-Ratzinger and JPII. These statements were made at a public meeting and were carried prominently by representatives of the Italian press. Now, because of the worldwide backlash, Brandmueller claims: "I didn't do it." Too little, too late, Mr. Brandmueller!
This is a very common technique that we Fathers who have been observing Newchurch since Vatican II have many times seen as a New Order modus operandi: first float a plank of the New Theology as a trial balloon to gauge public reaction. Then, if it doesn't go over, claim that you never said it! The jettisoning of the universally-accepted teaching on Limbo did not get such a counter-reaction, probably because most laypeople don't understand the Church's teaching on Limbo and its theological consequences. But they sure know who Judas was!
A similar technique was used with the issuance of the First Edition of the Vatican II Catechism. Newvatican gauged public reaction to the doctrines contained in it, and when public reaction was gauged, some of the doctrines were rewritten in the Second Edition, such as the one on capital punishment.
The whole situation is reminiscent of that Newchurch "indult" puppet bishop Fernando Rifan, of Campos, Brazil, who claimed that he was "traditional," then publicly concelebrated a Novus Ordo Mess with other Newchurch bishops. When the traditional Catholics of Campos and the world objected, Rifan denied that he had performed the Mess. But television cameras were there, so that lie was easily disproven. Then he confessed to grave sacrilege, when he said that he held up his arms, but had no internal intention to perform the Mess.
The final stage of this post-Conciliar modus operandi is yet to be played out. That is when, after public attention has turned elsewhere, perhaps in months or years, the original, disavowed statement will be announced as official.
---
How to Resist a Pope
From: The Fathers
A recent article from Rome's Chiesa confirms how the Novus Ordinarians give lip-service to the pope, but actually use deceit to disobey him. Traditional Catholics, on the contrary, publicly refuse false obedience the pope in his unCatholic commands. They give the Catholic rationale, as is their duty in Catholic theology, as the Catholic Church teaches that a pope must not be obeyed when he commands something contrary to the Faith. For that is not the virtue of obedience, but the sin of servility.
The article describes resistance to the pope as "tenacious and widespread" in the New Order and details three common ways that Novus Ordinarians disobey the pope without being courageous enough to do so publicly:
By Quietly Ignoring Papal Statements. When the pope recently told the Neocatechumenals not to use a square dinner table with a table cloth, not to eat the Novus Ordo cookie and drink the Novus Ordo grape juice in a seated position, and not to have "homilies" given by laypersons, the Neocatechumenals asserted that that they would be perfectly obedient, but their leaders quietly passed the word to their 20,000 communities to ignore the pope and continue as before.


By Calling the Pope Illegimate. Although any cardinal who violates the secrecy of the papal conclave is subject to excommunication, several cardinals have spoken out to show that the election of Ratzinger on April 19, 2005, was "not at all equitable, that it was in doubt until the very end, that it was unduly favored by the fact that he was the dean of the College of Cardinals, that he is in the pocket of Opus Dei, that the time is ripe for a new pope, preferably a Latin American, and that, in short, Benedict XVI should submit himself to these inherent limitations." Thus, the Novus Ordinarians can disobey Benedict-Ratzinger as illegitimate.


By Thwarting the Dissemination of Papal Documents. In many cases, authentic Latin versions are not published on the Newvatican's web site. Often, Italian versions there remain untranslated for weeks and even months. Benedict-Ratzinger has expressed his displeasure at the tardiness -- and with the inaccuracy of the translations when finally issued. In fact, he has personally tried to correct the translations!
So, traditional Catholics, don't let the Novus Ordinarians call you disobedient. For you explain to the world why you, as true Catholics, in fact obey the Catholic Church of 2000 years and resist any novelties of Newpope. You are not, like the Novus Ordinarians, saying "I obey" with your lips, and "I disobey" with your hands.
---
January 23 - St. Raymund of Pennafort, Confessor
Semidouble Feast
Rainbow Newchurch U.S. Bishops Obstructed Newvatican Document
From: The Fathers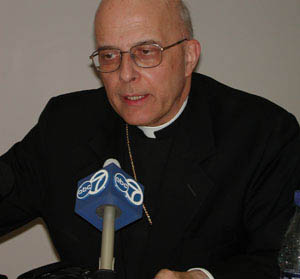 Francis Cardinal George, of Chicago
Has Admitted that the Rainbow Newchurch Bishops of the United States
Attempted to Get Newvatican to Forestall Its Instruction against "Gay" Seminarians
Newvatican Did in Fact Water the Document Down
After being regaled in the last several years with the Great Sex & Embezzlement Scandal that still grips Newchurch, including the criminal cover-up of crimes and obstruction of justice by bishops all the way up to the Bishop of Rome, the revelation should be no surprise that the U.S. Newchurch bishops tried to get Benedict-Ratzinger to forestall the Instruction Concering the Criteria for the Discernment of Vocations with Regard to Persons with Homosexual Tendencies in View of Their Admission to the Seminary and Holy Orders.
The Chicago Sun Times has revealed, from an interview with Francis Cardinal George, that last year Newchurch bishops visiting with Newpope asked the Vatican to delay the document on homosexuality and the priesthood, which was supposed to reinforce the traditional Catholic teaching barring men "who practice homosexuality, present deep-seated homosexual tendencies, or support the so-called 'gay culture'" from becoming priests.
George admitted that the U.S. Newchurch bishops were afraid of "homosexual activists" and feared that the document would ignite the "sensitivities of homosexual activists." In fact, many Newchurch bishops such as William Levada, formerly of San Francisco, now Sex-crimes Czar at Newvatican, have records of pandering to "gay" threats. Levada allowed the "gay" rainbow flag to fly from the archdiocesan flagpole during "Gay" Pride Week. The new archbishop of San Francisco, George Niederauer, was appointed by Benedict-Ratzinger specifically because of his reputation for running a "gay friendly" parish in Los Angeles and then a "gay-friendly" diocese in Salt Lake City. On the other coast, Boston's Newchurch Archbishop Sean O'Malley has directed his Novus Ordinarians there to stop opposing civil "gay marriage" because such talk "offends our 'gay' Catholics"!
Newpope did give in to the homosexual threats. The eventual document was, in fact, quite watered down from what was expected and was criticized even by "conservative" Novus Ordinarians.
---
January 22 - Third Sunday after Epiphany
Semidouble Sunday
Novus Ordinarians Revolt against Their Bishops;
Newchurch Can No Longer Count on False Obedience
From: The Fathers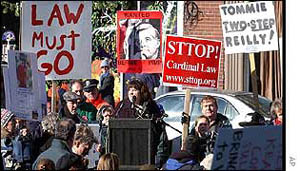 Novus Ordo Bostonians Tell JPII Off
"Get Rid of Cardinal Law" -- And He Did
Novus Ordinarians Are Increasingly Standing Up to Their Newchurch Bishops
If only Traditional Catholics Had Done the Same
They Wouldn't Have to Lament the Current State of the Church
Ever since Vatican II, traditional Catholics have been told that they must accept Vatican II out of "obedience." As St. Thomas Aquinas, the Church's Principal Theologian, says that the argument from obedience is the weakest. But what can Newchurch officials do? They've got the Bible against them; they've got Tradition against them; they've got the Fathers and Doctors of the Church against them; they've got 260 popes and 20 councils against them. All they can do is resort to the argument of false obedience, which is known in Catholic moral theology as "servility." But it seems that traditional Catholics are not the only ones now to reject the "false obedience" argument. Increasingly, the Novus Ordinarians are telling their own Newchurch bishops just where to go!
A cadre of longtime members of a Newchurch parish is standing up to Theodore McCarrick, Cardinal of Washington, D.C. The Newchurch pastor confronts the demonstrators, saying, "Shame, shame, shame. You were told to cease and desist." "So, everything the bishop says is right?" a demonstrator retorts. "Yes," the pastor says. "That's what happens in the Catholic Church.... It's not a Baptist church. You obey the [presbyter] and the bishop." "I don't think so," a demonstrator says, turning away to hand out another flier. "I'm supposed to sit down and shut up like a child?" he asked. "They think it's their way or the highway, but it's not going to happen like that. We're grown people."
The demonstrators call the pastor "disrespectful, insulting, and profane" and says that he covers up unjust activity. It's an old story now. They want to regain control of what they view as their church -- they say that their ancestors built it, and generations since have maintained it, tithed to it, and sent their children to its school. Says the diocesan spokesman: "Their parents and forefathers built the church, but you can't live by those regulations anymore. They don't want to live by the laws that govern us now. This is an archdiocese church. This is not their church." That sounds like an open invitation from Newchurch for the Novus Ordinarians to leave "with ecclesiastical permission"!
This is the autocracy of Newchurch bishops, who have set themselves so high that they themselves won't even obey the pope any longer, but they expect the Novus Ordinarians to obey them! This pastor, with the support of the cardinal, is dishing out to these Novus Ordo demonstrators exactly what they have been doing to traditional Catholics for four decades. 17 members of the parish have been "suspended." Yet the liberalist voices with their savage "liturgies," false doctrine and morals, and all the rest, continue on untouched by Newchurch.
Yet this handful of demonstrators has thrown this Newchurch parish into chaos. Out of 1500 registered members, only 500 even bother to go to the church now on Sundays. Traditional Catholics should be learning from this. If we had stood up to these Newchurch officials boldly instead of playing the "false obedience" game that "indult" groups, conservative Novus Ordinarians, and even the Fellay-Schmidberger faction of the SSPX play, just think what a few of us could have done. Yet now we have the spectacle of the Superior General of the largest traditional organization going on bended knee to Newpope, saying, like Oliver Twist, suffering from slow starvation in the workhouse, "Please, sir, I want some more."
The subject of the controversy is not as important as the reaction of parishioners. The Novus Ordinarians are getting sick and tired of the attitude of their bishops and pastors who, far from the "lovey-dovey" standard they expect since Vatican II, have grown more autocratic and dictatorial. In Boston, they are fighting against the pope's puppet bishop, Sean O'Malley, and demanding recompense and reversal of rampant sex-crimes. In St. Louis, the congregation endured a phony Newchurch "excommunication" to keep their historic church and its $10,000,000 in assets away from their Newchurch bishop Raymond "Bully" Burke. In Texas, they subpoenaed the pope as an undicted co-conspirator in sex crimes. In Portland, Oregon, and Spokane, Washington, they are fighting to keep every candlestick. And, if they stick with it, they just might get them!
---
Fellay Is "Convinced" of an Early Sellout of the SSPX
From: The Fathers
For those of you who don't speak French, Reuters and Agence France Press have confirmed what TRADITIO has been telling you from the beginning: Fellay is publicly committed to selling out the Society of St. Pius X to the New Order. On January 13 in Paris, the SSPX's Bernard Fellay spoke at Radio-France to the Association of Religious Information Journalists of France.
In this interview Fellay admitted that he is:
"convinced" that he will be able to engineer a sellout of the SSPX to Newchurch under the reign of Benedict-Ratzinger
eyeing a Campos-like status, in which the SSPX would be subservient to the local Newchurch bishop, as in Campos, where the SSPX-consecrated bishop violated his pledge to be "exclusively traditional" and instead joined in the public concelebration of the New Mess to demonstrate his affiliation to the New Order
A propaganda meeting was scheduled for the following weekend on the East Coast of the United States at which Franz Schmidberger, who seems to be the puppeteer of Fellay in the affair of the sellout, was to deliver to the Fellay faction of the SSPX a carefully-rehearsed propaganda session in favor of the sellout to the New Order, at which only written questions in advance would be taken. These propaganda sessions are never in the form of a dialogue. Schmidberger or his alter ego Fellay simply tell the SSPXers what they are to believe. Fellay or Schmidberger regularly travel now to the East Coast to whip their faction into obedience, so that their partisans won't give in to their thirty-year instincts and reject the sellout.
The Fellay-Schmidberger Co. is not interested at all in what their organization's supporters want. They have their own personal agenda: Fellay for self-recognition and Schmidberger for the Novus Ordo purple. Their whole attitude is: "To Hell with the Society as long as we get what we want." You SSPXers out there had better get ready to welcome the New Mess to your SSPX church sooner than they imagine. That's what happened to Campos in little more than a year!
Better yet, get control of your church now so that you will not be straight-jacketed to go along with the sellout. Either their or get your parachute ready to go elsewhere. It looks as if New Rome were pushing the sellout perhaps because Fellay will be out of office this June. Is Newrome afraid that the new Superior General might not be the patsy to the New Order that Fellay is?
We previously reported that Newchurch is trying to "rehabilitate" the Betrayer of Christ, Judas Iscariot. On the contrary, the Archbishop from heaven must be anathematizing the Fellay-Schmidberger Co. for betraying him and the Society he suffered so much to keep from the New Order, Newrome, and Newpopes.
---
January 21 - St. Agnes, Virgin & Martyr
Double Feast
Benedict-Ratzinger Loses Control of Newchurch as His Cardinal Recommends Divorce
From: The Fathers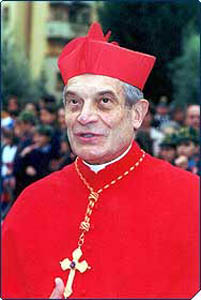 "Break the Bonds of Matrimony Asunder"
Says Newpope's Top Jurist Cardinal Pompedda
As Benedict-Ratzinger Fails to Defend the Catholic Sacrament of Matrimony
All four Gospels quote Our Lord Jesus Christ in no uncertain terms: "Whosoever shall put away his wife and marry another committeth adultery against her" (Mark 10:11/DRV). And we all know what the penalty for adultery was in Our Lord's time!
Now we have the spectacle of the supposedly Catholic pope standing by silently when one of his own top cardinals opined to the Italian periodical La Stampa that Catholics who divorce and remarry despite an earlier valid union are not excommunicated. He argued that "the principle of the indissolubility of marriage does not prevent us [Newchurch] from regarding divorce as licit."
Maria Francesco Cardinal Pompedda, until his retirement in May 2004 at the age of 75, was Newvatican's top judicial official, as prefect of the supreme tribunal of the Apostolic Signatura. Does this guy live on Mars? Or does he think that his opinion trumps Our Lord's own doctrine? Does the hybris of Newchurch know no bounds?
As late as October 2005, Newvatican had been upholding Our Lord's doctrine that a valid marriage can never be set aside and that a second union is therefore adulterous, so that the Catholic Church has always barred such persons from the Sacraments. But now Benedict-Ratzinger's Newrome has done away with Original Sin and Limbo. His Newrome has done away with Actual Sin and Judas' Betrayal. Now his Newrome is advocating divorce.
O you Novus Ordinarians, you may as well find your pew at your local Methodist or Episcopalian church. You're certainly no more "Catholic" than they are now.
---
Buffalo Contretemps Shows Flaw in SSPX "Parallel Church" Notion
From: The Fathers
With Novus Ordo churches closing right and left, you'd think that the Newchurch bishops would be happy to accept any offer of help. But, they don't, at least not when it comes from indultarians who want the Modernized Mass of 1962.
The Buffalo News reports that indultarians have offered to support St. Anthony Church, which is slated to close in the next year or two. Nor is this an entirely "indult" church. St. Anthony's offers the New Mess in vulgar tongues as well (Italian and English) and offers that phony Vatican II Jewish Mess on Saturday afternoon too.
Even though the offer would allow the Newchurch diocese to save at least one of its many architecturally significant churches and stave off criticism from city officials and residents who worry that several big empty church buildings will be left behind in a diocesan downsizing, Newchurch bishop Edward Kmiec and his chancery don't want to talk about it. And the reason for the rejection speaks volumes about why any "reconciliation" of the Fellayite faction of the SSPX with Newchurch will never work.
Newchurch bishop Kmiec, as well as Newchurch clergy and "liturgists," are not happy with even one "Indult" Mass. Why? They are afraid that a "parallel church" will develop if a building is set aside for the "Indult" Mass. Indultarians forget that the so-called Ecclesia Dei indult of 1988 was never popular in Newchurch. And Kmiec has a history too. As Newchurch bishop of Nashville, traditional Catholics begged him for almost ten years to get the "Indult" Mass, but Kmiec was adamant that there would be no traditional Masses in his diocese. He threatened many of the traditional Catholics in the diocese for even suggesting it! He's just taking the same attitude now in Buffalo.
JPII issued the letter (it wasn't even an Encyclical, Apostolic Constitution, or Motu Proprio) only to butt heads with Archbishop Lefebvre and the SSPX. Even now in the United States, almost two-thirds of the Newchurch bishops have not "permitted" even one regular "Indult" Mass. One President of the Ecclesia Dei Commission said that the pope's directive to him was to shut down the commission. Objections to the "Indult" Mass were raised at the October Synod of Bishops at Rome.
Another reason why Newchurch doesn't want any "Indult" Masses is that it knows full well that, even if few Indultarians vocalize it publicly, they dismiss the validity of the New Mess. Many Novus Ordinarians view proponents of the Traditional Latin Mass as being "anti-oecumenical obstructionists of an evolving church." And the Novus Ordinarians worry that the slightest "approval" of traditional Catholics could be construed as a hit against the controversial Second Vatican Council that ushered in many unCatholic changes.
Members of an organization of Indultarians known as Una Voce, a sellout group to the New Order, say that they don't reject the modern church. Rather, they have swallowed hook, line, and sinker the New Order. "I think we all believe the same thing. We just express it differently," said Albert Huntz, president of the local chapter of Una Voce. In the 1960s Una Voce stood for the Traditional Latin Mass. Now it accepts the New Theology, the New Mess and Sacraments, and the New Morality of the New Order. They just want it covered up in a little Latin. Even the late International President of Una Voce said that he was sick to his stomach at how Newrome had deceived him by posing as "traditional friend," but in reality doing everything it could against traditional Catholicism.
The problem of a creating a "parallel church" even in one parish is so frightening to Newchurch that it is hard to imagine how any practical deal could be worked out in a Fellayite SSPX sellout. The Newchurch bishops, who now tell Newpope what to do (Benedict says that he will do nothing on his own authority without the "collegial" approval of the Newchurch bishops) will never tolerate the undercutting of their total autocratic rule in their own dioceses.
Remember that even in the Campos, Brazil, sellout, Newchurch immediately imposed upon the priests' organization there a different name, the Fraternity of St. John Vianney. If the Fellay faction of the SSPX sells out, almost certainly it will be forced to change its name, as Newchurch hates the name "Society of St. Pius X." Perhaps Newrome, in anti-traditional irony, would force Fellay-Schmidberger's faction to become the "Society of St. John Paul II." In Campos, after the name change, Newchurch forced out the traditional bishop Rangel, who was ordained by SSPX bishops, and replaced him with its own Newchurch-friendly puppet bishop Rifan. Later it forced Rifan to say the New Mess publicly with the other Newchurch bishops of Campos.
Will Fellay, Schmidberger, and their faction in the SSPX be as ignorant as Nebucodonnosor, who failed to see the handwriting on the wall? A Campos II won't work. How do we know? Because Campos I has become no better than New Order.
---
January 20 - Sts. Fabian, Pope & Sebastian, Martyrs
Double Feast
Complete Friday Abstinence
Benedict-Ratzinger Spurns Catholic Confession for Protestantized "Reconciliation Service"
From: The Fathers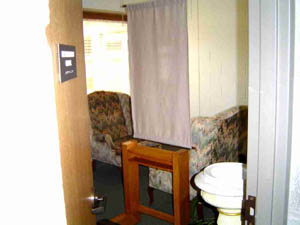 Novus Ordo Protestantized "Reconciliation Room" Complete with Commode
Newchurch No Longer Has a Sacrament of Penance
Just the Spurious "Reconciliation Service"
Novus Ordinarians Don't Bother with the Charade Anyway;
Newchurch Says that with Sin Passe, They're Already Saints!
We often talk about the invalidity of the New Mess here, but there is significant question about the other Novus Ordo "sacraments" as well. Foremost among the doubted is Confession, or Penance, which the Novus Ordo has converted to a Protestantized "Reconciliation Service."
This Tuesday in Holy Week, April 11, 2006, for the first time ever, a Conciliar pope will officiate at the Novus Ordo Protestantized "Liturgy of Reconciliation" without likely even bothering to go into the "reconciliation room." In the Novus Ordo, the spurious "sacrament of reconciliation" is so ignored that no "extraordinary ministers of reconciliation" have ever been appointed. Why not? Because Newchurch doesn't believe in sin!
As TRADITIO has discussed in recent Commentaries, Newpope's underlings first did away with Original Sin and Limbo, then did away with Actual Sin and Judas' Betrayal. It may be that even Newpope will get no takers for what amounts to yet another Novus Ordo counterfeit.
---
January 19 - St. Marius & Companions, Martyrs
Simple Feast
Ecclesia Dei's Hoyos Rules in Favor of Corrupt Bishop in Boston;
Bostonians Are Raped Yet Again; "Indult" Church Is Closed
From: The Fathers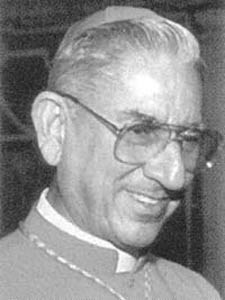 Cardinal Hoyos of the Ecclesia Dei Commission
Gets the Last Laugh against Bostonian "Indultarians"
He Shuts down Ten Churches in the Name of Benedict-Ratzinger
Including the Only "Indult" Mass in the Boston Area
Traditional Catholics may be unaware that Dario Cardinal Castrillon-Hoyos, who moonlights as the President of the Ecclesia Dei Commission, has a day job, as Cardinal Prefect of the Congregation for the Clergy. This is the Newchurch congregation charged with oversight of parishes around the world. Hoyos, in the name of his superior Benedict-Ratzinger, has just rejected all ten pending appeals lodged against their corrupt archbishop, Sean O'Malley, by neighborhood parishes in the Boston area.
According to the Boston Globe Hoyos and Benedict have thus dealt a significant blow to the efforts of hundreds of Novus Ordinarians who have been fighting battles to reopen some of their closed churches. They should have known better; the fix was in. After all, it was JPII who hand-picked O'Malley to restore order to the archdiocese plagued by sex crimes and the resultant payoffs for them. O'Malley himself even ran afoul of Newvatican when it was discovered that he was playing fast and loose with the monies of the closed parishes, for which he received a mere slap on the wrist from Newvatican.
But the Novus Ordo parishioners, several hundred of whom have protested the closings by occupying six of the churches around the clock for more than a year, professed surprise and disappointment. Perhaps now they will realize that their crusade is not just against O'Malley, but ultimately against Benedict-Ratzinger, who is personally so involved in the sex-crimes scandal that he had to pull strings with U.S. President George Bush to remove him from a Texas lawsuit on grounds of "diplomatic immunity," when it was charged that Newpope had personally participated in a criminal cover-up.
O'Malley has already closed 54 churches, and archdiocesan officials say that they intend to close another dozen. The Novus Ordinarians are livid at the injustice. When O'Malley closed Star of the Sea in Quincy, the parishioners threated to hire a defrocked married presbyter to perform the New Mess for them. Faced with this threat, O'Malley reopened the Star of the Sea building as a "chapel." However, what O'Malley gives with one hand, he takes away with the other. He gave the parishioners an undesirable Mess time and barred them from having baptisms, weddings, or funerals. Too bad these Novus Ordinarians didn't go Catholic and hire a traditional priest. There are several of them available to be placed at traditional sites. For further information, see TRADITIO's Traditional Priests Wanted and Available department.
Peter Borre, co-chairman of the Council of Parishes, an organization representing parishioners resisting the parish closings, said that O'Malley is violating church law, which "forbids the closing of viable parishes and requires that closed parish assets go to the receiving parishes, not to the archdiocese." But there is the rub. O'Malley does not want to use the ill-gotten funds for the parishes. He needs the money to provide payoffs for sex crimes.
The Bostonian Novus Ordinarians must feel that O'Malley, Benedict, and Newchurch are just going on with business as usual, raping their own people again and again and again....
---
January 18 - St. Peter's Chair at Rome
Double Major Feast
Is the Pope Beginning to Lose It?
From: The Fathers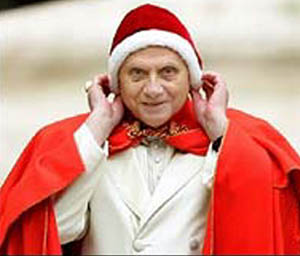 Benedict-Ratzinger in His Controversial "Santa Hat" and White Suit
The Pope Is More and More Receding from the World
As a Recent Italian Report Confirms
Does He No Longer Want to Be Pope?
Are His Strokes Beginning to Take Their Toll?
Americans went through a difficult period when, in hindsight, President Ronald Reagan was experiencing symptoms of the onset of Alzheimer's Disease. Pope JPII was suffering from some degree of dementia in his last years. Now, it appears, Pope Benedict may be also be suffering from some form of dementia.
Just as TRADITIO was the only commentary to discuss openly JPII's possible mental incompetence that arose from his Parkinson's Disease, we have been the only commentary to put together, in a commentary shortly after the papal election, Benedict's two strokes and head injury to wonder whether Benedict is not a lot more sick than Newvatican wants to admit publicly. Even the pope's own brother was more forthcoming. He predicted that his brother might not even last a year.
We have wondered in the past whether Benedict-Ratzinger came upon the papacy too late. Ten years ago he probably relished the thought of being pope, but all his actions since his election have shown a 78-year-old man who no longer wants the job, but took it because to have refused the papacy would have been too unsettling to Newchurch, which is already in the throes of disintegration. Benedict has been a kind of recluse, with few public appearances except those in liturgical contexts. There have also been consistent reports that he retreats for hours into his inner sanctum to play Bach and Mozart on his piano.
Now a revealing report comes to us from La Stampa that over the past few weeks Benedict-Ratzinger has sneaked back no less than three times to his old room outside the Vatican walls. The pope was driven in an unmarked car at around 21:00 local time disguised in plain black clerical garb with black hat and head down, accompanied only by his confidential secretary. He does not even stop for a chat with his former roommates there.
La Stampa reports that "it is not a question of just dashing in for a few minutes to grab a bag or a book" (which in any case could have been done by his secretary alone). "He spends at least a couple of hours there." Nine months after moving into the spacious papal apartment in the Apostolic Palace overlooking St. Peter's Square, is Benedict-Ratzinger hankering after his old, reflective life as a theologian-professor in Germany? After all, that was what he himself had said that he wanted to do before he was elected. Perhaps it wasn't just a "sound bite" for the press from a papal candidate. Perhaps he really meant it.
Marco Tossati, La Stampa's Vatican correspondent, opined that "maybe the temptation is just too much even for the strong but delicate personality of Benedict XVI" to retreat from the papacy and return to a simpler time in his life. Benedict-Ratzinger has already started to gain a reputation for slightly eccentric behavior and a penchant for disguise. At Christmas he donned the obsolete camauro, a red, fur-lined hat that used to be worn by popes. He has also been seen wearing red Prada shoes and pricey Serengeti sunglasses.
It may be that the reign of Benedict XVI will be what the reign of John XXIII was supposed to be: a quiet do-nothing reign. (John, remember, was four years younger than Benedict when elected, and John was considered one of the oldest popes.) And that is not bad. Being the Modernist he is, whatever Benedict-Ratzinger did would probably be worse than leaving the situation in Newchurch as it is today.
---
A Lifelong Novus Ordinarian Converts to (Traditional) Catholicism
From: Jon
Dear Fathers:
As a 35-year-old lifelong member of Newchurch, I stumbled upon the TRADITIO Traditional Roman Catholic web site approximately one year ago. I scoured your Commentaries and, having experienced the closure of my church, parish mergers, and the "gay"-presbyter scandal here in Massachusetts, I painfully related to many of your reports.
I knew that eventually I would drop you a line in gratitude for your straightforward (and verifiably truthful) reporting, and your recent Commentary on Martin Luther King was the perfect occasion. Last year I suffered through a 20-minute "Martin Luther King, Jr. Is a Prophet" Newchurch homily. I later pointed out the impossibility and absurdity of the statement to a few unrelated acquaintances, only to be met with blank stares. Attempting to awaken them from their trance, I mentioned his documented reputation as an adulterizing womanizer and Ph.D. plagiarist, only to be reminded that I had violated the newvirtue of newcharity (i.e. boundless tolerance for evil).
Years ago I knew (by painful experience) which presbyters to avoid, and fortunately there seemed to be other options. After all, there were 30+ parishes in the city and a number of "traditional-minded" older priests. I see now that these "options," while shielding me from the most insane of the depravities and abuses, merely postponed my seeking their root cause and taking the appropriate action to convert absolutely to traditional Catholicism.
Your Commentary on the state of the Novus Ordo liturgy is particularly insightful and sobering. In just the last year, I have personally endured seemingly innumerable errors and desecrations:
"God doesn't care if you're good or bad so live life to the fullest" homilies
John Denver "hymns," drums, and electric guitars
his presbyterness's throne behind and above an undecorated wooden table
tiny "loaves" of matter and ninety-nine cent wine-glass chalices with "purificators" folded pointedly and tucked into the glass banquet style
completely ad-libbed "Eucharistic prayers"
purposeful alterations to and omissions from the Creed
presbyters and lay deacons chatting and giggling through the entire First Reading, psalm, and Second Reading by the lectoress
gangsta presbyters complete with artistically manicured sideburns, goatee, and large hoop earrings in each ear, sockless in Teva sandals and ragged blue jeans
cellular phones ringing crazy tones every five or ten minutes
extraordinary ministers grasping handfuls of "loaves" from a clear-glass salad bowl
Such shenanigans forced me, several years ago, to purchase a copy of the U.S. Conference of [Newchurch] Catholic Bishops' General Instruction of the Roman Missal to determine the defined "norms" of the New Mess. Among the vague, verbose, and open-ended doubletalk, a pattern emerged. While an outrageous level of nonsense is clearly allowed, even the most common abuses are not. As you already know and as I would unfortunately come to learn the hard way, these abuses are recognized, ignored, and often promoted. When I brought these "abuses" very respectfully to the attention of the Newchurch bishop and presbyters, the reaction was:
stunned silence in disbelief that someone actually read or understood the GIRM
a litany of completely illogical reasons, childish slogans, and catch phrases du jour (all more properly labeled excuses) on how these personal modifications "enhance," are more "inclusive," or encourage "participation"
anger (controlled or uncontrolled) for questioning their knowledge or motives, with some snickering, head-shaking, and ultimate dismissal of the questions posed
It is also evident by your reports and photos, and by my latest vacation, that this infection is airborne. I recently visited my equally-disgusted sister in Orlando, Florida, and was mortified by the local Mess, a self-described worshipping assembly, with more handholding than a middle-school dance, more clapping than a tennis match, and more hands flying overhead than a Benny Hinn crusade (thankfully Pastor Benny's roughhouse healing techniques were omitted). This Mess was virtually unrecognizable even to this seasoned Novus Ordinarian, who has missed but one New Mess in his lifetime (due to illness) and thought he'd seen it all. So much for the alleged "norms" of the New Order.

Unfortunately, the only weekly exposure most people have to their Faith is on Sundays at the New Mass, where it, along with the aforementioned abuses and a tabloid, anaemic, or error-riddled homily, is presented as "Catholicism" or "obeying the pope." The unread and/or unsuspecting swallow this madness hook, line, and sinker while the prudent are scandalized and never return. Few, if any, remain to contradict the falsehoods that are being taught and fight "from the inside" of the New Order.

I naively thought that I could have an impact by tactfully pointing out errors and accepting small victories along the way. This theory is proven impossible daily, as the infection is strengthening and is almost entirely resistant to even large doses of truth. In fact, it is recently showing a violent re-infection.

And lest anyone believe that this infection is not contagious or that he is not personally at risk, I have lost many once-sensible friends to it. Their immune systems gradually degraded and were eventually destroyed by continuous exposure and repeated attacks. Some even exhibit irrational defensiveness. My reasoned opposition to abortion and the Massachusetts invention of "gay marriage" have made me a virtual leper among these "Catholics," while my considerate, but persistent denials to see things their way have made me categorized as hateful, insensitive, judgmental, bigoted, sexist, homophobic (I had to look this one up in several dictionaries only to realize it is a recently fabricated word), and (new to the list) mediaeval.

Should any former fellow Novus Ordinarians read this, heed this quote: "forewarned is forearmed." At a minimum, begin the decontamination and immunization process by browsing your parent's bookshelf (assuming they are at least 70 years old), study their traditional books, and hold firmly to the strict Catholic morality and traditions that you have hopefully been taught by them. Your soul requires it. Should you not have access to such references, peruse the truly Catholic references described in FAQ05: What Traditional Books Do You Recommend? in the TRADITIO Library of Files (Catholic Apologetics).

Your site has breathed fresh air into my lungs. Please keep up your valuable coverage as I pray for your success in presenting and restoring the Catholic faith.

The Fathers Reply.

Rarely have we received such a cogent statement of first-hand experience from the pew level of Newchurch and the absolute need for the Novus Ordinarians to abandon it, not to compromise with it. Those among TRADITIO's readers who still attend the Novus Ordo Protestant-Masonic-Pagan service ever should take Jon's experience to heart and give it up cold turkey before they lose their Faith, as Jon's friends did. Some Novus Ordinarians, while opposing the New Mess, think that they are still obliged to go, but will not be affected by it. Wrong! Like the infection Jon describes, its infection will eventually kill their soul.
---
WARNING. Brace yourselves for a new onslaught of confusion about Christ, His teachings, and His true Church -- not only when Dan Brown's Da Vinci Code movie opens May 19, 2006, but also from a growing genre of books that takes Church history and gives it a fictional twist under the auspices of entertainment and enlightenment. The crop of books set to be released in 2006 alone -- some reportedly researched and concocted even before Dan Brown's bestseller hit bookstores -- are written by American, Spanish and British authors. All are being translated into dozens of languages and are set for large first runs with high-profile publishers.
Another big source of fictionalized history is so-called "history" programs on cable TV. These programs deceive under the guise of "scholarship." But, in fact, outside a few sound bites from academics, these programs are produced not to educate, but to titillate with the most absurd anti-religious, anti-Christian, and anti-Catholic hypotheses.
---
January 17 - St. Anthony, Abbot
Double Feast
It's Back to "Saint" Martin Luther King for Newchurch
From: The Fathers

New Order Church's Stained-Glass Window
Featuring "Modern Prophets":
Protestant Martin Luther King, Communist Dorothy Day, Pagan Mahatma Ghandi
It is easy, even for traditional Catholics, to become inured to the Newchurch's unCatholic New Order since it is all around them. Sometimes it takes a shock like the photograph above to remind us all of just what a counterfeit Newchurch is.
This stained-glass window of "modern prophets," brought to you from the "St. Ambrose Catholic [Newchurch] Community" (the New Order does not like to use the word church any more), depicts the Great Father of the Western Church, St. Ambrose. This dominant figure was a fearless defender of the Faith in the fourth century when the pope and most of the bishops had virtually abandoned it to become part of the Christ-is-not-God Arian heresy. Little does this New Order community realize that St. Ambrose would have condemned this 20th-century unCatholic "community" just as he did the 4th-century Arian heretics.
On the lower left side of the window is the figure of John Henry Cardinal Henry Newman, the prominent Catholic educator and preacher, who converted to the Church from High Anglicanism in the 19th century. He paid a great personal price to reject the Protestantism in which he had been raised and even ordained. Is there any question what he too would have condemned the phony New Order of the latter 20th century?
So far, so good. Now we pass to the right side of the window for the New Order's "modern prophets":
Martin Luther King, the minister of an heretical Protestant sect
Caesar Chavez, the "god" of Liberal Unionism
Sister Thea Bowman, the Novus Ordo nun of balkanization
Dorothy Day, co-founder of the suspected Communistic "Catholic Worker Movement"
Mahatma Gandhi, the Hindu pagan
Some may have different political opinions on these figures, fine, but they have in a real Catholic Church (which St. Ambrose's Community isn't) no place with the heresy-fighter St. Ambrose or the anti-Protestant Cardinal Newman. Nor is this the first time that Martin Luther King, and some of these others, has been "canonized." In 2000, you may recall, for the bimillennial jubilee, JPII issued a list of Newchurch would-be "saints," including both Martin Luther and Martin Luther King. In New Order churches around the United States, one can often find statues erected to not to St. Martin of Tours, not St. Martin de Porres, but "St." Martin Luther King.

New Order Church's Stained-Glass Window
Featuring Infidels, Heretics, and Pagans:
Mohammed, Horus, Shiva, Buddha
As if the "modern prophets" window weren't enough, we pass on to the next window, even more radical, which depicts God the Father and God the Son bestowing their blessing upon:
Mohammed, the infidel
Horus, the pagan Egyptian god
Shiva, the pagan Hindu goddess
Buddha, the pagan god of obesity
And what is the "Church's" justification for this? Why, Vatican II's document instilling false oecumenism, Nostra aetate!`
And this is the "Catholic" Church to which Fellay and Schmidberger want to sell out to? Will the real Catholics please stand up!
---
January 16 - St. Marcellus, Pope & Martyr
Semidouble Feast
British SSPXer Says: "Hell No, We Won't Go"
From: Paul (Great Britain)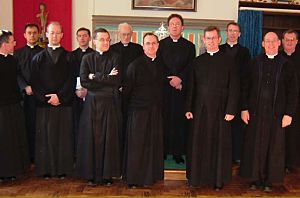 British SSPX Priests
How Many of Them Will Join the Sellout to the New Order
And How Many of Them Will Remain Faithful to the British Martyrs of the 16th Century
Who Died for the Traditional Latin Mass
Because They Stood Against Archbishop Cranmer and His "New Mass"?
Dear Fathers:
I attend Holy Mass when I can (I have problems with trains on Sunday and distance) at an SSPX church in England. You may be aware that this part of England was one of the strongest in opposition to the Protestant Revolt in England, and there were many martyrs. Likewise, when the 20th-century Novus Ordo Missae was introduced, there was strong opposition to it, and a good number stopped going to Mass until the arrival of the SSPX in the town.
I strongly suspect that if there is now a sellout/compromise by the SSPX's Bernard Fellay to the demands of Newrome, then this congregation will not follow. They and their fathers before them have proven themselves to be Catholic and orthodox to the core. They will not accept a compromise of their Faith any more than their forefathers did, some of whom died for it.
The Fathers Reply.
The SSPXers, and other traditional Catholics, should remember that this is not a "done deal" yet. What we are expressing is not so much a prediction as a warning. Now that the actions of Fellay-Schmidberger and their faction have been exposed, the SSPXers who refuse to sell out to the New Order, and other traditional Catholics, can weigh in and derail the sellout. It is to allow the individual members of the Society, and all traditional Catholics, to take action now against the Fellay faction on this important issue that TRADITIO has been giving detailed information and analysis about what is going on every step of the way.
Two individuals should not have the power to force the majority of the SSPX, let alone all traditional Catholics, into a sellout to the New Order that they do not wish. If we have learned anything from the disaster of Vatican II, we should have learned that we must take action to protect the traditional Roman Catholic Faith quickly and decisively -- before it is too late.
---
January 15 - Second Sunday after Epiphany
Semidouble Sunday
Is a Quarter of the Fraternity of St. Peter Ready to Bolt to the SSPX?
From: Al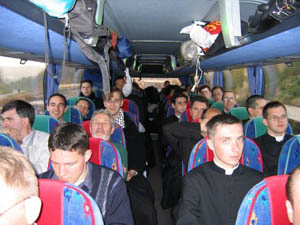 Off on a Road Trip on the Yellow Brick Road to See the Wizard
FSSP Gambols off from Wiegrazbad to Rome to See Benedict-Ratzinger
Now It Appears that One-quarter of the FSSP in the United States
Is Ready to Bolt to the Society of St. Pius X -- If It Still Exists
Dear Fathers:
I am told by very reliable members of the Fraternity of St. Peter (FSSP) that there is great dissatisfaction in the Fraternity over the violation of their legitimate right to elect their own superiors, which occurred a few years ago, and that if Newrome intervenes again to put Novus Ordo liberals in control, in spite of the apparently rising tide of support for a conservative candidate, a large group on both sides of the Atlantic (as many as 25%) will break with the FSSP and join the SSPX.
But if the Society falls before the June meeting of the FSSP, where will these "indult" priests go? Perhaps there are some who are rushing negotiations with the former so as to counter this group in the latter. It would be sad to see a few months of haste be the cause of the ruin of so many years of honorable resistance.
The Fathers Reply.
Fortunately, there are other alternatives. The Society of St. Pius V (SSPV) and the Congregation of Mary Immaculate Queen (CMRI) are both more traditional than the SSPX. There are also a number of smaller organizations, and of course the dissatisfied "indult" priests can always go independent. Nurtured, however, as they have been in the bosom of Newchurch, which takes care of all their material wants and needs, they would likely have difficulty standing on their own independently. And that's just the way Newchurch wants it!
---
January 14 - St. Hilary, Bishop, Confessor & Doctor
Double Feast
Newpope's Commission Wants to Make Judas a Saint
From: The Fathers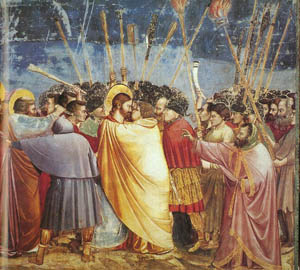 Giotto's Kiss of Judas (ca. 1305)
Newpope's Commission Wanted to Do Away with Original Sin and Limbo
Now Wants to Do Away with Sin Altogether and "Rehabilitate" Judas
Is There No End to Newchurch Madness?
Is nothing sacred in Newchurch? Newchurch with its New Order has been about destroying the Catholic Mass and Sacraments, Catholic Theology, and Catholic Morality for the last forty years. In recent weeks we have seen the beginnings of rejecting Original Sin in a Newvatican commission's discussions to do away with the concept of Limbo, which has been part of the Church's understanding for 1500 and is based on a dogma stated explicitly by two Councils and by Pope St. Pius X, among others.
It appears that Newchurch's agenda for 2006 is to do away not only with Original Sin but also Actual sin. The grave sin of betrayal of Our Lord by Judas Iscariot is thoroughly documented in the Gospels and is enshrined in the Sacred Liturgy of the Church during Holy Week. For those who always ask, "Where does it say so in the Bible?" the answer for this one is easy: Sts. Matthew, Mark, Luke, and John!
The head of Benedict-Ratzinger's Pontifical Commission is now telling Novus Ordinarians to look kindly on Judas, as he was just "fulfilling his part in God's plan." This Walter Brandmueller was supported by Vittorio Messori, a prominent Catholic writer close to both Benedict-Ratzinger and JPII. Are Newpope's agents simply mouthing yet another implicit heresy, in this case the denial of free-will?
If you think about it, that is exactly where recent developments in the New Theology are leading. If Newchurch rejects Limbo, it effectively denies Original Sin, the Sin of Adam, and if it rejects free-will, it effectively denies Actual Sin. By rejecting both Original Sin and Actual Sin, the two species of sin, Newchurch effectively rejects sin altogether. Adam, Judas, and even Satan himself are now exonerated of sin. Benedict-Ratzinger, you fox!
Of course, Newchurch has been rejecting sin ever since it invented its New Sacraments. It no longer has Baptism but a Rite of Initiation. It no longer has Penance but "reconciliation." If there is no sin, there is no reason to receive the Sacrament of Penance. Moreover, Newchurch's de-facto rejection of sin explains the New Order's recent mania against capital punishment, which is approved of in the Bible, in Tradition, and in constant Catholic teaching.
Judas Iscariot was well portrayed in Mel Gibson's 2004 film, The Passion of the Christ. Judas betrayed Christ to Caiphas for thirty pieces of silver. Judas betrayed Christ with a kiss to identify Him to the Jewish guard in the Garden of Gethsemani. St. Luke's Gospel specifically states that "Satan entered into Judas" (22:3/DRV).
Signore Messori said that the rehabilitation of Judas would "resolve the problem of an apparent lack of mercy by Jesus toward one of his closest collaborators." There is no problem. Mercy follows contrition. Judas had free-will to betray Christ and did so. He had free-will to commit suicide rather than repent and ask for mercy. He received no mercy because he neither asked for nor merited it. Nor did the Cestus, the Bad Thief. But Dismas, the Good Thief, asked for mercy and received it on the cross.
This "rehabilitation" of Judas is associated with another heresy, Universal Salvation. Presbyter Allen Morris, secretary for the Newchurch Bishops of England and Wales, said: "If Christ died for all -- is it possible that Judas too was redeemed through the Master he betrayed?" This is the heresy that has injected itself into the Novus Ordo service's invalid consecration. Apparently, Newchurch is angling to say that everyone is automatically saved, regardless of free-will, regardless of merit. Hitler was just a frustrated artist; who can blame him for the inferno of World War II? Mussolini was just a would-be railroad engineer with a fixation on time-tables; who can blame him for Fascism? Mao Tse-tung was just a confused Confusian; who can blame him for the evil of Chinese Communism? Satan was just a blinded angel; who can blame him for Hell?
To push this nonsense even further, the pope's agents will be involved with the publication of "translations" into the vulgar tongues of the spurious (a scholarly word meaning "phony") Gospel of Judas. At least one scholar derided the papal commission's unCatholic nonsense by saying, "it is dangerous to re-evaulate Judas and muddy the Gospel accounts by reference to apocryphal writings. This can only create confusion in believers." But isn't this just what the Modernist Benedict-Ratzinger and his agents are trying to do?!
---
Newvatican Has Assumed a "Judas Complex"
From: Tom
Dear Fathers:
As I read on TRADITIO regarding the brave clergy of the 16th Century, who stood with Rome against the English Crown, I was dumbfounded by the role reversal of the Vatican. Rome once stood as the defender of the Faith. Newrome is now perceived by many sincere Catholics as the persecutors of the Faith. This is a role that was customarily played by civil authorities, false religions, and secret societies, all of whom took their cues from the forces of darkness.
I can't tell you just how heart-wrenching it is when I educate my children as to the current role of the Vatican. For all intents and purposes, it must be viewed as an enemy of the Faith. It has assumed a Judas complex. I wonder whether Christ has the same words for Newrome that he had for the first betrayer: "It were better for him, if that man had not been born" (Matthew 26:24/DRV). I remind my offspring that Christ is the head of the Church. Popes come and popes go. Many go to Hell. There are still among us so many fine traditional priests, who will be here to guide us through these uncharted waters.
I pray for the day when Christ directly intervenes to put an end to this diabolical scheme and when we can once again look to the Vicar of Christ as a functioning spiritual father. Rome has always been our earthly home. I long for the day when the locks are changed so that the Keys of Tradition will once again open the doors to the sanctuary that is our birthright.
---
January 13 - Octave Day of the Epiphany
Double Major Feast
Complete Friday Abstinence
Betrayal of an Archbishop
From: The Fathers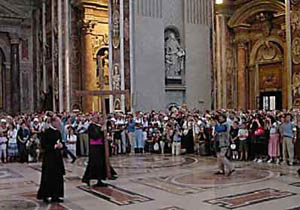 SSPX Bishop Richard Williamson Carries the Processional Cross
To the Tomb of Pope St. Pius X in St. Peter's Basilica in August 2000
No Compromise with Newrome, Says the Bishop:
"Either Rome abandons the Conciliar religion; or the SSPX betrays the Catholic religion;
or Rome half-abandons and the SSPX half-betrays, for there to be some 'meeting' in between"
Archbishop Lefebvre set out the basic principles of the SSPX on November 21, 1974, when he wrote in his Declaration:
We adhere with our whole heart and our whole soul to Catholic Rome, the Guardian of the Catholic Faith and of those traditions necessary for the maintenance of that Faith, to eternal Rome, Mistress of Wisdom and Truth. Because of this adherence we refuse and have always refused to follow the Rome of neo-Modernist and neo-Protestant tendencies, such as were clearly manifested during the Second Vatican Council, and after the Council in all the resulting reforms.
All of these reforms have, indeed, contributed and still contribute to the demolition of the Church, to the ruin of the priesthood, to the destruction of the Holy Sacrifice and the Sacraments, to the disappearance of religious life, and to naturalistic and Teilhardian teaching in universities, seminaries and catechesis, a teaching born of Liberalism and Protestantism many times condemned by the solemn magisterium of the Church.
No authority, not even the highest in the hierarchy, can constrain us to abandon or diminish our Catholic Faith, such as has been clearly expressed and professed by the Church's magisterium for 19 centuries. "But though we, or an angel from Heaven, preach a gospel to you besides that which we have preached to you, let him be anathema." (Gal. 1:8).
The Fellayite faction of the SSPX is mindlessly treading the same ground that their Archbishop-Founder had. Archbishop Lefebvre, who was Superior General of the Holy Ghost Fathers and an Pope Pius XII's Apostolic Delegate for all of French-speaking Africa, was quite familiar with Newrome's tricks (unlike Bernard Fellay, a relative babe-in-arms in that regard), after trying to deal with the Modernist foxes in Newrome, concluded in mid June 1988:
I entered these negotiations because Rome's reactions in the second half of last year had raised in me a faint hope that these churchmen had changed. They have not changed, except for the worse.... They have spiritual AIDS, they have no grace, their immunity defense system is gone. I do not think one can say that Rome has not lost the Faith. As for an eventual excommunication, its disagreeableness diminishes with time.
That was after the Modernist Cardinal Ratzinger, now known as Benedict XVI, insisted on the Great Vatican II Lie:
It is not possible for you to call into question the authentic doctrine of the ecumenical Second Vatican Council, the texts of which are magisterial and enjoy the highest doctrinal authority.
Ratzinger in this statement specifically contradicted the Pope of the Council, who explicitly stated (Pope Paul VI, August 6, 1975, General Audience):
Differing from other Councils, this one was not directly dogmatic, but disciplinary and pastoral.
It was Ratzinger who personally violated the Agreement of May 5, 1988, and refused to allow Archbishop Lefebvre to consecrate a bishop for the Society. No wonder Archbishop Lefebvre, faced with Ratzinger's contractual bad faith, on May 6 declared the Agreement void and proceeded with the episcopal consecrations on June 30 "out of grave fear" for the good of the Catholic Church. Yet this is the same double-dealer with whom Bernard Fellay wishes to enter into yet another agreement!
Archbishop Lefebvre, though not a sede-vacantist, was a common-sense man and had to admit the possibility that the papacy had been grievously wounded by Modernism:
I think that when a pope or bishop honors God in this non-Catholic way, they have the intention of going to God as a non-Catholic, thereby renouncing the Catholic faith. Never has it happened in the Church before that he who sits on the throne of Peter has participated in the cult of false gods. Are we then obliged to believe that this pope is not pope? Because it seems impossible that a pope could be a public and formal heretic.
After Fellay's August 29 senseless "SSPX Beheading" meeting with Benedict-Ratzinger, Francesco Cardinal Pompedda told the Italian daily La Stampa that the Society of St. Pius X could be reconciled to Newchurch "only if it recognizes the validity of Vatican II decrees." Yet even Paul VI did not require belief in these Modernist decrees! Obviously, Newchurch is so bound to the New Order that it is not concerned with true Catholic doctrine, but playing silly ecclesiastical politics to maintain the New Order in Newchurch.
SSPX's senior bishop, Richard Williamson, has consistently expressed opposition to the idea of a sellout of the SSPX to Newchurch. He gave the lie to the premises of the Fellayite faction when he recently stated:
If, then, there is to be harmony between the Rome of Vatican II and the SSPX of the Archbishop's truly Catholic Declaration of November 1974, there are only three possibilities: either Rome abandons the Conciliar religion; or the SSPX betrays the Catholic religion; or Rome half-abandons and the SSPX half-betrays, for there to be some "meeting" in between.
---
January 12 - Within the Octave of the Epiphany
Semidouble Feast
SSPX Source Predicts Fellay-Schmidberger Sellout by Easter
From: The Fathers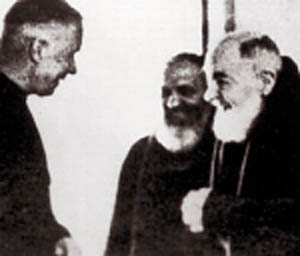 Archbishop Marcel Lefebvre and Padre Pio Meet in 1967
Padre Pio Cried out: "It Is You Who Should Be Blessing Me!"
And He Bowed to Receive the Blessing, Kissing the Archbishop's Ring
Archbishop Lefebvre's Successors Fellay and Schmidberger
Are Now About to Sell out Their Founder
Reports a Well-informed Source within the Hallways of the Society of St. Pius X
A well-informed source within the hallways of the SSPX has now confirmed TRADITIO's analysis of Bernard Fellay's progress toward a sellout of the SSPX to the New Order. This new report indicates:
Former Superior Franz Schmidberger has wrested from Benedict-Ratzinger the title of "God's rottweiler" and has been playing current superior Bernard Fellay like an organ-grinder's monkey.
Schmidberger has brought out the inquisitorial thumb-screws to browbeat the Society's officials into submission to the Fellay sellout.
Fellay-Schmidberger are going mad with power, lying to Benedict-Ratzinger that they represent the SSPX, when really what they are representing is first of all their own personal agendas.
Fellay hopes to get recognition of his "excommunicated" self from Newchurch, and Schmidberger expects to be invested with the purple as his own payoff for brokering the sellout.
Fellay-Schmidberger are in a frenzy to get the terms of the sellout buttoned up before Easter, because Fellay's twelve-year term of dictatorship of the SSPX comes to an end in 2006.
What Fellay-Schmidberger are aiming for is a sellout along the lines of a "Campos II." Remember there that after the death of traditional bishop Antonio de Castro Mayer, who refused to apply the spectre of Vatican II in his diocese, Bishop Luciano Rangel, who was consecrated by three SSPX bishops, continued Mayer's work. Newvatican, however, engineered his replacement by a Newchurch puppet bishop by the name of Fernando Rifan. You remember Rifan. He was the one who swore that he was "exclusively traditional," then was caught by the world's TV cameras concelebrating the Novus Ordo Protestant-Masonic-Pagan service. He tried to lie his way out, but the pictures proved his complete sellout to the New Order.
The thrust of Newvatican's ploy is to make the Fellayite SSPXers comfortable as part of the New Order. In return, the Fellayite faction of the SSPX will swear to accept the (Modernism of) Vatican II, the (invalid) "New Mass" and "New Sacraments" of Hannibal Bugnini, and will be sworn to silence against any criticism of the New Order. In other words, the Fellayite SSPXers will become the very Modernists that they have been fighting these past thirty-some years and will be spitting on the grave of their Archbishop-Founder.
As predicted by officials within the SSPX, a schism would occur within the SSPX between the Fellayite Newchurch sellouts and those who remain traditional Catholics. Estimates of the Fellayite sellout faction range from one-third to one-half. Will Fellay and Schmidberger rip the Society in two to serve their own personal agendas? They will try. Will Newrome get the last laugh on the SSPX? Probably.
It is becoming undeniable that Fellay and Schmidberger are getting close to accomplishing the sellout of the Society, or at least that part of it that will go along with their cabal. These are men not devoted to the principles of the Society's founder, Archbishop Marcel Lefebvre, who knew the Vatican to a "T", having been the superior of one of the largest missionary societies in the Church. Lefebvre had no love for the New Order. He wrote against it eloquently. He even agreed with certain apparitions of Our Lady and hypothesized that the day might come when Newrome would fall so badly that the See of Peter would be vacant.
Lefebvre was the most courageous man in the sorry state of the Church in the latter half of the twentieth and now twenty-first century. The pressure that the New Order brought to bear on him to toe the Newchurch line was enormous. Yet this man, no longer in his physical prime, withstood all these pressures heroically. To think that the likes of Fellay and Schmidberger pretend to represent the Society he founded is vomitous.
If the sellout goes according to schedule (quod Deus avertat!), the SSPX will quickly become like Campos I and all the other "indult" societies. Gradually, even the "Modernized Missal of 1962" will become a fond memory. Novus Ordo practices and beliefs will gradually be insinuated into SSPX services. That's what happened to Fernando Rifan and the Society of St. John Mary Vianney of Campos. That's what happened to the Society of St. John of Scranton. That's what's happening to "indult" sites all over the United States and elsewhere.
Then the moral degradation that has plagued the "indult" societies answering to Newchurch will set in. One "indult" society has already been dissolved for sex crimes, and its clergy have fled to South America to escape the American courts. Another "indult" society, which still operates in the United States, has seen its superior jailed for sex crimes and one of its clergymen jailed for grand theft and burglary. Newchurch with its New Order is a Culture of Corruption. It befouls everything it touches.
Recent science seems to have proven that the Medicis died not from poison, but from plague. They chose, foolishly, to go into areas that they knew were infested with plague, thinking that they were somehow above getting the "Masque of the Red Death." They learned the price of overweaning pride.
Good Catholics of the SSPX, don't you be foolish enough to allow yourself to be tainted with the plague of Newchurch and its New Order. The only prudent course of action is to stay the Hades away from it! Fellay and Schmidberger are apparently too fatuous to realize that Satan's tail will end up smacking them silly and destroy the work that the Archbishop began. Or maybe that's exactly what they want to do.
We've said it before, and we'll say it again. You SSPXers who wish to remain loyal to the Archbishop and his principles, get your lifeboats ready. Just like the parishioners of St. Stanislaus Kostka in St. Louis, you will likely have to fight for control of your churches against those who would hand them over to Benedict-Fellay as part of the terms of the sellout. You certainly wouldn't be happy in that arrangement.
Dante Alighieri in his monumental Divina Commedia puts Judas in the pit of Hell because he committed the great sin of betrayal, betrayal of his Lord. The record of Fellay and Schmidberger is looking like just such a betray of their saintly Archbishop-Founder. At the very least these two would make Torquemada and Gui envious!
---
SSPXer Admits: I'm Losing Faith in the Society
From: Thomas
Dear Fathers:
As much as it pains me to admit it, TRADITIO's predictions regarding the Society of St. Pius X seem to be borne out by very subtle changes that I have been noticing at my SSPX church in C. In general, the priests there are magnificent, and maybe it's just my imagination, but recently, in the parish bulletin, as well as on the SSPX website, there seems to be a growing emphasis on themes like "fidelity to the barque of Peter," "loyal support of Rome", the faithful "entrusting themselves to the Society," and a general attempt to cut-off or squelch any criticism, debate, or questioning of the legitimacy of Benedict-Ratzinger and the Novus Ordo governing apparatus.
Certainly the defectiveness of the Novus Ordo rite of episcopal "ordination" is ample cause for at least wondering about the legitimacy of the Novus Ordo "bishops." The society under Archbishop Lefebre wouldn't have hesitated to make that point. I hasten to add that I myself have not adopted the sede-vacantist position, though as an hypothetical situation, given what has been going on in the forty years since the Newchurch "renewal" began, I am beginning to think it is at least worthy of debate.
As TRADITIO has so correctly pointed out, the Society should be in the vanguard of the fight to overthrow the Novus Ordo poison, using its already large influence to take the case for traditional Catholicism directly to the world via all the media, which are so readily available today. The potential for converts is huge.
NOTE. The Society of St. Pius V (SSPV) has been the only organized traditional Catholic society that has actively sought to disseminate the traditional message through the media in an organized way. TRADITIO participants may remember the SSPV's half-hour television program broadcast some years ago on the BET cable network. Now the SSPV has initiated a radio station, which can be accessed on the internet via www.wftsradio.com. The SSPV was originally part of the SSPX, but broke away in the mid 1980s because it already saw a tendency in the SSPX to compromise with the New Order and the Modernized Mass of 1962. According to the Official Traditional Catholic Directory, it sponsors Traditional Latin Masses in 24 sites in the United States and Canada.
Instead, the only response from Fellay and the SSPX leadership is -- silence. Silence and back-door dealings to get "recognition" from people who objectively no longer seem to be Catholic (or even Christian). It is puzzling how intelligent people can really think that because certain men live in buildings in Newvatican, they alone represent "the Church", with the ability to bestow legitimacy on a New Order.
When I think of the Church edifice painstakingly built by parishioners here, with its magnificent altar, being deeded over to the Novus Ordo, and the inevitable destruction of the Sacred Liturgy, and final sale of the property to fund sex-scandal pay-offs that would inevitably follow, I almost want to cry.
I think that your prediction about a schism in the Society of St. Pius X is also right, but my guess is that an unfortunately large number of people would go along with a "Campos solution." Why? Partly inertia, partly misplaced loyalty, partly deeply-rooted papolotry, but also because too many Catholics are still -- after forty 40 years -- obedient sheep who will walk calmly to their own slaughter, who have learned nothing from the experience of the New Order takeover. Please keep up your excellent work.
---
EWTN Cable Mess Is a Deceptive Fraud
From: David
Dear Fathers:
Counterfeit money, no matter how closely it might resemble the real thing to a casual observer, is still worthless paper and subjects the user to criminal prosecution. So, too, a counterfeit version of the Mass, no matter how much it might resemble a Traditional Latin Mass, is still a counterfeit. To put it simply: a Mess is still a Mess is still a Mess.
No amount of Latin, Gregorian chant, incense, candles, bells, genuflections, "reverence" from the congregation, fancy vestments and vessels, ornate furnishings, or even orthodox sermons can magically make a Mass out of a Mess. The traditional Anglicans have all those ingredients in their services, but they don't have a valid Mass.
The Novus Ordo, even when celebrated in the most "conservative" settings and (partially or entirely) in Latin, is still the Novus Ordo. It is still a butchered, mutated, Protestantized Mess, in which the majority of the prayers and ceremonies of the Traditional Latin Mass -- particularly those that unambiguously express the Catholic concept of the priesthood and the Mass as a Sacrifice -- have been deleted, and those ceremonies that remain have been carefully recomposed to coincide with an oecumenical and secularist agenda.
The Novus Ordo, no matter how "conservative," still uses a missal that goes even further than the "reforms" of Luther, Cramner, and Zwingli. It still has a "Preparation of the Gifts" rather than an Offertory, and an "Institution Narrative" rather than a Consecration. It still has a mutated version of Our Lord's own words of Consecration. And when the Eucharistic Prayer is recited in English on the EWTN cable television network Mess, it contains the heretical words "for you and for all," condemned by the dogmatic Council of Trent.
The EWTN Mess, sadly, is yet another Mess to add to the hodgepodge of Newchurch Messes. In practice, it is simply another "option" for those who don't prefer the Clown Mess, the Pancake Mess, etc. Traditional Catholics may hesitate to condemn this "conservative" Mess, but they should not be fooled. A Mess is still a Mess is still a Mess. Probably, many of those who attend or watch the EWTN Mess think that they have the Catholic Faith and good intentions, but they are in fact deluded and being poisoned day by day, just as small daily doses of arsenic build up in the body to cause eventual death.
Let us hope and pray that these poor misguided souls will one day return to the true Faith and the true Mass rather than the Protestant-Masonic-Pagan service with which they poison their bodies. But, others who should know better choose to wear "rose-colored glasses" and they ignore the death-blow to the true Faith that is Vatican II and the Novus Ordo.
---
January 11 - Within the Octave of the Epiphany
Semidouble Feast
Benedict-Ratzinger Spurns Traditional Catholics, but Will Travel to Meet with Schismatics
From: The Fathers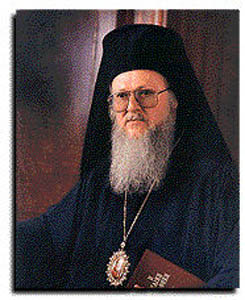 Behold Your Next Pope: Bartholomew I
Benedict-Ratzinger Will Fly to Turkey to Play up to the Eastern Schismatics
If Everything Goes according to Hoyle
Bartholomew I Will Be in Line to Be Your Next Pope
Here we go again! Newpope meets with the SSPX's Bernard Fellay for half an hour, then scoots him out a side exit. Then Newpope meets for two hours with the Modernist Hans Kung, his collaborator at Vatican II, whose teaching certificate was revoked by JPII because of the odor of heresy. Now just announced is Benedict-Ratzinger's plans not to receive at Rome, but to fly to Turkey to talk turkey with, the Arch-schismatic "Oecumenical Patriarch" of the Eastern Orthodox Church.
Newpope will make a sycophantic pilgrimage to Istanbul sometime during 2006 to shoot the bull with Bartholomew I at his headquarters. Because the schismatics were so intransigent, Newvatican's "oecumenical" talks with them broke off five years ago. The Eastern Orthodox have been informal schism since the year 1054. At that time Rome condemned the Eastern schismatics with a formal anathema of excommunication.
In recent years, the Eastern Orthodox have interfered with evangelization efforts by Newchurch in such places as freed Russia. Moreover, many of the Eastern Orthodox Churches condemn Rome as the seat of the Antichrist and the Whore of Babylon. The Oecumenical Patriarch actually represents fewer and fewer Eastern Orthodox, as more and more of the Eastern schismatics have broken with him because of what they view his "playing up" to Newrome.
---
Pope's Own Sex-Crimes Czar Levada
Personally Allowed "Swinging Presbyter" to Continue His Sex-Crime Spree
From: The Fathers
It is looking more and more like Benedict-Ratzinger rushed William Levada off to Rome to secrete him before the finger of the U.S. Federal Courts could touch Levada's own sex crimes.
San Francisco Weekly, in a January 4 article entitled Levada's Secret, has now revealed that Levada, who was the Newchurch archbishop of that city until he was scuttled off to Rome in August 2005, removed one Presbyter Joseph Baccellieri from the ministry on account of allegations of sex crimes, only to restore him to the activity ministry just two years later. When Levada was about to admit to knowledge of the matter, his lawyer stopped the deposition. This was in Portland, Oregon, where Levada had served as Newchurch archbishop from 1986 to 1995. Portland has, to date, spent $53,000,000 to settle more than 100 claims of Novus Ordo sex abuse -- so many claims, in fact, that the Newchurch archdiocese is now in federal bankruptcy court.
San Francisco Weekly reports that in 1993, the year before Levada's controversial decision to restore Baccellieri to the active ministry, not only did Levada know about the sex-crime allegations by three victims but also Levada authorized secret payments to each of them after they threatened to make the allegations public in a lawsuit. One of the victims claimed that Baccellieri had sodomized him for several years and insisted on, and was granted, a private meeting with Levada as a condition of his signing off on the secret payoff.
Levada published a letter in his own Catholic San Francisco, in which he claimed that he had restored Baccellieri to the active ministry after "extensive therapeutic treatment." It has been widely admitted that a sexual predator to the degree of a Baccellieri can never be "cured" of his criminal deviation. Records show that Baccellieri went on to become either pastor or associate pastor in four Portland-area parishes between 1994 and 2001. Since 2004, four other men have come forward claiming that Baccellieri sexually abused them as teenagers during the same 1971-1975 period as the men whose secret payments Levada approved. They too have filed lawsuits against the Portland archdiocese. Levada faces grilling on his involvement in these cases when he appears for interrogation under the auspices of the U.S. Federal District Court in San Francisco.
David Slader, an attorney for three of the men who have filed lawsuits, says that it is "unconscionable" that Levada never bothered to report Baccellieri to law enforcement after learning that his presbyter was a sex offender. "All the evidence we've been able to find demonstrates that Archbishop Levada's sole concern was to maintain a veil of secrecy and to continue the false impression that Father Baccellieri was a trustworthy and dutiful priest," Slader says. "His efforts to protect other children from being preyed upon were halfhearted at best."
Parishioners where Baccellieri served after Levada reinstated him were never made aware of the sex-crime allegations against him, although fellow presbyters with whom he lived did know and were "under seal" not to disclose it, Baccellieri has himself said. In 1994, the year in which Levada reinstated Baccellieri to the active Novus Ordo ministry, Baccellieri was featured in the Portland Oregonian as an accordionist, known by his stage name, the "Swinging Presbyter." And the pope's man has now been exposed to have known just how far his presbyter was swinging!
In 1995, Levada left Portland to become the Newchurch archbishop of San Francisco. There, San Francisco Weekly reports, the Salesians of St. John Bosco, an order of Newchurch presbyters and lay brothers that prides itself on being "an international organization of men dedicated full time to the service of young people," whom Levada allowed to help run Newchurch parishes and schools, including Sts. Peter and Paul Church in North Beach, engaged in a program of sex crimes that David Clohessy, National Director of the Survivors Network of those Abused by [Newchurch] Priests, characterized as follows: "Rarely if ever have there been so many accused presbyters clustered at the heart of a single religious order."
Five of the eight Salesians listed in a recent personnel directory as holding positions of responsibility at the provincial house are also accused child molesters. One of them, Presbyter Bernard Dabbene, who once held a prominent post as Levada's chief liaison to parishes in the archdiocese, is a convicted sex offender who struck a plea bargain with prosecutors to avoid going to jail. The list does not include a Salesian lay brother, who served four years in prison for molesting a child and was later indicted on a whopping 181 counts of sex abuse.
Several lawsuits, including one involving allegations against an associate pastor of Sts. Peter and Paul Church and another against a presbyter who once worked at the Vatican Press Office, are wending their way toward jury trials in San Francisco Bay Area courts.
This Levada, who is now implicated in the aiding and abetting of these sex crimes, is the same one that Benedict-Ratzinger has appointed to be Sex-Crimes Czar for Newchurch. Moreover, Benedict-Ratzinger has appointed to replace Levada in San Francisco George Niederauer, a "gay" advocate praised by all the homosexual organizations in that Baghdad by the Bay. The fox has truly been set over the henhouse and is ravenously consuming the Novus Ordo chickens. It is not difficult to figure how deep in the sex-crimes muck Benedict-Ratzinger himself is. He was already called to answer in a Texas court as an unindicted co-conspirator.
O, you hapless Novus Ordinarians, you who keep defending your criminal bishops and popes, you who keep saying how wonderful the Newchurch of Love is, fly to your optometrist and get a new prescription, for you are truly blind! You are now just as guilty for funding what you know to be incontrovertibly corrupt Newchurch parishes and presbyters. You are now undeniable accomplices in the sodomizing of children. When are you going to do the only moral thing and flee the counterfeit Newchurch for a traditional Catholic church?
---
January 10 - Within the Octave of the Epiphany
Semidouble Feast
Report from India on a Nascent SSPX Sellout
From: John, SSPX Indian Correspondent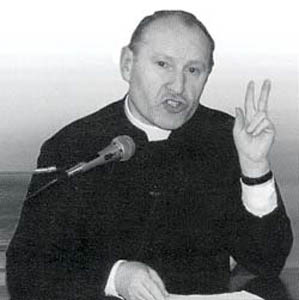 SSPX's Franz Schmidberger and the Now Abandoned Two "Unnegotiable" Conditions
With the Fellayites, Everything Is Now Negotiable with Newchurch
Who's Pulling the Strings in the Great SSPX Sellout:
Bernard Fellay or Franz Schmidberger?
Dear Fathers:
We have come to learn here in the councils of the SSPX of India that certain officials of the SSPX are troubled by the fact that Benedict-Ratzinger is the first pope not to have been consecrated as a bishop in the indisputably valid traditional rite. This question hits at the root of the papacy, of course, since the pope must be the Bishop of Rome.
Such doubts would, of course, undermine the efforts of Bernard Fellay & Co. to engineer a possible sellout with the New Order in Rome. Therefore, a close collaborator of Fellay in the Great SSPX Sellout, Fr. Franz Schmidberger, has engineered the writing of an article to attempt to establish that the Novus Ordo rite of episcopal ordination (the Novus Ordo doesn't call it consecration any longer) is valid, in an attempt to clear the stigma attached to Benedict-Ratzinger's episcopal ordination on May 28, 1977, according to Paul VI's Novus Ordo rite.
In The Order of Melchisedech Michael Davies, late President of the "indult" society Una Voce, referred in passing to the 1969 Novus Ordo change in the form in traditional rite for the consecration of for bishops and had collected all the material to write a book on the subject, but he was unable to complete the book before his death in 2004. He is said to have confessed to an acquaintance that the rite was indefensible.
We were also informed that Fr. Schmidberger, with his close Fellayite collaborators inside the SSPX, are currently working hard to convince, or to force, the four bishops of the SSPX to sign a sellout to Newchurch, as Campos did to JPII. The report we received here is unclear whether Fellay is playing Schmidberger or Schmidberger is playing Fellay in this effort.
What a degradation from the level of the awe-inspiring Archbishop Lefebvre, who founded the Society! It may be recalled that in his ordination sermon on June 29, 1976, at Econe, soon after he had been purportedly "suspended a divinis" by Paul VI, the Archbishop had charged that the Catholic Church had been "infiltrated by wolves, thieves, and mercenaries." It is with the descendants of such as these that Fellay, Schmidberger & Co. propose to make common cause. We here got the impression that if the plot succeeds, Schmidberger is to be rewarded by Benedict-Ratzinger with an appointment as a bishop in the New Order.
The Fathers Reply.
Thank you for your informative reports, which are not tainted by the usual Americo-European sources. It appears that part of the Fellayite plan of playing up to Newvatican is to get the SSPX troops in line, probably in the hope that the sellout can occur before Fellay leaves office in June. Newrome knows full well that over half of the SSPX will not accept a sellout to the New Order and is well aware that as time goes by, more and more SSPXers are coming out against the pope directly. We'll all just have to wait and see how this drama plays out, but who the good and bad characters are in the SSPX is becoming clearer day by day.
Remember that a schism did occur in an SSPX seminary around the turn of the millennium, which effectively shut down the seminary for a time. A bigger schism occurred some two decades before when some of the SSPX's best priests were unhappy with talk of a sellout to the New Order even then and formed the Society of St. Pius V (SSPV), which still exists and thrives to this day. The history of the SSPX commends to everyone a highly circumspect approach.
In order to dole out information only when and how and to whom it wants to, the Fellayite faction of the SSPX is now more frequently using the "rumor" ploy. Since the Fellayites don't want their words and actions to be judged by the traditional Catholic community at large, they feed to their SSPXers only what they want them to know, which is a "nuanced" and "spun" version of reality, not to give a complete picture of what is going on with them in Newrome. If anyone outside the SSPX should dare to present a different analysis of widely-known facts, the Fellayites will disparage it by calling it only a "rumor."
Recently, when a TRADITIO reader approached Fellay on one of his propaganda tours to SSPX chapels and asked him in a nice way to comment on the broader implications of his actions that had been raised in TRADITIO Commentaries, the reader said that Fellay's benign facade immediately turned angry and hateful, and he issued a string of invective that shocked the reader! Obviously, he doesn't want the reality exposed.
This, curiously, is the same reaction that traditional Catholics get from Novus Ordo officials when, even in a reasonable way, anyone questions the basis of the New Order. So, Fellay personally knows full well that a more realistic analysis of the facts, different from his own "spun" version, is getting out, even to numerous SSPXers, and since he has no control over non-SSPX personnel, he is frustrated out of his impotence. Thus is explained his irrational, emotional response.
---
Benedict-Ratzinger All Newchurch When It Comes to the Novus Ordo Service
From: The Fathers
The papal Novus Ordo service for the Solemnity of Mary, Mother of God -- this "solemnity" in itself being a Novus Ordo replacement of the traditional Feast of the Circumcision of Our Lord -- was further confirmation that the Benedict-Ratzinger is Novus Ordo all the way.
First of all, he chose -- as he always does -- to use the Novus Ordo Protestant-Masonic-Pagan service, not the Traditional Latin Mass that all his predecessors before Paul VI did. Secondly, he used the Third Eucharistic Prayer, one of the original four concocted by Hannibal Bugnini to please the Protestants and to allow the Novus Ordo to be used in Protestant churches -- which it is. Benedict-Ratzinger has never celebrated the Traditional Latin Mass since long before his papacy.
He has also used the Second Eucharistic Prayer, the so-called "Presto Prayer" of Hannibal Bugnini, because it is rushed through so fast that the invalid consecration is hardly noticed. This "Eucharistic Prayer" (the Novus Ordo cannot call it a "canon," because the true Mass of the Church has only one canon, or standard, the one that came from St. Peter and the early Roman Fathers) was made up from scratch in the 1960s by Hannibal Bugnini and his six Protestant advisors. Although originally the New Order tried to sell it as composed by the early heretic Hippolytus, in fact it was assembled, together with the third and forth, in a hotel in Lucarno, Switzerland, by a group of Novus Ordo and Protestant "liturgists," as admitted by Bugnini himself in his stultifying 1000-page apologia, La Riforma Litugria.
Ratzinger himself admitted that the Novus Ordo is not Catholic, that it is a break from Catholic Tradition and teaching:
What happened after the [Vatican II] Council was something else entirely: in the place of liturgy as the fruit of development came fabricated liturgy. We abandoned the organic, living process of growth and development over centuries, and replaced it -- as in a manufactured process -- with a fabrication, a banal on-the-spot product. (From Cardinal Ratzinger's preface to the French edition of Newchurch's own Msgr. Klaus Gamber's 1993 expose of the fabrication of the New Order entitled The Reform of the Roman Liturgy)
The Novus Ordo service is the product of committees, not of the Apostles and the Roman Fathers. The Latin of the original version is not the Vulgate Latin of St. Jerome, which was actually spoken and written, but a manufactured Latin that no one ever prayed in or even spoke. This pseudo-Latin, a kind of "Esperanto," was composed for the purpose of making it easy to translate into the European vulgar tongues, which St. Jerome's Vulgate could not be. In 1945, the Vulgate Psalter had already been turned into this pseudo-Latin by the Jesuits and released for optional use in the recitation of the Breviary.
Nor is the choice of the fabricated Novus Ordo "Eucharistic Prayers" on the part of Benedict-Ratzinger mere happenstance. They are his consistent practice. He has said on more than one occasion that he is grateful for the variety of prayers in the New Mess, including the "Eucharistic prayer," which he himself called a fabrication." He's certainly not a devotee of the Traditional Latin Mass in his actions, but will occasionally give a little lip-service to the "old [sic] liturgical books."
The fact that Benedict-Ratzinger uses the concocted "Eucharistic Prayers" of the Novus Ordo should indicate to the "conservative" Novus Ordinarians wearing their rose-colored glasses that Newpope is a Modernist all the way. At a minimum he could use First Eucharistic Prayer, which, although it has been modified from the traditional Apostolic and Roman form into invalidity, he could at least claim to be more "conservative" -- for all the good that does anyone.
---
TRADITIO REACHES THREE MILLION PARTICIPANTS
On January 9, 2006, in the twelfth year of its Apostolate on the internet, TRADITIO has reached its 3,000,000th participant. TRADITIO was the first traditional Roman Catholic site to appear on the internet. We were here even before the Vatican was! We thank the Lord for our three million participants over these years and for our hundreds of dedicated correspondents from all over the world, who keep us current on everything going on in the bowels of Newvatican, in the inner sancta of various traditional organizations, and at many Traditional Latin Mass sites. TRADITIO was determined by an Alexis-Amazon statistical survey to be the most popular traditional Roman Catholic web site on the internet.

In its daily Commentaries from the Mailbox, TRADITIO does not just copy news reports from secular and religious publications, who in fact have very little background or understanding of what they write about, nor does TRADITIO Represent any particular organization's viewpoint. Instead, TRADITIO provides the hard-hitting, independent analysis and perspective of half a century of "cradle" Roman Catholicism, even from before Vatican II. TRADITIO is avidly read even within the bowels of Newrome and Econe.

In addition to the daily Commentaries, TRADITIO provides resources and materials for its participants to study and learn about the traditional Roman Catholic Faith: FAQs, Library of Files (Traditional Apologetics), Holy Cards, Missions, Stations of the Cross, Novus Ordo Service Photo Gallery, Papal Photo Gallery, Special Features and Articles by prominent traditional writers, a list of Traditional Catholic Priests Wanted and Available, numerous files and texts on the Traditional Latin Mass, Office, Sacraments, and Chant, and the Traditional Liturgical Calendar.

We are touched by the many thousands of messages that we have received from Novus Ordinarians who say that they have been converted, or have reverted, to the traditional Roman Catholic Faith because of TRADITIO's uncompromising, independent commentaries and materials. Of course, we are just one of many means through which Our Lord appears to be working out the Traditional Catholic Restoration of the 21st Century. Soli Deo Gloria!
---
January 9 - Within the Octave of the Epiphany
Semidouble Feast
Levada's Archdiocese Held Liable to Pay;
U.S. Federal Court Denies Archbishop "Diplomatic Immunity"
From: The Fathers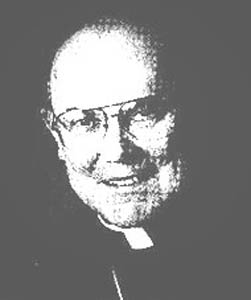 Shadow of a Newchurch Bishop, William Levada
The U.S. Federal Court Has Ruled Against Benedict-Ratzinger's Sex-Crimes Czar
The Court Is Holding Levada's Archdiocese Liable for at Least $155,000,000
And Has Denied Him "Diplomatic Immunity" for Lying
The Portland, Oregon, archdiocese ruled by William Levada, whom Benedict-Ratzinger chose in May 2005 to run the Sex-Crimes Unit of Newvatican, has been held liable to pay out for the crimes by ransacking Newchurch parish treasuries and selling parish properties. The archdiocese had tried to get out of its responsibility for allowing a virtual Cosa Nostra of Sex Crimes in the archdiocese by claiming that the parishes owned their own assets and properties.
Everybody knows that the Newchurch bishops hold a vice-like control of these assets and properties. Parishes have no control. If they want to get a traditional priest to celebrate the Traditional Latin Mass, the bishop would claim control, squash it, and "excommunicate" everyone in sight. With Newchurch bishops, control is the name of the game. It is their lifeblood.
The Portland archdiocese is now in bankruptcy. It has to pay off, to date, $155,000,000 in claims for sex crimes. A similar ruling had been made by a federal court against Newchurch bishop William Skylstad in the bankrupt archdiocese of Spokane. The embarrassment of that case is that the clueless U.S. Conference of [Newchurch] Catholic Bishops have elected Skylstad their president!
The federal court on December 23 handed Levada and Newvatican a stunning defeat by approving all of the categories of questions that victims' attorneys want to ask Levada at his deposition about sex crimes when he was archbishop in Portland from 1986 to 1995. The court is holding Levada liable to be interrogated about his "patterns, practices, and policies with regard to allegations of sexual misconduct." The court also approved Levada to be interrogated about the extent to which he will lie by "mental reservation" and about "internal church organization and practices."
All of these topics Levada had wanted to be excluded by "diplomatic immunity," now that he has fled to the Vatican City State for protection. Levada dragged out a bevy of Newvatican lawyers to shield him in the January 6 "Epiphany" deposition in San Francisco. But the federal judge "has basically allowed us to ask everything we wanted to," said one of the victims' attorneys.
---
January 8 - The Holy Family: Jesus, Mary & Joseph
Double Major Sunday
The Story of Two Modernists: Kung and Ratzinger;
One Refused to Play the Newrome Game and Was Decertified;
The Other Played the Newrome Game and Became Pope
From: The Fathers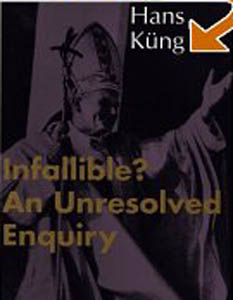 Hans Kung's 1971 Book against Papal Infallibility
Even JPII Couldn't Take It and Pulled Kung's Teaching Certificate
Kung's Modernist Co-Conspirator at Vatican II, Joseph Ratzinger, Officially Received Him
What lay behind the recent two-hour meeting between Benedict-Ratzinger and Hans Kung, the condemned Modernist theologian? Unlike Newpope's meeting with Bernard Fellay of the SSPX, who was scuttled out of a side door in half and hour, Benedict-Ratzinger met with his Modernist co-conspirator at Vatican II for two hours. They are two Modernist peas in a pod. Why, they, were their fates so different? Simple. Because Kung was at least honest enough not to compromise his Modernist integrity. Ratzinger sold out to the Newchurch establishment to gain higher office.
Paul VI had appealed to Kung to go along with the Newchurch papal political party, but Kung didn't want to go along. Kung didn't want even Newchurch. He wanted to do away with the pope, to democratize and decentralize the Church. In 1971 he issued Infallible? An Unresolved Inquiry, which disputed the dogma of papal infallibility. This was too much even for JPII, who officially pulled his ticket to teach for Newchurch in 1979.
Whereas Kung at least stood strong against compromising his erroneous Modernist principles, his Modernist co-conspirator at the council, Joseph Ratzinger, decided to go play Newrome's game. He concealed his radical Modernism, which was too much even for Newrome, and proceeded on a career path that led to the papacy.
---
January 7 - Within the Octave of the Epiphany
Semidouble Feast
Fellayite Sell-out of Society of St. Pius X Progresses;
Newvatican Suspected of Working through Fellay to Destroy the Society
From: The Fathers

Paul Morgan, British District Superior of the SSPX
Thinks that Newchurch Is Going to Fix Its Liturgical Shipwreck
Another Young Naif Plays into the Fellayite Sellout to Newchurch
It is obvious that the rift within the Society of St. Pius X over whether members should follow Bernard Fellay, who is actively working to put the Society under the authority of the New Order, or to resist such a move, as other SSPX bishops have indicated, is widening. The latest piece of Fellayite pro-Newchurch propaganda comes from Paul Morgan, the SSPX's British District Superior.
Morgan naively claims in a January 2006 newsletter that "the battle for the Mass is almost won." And on what basis does he postulate that ridiculous conclusion? Why, "[New]rome now concedes that the Traditional Mass was not suppressed, that it should be made more widely available, that the faithful can indeed fulfil their Sunday obligation by attending our [SSPX] Masses, that there are problems with the New Liturgy." So what's new about that? Newvatican long ago admitted that. How could it do otherwise and retain even the facade of Catholicism?
The problem is that Newrome will not do anything about it. Where is the announcement from Newrome proclaiming to all Catholics: "Go to the Traditional Latin Mass. It's your right; it's your obligation." It's a simple statement, but you will never hear it from Newrome. At the Roman Synod in October 2005, not a single bishop rose to advocate restoring the Traditional Latin Mass. Yet many bishops suggested making the Novus Ordo Mess even more radical. One Korean bishop called for more clown Messes to amuse the children!
Morgan makes much out of the recent appointment of Archbishop Malcolm Ranjith as secretary to the Congregation for the [Novus Ordo] Sacraments and Divine Worship. Yet, as pointed out in a previous TRADITIO Commentary, up until a couple of years ago, he had never said the Traditional Latin Mass; in fact, he didn't even have a Missale Romanum! Morgan seems to be joining Fellay in 2005's Award for Naivety!
At one time SSPX superiors stood with their founder, Archbishop Lefebvre, in publicly preaching that the Traditional Latin Mass was the only Mass (excepting some minor eastern rites and western religious-order variations) of the Roman Catholic Church. Relying upon the provisions of Sacred Tradition, confirmed by the dogmatic Council of Trent and the explicit provisions Pope St. Pius V carrying out that Council's decrees, the Church had held -- in opposition to the Protestants and others -- that this Mass was not only the right but also the obligation of all Catholics. It was specifically decreed that no "permission" was necessary for a Catholic to exercise his right and obligation to the true Mass. For further information, see the TRADITIO Library of Files for QUOPRIM.TXT: Bull Quo Primum and the Decree De Defectibus [On Defects Occurring in the Celebration of Masses], Given by His Holiness Pope St. Pius V).
Yet here we have the spectacle of Bernard Fellay, with Paul Morgan supporting him, crawling to Benedict-Ratzinger on bended knee, to beg for what is already their right and obligation. Why? Why don't the likes of Fellay and Morgan simply go about their business, offering the Traditional Latin Mass and Sacraments? They don't need any pope's "permission" or "indult." In the United States it would be as if a citizen begged the President for free speech, which is already his right under the U.S. Constitution and needs no Presidential "permission." Quite the contrary. The citizen's right of free speech includes the right to criticize and even condemn the President!
But all this aside, we have a strong premonition that what is going on here is a subtext to destroy the Society of St. Pius X from within. Benedict-Ratzinger and his Newvatican know full well that there is a rift in the Society about even "negotiating" with the New Order. They know that if Fellay sells out to Newchurch, half to two-thirds of the Society would break with Fellay and go with another traditional bishop who has offered himself in that eventuality.
Is, therefore, the plan of Newvatican to draw in Fellay and his Fellayites to sell out the SSPX to Newchurch and thereby cause a chasm in the SSPX that will destroy it as a major source of opposition to the New Order? A pope and a Vatican that will shelter child-rapists, homosexual predators, and bishop-thieves certainly is just diabolical enough to do just that!
Fellay and Morgan should have the guts to call Newvatican's bluff. They should be telling the pope that they will accept nothing less than the full restoration of the true Mass. That there is nothing to "negotiate" about this. That when the pope is ready to restore the Catholic Faith fully, he can contact the Superior. Meanwhile, Fellay, Schmidberger, Morgan, and other SSPX officials will not be attending any more sell-out pasta feeds with Newvatican!
Instead, Fellay scuttles out of a papal side exit so that he doesn't have to proclaim the Roman Catholic Faith before the press of the world waiting for his statement. And this is what the Fellayites call a "good bishop"? He seems to have forgotten that day, June 30, 1988, when the Evangelarium was placed on his shoulders and he was commanded by Archbishop Lefebvre at his consecration to proclaim the Gospel and, with it, the Faith of Our Lord Jesus Christ. The full Faith, not just a convenient part thereof.
---
TRADITIO readers have often asked about the history that preceded the implementation of the Novus Ordo. A new file has been added to the TRADITIO Library of Files (Catholic Apologetics) to give some aspects of this background. For further information, see For further information, see The Liturgical Movement. Part I: Its Origins to World War II. Part II: World War II to Vatican II. Part III: Vatican II and Its Aftermath.
---
January 6 - Epiphany of Our Lord
Double Feast of the First Class
Complete Friday Abstinence
Another Trick Played on Traditional Catholics at World Youth Day 2005
From: Anastasia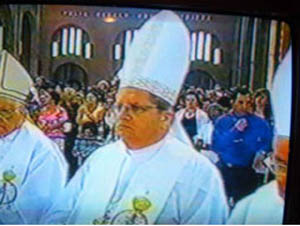 Newchurch "Indult" Puppet Bishop Fernando Rifan Caught in a Lie
Posing as "Traditional," He Tells Iuventutem "Indult" Group to Attend the Novus Ordo Mess
He Said that He Was Exclusively "Indult"
But Here He Is Caught by the Cameras Concelebrating the Novus Ordo Mess Himself!
Dear Fathers:
Someone I know who went to World Youth Day in Cologne with the Juventutem ["Indult"] group reported on events, from which we can gather the following information.
The first week was spent at the "Indult" Fraternity of St. Peter seminary in Wigratzbad in Bavaria, where the group was joined by the Newchurch puppet Bishop Rifan, of Campos, Brazil. While there the young people were addressed by Newchurch bishops and presbyters who gave lectures on philosophy and faith, all from the Vatican II perspective.
Bishop Rifan encouraged the Juventutem pilgrims to attend the papal Mess as a sign of their "loyalty to the Holy See" and said that they "must show this by concrete actions as well as by our words, whatever misgivings we might have about the new liturgy."
So the truth is all coming out in the wash! Bishop Rifan's accommodation to the Novus Ordo must have been part of the "deal" that he made with Cardinal Hoyos as a condition of being "recognized" by Newvatican. The problem is that he is jockeying the young people along and sucking the new generation of traditional Catholics into the modernist machine. That is the price to be paid for rubbing shoulders with the Modernist regime of the Conciliar popes. Once the first step of compromise is made, it's all downhill from there.
The Fathers Reply.
Of course Rifan sold out to the New Order in order to be installed as the puppet "indult" bishop in Campos. Your firsthand report indicates exactly what is to be expected. The "indult" is not intended to give Catholics back their right and obligation to the true Mass and Sacraments. It is intended to pervert them to the New Order while still collecting their money to pay off for Newchurch sex crimes. Obviously, Juventutem was intended as an indoctrination camp for the New Order.
Why should it surprise anyone that Rifan is trying to get young indultarians to go to the invalid and unCatholic Novus Ordo Protestant-Masonic-Pagan service? He himself, after pledging to celebrate the Traditional Latin Mass exclusively, himself participated in a public concelebration of the Novus Ordo, then lied about it. Unfortunately for him, his lie was caught by television cameras. Yet he presumes to wander around claiming to be "traditional" to mislead the indultarians.
Good Catholics, don't be fooled by these phony Newchurch bishops: Hoyos, Rifan, Ranjith. They are in no way traditional bishops; even Benedict-Ratzinger was consecrated as a bishop in the Novus Ordo. Their purpose is now, as it has always been, to pervert traditional Catholics into the New Order. To do that, they will hold out a few carrots to deceive. Their principal modus operandi is to "dialog," in other words, talk, talk, talk, not act. For the last forty years, the New Order has established itself in Newchurch, and the Conciliar popes and their henchmen have never backed down from their commitment to the New Order -- first, last, and always.
Good Catholics, don't be deluded by pointless crumbs. They are just like the crumbs of cheese used in a mousetrap. The deluded mouse, thinking that he is headed for a feast ends up with his head chopped off when the trap springs on his neck!
---
January 5 - Vigil of the Epiphany
Will Benedict-Ratzinger Rearrange the Newchurch Titanic's Deck Chairs?
From: John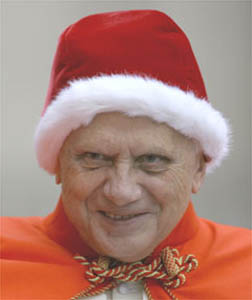 Pope or Santa Claus?
The Ignorant Indultarians and Confused Conservatives
Think that Benedict-Ratzinger Is Going to Give Them a Gift with a Newcuria
Even if the Deck Chairs on the Newchurch Titanic Are Rearranged
The New Order Mess, Theology, and Morality Will Continue as Usual
Dear Fathers:
There appear to be more rumors of a Curia shake-up. Some "conservatives" are trying to make the changes look like a boon for "traditionalists." What do you think?
The Fathers Reply.
If we've learned anything in the last years, it is that the Conciliar popes play traditional Catholics for fools. Even Michael Davies, the late President of Una Voce, had to admit that all the time he spent talking with Newchurch officials, Hoyos and Ratzinger included, was essentially a waste of time. They'll talk your head off, he said, but intend to do nothing. After all, they are New Order through and through. In eight months, Benedict-Ratzinger still hasn't celebrated a single Traditional Latin Mass.
The latest reports are just more Newchurch propaganda to fool the "conservative" Novus Ordinarians. If any of the shake-up happens, it's still pointless. The New Order will continue to delude the Indultarians, who will still remain under the finger of Novus Ordo Protestantism. And that is exactly what is important to Newchurch: to keep the Indultarians putting their dollars into the collection plate to pay off for continuing Newchurch sex crimes.
Don't forget. Benedict-Ratzinger has already showed us his true colors by two prominent appointments that he made in recent months. He appointed the former Newchurch archbishop of San Francisco, William Levada, as his Newvatican sex-crimes czar, while that archbishop is under subpoena to investigate his role in the sex crimes of two archdioceses. Benedict-Ratzinger then appointed to fill the vacancy George Niederauer, a prominent advocate of "gay Catholicism," a Benedict-Ratzinger appointee whom prominent radical "gay advocates" praised to the skies.
TRADITIO will believe that something real is happening when the pope celebrates a Traditional Latin Mass in St. Peter's and calls upon every Newchurch bishop and presbyter to do so every day, together with the pope's announcement of the sunsetting of the Novus Ordo service. Otherwise, how can a real Mass "co-exist" with a phony Mess? How can real Catholic doctrine exist with Modernism? How can real Catholic morality exist with popes, and bishops, and presbyters who practice or suborn immorality? It's merely a counterfeit, a fraud, a facade.
If any of the shake-up happens, it's only because traditional Catholics (excepting for this purpose the Indultarians, who have wedded themselves to the New Order) have been publicly saying that they will not recognize a pope that forwards the agenda of the New Order, and Newpope and Newvatican are quivering, trying to get the Fellayite fringe of the SSPX to buy in before the facade comes crashing down like the Wizard of Oz. Benedict-Ratzinger is, and always has been, a Modernist. He just conceals it better than his predecessor with a veneer of gentlemanly German polish instead of the Polish clownishness of is predecessor.
If any of the shake-up happens, the Indultarians and "conservatives" and "semi-traditionalists" will fall for it. But you, good Catholics, will certainly not. After forty years you know better. You've heard rumor after rumor, and even those that have turned out to be true have produced no real change in Newchurch. Meanwhile, the rats are deserting the ship, and Newchurch is not long for this world. It will shortly be left gutted as a "ship of fools."
---
January 4 - Octave Day of the Holy Innocents, Martyrs
Simple Feast
Some Spiritual Exercises for the New Year
From: David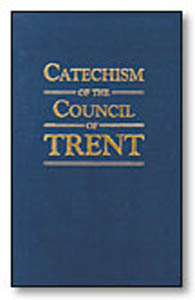 One Translation of St. Charles Borromeo's Roman Catechism
This Is just One of Many Sources for Spiritual Practices
Befitting Traditional Catholics for the New Year
Dear Fathers:
As the New Year is beginning, perhaps you could make some suggestions for spiritual exercises for laypeople. Any help on this subject will be very much appreciated.
The Fathers Reply.
Sometimes one can worry too much about "structure." People seem readily to fall into the idea that there is some set of "magical steps" that is going to produce perfect "spirituality." This sounds more like Buddhism than Catholicism!
A Catholics' faith is expressed primarily in his actions, his habits, his way of life. A Catholic is to practice the virtues, and in these, as St. Thomas Aquinas points out from Aristotle, practice makes (more) perfect. There is no perfect set of "spiritual exercises." It is best for each person, perhaps with guidance of a confessor or spiritual director, to select those texts and methods that will work for that person from the Church's rich treasury.
We will list a few things that we find work best for most laypeople. But before that, we want to lay out some basic principles.
Don't Run a Race. The important thing in any spiritual exercises is slowness and thought. This is not a speed-reading exercise. In the ancient Greek proverb, ou polla, alla polu, not quantity, but quality. Do less rather than more. Five or ten minutes of attentive prayer and meditation is infinitely better spiritually than an hour of inattentive, mindless recitation.
Be Regular. Five minutes a day is infinitely better than jamming 35 minutes into a single day. Your spiritual practice should set the spiritual tone for your whole day. Thus, it is often best to do this in the morning. But sometimes the morning is too busy for people, and the quiet of noontime or the evening is better. The time is not as important as the regularity.
Don't Read, but Meditate. For example, you can take even a single verse or a single parable of Scripture and meditate (just a fancy word for "think") about it. What does it mean? What is its literal, metaphorical, moral, and spiritual significance? How can I apply its lessons to my life? How is Our Lord speaking to me through this verse, parable, etc.?
Talk Less and Listen More. Too often Catholics talk and talk and talk in prayer. You wouldn't do that in a conversation with a friend. You would want to hear his response, his thoughts, his reactions. As you meditate upon what you read, let Our Lord speak to you in the quiet of your mind, heart, and soul. His voice is there, but often you never take the time to listen to it because you are reciting formulaic prayers, often without much attention.
Laypeople Are Not Religious. Remember that as a layperson, your spiritual practices will be different from the religious or even the secular clergy. All too often laypeople are directed by inferior spiritual directors to works and practices that are meant for religious. For example, the Spiritual Exercises of St. Ignatius might work well for Jesuits, but they usually are not the best choice for laypeople.
Don't Try to Do Everything. Take one thing and work with it for a while. After a week or so, review how it is, or is not, working for you. If you are unsure, try another week. Otherwise, try something else. The Church's treasury of spiritual practices is so multitudinous that there is the widest choice of practices open to you. But once you have found a spiritual practice that works for you, stay with it for some time, to allow it to bear spiritual fruit for you.
So, let us give some recommendations for spiritual practices, in no particular order. This list is certainly not exhaustive, nor is it meant to be. It is meant to be suggestive of practices that seem to meet most laypeople's needs.
The Bible. Sacred Scripture is an often-ignored source of spiritual insight for Catholics. Yet the works of the Fathers of the Church are founded upon Sacred Scripture. St. Augustine, St. Ambrose, St. Gregory, St. Jerome, St. Leo, and the others can hardly write a sentence without an allusion to Sacred Scripture. A slow reading of and meditation upon Scripture, best starting with the Gospels, then the Epistles, ideally using such supplemental materials for understanding, is a most commendable practice.
The Fathers of the Church. And since we have mentioned the Fathers of the Church, here is another excellent source of spiritual inspiration. There are many editions of the Fathers' works, some specifically selected for lay use. We would suggest starting off with the Confessions of St. Augustine, a very approachable work and one of the greatest and most influential works of western civilization. The works of the Fathers is an essential part of Sacred Tradition.
Follow the Missal. The Roman Missal is a treasure-house of spiritual enlightenment. Following the daily Mass Propers with the Church using a traditional calendar is an excellent way to consecrate the day and to review the events in the life of Our Lord, the Blessed Virgin Mary, and the Saints. A complete handmissal will have all of these texts, in both Latin and English, and with an historical and religious introduction.
Pray Parts of the Divine Office. There is no better prayer than the Divine Office, established to worship God during the hours of the day and the days of the week. There are abridgements of the Divine Office for laypeople. You can even sing it! There is also the Officium Parvum Beatae Mariae Virginis, the Little Office of the Blessed Virgin Mary, which those wear the Brown Scapular are pledged to recite daily. Those who have some facility with the Church's language should use Latin for more spiritual benefit.
Prayers New, but Old. One should think first of private prayer in conversation with God, not primarily formal prayers. Catholics often rely much too much on formulaic prayers, which they mumble, usually in the vernacular, with very little thought. All too often the Rosary falls into this category. For another approach, which is more in concert with the history of the Church, try a psalm a day. The spiritual value of the psalms has been proven for more than 3000 years, and the psalms are at the center of the Church's worship. For special occasions, one might use the Penitential Psalms or the Gradual Psalms. Another great source of spiritual elevation is the five traditional Litanies of the Church (of the Saints, of Loretto, of the Holy Name, of the Sacred Heart, of St. Joseph).
Sing! St. Paul, in a famous passage in one of his Epistles, exhorts the faithful to sing their Faith. Our Lord Himself sang on the way to the Garden of Gethsemani. St. Augustine said: Qui bene cantat, bis orat, he who sings well prays twice. Sing the familiar Gregorian hymns, which distil in a few words the great truths and spiritual insights of the Faith. Primary among these hymns are those of St. Thomas Aquinas, which will be found in your missal under the Feast of Corpus Christi.
Catechism. Everyone needs to deepen his knowledge of the Faith. Most people are abysmally ignorant of their Catholic Faith and are working with a 7-year-old's catechism. The Roman Catechism (of the Council of Trent) is excellent for this purpose. For the more advanced, St. Thomas Aquinas's shorter works are excellent. He wrote several catechetical works himself, and even his Summa contra Gentiles might be used.
The Imitation of Christ. The best single spiritual work that anyone can use outside of the above is Thomas a Kempis's De Imitatione Christi, the Imitation of Christ. Its directness and clear application to life have edified almost a millennium of Catholics.
Follow the Saints. In many ways, this should be the first on the list rather than last. Find a Saint or Saints that speak to your condition of life: married, single, husband, wife, son, daughter, student, worker. There are thousands of known Saints, and many of them wrote edifying books about their life and spirituality. Use these as the model for your own spiritual life.
Finally, the question is bound to arise: where do I find these sources? For further information, see the TRADITIO Library of Files for FAQ05: What Traditional Books Do You Recommend?, which covers virtually all of these areas. For other areas, the TRADITIO Library of Files is a rich source of suggestions and information.
---
January 3 - Octave Day of St. John, Apostle & Evangelist
Simple Feast
Vatican Official Criticizes Newchurch for Destroying Church Music
From: The Fathers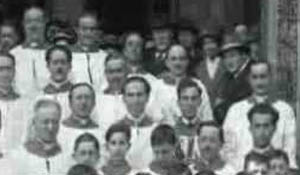 Part of the Sistine Choir on Tour in 1922
At One Time Rome's Choir Was the Envy of the World
Drawing the Likes of Mozart and Mendelssohn to Rome
Now It Is Embarrasingly Inferior
After a period of decline, Pope St. Pius X restored the traditional place of Gregorian chant in the Holy Sacrifice of the Mass and the Divine Office, 1and kicked off a liturgical restoration that saw the formation of chant choirs in most of the parishes and religious houses around the United States and the world. Popes Pius XI and XII continued that restoration. That is what real popes can do when you they set their mind to it.
The Conciliar popes sometimes mouth platitudes about chant and sacred music, but their own Sistine Choir is a joke, and Newchurch parishes continue the Kumbaya school of "music," which resembles a Protestant camp meeting, not a Catholic Mass. At one point the Sistine Choir was the envy of the world. First-class composers like Mozart and Mendelssohn (a Protestant!) traveled to Rome to listen and learn. No more.
Now Newchurch Monsignor Valenti Miserachs Grau, President of the [Newchurch] Pontifical Institute of Sacred Music, readily admits that Newchurch has abandoned its Catholicism in music by essentially abandoning the only fully Catholic sacred music, known as Gregorian Chant. He stated that "new" music, in the majority of cases, has failed to root itself as Catholic and has brought a "general impoverishment." Catholic church music has been "amputated." He advocates much less "congregational" singing, and more responsibility placed in the choir (schola), the cantor, the psalmist, and obviously the celebrant.
Monsignor Miserachs admitted that the Pontificial Institute is merely a paper-tiger. It is not a body that has any authority to set and enforce standards of Catholic sacred music, particularly the chant. Pope St. Pius X had such a body; Pope Pius IX had one; Pope Pius XII had one. But not the Conciliar popes, who for the last forty years have been playing an unCatholic game of words that has allowed the Roman Catholic Church to become the Newchurch of Barbarism.
Yet chant CDs are quite popular. Some have even risen to the top of the best-seller lists. In sacred music, as in so many other things, Newchurch is totally out of step with Catholicism, let alone the spiritual needs of the people.
---
January 2 - Most Holy Name of Jesus
Double Feast of the Second Class
ABC Resurrects "Pope Joan"
From: The Fathers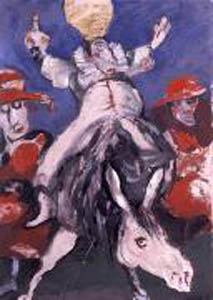 A Satirical Depiction of the Non-Existent "Pope Joan"
Riding a Jackass and Surrounded by Clown-Cardinals
ABC Has Resurrected This Travesty Yet Again
To Pander to the Ignoscenti
You know it must be a slow season when a commercial network has to resurrect yet again a piece of junk history. ABC's Diane Sawyer slogged yet again "On the Trail of Pope Joan." This is what apparently passes for "religion" on commercial stations these days. It plays to a public ignorant of religion and history, who will believe in lost Gospels, end-of-world apparitions, women-popes, astrology, enneagrams, yoga. You name it; they'll lap it up. Let us review for you, yet again, the evidence.
At about the time of Pope Leo IV (847-855), some anti-Catholic polemicists alleged that a so-called "Pope Joan" held the papal office. There is, in fact, no truth in the story of the woman-pope. The legend is based on ignorance of Latin, since this purported "Joan" is simply the common abbreviation Joan. for Joannes (John) in early mediaeval manuscripts.
In fact, it was a Protestant Calvinist who first (1657) demonstrated the unhistorical character of the allegation. He was followed by Petrarch, Leibniz, Dollinger, and all historians since. An array of reference books, from the Encyclopaedia Britannica to the Oxford Dictionary of Popes, as well as Edward Gibbon, author of The Decline and Fall of the Roman Empire," dismiss "Pope Joan" as a mythical or legendary figure, no more real than Paul Bunyan or Old King Cole.
The chief weakness of the Pope Joan story is the absence of any contemporary evidence of a female pope during the dates suggested for her reign. In each instance, clerical records show someone else holding the papacy and doing the deeds that are transcribed in church history. Another problem is the gap between the alleged event and the news of it. Not until the 13th century -- 400 years after Joan, by the most accepted accounts, ruled -- does any mention of a female pope appear in any documents. That's akin to word breaking out just now that England in 1600 had a queen named Elizabeth.
The moral of the story is: eschew these "historical" programs on television and read an historical book by a legitimate scholar of the period who knows the original languages! For further information, see FAQ10: How Do You Explain These Traditional Catholic Beliefs? in the TRADITIO Library of Files (FAQs and Traditional Apologetics) in the article "'Pope Joan.'"
---
January 1 - Circumcision of Our Lord
Double Major Sunday of the Second Class
New Order Aptly Advertising for Presbyters on the Comedy Channel
From: The Fathers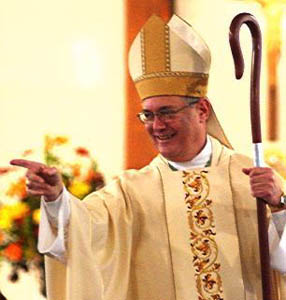 By Hook or by Crook
Newchurch Bishop Thomas Tobin, of Providence
Pays "Materialistic, Atheistic, and Hyper-Sexed"
Comedy Central and MTV to Recruit Presbyters
Whereas It is the New Order that Is Itself the Comedy
Newchurch's concern about declining vocations to the New Order presbyterate seems futile. After all, 85% of Catholics have simply walked out of Newchurch since Vatican II. Therefore, the need for presbyters is hardly that pressing. The number of presbyters will approach zero as the number of Novus Ordinarians approaches zero. In European countries, the number is getting pretty close to zero now. For example, the latest figures from England and Wales indicate that the New Order will be essentially dead in seven years.
Nevertheless, hope springs eternal, as they say, so Newchurch Bishop Thomas Tobin, of Providence, Rhode Island, is advertising for presbyters on the Comedy Channel. Now, we're not talking here about Milton Berle or George Burns. We're not even talking about Bob Newhart. The Comedy Channel features in-your-face blasphemy, scatology, and perversion.
Providence is also advertising for New Order presbyters on so-called Music TeleVision, or MTV. Once again, we are not talking about Bach and Mozart. We're not even talking about the Beach Boys. What is broadcast on that channel can hardly even be called music. Moreover, it is accompanied by the most bizarre elements of the "Trash Culture."
"I think that what we're trying to do is increase awareness and perhaps plant some seeds that might bear fruit right away." In his interview the Associated Press on the New Order dearth of presbyter vocations, Tobin did not define exactly what kind of "fruits" he had in mind.
Presbyter Michael Najim, the diocese's assistant vocation director, says that Newchurch is "just like any other business world." Perhaps that's the problem. Newchurch is so busy "redefining" itself to synch up with Modernism that it has lost its divine foundation. Therefore, no one is interested in being "called" to a Counterfeit Church with a Counterfeit Mess, to sit in a big Protestant minister's chair and do nothing sacramental. Najim said that the ads draw visit to its web site (to engage in prattling "chat"), but he could not point to a single seminarian that came because of a TV commercial.
Tobin said that recruiting young presbyters is more difficult in today's culture, which he called materialistic, atheistic, and hyper sexed. So what does Newchurch do. It pays money to materialist, attheist, and hyper-sexed television networks like the Comedy Channel and MTV to attract materialistic, atheistic, and hyper-sexed young men to the New Order's materialistic, atheistic, and hyper-sexed presbyterate.
---

Return to Commentaries from the Mailbox.