August 2006
For answers to many questions, consult the Official Traditional Catholic Directory, Listing All Traditional Latin Masses and Traditional Resources for the United States and Canada (11th Annual Edition - 2006). To order the full 147-page paperback edition, click on the button below: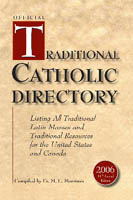 Buy the 2006 Traditional Directory.
For information about the protocol for sending messages to the Fathers, see Ask the Fathers.
| | |
| --- | --- |
| | If you wish to support the work of the TRADITIO Network, click on the box to the left to made a donation easily, securely, and confidentially by bank account or credit card through PayPal. Regular contributors become Benefactors of the TRADITIO Network, and their intentions are specially commemorated at Traditional Latin Masses offered. Indicate in the Message section of your payment "For TRADITIO Network." For other methods, see FAQ01: How Do I Help to Offset Expenses? |
---
August 31 - St. Raymund Nonnatus, Confessor
Double Feast
Sex Is just the Tip of the Iceberg
From: The Fathers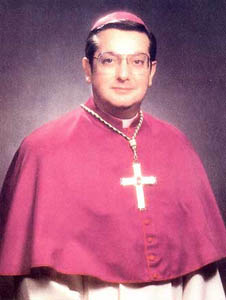 Cleveland Newchurch Bishop Anthony Pilla
Another Newchurch Bishop Covered in the Scarlet of Sin?
A Cleveland Investigative Reporter Claims that He Approved a "Secret Account"
Which Was Used to Pay Kickbacks from Newchurch to Individuals
It's not just sex crimes in which Newchurch is awash. Even more serious in many ways are the numerous embezzlement crimes reported across the United States, in which Newchurch bishops and presbyters have diverted money from their own Newchurchers.
The Newchurch diocese of Cleveland, Ohio, has been awash with charges of kickback crimes. Up until now, the arm of the law had pointed to former diocese Chief Financial Officer Joseph Smith and another former employee, Anton Zgoznik, who appeared in federal court on August 23, 2006, to answer charges that include conspiracy, mail fraud, and money-laundering involving Newchurch funds that were channeled to private individuals. "The case involves millions of dollars in Church-related business and whether the former employees illegally profited from it," according to Cleveland-Akron NewsNet5.
But now there is a new development in the kickback scheme. NewsNet5 investigative reporter Ron Regan, in an article posted August 23, has claimed that Newchurch bishop Anthony Pilla himself "gave the green light" for a "secret Church bank account" and that it was from this account that large sums of kickback monies were being paid out to private individuals from Newchurch funds. "Smith is accused of being paid $270,000 in a secret Church account. Lawyers for Zognick said that their client was not only authorized to make those payments, but that top Church officials knew about them, including the recently-retired bishop."
In fact, the corruption is claimed to have involved essentially the entire Newchurch diocese's officialdom, according to lawyers for Zgoznik. "The chief financial officer was aware of it, the committee that reviewed the finances made up of lay people and priests were aware of it, the CPA firm that audited the books every year was aware of it, the bishop was aware of it," said defense attorney Robert Rotatori.
Good Catholics, we see again that, like the fabled fish, the Newchurch of the New Order is rotten from the head all the way on down. How any Newchurcher can justify putting one penny in a Newchurch collection-plate, let alone attend its New Order Protestant-Masonic-Pagan service is beyond any moral belief that can rightly call itself "Catholic."
---
August 30 - St. Rose of Lima, Virgin
Double Feast
SSPX Bishop Snubbed by Newpope;
Inside Report Reveals Dissention at SSPX General Chapter Meeting
From: The Fathers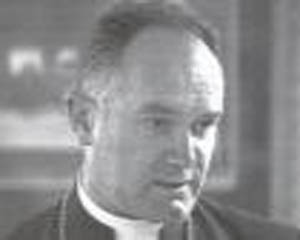 Bernard Fellay, Superior General of the Society of St. Pius X
Not a Happy Camper One Year After
His "Beheading" Meeting with Newpope on August 29, 2005, Meeting
Last August 29, 2005, the Feastday of the Beheading of St. John the Baptist, SSPX Superior General Bernard Fellay turned his back on the policy of his Society's Founder, Archbishop Marcel Lefebvre, and went running off to New Rome (actually Newpope's summer palace at Castel Gandolfo), biretta in hand, to start the sellout of the Society to Newchurch. The SSPX propaganda machine geared up to spit out hokum about a new era in Newrome, in which the SSPX could now become a cog. The "excommunications" of the SSPX bishops would be lifted, and all priests (Novus Ordo presbyters?) around the world would be able to say the Traditional Latin Mass at will.
But something happened in the last year, just as the TRADITIO Network said it would: reality set in. Fellay discovered that large segments of his own Society, including the other bishops, thought that he had become an outpatient at Bellevue. Why had the Society suffered for almost forty years standing firm with the traditional Catholic Faith, Mass, and Sacraments, only to sell out to the old Modernist from Germany?
Newrome, for its part, realized that the sellout of the Society of St. Pius X was a poisoned deal. Fellay was launching out on his own without solid support from his own organization. The other bishops started making statements, albeit somewhat veiled, about their opposition to a sellout. Reports started to circulate of SSPX priests taking a sede-vacantist position. Fellay's propaganda effort in Society publications to argue for the validity of the New Ordinal of 1968, in which Newpope himself was consecrated a bishop, was vigorously attacked by traditional theologians, who made a strong counter-argument.
Then, of course, there was the meeting of Newchurch cardinals in March 2006, at which the cardinals told Newpope in no uncertain terms that they didn't want any extended "indult" for the Traditional Latin Mass, much less have anything to do traditional Catholics. Oh, yes, this was all stated in sugary sycophantic terms, but the message to Newpope was clear: "Stay the Hades out of it!" And Newpope had already promised that he would stand firm by Vatican II "collegiality": he would not exercise any papal power without the concurrence of his cardinals and bishops.
Fellay's plans for the sellout now shattered -- in large part due to the public exposure of his actions by independent outlets such as the TRADITIO Network, European periodicals, and French web sites --, Fellay is now trying to disentangle himself from his foiled sellout. So, in an interview with CNS on the anniversary of his abortive August 29, 2005, meeting with Newpope, he is intimating that he never really wanted a sellout. It was all "rumor" and "gossip" -- the typical response when an SSPX leader is confronted with facts. Yet, the documentation is there: in numerous European periodicals, French web sites, and, of course, the TRADITIO Network.
But something has changed since Fellay's beheading. And that is that he no longer controls the flow of information. SSPX members are taking official releases and publications more and more cum grano salis. They are looking to other sources to tell them what is going on in their own organization. In fact, Fellay is facing a revolt from priests in his own organization, particularly those in France, where the Society is most populous. They are sick and tired of his dictatorial practices (the SSPX has always had a reputation for being quite hateful to priests who don't tow its line 100%).
To date, Fellay's response to this revolt has been to authorize calumnies to be spread against his own priests. He has even exposed confidential records to his agents in French web sites. But that is a dangerous tactic. It works both ways. Nor can he take solace in the fact that through a manipulated election, he has been "re-elected" as Superior General for a dictatorial term of 24 years! After all, history tells us that Julius Caesar was elected dictator for not 24 years, but a lifetime. And he survived less than three years after that.
The TRADITIO Network's European SSPX Correspondent Pool has reported to us from inside the recent General Chapter meeting at Econe, Switzerland, in July that:
there was very strong opposition from the three other SSPX bishops against Fellay and his ecclesiastical game for the sellout
the other bishops are becoming more and more opposed to the sellout
the opposition of the priests inside the SSPX against the sellout is growing
the Chapter revealed an opposition between the poor SSPX Districts, who generally stand firm with Archbishop Lefebvre's position vis-à-vis Newrome, and the rich Districts (France, Germany, United States, Switzerland), whose leaders, appointed by Fellay, generally support the ecclesiastical game with NewRome
Yet, the liberalist Fellay cannot change his spots any more than the old Modernist Ratzinger can change his. Fellay stated in the CNS interview that "there would be new contacts with the Vatican and more discussion in the future, but he predicted that reconciliation would take a long time, perhaps years." In other words, Fellay still intends to worship the Golden Calf of the New Order and to prosecute the sellout of the Society. It's just going to take longer than he had originally planned.
Let us look at a page from history to give us insight into the future. In 1965 Pope Paul VI "lifted the excommunications" of the schismatic Eastern Orthodox Church (and vice versa). There was a big kissy-kissy ceremony on the papal balcony with the Oecumenical Patriarch Athenagoras. Fellay too wants the New Order "excommunications" of himself and the other SSPX bishops "lifted."
But what is the real status the now "un"-excommunicated Eastern Orthodox? Is the Oecumenical Patriarch allowed to celebrate the Divine Liturgy in St. Peter's? No. Are Newchurchers allowed to attend the Divine Liturgy of the Eastern Orthodox to "fulfil their Novus Ordo service obligation"? No. Can Newchurchers freely marry Eastern Orthodox? No. In forty years, nothing has changed, only the propaganda. Fellay should take a closer look at history. The handwriting for his lèse majesté to the principles of Archbishop Lefebvre is written on the wall of history.
---
Newchurch Bishop Likely to Be Prosecuted
From: The Fathers
Civil authorities are rapidly losing their awe of Newchurch bishops, now that they have been exposed for what they are: not only apostates from their Faith, but civil criminals as well.
Police investigators in Sonoma County, California, say that they have enough evidence against Newchurch Bishop Daniel Walsh to pursue criminal charges for allowing one of his presbyters charged with no fewer than ten felony sex crimes to escape to Mexico. This would be the first time (hopefully, only the first of many) in which a Newchurch bishop in the United States would have been charged with failing to disclose allegations of sex crimes among his presbyteral staff. The District Attorney's Office is now considering filing charges against the bishop, who would face a penalty of six months in jail and a $1,000 fine. [Source: Associated Press]
---
Newchurch of Love Strikes Again
From: The Fathers
In a release for public circulation, Fr. Philip LaPlante says that he is a religious in the Newchurch Society of Mary (SM). He was originally ordained in the traditional Roman rite in 1948 and in recent years has made moves toward joining the traditional community. As a result, the 86-year-old priest says that his Marist "brothers" have:
stolen his car
absconded with his mailing list of over 300 people who donated money to the cause of the homeless
converted funds, with were donated to him to feed the homeless, to themselves
terminated his health insurance, although he has suffered a stroke and needs medication
Fr. LaPlante's story is not new in Newchurch. After Vatican II, when religious orders attempted to impose the New Order, those who refused to go along were thrown out onto the streets or were committed as being "out of their minds." In fact, the record of Newchurch is one of blind hatred against anyone who stands against it. This Newchurch "culture of hate" has obviously spilled over in the last forty years into the most vile sex crimes and embezzlement of Church monies on the part of popes, bishops, and presbyters.
Let's face it, good Catholics. Newchurch and its New Order are rotten to the core. As the Scriptures say, the false tree must be uprooted entirely and thrown into the fire root and branch. There is no "negotiating" with this kind of evil.
---
August 29 - Beheading of St. John the Baptist
Double Feast
Did an SSPX Bishop Publicly Preach the Validity of Lutheran Orders?
From: The Fathers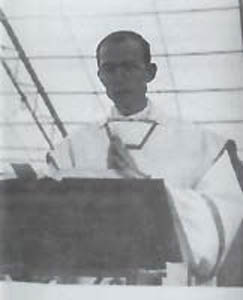 SSPX Bishop Bernard Tissier de Mallerais
His Sermon in Paris on July 30, 2006
Seemed to Accept the Possible Validity of Lutheran Orders
Is the SSPX Shifting Farther into False Oecumenism
Now that It Is Associating More and More with Newrome and the New Order?
On this first anniversary of the August 29, 2005, "Beheading" meeting between Benedict-Ratzinger and the SSPX's Bernard Fellay at the pope's summer palace at Castel Gandolfo, it seems that there is further evidence that the current leadership of the Society of St. Pius X is straying ever farther from traditional Catholicism.
According to the Society's own official newsletter, SSPX Bishop Tissier de Mallerais made a startling statement during the July 30, 2006, SSPX Mass at St. Nicolas du Chardonnet Church in Paris, observing the conversion of a former Lutheran pastor. During his sermon, Tissier remarked:
You yourself, dear Pastor, were a priest. You were a priest for 31 years, following a [Lutheran] ceremony of ordination. There is evidently a doubt on this ordination, since one doesn't know if the apostolic succession in the Swedish [Lutheran] church is valid or not. You celebrated during 31 years what you thought to be a valid Mass in Swedish language.
That is a shocking statement. Is Tissier claiming that the ordinations in the Lutheran sect may be valid when Pope Leo XIII declared Anglican Orders invalid -- Anglican Orders, which are, if anything, much closer to Roman Catholic Orders than the Lutherans'?! Moreover, Tissier seems to be implying that the vernacular Lutheran service could be valid. (For further information, see CURAE: Apostolic Letter Apostolicae Curae [On the Nullity of Anglican Orders], Given by His Holiness Pope Leo XIII in the TRADITIO Network's Library of Files (FAQs & Traditional Apologetics).)
It is beginning to seem as if the leadership of the Society of St. Pius X is beginning to accept, hook, line, and sinker, the false oecumenism of the New Order. Fellay has already seen to the publication of a lengthy justification of the New Ordinal for the "ordination" of Novus Ordo bishops, which has been seriously doubted by eminent traditional theologians. If the SSPX is now willing to accept, even conditionally, the "ordinations" of Lutheran ministers (and presumably Anglican ministers), what's next? Are the Fellayites going to tell us that the Jews can look for their own Messias, as Card. Ratzinger has?
These circumstances simply confirm what the TRADITIO Network has been saying all along: "if you lie with dogs, you get fleas." If you associate with the errors and criminality in Newchurch, you're going to assimilate those errors and criminality. It's only a matter of time.
Pity the poor SSPXers. They're stuck with Fellay and his liberal Fellayites for another twelve years! Of course, it's not their fault; they didn't elect him. The election was an engineered by Fellay through his power of appointment, a put-up job, not so much different from the way conciliar popes have been elected. The SSPX has already learned many "political" techniques from the New Order. Watch carefully for yourselves, good Catholics, and you'll see much more evidence in the coming months.
---
Latin Lives even in Newchurch
From: The Fathers
Although the Modernists have tried to abandon it, Latin lives on, even among those working in Newchurch. The Vatican uses Latin on its official documents. The Vatican Bank and the Institute for Religious Works, has several ATMs inside Vatican City, and they have a Latin language option.
The English culture and wherever it spread -- to the United States, Australia, etc. -- has been steeped in Latin. Isaac Newton's Principia Mathematica (1687), which revolutionized the world's understanding of physical and celestial motion, was published in Latin in 1687, when English was still a provincial language. Queen Elizabeth I (1533-1603) was said to have spoken Latin fluently. The poets Milton (1608-1674) and T.S. Eliot (1885-1965) often wrote in Latin and noted their debt to Latin. The British philosopher C.S. Lewis (1868-1963) wrote some of his works in Latin.
---
August 28 - St. Augustine, Bishop, Confessor & Doctor
Double Feast
Is It a Bird, Is It a Plane; Is It....?
From: The Fathers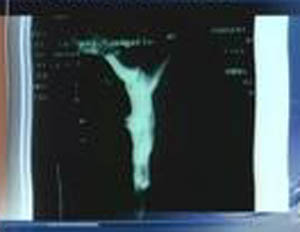 The "Miracle of MRI"
Latest Sighting of a Religious Figure Comes on X-ray Film
When Will These Newchurchers Begin to Realize that the Real Miracle
Is the Most Blessed Sacrament and the Traditional Latin Mass
The latest "sighting" of a religious figure comes to us from Pittsburgh. This time the image is on an Magnetic Resonance Image!
A woman at Allegheny General Hospital had an MRI taken of her spine, because of a bulged disc. Perhaps the problem is not in her spine, but in her eyes, as she "believes one image from an MRI shows a miraculous vision of Jesus, showing the Crucifixion." The woman says that she doesn't know what to do next. But her friends have no such hesitation. They want her to seek earthly profit from the supposedly divine image by putting it up for sale on eBay. [Source: KDKA News]
What a fraud! This nonsense reminds us of the old Vincent Price thriller, The Tingler, (1959), in which a giant centipede-like entity inhabits the woman's spine. Why is all this "apparition" nonsense happening now? We Fathers will tell you. The Newchurchers are so devoid of the true Faith that they are subconsciously (and consciously) seeking it in place where it does not exist.
After all, the greatest miracle of all is the Most Blessed Sacrament. And that cannot be found in the Newchurch temples. It is present only in traditional Catholic churches and chapels. If this woman wants to know what to do next, she needs to get away from phony Newchurch and get herself immediately to a traditional Catholic church or chapel.
---
Catholics Stop Human Sacrifice
From: The Fathers
You've heard all the scare stories of the "Black Legend" perpetrated by the Protestants against Catholic Spain, which was the great continental power in the 16th century. Her Protestant enemies were jealous of Spain, and many resorted to lies to help bring down Spanish power and control. Spaniards were described by Northern Europeans as dark, cruel, greedy, treacherous, ignorant, and narrow. The Inquisition was fiercely attacked with gross exaggeration. Thus, a combination of political rivalry, contempt for the Catholic Faith, and anti-Spanish racism created a distorted image of the Inquisition.
Well, archaeologists have now confirmed that the Spanish actually civilized the barbarism of native pagan tribes in the New World at great cost to themselves: many of the Spaniards were eaten alive! Skeletons found at a previously-unearthed site in Mexico prove that Aztecs captured, ritually sacrificed, and partially ate several hundred Spaniards in the New World in 1520. Skulls and bones from the Tecuaque archaeological site near Mexico City prove that about 550 victims had their hearts ripped out by Aztec priests in ritual offerings, and were dismembered or had their bones boiled or scraped clean.
The Spanish prisoners were kept in cages for months while Aztec priests selected a few each day at dawn, held them down on a sacrificial slab, cut out their hearts, and offered them up to various Aztec gods. "It was a continuous sacrifice over six months. While the prisoners were listening to their companions being sacrificed, the next ones were being selected," said one archaeologist at the site, standing in his laboratory amid boxes of bones, some of young children. "You can only imagine what it was like for the last ones, who were left six months before being chosen, their anguish."
The priests and town elders, who performed the rituals on the steps of temples, sometimes ate their victims' raw and bloody hearts or cooked flesh from their arms and legs once it dropped off the boiling bones. Knife cuts and even teeth marks on the bones show which ones had meat stripped off to be eaten. Aztec warriors whitened the bones with lime and carried them as amulets. Some were used as ornaments in homes. On hearing of the massacre, the Spanish general Hernan Cortes renamed the town Tecuaque, meaning "where people were eaten" in the indigenous Nahuatl language.
Apparently, the pagan Aztec priests were not in a state of invincible ignorance. When they heard that the Spanish were coming, the Zultepec Aztecs threw their victims' possessions down wells, unwittingly preserving buttons and jewelry for the archaeologists. "They hid all the evidence," said the archaeologist. [Source: Reuters]
---
Third "Indult" Priest of Institute of Christ the King Implicated in Crimes
From: The Fathers
As the indultarian organizations, also known as Ecclesia Dei, become more and more like Church of the New Order to which they bend the knee, they are taking on more of the New Order liturgics, New Order doctrine, and New Order morality (or lack thereof).
One of these "indult" organizations, known as the Institute of Christ the King, a relatively small organization operating out of Florence, Italy, and having a handful of sites in the United States, has in just a few years racked up a record of crime, of which Newchurch would be envious.
In 1999 one of the "indult" priests of the Institute was sentenced to 180 days in jail for committing three felony burglaries and theft related to stealing $9,000 of religious objects from two churches and attempting to fence them. An organist for the Institute was charged with the same crimes.
The Superior of the Institute at the time said that after the felon priest had served his jail time, he would be accepted in the Institute and given another post overseas. Now what is revealing is that three years later this same Superior of the Institute was sentenced to 18 months in jail and 20 years probation after pleading guilty to three felonies against youths under his care at two churches run by the Institute of Christ the King. He plied the youths with alcohol and drugs, as well as bound and handcuffed them, in order to attack them. These crimes were perpetrated under the "watchful" eye of Newchurch Bishop Raymond "Bully" Burke, of LaCrosse, Wisconsin, who himself was embroiled in sex scandals in his diocese before being shunted off to St. Louis.
In March 2006 news outlets reported that a third Institute priest has been implicated in sex crimes. Now, the National Registry of Traditional Latin Masses reports only eight members of the Institute currently in the United States. So the conviction of two "indult" priests and the charges against a third bespeak an unspeakable corruption with the Institute of Christ the King. And this is the kind of "indult" arrangement that Bernard Fellay and his liberalist Fellayites in the SSPX want to sell out to. Has he lost his mind? Does he want this kind of corruption to spread within Archbishop Lefebvre's Society as it has spread in "indult" societies already?
---
What Was the "1967 Missal"?
From: Ryan
Could you explain what the "1967 Missal" was?
The Fathers Reply.
The 1967 Missal was the change immediately before the full-blow Novus Ordo service of 1969, the most radical of all after Vatican II. It included the three new "Canons," then renamed "Eucharistic Prayers," fabricated by Hannibal Bugnini and his six Protestants, based upon Jewish and Protestant exemplars. The true Mass has only one Canon (Greek for standard), the Holy Roman Canon, which has been considered so sacred as coming from the Apostles and the early Church Fathers that it had never been touched since then -- until John XXIII presumed to add the name of St. Joseph in 1962, the same change that Pius IX refused to make saying, "How could I do such a thing? I am only the pope."
Moreover, the 1967 Missal did the unthinkable. It changed the very words of Consecration, thus opening the Novus Ordo service to invalidity. This damnable change and its consequences were thoroughly analyzed by P.H. Omlor in his monumental 1967 work, Questioning the Validity of the New, All-English Canon. For further information, see FAQ05: What Traditional Books Do You Recommend in the TRADITIO Network's Library of Files (FAQs & Traditional Apologetics).
---
August 27 - Eleventh Sunday after Pentecost
Semidouble Sunday
A Page from the History of the Traditional Catholic Movement:
Fr. Malachi Martin Dies
From: The Fathers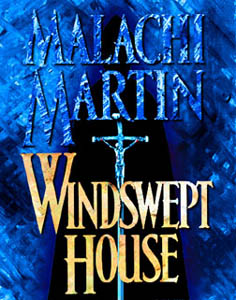 Windswept House: A Vatican Novel (1996)
Fr. Malachi Martin's Last Novel, Said to Be 80% Fact
In It Fr. Martin, a Long-time Vatican Insider
Described a Satanic Ritual in Newvatican during the First Days of Paul VI's Reign
On Tuesday evening, July 13, 1999, Fr. Malachi Martin, noted author, Vatican insider, and independent traditional Catholic priest, fell in the study of his home on his head and shoulder. He was admitted to Lenox Hill Hospital in New York City, where he was diagnosed with a haematoma, a build-up of blood in part of the brain. It was not a stroke. An operative procedure was performed to relieve the pressure on the brain, and he was placed in the Intensive Care Unit of the hospital because he required a respirator.
On or about July 15, Fr. Paul Wickens, of St. Anthony of Padua, an independent traditional Catholic chapel in West Orange, New Jersey, visited Fr. Martin and administered to him the traditional Sacrament of Extreme Unction (not the Newchurch "Anointing of the Sick," which replaced the Sacrament of Extreme Unction in the New Order in 1969.)
On July 20, Fr. Martin had a seizure and went into a coma. Seven days later he died, a little after 22:00 UTC, on Tuesday, July 27, at Lenox Hill Hospital, on the Feastday of St. Pantaleon (305), Martyr, Patron of Doctors and the Medical Profession.
On July 30, Fr. Martin was buried from St. Anthony of Padua Traditional Catholic Chapel. The celebrant at the Requiem Mass was Fr. Paul Wickens, an independent traditional Catholic priest. Fr. Martin was interred in Gate of Heaven Cemetery in Hawthorn, New York.
On the previous July 5, Fr. Martin had met with a local cable producer to plan for a videotape interview of him for four or five sessions to be aired on public-access television. Fr. Martin was eager to participate in the program and talked about the subjects that he would cover, among them:
his next (twentieth) book, to be titled The Last Pope and published in December 1999, which was to be non-fictional and was to "let everything out"
Pope John Paul II, whom he said had crossed the line into heresy
his knowledge of the next two popes who were already selected by Newchurch to succeed John Paul II
---
Fr. Martin's The Last Pope Ever See the Light of Day?
From: William
Dear Fathers:
Again many thanks for your terrific work! As I just finished Fr. Malachi Martin's Windswept House, I was eager to read more of Fr. Martin's work and was pleased to read in your review of his untimely death that The Last Pope was apparently in the works. It would have been a blockbuster. However, since I can't find much about it, I assume that it was planned for publication just after his untimely death and never saw the light of day.
The Fathers Reply.
No, it didn't. Fr. Martin described the book as his most controversial and important work. In it he was going to document how the institutional church, that is, Newchurch, had metamorphosed into a creature of the New World Order and how the post-conciliar papacy had been involved in that metamorphosis. He was going to make studied predictions, on the basis of his inside knowledge, about Newvatican and the world in the first decades of the 21st century.
He never recanted from his statement that the chilling scene he described in his last book, Windswept House: A Vatican Novel, (1996) was based on an actual satanic ritual in Newvatican in the first days of the reign of Pope Paul VI. For further information, see WIND: Who's Who in Windswept House: A Key to the Characters in Fr. Malachi Martin's Windswept House in the TRADITIO Network's Library of Files (FAQs & Traditional Apologetics).
---
August 26 - Our Lady's Saturday
Simple Feast
Newchurch Has Turned Venerable Lourdes Shrine into a "Rave" Resort
From: The Fathers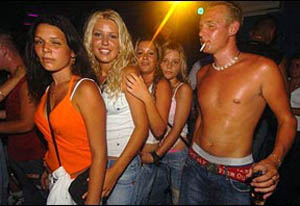 Newchurch's "Pilgrims" Worship Sex, Drugs, and Rock-n-Roll at Lourdes
The "Youth" Pandered to by Rock-loving JPII
Are Now Taking over Traditional Catholic Shrine Sites
For Purposes Other than Prayers and Processions
First Newchurch turned Fatima over to the Hindus and decided to build a new "tennis racket" basilica dedicated to "Holy Oecumenism." Again failing in its responsibilities of custodianship, Newchurch has allowed the venerable shrine at Lourdes to be turned over to ravers.
In recent years, processions have taken a back seat to a different kind of action at numerous bars and clubs. And now the peace of Lourdes is being shattered by thousands of tourists whose behavior has become so bad that officials have brought in riot police. The decision came after local gendarmes admitted that they were unable to cope with the nightly excesses of Newchurch "pilgrims" who, instead of praying at the shrine, take to the town's bars and clubs.
At Bar Angelus, a few hundred metres from the shrine, bare-chested men and women wearing skimpy tops and crucifixes, swayed to the blaring music, including hymns of the New Religion like Madonna's Like A Virgin and the Rolling Stones' Sympathy for the Devil. (No Gregorian chant is in evidence here!) Ravers are seen running across the roofs of parked cars, indulging in mock fights, and vomiting into gutters. Acts of vandalism and lewd behavior between amorous young Newchurchers now dominate the nightly scene at Lourdes. One officer reported that "a couple sneaked into the grounds of the Rose Basilica and became very amorous in a very holy place."
More fruits of Newchurch and its New Order. A Vatican II religious revival? Give us a break! [UK Telegraph]
---
A Sex-change Operation after Vatican II
From: The Fathers
Dear Fathers:
You analyze the clerical sex crimes to be a problem incurred only because of Vatican II, but these must have occurred in the pre-Conciliar Church too.
The Fathers Reply.
Of course, sins of all kinds were committed before Vatican II. That is a no-brainer, human nature being what it is. The change after Vatican II consists of the fact that:
the huge increase in such crimes perpetrated by Newchurch clergy because of the softening of morality in the New Order instituted by Vatican II
the failure of Newchurch leaders to be morally outraged and to do anything about it (short of self-serving "CYA" legal responses and "apology liturgies")
the institutionalization of these crimes in Newchurch dioceses as a culture of corruption -- with the full support of the Newchurch bishops (some of whom are active participants in the crimes), as well as the post-conciliar popes and their lieutenants in Newvatican
JPII basically didn't want to have anything to do with cleaning up the mess that he allowed to stink up Newchurch to high heaven. He turned over the problem to his second lieutenant Joseph Ratzinger. Ratzinger them proceeded to take action not against the criminal Newchurch bishops and presbyters, but against the whistleblowers who were trying to clean up Newchurch. As a result, the crimes have continued and their cover-up has become further institutionalized.
Why Benedict-Ratzinger seems perfectly at peace with the idea that one out of seven of the victims of his bishops and presbyters are under 10 years of age and half are under 15 years of age is beyond the ken of any true Catholic. There may as well not be a pope for all the evil he does as an feckless leader. Don't let the grandfatherly smirk in the Santa-Claus cap and the Mozart piano-player blind you to the reality of his incompetence in letting the Modernist New Order take over the Church.
---
August 25 - St. Louis IX, King of France, Confessor
Semidouble Feast
Complete Friday Abstinence
Virgin Mary Found in Hamburger Grease!
From: The Fathers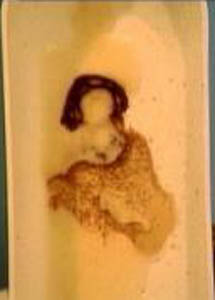 The Latest "Apparition" of the Virgin Mary --
In Hamburger Grease!
As "Apparitions" and "Private Revelations" Get Crazier and Crazier
Having earlier this week been found in chocolate drippings, now the "Virgin Mary" has been found in hamburger grease! Freud would have said that such fantasies came from the projection of guilt from the subconscious, and he would probably have been right. These people, who have cut themselves off from the true religion, undoubtedly have deeply-seated guilt for cutting themselves off from their Creator.
Meanwhile, "Our Lady of Emmitsburg" (Maryland) is now involved in the "Middle East peace process." On and on it goes, the progeny of Medjugorje, a ruse that allows charismatic presbyters from the EWTN cable network to lead tours, from which they get lucrative kickbacks. (Did you ever wonder why EWTN promoted Medjugorje so much, when even most of Newchurch doesn't? Now you know.)
The giveaway on the Emmitsburg affair is that this is a Modernist concoction. Its press release on August 22 was headed "Feast of the Queenship of Mary." August 22 is not the Feast of the Queenship of Mary. That feast was added to the Roman Calendar by Pope Pius XII in 1954 under the date of May 31. August 22 is the Feast of the Immaculate Heart of Mary. It seems that there are so many "Marys" around that the Modernists can't keep track of them!
Back to our story. In St. Louis John Milanos was cooking a hamburger on his George Foreman Grill. After he was done, he said that the Virgin Mary's face appeared in the leftover grease. The grease was in a small plastic drip-pan that catches the grease and other fluids that run off the grill. Milanos saved the grease in his refrigerator so that he could show his friends and the makers of the George Foreman Grill. A publicity gimmick. What's next? The "Virgin Mary" in that Ron Popeil's Spray-on Hair for covering bald spots?!
For further information, see FAQ10: How Do You Explain These Traditional Catholic Beliefs in the TRADITIO Network's Library of Files (FAQs & Traditional Apologetics) in the section "Private Revelations/Apparitions/Visions."
---
SSPX-associated Priest Receives Anointing from a Novus Ordo Bishop
From: The Fathers
In a press release dated August 17, a member of the family revealed that Fr. Eugene Heidt, an priest serving the Society of St. Pius X in Portland, Oregon, who has been lingering near death for some weeks, received an anointing from a Novus Ordo bishop, Kenneth Steiner, of Portland. If priests associated with the SSPX are receiving sacraments from Newchurch (especially when there is a traditional priest in the same city), this troubling news gives particular elan to the talk in recent months of a sellout by the Fellayite liberalist faction of the SSPX to the New Order in Newrome.
Steiner is apparently one of those "charismatics," who encourages participation in the false apparitions of Medjugorje, which have even been condemned by the Newchurch bishop there. In May 2002, Presbyter Gregory Gage stated that he had warned Steiner and two other bishops in Portland, four years in advance, that Presbyter Thomas Laughlin, his pastor, had committed sex crimes against four Newchurch youths. Steiner admited that he did not report the crimes and claimed ignorance of them, even though Presbyter Gage's letters to the bishops are extant. In consequence of Steiner's inaction, Laughlin was allowed to continue serving as pastor of All Saints Parish in Portland and continued to commit sex crimes until he was convicted. [Oregon Live]
And these are the Newchurch bishops that the SSPX Fellayite leadership is now aligning itself with? For shame!
---
August 24 - St. Bartholomew, Apostle
Double Feast of the Second Class
Priest or Presbyter? Concerned Catholics Want to Know
From: Constance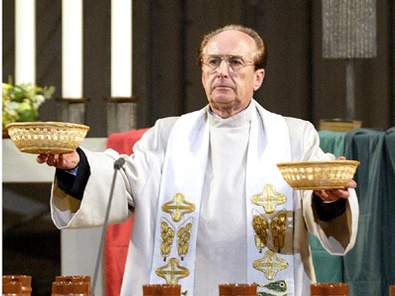 A Novus Ordo Presbyter Holds up the "Cookies" in Wicker Baskets
More and More Catholics Are Wondering:
Does the New Ordinal of 1968 Ordain True Priests
Or Just "Presbyters" to "Preside over the Assembly"
And Hand out Cookies as the Protestants Do?
Dear Fathers:
As we all know, the EWTN Cable Network has been airing the Novus Ordo service partly in Latin to make it seem that Newchurch is going back to "traditionalism." Traditional Catholics recognize this for the fraud that it is. But has Newchurch made any changes to the 1968 Novus Ordo ordination rite so as to calm public fears that it is invalid and that its "priests" are really just presbyters with no power to consecrate or to forgive sins?
The Fathers Reply.
Although the principal concern for the last forty years has been about the invalidity of the Novus Ordo service because of defect of form, matter, and/or intention, it seems that in the last year the discussion has entered another stage. Now the question is more and more being raised whether the Novus Ordo rite of ordination of 1968 actually creates priests "to offer the Holy Sacrifice of the Mass for the living and the dead" or merely creates presbyters "to preside over the assembly."
It is significant to note that even before the Novus Ordo service was sent out from Newvatican on April 6, 1969 (which Paul VI recalled because of the serious doctrinal errors in it documented by Cardinals Ottaviani and Bacci in their Critical Study of the Novus Ordo Liturgy issued on September 25, 1969), Newvatican issued a New Ordinal on August 15, 1968, De Ordinatione Diaconi, Presbyteri et Episcopi, and provided that after April 6, 1969 only the New Ordinal could be used. Thus, after that date only traditional deacons, priests, and bishops have been ordained in the unquestionably valid traditional Roman Catholic rite.
So radical a departure was this New Ordinal of 1968 from the traditional Roman Catholic form that it appeared to be ordaining an entirely different kind of clergy, one specifically targeted for the New Order. The Novus Ordo service was then issued in the next year for these "Protestantized" presbyters to use. In fact, the departure from the traditional Roman Catholic form brought it in the minds of more and more of the faithful to the same finding of invalidity as Pope Leo XIII reached in his Papal Bull Apostolicae Curae, which found the Anglican "priesthood" invalid. (For further information, see CURAE: Apostolic Letter Apostolicae Curae [On the Nullity of Anglican Orders], Given by His Holiness Pope Leo XIII in the TRADITIO Network's Library of Files (FAQs & Traditional Apologetics).
In the last year, another wrinkle has come up. Benedict-Ratzinger is the first man elected to the papacy who was ordained a bishop in the Novus Ordo rite, not consecrated a bishop in the traditional Roman Catholic rite. For more and more of the faithful, this fact has brought into question the standing of Benedict-Ratzinger because if he is not a bishop, he is not the Bishop of Rome, and he is not the pope.
Moreover, it came out last year in an interview given by Newcardinal Hoyos, previously reported in the TRADITIO Commentaries, that Benedict-Ratzinger was aware of the issue, as Hoyos was demanding from Bernard Fellay, the Superior General of the Society of St. Pius X (SSPX), a written statement acknowledging the validity of Benedict-Ratzinger's papacy before Newchurch would "negotiate" with the Society. Whether Fellay has sent the demanded statement to Newrome is not known, but he did commission a series of articles to be published in the SSPX's house organ arguing that the Novus Ordo rite of "ordaining" bishops is valid.
Those articles have drawn quite a bit of criticism from traditional theologians, particularly in France and the United States, for their sloppy scholarship and weak argumentation. It appears that this was essentially a sell-out to Newrome to stimulate "negotiations" with the New Order. It is well known that many of the priests and laity of the Society have severe doubts about the conciliar papacy and that there are many sede-vacantists in the Society (although they are prohibited by the Fellayite leadership from speaking openly about this hypothesis, since the Fellayites are curretnly trying to "negotiate" with the New Order in Newrome).
Has Newchurch done anything to validate the New Ordinal? No, it hasn't. It continues to ordain "presbyters" to "preside over the assembly" of the New Order.
---
The Newchurch of Hate Strikes Again!
From: Andrew
Dear Fathers:
It never ceases to amaze me how many people who follow the New Order apply for membership in the Traditional Roman Catholic forum that I run. They engage in deceit by joining only for the purpose of attacking and criticizing traditional Roman Catholics. One example is of a person who recently applied for membership, which I granted provisionally, but, when I checked the person's web site, it became quite apparent that his beliefs had nothing to do with traditional Catholicism.
His site promotes the "New" American Bible, the "New" Catechism, and the "New" Mess, and even had a link to the person's New Order parish. It was written in that funny "Vatican II-speak" with phrases like "the good news" instead of the Holy Gospel and "RCIA" instead of adult Baptism. His site went on to promote things like: Mary is God, we all worship the same God, all religions are good, and Catholics are only a part of the greater Christian fellowship in the community.
The person contacted me and complained that his membership had been deleted and demanded to know why. When I explained that he had registered fraudulently, I was met with a "charitable" torrent of Newchurch abuse, among which was the statement, "You traditionalists are unCatholic!," thus proving out of his own mouth that he had perpetrated a fraud by pretending to be "traditional."
By the way, you have a great site, which speaks only the facts. I never go a day without browsing through your columns and enjoying the witty replies of the Fathers in the true style of that Roman Juvenal. Keep up the good work of winning souls back for Christ and His true Church.
The Fathers Reply.
You have come face to face with the Newchurch of Hate, of which we have often spoken in the TRADITIO Commentaries. Such people as you describe hate the true Catholic Faith and hate traditional Catholics who defend it, while themselves posing as "Catholics." You have given our readers a number of good criteria on which to judge whether someone is truly a traditional Catholic or a deceptive purveyor of the New Order.
---
August 23 - St. Philip Benizi, Confessor
Double Feast
Catholicism Returns to Norway
From: The Fathers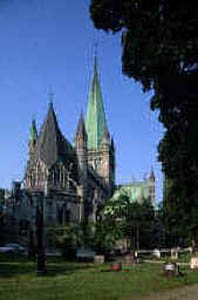 Nidaros Cathedral near Trondheim, Norway
Norway's Great Churches Were Once Catholic, until Appropriated by the Lutherans
However, Their Catholic Ambiance Remains More than in the New Order Temples
Norway was once Catholic. At the beginning of the 16th century, however, it followed the path of Luther, and now 86% of the country's 4,500,000 population is Evangelical Lutheran. For one day in September 2005, however, several Catholic churches that were appropriated by the Lutheran revolutionaries in the 16th century reverted to the Traditional Latin Mass.
The Traditional Latin Mass was celebrated in the Nidaros Cathedral of Trondheim in the north of the country, in the parochial church of Stranda on the west coast, and in Roeldal Church near Oslo. It is to the credit of the Protestant revolutionaries in Norway that at least they preserved the historic churches: the communion rail, the statues of the Saints, and the niche for the wine and water of the Offertory. The Newchurch barbarians were not so well motivated, as they deconstructed many of the great Catholic edifices around the world.
Nidaros Cathedral, for example, was built over the grave of St. Olav, Norway's patron saint, whose reputation shone far beyond the borders of his country. Construction of the cathedral started in 1070, but the oldest parts still in existence are from the middle of the 12th century. Ravaged by fire on several occasions, the church was rebuilt each time, mainly in the Gothic style, but the oldest parts around the transept reflect the Roman style. The west wall depicts the crucified Christ in judgment and, at the top, Christ enthroned in glory. The church was dedicated to Christ in medieval times, and was called Kristkirken, the Church of Christ. From around 1050 until the Protestant Revolt stopped it, this cathedral was an important destination for pilgrims.
It is said that the Catholic ambiance in these churches is more intense than in the Modernist New Order churches called "Catholic" today. A similar day devoted to the Traditional Latin Mass may occur in September 2006.
---
August 22 - Immaculate Heart of Mary
Double Feast of the Second Class
More "Apparition" Nonsense
From: The Fathers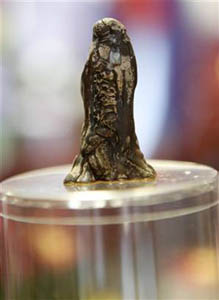 The Latest "Apparition" of the Virgin Mary (or Is It an Eagle?)
A Five-centimetre Lump of Chocolate Drippings
God Seems to Be Mocking Newchurch in a Great Reductio ad Absurdum
We announce to you a great joy! We have a chocolate Mary apparition. Workers at Bodega Chocolates in Fountain Valley, California, claim that 5-centimetre lump of melted chocolate, which accumulated beneath a chocolate vat on August 14, is an "apparition" of the Virgin Mary. Oh, brother! First it was the Virgin Mary in a grilled-cheese sandwich. Before that it was the Virgin Mary in a knot-hole in Northern California. Before that it was the Virgin Mary in an oil puddle in Mexico City subway. We'll pass over the "apparitions" at Medjugorje, Bayside, Atlanta, Emmitsburg, etc., etc.
What is God trying to teach us by all this nonsense? We Fathers think it's pretty clear. By pointing to the nonsense of this pseudo-Catholicism and New Orderism, He is recalling rational people to the true Faith, the traditional Catholic Faith. The stage is being set for winnowing the wheat from the chaff. We are being reminded of what the true Catholic Faith is, the Faith founded in Tradition.
Spiritually-starved workers, probably Newchurchers, are hovering over the figure, praying, and placing rose petals and candles around it. "This has given me renewed faith," said one worker. Apparently, the miracle of the Most Blessed Sacrament, the beauty of the teachings of Scripture, and the Saints of the true Faith make no impact on this poor soul, but a piece of melted chocolate does. What is Newchurch feeding these people? Too much bread and grape juice?
Of course, this nonsense simply makes a mockery of the true Faith. Protestants on a local morning television news program had a good chuckle over it. And even the traffic reporter, who identified himself as a "Catholic," that is, a Newchurcher, made a joke about it and then challenged the audience to send hate-mail to him. Remember when the Catholic Faith was serious? Now, in the hands of the New Order, it is a joke. The New Order Mess and Sacraments are a joke. New Order theology is a joke. New Order morality is a joke. But "God is not mocked" (Galatians 6:7/DRV). He is teaching us the true from the patently absurd in a great divine reductio ad absurdum of the New Order sect.
For further information, see FAQ10: How Do You Explain These Traditional Catholic Beliefs in the TRADITIO Network's Library of Files (FAQs & Traditional Apologetics) in the section "Private Revelations/Apparitions/Visions."
---
Newchurch Presbyters Acting as Witch Doctors
From: The Fathers
Vatican's II unCatholic notion of "inculturation" is backfiring fast. Southern Africa's Newchurch presbyters are moonlighting as witch doctors and fortune tellers, as well as selling spiritual powers and "magic" medicines.
Even the Southern African Catholic [sic] Bishops' Conference, which represents Newchurch bishops in South Africa, Swaziland, and Botswana, are -- too little, too late -- trying to put the breaks on "inculturation," ordering New Order presbyters to steer clear of witchcraft, fortune-telling, and selling spiritual powers or "magic" medicines.
Of course, the Newchurch bishops have not thrown cold water on an African archbishop's proposal to use chicken blood for the Novus Ordo service in Africa! [Reuters]
---
August 21 - St. Jane Frances de Chantal
Double Feast
Gibson Doesn't Pull Any Punches
From: The Fathers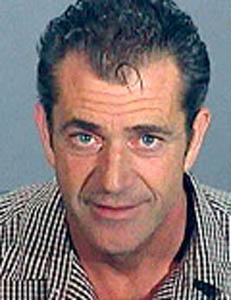 Mel Gibson upon His Arrest
Pleaded Nolo Contendere to Misdemeanor Drunk-driving
Applied for and Received an Early Sentence
In an honest response to his arrest for misdemeanor drunk-driving, producer-director-actor Mel Gibson pleaded nolo contendere on August 17. He did not contest the evidence, even requesting that sentencing be advanced by a month. He was sentenced to three years' probation, $1300, and a 90-day restriction of his license. He must immediately begin to attend Alcoholics Anonymous meetings for a year and to enroll in an alcohol-abuse program for three months. In addition, he has volunteered to do public-service announcements on the hazards of drinking and driving,
In a remark that shows just how clueless so many people are about the Catholic Faith, Kirk Douglas, a Jewish actor commenting on the Catholic Faith of which he is obviously ignorant, while admitting that Gibson is not "anti-Semitic," suggested that Gibson, perhaps the US' most prominent traditional Catholic, "should first talk to one of his own Faith. Maybe Cardinal Roger Mahony could be a great help." Mahony, of course, is not Catholic, but Newchurch, and has been dubbed the "Rogue Roger" for his constant denials of orthodox Catholic doctrine.
---
An Altar Is not a Table
From: Michael
Dear Fathers,
I have always wondered at why the altar is in its present traditional form and not a table.
The Fathers Reply.
The altar was not a "table." A "table" is a place where one eats dinner. An altar is the place upon which a sacrifice is conducted. Perhaps you are thinking of a modern table, not an ancient altar.
Leonardo DaVinci's Last Supper may be great art, but is false insofar as the facts of the matter are concerned. Of course, DaVinci was using artistic license to update the scene to his own time. He was not trying to represent the original scene faithfully. Those in the time of Christ did not sit on chairs around a table to eat. They reclined on couches while servants circulated plates of food among them.
---
August 20 - Eleventh Sunday after Pentecost
Semidouble Sunday
Newchurch Rot Spreads to the Laity
From: The Fathers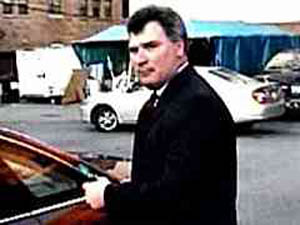 Cleveland Newchurch's Director of Finance Joseph Smith
Charged with Embezzling $17,000,000 from Newchurchers
While Newchurch Bishop Anthony Pilla Slept
Auditing of Newchurch Funds Is Frequently Non-existent across the U.S.
As the Great Sex & Embezzlement Scandal Spreads to the Laity
First we had criminal Newchurch presbyters. Then bishops. Then cardinals. Then popes. Now -- no surprise here -- the immorality among the Newchurch clergy has seeped down to the laity in the Great Sex & Embezzlement Scandal.
Cleveland-Akron, Ohio, News 5 reports that Joseph Smith, for several years Director of Finance for the Cleveland Newchurch diocese, faces a 27-count indictment for conspiring to defraud the diocese and the Internal Revenue Service. An accomplice, Anton Zgoznik, was also indicted. Smith is charged with 23 counts, and Zgoznik faces 15 counts. The charges include conspiracy to commit mail fraud, money-laundering, and making false personal income tax returns. The indictment also charged that Smith received kickbacks from Zgoznik in the amount of about $784,627. Officials said Smith and Zgoznik conspired to defraud the diocese through a scheme involving outsourcing business from the diocese and its constituent organization to companies controlled by Zgoznik. The indictment also alleges that the diocese paid about $17,000,000 to Zgoznik's companies from 1996 through 2003.
We're not talking here about petty cash. We're talking about a scheme involving $17,000,000! Where was Newchurch Bishop Anthony Pilla? Asleep at the switch while his people's money was being stolen by his agent. No wonder Newchurch is out of control with the incompetence and outright crime that is endemic to the immorality rampant in the officialdom of Newchurch.
Yet immoral Newchurchers continue to fund their corrupt dioceses. Morally speaking, they may as well give their money to Planned Parenthood! Reports from Newchurch dioceses around the United States indicate that there is virtually no auditing going on. How do the Newchurchers know where their money is going: to perpetuate sex crimes, to pay hush-money in extortion schemes, to fund "gay" seminaries, to buy million-dollar homes for retiring prelates? All of these have in fact occurred, many times in many Newchurch dioceses. Wake up, Newchurchers. You're being played for fools by corrupt officials and a phony sect with a bogus Mess and Sacraments.
---
August 19 - St. John Eudes, Confessor
Double Feast
Enchiridion of Novus Ordo "Messes": The "Front Yard" Mess
From: The Fathers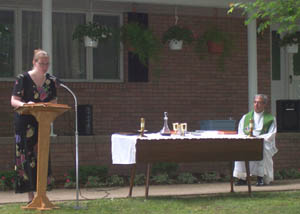 The "Front Yard" Mess
"Bring Your Lawn Chairs!"
When it rains, it pours! We bring you herewith from St. Mary/St. Frances Cabrini Newparish of Conneaut, Ohio, the "Front Yard" Mess. Says the Newparish promo: "Watch for the sign 'Mass in God's Front Yard.' Remember to bring a lawn chair!" This Mess comes complete with female "homilist" doing all the work while the presbyter takes his ease in the front yard. And to quench the thirty palate is the Novus Ordo Welch's served from a glass jug. Yummy! For further examples of these Novus Ordo services, see Novus Ordo Service Photo Gallery.
---
Next Newchurch "Saint" to Be Football Player?
From: The Fathers
We're waiting for someone in Newchurch to propose his dog for "Saint" next! Just as the TRADITIO Fathers have many times commented previously, the Newchurch "saint factory" is getting more and more ridiculous. How the Newchurchers can take any of this seriously is beyond us.
It seems that now one Presbyter Michael in Minneapolis is proposing a University of Minnesota football player for "saint." Presbyter Bill sent Presbyter Michael a box full of news clippings and letters of the candidate's football career. Presbyter Bill says that he knew the candidate "for several weeks." Then he watched a movie on the guy's football career. Now there's a profound basis for "saintizing" someone, isn't it?!
The candidate seems like a nice-enough chap. He went to Mass before and after games. (This was in 1941, folks, so at least the candidate was going to a real Mass, not the invalid Novus Ordo Mess of Presbyters Michael and Bill. Even the candidate's wife (the candidate himself died in 1967) says candidly: "This whole saint business has got me kind of befuddled."
And what is the candidate's claim to sanctity? He fits all the Newchurch criteria: "Everybody liked him. He was just nice to everybody and was a good guy." On that basis you'd better wipe most of the real Saints off the calendar. Many of them weren't "nice" people. St. Bridget called the pope a "murderer of souls." St. Ambrose told the emperor to his face that he was a murderer of women and children and couldn't enter the cathedral. St. Jerome was noted for his cranky temperament.
---
August 18 - Within the Octave of the Assumption
Semidouble Feast
Complete Friday Abstinence
Enchiridion of Novus Ordo "Messes": The "Washtub" Mess
From: The Fathers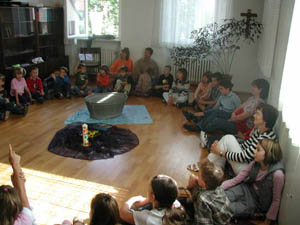 Newchurchers Gather Around a Washtub for Mess
Is It an Altar? Is It a Giant Lavabo Bowl?
With the Invalid Novus Ordo Mess, One Is Never Quite Sure!
We haven't had a new "Mess" lately for our handbook of Novus Ordo services, so here is a doozy! The Newchurch temple in Grosskrotzenburg, Germany, held a "Washtub" Mess for children. One never quite knows with these Novus Ordo things. Is the washtub supposed to be an altar? Or is it perhaps a giant Lavabo bowl? The Newchurchers seem to be casual in their reverencing of it. Maybe it is to be used for the swill from the "Witch" Mess. God only knows! For further examples of these Novus Ordo services, see Novus Ordo Service Photo Gallery.
---
August 17 - St. Hyacinth, Confessor
Double Feast
Not a Theological Point
From: Mary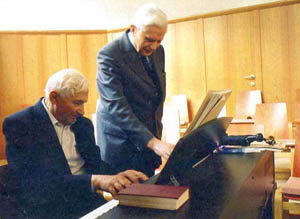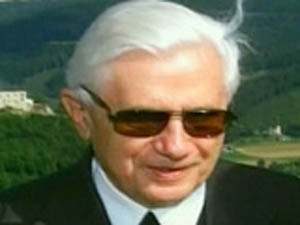 Fr. Georg Ratzinger & Pope Benedict-Ratzinger Discuss a Point at the Piano (left)
While Newpope Sports a Spiffy Double-breasted Blue-gray Suit
Frequently He Sports Gucci Sunglasses with His Suit
This Pope Seems to Have a Fetish for Expensive Street Clothes!
Dear Fathers:
In a previous TRADITIO Commentary, Frs. Ratzinger and Rahner were photographed wearing business suits at Vatican II. Doesn't Benedict-Ratzinger seem to have unusual taste in dress for a pope?
The Fathers Reply.
Fr. Ratzinger had a penchant for attending Vatican II meetings in a suit and tie. Now Point de Vue has captured Newpope in a session discussing a Mozart piano piece with his brother, George, while Joseph (Benedict) sports a spiffy double-breasted blue-grey suit. Frequently, he sportes Gucci sunglasses with his suit and tie.
CTV-Canada calls Benedict-Ratzinger "nothing short of a religious-fashion icon," riding in the popemobile with red Prada loafers under his cassock and Gucci shades. In his penchant for designer wear, he has apparently ditched the traditional papal tailors since 1792, the House of Gammarelli. He now gets his haberdashery from the two-decades-old House of Raniero Mancinelli, which has provided the pope with such Modernist new vestments as a shimmering, sequin-bedecked vestment reminiscent of the capes Liberace wore in his Las Vegas shows.
---
How Is the Paschal Candle Traditionally Used?
From: Robert
Dear Fathers:
I am confused about when the paschal candle is used. The New Order temples seem to > keep it out all the time. Do traditional churches use it only during Eastertide?
The Fathers Reply.
The Paschal candle is lit for Mass and Divine Office during Paschaltide, the forty-day period following Easter. After the Gospel of the Ascension is read forty days after Easter, the Paschal candle is extinguished and removed.
---
August 16 - St. Joachim, Father of the Blessed Virgin Mary
Double Feast of the Second Class
Newchurch Bishop Admits Letting Criminal Presbyter Flee Justice
From: The Fathers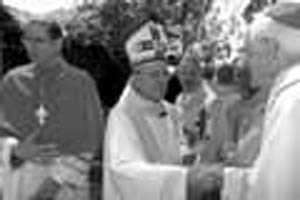 Newchurch Bishop Daniel Walsh (cen.), of Santa Rosa, California
Has Admitted to Allowing His Pervert Presbyter to Flee to Mexico after Raping Four Children
As Newchurch Culture of Corruption Deepens, and Newpope Sits on His Hands
In a Vivid Traditional Ceremony He Would Have Been Stripped of the Episcopal Office that He Defiled
Newchurch Bishop Daniel Walsh, of Santa Rosa, California, has admitted that he waited three days to notify authorities about a new sex crime of one of his presbyters against a minor and allowed the presbyter to flee to Mexico. Walsh's phony "apology" about the event has to be read in the context of the fact that the presbyter had already been charged on June 22, 2006, with ten felony counts of sex crimes against three minors. A warrant was put out for his arrest. [Frederick News-Post]
Walsh said in his "apology" statement: "If I am found guilty for not taking immediate action, I will accept whatever punishment is imposed." Fine. First, civil authorities should immediately arrest this "bishop" and prosecute him for felony obstruction of justice and acting as accessory after the fact to multiple felonies. Frankly, the "apology" reeked of a self-satisfied Newchurch of Hate attitude. Otherwise, Walsh would have resigned immediately and turned himself over to the authorities. Prosecutors said that they were investigating whether Newchurch officials violated a state law requiring the reporting of sex crimes against children.
Second, Newpope and his Newvatican minions should formally degrade Walsh from his episcopacy. Perhaps Benedict-Ratzinger has forgotten it, but there is a rite for just such a case in the traditional Pontificale Romanum, the Degradatio ab Ordine Pontificali [Degradition from the Order of Bishop]. In this vivid ceremony, the bishop to be degraded kneels before the pontiff, who recites the formula of degradation:
In the name of the Father, and of the Son, and of the Holy Ghost. Amen. Because We, having learned by way of accusation or condemnation or investigation of the crime committed by Bishop [name], owing to his own confession or legal proofs, find clearly that he has committed the very crime. And because the crime is not only great but also damnable and ruinous and so enormous that consequently it is not only offensive to the Divine majesty but also the entire community has been disturbed, and because of this he has been rendered unworthy of office and of ecclesiastical benefit, We, therefore, by the authority of Almighty God, Father, Son, and Holy Ghost, and by Our own authority, formally deprive him forever of every such office and ecclesiastical benefit by this Brief, and We depose him from these by word and pronounce him in deed really and truly deposed and degraded according to the tradition of the Canons.
This vivid ceremony, leaving no doubt as to the dire ecclesiastical consequences of the bishop's crime, continues with the pontiff stripping the degraded bishop of his episcopal vestments, one by one:
We strip you of the prerogatives of episcopal office, which is symbolized in the pallium, because you have abused these.
We denude your head of the mitre, that is to say, the adornment of the episcopal office, because you have dirtied it in your exercise of it.
Give back the Book of Gospels. Because by your office of preaching, through which the grace of God is spread, you have made yourself unworthy, we justly deprive you of it.
The ring, to be sure, the sign of the Faith, we rightly take away from you, because you have purposefully violated the Church, the bride of Christ.
We take back from you your pastoral crosier, in order that consequently you will not be able to exercise the office of correction that you have defiled.
We thus strip you of spiritual blessing and the dispensation of mystical grace, as far as we can, in order that you lose the office and effect of offering the Holy Sacrifice of the Mass and of blessing. At this point the pontiff cuts the formerly anointed hands and fingers of the degraded bishop with a knife to prevent his offering Mass or blessing again.
We void by erasing the faculties of consecration, blessing, and anointing handed down to you, and we strip you of the rank of bishop, for which you have been rendered unfit. At this point the pontiff cuts head of the degraded bishop with a knife, where he was made a cleric by tonsure. Finally, the pontiff strips the degraded bishop of his very shoes.
You see, the Church traditionally didn't mince its words and actions! Could you imagine what an effect such a ceremony conducted by Benedict-Ratzinger and broadcast all over the world from St. Peter's would have upon such a criminal as Walsh, who allowed his presbyter to commit sex crimes against the children of his flock and then willfully let him escape from the just consequences of his crimes?
Of course, the faithful will have to wait until Hell freezes over before Benedict-Ratzinger would ever take such action because he is more interested in keeping the rampant crime in Newchurch a secret and to shelter his perverted presbyters and bishops from the just consequences of their crimes. Yet his crime is the greater, as he bears the ultimate responsibility. No wonder that the Father and Great Doctor of the Church, St. John Chrysostom, tells us that the floor of Hell is paved with the skulls of rotten bishops -- and Bishops of Rome!
---
Are the Indultarians Swallowing Invalid Cookies?
From: Herm
Dear Fathers:
I vaguely recall that somewhere I read that the "indult" presbyters have been instructed that when giving communion to the "Indult" Mass participants, they are to use the "hosts" which were consecrated in a prior Novus Ordo Mess, but not to distribute any hosts that might have been "consecrated" at the "Indult" Mass in progress.
The Fathers Reply.
Yes, we have heard many reports of this practice. You see, Newchurch wants Catholics to be forced to swallow the invalid cookie rather than receive Holy Communion. The indultarians thought for a while that they could escape the invalid communion by going to an "Indult" Mass, but Newchurch figured out what they were doing and forced them to swallow the invalid cookie. This practice should be a warning to the indultarians and the Society of St. Pius X that they are played for fools when they sell out to the New Order. Some people, unfortunately, walk around with their eyes closed, as they don't want to admit reality. There is nothing Roman in this.
---
Be Careful with "Infallibility"
From: Melinda
Dear Fathers:
Is the Bible the infallible word of God?
The Fathers Reply.
Yes, but that doesn't really tell you anything if you don't understand what biblical "infallibility" means. It certainly doesn't mean that every word of the Bible is to be taken literally. The authors themselves, as well as the Fathers of the Church, make this point clear. Nor does it mean that information outside the spiritual purpose of Scripture is necessarily correct (e.g., in an historical or scientific way).
One needs to understand what the Bible is, what its contents are, what its purpose is, who its authors are, etc. Unfortunately, most Catholics are pretty ignorant about these matters. Even fundamentalist Christians, who respect the Bible, frequently misinterpret it, taking a very limited view of it and working through "word studies" of "translations." A very dangerous practice indeed!
---
August 15 - Assumption of the Blessed Virgin Mary
Double Feast of the First Class - A Holyday of Obligation
The West May Have Problems Dealing with Sex Crimes, but Not Africa!
From: The Fathers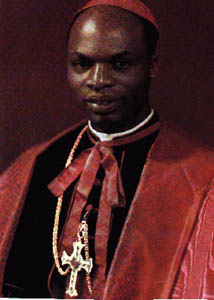 His Eminence Laurean Cardinal Rugambwa, of Tanzania
The First African Cardinal, Elevated by Pope John XXIII in 1960
The Western countries, Newvatican, and Newpope, seem to have a lot of difficulty applying Christ's law: "But he that shall scandalize one of these little ones that believe in me, it were better for him that a millstone should be hanged about his neck, and that he should be drowned in the depth of the sea (Matthew 18:6/DRV). Not in Africa! Newchurch presbyters in the West hardly face any jail time at all for their foul sex crimes. Not in Africa! Newchurch presbyters in the West hardly ever pay their victims for their crimes. Not in Africa!
A Tanzanian court has sentenced a 38-year-old Newchurch presbyter to 35 years in jail after he was convicted of assaulting and sodomizing a 17-year-old boy after the two were caught "in action" in May 2005. The court also ordered the presbyter himself to pay the victim $1500 as compensation.
In this Africa has observed the Divine Positive law. Much of Africa forbids sodomy, even for consenting partners. If the victim is under the age of 10 (and remember that in the United States one out of every seven victims is under the age of 10), the sentence is jail for life. If western courts doled out those punishments, sex crimes in Newchurch would be significantly curtailed. But, instead, western Newchurch presbyters know that the civil courts will give them a slap on the hand, with the full support of Newchurch bishops, and Newpope won't lift a finger to stop his presbyters and bishops from making a travesty of Christ's own law.
---
Newchurch Is Hardly "United"
From: Ron
Dear Fathers:
I think that it is obvious that traditional Catholics are not nearly as united as their Modernist counterparts. Is my assessment of traditional Catholics' disunity incorrect?
The Fathers Reply:
Your assessment is incorrect. It is certainly not true that the "Modernist counterparts" (if by that you mean the New Order) are more united than traditional Catholics. The Newchurchers can't agree on anything! You've got liberals, conservatives, middle-of-the-roaders, and they can't agree on their "liturgy," their sacraments, their theology, or their morality. The differences between traditional Catholics are relatively minor by comparison.
Essentially, traditional Catholics agree on the Mass, the Sacraments, Catholic theology, and Catholic morality, as they agree on the two fonts of the Catholic Faith: Sacred Scripture and Sacred Tradition. The Newchurchers have "retranslated" the Bible to some kind of caricature of Catholicism and have jettisoned Sacred Tradition. Thus, they have nothing to stand on that is Catholic.
---
August 14 - Vigil of the Assumption of the Blessed Virgin Mary
Requiem for a Traditional Magazine
From: John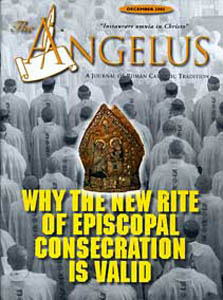 The SSPX's Angelus
Originally Designed to Be a "Reference for All Aspects of Catholic Tradition"
In Recent Months It Has Become More and More
A Mere House Organ for the SSPX Leadership
Dear Fathers:
I used to enjoy reading the Angelus, the magazine of the Society of St. Pius X, but lately it seems that the magazine is almost entirely taken up with organizational messages from SSPX officials and arguments for the validity of the New Order. What has happened? I'm going to let my subscription expire.
The Fathers Reply.
Before the SSPX liberalist leadership started cozying up to Newpope as a prelude to a sellout to the New Order apparatus, the Angelus was actually one of the better traditional magazines, relatively devoid of organizational politics. Since the August 29, 2005, "Beheading" meeting between Benedict-Ratzinger and the SSPX's Bernard Fellay, the magazine has rather rapidly been turned into a mere house organ.
In place of the wide variety of articles, nicely illustrated, laid out, and written, on varied subjects of history, morality, doctrine, Catholic practice, and so forth, the issues since August 2005 have seen a barrage of "organizational" pieces, in which the SSPX leadership attempts to propagandize its membership to its recent New Order-friendly policy. Organizational articles by SSPX officials, which were comparatively rare in the past, now seem to abound. Mention of Archbishop Lefebvre, his principles and his statements, have become rarer too, particularly the ones that explicitly criticized Newchurch and then Card. Ratzinger.
Almost two entire issues were devoted to a justification of the New Order rite of consecration of bishops. Why was such an unusual technical article (badly organized and researched as it was) give such prominence? Why was an opposing article, in the tradition of the debates at the University of Paris of St. Thomas Aquinas and St. Bonaventure, not published? Undoubtedly because Benedict-Ratzinger is the first Bishop of Rome not to have been consecrated in the certainly valid traditional rite, but instead in the New Order rite that was introduced to go along with the Novus Ordo Missae in 1970. If Benedict-Ratzinger is not pope, there's no point "negotiating" with him, is there? No wonder the Angelus didn't publish the opposing argument!
So, another once-traditional publication hits the skids. We long for the old Angelus with its wonderful mix of fascinating articles of interest to a wide cross-section of traditional Catholic. If we wanted Church politics, we would read the propaganda for the New Order in Newvatican's own L'Osservatore Romano!
---
Is there an Assumption Vigil Fast?
From: Maria
Yesterday I went to Mass at a Society of St. Pius X chapel, and the priest said that because today is the Vigil of the Assumption, we are supposed to fast and abstain. I had never heard of this before, so when I checked TRADITIO, I found that you mentioned only the Vigils of Pentecost, Immaculate Conception, All Saints, and Christmas. I am confused as to whether I am supposed to fast and abstain today.
The Fathers Reply.
There is no fast or abstinence prescribed for the Vigil of the Assumption. You should get a copy of the traditional calendar described in TRADITIO's Traditional Liturgical Calendar department. It contains all this information.
---
That Curious Phrase
From: Jason
Dear Fathers:
What is the correct translation of in saecula saeculorum? Is it "forever and ever" or "world without end"?
The Fathers Reply:
The phrase "world without end" goes back to the time of Henry VIII. It has become a frozen phrase now, used only in English versions of Church prayers. Its literal meaning is "into the ages of the ages." Saecula refers to an age before the end of the world and is the Latin noun from which we get the word secular. The phrase in Greek and Latin is a Hebraism, and the locution is a figure of speech used quite commonly in Scripture, e.g., "King of Kings," "Lord or Lords," "Sancta Sanctorum," etc., to denote a superlative degree.
---
August 13 - Tenth Sunday after Pentecost
Semidouble Sunday
Indians on the Warpath against the Popes
From: The Fathers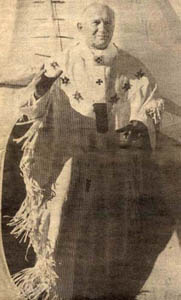 JPII Vested as an Indian in Canada in 1987
To Say the Novus Ordo Mess
In "Oecumenical" Ceremonies at Assisi, Italy, in 1986
He Had Consorted with Various Representatives of Pagan Religions
It seems that the Indians (Amerindians, that is, not the East Indians) are on the warpath. (Of course, we're not supposed to call them "Indians" now, but "indigenous peoples." Yet anthropologists claim that they were indigenous to Siberia, not the American continent. Like the Europeans, they migrated to the American continent.) Now that JPII recognized their "Great Spirit" at the "Oecumenical" Assisi Conference of 1986, it seems that the Amerindians want Newpope to rescind the papal bull Inter caetera of May 4, 1493, addressed to the Spanish monarchs Ferdinand and Isabella.
On August 3, 2006, at the Summit of Indigenous Nations, a gathering of more than forty delegations of indigenous, spiritual, and political leaders, meeting under the aegis of the United Nations, signed a "Resolution of the Summit of Indigenous Nations Calling for a Rescission of the Conceptual Doctrine of Discovery and Related Documents, Specifically the Inter Caetera Bull (Papal Bulls) of 1493 and the 1496 Royal Charter of the Church of England."
Outside of silly historical revisionism of events long past, like the "reinstatement" of Martin Luther and the "apology" to Galileo, what is it in this papal bull that is so objectionable? Nothing for Catholics, it seems. Actually, the purpose of the bull was to prevent the enslavement and slaughter of Amerindians. The bull enjoined:
"that the Catholic faith and the Christian religion be exalted and be everywhere increased and spread, that the health of souls be cared for"
"appoint to the aforesaid main-lands and islands worthy, God-fearing, learned, skilled, and experienced men, in order to instruct the aforesaid inhabitants and residents in the Catholic faith and train them in good morals"
As a matter of fact, the Catholic Church has a theological and legal tradition that recognizes the natural-law rights even of infidels. This principle, derived by the great Dominican theologian St. Thomas Aquinas from Aristotle, held that the ultimate divine sanction for political life was God's creation of man as a rational and social animal. All human beings possessed a rational soul with a natural urge to band together in families, extended clans, and ultimately self-governing communities. So all self-contained human political units possessed the natural right to dominium, or sovereignty, provided they did not egregiously violate natural law in their other conduct (e.g., the human sacrifices conducted by the Mayans and Aztecs).
As usual, the Catholic Church gets an historical "bad rap" from anti-Catholic bigots, whereas the facts of history show the Church to have acted in a most enlightened manner compared the secular governments. Ferdinand and Isabella have themselves gotten a lot of hard knocks for expelling the Mohammedans from Spain in 1492. Given the Mohammedan terrorist attacks of September 11, 2001, and the Mohammedans' thwarted British-American airline attacks of August 10, 2006, maybe the traditional view of history got it right after all!
---
An Exsequial Mass without a Body
From: Treva
Dear Fathers:
When our traditional priest says a Requiem Mass for a person who has died and has already been buried, he uses a casket-shaped box covered with a black pall over it and three tall candlesticks on each side as if a real body were present. At the end he goes around the empty casket, praying, sprinkling it with Holy Water, and incensing it. Is this normal and traditional?
The Fathers Reply:
Yes, it is quite normal and traditional for an Exequial Mass when the body cannot be physically present. It is then "morally present" through the use of the catafalque, and there is a rite for it in Ordo Exsequiarum. Given that many traditional Catholics cannot have a traditional service immediately after death for a number of reasons (distance of the body, expense, etc.), such an Exsequial Mass, corpore absente, is perfectly proper. For further information, see FAQ10: How Do You Explain These Traditional Catholic Beliefs in the TRADITIO Network's Library of Files (FAQs & Traditional Apologetics) in the section "Cremation & Traditional Funeral Instructions."
---
"Lead Us Not into Temptation"
From: Ron
Dear Fathers:
Realizing that any translation from the original suffers from accuracy, I find this to be quite apparent in a part of the Lord's Prayer. One shouldn't have to ask our Heavenly Father, "lead us not into temptation," something He obviously does not do. Is "put us not to the test (or trial)" more accurate?
The Fathers Reply:
Yes, the Greek peirasmon, although it can mean temptation (Latin tentationem), has a primary meaning closer to trial. The Roman Catechism of the Council of Trent explains this petition as follows: "We pray that the divine assistance may not forsake us, lest having been deceived, or worsted, we should yield to temptation; and that the grace of God may be at hand to succour us when our strength fails, to refresh and invigorate us in our trials."
---
August 12 - St. Clare, Virgin
Double Feast
A Confused Fr. Ratzinger
From: The Fathers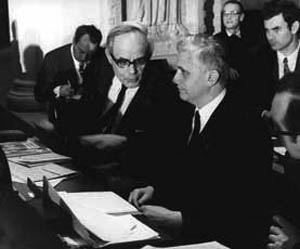 Fr. Ratzinger with Karl Rahner, Silenced by Pope John XXIII for Suspect Teaching
Ratzinger in the Post-conciliar Period Never Distanced Himself from Modernism
And Associated Closely with Modernists in His Teaching
He and Hans Kung, Who Was Decertified by Pope Paul VI, Team-Taught Dogmatic Theology
It is instructive to look at Fr. Ratzinger's teaching background to understand better where he is coming from. In 1966, a year after Vatican II ended, he was serving on the faculty of Tubingen, which had gone Lutheran from the beginning of the Protestant Revolt. There he taught Dogmatic Theology with Hans Kung, whose teaching credential was yanked by Pope Paul VI.
The following year Ratzinger moved to Ratisbon. Already the Vatican II "springtime" was dying on the vine. The expectation of good fruit from the Council was changing into a denuded tree. The crumbling of ordinary Catholic practices and the essentials of Tradition were already undergoing a "self-demolition." That was the term that Pope Paul VI, the concluding pope of the Council, was already using in an allocution of December 7, 1968.
But, like so many Modernists who may have had some misgivings about the direction in which the post-conciliar Church was going, Fr. Ratzinger made the mistake of never abjuring Vatican II. He never said: We shouldn't have done what we did.
Then Fr. Ratzinger made another mistake. As Catholicism in northern Europe began crashing down after Vatican II, Ratzinger didn't look to Rome for guidance. He placed false faith in diocesan bishops, who were doing the crashing! It is a mistake that Benedict-Ratzinger today continues to make. He has essentially told the world that he will do nothing as pope without the backing of the bishops. The post-conciliar papacy cannot act alone; it must preserve the sacrosanct Vatican II mantra of "collegiatlity." Fr. Ratzinger even co-authored a book on the subject with Karl Rahner, who had been silenced by Pope John XXIII for his teachings that bore "the odor of heresy."
In the summer of 1969, Fr. Ratzinger signed with the Tubingen professors an article in which a limitation on the term of diocesan bishops to eight years was proposed. The article implied that the term of the Bishop of Rome, i.e., the pope, should also be limited. Ratzinger didn't stand up then against the Modernist theological drift of the time immediately after Vatican II, nor does he today. He apparently had some reservations about signing the article, but allowed himself to be persuaded by the Modernists on the faculty. [Trenta Giorni]
So, what picture of Ratzinger emerges from his teaching activities immediately after the Council? He is confused theologically, wavering between Modernism and "conservatism" lite. Although he may occasionally have some reservations about Modernism, he will never speak out publicly against Modernism or Modernists. He forms close relationships with those declared heretics by the popes as reeking with the "odor of heresy," like Hans Kung and Karl Rahner, publishes books with them, and has private meetings with them today. He will allow himself to be cajoled from what few "conservative" principles he has by the Modernists.
Well, no surprise there. Fr. Ratzinger then is the same today as Newpope Benedict!
---
Newpope Knows
From: Robert
Dear Fathers:
I sense that the pope does not hear of abuses during most ad limina visits. He does not know that thousands of bishops and presbyters promote dissent in seminary teachings and liturgical practices, approval of the homosexual lifestyle, silence on abortion, and silence about all sin -- a silence which contributes to a "we-are-all-going-to-Heaven" mentality.
The Fathers Reply:
That Newpope doesn't know what is going on in Newchurch is nonsense. The Vatican has more spies than the CIA and more ambassadors than the U.N. It couldn't have lasted this long without widespread sources of information. The problem is not that the pope is ignorant. The problem is that he is a devotee of the New Order, the New Mess and sacraments, the New Theology, and the New Morality.
Oh, sure, he'll sugarcoat that reality a bit, like a good Vatican diplomat, to fool the "conservatives," but he sure doesn't fool traditional Catholics! His record is beyond dispute at this point since he has written over thirty books justifying the New Order and played a key role introducing false "oecumenism" into Vatican II documents as "Fr. Ratzinger."
Talk about "silence about sin"! What kind of "Holy Father" allows his children to be raped and criminally abused? Remember, under JPII, Ratzinger was the plenipotentiary Sex Crimes Czar. When did he ever express outrage at the defilement of the innocent? Now, as pope, he's in charge of the entire Newchurch network, yet he still has not expressed outrage over the crimes of his bishops and presbyters.
The authentically Roman character embraces reality. It doesn't concoct fantasies and look at the world through rose-colored glasses. It sees reality and deals with it. The Roman state could not have survived for 13 centuries, or the Roman Catholic Church for 20 centuries if it hadn't been uncompromisingly and Roman-style realistic!
---
A Robin Trumps a Gibson
From: Robert
Isn't it interesting? Traditional Catholic Mel Gibson goes off the wagon after twenty years, and the whole liberalist Hollywood establishment comes down on him. Christian Scientist Robin Williams goes off the wagon after twenty years, and liberalist Hollywood effuses with sympathy. Satis dictum.
---
August 11 - Sts. Tiburtius & Susanna, Virgin & Martyrs
Simple Feast
Complete Friday Abstinence
History Does Not Stop Modernist Vandals
From: The Fathers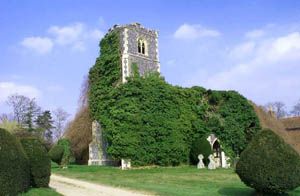 St. Dunstan's Church
Where St. Thomas More and Erasmus Frequently Visited
The Modernists Are Planning to Gut the Interior
And Turn Part of It into a "Farmer's Market"
St. Thomas More and Erasmus, the two greatest lights of their age, regularly visited here. John Colet, one of the leading scholars of the Renaissance was pastor there. Even the infamous Thomas Cromwell was stationed here from 1534, and it was from here that he masterminded the Dissolution of the Monasteries. But none of that will stop Modernist depredations of historical churches.
St. Dunstan's, a first-class mediaeval church named after the 10th-century Archbishop of Canterbury, is up for "renovation." Rip out the choir stalls, remove the stained-glass windows, tear up the pews and replace them with folding chairs, create a "meet-and-greet" open space. The congregation is against it; the bishop is for it. It's an old story. "What is being proposed is sacrilege," one parishioner said. "We see the plans as a desecration." The pastor's response: the church has to be "contemporary and modern." We've heard it all before to justify Modernist fanaticism.
It is thought that the first church was built on the land sometime between St. Augustine of Canterbury's conversion of the English in the 6th century, and in 952 a second church in stone was erected on the site by St Dunstan. Some time after Dunstan was recognized as a Saint in 1029, the church was rededicated to him. In the Middle Ages the building took its present shape, with the chancel built in the 13th century and the nave in the 15th.
But in the Modernist Age, we can't be reminded of what the Church has been. We must jettison the great history of our Church and replace it with a transmogrified Modernist version that is "contemporary and modern." And certainly not Catholic, let alone Christian.
---
The New Order Is Desperately Lashing out at Traditional Mass Sites -- Again
From: The Fathers
The TRADITIO Network has been receiving increasing numbers of reports that New Order parishes, which are losing attendance and money in the wake of the imposition of the New Order and of the Great Sex & Embezzlement Scandal, are starting to lash out again at fully Traditional Latin Mass sites, their members and their clergy. It's the same old ploy that they've tried before: traditional Catholics are "schismatic" and whatever other phony scare words these loose-canon parish presbyters can come up with.
When you hear these scare words thrown around, the first thing is: be prepared for it. It eventually happens to every Traditional Latin Mass site, traditional layman and priest. Don't be surprised; don't let them get your goat. It just part of the New Order's power game. They're desperate now. Stand firm with your traditional site, your congregation, and your priest. Get your wagons in a circle.
It is pointless to try to use rational argument on New Order presbyters that are scared out of their mind as they see their own attendance and money going down and down and down. The most effective thing that you can do is to turn the terms around on them. Announce that they are "schismatic" from the Roman Catholic Faith of two millennia and then be done with them, just as St. Paul left the silly latter-day philosophers at Athens to prattle among themselves and never returned to Athens.
Two words to the wise for you Traditional Latin Mass sites out there. First, on your bulletin be sure to note somewhere: "This site operates independently of the Diocese of [Timbuktu], Incorporated." That way, the local Newchurch diocese can't claim that you are letting people think that you are part of it. In all fairness, the New Order parish bulletin should read: "The Diocese of Timbuktu, Incorporated, operates independently of the Roman Catholic Faith." But don't expect New Order parishes to be that honest!
Secondly, when you list your traditional site in the Yellow Pages, don't list it under "Churches -- Catholic" because that's where all the New Order churches list themselves, and you certainly don't want to be confused with them! Instead, there is another Yellow Page category that you can use: "Churches -- Catholic, Traditional."
---
St. Philomena, A Patron Saint of the Traditional Roman Catholic Movement
From: Jim
Dear Fathers:
Since St. Philomena's feastday is today, and she is the Patron Saint of the Traditional Roman Catholic Movement, could you tell us something about her?
The Fathers Reply:
We refer you to the article in PHILOMEN.TXT: St. Philomena, Wonder-Worker: A Patron Saint of the Traditional Roman Catholic Movement in the TRADITIO Library of Files (Catholic Apologetics).
---
What Is Myrrh?
From: Zoltan
Dear Fathers:
We read about gold, incense, and myrrh as the gifts of the three wise men to Our Lord. We know what gold and incense are, but what is myrrh?
The Fathers Reply:
Myrrh is a resin that was used in biblical times in the wrapping of bodies for burial. It is symbolic of Our Lord's death on the Cross. By the way, Scripture never states that there were three Magi. That number has come from the fact that there were three gifts presented. Tradition later gives the magi individual names: Caspar, Melchior, and Balthazar.
---
August 10 - St. Lawrence, Martyr
Double Feast of the Second Class
Newpope's Appointee Approves of "Gay" Adoptions
From: The Fathers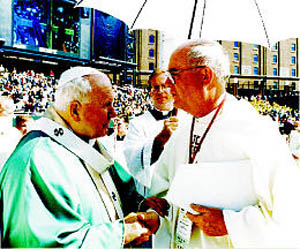 JPII and George Niederauer, Benedict-Ratzinger's New Archbishop of San Francisco
Passing the Torch of Newchurch Immorality
As Niederauer Now Decides to Continue Facilitating "Gay" Adoptions through Newchurch
One of the principal ways one comes to know the character of a leader is by looking at those whom he appoints to leadership positions below him. Benedict-Ratzinger's record so far has been abysmal. First of all, he appointed former San Francisco archbishop William Levada to head the Commission for the Doctrine of the Faith, Newvatican's sex-crimes unit and Ratzinger's own former position under JPII. Levada is currently under subpoena in U.S. federal courts to testify what he knew about rampant sex crimes in his two former archdioceses, Portland, Oregon, and San Francisco. The former archdiocese is in bankruptcy proceedings as well. A fox in charge of the hen-coop?
To replace Levada in his old position, Benedict-Ratzinger appointed George Niederauer, formerly bishop of Salt Lake City. There Niederauer was known as a "gay"-friendly bishop, and when he was transferred to San Francisco, the "gay" community there hailed Niederauer as essentially one of their own. The touchstone moral issue in Newchurch circles today has become "gay" adoptions. And, sure enough, Niederauer announced this week that San Francisco Catholic [sic] Charities will continue to offer referral services for "gay" adoptions, after it was disclosed last autumn that the agency had placed some children with "gay couples." In a similar situation in Boston, the archdiocese there closed its adoption services entirely rather than become involved in "gay" adoptions at all. [Source: CNA]
But Niederauer decided that the San Francisco archdiocese will continue to help prospective adoptive parents, including "gay couples," in cooperation with California Kids Connection, a secular organization that facilitates "gay" adoptions. And guess who approved of this arrangement for Catholic Charities to continue to facilitate "gay" adoptions. Why, none other than Niederauer's predecessor and Benedict-Ratzinger's Sex-Crimes Czar, William Levada. No surprise there! As previously reported by the TRADITIO Network, investigations by San Francisco newspapers have revealed that Levada himself was behind the placement of several children for adoption in "gay" households.
Good Catholics, if you keep your eyes open instead of engaging in fantasies about Benedict-Ratzinger, you will clearly see that Newpope is every bit the Modernist he was as Fr. Ratzinger at Vatican II. He holds the same Modernist beliefs about doctrine and morality that he had then, except that after forty years of experience in the post-conciliar Church bureaucracy, he now does it with a deceptive polish. By no means is Newpope a "traditionalist"!
---
"Indult" Woes
From: Nick
Dear Fathers:
My wife and I live a Newchurch diocese that conducts one "Indult" Mass per week. The "Indult" Mass has its problems (use of the 1962 modernized missal, distribution of Communion by lay deacons, etc.). Therefore, we normally attend the Traditional Latin Mass at a local independent chapel. However, this past Sunday, owing to an illness in the family, we decided to attend the local "Indult" Mass, which is closer to home.
This week the "indult" pastor decided to address in his "homily" a rumor that has apparently been circulating amongst the diocese's "indult" crowd. The Newchurch diocese recently received a new bishop who is rumored not to be friendly to the "Indult" Mass. The pastor is about to turn 73, and his healthier days are behind him. Therefore, a rumor has started that after the pastor eventually retires, the new bishop will do away with the "Indult" Mass.
The "indult" pastor relayed in his "homily" that he met with the new bishop approximately two weeks ago and discussed the rumor. More to the point, the pastor stated that he asked the new bishop if there was any truth to the rumor that the bishop would put an end to the "Indult" Mass after the pastor eventually retires. Not surprisingly, the bishop did not answer "yes" or "no." Rather the response received from the bishop was (paraphrasing what the pastor said from the pulpit), "We'll have to find someone qualified to replace you [the pastor] when you are gone." It was quite perceptible that many in attendance at the Mass (including the pastor himself) breathed a sigh of relief and took the bishop's statement to mean that (a) the current pastor would be replaced by someone who can speak and read Latin and (b) the "Indult" Mass would continue on after the retirement of the current pastor.
However, those who take a closer look objectively at what was said would see that this is clearly not the case. The bishop issued a non-response. He did not indicate that the "Indult" Mass would not, in fact, eventually be eliminated. He did not even confirm that a replacement for the current pastor would even be obtained. Rather, all that the bishop said (claimed) is that the diocese would look for a "qualified replacement."
This non-response provides the bishop with an easy way of eventually eliminating the "Indult" Mass if he wants to. What if a "qualified replacement" cannot be found within the diocese? Setting aside the issue of whether a replacement would have even been ordained in the traditional rite, hardly a seminarian after Vatican II can be found who can read or speak Latin. No Latin readers? No Latin speakers? No problem. I guess there are no "qualified replacements," which means no "Indult" Mass in the diocese.
As they say, "The writing is on the wall" for the "Indult" Mass.
The Fathers Reply
This scenario is being played in out in virtually every diocese having an "Indult" Mass. The problem is that in Newchurch and with the conciliar popes, the so-called "Indult" Mass is under the control of the bishops, not of the doctrine and Tradition of the Church. Therefore, all Catholic rights and obligations are based upon the whim of a New Order bishop. How would you feel if you were told that your civil rights depend not upon a constitution, but upon the whim of local politicians?!
Traditional Catholics, on the other hand, reject the very notion of an "indult." This word, in ecclesiastical parlance, means a "privilege," which can be given or not given, or given and then taken away. That is not the true situation with respect to the Traditional Latin Mass, the Mass of St. Peter. This is the true Mass of the Church, enshrined by Apostolic Tradition and the Great Fathers of the Church and canonized for all time as the result of a dogmatic Council.
Don't let anyone tell you that the right and obligation of Catholics to the Traditional Latin Mass is dependent upon the whim of any individual pope or bishop. No, it is based on the Catholic and Apostolic authority of the Church, to which those popes and bishops are themselves subject. Anyone denigrating their right and obligation to the true Mass to the status of a mere capricious privilege are bound to suffer what our reader has described above in his diocese.
---
August 9 - St. John Mary Vianney, Confessor
Double Feast
A Page from Catholic History: The Pope that Rent the Church
From: The Fathers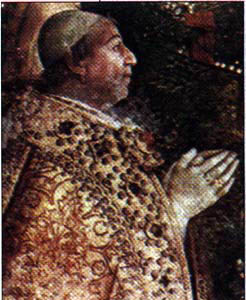 Pope Alexander VI (1492-1503)
The Corruption of His Papacy Led to the Protestant Revolt a Decade Later
He Was Warned in Virulent Terms by Fra Girolamo Savonarolla
Just as the Pope Today Is Warned by Traditional Catholics
Will Newpope Restore the True Church, or Will He Rend It Yet Again?
A pope that shamed the papacy. A pope who drove Catholics from the true Faith. A pope who caused a revolt from the Church. Sounds like Benedict XVI, doesn't it? Yet it has all happened before. We are referring to another pope, Alexander VI. This pope had assumed the papacy in 1492, the same year that Columbus brought the Catholic Faith to the New World, and the same year that the Catholic monarchs, Ferdinand and Isabella, took the Alhambra and expelled the Mohammedans from Spain.
As traditional Catholics today rightly chastise Benedict, so did the Catholic priest, Fra Girolamo Savonarolla, whose cause for canonization has been advanced, chastised Alexander VI, in the most caustic terms:
No more good prelates are to be found in the Church. Seest thou not that they do all things amiss?... The cure of souls is no longer their concern.... They have not only destroyed the Church of God, but built up another after their own fashion. This is the new Church. Go to Rome and see.... These prelates have introduced devilish games among us; they have no belief in God and jeer at the mysteries of our faith! What dost Thou, O Lord? Why dost Thou slumber? Arise, and come to deliver Thy Church from the hands of the devils, from the hands of tyrants, the hands of iniquitous prelates. Hast Thou forsaken Thy Church? Dost Thou not love her? Hasten then the chastisement and the scourge, that it may be quickly granted us to return to thee.
Like traditional Catholics today, Fra Savonarola stood courageously for the restoration of the true Church from gross corruption. He was one of the most eloquent and passionate voices in Italy claiming that the Church had to be restored lest it lose all spiritual vitality. Other such voices were St. Thomas More in England and Erasmus in Holland. Savonarola predicted that the destruction of the Catholic Church was close at hand -- and it was.
Pope Alexander, a man in his early seventies, died in the summer of 1503. One Italian historian of the period reported that the pope's body in death resembled that of the traitorous Herod Agrippa, as recounted in the New Testament. It was so bloated that no one could stuff it into the casket without stomping on it several times.
Fourteen years later, spurred by the corruption of the papacy, the Protestant Revolt burst into flame. That revolt against the Church came about, in large part, as a reaction to the corruption of the papacy. The criticism of the pope was yet one more link in the chain to that revolt and the splintering of Christianity not many years after that, which has persisted to this day, five centuries later.
The predictions of Fra Savonarola had come true. The Catholic Church was rent apart. Will history repeat itself? Will Benedict-Ratzinger fail to heed the caustic warnings of traditional Catholics and cause yet another, even more serious, rift? There is certainly historical precedent.
---
August 8 - Sts. Cyriacus & Companions, Martyrs
Semidouble Feast
Gibson's Foundation Buys Church Complex for Regional Traditional Catholic Center (Updated)
From: The Fathers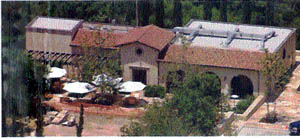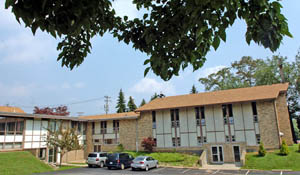 Holy Family Traditional Catholic Church in Agoura Hills, California (left)
And the New St. Michael the Archangel Traditional Catholic Church in Greensburg (Right)
Two Churches Funded by Mel Gibson's Foundations
The New St. Michael's, Just Purchased, Is to Serve as a Regional Center
For the Traditional Latin Mass and Sacraments in the Pittsburgh Area
An Independent Traditional Catholic Priest Will Pastor the Center
Mel Gibson may have a personal drinking problem, but he sure puts his money where his mouth is when it comes to his deep traditional Catholic Faith.
The World Faith Foundation, a non-profit corporation, of which Gibson is a principal benefactor, has purchased a church complex in Greensburg, Pennsylvania, near Pittsburgh, for $750,000. The existing church will be converted into a traditional Catholic Church, which will serve as a regional center for the Traditional Latin Mass and Sacraments when the building is vacated on September 1. The Foundation purchased the existing church in lieu of building a new church edifice from scratch, for which WCF had already purchased a ranch-style house earlier in 2006 for $315,000. An independent traditional Catholic congregation, St. Michael the Archangel, pastored by an independent priest, will move from its current location in nearby Lycippus to the new location.
Local reports indicate that the church had been on the market for some time, so WCF got the church complex at a highly-favorable price. The complex includes room not only for a traditional church but also for a rectory, a school, and other uses. The producer-director's father, Hutton Gibson, a traditional Catholic writer and publisher associated with the WCF, has already moved to the Greenburg area to oversee the complex for the foundation. The purchase of such a large complex for a regional traditional Catholic center is being touted by the local press as "giving a high profile to the Traditional Latin Mass, which attracts worshippers from all over Western Pennsylvania." [Pittsburgh Tribune]
St. Michael the Archangel is the second traditional Catholic church that Gibson has significantly funded. Previously, he funded at $5,000,000 the building of the 900 square-metre mission-style Holy Family Catholic Church in Agoura Hills, California, near the Gibson family's home (sorry, folks, we have been asked not to publish the exact address of this church or Mel Gibson's personal address because of understandable problems with paparazzi). Construction is expected to be completed in 2008.
---
Beware the Trap!
From: Matthew
Dear Fathers:
I used to be one of those "indultarians" and, before that, a "conservative" Newchurcher. People such as these are caught up in merely the trappings of the Catholic faith. Like the charismatics on the EWTN Cable Network, throw in a little Latin, wear a biretta, look somber and serious, and you'll be esteemed by these folks as being "traditional."
Many of my friends are of this stripe. They think themselves "conservative" because they oppose homosexuality and abortion (as many non-Catholics do as well), but embrace the false oecumenism and religious indifference of the New Order.
But in all fairness, we "traditionalists" share one aspect of this behavior with the "indultarians." We have found our little niche in our "traditional church"; we have found our reverent traditional Mass, but we don't do anything to spread the Gospel, or even fight against the New Order.
---
August 7 - St. Cajetan, Confessor
Double Feast
Why Newchurch Will Never Accept the Traditional Latin Mass
From: The Fathers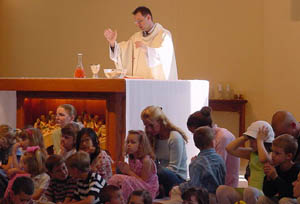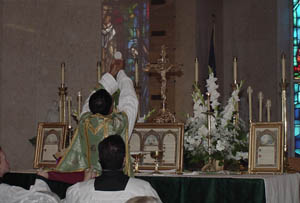 "See what things the enemy hath done wickedly in the sanctuary" (Psalm 73:3/DRV)
New Order Mess (left) vs. Traditional Latin Mass (right)
The One Is an Invalid Abomination; The Other Is the True Roman Catholic Mass
Never the Twain Shall Meet
We know that most Newchurch bishops and presbyters hate the Traditional Latin Mass. They even hate the "Indult" Mass, which is supposedly "approved." They hate the Novus Ordo service performed even partly in Latin. This last was the target of opprobrium from an official of the Newchurch Archdiocese of Seattle. In an article published in Seattle's Newchurch organ, one Presbyter Jan Larson takes to task the hybrid Novus Ordo service broadcast by the Charismatic EWTN Cable Network. He strenuously objected to:
the "odd mix" of English and Latin
the presbyter and ministers of the liturgy looking "way too somber and serious" (for Newchurch the "liturgy" is supposed to be light-hearted after all)
the service being performed "with all the exaggerated exactness of the pre-Vatican II Latin liturgy"
the service being "overly formal and mechanical"
no women in the sanctuary area
no procession with the "gifts," no "Sign of Peace," and, of course, no communion from the "cup" for the lay people who are present
the use birettas and Roman chasubles
And what does Presbyter Larson hold up as the ideal for the "liturgy"? Why, it is no other than good old "traditional" Benedict-Ratzinger, who "hugs and kisses the children who present him with the gifts to be offered." Yes, folks, Newpope's actions speak louder by continuing to perform the invalid Novus Ordo Protestant-Masonic-Pagan service than his few casual words about how he likes Newchant or Mozart.
Presbyter Larsen is no dummy. He represents the opinion of Newchurch and its New Order. Like Benedict-Ratzinger, he knows exactly where the New Order is leading. "As for the growing similarity among the Eucharistic celebrations of Catholics and Protestants, we should rejoice that Catholics now feel at home at Lutheran, Methodist, and Episcopalian worship." The Novus Ordo Mess was, as we all know, fabricated by a Freemason and six Protestant ministers with the specific goal of Protestantizing Catholic worship. The New Church serves the Great God of Oecumenism, not God of the Most Holy Trinity. As far as the New Order is concerned, the "spirit" has flown the coop!
Good Catholics, you must shake your heads, as do we Fathers, when we hear "indultarians" and semi-traditionalists embrace Newchurch and its New Order, so long as they can have their own little Modernized Mass of 1962 in some corner of a Novus Ordo temple somewhere. Are they just too blinded from wearing rosy-colored glasses to see the Big Picture here? Presbyter Larsen, Newpope, and Newchurch certainly do!
---
August 6 - Transfiguration of Our Lord
Double Feast of the Second Class
Newvatican Rages against Madonna's "Confession" in Rome, but Itself Desecrates the Holy Martyrs
From: The Fathers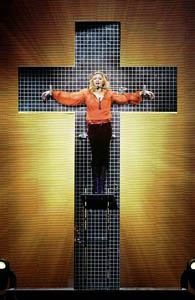 Good Catholics, it's interesting what Newchurchers get upset about, isn't? A work of fiction, the Da Vinci Code, got many of them upset, but they aren't upset at all that Newchurch has imposed upon them an invalid Novus Ordo "service." Now, a punk entertainment figure, Madonna, is going to sing in Rome rock noise on her "Confessions" tour against the backdrop of a mirrored cross prop, and Newvatican is screaming "blasphemy."
One Newcardinal denounced the publicity stunt, saying, "To crucify yourself in the city of the pope and the martyrs is an act of open hostility." What kind of Newchurch double standard is this? A silly publicity stunt carries so much weight, but the official celebration of phony, unCatholic Novus Ordo services at St. Peter's Basilica by Newchurch officials from Newpope on down is not "an act of open hostility" to the Holy Martyrs who gave their lives for the true Mass and Sacraments? A silly publicity stunt carries so much weight, but JPII's shocking act of giving permission for the first Muslim mosque to be built in Rome is not "an act of open hostility" to the Holy Martyrs? Give us a break!
Poor crazed Madonna is probably so "buzzed" with drugs, sex, and rock that she probably knows not what she is doing. Where is that vaunted "forgiveness" that Newchurch extends so graciously to murderers and rapists of children? But, on the contrary, Ersilio Newcardinal Tonino and Benedict-Ratzinger do know better. They can't hide under the veil of "ignorance."
Tonini was quoted as saying, "The limits have really been pushed too far." Well, now, Newcardinal, join the club. That's exactly the way traditional Catholics feel when your New Order by force imposed an invalid Mess, false Sacraments, heretical doctrine, and the morality of pagans upon Christ's Church. What goes around, comes around.
---
Are Traditional Catholics "Pessismistic"?
From: Jim
Dear Fathers:
A semi-traditional publication recently claimed that traditional Catholics were "pessimistic" for not placing their trust in newly-elected men like Benedict-Ratzinger, Berg (of FSSP), and Fellay (of SSPX). Are traditional Catholics pessimistic?
The Fathers Reply:
We believe quite the contrary: traditional Catholics are realists. They have confidence in Christ, that human leaders with their defects will come and go, but His true Church, whether it be large or small, will exist until the end of time.
Traditional Catholics are Roman; that is, they are realistic. How many times did the Gauls have to overrun Europe before Julius Caesar led an expedition to conquer the barbarians once and for all? Eventually, it was Roman realism that ordered the world under a law and justice never previously seen. The Romans had no fantasies about the flaws of human nature. They understood what later came to be called "Original Sin"!
History gives one a realistic, Roman perspective, not some rosy-colored fantasy of the world. To these cockeyed optimists, JPII was going to "restore" the Traditional Latin Mass with a vapid "indult." That turned out to be pure pandering. One of the "indult" organizations recently published the fact that to date, 15 years after the 1988 "indult," only one-third of the dioceses in the United States have even one single "Indult Mass."
These cockeyed optimists are now saying that Benedict-Ratzinger is going to "restore" the Traditional Latin Mass -- in spite of the fact that to Newpope that Mass is merely window-dressing to keep traditional Catholics contributing to Newchurch. If Newpope really believed that the Traditional Latin Mass was the true Mass of the Church, he wouldn't himself be pandering that invalid Novus Ordo service, fabricated by a Freemason and six Protestant ministers -- on international television yet!
Let's face it. Berg and Fellay have no real control of the situation when they play up to Newchurch. Even Michael Davies finally admitted shortly before his death, after ten years of being president of an "indult" organization and palavering with Ratzinger, that he had been played by Ratzinger and Newvatican for a fool, that he had simply been strung on and on and on, with no real results. Archbishop Marcel Lefebvre was a much quicker study. A few months talking with Ratzinger, and he said that the man wasn't really Catholic!
Forty years have gone by since Vatican II, and these semi-traditionalist and indultarian cock-eyed optimists are still at it! They keep looking for a human savior, who will never come. Traditional Catholics imbibe the wisdom of the Psalmist, who wrote:
Bonum est confidere in Dominum, quam confidere in homine.
Bonum est sperare in Domino quam sperare in principibus.
It is good to confide in the Lord, rather than to have confidence in man.
It is good to trust in the Lord, rather than to trust in princes (117:8/DRV).
---
The Traditional Latin Mass Is Not a "Latin Mass"
From: Joseph
Dear Fathers:
I have noticed -- particularly in the last year or so -- that Newchurchers are beginning to co-opt the phrase "Latin Mass." They never cared to use that phrase until recently! My suspicion is that some of the Newchurchers are starting to see that they're losing the battle of ideas, so they're pulling the old liberal tactic of changing the definitions. Nowadays, when engaged in apologetic dialogue, ten minutes of very confusing conversation passes before I realize that the other person (who is saying "Latin Mass") is referring to the Novus Ordo service in Latin, not the Traditional Latin Mass.
I will continue identify myself as a traditional Catholic, but I'm wondering whether it's time to change the dialogue in regard to the Mass. When people ask which Mass I attend, I'm beginning to respond "Roman Rite," as in "the rite of the Roman Catholic Church." When they (inevitably) ask, "Well, isn't that the Mass of today?," I can honestly say, "No, Paul VI gave that rite a new name. He called it the Novus Ordo Missae, or New Order of Mass. It is not the Roman Rite." I've even tried "Mass of the Apostles," but that only seems to spur fights,
Am I wasting my time engaging in these semantic games with nonbelievers? I seem to tire more and more every month of even trying to get them to listen. They are a "stubborn, stiff-necked people."
The Fathers Reply:
We believe that you are correct about Newchurch's co-opting of the term, and we have commented upon the ambiguity of the term "Latin Mass" previously in the TRADITIO Commentaries. We use the term "Traditional Latin Mass" and even distinguish it from the "Modernized Mass of 1962," or "Indult Mass." "Roman Rite" is correct, but does not resolve the ambiguity because some confuse the term "Roman" with the term "papal," which is not correct either. "Mass of the Apostles" is ambiguous too, since certain traditional Eastern rites could legitimately be considered so as well (not all Eastern rites are traditional or Apostolic, however).
For the time being, we cannot think of a better term than "Traditional Latin Mass," which at least has the benefit of a specific, not an ambiguous, reference.
---
Catholic or Orthodox or Sacrilege?
From: Robert
Dear Fathers:
I am Eastern Orthodox; my wife is Catholic, and we have a six-month old son. At this point we are still not sure if we want an Orthodox, Catholic, or just a non-denominational baptism/christening. We are sure that we want him to have best of both worlds though, including going to Catholic school and also attending Orthodox Church. I guess my question to you is whether the Catholic Church will recognize him and accept him even though he was baptized Orthodox or non-denominational? We don't want him to be treated as an outcast simply because he was not baptized by the Catholic Church. We want him to experience all that both Churches have to offer, while raising him Catholic, and give him the best schooling possible.
The Fathers Reply:
Apparently, you are unaware that you are manipulating a Holy Sacrament of the Church (either Catholic or Orthodox) for a profane purpose. It is hard to imagine a more grievous sacrilege against the First Commandment (recognized by both Catholic and Orthodox). You should be seeking the true Church for your child, which then you and he must follow. Religion is not some candy store, in which it is simply a matter of choosing a color of jelly bean according to one's preference.
For Heaven's sake, don't play politics with the Holy Sacrament of Baptism. If the child is persecuted in some way for his Faith, so be it. That is what honest people endure when they are sincere. It strengthens one's Faith and helps merit an eternal reward. Otherwise, you are toying with God, and "Be not deceived: God is not mocked" (Galatians 6:7/DRV).
---
August 5 - Dedication of the Church of Our Lady of the Snows
Double Major Feast
Our Lady of Discord
From: The Fathers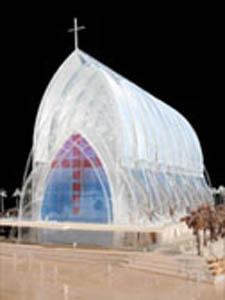 The "Traditional" Chapel Announced for Ave Maria University
Which May Never Be Built
"Monaghan's Madness" Is Typical of Confused "Conservative" Newchurchers
Monaghan Should Stick to Pizza Pies; At Least He Knows How to Build Them!
"Conservative" Newchurcher Thomas Monahan is learning that it is a lot easier to make a pizza pie than a Newchurch "university." The multimillionaire founder of Domino's Pizza, in good Newchurch fashion, has broken a lot of promises along the way to Ave Maria University, which he is supposed to be building near Naples, Florida, and which sometimes he wrongly terms "traditional" to get additional support. The "university" has so far turned out to be, in reality, a few hundred students housed in a retirement complex.
The finances have been so mismanaged that Monahan is now trying to cajole money from other dornors by giving them "naming opportunities" for the non-existent campus buildings. Assets for the university are expected to drop to as little as $15,000,000 from $251,000,000 in 1999. As a result, school officials have had to scale back plans. So Monaghan wants to build an adjoining town and sell houses to support the university.
Monahan seems to forget that he already has an Ave Maria College in Ypsilanti, Michigan, and an Ave Maria Law School in Ann Arbor. Violating promises made to faculty, parents, and students, he is shutting down the college to start the Naples fiasco. The backlash is starting to lose him support even among "conservative" Newchurchers, who characterize his new Florida university as a "vanity venture" that could well prove to be a colossal waste of cash. Promised financial aid for his Ave Maria College students in Michigan were diverted to Florida instead. The diaphanous Ave Maria University was already forced by the United States government to return $259,000 in federal money.
Many Newchurchers said that they gave up jobs and teaching posts elsewhere to work at the schools in Michigan, with some faculty members moving from hundreds of kilometres away. One professor said, "I bought into the whole vision lock, stock and barrel." He added that he took a $16,000 pay-cut from a tenure-track position at the West Virginia University School of Medicine to teach at Ave Maria College. Although Monaghan originally promised to keep Ave Maria College open into 2007 so that students could finish their degrees, the faculty has been pressured since 2003 to leave Michigan for Florida or risk their jobs. In 2004, three years before the announced closure, the Ave Maria College library was transferred to Florida.
As a result parents and faculty are turning on Monaghan for his broken promises and talking about a lawsuit if the Michigan facility is closed. "Ironically, the very legacy that was being built up with Monaghan's help is now being torn down at his will," one professor wrote to the college board. "It is a tragic and scandalous waste of the human and financial resources given by God." Sounds just like Newchurch, doesn't it, folks? Raise money for one purpose, then spend it on something the donors didn't want. It's happened over and over again. Monaghan has learned well at the feet of Newchurch.
Not satisfied with breaking promises at Ave Maria College, Monaghan now wants to move the Ave Maria School of Law to Florida. Teachers, students, and alumni are hopping mad about that too. They say that it is crazy to leave an intellectual center like Ann Arbor, home of the University of Michigan, having easy access to a federal courthouse and many local internship opportunities, for an undeveloped outpost in the Everglades. Four distinguished members of the legal community have resigned from the law-school board.
An "alternative" alumni association has been set up to resist solicitations to contribute to the Florida project. "Conservative" Newchurchers are starting to feel the full brunt of the duplicity of the situation. Many of the fund-raising "targets" have been turned off by the whole fiasco. Not helping the situation any was the announcement that Monaghan wanted to build a chapel for his "traditional" university that looked more like the Newchurch oecumenical "tennis-racket" monstrosity being built at Fatima than a "traditional" Catholic chapel. [Source: Naples Daily News]
---
Did Newvatican Aid the Escape of Fugitive Presbyter out of Rome?
From: The Fathers
The Dalls Morning News is one of the few newspapers remaining in the United States that does significant investigative reporting in the mode of Woodward-Berstein expose of Watergate. In 2004 the News conducted a year-long investigation into how fugitive presbyters charged with sex crimes in the United States were being moved by Newchurch from country to country to help them escape justice.
One of the seven presbyters in the report, Joseph Henn, lived only one block from the Vatican City State, at the world headquarters of the Salvatorian Order, where he was being held under house arrest. Now Henn has now been found to have flown the coop again, just days before the Italian Supreme Court ordered his extradition to the Phoenix, where he is wonted on charges of sex crimes against three minors in the 1990s. The Society of the Divine Savior claim in a statement that it did not know Henn's whereabouts.
Investigative reporters, as in the Watergate matter, must as: "What did Benedict-Ratzinger know, and when did he know it?" Did Newpope or some Newvatican agency assist in Henn's escape? Newrome's record in this case (and how many others) is not good. After Presbyter Henn was indicted in 2003, prosecutors at the Maricopa County attorney's office in Phoenix wrote the Vatican's Secretariat of State to ask for help in returning the fugitive back from Rome. Their request was refused. Prosecutors then sought, through the US Justice Department, the presbyter's priest's extradition from Italy, which the Italian Supreme Court granted.
The head of a victims' advocate group called it: "From day one, his superiors should have said, 'You comply with the law or we're cutting you off.' Their complicity clearly gave Henn years to plan and pull off his getaway."
Good Catholics, we have all learned by now that JPII and Benedict-Ratzinger represent a return to the days of the Bad Popes, such as Alexander Borgia, Pope Alexander VI. The conciliar popes are doing essentially the same thing as the Borgias. It's just that they do it with a little more sugar-coating. Pope Alexander, by the way, never attempted to destroy the Mass or to change Catholic doctrine. In this the conciliar popes have outdone him!
---
August 4 - St. Dominic, Confessor
Double Major Feast
Complete Friday Abstinence
No Surprise Here: Foxman Attacks Gibson with "Passion"
From: The Fathers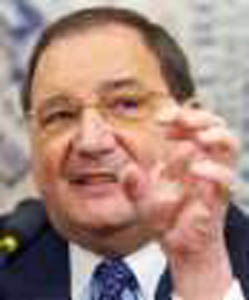 I Got You, Mel Gibson
Abraham Foxman, of the Sons of the Jewish Covenant [B'nai B'rith]
Plays Catholic Priest and Rules Mel Gibson's Abject Public Confession "Unremorseful"
Meanwhile La Voz Is Charging the Same Fanatics Who Hated The Passion of the Christ
As Working out Their Plan to "Get" Gibson
Readers of the TRADITIO Network will remember well the name Abraham Foxman. Foxman is the head of the Anti-defamation League of the Sons of the Jewish Covenant [B'nai B'rith]. When Gibson was producing and directing The Passion of the Christ, Foxman was using the "N" word against Gibson (which, for Foxman, is that diaphanous "anti-Semitic"). Gibson simply said to Foxman, "I'm making a film based on the New Testament; wait and see it, and them make your judgment." Foxman, having a reputation for being an anti-Christian bigot, and an ungrateful one as well, given the fact that his life was saved from the Nazis by a Catholic family who took pity on him, rejected any film based on the New Testament as being "anti-Semitic."
On Monday morning, July 30, the offices of B'nai B'rith opened, and Foxman wasted no time getting out a statement against Gibson. Apparently, in spite of his well-known anti-Christian bigotry, Foxman has become a Catholic priest! In his official capacity as ADL National Director, Foxman has judged Gibson's abject public confession as "unremorseful" and called Gibson, who has hired many Jewish actors and actresses for his blockbuster moves, an "anti-Semite."
What is ironic is that the logo of Foxman's B'nai B'rith organization reads: "To secure justice and fair treatment to all." All apparently, except Christians, and especially Gibson. It seems that La Voz's commentator Hector Carreon about certain fanatical elements trying to "get" Gibson may have a large dollop of truth in it.
---
Benedict-Ratzinger Suppresses Holydays of Our Lord except Christmas -- So Far!
From: The Fathers
Britain may soon return to the time of the Puritans when the celebration of Christmas was outlawed. It is certain that the Newchurch bishops in Britain will put up no resistance. Nor will Benedict-Ratzinger. He still hasn't gotten around the vaunted second "indult" for the Modernized Mass of 1962, but he has wasted no time approving the suppression of Holydays of Our Lord!
The Bishops' Conference of England and Wales announced on July 27 that Benedict-Ratzinger had approved the suppression of all Holydays of Our Lord in Britain, except Christmas. Well into the 20th century, there were 36 Holydays of Precept [de praecepto] on the calendar. On these days there was no work, and the Catholic people participated at Divine Office and Holy Mass and walked in processions honoring Our Lord, Our Lady, or one of the great Saints of the Church. By the early 20th century, however, because of the de-Christianizing of society, these 36 were reduced to a pitiful eight, of which most countries recognized only six.
Britain until the present day has recognized as Holydays the Catholic Feasts of the Epiphany, the Ascension, and Corpus Christi. When the Newchurch Bishops of Britain announced this cave-in to the secular world, Catholics from all over Britain criticized the Newchurch bishops as pandering to a "secular age." Moreover, they slammed Primate Cormac Murphy-O'Connor's secret "deal" with Newrome to do away with the Holydays as a "disgrace." "It is an incredible thing to do without asking anybody," one writer said. "They have imposed on us an impoverishment of the spiritual life of the English Church. It is yet another craven surrender to the secular age." You see, Newchurch, which is supposed to be so "loving" and "charitable" and "open" to laypeople since Vatican II, operates like a covert Mafia.
Presbyter Allen Morris, Secretary of the Department of Christian Life and Worship of the Bishops' Conference of England and Wales, denied the charge of secrecy. Yet when asked whether Newvatican had rejected another proposal from the bishops' conference to move other Holydays besides those of Our Lord to Sunday, Morris refused to comment! [Catholic Herald]
The words of Our Lord chastising Peter in the Garden of Gethsemani should ring in every Catholic's ears: "What? Could you not watch one hour with me? (Matthew 26:40/DRV).
---
August 3 - Finding of the Body of St. Stephen, First Martyr
Semidouble Feast
The Rest of the Story: Was Mel Gibson Set Up?
From: The Fathers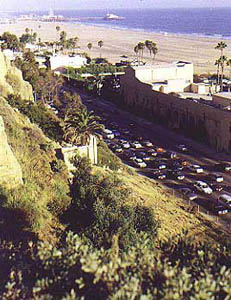 The Pacific Coast Highway at Malibu
An Hispanic Commentator for La Voz
Claims that Something Fishy Is up with Gibson's Alleged DUI
Was He Set Up by Fanatical Elements Still Trying to "Get" Him for the Passion?
A defense of Mel Gibson's alleged DUI situation has come from an unusual source: an commentator for the Hispanic periodical, La Voz, one Hector Carreon, who claims that Gibson, a well-known traditional Catholic, was set up for the alleged DUI by anti-Christian groups, which he claims are still trying to "get" Gibson because he produced The Passion of the Christ, to which these extremist groups objected, most notably the Anti-defamation League of the Sons of the Jewish Covenant [B'nai B'rith].
Most of the damning information that has circulated over the weekend on the situation has come from a source called "TMZ." It turns out that TMZ is run by one Harvey Levin, a former local news legal analyst and street reporter turned agent-provocateur for a Hollywood "infotainment" site, which sends kids with video cameras to stand outside hotspots to provoke celebrities to go wild. Levin lost no time going ballistic over Gibson, calling him "garbage." So much for his journalistic objectivity! Even Associated Press was spreading information from this TMZ "source" without any indication that TMZ as a "source" is several rungs below the National Inquirer!
Meanwhile, the Hispanic commentator Carreon has raised a number of questions about the arrest, which would certainly be raised if Gibson were Hispanic, Black, or Jewish. Carreon reports that the police often lie in wait at a location on the Pacific Coast Highway where celebrities are known to be coming home from restaurants, social engagements, and parties. Most important of all, how did Harvey Levin end up with a copy of an unofficial "version" of the report written by the deputy, which was not filed as part of the official report?
Carreon claims that there are many questions concerning the incident that occurred on July 28, when Mel Gibson, driving in his automobile, was stopped by a deputy near his home. Carreon claims that in the Malibu area of California, DUI enforcement "has now become a huge racket that generates huge revenues for law enforcement and huge profits for so called 'Alcohol Education Schools' that are mostly owned by judges and members of the lobby group MADD." Carreon claims that in Los Angeles County, deputies are notorious for lying in their police reports.
It will probably take many weeks to sort out what really happened here. Those, like the TRADITIO Network, who followed the inflammatory anti-Catholic and anti-Christian bigotry spewed out against Gibson by fanatical groups for simply making a Biblical movie based on the New Testament will have an open mind about how far those elements would go. Remember, they attempted to trespass on Gibson's father's property, whether to do him physical harm or not is unknown.
---
August 2 - St. Alphonsus Mary Liguori, Bishop, Confessor & Doctor
Double Feast
Mel Gibson after Alleged DUI
Issues Statement that Is a Model for Benedict-Ratzinger and His Bishops
From: The Fathers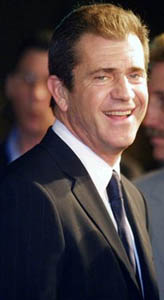 Traditional Catholic Producer-Director-Actor Mel Gibson, Arrested for Drunk Driving
His Immediate and Public Repentance and Firm Purpose of Amendment
Should Serve as an Example to Benedict-Ratzinger and His Bishops
To Address Their Rampant Crimes in Newchurch
The Drudge Report indicated that on July 28 Mel Gibson was arrested for drunk-driving, which, if proven, is a misdemeanor. Early that morning Gibson had left his home near Malibu and was driving along the Pacific Coast Highway to visit his brother, who lives nearby. A few years ago California lowered its limit to 0.08% blood-alcohol concentration. Gibson's was reportedly 0.12%. For man weighing 85 kg, a "likely DUI" can be reached after two drinks. Gibson was also reported as ranting wildly under the influence. Alcohol does that to some people.
Unfortunately, this, if proven, would not the first occurrence of DUI for Gibson. Some years ago in an interview for Readers Digest, he admitted to a similar incident in Canada. He reported that his wife chewed him out royally and got him back on track. It appears that Gibson dropped his moral guard and sunk again into something that can ruin lives. Let us hope that his Faith (or his wife!) will enable him to regain a higher moral ground once again and swear off the booze.
Yet we must remember that, morally speaking, the flaws of private citizens are several rungs down on the ladder than the crimes of Church officials. When, for example, a presbyter robs his parishioners of $1,400,000, or an archbishop steals $500,000 from the diocese to pay hush-money to a "gay lover," the moral quotient is a hundredfold worse.
Coincidentally, the same Drudge Report indicated that on a recent Congressional trip to Estonia, Senator Hillary Rodham Clinton, a liberal Democrat, challenged her congressional companions to a vodka-drinking contest. Senator John McCain, a liberal Republican, quickly agreed. There was so much after-dinner drinking on this official trip that the drinkers were "hazy" on how much was drunk. And remember, you U.S. tax-payers, this was an official junket, so you paid for the drinking contest. Sad to say, both Clinton and McCain are considered likely U.S. Presidential candidates for 2008.
Within 24 hours after the incident, Gibson released a statement worthy of a traditional Catholic who is involved in such an unfortunate incident:
After drinking alcohol on Thursday night, I did a number of things that were very wrong and for which I am ashamed. I drove a car when I should not have, and was stopped by the L.A. County Sheriffs. The arresting officer was just doing his job, and I feel fortunate that I was apprehended before I caused injury to any other person. I acted like a person completely out of control when I was arrested and said things that I do not believe to be true and which are despicable. I am deeply ashamed of everything I said, and I apologize to anyone who I have offended. Also, I take this opportunity to apologize to the deputies involved for my belligerent behavior. They have always been there for me in my community and indeed probably saved me from myself. I disgraced myself and my family with my behavior and for that I am truly sorry. I have battled with the disease of alcoholism for all of my adult life and profoundly regret my horrific relapse. I apologize for any behavior unbecoming of me in my inebriated state and have already taken necessary steps to ensure my return to health.
That is exactly the kind of Catholic statement that Catholics have been waiting for from Benedict-Ratzinger and his errant bishops involved in the Great Sex & Embezzlement Scandal, but have never received. Gibson's statement shows them the way: honestly admitting the crime, taking full responsibility for it, and making a plan of action for correction.
Benedict-Ratzinger and his bishops, to the contrary, have never admitted their proven complicity and even personal involvement in their rampant Newchurch crimes, deny any responsibility for their crimes, and take no steps to correct those crimes, and speak only through Philadelphia lawyers. We'll take the Catholic repentance of Mel Gibson, speaking for himself without a lawyer, over those unrepentant Newchurch criminals any day!
Gibson has never been portrayed here as a "Saint." We have been quite candid about his shortcomings. On the other hand, we have defended his courage in standing up unabashedly for the traditional Catholic Church, against Vatican II and the New Mess, etc. No other public figure has had the guts to do that. Whether he has a drinking problem or not doesn't change his courageous stands against pressures to compromise the traditional Faith.
But, then, he may become a Saint yet. Augustine, one of the Great Doctors of the Church, admits to a life of immorality, fornication, and a child out of wedlock. Many of the Saints had similar lives controlled by a certain vice, until they rooted it out with virtue. Gibson has shown us that he has the guts to do this, so we are hopeful of his return to virtue. Not, however, for the Newchurch officials, who continue to deny and continue their vice.
---
Not Great
From: John
Dear Fathers:
With all the talk of labeling JPII as "the Great," I wonder what the Church's requirements were to actually give someone this title?
The Fathers Reply:
The Church doesn't give the title, nor is it really a "title." It is a matter of historical concurrence, much as history has called Alexander "the Great," but has not seen fit to give Julius Caesar the same eponym.
Considering the fact that the only two popes who are commonly referred to by this eponym are St. Gregory I, one of the four Great Fathers of the Western Church, and St. Leo I, who spared Rome from being destroyed by Áttila the Hun, One can argue that such a title is not applicable after the Patristic Age, any more than St. Thomas Aquinas, the Church's pre-eminent theologian, be called a "Great" Doctor of the Church, since he lived after the Patristic Age.
Nor can JPII legitimately lay claim to such an eponym. Rather than saving Rome, he worked for 26 years to turn what little was left of the Catholic Church at Newrome over to the complete control of the New Order. In 1978, the year in which he was elected, he deplored in two documents the corruptions introduced by the Novus Ordo service. In 2005, he was best known around the world for his "Clown" Messes.
---
August 1 - St. Peter's Chains
Double Major Feast
Fellay II Regime Sings Same Tune
From: The Fathers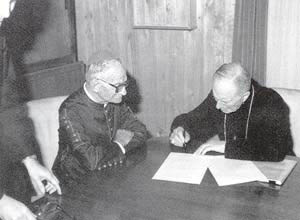 Two Bishops Faithful to the True Church
Bishop Antonio de Castro Mayer and Archbishop Marcel Lefebvre
Here Signing an Open Letter on December 2, 1986, to Pope John Paul II
Upbraiding JPII for Participating at the Jewish Synagogue in Rome
And at the "Oecumenical" Congress of Religions at Assisi
The Fellay II regime of the Society of St. Pius X issued on July 28 a Déclaration du chapitre, a statement emanating from the Chapter meeting of two weeks ago, which, outside of a brief announcement of the results of the duodecennial elections on July 11, is the only public document so far to emanate from the Chapter meeting.
Although the document is obviously intended to calm the Society's members who have criticized Fellay's steps to sell out the Society to Newrome, the details indicate that nothing has really changed. Fellay, even though in a rigged election was given 24 years as dictator of the SSPX, refuses to stand on his own two feet, but rather indicates that he is in a position of prostration to Newrome and Newchurch.
The document indicates that the Society is ready to "negotiate" with the New Order if Newrome lifts the "excommunications" of Fellay and his cohorts and allows a "liberalisation" of the Modernized Mass of 1962. Now, it is the policy of the Society that the "excommunications" are invalid, so why go biretta in hand to Newrome to dicker over what was invalid in the first place. Fellay simply hands over to Newrome another "negotiating" point!
Originally, the SSPX non-negotiable demand was for a "complete restoration" of the Traditional Latin Mass, or at least the Modernized Mass of 1962, but that changed some months ago to a "liberalisation" of the "indult" -- whatever that means. The Society should stand for no less than its original demand -- a complete restoration of the true Mass, which includes the suppression of the invalid Novus Ordo Mess.
Curiously, the statement quotes the Society's contradictory Declaration of November 21, 1974:
We adhere with our whole heart, and with our whole soul to Catholic Rome, the Guardian of the Catholic Faith and of those traditions necessary for the maintenance of that Faith, to eternal Rome, Mistress of Wisdom and Truth. Because of this adherence, we refuse and have always refused to follow the Rome of Neo-Modernist and Neo-Protestant tendencies, such as were clearly manifested in the Second Vatican Council, and after the Council in all the resulting reforms.
So what is the Fellay II regime doing talking about "negotiations" with the Newrome of Neo-Modernism and Neo-Protestantism? Has Newrome become more Catholic since 1974? Quite the opposite! It is far more entrenched now in false doctrine, false services, false sacraments, and false morality.
Moreover, Fellay II seems to be putting a lot of eggs in the basket of getting Newrome to recognize the Modernized Mass of 1962. That may have been the big issue in the 1960s, but from the perspective of forty years later, it is clear that Newchurch has corrupted far more than the true Mass. Catholic theology and morality have been corrupted, so that popes, cardinals, bishops, and presbyters have fallen. Newchurchers don't even know what Catholic teaching is any longer. And not only the Mass, but even the Sacraments have come to be tinged with invalidity.
The "indultarian" frame of mind now -- which Fellay II seems to be aping more and more -- is: "Give us our little 'Indult' Mass once in a while, and we'll shut up. We won't call any more for full restoration of the true Mass and total suppression of the invalid Novus Ordo service."
---
Will a Million Rosaries Do It? Two Million?
From: The Fathers
The SSPX under the Fellay II regime seems to be off on another wrong-headed crusade. Now it is calling for a million Rosaries "to obtain from Heaven for Pope Benedict XVI the strength required to completely free up the Mass of all time." This is ridiculous. Another phony "indult" is not needed from Benedict-Ratzinger. Heaven has already spoken. It has spoken through the Apostles and the Fathers of the Church; it has spoken through the Sacred Tradition of the Church; finally, it has spoken through a dogmatic council and its pope, canonizing for all time what we call the Traditional Latin Mass.
It is not "Heaven" that is at fault here. Why Fellay plays games with the Newrome at all is the question. SSPX has all the "heavenly" authority it needs now. Why doesn't Fellay just stop all his folderol with Newrome and get on with the business of evangelizing the true Faith? Why does he mire himself and the resources of the Society in time-wasting about what Newchurch thinks of true Catholicism?
Bernard, the Society's founder, Archbishop Lefebvre, stated on numerous occasions: the New Order is not Catholic. Don't worry about what the New Order thinks. You might as well worry about what Satan thinks. Don't waste your time. Get on with the Lord's business.
---

Return to Commentaries from the Mailbox.