November 2005
For answers to many questions, consult the Official Traditional Catholic Directory, Listing All Traditional Latin Masses and Traditional Resources for the United States and Canada (11th Annual Edition - 2006). To order the full 147-page paperback edition, click on the button below: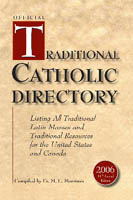 Buy the 2006 Traditional Directory.
For information about the protocol for sending messages to Fr. Moderator, see Ask Fr. Moderator.
| | |
| --- | --- |
| | If you wish to support the work of TRADITIO, click on the box to the left to made a donation easily, securely, and confidentially by bank account or credit card through PayPal. Regular contributors become Benefactors of TRADITIO, and their intentions are specially commemorated at Traditional Latin Masses offered. Indicate in the Message section of your payment "For TRADITIO." For other methods, see FAQ01: How Do I Help to Offset Expenses? |
---
Advent: A Time to Help
TRADITIO has now been furnishing information about all facets of traditional Roman Catholicism, answering questions both privately and publicly, for over eleven years now, longer than any other traditional site on the Internet. When we started, even the Vatican site didn't exist! We wish that we could show you all of the personal letters we have received from troubled souls who have found here clear, traditional, and honest answers to their questions, free of organizational bias. Thousands of these have reverted or converted to the traditional Roman Catholic Faith.
Our work has always been done free of charge, but at this time of year, we like to remind you, particularly if you have benefited personally from TRADITIO, to remember in charity to make a donation to TRADITIO among your charitable works this time of year. You may make a donation to TRADITIO's work by using the convenient Make a Donation box above. For further information about other methods of assisting, see the TRADITIO Library of Files for FAQ1: How Can I Help TRADITIO's Work?
Those who make occasional or periodic donations of any amount to TRADITIO become Benefactors of TRADITIO and participate in the habitual intentions specially commemorated at Masses and partake, wherever they may be, in the impetratory, propitiatory, and satisfactory ministerial fruits of Masses offered. This is particularly important for those who do not have the opportunity to attend a Traditional Latin Mass daily, or even weekly. Such donations may also be made in memory of the Holy Souls in Purgatory.
---
November 30 - St. Andrew, Apostle
Double Feast of the Second Class
What Did Archbishop Lefebvre Really Think about Newchurch?
From: Manuel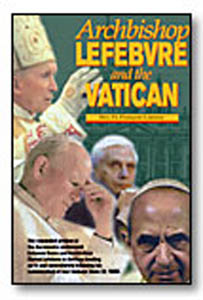 Archbishop Marcel Lefebvre and the Conciliar Popes
Is the Present Leadership of the Society of St. Pius X
Following the Principles of Its Founder-Archbishop
Or Defaulting on Them?
As the centennial of Archbishop Lefebvre's birth approaches, it seems that the liberal wing of the Society of St. Pius X, led by Bishop Bernard Fellay, has acquired a degree of selective memory. Just to make sure that the truth doesn't get flushed down the memory hole, I wish to quote two paragraphs from the archbishop's Open Letter to Cardinal Gantin, dated July 6, 1988, in response to Dominus Marcellus Lefebvre, the statement of purported excommunication issued by Newchurch on July 1, 1988.
These paragraphs give Archbishop Lefebvre's original intent. It is up to those who support the SSPX to determine whether its current leadership is honestly pursuing the intent of the Society's Archbishop-Founder or has defaulted on his foundational principles.
We have never wished to belong to this system that calls itself the Conciliar Church and defines itself with the Novus Ordo Missae, an oecumenism that leads to Indifferentism and the laicization of all society. Yes, we have no part, nullam partem habemus, with the pantheon of the religions of Assisi; our own excommunication by a decree of Your Eminence or of another Roman Congregation would be only the irrefutable proof of this. We ask for nothing better than to be declared out of communion with this adulterous spirit which has been blowing in the Church for the last 25 years; we ask for nothing better than to be declared outside of this impious communion of the ungodly....
To be publicly associated with this sanction that is inflicted upon the six Catholic bishops ... would be for us a mark of honor and a sign of orthodoxy before the faithful. They have indeed a strict right to know that the priests who serve them are not in communion with a counterfeit church, promoting evolution, Pentecostalism, and syncretism."
Sometimes the Archbishop went even further:
The Chair of Peter and the positions of authority in Rome are occupied by anti-Christs. [Dossier sur les ConsÚcrations Episcopales, August 28, 1987]
[John Paul II] is not Catholic. [Conference of June 15, 1988, shortly before he proceeded with the consecration of four traditional bishops to protect the Roman Catholic Church]
---
November 29 - Vigil of St. Andrew
U.S. Newchurch Bishops Let the Truth out of the Bag
From: Fr. Moderator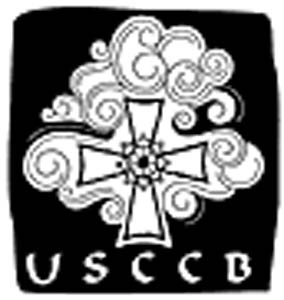 A Logo of the U.S. Conference of [Newchurch] Catholic Bishops
Looking More Like a Hindu Mantra than Anything Catholic
The American New Order Church Is Sinking Fast
Budgets and Staff Are Being Slashed, Secret Meetings Are Being Held
And the Barbarian Bishops Can't Manage a Latin Translation
TRADITIO has consistently held to two observations about the New Order sect: (1) in spite of all its propaganda, it is dying; (2) if only one listens carefully, its leaders admit this fact. A look at the November 14-17 biannual meeting of the U.S. Newchurch bishops in Washington, D.C., confirms these observations more than at any time in the past:
Weakened New Order "Authority." One bishop admitted on the floor of the public meeting that Newchurch bishops are suffering from "weakened episcopal authority," no doubt from the bishops' own involvement in sex crimes or covering them up, embezzlement, and imposition of unCatholic doctrines and practices on the Novus Ordo sectarians (for example, the Archbishops of Boston and Dublin have recently come out in favor of "gay rights").


New Order Programs, Budgets, and Staff Slashed. The bishops cut programs, budgets, and staff. Novus Ordinarians, more of whom are finally catching on to to the fact that the New Order is not Catholic, are pulling their donations to parishes and dioceses, which are suborning sex crimes and false religion. The bishops adopted this year a budget with a $1,800,000 deficit, even though the budget had already been cut in recent years by $1,250,000. An additional $700,000 is likely to be cut from staff positions, down 10%. Severe staff cuts are planned to be voted upon in November 2006.


Afraid of Public Scrutiny, Meetings Are Held in Secret. The bishops, having learned nothing from the fallout upon them of their sex-crime cover-ups, conducted more of their meetings in secret than in public, thus violating their 1971 pledge to the Novus Ordinarians that they would conduct their business in public. All the more easily they can say now: "the Holy Spirit made me do it" when the Novus Ordinarians can't see all the back-room politicking and brawling!


Moral Ills Ignored. Of all the ills in society -- abortion, blasphemy, antiCatholic bigotry and persecution, false doctrine, immoralities of all kinds -- the bishops chose to condemn a practice that has consistently been called moral in Catholic theology: the imposition of the death penalty upon those who have been justly convicted of grievous crimes against society. Only 4 of 241 bishop stood for traditional Catholic moral teaching! And these bishops call themselves "Catholic"?


Presbyters Dumped in Favor of Lay Ministresses. Since the New Order religion is a joke (and everybody knows it at heart), no sane man wants to become a Novus Ordo presbyter. Those who are so worried about homosexuals in Novus Ordo seminaries should just take a deep breath and bide their time -- before long there won't be any Novus Ordo seminaries! So, the bishops decided de facto to give up the presbyterate. With only a little over a quarter of the bishops voting no, they decided to make the American Novus Ordo Church Protestant by turning over the ministry to laymen. Well, no, that's not correct: to laywomen, who now number some 30,000. This number is about equal to the number of presbyters left, a number that is rapidly declining, while the number of lay ministers is rapidly increasing.


No "Translation" for the New Mess. By now the Novus Ordinarians know that the New Mess is a joke -- a TV dinner served on a table -- not the Body and Blood of Christ. The inept bishops can't even manage a simple translation from Latin into a vulgar tongue, an exercise that any educated schoolboy of a generation ago could easily manage. Just how far the Liturgical Springtime of Vatican II has sunk into hypocrisy was expressed by one bishop, who, in responding to a suggestion that liturgical discussions be held behind closed doors, retorted: "For heaven's sake, these are the people's parts of the Mass [sic]!"
TRADITIO frequently gets questions from traditional Catholics pleading, "When is God going to do something about the corruption in His Church?" He is, good Catholics; he is. Just open your eyes.
---
Be Gay for the Novus Ordinarians; They Got What They Wanted
From: Fr. Moderator
In the next weeks you're probably going to get a bellyful of "conservative" Novus Ordinarian comments about the problem of Novus Ordo "gay seminaries." TRADITIO has been amused that there has already been so much commentary from these sources about a document that doesn't even exists. False reporting seems to have reached a pinnacle when a non-existent document is being commented upon as if it existed!
But more than that, the hypocrisy of these "conservative" Novus Ordinarians fulminating about "gay seminaries" has reached a new height. Remember, these people support the Conciliar popes and the Newchurch bishops who are behind it all. Many of these mouths still support the New Order and calumniate traditional Catholics for rejecting the Newchurch system that has brought about gay seminaries.
Just remember, if and when this document is ever published, that the Novus Ordinarians are getting exactly what they wanted. They wanted a New Mess. They got it. They wanted a New Theology. They got it. They wanted a new morality. They got it. They are simply reaping the fruits of where they have put their mouths and money. They could help themselves to get to true Catholicism, but they won't. Therefore, when we see the problems of Newchurch, we should reread chapter one of St. Paul's Epistle to the Romans and remember that the Novus Ordo sectarians chose to eat the poisoned apple.
---
November 28 - Ferial Day
Austria Issues Personalized Stamp of Traditional Archbishop
From: Fr. Moderator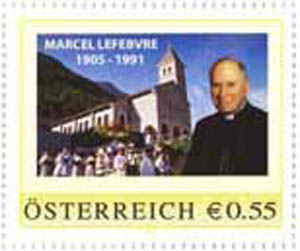 Austria Issues a Personalized Stamp of Archbishop Lefebvre
On the Centennial of His Birth
On the occasion of the centennial of Archbishop Marcel Lefebvre's birth (1905-1991), the Austrian post office has issued a personalized stamp in the amount of 0.55 Euros (about half a U.S. dollar). The stamp features a large image of the traditional bishop against a background of the seminary church in Econe, Switzerland, where the archbishop founded his famous seminary to preserve the traditional Catholic priesthood.
The stamp involved is what is known as a personalized stamp. This means that a customer created the issue and retains possession of the design. The U.S. Postal Service also issues personalized stamps created by customers, but in the U.S. religious subjects are barred. A traditional Catholic vendor designed a personalized anti-Vatican II stamp, but it was rejected by the USPS as being a religious subject. (One wonders whatever happened to the Bill of Rights in the United States.)
---
Fatima Marian Movement Proclaims Mary as God
From: Fr. Moderator
TRADITIO seems to have called it again. We have been consistently warning about the unCatholicity of an extreme Fatima position, placing apparitions at Fatima on a plane with Sacred Scripture, Sacred Tradition, and the authentic Magisterium of the Church. As discussed in previous TRADITIO Commentaries, a fanatic fringe of Fatimism has already become associated with Hinduism, when a Hindu priest burned incense and sang Hindu chant from the Fatima shrine's altar. Fatima has also become associated with Protestant Charismaticism. Benedict-Ratzinger has left in place plans to turn the traditional Fatima basilica into an oecumenical shrine in the form of tennis racket.
TRADITIO warned that the extreme Fatimists, by placing private apparitions on a par with Our Lord's Public Revelation in Sacred Scripture and Sacred Tradition (any alleged revelation subsequent to the death of the last Apostle is by definition private revelation), were turning Mary into God, a position that the Blessed Virgin herself would view with horror. And now we have word that in fact TRADITIO was right: they have now gone all the way.
The "Mary Is God Catholic Movement" (MIGCM), a Marian Movement within the New Order, will open in December of this year, according to FNC, a Fatimist group in the Philippines. Its founder, Dominic Sanchez Falar, claims that the "third secret" of Fatima announces Mary's divinity. It is all in accordance to the will of the Most Holy Spirit, he stressed and claimed further that the movement "has close associations with some influential Catholic [Newchurch] priests."
Among these extreme Fatimists, in addition to the blasphemy of naming Mary God, the Gnostic heresy is quite in evidence in the mention of "secrets." The authentic Catholic Church eschews "secrets." It condemns with excommunication membership in secret societies. It follows the word of Our Lord, who stated: "I have spoken openly to the world. I have always taught in the synagogue and in the temple, whither all the Jews resort: and in secret I have spoken nothing (St. John 18:20/DVR). It has condemned the Gnostic heresy from the early Church, in which only certain privileged persons are said to have "secret knowledge," some of which is contained in the Gnostic Gospels, like the heretical Gospel of Thomas.
The formation of this blasphemous group should be the occasion for all Fatimists to re-examine their consciences. Are they engaging in a truly Catholic way in a private devotion, clearly understanding that any purported "apparitions" are of no binding force and are completely subordinate to Public Revelation given to us by Our Lord in Sacred Scripture and the Apostolic Tradition? Or are they in fact playing damnable games with some kind of occult secrets about the end of the world?
If the latter is the case, this beginning of a new liturgical year with the First Sunday of Advent is a most appropriate time to eschew fanaticism and pseudo-Catholicism and to return to the heart of the Catholic Faith: Our Lord, the Blessed Trinity, the reading of Sacred Scripture, exclusive worship at the true Mass, and the reception of the traditional Sacraments.
---
TRADITIO Calls It Yet Again
From: Fr. Moderator
Perhaps you forgot that on November 19, the traditional feastday of St. Elizabeth of Hungary, Newpope was supposed to issue a "big concession for the Traditional Latin Mass," as alluded to by Jorge Cardinal Medina Estevez, Prefect of Newvatican's Congregation for the Divine Cult. Well, just as TRADITIO predicted, it didn't happen. The prediction of such a document by Benedict-Ratzinger was loudly proclaimed by a number of Novus Ordo, "indultarian," "conservative," "semi-traditional" and SSPX web sites. Only TRADITIO said, "Hogwash!"
TRADITIO's knowledge and experience, going even to pre-Vatican II times, sifts out for you the propaganda from the reality. And almost 100% of the time, we hit the nail on the head. That's why some 3,000,000 of you look here for the straight scoop first. In effect, we are the Matt Drudges of the Traditional Catholic Movement. The "establishment" press still can't figure out how Drudge manages to scoop them almost all the time!
TRADITIO doesn't have a crystal ball (we eschew the occult!). What can we say? We are just Roman to the core. Like the Romans, we look at things straight on, not with some sideways squint refracted by organizational propaganda. We filter out the propaganda for you, as we are not beholden to any organization, whether Newchurch, SSPX, or the "indult." That, together with our extensive knowledge and experience of things Roman Catholic, even from before Vatican II, does the trick, as it does for those of you who have your eyes wide open and prefer reality to fantasy.
The New Order hates us. Certain liberalist factions of the SSPX hate us. The neo-Catholic-Protestant "conservatives" hate us. But what is important is that you like TRADITIO: you, the honest, hard-working traditional Catholics, who just want the straight information, uncluttered by organizational politics. We are here for you, our three million faithful readers, so that you can truly be the informed traditional Roman Catholics that you need to be in these very confused times.
God bless you, good Catholics. Without you, the answer to Our Lord's question -- "But yet the Son of Man, when he cometh, shall he find, think you, faith on earth?" (Luke 18:8/DRV) -- would otherwise be a resounding NO!
---
November 27 - First Sunday of Advent
(Semidouble Sunday)
Was Pope John XXIII Really Traditional?
From: Lee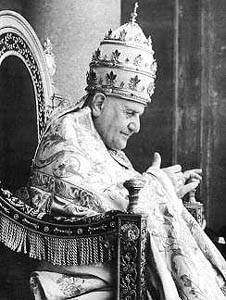 Pope John XXIII, Crowned with the Papal Tiara
Remained a Dogged Defender of the Traditional Liturgy
Eschewing Mass in the Vulgar Tongues
And Demanding that Roman Catholic Priests Be Thoroughly Trained in Latin
Dear Fr. Moderator:
In a recent column, you noted that Pope John XXIII was "very traditional" in the matter of the Sacred Liturgy. How can we make sense of his gutting of the Office of Matins, where so many lessons disappeared under his 1960 Codex Rubricarum? Is it possible that many clergy at the time continued reciting the full Matins?
Fr. Moderator Replies.
Actually, the 1960 revisions to the Breviary were formulated under Pius XII by Bugnini & Co. as part of a series, which had started in 1956. John XXIII had a great personal respect for Pius XII, so he did promulgate the second stage of the preliminary revision, but then said, "No more!" Remember, it was Pius XII and Paul VI who took Bugnini in. It was John XXIII who ejected him.
Also, it was Pius XII who allowed (but only optionally for private recitation of the Divine Office) that ghastly Psalter that later went by his name, but which was really done up by the Jesuits. (The Latin reads as if it had been written by a schoolboy, whereas St. Jerome's Vulgate is rhythmical and melodious.) Although Cardinal Roncalli once reprimanded, out of his personal regard for the pope, a cardinal for publicly criticizing Pius XII's Psalter, when he became pope, he once again strongly advocated the use of St. Jerome's Vulgate Psalter.
In essence, the 1960 revision was simply an abridgement of the traditional Divine Office, with secular priests in mind. It did not really change anything substantial (except for a new ranking of feasts). There were already indults for secular priests to omit the recitation of various Hours, and a number of exceptions to the private recitation of the Office going back for a millennium.
Yes, a number of priests kept their pre-1960 Breviaries and continued saying the older Office. Pius XII had prohibited the printing of new editions of the Breviary in 1956 because the 1960 revision (and others) were already planned. After 1960 the New Order took over the Breviary and destroyed it, like the Mass, with a new version, to which it even gave a new title: Liturgia Horarum.
---
November 26 - St. Sylvester, Abbot
(Double Feast)
Not only Uniates, but Orthodox too Depart from Eastern Rites
From: Fr. Terrence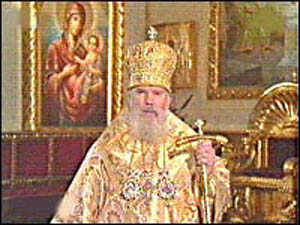 Russian Orthodox Patriarch Alexy II, of Moscow and All Russia
The Eastern Orthodox too Have Tampered with Their Apostolic Rites
Dear Fr. Moderator:
A few years ago I went to a lecture series at a local Russian Orthodox Church. The speaker was a Professor of Liturgy at the Orthodox seminary in New York City. I was shocked to hear his message. It seems that the Orthodox intend to reshape their liturgy to make it more "pastoral." It was this thinking that led to the destruction of the Roman Rite! In fact, this speaker received some of his training in liturgy at Notre Dame.
He was enthusiastic about the progress made in the Novus Ordo; it made me sick. I stood up, as well as another Roman priest, and warned the poor Orthodox parishioners that this line of thinking didn't work for the Roman Rite and would destroy the Eastern Rites as well. However, our observations and warnings seemed to fall on deaf ears. The Eastern Orthodox are being led down the same primrose path that leads to Novus Ordo Nowhere.
Fr. Moderator Replies.
The Eastern Orthodox (as opposed to the Eastern Unitates, who are under the Newchurch structure) have quite a propaganda machine of their own. Somehow they have put across the idea that they have remained faithful to Apostolic Tradition, when the facts indicate quite the contrary. Yours is far from the only confirmation of this fact. Even official Eastern Orthodox sources, some of which have been published here on TRADITIO, demonstrate the same. Granted, there are some authentic Divine Liturgies of the Eastern rites (whether Orthodox or Uniate), but they are generally difficult to find, far more difficult than the Traditional Latin Mass.
In fact, some of the most virulent anti-Catholic propaganda that we have seen comes not from anti-papist Protestants, but from the Eastern Orthodox, whom Newvatican likes to schmooze up to, Benedict-Ratzinger even more than his Conciliar predecessors. The Orthodox have a deliberate program to break Westerners away from the Catholic Church by posing a phony "Gregorian Orthodox" Mass. This is not the Traditional Latin Mass, but a concocted patchwork, which is reminiscent of so many of the current patchwork Eastern Divine Liturgies.
So, traditional Catholics, should beware these ploys of the Eastern Orthodox, which prey upon the ignorance of Westerners about the Eastern Church. These Eastern "modernized" versions are not what St. John Chrysostom, St. Athanasius, St. Basil the Great, and St. Gregory Nazianzus would have recognized.
---
Where Were They?
From: Zoltan (Portugal)
Dear Father Moderator:
That the Eastern Orthodox Divine Liturgies are being "modernized" isn't that surprising. When the counterfeit Novus Ordo was introduced for us Westerners, the Eastern Orthodox laughed at us, saying that this could never be done with them because it would cause a popular revolt. They said that this is the proof that they are the true Church, and on the basis of this reasoning they demanded that we convert.
Now the same thing is happening to them, and where is the revolt, the uprising they predicted? Irony of ironies, there is only a relatively small traditional movement in the Eastern Orthodox Churches, just as in the Anglican Church. They also too little, too late. Where were they when the Deuterocanonical books were expunged from their Scriptures and divorce was formally introduced (things that Newchurch has not yet dared to do)? The traditional Anglicans are too late too. Where were they when their Sacraments, and especially their Orders, became corrupted?
At least we, the Catholics, had the Traditional Movement immediately at the time of the changes (led principally by Fr. Gommar DePauw, of Baltimore and New York, in 1964; the Ecclesia Dei "indult" was really johnny-come-lately), so that the continuity of the Church is preserved, and this is the proof that the traditional Roman Catholic Church is the one true Church.
---
And Ratzinger Was Behind It
From: John (India)
Dear Fr. Moderator:
Your revelation of the Eastern Rites continuing to go Novus Ordo should serve as an eye-opener to the SSPX, who hope for Benedict XVI to free the Traditional Latin Mass (or at least the Modernized Mass of 1962). It is the same Benedict, aka Ratzinger, who initiated the destruction of the Chaldean rite in Iraq.
---
November 25 - St. Catherine of Alexandria, Virgin & Martyr
(Double Feast)
Complete Friday Abstinence
Eastern Rites Continue Going Novus Ordo
From: Fr. Moderator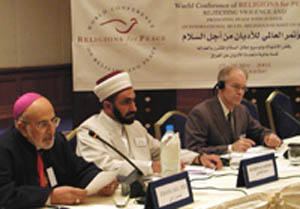 Newchurch Chaldean Catholic Archbishop of Baghdad, Emmanuel Deli (Left)
Eastern Rites Are No Sanctuary
Chaldeans and Other Unitates Have Novus Ordoized Their Rites
Those who think that they can escape from the Novus Ordo by going to so-called Eastern Rites are utterly deceived. You see, all rites that are part of Newchurch are being Novus Ordoized. They are not Catholic and Apostolic, any more than Bugnini's Novus Ordo Service is. Every time TRADITIO points this out, we get messages from Easterners who claim that their rites are authentic. They're not. At least the vast majority of them are not. They are in exactly the same situation as the Westerners.
Here's a just more evidence of the fact that things are just as bad in the East. The Chaldeans have been working for seven years (!) putting changes into their rites to make the more acceptable to the New Order. They met in Rome from November 8 in a special synod, and all the changes were presented to Benedict-Ratzinger on November 12.
According to a Chaldean spokesman, "There was no way of discussing anything else. Reforming the liturgy was the main issue. We had been working on it for seven years and everyone expected the meeting to come up with final version." Mgr. Rabban al-Qas, Bishop of Amadiyah (northern Iraq), also took part in the sessions. He confirmed this version of the events. "We are working on reforming the mass, and then we'll propose a new liturgy for feast and week days. Once the Vatican approves it, it will be implemented on a trial basis for three years in various dioceses," he explained.
The changed Mass will have a "more organic structure." The proposed changes will "introduce modern elements for pastoral purposes." This is the same Neo-modernist "pastoral" phraseology by which Bugnini and his six Protestant ministers concoted the Novus Ordo service for the West. What is even more stunning is that the Chaldeans are "adding new words to some moments like the anaphora." The anaphora in the East is equivalent to the Canon in the West. In other words, just as Bugnini did not hestitate to change even the very heart of the Mass, the Canon and the words of consecration, so the Easterners are now pulling the same deal.
"With the Vatican's green light, the new mass will be gradually explained to the faithful and priests. A trial period will then begin at the parish level and the process will end with a new synod vetting whatever problems that may emerge and deciding a definitive version." Sound familiar? It should. The Easterners have learned well from Bugnini and the way he introduced the Counterfeit Mess in the West. [AsiaNews]
The messages we receive from Easterners indicate how Apostolic their rites are compared to the West. Yet here we have a significant Eastern rite being Novus Ordoized right in front of their noses. TRADITIO has heard of no Easterners fighting back against the proposed changes.
We said it before and we'll say it again. Eastern Rites are not a viable option for Latin Rite Catholics. Not only are they not one's proper rite, but truly Catholic and Apostolic Eastern rite sites are very few and far between, much harder to find the Traditional Latin Masses. Many of them have been corrupted by the Novus Ordo or have otherwise abandoned their Apostolic form. For further information, see FAQ10.TXT: How Do You Explain These Traditional Catholic Beliefs? in the TRADITIO Library of Files (FAQs and Traditional Apologetics) in the article "Eastern Rite Option."
---
November 24 - St. John of the Cross, Confessor & Doctor
(Double Feast)
U.S. Bishops Open the Way to Abortion
From: Fr. Moderator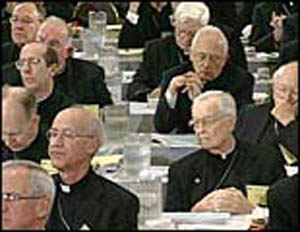 Clueless as Usual: The U.S. Newchurch Bishops
In Their Zeal to Eradicate the Death Penalty
They Have Opened the Way to Abortion and Euthanasia
Pro-abortionists Ted Kennedy and John Kerry are happy men. The U.S. Conference of [Newchurch] Catholic Bishops have handed the senators (and other pro-abortionists) a victory in the document "A Culture of Life and the Penalty of Death," passed by the Newchurch bishops 237-4, urging their Novus Ordinarians to work against the death penalty.
In recent years many leftist politicians have, in the guise of a political platform based on "tolerance" and "compassion", called for an end to the death penalty, while vilifying their conservative opponents who have supported its use. In most of these cases, these same politicians have been virulently pro-abortion. One "conservative" Novus Ordinarian columnist has already been smart enough to recognize the Newchurch ruse, saying, "The problem with [the document] is that it muddles people's understanding of the hierarchy of Church teaching." Yet as so many anti-abortionists, he undercuts his position by giving credibility to the very Counterfeit Church that shovels out the offal of the New Theology with makes good evil and evil good. "It's all in relative," says Newchurch phenomenology, which has replaced sound Thomistic theology.
Some years ago a New York leader in the campaign against abortion contacted us. We told him that the Newchurch bishops had undercut his movement when at that time they were making statements against the death penalty. At first he was surprised, but then he understood when we explained that the Modernist "pro life" slogan is really a ruse: it confuses the Catholic moral distinction between innocent life and guilty life. An unborn foetus and a invalid older person have right to life. A grievous criminal has forfeited his right to life.
And how do we know that? The principle is indicated in the Holy Gospels, in the words of St. Dismas, the Good Thief on the cross beside Christ, who was being crucified for robbery. He says to his fellow criminal on the other side of Christ: "Dost not even thou fear God, seeing that thou art under the same sentence? And we indeed justly, for we are receiving what our deeds deserved, but this man has done nothing wrong" (Luke 23:40-41).
Pope Pius XII clearly expressed this Apostolic teaching when he stated: "It would be incorrect to reject completely, and as a matter of principle, the function of vindictive punishment. While man is on earth, such punishment both can and should help toward his eternal salvation, provided he himself raises no obstacles to its salutary efficacy" (Discourse of December 5, 1954, Acta Apostolicae Sedis, XLVI, p. 67). For further information, see FAQ10.TXT: How Do You Explain These Traditional Catholic Beliefs? in the TRADITIO Library of Files (FAQs and Traditional Apologetics) in the article "Capital Punishment/Death Penalty."
Mankind has an abhorrence of grievous crimes and instinctively wants justice to be applied for the stability of that society. This instinct is part of the Natural Law of God. St. Augustine and St. Thomas Aquinas, among many other pre-eminent Catholic theologians, expound this teaching. When Newchurch equates all life, both innocent and guilty, together in a false "pro-life" slogan, the instinct of good Catholics, who stand for justice in the case of the death penalty will back off from their open opposition of abortion, which equates the morally acceptable and the morally unacceptable. And that is just what has happened.
The situation will get even worse when Newchurch equates subhuman life with human life. The Conciliar popes have already alluded to that in passing; no doubt it will become stronger in Modernist Newchurch as the years pass. Traditionally, animals have no "rights." Rather, we humans, created in the image of God, have an obligation to be stewards of them in a prudent manner. Yet, in the New Age philosophy a whale has a right to life, whereas human life can be forfeited for killing a whale. It's just another one of those hypocritical liberalist oxymorons.
---
What It Means to Be Roman Catholic
From: Ethan
Dear Fr. Moderator:
There are Protestants that insist on naming Constantine as the first pope. They say that he called the Council of Nicea and named himself "Pontifex Maximus," thus becoming the first pope. How does the Church explain this?
Fr. Moderator Replies.
As usual, those Protestants have it backwards. The Church doesn't have to explain anything. Anyone who knows basic Roman history knows the answer.
The office of Pontifex Maximus existed at Rome since the early Roman Monarchy. Numa Pompilius, the second king of Rome, is said to have first held the office in 712 B.C. The Pontifex Maximus was the chief priest of the Roman state religion. The office continued under the Roman Republic. Later, Julius Caesar held the title, as did Augustus and his successors as Roman emperors, including Constantine. The title had nothing to do with the Catholic Church until Pope St. Leo I, the Great (440-461) appropriated the title to himself when Constantine moved the capital to New Rome, or Constantinople (Byzantium).
Since that time the popes have used the title. It is just another example of how the "Roman" in the "Roman" Catholic Church refers to the classical culture of Rome, in which Providence saw fit planted the Catholic Church, with the deliberate moving of St. Peter from his Chair at Antioch.
"Rome" is not just a city. It certainly isn't a person. It is a culture, a state of mind, going back to 753 B.C. One cannot be truly "Roman" Catholic without being steeped in the classical Roman mindset, in which the Catholic Faith was divinely planted. The more Newchurch becomes less Roman, the more it becomes clear that it is not the Roman Catholic Church, as it rejects not only Catholic and Apostolic Tradition but also its "Roman-ness" as well. Thus, it becomes the Counterfeit Church.
---
November 23 - St. Clement, Pope & Martyr
(Double Feast)
Anglicans Push Traditional/Modernist Divide
From: Fr. Moderator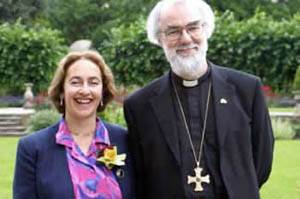 Rowan Williams & Wife
The Former Leftie Hippie and Peacenik "Pope" of the Anglican Church
Has Been Attacked by His Own Archbishops for Heresy
Already Comparisons Are Being Made between Rowan and Benedict-Ratzinger
Who Is under Similar Attacks for His Uncatholic Actions
You've got to give those traditional Anglicans some real brownie points for courageously standing against their Modernist hierarchy. Just as traditional Catholics have challenged the pope on whether he is teaching true Catholicism that would be recognized by his predecessors, going back to the Apostles themselves, 14 Anglican archbishops have condemned the Modernist Church of England hierarchy as evil and singled out its head, Rowan Williams, the Archbishop of Canterbury, for personal attack. This situation is in the Anglican Church is so similar to the crisis in Newchurch that it is uncanny!
In a letter to the Archbishop, on the opening day of the General Synod in London, November 17, the 14 primates have criticized Rowan's leadership and urged him to rethink his personal, liberalist views on homosexuality. In their letter, they take Williams to task for failing to act against the "unrepented sexual immorality" that they say is responsible for the Church's divisions. "The essence of libertinism is the severing of the grace of Christ from His moral commandments. This, we believe, is at the heart of our present divisions." They argue that the Church of England should have sought an exemption from the Civil Partnerships Act, which comes into effect next month, permitting gay partnerships to be registered legally, including clergy partnerships. [The London Times]
A split in the Anglican Church between traditional Anglicans and Modernist Anglicans is said to be very close. The Nigerian Anglican Church announced that it had formed a "covenant" with traditional Anglicans in the United States to restore the traditional Anglican Church. The covenant represents a direct challenge to the authority of "Pope" Williams and to the standing of the Church of England as the "mother" Church of the Anglican Communion. In other words, the traditional Anglicans are saying to Williams: "If you're not going to be a traditional Anglican, step aside!"
Newrome had better watch out. The actions of the traditional Anglicans in fighting for their Church might just give a shot in the arm to the Traditional Catholic Movement as well.
---
November 22 - St. Cecilia, Virgin & Martyr
(Double Feast)
Newchurch Destroys Boys Town
From: Fr. Moderator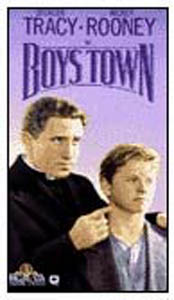 Fr. Edward Flanagan's Work with Homeless Boys in Omaha
Was Dramatized in the Classic 1938 Film Boys Town
Starring Spencer Tracy and Mickey Rooney
Now Boys Town Is Involved in a Sex Scandal
And Ratzinger Seems Somehow Tied to It

As soon as the New Order touches something, it becomes tainted with corruption. Even the famous Boys Town founded by Fr. Edward Flanagan in 1917, since it fell into the hands of the New Order, has become the center of a scandal. Boys Town is a part of the archdiocese of Omaha.
After Vatican II, when the New Order had taken over, the archdiocese of Omaha was named as a co-defendant in a sex-crimes lawsuit, naming two New Order presbyters of the archdiocese. For years, former Nebraska State Sen. John DeCamp spearheaded an inquiry into a massive paedophile ring with a base of operations in Omaha. In a February 24, 2002, interview on Radio Free America with Tom Valentine, DeCamp said that he even went to Rome and met with Cardinal Ratzinger, but he couldn't get him to do anything.
DeCamp found that Boys Town had become a "central point" in the ring. In 2002, DeCamp thereafter picked up a new client, Monsignor Robert Hupp, the head of Boys Town from 1973 to 1985. Since 1969, as Vicar General, the bishop's second-in-command, Hupp had become aware of sex crimes going on in the archdiocese. He said that he officially notified the bishop at the time, Bishop Daniel Sheehan (who has since died in 2000), and said, "This is terrible. You have to do something," but the bishop did nothing but move the presbyters to another parish.
Hupp resigned in protest and threatened to spill the beans to the Omaha World-Herald. Shortly thereafter, Hupp was appointed to be the head of Boys Town. Today Hupp believes this was a sort of a reward for keeping quiet. Federal prosecutors became involved, and a BBC-Discovery Channel documentary, Conspiracy of Silence, was shot, but never aired. The rights to the documentary were purchased by unknown persons, who ordered all copies destroyed.
In light of everything that has come out since about the Newchurch cover-up of sex crimes, even the corruption of Fr. Flanagan's once sacrosanct Boys Town is not beyond the pale. And why is it that in all these scandals, a prominent name keeps coming up -- Ratzinger? Will we ever know the truth, or does the cover-up go so deep in Newvatican that it will never come out? Newchurch is certainly not what was portrayed in better days in such classics as Boys Town and Going My Way!
---
What about Those "Traditional" Novus Ordo Sites and "Chat" Groups?
From: Fr. Moderator
More frequent reports have been coming to TRADITIO of late that Novus Ordo web sites are describing themselves as "traditional," whereas in fact these sites are wedded to the Newchurch theology, morals, and the Protestant-Masonic-Pagan Novus Ordo service. Such sites often have in their titles words like "Catholic Apologetics." In fact, such sites are often run by evangelical Protestants, who claim to have become "Catholic" (of the New Ordo sect, that is), but seem to continue wearing the same spots.
One of these people, a man whose name shows up even in semi-traditional periodicals and conferences, is a self-admitted long-time Protestant. Another whom we have mentioned before is Scott Hahn, once a virulent anti-papist, now a charismatic on EWTN, who is marketing his Protestant books and tapes with a diaphanous "Catholic" veneer to a new audience of unsuspecting Novus Ordinarians. One earmark to look for in such counterfeit Novus Ordo sites is former Protestants, usually dyed-in-the-wool evangelicals, charismatics, or fundamentalists, who claim to have "flipped" from heresy to orthodoxy and immediately presume to teach others before they have lived for years in a Catholic life.
It just goes to show you, good Catholics, that you have to be very careful about uncritical "surfing." Unfortunately, even traditional Catholics are all too often not educated in the faith well enough to smell these counterfeits a kilometer away. Here at TRADITIO, we are not Protestant converts, evangelical or otherwise. We are "cradle Roman Catholics." We were around with Pius XII was pope. We were around before the Roman Catholic Church became corrupted by the counterfeit New Order. We were around when Vatican II was doing its dirty work. We don't have to rely on anybody else's made-up fables and stories about how it really was. We were there!
So, be warned about uncritical "surfing" and remember that TRADITIO has been here for traditional Catholics far longer than any other source including the Vatican site! Our eleven-year record is out there for everyone to see -- and practically three million visitors have.
And on a related note, we don't encourage wasting time in these now ubiquitous "chat" groups. It's pointless. These people don't want to learn anything. They just want to argue. Why waste the time in pointless and frustrating "debate"? Frankly, we think that actually there is a sinful pridefulness about these "chat" rooms. The people in them seem interested only in winning some kind of debate "victory." They are almost invariably kids (or at least kids in the Faith), who know very little about what they are talking about, so, as Scripture says, the blind simply end up leading the blind.
We agree with the command of Our Lord: "And whosoever shall not receive you, nor hear your words: going forth out of that house or city shake off the dust from your feet" (Matthew 10:14/DRV). Why not spend your time more fruitfully by educating yourself in the Faith from the wide variety of resources available? For further information, see FAQ05.TXT: What Traditional Books Do You Recommend? in the TRADITIO Library of Files (FAQs and Traditional Apologetics).
---
November 21 - Presentation of the Blessed Virgin Mary
(Double Major Feast)
Vatican's Doctrinal Czar's Diocese in Bankruptcy
From: Fr. Moderator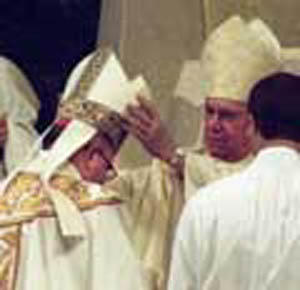 A Precarious Mitre
William Levada's Former Diocese Wants to Escape Punitive Damages
For 200 Sex Crimes Committed throughout His Term and Others'
Meanwhile Levada Orchestrates from behind the Walls of Newvatican
Before he was shunted off to Newvatican to be Benedict-Ratzinger's Doctrinal Czar, William Levada was archbishop of Portland, Oregon, from 1986 to 1995. Now Leavada's archdiocese is the first Newchurch diocese to declare bankruptcy and proposes to open a credit line of $52,000,000 to pay out for the 200 reported sex crimes of Newchurch presbyters.
Newchurch still hasn't learned its lesson about sex crimes. That is why they are still going on and being covered up by everyone from Newchurch bishops to the pope himself. The diocese has proposed that it be freed from paying any punitive damages, civil damages that are intended as punishment to prevent a repetition of the crimes. Newchurch's proposal is already being called "a sham and bad faith." The diocesan attorney has already said that if the victims don't accept the diocese's proposal, he'll try to have the plan crammed down their throats.
Sounds like the same old Newchurch of Love, doesn't it? Maybe the courts should exact the punishment that Our Lord Himself prescribed for such crimes: hanging a millstone about their necks and drowning them in the depth of the sea (Matthew 18:6/DRV). They'd sure be singing a different Gospel then, wouldn't they? And pulling the strings from Newrome is -- you got it: the pope's new Doctrinal Czar, the bishop during many of the crimes, William Levada.
---
November 20 - Twenty-Seventh and Last Sunday after Pentecost
(Semidouble Sunday)
Newchurch Diocese Panics: Lashes out against Traditional Roman Catholicism
From: Fr. Moderator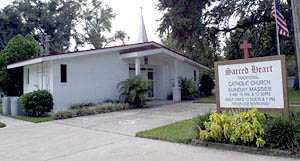 Will This Little Traditional Roman Catholic Church Topple Newrome?
The Newchurch Orlando Diocese Apparently Thinks So
In a Racial Slur, It Characterizes Hispanics as Ignorant
For Preferring the Traditional Latin Mass and Sacraments
Traditional Catholics know that they are hitting their mark when Newchurch dioceses attack them. There have been several hit pieces recently in diocesan periodicals against even relatively small communities of traditional Catholics. If the Traditional Roman Catholic Movement were impotent, Newchurch, which has most of the funds and buildings, wouldn't pay it any heed.
The fact of the matter is that 30+ years after the New Order was floated in 1969, Newchurch is running scared. So scared is Newchurch, in fact, that even Benedict-Ratzinger has been demoralized by the charges of sede-vacantists that he is not a true Catholic pope. Even five years ago, sede-vacantists were discounted as a "fringe." Now, the arguments for and against sede-vacantism have been getting prime coverage in a number of publications carrying multi-part articles on the subject, and even Newrome is feeling the hit in the solar plexus.
How do we know this fact? Cardinal Hoyos admitted this fact in his recent interview with Trenta Giorni. So scared is Newchurch, in fact, that it is trying to finagle the SSPX's Fellay into signing a statement that he believes the pope is really the pope! Is Benedict himself so unsure that he needs others to confirm it for him?
TRADITIO does not itself hold the sede-vacantist position, but it is a theological issue that needs discussion and clarification. Such lights of the Church as St. Robert Bellarmine, St. Francis de Sales, and St. Alphonus Liguori, among many other prominent theologians, have debated the issue. So why does Newchurch, which permits debates on priestesses, priestly celibacy, homosexuality, and other closed issues, get all hypersensitive when the topic of whether the pope is really the pope comes up?
We all know the answer, don't we? In the some forty years after Vatican II, Newchurch and its popes have departed so far from the traditional teachings of the Church that more and more Catholics are coming to the conclusion that something is really not Catholic in Newrome. How can a pope, they ask, call himself Catholic when he teaches by his actions, and sometimes by his words, that the Protestant heresy is just as good as Catholicism, that the Novus Ordo "cookie" can be shared with Protestants, and that the Protestant-Masonic-Pagan service concocted by a Freemason is just as good as the Traditional Latin Mass of St. Peter and his Apostolic successors?
If traditional Catholics were Episcopalians, they would long ago have formed their own traditional Church, just as the traditional Episcopalians have done. But since traditional Roman Catholics are the true Church, it is the New Order sect that needs to form its own Church -- with priestesses, Novus Ordo Messes, a married clergy, salvation for all, and the rest of the unCatholic doctrines and practices it espouses.
All this is hitting home with Newchurch now. Even at the current meeting of the U.S. Newchurch bishops in Washington, D.C., Francis Cardinal George admitted from the floor before television cameras: "We don't want to disturb the people, especially in the situation of weakened episcopal authority we have now," referring to distrust of Newchurch bishops who failed to remove sex criminals from the presbyterate and openly support homosexuality.
Whereas in the past, all too many Novus Ordinarians were ready to write off the contentions of traditional Catholics that something is rotten in the kingdom of Newrome, now the truth is too obvious to everyone to deny. Newchurch is being exposed day by day as foisting off on people a New Theology, a New Morality, and a New Liturgy that does not conform to Catholic teaching.
So, in desperation, Newchurch lashes out. Several diocesan newspapers have taken on Traditional Latin Mass sites in articles filled with confusion, half-truths, and outright lies -- which even contradict Newrome's own policies. These Newchurch dioceses are in fact rebels against the Catholic Faith, fabricating their own religion, which, in many cases, doesn't even conform to the Vatican's! And, you indultarians, don't think that you're safe from attacks because of Ecclesia Dei. As you well know, many diocesan bishops hate that pitifully inadequate document and consider you in the opposite camp.
A recent case in point was a hit piece done by the Florida Catholic from Newchurch's Orlando diocese. It seems that the large number of Hispanic immigrants in Florida are gravitating to traditional Catholic churches because they don't believe the New Order to be Catholic.
What is particularly interesting is how racist the Newchurch diocesan spokesman was. The hit piece characterized Hispanics as ignorant for preferring the Traditional Latin Mass and Sacraments. Moreover, even though these Newchurch dioceses hardly give "Rome" even lip service any more, they try to claim that they are "Roman," not those who have stood by the Rome of two millennia.
So, good Catholics, take heart. Your message is hitting the bullseye. The New Order is founded on sand, and the earthquake is building. It is like the foolish man described by Our Lord, who "built his house upon the sand, and the rain fell, and the floods came, and the winds blew, and they beat upon that house, and it fell, and great was the fall thereof" (Matthew 7:27-28/DRV).
You have read in a previous article on TRADITIO that a Newchurch diocesan spokesman from Colorado Springs was fired by the bishop because he said that Novus Ordinarians couldn't go to Protestant services. Do you think that Newchurch bishop Thomas Wenski, of Orlando, will fire Julie Green, the author of Orlando's hit piece, for calumniating traditional Roman Catholic sites? (Do elephants fly?)
---
TRADITIO Hit the Mark on Orlando Panic
From: Edward
I'd like to thank you for your comments on the Orlando Newchurch diocese. I can testify that the only reason why there is an "indult" Mass in the diocese is because of the SSPX and independent priests. Further, the diocese's "indult" plans backfired on the diocese when it set up an "indult" Mass minutes away from the SSPX chapel because of local activism, in particular my reports that the "indult priest" is a liberal (he was my former Novus Ordo pastor). In fact, this priest once gave candy out during Mess!
---
November 19 - St. Elizabeth of Hungary, Widow
(Double Feast)
Stand up for Catholic Doctrine and Get Fired by Newchurch
From: Fr. Moderator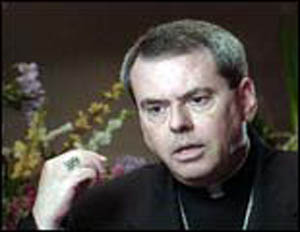 One Mad Newchurch Bishop: Michael Sheridan, of Colorado Springs
Fired His Spokesman, Who Reminded Novus Ordinarians
That Participating at Protestant Services Is a Grave Sin
Many Coloradans Now Participate at a Popular Evangelical Protestant Church
Instead of the Invalid Novus Ordo Service at Their Newchurch Parishes
Isn't Newchurch perverse? If you rape teenagers, Newchurch covers it up for you. If you're a bishop who embezzles money from Newchurch, you don't have to pay it back. If you launder Vatican money in collusion with the Mafia, Newchurch will shield you behind the diplomatic immunity of the Vatican City State. What you can't do is stand up for Catholic doctrine. For that, Newchurch fires you.
A case in point. Peter Howard, executive assistant to Newchurch Bishop Michael Sheridan, of Colorado Springs, who served as the bishop's spokesman, was forced to resign (was fired) on October 31, three weeks after his column in the Colorado Catholic Herald riled Protestant heretics. Howard had simply stated in the diocesan newspaper the teaching of the Catholic Church, that participating in an heretical Protestant service is a grave sin against the First Commandment.
Surprisingly, this Newchurch official got it right. "Such 'active participation' in a Protestant liturgical service, therefore, acts contrary to our faith, which professes fundamentally different beliefs in critical ecclesiological and theological areas," Howard wrote. Such active participation is a mortal known as communicatio in sacris. The column upset a number Novus of Ordinarians, who regularly participate in Protestant services. In particular, a Protestant evangelical church called New Life Church is said to attract thousands of Catholics in preference to the Novus Ordo service that Newchurch is dishing out.
Instead of backing his spokesman in proclaiming Catholic teaching, Sheridan backed the sin! Thank the Good Lord that Colorado Springs has no fewer than three Traditional Latin Mass sites: two independent and one sponsored by the Congregation of Mary Immaculate Queen.
---
November 18 - Dedication of the Basilica of Sts. Peter & Paul
(Double Major Feast)
Complete Friday Abstinence
How Hannibal Destroyed the Traditional Latin Mass
From: Brian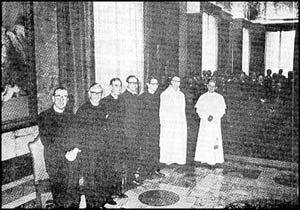 Pope Paul VI and the Six Protestant Ministers
Who, with the Freemason Hannibal Bugnini, Fabricated the Invalid
The Novus Ordo Protestant-Masonic-Pagan Service
Dear Fr. Moderator:
Thank you for your insights. Hannibal Bugnini's name comes up so often in connection with the destruction of the Traditional Latin Mass in Newchurch that I have to wonder if someone had stepped in and removed Bugnini in 1965, or earlier, what effect would that have had? Would someone else as malignant have been ready to take his place?
Fr. Moderator Replies.
An interesting question. Revolutions usually need a figure to group around (Julius Caesar, George Washington, etc.), and Hannibal Bugnini was clearly that man for the Modernist Liturgical Revolution.
It appears that that Revolution was planned almost twenty years before Vatican II. After the dogmatic Council of Trent, on January 22, 1588, Pope Sixtus V formed the Sacra Congregatio Rituum [Sacred Congregation of Rites]. It was this body that for almost 400 years was the guardian of the Catholic and Apostolic Sacred Roman Liturgy. It was abolished after Vatican II and replaced with the Congregation for the Divine Cult.
Pope St. Pius X had suppressed Modernism, which he called "the synthesis of all heresies" in the early 20th century, but after the Second World War the waves of Neo-modernism began building again. Because the Sacred Congregation of Rites was necessarily traditional (it wasn't approving, for example, of the idea of handmissals or vernacular hymns), the Neo-Modernist liturgical revolutionaires engineered from Pope Pius XII after his Encyclical Letter Mediator Dei of 1947 a parallel commission, even though the pope had warned against unauthorized changes in the liturgy in his Encyclical Letter.
On May 28, 1948, this "shadow" commission was formed, with Fr. Hannibal Bugnini becoming its Secretary. (In the European scheme of things, "Secretary" is a powerful position, second only to the Principal.) Bugnini at that time was editor of the Ephemerides Liturgicae, the most influential liturgical publication of the time, through which he had been introducing his Modernist ideas on the liturgy. The new commission was packed with Modernist members, including the notorious Agostino Bea, who later became the principal cardinal promoting the error of false "oecumenism."
The new commission didn't waste any time. On December 30, 1948, it issued a Memoria, which proposed widespread changes in the Sacred Liturgy, including suppression of many Saints' feastdays, significant changes in the Divine Office, introduction of the vulgar tongues in Holy Mass, and restructuring the Mass itself.
Well before Vatican II the Neo-Modernist revolutionaries started laying the groundwork for introducing the Protestant-Masonic-Pagan Novus Ordo. In 1951, the Easter Vigil, which had been celebrated for a millennium at noon on Holy Saturday, was switched to midnight, first on an experimental basis, then permanently. In 1956, significant changes were made to the Divine Office, including a change in the ranking of feasts that had existed for a millennium.
But in 1956 the most radical change was made in the Mass itself. The rites of Holy Week, which were the earliest in the Missale Romanum, going back to Apostolic times and even including part of the rite in Greek, were partially rewritten. So radically were they changed that when the Novus Ordo was introduced in 1969, the rites of Holy Week hardly had to be touched to make them acceptable to the Modernists.
In an even more brazen move, this commission (not the Sacred Congregation of Rites, remember) tampered with the Divine Office and the Masses of Holy Week on its own authority. Pope Pius XII, who at this point was gravely ill, never signed off on them! Our contacts in Britain, France, and Italy tell us that in many places in Europe, the bishops and priests simply refused to implement the radical modifications.
Bugnini, therefore, had a major hand in the Modernist Liturgical Revolution since 1948 and was becoming the most powerful Modernist liturgical revolutionary. But then something happened. Pope John XXIII, who was very traditional about the Sacred Liturgy, however liberal he may have been in world politics, clipped Bugnini's wings. He threw Bugnini off the commission -- perhaps because he knew of Bugnini's Masonic connections, perhaps because he objected to Bugnini's Neo-modernist liturgical machinations.
But Pope Paul VI appointed Bugnini again in 1964 to be Secretary of the new Consilium ad exsequendam Constitutionem de Sacra Liturgia [Committee to Carry out the Constitution on the Sacred Liturgy], which was to carry out Vatican II's liturgy constitution. Again, the traditional Sacred Congregation of Rites was kept out of it, so that it could not hamper the liturgical revolution engineered by the Neo-Modernists, which was brought to completion, principally by Bugnini and his six Protestant minister-advisors, in 1969 with the full-blown Novus Ordo service. There was no question, however, that the Novus Ordo service had already been written by the Modernists years ago (probably in the 1950s) and simply had to be taken down from the shelf when the Neo-modernists had gained control of a New Order Church.
Finally, on May 8, 1969, with the publication of the Apostolic Constitution Sacrum Rituum Congregatio, Pope Paul VI abolished the Sacred Congregation of Rites and made Bugnini Secretary of the new Congregation for the Divine Cult, to carry forward the Neo-modernist liturgical revolution. In 1972 Paul VI elevated him to the office of archbishop.
However, Bugnini's connections with the Freemasons of Rome and Italy was becoming too obvious to hide any longer, so four years later Paul VI exiled Bugnini from Rome to become Apostolic Delegate to Iran, a demotion that Bugnini bitterly resented. It is said that to play up there to the Islamic government of Iran, he provided secret intelligence information that led to the death of a number of Americans in Iran. He died in disgrace in Rome on June 3, 1982.
It is hard to imagine that anyone else could have done what Bugnini did. Like Attila the Hun, he was the right man at the right time to engineer the destruction of Rome, particularly its Catholic and Apostolic liturgy, which he obviously hated, as clearly revealed in his book, La Riforma Liturgica, a self-congratulatory paean to himself. Yes, it appears that he was placed, much like a Communist "mole" of the time, ready to jump into action when his philosophical enemy, the Roman Catholic Church, was weakened by Vatican II.
---
U.S. Bishops Now Wish They'd Stuck with Latin!
From: Fr. Moderator
Good Catholics, don't you get the idea that Newchurch is sinking deeper and deeper into the offal that it has created? In the forty years since Vatican II, the Novus Ordo "authorities" have made a bigger mess of things than at anytime since the Great Western Schism, when not even the Saints knew for sure who the real pope was of the three claimants. That period lasted for 69 years (1348-1417), so don't be in such a rush to see the present crisis resolved. We've still got a generation (33 years) to go!
The U.S. Newchurch Bishops are meeting (again -- no wonder their dioceses are falling apart!) in Washington, D.C. They still can't agree on a "translation" of the Third Edition of the Novus Ordo Missal, which was published three and a half years ago! It seems that there is a serious division between bishops who prefer colloquial American English and those who want a literal and formal rendering of the authentic Latin. The conference can't get the required two-thirds of their bishops to agree on any English translation, so maybe the Novus Ordinarians will be going back to the Latin Novus Ordo .
You see, the vulgar English text used in the Novus Ordo Messes has become so familiar to the Novus Ordinarians that they don't want the right words, but the words that they are familiar with. Right about now, some of these Newchurch bishops must be wishing that they'd just stuck with Latin!
---
How Many "Annulments" Are Too Many for Newchurch?
From: Jennifer
Dear Fr. Moderator:
My fiance has been divorced three times and is getting ready to get an annulment. I want to get married in the Catholic Church. Will he have to get the other three divorces annulled before we are able to get married? If yes, how long will that take?
Fr. Moderator Replies.
There is no question of being "ready to get an annulment." The issue is whether any of the previous three "marriages" is valid. The number of marriages that are traditionally found to be invalid is a fraction of 1%.
But you seem to be in a hurry to ask the wrong question. Have you given this situation proper thought? It is hard to imagine how a man married three times would be a suitable marriage partner for a Catholic -- or anyone, for that matter.
Isn't there some saying about "three strikes, and you're out"? In marriage, even one strike isn't acceptable. Marriage is for life, Jennifer. You need to consider what defect in yourself would lead you even to consider such a man, who is hardly a suitable prospect to be a Catholic husband and father.
Good Catholics, here you see what the moral abominations of the Newchurch are doing to simple people. It is a crime -- and the pope is directly responsible. The buck stops with him.
---
November 17 - St. Gregory Thaumaturgus, Bishop & Convessor
(Semidouble Feast)
What Is the Future of Gregorian Chant in the Novus Ordo?
From: Fr. Moderator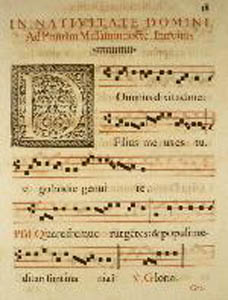 The Introit Dominus Dixit from Christmas Midnight Mass
Newvatican's Liturgy Czar Damns the Catholic Church's only Authentic Music
With Faint Praise while Finding a Place for the "Guitar" Mess
In addition to his comment on the Novus Ordo Mess in his November 12, 2006, interview with Inside the Vatican, Newchurch's Liturgy Czar, Francis Cardinal Arinze, made additional comments about the future of Gregorian chant. After some faint praise of the Catholic Church's only fully authentic music, Arinze stated:
But, the Church is not saying that everything should be Gregorian music. There is room for music which respects that language, that culture, that people. There is room for that too, and the present books say that is a matter for the Bishops Conference, because it generally goes beyond the boundaries of one diocese.... I will not now pronounce and say never guitar. That would be rather severe. But much of guitar music may not be suitable at all for the Mass [sic]. Yet, it is possible to think of some guitar music that would be suitable.... [Has your head stopped spinning yet?]
So, Arinze holds to the damnable Vatican II principle "inculturation" -- that "liturgy" should be made up for each country, diocese, or even parish. It is this same principle that led one of Arinze's fellow African bishops to call for the use of chicken-blood sacrifice at Mess, because, he said, Africans understand the symbolism of chicken blood better than of wine!
Once again Newrome passes the buck: "The judgment would be left to the bishops of the area. It is wiser that way. Also, because there are other instruments in many countries which are not used in Italy or in Ireland, for instance." So, don't expect any "fixes" from Newrome to its Novus Ordo Mess. The Mess will continue, as engineered by local bishops, who are the ones responsible for the "abuses"!
---
November 16 - St. Gertrude, Virgin & Abbess
(Double Feast)
Newpope's Liturgy Czar Spills the Beans
From: Fr. Moderator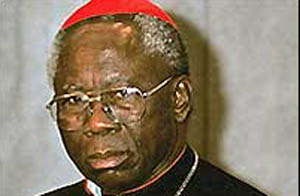 Newchurch Francis Cardinal Arinze, Newpope's Liturgical Czar
Damns the "New Mess" with Faint Praise, but Vows:
"No 'Abuses' Will Be Fixed -- And Don't Count on the 'Indult' Mass
In recent TRADITIO Commentaries, we have covered the comments of SSPX's Superior General Bernard Fellay on his August 29 "Beheading" Meeting with Benedict-Ratzinger. Then we covered the interview given by Ecclesia Dei's Cardinal Hoyos to Trenta Giorni. It became clear that Fellay is being played like a lyre by the Newvatican Machievellis.
Hoyos revealed in the interview that Newpope and Newvatican are frightened by those who are questioning the legitimacy of the Conciliar popes, so much so that they tried to twist Fellay's arm to sign a statement that he himself did accept Benedict-Ratzinger as a legitimate pope. Fortunately, Fellay has apparently not yet signed the statement. It seems as if we are back in the 15th century when even the Saints couldn't agree on who the legitimate pope was. If Fellay could stop playing politics with Newvatican and see the situation straight on, he would realize that the SSPX and traditional Catholics are in a much more powerful position than ever before. Finally, the foundations of the New Order are beginning to shake -- and Newpope and Newvatican know it!
Furthermore, Hoyos admitted that even Newvatican doesn't believe that the Traditional Latin Mass was abolished. Nevertheless, for political reasons, Newvatican will not allow its use to Catholic faithful, except under stringently-controlled conditions, which include complete acceptance of the legitimacy of Vatican II and the Novus Ordo Protestant-Mason-Pagan service.
Now Newpope's Liturgy Czar, Francis Cardinal Arinze, has weighed in with a November 12 interview for Inside the Vatican magazine after the conclusion of the October 2-23 Synod at Rome on the "Eucharist." The pope's spokesman for the Novus Ordo service and sacraments confirms the fact that Newpope and Newvatican have no plans to back off their full-throated acceptance of the Novus Ordo Mess. They aren't even talking any longer about correcting the "abuses" that Ratzinger used to talk about fixing. Apparently, the bishops at the Synod, without exception, told Newpope that they wanted the Novus Ordo Mess, with all its "abuses" (which they don't consider abuses, but local inculturation).
In response to the statement that "the prevailing attitude seems to be that despite a few shadows, by and large, the effects of the liturgical reform have been positive," Arinze mouthed the typical Newchurch propaganda and openly disagreed with Pope Paul VI, who said that the reform had turned "Satanic":
It is also a fact that the liturgical renewal after Vatican II has brought many things positive; for instance, more attention to Holy Scripture, more attention to the people's participation in the liturgical celebration, the people's understanding of what it is; although understanding is not everything, but it is one element. The vernacular, if the translations are good, can help in this direction. And also, sharing of roles in the liturgy; i.e., when the deacon is reading the Gospel, proclaiming it, we listen.
Yet Arinze is forced to admit:
There has been a bit of neglect of the Holy Eucharist outside Mass [sic]. A lot of ignorance. A lot of temptations to showmanship for the priest who celebrates facing the people. If he is not very disciplined, he will soon become a performer. He may not realize it, but he will be projecting himself rather than projecting Christ. Indeed it is very demanding, the altar facing the people. Then even those who read, the First & Second Reading can engage in little tactics that make them draw attention to themselves and distract the people.
Aren't these some of the very criticisms of the New Mess that traditional Catholics have been making for forty years?! Yet Arinze, who has the power to change the situation, declines to make any changes: demanding that the altar be turned back to its traditional position facing God, for example. Moreover, Arinze is forced to admit that increasing numbers of Novus Ordinarians have a "more Protestant concept of the Eucharist, seeing it mainly as a symbol." In other words, he admits TRADITIO's long-standing position that vast numbers of Novus Ordinarians have become at least material heretics!
Then Arinze, apparently unaware of what he is saying, gives a powerful argument for the complete restoration of the Traditional Latin Mass:
A scenario where a parish team every week decides how they will have Mass [sic] next Sunday, as if the liturgy were something that we put together and not something that we receive. That wrong idea that the important thing is something new every week, which is not true. The people want to adore God. After all, our national anthem is the same, and we sing it every time. We are not tired because we love our country. Our Father, Hail Mary, although we say them many times, they don't get old.
All right, Francis; if you really believe that, it is clear what you must do has Prefect of the Congregation for the Divine Cult: junk the counterfeit Novus Ordo Mess and restore the Traditional Latin Mass. But he says he won't do it. He is a little talk and no action at all. It is all Newchurch propaganda to assuage the "conservatives" with a few nice-sounding, but meaningless words. In fact, when Arinze was asked directly whether Newchurch is "likely to see tougher action to stop these [Novus Ordo] abuses and errors, Arinze dodges the question:
If at Mass we are self-controlled, we are disciplined, we don't talk in the church and don't converse as if we were in a football stadium, it is because of what we believe. Therefore, the most important area is faith and fidelity to that faith, and a faithful reading of the original texts, and their faithful translations, so that people celebrate knowing that the liturgy is the public prayer of the Church.
Was that statement a terrible slip on Arinze's part? Paul VI, JPII the "Non-Great," and Benedict-Ratzinger all performed the Novus Ordo service in football stadia. Now, tell us, Francis, how can a Novus Ordinarian act as if were not in a football stadium when in fact he is in a football stadium?!
Then Arinze made a stunning admission:
Moreover, the review of the various rites was done by human beings, not by angels. So two good scholars can disagree whether this particular rite was retouched in the best possible way or not. A good scholar can say, "I think it could have been retouched in this way, rather than that." That is allowable as an opinion, but not to celebrate it that way.
Read this statement carefully. The head of the Novus Ordo cult is admitting that the Novus Ordo service was concocted by humans -- not the "Holy Spirit" or even the "Spirit of Vatican II" (whoever that is). We know, of course, who these principal non-angelic humans were: Arch-Modernist Hannibal Bugnini, who was eventually exiled by Paul VI because of his undeniable Masonic connections, and his six Protestant minister-advisers.
So, this is the contradictory, hypocritical Newvatican liturgical spokesman that Fellay wants to "negotiate" with. TRADITIO has two recommendations for Fellay. First, read Machievelli's Il Principe. It will give him necessary insight into the reality of how the venerable Roman establishment is playing him. Second, read traditional author Patricius Anthony's feature article on Arinze, ARINZE.HTM: Cardinal Arinze's Changing Church, in the TRADITIO Features department. Then Fellay might begin to wake up and smell the coffee!
---
November 15 - St. Albertus Magnus, Bishop, Confessor & Doctor
(Double Feast)
Even Athiests Warned Paul VI: Keep the Traditional Latin Mass
From: Fr. Moderator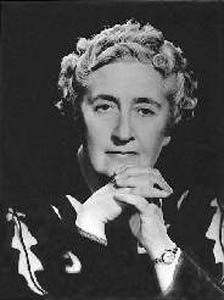 British Novelist Agatha Christie
One of Dozens of Distinguished English Writers, Scholars, Artists, and Historians
Demanding that Paul VI Preserve the Traditional Latin Mass
Among their Number Were Atheists, Agnostics, Protestants, and Jews
It is not widely known that within two years after the disastrous imposition of the Novus Ordo Protestant-Masonic-Pagan service, dozens of distinguished writers, scholars, artists, and historians living in England sent a petition to the pope to spare the Traditional Latin Mass. Among the notables were atheists, agnostics, Protestants, and Jews, yet even they could see the necessity of maintaining the true Mass. Why is it that the daft Novus Ordinarians couldn't?
Distinguished signatories to this plea to Paul VI were: Harold Acton, Vladimir Ashkenazy, John Bayler, Lennox Berkeley, Maurice Bowra, Agatha Christie, Kenneth Clark, Nevill Coghill, Cyril Connolly, Colin Davis, Hugh Delargy, Robert Exeter, Miles Fitzalen-Howard, Constantine Fitzgibbon, William Glock, Magdalen Gofflin, Robert Graves, Graham Greene, Ian Greenless, Joseph Grimond, Harman Grisewood, Colin Hardie, Rupert Hart-Davis, Barbara Hepworth, Auberon Herbert, John Jolliffe, David Jones, Osbert Lancaster, F.R. Leavis, Cecil Day Lewis, Compton Mackenzie, George Malcolm, Max Mallowan, Alfred Marnau, Yehudi Menuhin, Nancy Mitford, Raymond Mortimer, Malcolm Muggeridge, Iris Murdoch, John Murray, Sean O'Faolain, E.J. Oliver, Oxford Asquith, William Plomer, Kathleen Raine, William Rees-Mogg, Ralph Richardson, John Ripon, Charles Russell, Rivers Scott, Joan Sutherland, Philip Toynbee, Martin Turnell, Bernard Wall, Patrick Wall, E.I. Watkin, R.C. Zaehner. They told the pope in no uncertain terms:
... Today, as in times gone by, educated people are in the vanguard where recognition of the value of tradition is concerned, and are the first to raise the alarm when it is threatened..... Now the fact is that basilicas and cathedrals were built so as to celebrate a rite which, until a few months ago, constituted a living tradition. We are referring to the Roman Catholic Mass.... We are not at this moment considering the religious or spiritual experience of millions of individuals. The rite in question, in its magnificent Latin text, has also inspired a host of priceless achievements in the arts -- not only mystical works, but works by poets, philosophers, musicians, architects, painters and sculptors in all countries and epochs. Thus, it belongs to universal culture as well as to churchmen and formal Christians.... The signatories of this appeal, which is entirely oecumenical and nonpolitical, have been drawn from every branch of modern culture in Europe and elsewhere. They wish to call to the attention of the Holy See the appalling responsibility it would incur in the history of the human spirit were it to refuse to allow the Traditional Mass to survive....
Paul VI by that time, just two years after imposition of the counterfeit Novus Ordo service, was too mesmerized by his Rasputin, Archbishop Hannibal Bugnini, the Masonic Chief Architect of the Novus Ordo, to listen to the wisdom of this eminent group, just as the Newchurch leaders are deaf to the pleas of true Catholics today. For further information, see AGATHA.TXT: 1971 Petition by Distinguished Writers, Scholars, Artists, and Historians Living in England to Spare the Traditional Latin Mass in the TRADITIO Library of Files (FAQs and Traditional Apologetics).
---
Protestants to Receive the Novus Ordo Cookie via a Vatican II Technique
From: Fr. Moderator
It is now an exposed technique of Hannibal Bugnini, the Chief Architect of the New Order, and his Modernist cohorts, to insert ambiguous language into Vatican II documents so that the bishops would be bamboozled, but so that he and his minions would be able to interpret the language after the council in a Modernist way, once they gained control of the implementing committees and Paul VI. These ambiguous statements have been termed "timebombs."
Well, now we have a timebomb among the 50 final proposals of the October 2-23 Eucharistic Synod at Rome. What you may have heard in the press was that Newvatican will maintain its ban on inter-communion with Protestants. But that is not the whole story. A timebomb was planted. Just as Latin was to have been preserved in the Latin rites (Article 36 of the Vatican II's Liturgy Constitution), the vulgar tongues were introduced by means of a timebomb phrase: "with due respect to particular law." That little technical exception turned out to be Bugnini's highway to drive a truck through!
In response to calls by the Anglican Bishop of Chichester, John Hind, and other oecumenical "guests" invited by Benedict-Ratzinger, as well as leading members of the Curia, the Synod released Proposition 41, on "The Admission of Non-Catholic Faithful to Communion [the Novus Ordo cookie]," which affirmed the Catholic doctrine barring inter-communion with heretics. The Synod added, however: "It should be clarified that in view of personal salvation, the admission of non-Catholic Christians to the Eucharist, the Sacrament of Penance, and the Anointing of the Sick [the phony Novus Ordo substitute for Extreme Unction] in determined individual situations under precise conditions is possible, and even recommended." Thus has Newvatican's door been flung wide open towards an interpretation that would allow non-Catholics to receive the Novus Ordo "sakraments."
And who is behind this? Benedict-Ratzinger -- no question. He has been incessantly (though subtlely) pushing inter-communion with the Protestants. For heaven's sake, he publicly gave a Protestant minister the cookie at his own inaugural papal service, right in front of the world's television cameras! Notice the new phraseology, by the way. Protestants are now being referred to as "Non-Catholic faithful." They're not faithful; they're heretics!
Finally, Arinze was asked for his response to the October 22 Il Giornale article, previously commented upon by TRADITIO, that Arinze's own Congregation for the Divine Cult "had given a reserved opinion to the Holy Father against the Church granting a universal indult for the Tridentine Mass. Is this true, and if so, what would be the reasons against this?" Arinze never answered the question, but deflected it to Hoyos. Another Machievellian conspiracy on the part of Newvatican? Pity the poor indultarians, who are constantly being twisted around by these Newvatican bureaucrats, whom they worship.
---
"Why I Left the Novus Ordo Seminary"
From: William
Dear Fr. Moderator:
As a young man in the 1960s, I had to leave the Novus Ordo seminary in order to keep my Faith. Everybody, including the clergy, marginalized me because I was a teacher of Gregorian Chant to the novices (I was a scholastic assigned to the novitiate), and I refused to teach the new trash that was being put forth as music in those days. The breaking point came when the Novice Master called me in one day, handed me a "missalette," and said, "The bishop wants you to teach this for Holy Week."
I was a trained musician and told the Novice Master that the missalette was junk music and that I refused to teach such trash to the novices instead of the Liber Usualis. He then attempted to bind obedientia sub gravi to teach the missalette. I told him that I would give him my answer in the morning. After breakfast I told him, "Put me on the next bus out of here." He was totally shocked and said, "You can't leave; we need you." I answered, "You do not need me to teach junk and trash to the novices, and I refuse to take part in the destruction of the thing I love the most, the Mass." He asked, do you want my blessing? I said, "No, thank you, father. Let the novices pack my things and ship them to me." I was heartbroken because I never doubted my vocation, but refused to take part in the destruction of the Church to which I had given my life.
Fr. Moderator Replies.
But now you see that you maintained your honor and your Faith by thumbing your nose at the New Order and its handmaidens, as since then the Novus Ordo has continued to sink into barbarism and offal. You should be proud of yourself that you were so unusually prescient to have seen the handwriting on the Novus Ordo wall so early in the Neo-Modernist Revolution.
---
November 14 - St. Josaphat, Bishop & Martyr
(Double Feast)
Episcopalians Have Two Lessons to Teach Traditional Catholics
From: Fr. Moderator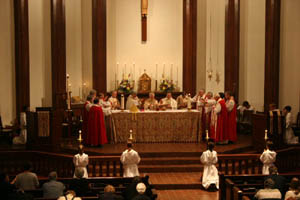 Twelve Episcopalian Bishops Concelebrate the Liturgy
(Doesn't This Look just like a "Reverent" Novus Ordo?)
At a Meeting of the Traditional Network Drawing 2500 Participants
Traditional Episcopalians Did Not Kowtow to their Liberalist Establishment
But Stood by Their Tradition and Are Demanding the Turnover of Billions in Assets
To Maintain Their Traditional Network of Churches
After the liberalist establishment of the Episcopalian Church (the Anglican Church in the United States, or ACUSA) forced the "consecration" of an open and practicing homosexual as bishop, traditional Episcopalians immediately fought back just as traditional Catholics should have when the New Order first tried to impose on them the New Liturgy, New Theology, and New Morality in the mid 1960s.
It looks as if the traditional Episcopalians will be able to save much of their Church and its membership, whereas all too many traditional Catholics are still wasting time trying to kowtow to corrupt Newchurch prelates for "indults" (like SSPX's Bernard Fellay). So, that is the first lesson that traditional Catholics should learn from the traditional Episcopalians. Don't negotiate and compromise the true Catholic Faith: stand up for what you believe and fight for it!
The second lesson comes from 2500 traditional Episcopalians now meeting to plan demands for the assets of the Episcopalian Church in the United States. Having separated themselves from the liberalist Episcopalians, the traditionals in the Anglican Communion Network (ACN), a consortium of dioceses, bishops, laity, and clergy representing more than 200,000 Episcopalians, has a team of six lawyers on call. The Episcopal House of Bishops, in turn, has a 10-member "property task force" in the works.
At stake in the dispute are millions, if not billions, of dollars in real estate, endowments, pension funds, and investments involved in the Episcopalian denomination, founded in 1789. The cadre of six attorneys at ACN headquarters are committed to ensuring that traditionals leaving the liberalist wing of the denomination in protest of the "gay" bishop "consecration" will not depart empty handed.
One of the attorneys stated: "Our biggest challenge at the moment is that too many [liberalist] bishops are looking to the canons [ecclesiastical laws] rather than being pastors to [traditional] people who don't agree with them. If there's a desire to amicably deal with issues of disagreement, we're not seeing very much from the opposition in that respect." Now doesn't that sound just like the Newchurch bishops, who are always throwing around Conciliar "canon law" that they created in 1983 to protect themselves in the face of traditional Catholics whose position comes from a higher law: God's law!
So, the second lesson, traditional Catholics, is to maintain the true Catholic Church and demand a just proportion of its assets and buildings to operate until, in God's good time, the New Order counterfeits are repelled, and full Roman Catholicism is restored in Our Lord's Church. Don't waste time fighting for chimaeric "indults" and kowtowing to Newchurch prelates who have lost their Catholic Faith and Morals. Like the Catholics in St. Louis, Boston, and other places, start demanding your share of the assets to continue the traditional Catholic Faith. Just because you are Catholics doesn't mean that you have given up your rights as American citizens to justice.
---
Were Three of Four SSPX Bishops Ready to Go Newchurch without Guarantees?
From: John, TRADITIO's SSPX East Indian Correspondent
Dear Fr. Moderator:
I have read very carefully your Commentary on the Hoyos interview with Trenta Giorni. It is frank and thorough.
I am repeating what I may have written to you before. When I ran into Ivan Cardinal Dias on January 22, 2003, I engaged in a 20 minute conversation between us on the sidewalk, during which Cardinal Dias revealed to me that, in his position as member of the Congregation for the Doctrine of the Faith, he was aware that three SSPX bishops were ready to sign the pact with Newrome, but it fell through because the fourth SSPX bishop, whom the cardinal described as an "Anglican convert," refused. On November 9, 2005, a presbyter of the Archdiocese mentioned to me that Cardinal Dias had told him the very same thing.
Cardinal Dias's report implies that three SSPX bishops were ready to enter Newchurch without the resolution of the grave theological problems caused by Vatican II. In other words, they were ready to accept and live with Vatican II. Now that Fellay has just eight months left in office, he has no moral right whatsoever to negotiate on so important a matter with Modernist Rome (as Archbishop Lefebvre put it), and if Schmidberger continues to pressure him, he should bid Schmidberger goodbye.
The emotional fragmentation of the SSPX here in Asia is already taking place and, if and when the physical split occurs, Fellay will be responsible before God and man.
---
November 13 - Twenty-Sixth Sunday after Pentecost
(Semidouble Sunday)
Ecclesia Dei's Hoyos Gives an Apocalyptic Interview
From: Fr. Moderator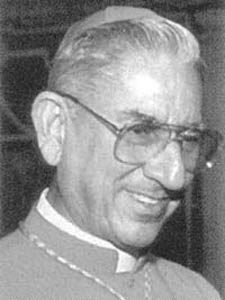 Dario Cardinal Castrillon-Hoyos, President of the Ecclesia Dei Commission
The New Herod, "That Fox" (Luke 13:32/DRV)
Revealed as at Base a Hater of Tradition and Traditional Movement
And All They Stand For
Within days of the interview that the SSPX's Bernard Fellay gave to DICI, the periodical Trenta Giorni published an interview with Dario Cardinal Castrillon-Hoyos, President of the Ecclesia Dei Commission, whose purpose it is to get traditional Catholics back into the New Order. It is instructive to compare and contrast the interviews of Fellay and Hoyos.
The differences start with the question of who called the August 29 "Beheading" meeting with Benedict-Ratzinger. Fellay has said that the pope called the meeting and that he, therefore, felt that he had no choice but to go. However, Hoyos indicated that Fellay requested the meeting. In the interview, Hoyos goes into great detail about how Fellay's requests was processed through Newvatican's bureaucracy, obviously in an effort to indicate that Benedict-Ratzinger was just responding (not initiating anything) in a pro-forma "charitable" way. Newpope certainly didn't want to take responsibility for calling Fellay! The audience was requested, says Hoyos, by Fellay through the normal channels, through Hoyos as Prefect of the Congregation for the Clergy and President of Ecclesia Dei.
Hoyos then makes an unbelievably crass statement: "Pope Benedict XVI could add to that [his interest as cardinal] "the special presence of the Holy Spirit guaranteed by the fact of having become Peter's successor." This is not the teaching of the Church. Popes in the past have made grievous mistakes: when enunciating heretical doctrine on a personal basis (e.g., Pope John XXII), in their moral lives (e.g., Alexander VI), and in their conduct of the papal office (e.g., Pope Liberius siding with the Arian heretics, Pope Honorius being excommunicated). It would be blasphemy to claim that any pope in such actions was acting under "guarantee of the Holy Spirit"! Hoyos is engaging here in the error of what is known as "creeping infallibility" or "papolatry." It does not have its basis in Catholicism, but in Vatican politics.
So, is Fellay calling Hoyos' statement that Fellay called the meeting a lie, or did Fellay actually call the meeting, but wanted to cover up that fact so that he could make it appear that he was "obeying" Newpope?
In the interview Hoyos states, remarkably, that Archbishop Lefebvre's consecration of four bishops for the Society of St. Pius X on June 30, 1988, supposedly without JPII's approval, was not a "formal schism." So, even though from the perspective of Newchurch, Fellay and the three other bishops are excommunicates, the Society is not in "formal schism." If that is the case, why doesn't Newpope and Newvatican correct the statements of so many of their Newchurch bishop-henchmen that the SSPX is "in schism"? Is Newchurch playing both ends against the middle? Those hypocrits!
Fellay leaves the impression that he is a reluctant participant with Newchurch. Now we learn from Hoyos' interview that Fellay has had "many meetings with Fellay and with other members of the Society [including former Superior General Franz Schmidberger]." Moreover, these meetings, Hoyos said, had so won Fellay & Co. into dealing with the Newchurch structure that "at a certain point I believed we were really very close to a full rapprochement."
Hoyos in the interview also discussed the Campos, Brazil, situation, in which the some of traditional Bishop deCastro Meyer's traditional clergy sold out to the "indult," and Hoyos makes clear that part of the "deal" required that the Camposians had to "recognize the validity of the new rite of the Mass [the Novus Ordo Protestant-Masonic-Pagan service] and of the legitimacy of Vatican Council II [which even the Conciliar popes admit was not a dogmatic council]." If the SSPX were to consider a similar arrangement (as some have been pushing), it would undoubtedly have to sell out to the New Order as well.
Hoyos in the interview lauds the Campos agreement. Why shouldn't he? Within months of Newvatican's consecrating a new "indult" bishop for the Camposians, Fernando Areas Rifan, Rifan was concelebrating the Novus Ordo service publicly, when he had previously said that he would never commit such a sacrilege and would never be asked to under the "deal."
In this interview pregnant with revelations, we now come to understand why certain representatives of the Society of St. Pius X have recently made it a point to vilify publicly the theological hypothesis of sede-vacantism (that the Conciliar popes may have strayed into heresy so badly that they have lost their office, so the Holy See is vacant), even though the Society's Founder-Archbishop left open the possibility that that papacy could eventually sink so far into undeniable heresy that the hypothesis would be validated. Newpope and Newvatican, it seems, have been hit hard with the increasingly outspoken opinion among traditional Catholics that Benedict is not a valid pope!
Trenta Giorni reveals that "after the audience an authoritative cardinal suggested that the Society should recognize the legitimacy of the present pontiff." Hoyos, in his response, obviously knows of this issue. He says that he understands that the Society is not sede-vacantist, but "there are traditionalist groups that don't recognize the last popes, the so-called 'sede-vacante' people."
So, Newvatican does understand that there are many more traditional clergy and laity than are to be found in the SSPX. Hoyos' response makes it appear that Newvatican prefers to negotiate with Fellay because he is more inclined to accept a compromise with Newchurch than the more outspoken traditional Catholics outside the Society, who uncompromisingly call the New Order spade a spade.
Now Hoyos gets into the politics. He says that Fellay is asking for a "liberalization" of the Modernized Mass of 1962 -- note that Hoyos does not use the term "Universal Indult," but something much short of it -- and a declaration affirming that this liturgy has never been abolished. Hoyos states that that the traditional Mass has "has never been abolished." Well, if so, why -- in the name of heaven -- is Newvatican so reluctant to tell its bishops to stop pressuring priests and presbyters not to say it?! Why is Newvatican not telling these bishops: "Back off. You have no authority to suppress the Traditional Latin Mass"?
Hoyos answers our question in the interview. "It would be dangerous to create opposition between the old rite and the new. The liturgy cannot be a battlefield." So it is clear: Newvatican will do nothing to uphold the right and obligation of Catholics to the Traditional Latin Mass, as confirmed to them by Apostolic Tradition and an infallible decree of the Council of Trent and Pope St. Pius V! Imagine what would happen today if a Black man sat down at a lunch counter and was asked to leave, as the waitress told him that although he had a right to sit at the counter, a lunch counter cannot be a battlefield. To leave please so as not to upset the other customers. There would be riots in the streets worse than Watts! Good Catholics, let's face it: we're wimps in comparison.
Does Hoyos respect the Traditional Movement? The interview reveals that he does not, but only those "indultarians" who will kowtow to Newchurch. As to the rest, he says, "Unfortunately, there can also be fanatics who are bound to the old liturgy as one can be bound to a mathematical formula of which one doesn't even understand the value in depth." To Hoyos and to his Ecclesia Dei Commission, the uncompromised right to the valid, immemorial Mass of the Roman Catholic Church is desired only by "fanatics" who do not understand the "value" of the "most beautiful thing this side of Heaven"!
As Scripture says: "Great is the truth, and it prevails (1 Esdras 4:41/DRV)." Now we know clearly that Hoyos is no vaunted "friend of Tradition," but a sugar-coated hater of Tradition. But it is always good to know who one's enemies are.
All in all, the Hoyos interview is an eye-opener. It leads us to be confirmed in our stance that Fellay is a fool to deal with Newvatican personnel, none of whom is his friend, but are out to undermine even his best intentions. Fellay is unfortunately a naif, not the man of wisdom, prudence, experience, and true Catholicity that the Society's Founder-Archbishop Lefebvre was.
---
November 12 - St. Martin, Pope & Martyr
(Double Feast)
If Newchurch Accepts "Gay Marriage," Are Animal Weddings Next?
From: Fr. Moderator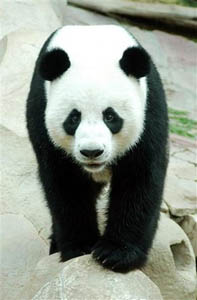 Lin Hui, Panda Married on November 9 in a Buddhist Ceremony
Having Set up a Newchurch "Divorce" Mill and Allowed Clerical Sex Unions
Is Newchurch Morality Going to Sink even Further
After the Pattern of Its Beloved Pagan "Brothers"?
The trouble with Newchurch's turning its back on Sacred Scripture and Tradition is that it becomes like a loose thread on a sweater. Start pulling the thread, and the sweater ends up as a mere ball of yarn. In Catholic theology, particularly Thomistic theology, based on the best of Classical philosophy, everything fits together in balance and harmony.
In Newchurch theology, however, one never knows what to believe. Is there really a Hell and Purgatory, or does everybody go to Heaven (heresy of Universal Salvation)? Is marriage for life, or is there de facto Catholic "divorce"? (In the USA nearly 98% of Novus Ordinarians who apply for an "annulment" and finish the procedure are awarded an annulment. In 1994, 54,463 annulments were granted by Newchurch in the United States alone; in 1968 there were 450 worldwide.) If "gay marriage" is accepted for "politically-correct" reasons, what about polygamy, polyandry, "trans-generational" marriage (adults marrying minors), and even more grotesque forms of "union"?
On moral issues, the Conciliar popes speak out of both sides of their mouth. For example, Benedict-Ratzinger on November 8 warned Austrian Newchurch bishops "against the false notion that church teachings should be watered down so as to prevent people from leaving the Church." That will make the "conservatives" Novus Ordinarians tingle about how "traditional" this pope is. But something is not right here.
How is it that the former Master General of the Dominicans is allowed without comment by Newvatican to write publicly to the London Times has "slammed any suggestion of barring homosexuals from the priesthood, and suggests further that those who would ban homosexuals from the priesthood should themselves be banned from the priesthood?" However, as re-affirmed in 1961 by Pope John XXIII, the Catholic Church's official disciplines have strictly forbidden the ordination of homosexuals, unquestionably those who are "active and open."
How is it that JPII and Benedict-Ratzinger obviously don't think the fact that under color of authority, undeniable numbers of Newchurch presbyters and bishops are raping Catholic youth worldwide is all that important? Neither of these Conciliar popes have made even one public statement or taken even one public action personally against any of their Newchurch bishop-cronies. The current pope, in fact, is even worse than his precedessor. Benedict, when Ratzinger, tried with an official document to implement a worldwide cover-up by threats -- threats that he never made against the perpetrators. His own fingerprints are all over the criminal cover-up that he has continued as pope.
---
Is Benedict-Ratzinger a Crypto-Lutheran?
From: Fr. Moderator
Hot on the tail of Benedict-Ratzinger's giving publicly, before television cameras, the Novus Ordo cookie to Brother Roger Schutz, a Protestant, we now have an even wierder story. German theologian Klaus Berger, a Scripture scholar from the University of Heidelberg, told the German daily Die Zeit that he is a Catholic and a Lutheran simultaneously, although a "Catholic in exile," despite his formal membership in the Evangelical Lutheran Church. Berger said that he hopes to have a Catholic funeral.
But that could be just the confusion of an Oecumenist. Except that Berger told Die Zeit that then-Cardinal Ratzinger (now Pope Benedict XVI) had raised no objection to Berger's decision to become a Lutheran. Berger had told Die Zeit that he wanted to be a priest, but could not pursue the Catholic priesthood because his theological views do not match Church teachings. Nevertheless, he claimed that he had maintained his "formal adherence" to the faith and was a "secret Catholic" while a member of a Protestant congregation.
Again, this could be the confusion of an Oecumenist. Except that Newvatican apparently thought Berger's statement important enough to release a formal statement through Newpope's right-hand propagandist and personal press secretary, Opus Deista Joaquin Navarro-Valls. As Shakespeare put it: "the lady doth protest too much, methinks" (Hamlet III.ii.230).
---
An Objective Analysis
From: Alexis
Dear Fr. Moderator:
I am grateful for your objective analysis of the SSPX and Bishop Fellay. I was personally dumbfounded by his recent statement that the SSPX should open a "dialogue" with Rome. Isn't that ipso facto a cave-in to the Modernism of Vatican II?
I am disturbed deeply too by what I have heard from many traditional Catholics in Europe and North America, who have been spiritually neglected and abused by the indifference of the SSPX to their lack of sacraments. In some places the SSPX priests have told the faithful: "We don't care about your eternal salvation, we are here only to provide the Mass!" These priests are not even reprimanded by their superiors, though many hundreds of laity complained to the highest levels of the SSPX.
I am also very concerned about the testimony of priests who are willing to swear to the truth that a small, but powerful clique in the SSPX have the practice of shaking down religious orders, new traditional communities, and local chapels, demanding as a precondition of offering the Modernized Mass of 1962 that the entire property be signed over to them. Many independent chapels and many chapels of the ancient noble families of Europe are without the Mass because the lay owners prudently refuse this sort of simony. All this leads me to wonder if the morality of the leadership in the SSPX differs much from that of Benedict XVI and his crew.
Fr. Moderator Replies.
We have received similar correspondence from around the world that would tend to confirm everything that you have said. If one looks at the Big Picture, one has to take a balanced view of the SSPX. Like all organizations, it has its strengths and weaknesses. There are some wonderful SSPX sites run by some wonderful SSPX priests. There are some lousy SSPX sites that should be avoided by the faithful. It has some better leaders and some worse leaders, some better bishops and some worse bishops. Let's not be Polyanna about this. It is not a matter of dogma; it is not all black or all white.
We get comments from a very few SSPX fanatics who think that it is a sin to question anything that SSPX or its leaders do. Such comments are characterized by an frenzied ranting against anyone who would dare to question anything about the SSPX. But, then, you get a few fanatics in all organizations, so we say to ourselves "consider the source" and have our mail server trash future messages from the individual unread. We don't have the time or interest to read fanatic ravings. We do, however, appreciate moderate, balanced comment from our correspondents, even if they take a different position from TRADITIO's. We've never claimed to be infallible! (But we from our unique experience and knowledge, we do seem to be able to hit the nail on the head 99% of the time.)
Look: Fellay is neither a Saint on earth nor the Devil Incarnate. He is a mere man doing a difficult job. One can sympathize with that, but we think that he has been doing the job badly in recent years, that it could be done much better. He has taken the clear vision of the Society's Founder-Archbishop and has allowed it to become diffuse and confusing. SSPXers don't really seem to know what his vision is. It has dissipated into political manoeuvering and posing with Newpopes and Newvatican officials.
Many CEOs do their jobs badly. Most of them don't last more than six months, so statistics show, yet Fellay has been allowed to continue in his job for almost twelve years! His term ends in June 2006, but we have been unable to get a straight answer as yet about whether he is re-electable under the modified statutes of the Society, which had already been amended from Archbishop Lefebvre's form to allow a bishop to head the organization -- a provision that the Archbishop condemned (with good reason, apparently!).
So, Fellay has resided in his job longer than a re-elected U.S. President, who can serve only eight years. Most Catholic religious orders elect their leaders every four years or at most every six years. This seems to be another organizational flaw in the SSPX that should be addressed prudently, especially in light of recent developments.
---
November 11 - St. Martin of Tours, Bishop & Confessor
(Double Feast)
Complete Friday Abstinence
What about the "Theory of Evolution"?
From: Fr. Moderator

What Does the Church Really Teach about Evolution?
The Church Has Always Been the Patron of True Science
As True Religion and True Science Can Never Be in Contradiction
In light of a Newvatican cardinal's recent statement on evolution, it would be timely to review the Church's traditional teaching on the subject. For further information, see FAQ10.TXT: How Do You Explain These Traditional Catholic Beliefs? in the TRADITIO Library of Files (FAQs and Traditional Apologetics) in the article "Evolution."
Pope Pius XII's Encyclical Humani generis exhibits a very prudent approach to the question of the theory of evolution, as well as to all scientific theories. Both religion and science are founded in truth; therefore, true religion and true science can never be in contradiction. He reprimands those who "imprudently and indiscreetly hold that evolution, which has not been fully proven even in the domain of natural sciences, explains the origin of all this, and audaciously support the monistic and pantheistic opinion that the world is in continual evolution."
The salient point here is that the Theory of Evolution is just that, a theory. There may be aspects of it that are correct, and other aspects that are not. Even scientists do not agree on all points of the theory, and, like all scientific theories, more and more flaws in it will be discovered as further data are discovered.
Science can be looked at more as a process rather than a set of facts. For example, in astronomy the Ptolemaic system was replaced by the Newtonian, the Newtonian by the Einsteinian. The 19th-century "Theory of Evolution" has already been found wanting by the scientific community and is constantly being revised as biological understanding increases.
In history, we find that some in religion try to impose rigorously non-dogmatic aspects of the Faith into science, as in the great debate on heliocentrism in the 17th century. Conversely, some scientists try to make their "theories" contradict religious dogma. Both approaches are incorrect. Here are the pertinent passages from the pope's encyclical:
Thus, the teaching of the Church leaves the doctrine of evolution an open question, as long as it confines its speculations to the development, from other living matter already in existence [not Darwin's theory of spontaneous generation, that living matter has come from non-living matter], of the human body. In the present state of scientific and theological opinion, this question may be legitimately canvassed by research, and by discussion between experts on both sides." (Sec. 1, para. 5-7)
It remains for Us now to speak about those questions which, although they pertain to the positive sciences, are nevertheless more or less connected with the truths of the Christian faith. In fact, not a few insistently demand that the Catholic religion take these sciences into account as much as possible. This certainly would be praiseworthy in the case of clearly proved facts, but caution must be used when there is rather question of hypotheses, having some sort of scientific foundation, in which the doctrine contained in Sacred Scripture or in Tradition is involved. If such conjectural opinions are directly or indirectly opposed to the doctrine revealed by God, then the demand that they be recognized can in no way be admitted....
For these reasons the teaching authority of the Church does not forbid that, in conformity with the present state of human sciences and sacred theology, research and discussions, on the part of men experienced in both fields, take place with regard to the doctrine of evolution, insofar as it inquires into the origin of the human body as coming from pre-existent and living matter -- for the Catholic faith obliges us to hold that souls are immediately created by God. However this must be done in such a way that the reasons for both opinions, that is, those favorable and those unfavorable to evolution, be weighed and judged with the necessary seriousness, moderation and measure, and provided that all are prepared to submit to the judgment of the Church, to whom Christ has given the mission of interpreting authentically the Sacred Scriptures and of defending the dogmata of the faithful. Some, however, rashly transgress this liberty of discussion, when they act as if the origin of the human body from preexisting and living matter were already completely certain and proven by the facts that have been discovered up to now and by reasoning on those facts, and as if there were nothing in the sources of divine revelation which demands the greatest moderation and caution in this question. (Sec. 36)
There are other conjectures, about polygenism (as it is called) [Darwin's theory that there were many Adams and Eves in the very beginning of mankind, not just one set of First Parents], which leave the faithful no such freedom of choice. Christians cannot lend their support to a theory which involves the existence, after Adam's time, of some earthly race of men, truly so called, who were not descended ultimately from him.... It does not appear how such views can be reconciled with the doctrine of original sin. (Sec. 3, para. 64-68)
This passages are indicative of the clarity that papal documents had before Vatican II and of the balanced viewpoint that the Church has historically demonstrated on such issues that are not entirely religious.
---
November 10 - St. Andrew Avellino, Confessor
(Double Feast)
Is the SSPX's Fellay Getting Ready to Accept Half a Loaf?
From: Fr. Moderator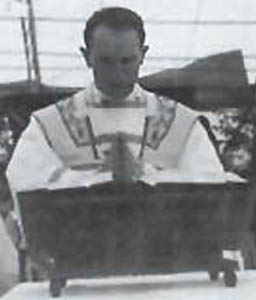 SSPX's Current Superior General, Bernard Fellay
More SSPXers Are Wondering:
Does He Have the Maturity and Experience to Lead the Society?
Is He Laying the Groundwork for a Partial Cave-in to the New Order?
Then Judas [Machabeus], and his brethren said: Behold our enemies are discomfited: let us go up now to cleanse the holy places and to repair them.... And they saw the sanctuary desolate, and the altar profaned.... And he chose priests without blemish, whose will was set upon the law of God. And they cleansed the holy places.... And they built up the holy places and the things that were within the temple: and they sanctified the temple.... And they offered sacrifice according to the law upon the new altar of holocausts which they had made.... It was dedicated anew with canticles and harps and lutes and cymbals. --1 Machabees 4:36,38,42-43,48,53-43

Almost three months after his brief "Beheading" meeting with Benedict-Ratzinger, Superior General Fellay of the SSPX continues to eke out bits and pieces of information. This is consistent with Fellay's modus operandi of not making full, forthright, and honest statements to the world contemporaneously with developments, but rather to tell SSPXers, through SSPX organs, just so much of the story as he wishes them to have, when and how he pleases. Remember that he refused to speak to the world press waiting to hear his comments immediately after the "Beheading" meeting. Subsequently, he hid out in an SSPX priority and again would not honor press requests for comments.

Fellay does tours of SSPX sites and gives talks about his actions and opinions, which talks are generally well received by SSPXers. But -- many SSPXers, bedazzled by his purple pontifications, rarely ever stop to consider that they are being addressed by an organization's CEO, and at that one under fire, both by Newchurch and by many of his own SSPXers, who disagree with his policies. Therefore, he tells them only what he wants them to hear. It takes a Paul Harvey to tell "the rest of the story." That is what TRADITIO tries to do.

In early November, Fellay gave an interview to DICI, the press agency of the French SSPX Mother House. The interview reveals some interesting thought patterns in Fellay, indicating that he may be trying -- surreptitiously -- to prepare SSPXers for a partial accommodation to the New Order. Oh, yes, he provides "white noise" statements against the New Order, and so people think that he is against it. But astute observers, both within the SSPX and in Newrome, think that he is preparing the SSPXers to accept parts of the New Order, at the same time as some Newvatican prelates, in fact, are telling him not to sell out!

Though a naif in the face of the vast Newvatican machine (he has not one iota of the experience that Archbishop Lefebvre had) and thus can be manipulated by them like a rag-doll, Fellay has at least learned well and applies the techniques of Vatican II. In fact, he may be using them in this effort. He does not deny outright the founding principles of the SSPX, any more than Newchurch denies outright the existence of Hell and Purgatory, but he leaves many things ambiguous. His language is not the "Yes, yes; no, no" prized in Scripture as a characteristic of Our Lord, but "maybe." Of course, Fellay (who we know from many sources is an avid follower of TRADITIO, by the way, and even if he weren't, his own SSPXers confront him with its analysis) will deny all of this. He has to. He certainly isn't going to admit that he is trying to manipulate his own SSPXers!

In the DICI interview, amidst a forest of words that appear to be "traditional," he plants a timebomb, just as the Modernists planted their timebombs at Vatican II to go off at some future date. The timebomb he planted in the DICI interview is "partial liberalization." To him, it is not a question of the true Traditional Latin Mass vs. an invalid Novus Ordo Mess. He will waver about the latter, saying that this Protestant-Masonic-Pagan rite, which disposed of over two-thirds of the true Mass, "may" be valid, if this, if that, or if the other thing. The Apostles and the Fathers of the Church would, on the contrary, be raising their voices unhesitatingly and unequivocally in opposition to anything unCatholic. Do you think that you'd have any doubt where St. Augustine, for example, stood?

Fellay describes this "partial liberalization" as a mere "recognition" that the Traditional Latin Mass (or at least the Modernized Mass of 1962) is not forbidden. "This is all; and then after that, let us see what will happen." In other words, Fellay isn't even demanding a Papal Motu Proprio. Perhaps he would be satisfied with one of those unsigned faxes that allowed altar-servettes! In other words, the situation would continue to be the same as it now is under the Ecclesia Dei indult: it would be entirely up to each diocesan bishop to what extent to "permit" the Traditional Latin Mass.

Any expanded "indult" (the word in Latin refers to a privilege, not a right) would be fraught with impracticality and, in any case, would be a sellout to the New Order. What is required, at an absolute minimum, is a Papal Motu Proprio again confirming the right under Apostolic Tradition and Quo Primum for any priest to celebrate the Traditional Latin Mass and for any Catholic to attend the Traditional Latin Mass with no reference to a bishop whatsoever. Ideally, the Papal Motu Proprio would confirm not only the right but also the obligation of Roman-rite Catholics to attend the Traditional Latin Mass. Neither will happen because Benedict-Ratzinger has already stated that he has given up the exercise of his papal authority in favor of "collegiality" with the Newchurch bishops.

In the DICI interview, we also get an insight into Fellay as a leader or, rather, a non-leader. His statement, when properly parsed, reveals that he is a follower of the "JPII principle": don't admit problems; deny and lie. This principle has been devastating to Newchurch, its popes and its prelates. To this day, it has not come to grips with the cesspool of criminal immorality into which significant numbers of its presbyters and bishops have fallen.

In this connection, in the DICI interview Fellay was asked about the "problematic events that took place within the Society," really the incipient stage of what appears to be a civil war within the Society, in which some of its best priests are leaving because of its very autocratic leadership style, marked by a kind of "cultism." Two French priests, for example, who criticized Fellay's leadership style and conditions within the Society's seminaries, Fellay expelled. One Fr. Laguerie, for example, a pastor for 25 years, charged that the SSPX leadership had indulged in an unjustified exercise of its power to stifle criticism, creating a crisis that would "put the entire Society in a very grave situation."

Instead of openly and honestly admitting the problems and their growing significance, Fellay has tried, as JPII and Benedict-Ratzinger have done with the crimes they faced, to minimize the situation. It is well known that the Society's treatment of its priests by its leadership leaves much to be desired (just as in Newchurch, the bishops' treatment of their presbyters). In the United States, under the former district superior, a martinet with a vicious temper, the situation almost reached the breaking point before Fellay, who was in league with him at one time, was forced to get rid of him.

One cannot be a Polyanna about these events. One must assiduously delve below the surface to ferret out the realities of what is going on with Fellay's SSPX. Anyone who analyzes carefully his statements within the context of the history of the Society since 1970 can see the forces that are at work and the direction of the current leadership. TRADITIO simply gives peoples' mental analytical engines a jump-start, but the reality is pretty obvious to those who have the guts to smell the coffee.
---
November 9 - Dedication of the Archbasilica of Our Savior
(Double Feast of the Second Class)
Oecumenism Doesn't Work Both Ways;
Hindu Calls Newvatican a Liar
From: Fr. Moderator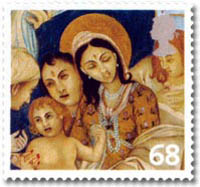 Britain's 2006 Christmas Stamp
Depicting Indians Worshipping the Infant Christ
The Pagan Hindus Want the Stamp Recalled
Because the Image Is "Insulting to Their Religion"
Have you ever noticed that Newchurch's vaunted "Oecumenism" doesn't work both ways? That Catholics are perfectly welcome to give up their true Faith, but followers of heretical and pagan religions don't have to accommodate themselves in any way to Catholicism?
Here's a recent case in point. Hindus are demanding that the Britains withdraw one of this year's Christmas stamps, claiming that the mother and child image it depicts is insulting to their religion. The 68p Christmas stamp, which would be used to send mail to India, features a man and woman with alleged Hindu markings worshipping the infant Christ. The image is one of a series of six mother-and-child stamps drawn from religious images around the world.
The Hindu stamp was taken from a picture that hangs in Bombay, India, and was painted in the 17th century. It is an Indianized version of a European print of The Holy family with St. Anne and the two angels, according to the city art gallery. The entire picture shows St. Joseph trying to push aside a huge curtain so that St. Anne can behold the baby. In fact, the picture was chosen by this year's stamp designer, Irene Von Treskow, an Anglican priestess! This "politically-correct" priestess does not consider the picture offensive. "How can it be?," she asked. "It is 17th-century art."
Ramesh Kallidai, secretary general of the Hindu Forum of Britain, said the image is "insensitive" and "politically and communally incorrect" because it showed people who were clearly Hindu worshipping Christ. Oh, really? Weren't we told that when JPII was anointed by a Hindu priestess with a similar cow-dung marking, called a tilak, that it was just an Indian thing, not associated with Hinduism? Kallidai calls Newvatican a liar on this point, saying that the tilak clearly identifies the man as Hindu. And, by the way, what about that vaunted Vatican II "inculturation"? Aren't Catholic images to be Indianized to serve the god of false oecumenism in India, just as the New Order Mess is supposed to be?
---
Traditional Anglicans Take a Leaf from Traditional Catholics;
They Ordain Three Traditional Men outside the Liberalist Diocesan Bishop
From: Fr. Moderator
Traditional Anglicans (known in the United States as Episcopalians) are taking another leaf from the Traditional Catholic Movement. The Church of England's civil war over homosexuality escalated on November 6 after traditional Anglican clergy staged an "irregular" ordination in defiance of their liberalist bishop. Three men were ordained as deacons in south London by a bishop brought in from South Africa. Traditional Anglicans were furious because the liberalist Anglican House of Bishops had recently agreed that homosexual clergy could enter into "civil partnerships," but only if they first assured their bishops that they would abstain from sex!
The ordinations were backed by Reform, a traditional Anglican organization, whose 600 clergy members reject the authority of their Modernist diocesan bishops because of their "unbiblical" stance on homosexuality, as well as other moral and spiritual issues. The ordinations were attended by some 30 Reform clergy, and the event is expected to lead to similar stands for traditional Anglican ordinations across Britain. Said one traditional Anglican minister: "Some bishops in the Church of England think they can re-invent the Christian faith by tearing difficult pages out of the Bible in the name of political correctness, and their latest statement on civil partnerships is the last straw."
The liberalist diocesan bishop of Southwark, Tom Butler, was supposed to ordain the three men, but refused to do so because they were "too traditional." The action of the traditional Anglicans provoked an attack from Butler. Like one of those immoral New Order diocesan bishops in the United States, Butler ranted and raved that he was "the only person authorized to ordain clergy in his diocese. "I very much regret this action, which might have serious consequences," he threatened, like a "Mad" Mahony.
Good Catholics, doesn't this all sound too familiar? In the Catholic sphere, the "regular" diocesan bishops cannot be resorted to for ordinations because of their adherence to the false and unCatholic New Order sect. Thus, traditional Catholics have sought ordination outside them (except the fence-sitting "indultarians," who just can't seem to kick their barbituate-like addiction to the Newchurch Modernist bishops).
The actions of traditional Catholics in seeking ordination outside of the Modernist sect are following the tradition of Catholics caught in similar actions in the past. In the period of the Arian heresy of the fourth century, into which the vast majority of bishops fell, says St. Jerome, St. Athanasius, by then "excommunicated" because he stood firm in the orthodox Catholic Faith against the Arian heretics," ordained men outside his diocese. Other orthodox bishops apparently did the same. It was an emergency, a crisis, a matter of necessity to save the true Catholic Faith. And as the Church's principal theologian stated the ancient legal principle: "Necessitas legem non habet (S.T. IIIa, Q. 80, A. 8; III Suppl., Q. 8, A. 6).
Notice too how the news media are so much more understanding of the position of the traditional Anglicans. They even put the word irregular, when speaking of the ordinations, in quotation-marks, as if the news reporters didn't agree with the characterization. Why is it, then, that whenever traditional Catholicism is mentioned in the news media, it is mentioned in an openly disparaging way and with unjournalistic bigoted vocabulary (not in quotation-marks), such as "rebel," "renegade," "schismatic"?
There are generally two reasons. First, the writers of such articles are almost invariably Novus Ordo sectarians, who are given the assignment because they are assumed to know things "Catholic." In reality, they are bigoted anti-traditional Catholics. These were the same writers (with a good sprinkling of Jewish writers, but generally not Protestant writers) who vilified producer-director Mel Gibson because he dared to produce a traditional version of The Passion of the Christ. Second, traditional Catholicism is far more powerful than traditional Anglicanism. Anglicanism has already succumbed to the will of a king (Henry VIII), has sold out a lot of its Christian principles (divorce, priestesses, etc.), and celebrates an invalid service and ordinations (which, granted, are much more "reverent" than the Novus Ordo service).
As an aside, we must comment. We are sometimes asked by people who agree that the wilder Novus Ordo Messes are invalid, whether a "reverent" Novus Ordo service, on the other hand, isn't valid. Well, here's an answer to that. The traditional Anglican service is quite "reverent" (in that external sense of the word only, not from a Sacramental perspective). The traditional 1929 Book of Common Prayer is beautifully phrased in Elizabethan English. The service looks much like a traditional Roman Mass. But however "reverent" it may be, it is still invalid.
---
November 8 - Octave of All Saints
(Double Major Feast)
Saturday or Sunday Mass?
From: Judy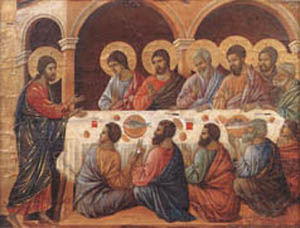 The Seventh Day Adventists Are Dead Wrong
The Bible Itself Confirms that the Apostles, not the Pope
Commanded that Sunday Be the Day of Worship in the New Covenant
Dear Fr. Moderator:
The Seventh Day Adventist Church insists that the Sabbath is from sundown Friday to sundown Saturday. They say that the Roman Catholic Church through the papacy changed it for no Biblical reason and that people are not obeying God's commandment when worshipping on Sunday. Please comment on this.
Fr. Moderator Replies.
It is true that by definition the Sabbath is Saturday. In the traditional Divine Office, for example, Saturday is given as Sabbato. But the real question is: did the Apostolic Church worship on Sunday, the Lord's Day, or Saturday, the Jewish Sabbath? The answer to that question is clear.
St. Luke in the Acts of the Apostles (20:7/DRV) in the New Testament writes: "And on the first day of the week, when we were assembled to break bread, Paul discoursed with them, being to depart on the morrow. And he continued his speech until midnight."
St. Jerome's Latin Vulgate renders the phrase as in una sabbati, which, as usual, closely parallels the original Greek, which is en te mia ton sabbaton, literally "on (day) one of the week," that is, the Lord's Day, or Sunday. (The Sabbath is the last day of the week.) If St. Luke had wished to say on the Sabbath [Saturday], he would have said simply en to sabbato.
Moreover, St. Paul writes in his First Epistle to the Corinthians (16:2/DRV): "On the first day of the week, let every one of you put apart with himself, laying up what it shall well please him: that when I come, the collections be not then to be made." Finally, St. Justin, Martyr (ca. 100-165), who writes within a few decades of Sts. Luke and Paul, is an early witness to the practices of the Apostolic Church and confirms in his Apologia (I.67) that the Christians worshipped "on the day called that of the Sun," that is, Sunday.
Thus, the Seventh Day Adventists' contention that the Roman Catholic Church through the papacy changed the date of worship for no Biblical reason is patently false. It is the Bible that tells us that the Apostles themselves changed the date. It had nothing to do with the papacy at all. The reason for the change is obvious. The Sabbath (Saturday) was the day of worship in the Old Covenant. When Christ instituted the New Covenant and was resurrected on Sunday, the Apostles, to indicate the change from the Old to the New Covenants, changed to the principal day of worship from the Sabbath (Saturday) to the first day of the week (Sunday).
The Seventh Day Adventists are, therefore, based on a false proposition, as the Bible itself confirms, and for this, as for other reasons, should disband and should convert to the true Faith, the one that is based on the Bible and Tradition, the Catholic Church.
---
November 7 - Within the Octave of All Saints
(Semidouble Feast)
Papal Authority Used to Expel Pro-life Student
From: Fr. Moderator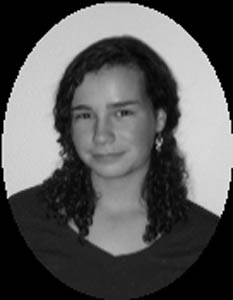 Portrait of a 21st-century Martyr, 15-Year-Old Katelyn Sills
Expelled by Pope's Order for Exposing Her Teacher
Who Publicly Escorted Women into a Planned Parenthood Abortion Clinic
The "conservative" Novus Ordinarians got all tingly when Sacramento's Newchurch bishop William Weigland dismissed a pro-abortion activist teacher on staff at one his "Catholic" schools. But now, the rest of the story.
Weigland was quite willing to let this situation go on until one of the school's students, a 15-year-old girl, Katelyn Sills, blew the whistle publicly. Katelyn had informed her mother after she recognized Marie Bain, one of the teachers at Loretto, as an escort at a Planned Parenthood abortion clinic where Katelyn and her family had regularly taken part in pro-life rallies. After unsuccessful attempts to have the school address the situation of Mrs. Bain quietly, Katelyn's mother sent photos of Bain escorting women into the abortion center to Bishop Weigand. So the bishop's hand was forced.
But Katelyn was to pay the price for her Catholic morals in the face of this unCatholic bishop. The bishop engineered that Katelyn expelled from the school on October 29th, "completely without forewarning, without a meeting." According to the school, Katelyn was expelled for exercising her right of free speech. The school didn't like the fact that she had been outspoken against the pro-abortion teacher and the school's complicity with her. It accused her of a "campaign slandering the school's reputation as a Catholic institution."
Well, Katelyn is right: this isn't a Catholic institution! If she had been vocally advocating "gay rights," the Newnuns would have embraced her. But since she was fighting for a traditional Catholic moral principle, she was kicked out a couple of weeks after the brouhaha of the abortion-activist teacher died down.
Now, what makes this case particularly interesting is that the expulsion was under the ultimate authority of the pope himself. Loretto High School is run by the Loretto Sisters, who "are subject in their internal affairs directly to the Holy See and not to the local bishop." This fact is admitted by Weigland, who, after privately engineering Katelyn's dismissal, now publicly claims that he cannot act because it is the pope's decision. What is even more scandalous is that the Loretto Newnun principal, Sr. Barbara Nelson, wanted to retain the teacher. However, because of public pressure, she was forced to capitulate to the expulsion.
Good Catholics, this is how the "loving" Newchurch of the "spirit of Vatican II" operates. Bishops and nuns protect teachers who actively take women and girls in to have abortions and expel mothers and daughters who stand up for Catholic morality. And this is the Counterfeit Church to which the "conservative" Novus Ordinarians would have us kowtow, begging for the scrap of an "indult" for the Modernized Mass of 1962, when a fully Traditional Latin Mass is our right from Apostolic Tradition, a Dogmatic Council, and a Pope-Saint. We should take a leaf out of the book of our courageous Catholic predecessors and throw the unCatholic bums into the Tiber!
---
An Unrecognizable "Mass"
From: Patrick
Dear Fr. Moderator:
The following is from a companion Mass prayer book:
The Mass is the highest form of prayer. It is the corporate act of worship of the whole Catholic Church, the Mystical Body of Christ. Christ is the Head of that Mystical Body, and every baptized Christian is a member. Christ is the Vine; we are the branches. In the Mass Christ Himself adores, thanks, atones, and implores for us and with us, His members. In like manner we offer ourselves through Him and with Him and in Him for the same intentions. No mind can conceive, no words can express, all the wonders and mysteries wrought in the Mass. It is an inexhaustible treasury of graces provided for us by the Divine Goodness. Go, then, Christian soul to Mass every day if you can, because every Mass at which you assist devoutly will profit you more than all your prayers and good works. God's very special blessing hovers over those who devoutly assist at Holy Mass in the morning.
Could the above passage be said about the New Mess? Of course not! Anyone who thinks otherwise should look at TRADITIO's Novus Ordo Service Photo Gallery. How could anyone tamper with the Apostolic Holy Sacrifice of the Mass? Yet, the Conciliar Church led by Hannibal Bugnini and weak popes have done so, and in place of the true Mass, they have created a monstrosity.
---
Only a Moldy Particle
From: Anastasia
Dear Fr. Moderator:
As traditional Catholics, we all know that the Church has consistently condemned cremation of human remains, refusing the Last Rites, a Requiem Mass, and Christian burial to anyone who had left instructions for his body to be cremated. That is until the Newchurch Code of Canon Law, overturning 2,000 years of Tradition, claimed that burning God's creation to a crisp was permissible for Catholics. But that, of course, doesn't make it Catholic, any more than altar girls, cookies in the hand, etc.
Just to show you what confusion this has caused for Indultarians who refuse to resist the New Order, when a traditionalist lady of my acquaintance died recently, her cremated remains were buried by a priest from the indultarian Institute of Christ the King using the traditional burial rite! Talk about mix and match. With Catholic cremation in the old rite, the Indultarians are mixing more than they're matching!
Fr. Moderator Replies.
This case affords a good example of why TRADITIO has consistently warned against the "indult" situation. The Ecclesia Dei Commission and the Campos situation have made it abundantly clear that the purpose of the "indult" is not to expand the use of the Traditional Latin Mass in Newchurch, but rather to absorb the indultarians into the New Order. Some indultarians refuse to accept this reality and try to make it seem like the "indult" is intended to expand the use of the Modernized Mass of 1962 in Newchurch. It isn't. Most attend because there is no other choice within a reasonable distance.
The Modernized Mass of 1962 then becomes a kind of "fossil" around which the Newchurch Theology and Newchurch Morals are grafted. Like the magician's tablecloth trick, the "indult" is then to be yanked away and the New Theology and New Morality left on the table, with the salt of the Novus Ordo Protestant-Masonic-Pagan service added. The "indult" is not a solution. It has become part of the problem, leading people to wimp out and settle for only a moldy particle of bread instead of the full loaf.
---
November 6 - 25th Sunday after Pentecost
(Semidouble Sunday)
Benedict-Ratzinger Blows off Purgatory and Hell on All Souls Day
From: Fr. Moderator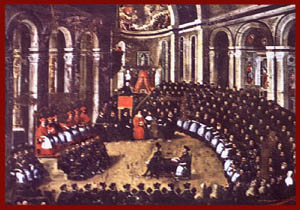 The Dogmatic Council of Trent (1545-1563)
If Anyone Preaches Universal Salvation, Let Him Be Anathema
Decreed the Council in the Thirtieth Canon of Its Sixth Session
We have previously demonstrated how the New Mess and the New Morals of the New Order are not Catholic. Now the recent occurrence of All Saints and All Souls Days remind us how Newchurch is not Catholic in its New Theology.
On these two days, falling on November 1 and November 2, first we honor those who have attained Beatitude in Heaven and then offer our suffrages for those suffering the purification of Purgatory. In a cogent example of just how far Benedict-Ratzinger has departed from any traditional articulation of the Catholic Faith, on All Saints Day, November 1, he preached that "Christians can cultivate a fearless acceptance of death, recognizing that it is a necessary juncture leading from one's journey on earth to one's final destination in heaven.... For Christians, death is a gateway from the earthly pilgrimage to the home of heaven, where the Father welcomes all his children of every nation, race, people and tongue." [CNS]
That sounds like a confirmation of Newchurch's acceptance of the heretical doctrine of "Universal Salvation." This heresy teaches that everyone, whatever their belief, whatever their sins, whatever their state of soul goes to Heaven. This heresy contradicts the dogmatic teaching of the Church -- to which the pope is bound just as any Catholic -- that at death, in the particular judgment, one may merit Heaven directly, suffer the purification of Purgatory for unremitted temporal punishment, or go to Hell if in a state of unrepented mortal sin. For further information, see FAQ10.TXT: How Do You Explain These Traditional Catholic Beliefs? in the TRADITIO Library of Files (FAQs and Traditional Apologetics) in the article "Purgatory."
The Church, from the earliest days, has taught that we should have a holy fear of death, in order that we may be careful to confess our sins, do penance, and stay in the friendship of God. No pope has the power to change dogma and preach a false gospel, and that gospel may be false by omission just as by commission. Benedict-Ratzinger never mentioned Purgatory or Hell, both dogmata of the Catholic Church. Has he become like the Protestants that he wants to merge with? The Protestants don't pray for the dead. They believe that everyone goes to Heaven or Hell, period.
And these Newchurch teachings bearing the odor of heresy are trickling down from pope to presbyter. One of our correspondents reported making the grave error of attending one of those invalid Novus Ordo Protestant-Masonic-Pagan services, in which the presbyter stated: "This mass [sic] today is for all the saints. In the future, this mass will be held to honor all of you, because you are all saints." Billy Graham, Jimmy Swaggert, Robert Schuller, and all the other Protestant preachers would be quite happy with this Protestant statement of doctrine by the Newchurch presbyter.
Good Catholics, you know the truth of the matter. While the pope with his bishops and presbyters sink deeper into crimes of all types and celebrating invalid New Order Messes that are now publicly including paganism and even satanism, you know who they want to consign to the Hell that they no longer believe in: traditional Catholics, whose only "sin" is to obey Christ and the Roman Catholic Church He founded, on the teachings that He taught!
---
Newpope Slams Church Doors in the Face of His Own Novus Ordinarians
From: Fr. Moderator
Benedict-Ratzinger, mired in the sex-crime cover-up of his Newchurch bishops and presbyters, has now taken a stand with the criminals rather than his own people. Thus is another Vatican II myth shot, that Newchurch is loving and "pastoral." By its own actions, Newchurch will always stand for its own organizational interests against its own people.
While Boston parishioners try to get back their churches from the Newchurch "barbarian" bishops who persist in closing churches to pay for their sex crimes, Newpope's agents have denied an appeal from a group of Novus Ordinarians from Dorchester's St. William Church, who had asked Newrome to overturn the closure of their parish last year by the archbishop of Boston.
REQUEST DENIED, said Newvatican's Congregation for the Clergy, which is expected to deny all other appeals to prevent closing of twelve other churches, many of them of beautiful traditional Catholic architecture. Of course, Archbishop Shaun "Shaft-em" O'Malley publicly "applauded" Newvatican's decision to apply the wrecking-ball. "We have never been able to get an explanation for why St. William was closed," said the leader of the lay committee to keep the church open.
A Newchurch professor of moral theology at once-Catholic Boston College really hit the nail on the head when he said: "If a parish feels that the archdiocese is too remote and uninformed, it's very unusual that they would receive more attention from an institution 6,000 miles away." The Newvatican congregation did admit that O'Malley's archdiocese had stolen parish assets for itself. However, it did not order restitution to those who had been defrauded. [Boston Globe]
The moral of this story is: Novus Ordinarians, don't expect Newrome to treat you fairly. An organization and its head that support sex crimes and murder is not going to support your rights as former Catholics. Don't waste your time on Newchurch. Put your time and money into establishing a site that you control financially. Newchurch is sinking anyway. Let it die a natural death while you build a traditional parish for the future.
---
Secret Newvatican Document Rejects "Universal Indult"
From: Fr. Moderator
SSPX Fellayites and others who have given up fighting for the Traditional Latin Mass in favor of a so-called "Universal Indult" for the Modernized Mass of 1962 in Novus Ordo temples have to be chastened by report from the Redazaione News Service of Genoa. A seven-page "secret" document, the Service reports, was finalized last August and signed personally by the Cardinal-Prefect of Newchurch's Congregation for the Divine Cult, Francis Cardinal Arinze, and the Archbishop-Secretary, Domenico Sorrentino "che potrebbe rallentare o persino bloccare una concessione pi¨ generosa dell'uso del messale preconciliare, come richiesto dai tradizionalisti e dai lefebvriani" [which will attempt to retard or even to block entirely a more generous "indult" for the use of the pre-conciliar Missal, as demanded by traditionalists and Lefebvrists.] For further information, see ARINZE.HTM: Cardinal Arinze's Changing Church in the TRADITIO Features department.
The document has the status of an official congregational opinion, delivered personally to the pope, just as in the United States a state Attorney General might render an official opinion personally to the governor on a point of law. The Congregation's opinion, according to the Service "afferma che non Ŕ possibile alcuna liberalizzazione del vecchio messale in quanto quest'ultimo Ŕ stato abolito" [affirms that no liberalization of the old Missal is possible, insofar as this latter has been declared abolished].
Aren't these Newchurch cardinals snakes? You never know which side is up. First of all, one might ask: what Newchurch organ ever declared that the Traditional Latin Mass has been "abolished"? In fact the opposite is true.
In 1986 Pope John Paul II appointed a formal Commissio Cardinalatia (cardinalatial commission) of nine cardinals to examine the legal status of the traditional rite of Mass, sometimes inaccurately known as the "Tridentine Mass." The Commission of cardinals of the Roman Curia (Agostino Cardinal Casaroli, Bernard Cardinal Gantin, Paul Augustin Cardinal Mayer, Antonio Cardinal Innocenti, Silvio Cardinal Oddi, Petro Cardinal Palazzini, Joseph Cardinal Ratzinger, Anfons Cardinal Stickler, and Jozef Cardinal Tomko) was instructed to examine two questions:
Did Pope Paul VI authorize the bishops to forbid the celebration of the traditional Mass?
Does the priest have the right to celebrate the traditional Mass in public and in private without restriction, even against the will of the bishop?
The Commission unanimously determined that Pope Paul VI never gave the bishops the authority to forbid priests from celebrating the traditional rite of Mass. Regarding the second question, the Commission stated that priests cannot be obliged to celebrate the new rite of Mass; the bishops cannot forbid or place restrictions on the celebration of the traditional rite of Mass, whether in public or in private. Newvatican has recognized the right of priests to celebrate the Traditional Latin Mass, and this is borne out by the fact that whenever priests are unjustly suspended for celebrating that Mass against the will of their bishop, the Roman Curia always nullifies the penalty whenever the cases are appealed. For further information, see ECCLESIA.TXT: Ecclesia Dei -- Before and After the "Indult" in the TRADITIO Library of Files (FAQs and Traditional Apologetics).
Unfortunately, God's truth was suffocated by Church politics. The Northern European liberalist bishops got wind of the Cardinalatial Commission's decision and flew to Newrome to threaten JPII that if he published the Commission's finding against the "spirit of Vatican II," they would go into formal schism. JPII, always lacking guts when it came to matters of enforcing Catholicism among his prelates, was thus frightened into failing to publish the Commission's decree.
Anyone holding out for vapid "indults" in place of the Traditional Latin Mass are bound to be disappointed. After all, Catholic and Apostolic Tradition, confirmed by Pope St. Pius V's infallible, perpetual decree Quo Primum, carrying out the decrees of the dogmatic Council of Trent, is all that is necessary for anyone to spurn the invalid Novus Ordo Mess and cling entirely to the Traditional Latin Catholic Mass.
---
Catholic Morals on Boxing
From: Matthew
Dear Fr. Moderator:
Recently I had seen a thread in a "blog" critical of the Newjesuits for coming out recently against boxing. I had always thought that in fact boxing was against Catholic traditional morality, as boxing has as its direct end, the injury of another person. What is the Catholic moral teaching on boxing? Has there been Catholic opposition to the practice before?
Fr. Moderator Replies.
Indeed there has. Pope Pius XII condemned prize fighting and other "sports" whose end was deliberate injury of the opponent or in which there was a "daredevil" aspect, risking death or injury to an extent not morally acceptable. Take the case of Cassius Clay, for example, who was supposedly a "professional" prize-fighter, but was still beaten into mental incompetence over the years.
A moral distinction may be made here between "professional" prize-fighting and recreational boxing, such as in schools, if appropriate apparatus and refereeing are used to prevent serious injury. In that case, the end is substantially one of exhibiting skill rather than inflicting injury.
Moreover, we must warn once again about these "blogs," in which students or "lay theologians" propagate their ignorance of Catholic theology and morality much as the members of Novus Ordo lay cells do. True Catholics should avoid these "blind leading the blind" at the risk of confusing their Catholic sense.
---
November 5 - Within the Octave of All Saints
(Semidouble Feast)
Has Newchurch Gone to the Devil?
From: Fr. Moderator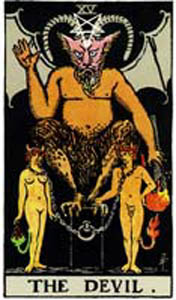 The Tarot Devil
A Novus Ordo Monk Has Published a Book
Advocating Use of the "Devil's Pack" for Meditation
As Newchurch Goes to the Devil
In previous Commentaries, we have demonstrated that the New Order and its rites are Protestant, Masonic, and pagan. There is also evidence that the New Order may have a basis in the satanic as well.
Ever since Vatican II, occult practices that have been condemned as far back as the Old Testament were welcomed into Newchurch. One can hardly walk into a New Order temple without being confronted with enneagrams and the like. One West-Coast diocese even featured a "Witch Mess" on the front page of its diocesan newspaper (for further information, see TRADITIO's Novus Ordo Service Photo Gallery).
Now, without a word of censure from Newchurch "authorities," an Irish Newbenedictine monk, Mark Hederman, has published a book advocating the use of Tarot cards. Tarot cards, also known as the "Devil's Pack," from their origins in the fifteen century have been regarded as part of the occult, namely cartomancy, fortune-telling cards linked to "esoteric secrets" and divination. Hederman now advocates use of the Devil's Pack" for "meditation." "Monk" Hederman himself has revealed that he has functioned as a Tarot-card Reader.
From Old Testament times the Church has condemned as sins against the First Commandment, and thus cautioned her children to stay far away from, occult practices, such as astrology, charms, divination, fortune-telling, magic, ouija boards, sorcery, spells, witchcraft, even if they are treated in a trivial or jesting fashion. St. Thomas Aquinas declares that it is not permitted to Christians even to dabble in such things: "Man has not been entrusted with power over the demons to employ them to whatsoever purpose he will. On the contrary, it is appointed that he should wage war against the demons. Hence, in no way is it lawful for man to make use of the demons' help by compacts -- either tacit or express" [Summa Theologica, IIa-IIae, Q. 96, Art. 3].
So, why don't the Newbenedictines rout out this satanism from their order? Hederman says that the Newchurch Benedictine order is very tolerant of his idiosyncratic stance: "They are very understanding of other people's forms of craziness." Doesn't that make you feel warm and fuzzy, good Catholics? The connection with Vatican II is undeniable. Hans Urs von Balthazar, a Jesuit who was declared under suspicion of heresy by the Holy Office and paled around with Fr. Ratzinger and the rest of the Modernist clique at Vatican II, wrote a glowing afterword to the book.
Even Pope Paul VI, in his famous statement on the occasion of the ninth anniversary of his coronation, June 29, 1972, less than ten years after the close of Vatican II, proclaimed to the world that Vatican II had admitted "the smoke of Satan" into Newchurch:
We have the impression that through some cracks in the wall the smoke of Satan has entered the temple of God: it is doubt, uncertainty, questioning, dissatisfaction, confrontation.... We thought that after the Council a day of sunshine would have dawned for the history of the Church. What dawned, instead, was a day of clouds and storms, of darkness, of searching and uncertainties.
In a program entitled "Would You Believe -- the Devil's Pack," broadcast on Irish television about the book, one Novus Ordo presbyter at least had the guts to speak the truth: "If people get involved the occult, there's a danger that they're opening themselves up to negative spiritual influences that they probably have no idea about, namely the devil." That pretty much describes Newchurch, doesn't it?
So, next time some Novus Ordinarian tries to claim that you have to "obey" and join the New Order and attend the New Mess, answer him: "The pope said that Satan has entered the Newchurch temples, so no force on earth would make me go into one!"
---
November 4 - St. Charles Borromeo, Bishop & Confessor
(Double Feast)
Complete Friday Abstinence
Anglican Bishop Tries to Silence Traditionalists;
Traditional Catholicism Energizes even Protestants
From: Fr. Moderator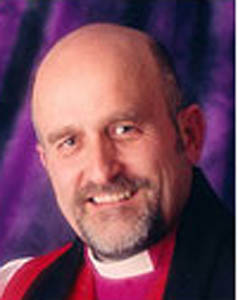 Anglican Bishop Jim Njegovan
Wants to Bring Back the Index of Forbidden Books
To Silence Traditional Anglicans
Who Have Taken a Page out of the Traditional Catholic Movement
God works in mysterious ways, doesn't he? Who would have believed forty years ago that He would use the Traditional Catholic Movement to bring back Protestants into the fold after the bloom of false "oecumenism" wore off?
Taking their impetus from the proliferation of traditional Catholic publications, a new Traditional Anglican publication is knocking heads with the diocesan publication. The publishers felt that the diocesan publication was just a mouthpiece for Liberalist-Modernist causes such as "gay marriage." Just as the Newchurch bishops fear traditional Catholics, the "institutional" Anglican Church fears the growing Traditional Anglican Movement. So, Jim Njegovan, Anglican bishop of Brandon, Manitoba, banned the publication. He says that, in words recalling comedian Rodney Dangerfield's famous line, "he don't get no respect" from the traditionalists.
Of course, the more these Modernists try to suppress traditional Christianity, the more it boomerangs. The bishop's censorship has served only to make the Anglican Church of Canada's establishment look bad. Njejovan has already been accused of restoring the Inquisition and the Index of Forbidden Books, and acting like a "bully." Subscriptions to the traditional Anglican Planet have increased almost 1000 percent as a result.
---
November 3 - Within the Octave of All Saints (Semidouble Feast)
Benedict-Ratzinger Spurns Traditional Catholicism;
Calls for Keeping "the spirit of Vatican II" Alive
From: Fr. Moderator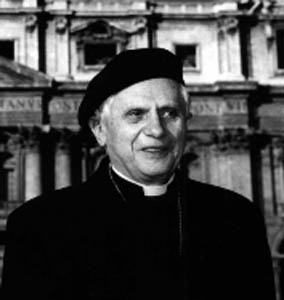 Father Ratzinger at Vatican II
The Modernist Cleric Is Still, as Pope
Trying to Keep Alive the "Spirit of Vatican II"
Benedict-Ratzinger having ejected the SSPX's Bernard Fellay out of a side exit while meeting three times as long with his friend, the censured Modernist Hans Kung, has once again proven that the Modernist leopard of Vatican II has not changed his spots over the last forty years.
The pope on October 30, looking to the fortieth anniversary of the of the closing of Vatican II on December 8, 1965, has clearly aligned himself with the Conciliarists by calling upon Novus Ordinarians to keep the "spirit of Vatican II" alive. Moreover, he look a leaf from the book of the secular humanists when he referred to Gravissimum educationis and appealed to "the primacy of man." He went on to appeal to the Council's Nostra aetate for an "attitude of ecclesial community" with Judaism and "esteem for Muslims."
Is it any wonder that Washington, D.C.'s Newchurch Cardinal McCarrick thought that he could get away with publicly praying in the name of Allah? The pope probably encouraged him to do it! For an analysis of this papal and cardinalatial scandal, see traditional writer Patricius Anthony's exposÚ CARRICK.HTM: Cardinal McCarrick, Newchurch's Grand Apostate in the TRADITIO Features department.
---
SSPXer Says: "TRADITIO's Coverage of the SSPX Is Accurate, Insightful, and Unbiased"
From: Roman
Dear Fr. Moderator:
I just read in a supposedly traditional periodical a letter to the editor containing a fanatical SSPXer's attack on TRADITIO's coverage and analysis of the meetings between Fellay and Benedict-Ratzinger. I was surprised by the hysterical tone of the letter and the fact that such an irrational tirade from an obvious SSPX partisan was even published by a supposedly traditional periodical. This is both disappointing and absurd. I consider myself to be very closely aligned with the SSPX, but nonetheless found TRADITIO's coverage and analysis of the aforementioned meetings to be accurate, insightful, and (to the point of this letter) unbiased.
Although I have been an SSPX parishioner in various locations for 24 years and attended its seminary for a year, I have never disagreed with any of your positions. I'm not enough of an "insider" to understand your references to the sometimes "cultish" aspects of the SSPX, but I've heard others make the same observation. I also very much appreciate the distinctions you draw between the views espoused by Bishop Williamson and some of the more scary initiatives of the superior general.
Finally, I feel compelled to take this opportunity to express my profound gratitude to you for explaining the consistency of holding thoroughly traditional Catholic views without being a sede-vacantist. I had never heard anyone do it so well, and it was such a relief to me. Until then, even though it didn't "feel right," I was very close to becoming one, but since then, I have been very comfortable with my beliefs. Yet, you explained your position charitably, respecting the objective arguments of those traditional Catholics who are honestly persuaded of the sede-vacantist position in these admittedly very confusing times.
Fr. Moderator Replies.
Most SSPXers are like you, Roman. They see the pros and cons in the Society. On many occasions we have praised aspects of the Society, such as its press. On the other hand, when we see some (fortunately not all) of its leaders straying from the principles of its founder, Archbishop Lefebvre, we have pointed that out too. Like all organizations, SSPX has its fanatics and its cultists. All they hear is the criticism and want to force everybody to tow their line by threats and calumnies. Which is exactly the kind of cultism in the Society (and elsewhere) that we have warned of. Quod erat demonstrandum.
Apparently, the fanatical letter to the editor in question has pushed that many more readers to TRADITIO. Our hit counter reached yet another high the week that letter appeared, pushing us closer to the three million mark! So, TRADITIO continues providing its experienced, knowledgeable, and incisive Commentaries to its readers, "an independent, balanced voice of traditional Catholicism; avoiding heresy on the left and schism on the right."
Sure, we stir people up. We believe that Catholics ought to be stirred up. We believe that they should not be the pawns of periodicals or organizations, but use their own Catholic sense to see, hear, and evaluate the evidence before them. We find that most traditional Catholics -- the rational, thinking, fair-minded traditional Catholics, who constitute most of the Traditional Movement -- when they do that come to agree substantially with TRADITIO's analyses -- even the SSPXers!
---
November 2 - All Souls
(Double Feast)
Mel Gibson Starts Shooting Another Ancient-language Film
From: Fr. Moderator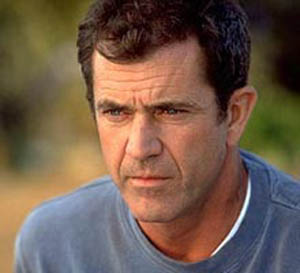 Mega-star Mel Gibson, an Outspoken Traditional Catholic Rejecting Vatican II
Begins Shooting His New Action Epic Apocalypto
Set 1000 Years before Christ and to Be Filmed in Ancient Mayan
Gibson's The Passion of the Christ, Filmed in Latin and Other Ancient Languages
Grossed More than Half a Billion Dollars
Having confounded Hollywood by shooting his mega-blockbuster The Passion of the Christ in Latin and other ancient languages with limited subtitles, Mel Gibson has begun shooting another film in an ancient language: this time in the ancient Mayan dialect of Yucatec. Gibson said the story would be told through the eyes of a Mayan man, his family and village, and would touch on universal themes about "civilizations and what undermines them," but he declined to go into details about the plot.
This week Gibson begins directing in Veracruz the action epic Apocalypto, which he has written and produced, but will not act in. Apocalypto, from the Greek apolcalypsis meaning "revelation," zeroes in on an ancient civilization that existed 1,000 years before Christ. Gibson says: "It's set before the Conquest, so there are no European faces, and we are using mostly indigenous people and actors from Mexico City," said Gibson. "There's still a lot of mystery to the Mayan culture, but when all is said and done, it's just the backdrop to what I'm doing -- creating an action adventure of mythic proportions." Of his independent productions, Gibson said, "Independence is a really cool thing as you can be a bit more bold, and take a few more chances with what you do."
Gibson, a devout traditional Catholic who rejects Vatican II, had a runaway success grossing $600,000,000 with last year's The Passion of the Christ, which became the most successful independent film ever made despite its use of Latin and other ancient languages. The Passion had to be marketed through Gibson's own independent film company, Icon Productions, but Apocalypto will be marketed by Disney.
---
November 1 - All Saints
(Double Feast of the First Class)
Newvatican Tries Another Cover-up
From: Fr. Moderator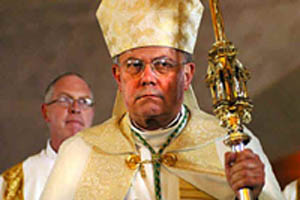 What Did He Know and When Did He Know It?
William Levada, Benedict-Ratzinger's New Doctrinal Czar
Wants to Limit Court Testimony So As Not to Reveal Newvatican's Cover-up
There goes Newvatican again! According to the Associated Press, Newvatican wants to limit the scope of a deposition that former Doctrine Czar William Levada is under court order to give concerning the bankruptcy of his former Portland, Oregon, archdiocese which was prompted by sex-crime lawsuits.
Lawyers for the victims have subpoenaed Levada to testify about Newvatican policies in addition to the practices of Portland archdiocese concerning crimes against minors by presbyters, saying he was "uniquely qualified" to shed light on the issue. Newvatican cover-up policies are very much part of the case at law.
To conceal Newvatican's involvement in covering up the sex crimes, Benedict-Ratzinger's lawyers on October 24 filed a motion in the U.S. District Court in Oregon arguing, among other things, that Levada shouldn't have to testify about the Newvatican's policies because of "diplomatic immunity" -- immunity that he did not have when the crimes occurred.
In an amusing argument, Newvatican claims that if Levada talks about Church policies, he could face "excommunication, confinement to a residence or a house of penance for up to five years, and a prohibition from holding any office or faculty," according to the court documents obtained by the Associated Press. What is amusing is that Benedict-Ratzinger would never apply such penalties to his own man; in any case, all he would have to do is waive them. It is also revealing that Benedict-Ratzinger has exacted no such penalties against the Novus Ordo presbyters who have been convicted of sex crimes against Catholic youth.
Last year, Portland became the first Catholic diocese in the United States to declare bankruptcy, citing sex-crime lawsuits seeking more than $155,000,000 in damages. Levada was served with a subpoena on August 10, right before he escaped to Rome, to give a deposition as a witness in the Portland archdiocese's filing for Chapter 11 bankruptcy protection.
Lawyers for the crime victims have said in court papers that they wanted Levada as a witness, not only because he was Portland archbishop but also because he was "uniquely qualified" to testify about whether the archdiocese's practices concerning the crimes against minors by presbyters were consistent with those of Newvatican.
Lawyers for the victims had asked that Levada's testimony cover such topics as discussions with officials at the Doctrine congregation concerning the destruction of records of alleged sex crimes by presbyters, the nature of the secrecy oath he took, canon law, and communications with the U.S. Conference of Catholic Bishops and other dioceses.
---
Circuit Outage. Because of a rare downed power circuit, the TRADITIO site was inaccessible during periods from 21:15 to 24:00 UTC November 1.
---

Return to Commentaries from the Mailbox.