October 2009
| | |
| --- | --- |
| | For answers to many questions, consult the CURRENT MONTHLY REVISED EDITION of the Official Traditional Catholic Directory, Listing All Traditional Latin Masses and Traditional Resources for North America. For further information, click on the TRADITIO Network's Official Traditional Catholic Directory department, provided to the TRADITIO Network by the National Registry of Traditional Latin Masses. |
For information about the protocol for sending messages to the Fathers, click on Ask the Fathers.
| | |
| --- | --- |
| | If you wish to support the TRADITIO Network's Apostolate, click on the box to the left to made a donation easily, securely, and confidentially by bank account or credit card through PayPal. Regular contributors become Benefactors of the TRADITIO Network, and their intentions are specially commemorated at Traditional Latin Masses offered. Using PayPal reduces our administrative burden considerably, but if need to use a paper check, click on FAQ01: How Can I Help the TRADITIO Network's Apostolate? |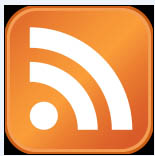 Subscribe to the Free TRADITIO RSS Feed
---
October 31, 2009 - Vigil of All Saints (All Hallows Eve, Halloween)
VATICAN II-BUGNINI "LITURGICAL BOOKS OF 1962" WARNING. In continuing the 1962 degradation of the Saints, even the Vigil of All Saints has been abolished. Today is kept as merely a fourth-class Office.
Traditional Catholics Are Safe, but Newchurch Officials Now Admit It:
Benedict-Ratzinger's Ordinary Rite May Kill Bodies as Well as Souls
From: The Fathers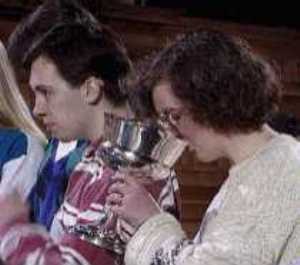 The Novus Ordo "Cup" and the "Kiss of Peace" that Kill
Vatican II Liturgical Revolutionaries Rushed to Introduce the Protestant "Cup"
Now Even Newchurch Prelates Are Warning that the Novus Ordo "Cup" and the "Kiss of Peace" Can Kill
Meanwhile, Traditional Catholics Remain Safe -- in Body and in Soul
Back at Vatican II (1962-1965) liturgical revolutionaries, like the Freemason presbyter Hannibal Bugnini, chief architect of the Novus Ordo service, couldn't wait to introduce the Protestant practice of slobbering the "communion" Kool-aid out of a common flagon. And the clueless Newchurchers started lining up like lemmings. But God's True Mass is not mocked without peril: the swine flu may thwart Benedict-Ratzinger's Ordinary Rite, the invalid Novus Ordo service.
Panicked by the spread of the swine flu, Newchurch prelates are moving fast to shut down Novus Ordo "communion" from the cup and the hand. Sean O'Malley, Newchurch archbishop of Boston, Massachusetts, is moving to shut down not only "communion" from the Protestant "cup," but the "kiss of peace" as well. Jonathan Gaspar, co-director of the Boston Newchurch archdiocese's Office of Worship and Spiritual Life, stated that Newchurchers were going to suffer withdrawal symptoms from being deprived of their Kool-aid.
As usual, early traditional Catholic theologians, such as the Church's Principal Theologian, St. Thomas Aquinas, were way ahead of modern medical science. For many practical, as well as theological, reasons, consumption of the Most Precious Blood by laypeople fell out of use for good reason. Now Newchurch officials are admitting that it isn't just the swine flu that is transmitted by the common slobbering of the Kool-aid from their common "cup," but many other diseases as well that are transmitted by human spit, from mononucleosis to tuberculosis, not to speak of the common cold.
Similar risks pertain to the Novus Ordo "kiss of peace." In the traditional rites of the Church, laypeople do not participate in this rite, only clergy, and it is not really a kiss at all, as specified by the traditional rubricians, but little more than a nod. The Newchurchers, however, maniacal as they are about things, turned this ritual, traditionally restricted to the rare Solemn Mass, into a Bacchic free-for-all, in which laypeople would leap over pews to slobber all over their Novus Ordo colleagues. [Some information for this Commentary has been contributed by the Boston Globe.]
For further information, click on FAQ10: "How Do You Explain These Traditional Catholic Beliefs" in the TRADITIO Network's Library of Files (FAQs and Traditional Apologetics) department, in the section "Communion under One Species."
---
A Reader Writes: "The SSPX Compromises the Traditions of the Church"
From: Kate
I see from SSPX sources that the Society of St. Pius X is not only failing to use the Traditional Latin Mass, choosing instead to use the "Motu" Mess of 1962-2009, but is also choosing to use the Conciliar-Bugnini Divine Office, which has the same intent that has destroyed the Traditional Latin Mass. I just read up on this matter at the TRADITIO Network's Traditional Latin Mass, Divine Office & Sacraments department, which provides wonderful resource on liturgical issues for traditional Catholics.
I was brought into the Church by an SSPX priest. But it is getting harder to trust the SSPX when it compromises the traditions of the Church in this way. I think it's all over for the Society unless any SSPX priests who remain faithful to the True Faith break away from Bernie Fellay, their current superior general, and reject his overtures to Benedict's Novus Ordo "Church." How anyone can want "communion" with this Conciliar pope is beyond me!
If such priests would leave the SSPX to revert to Tradition, they would have to take a long walk back, because the SSPX has held an inconsistent position for so long by using the Conciliar-Bugnini Mess and Divine Office of 1962. Now such former SSPX priests would have instruct their parishioners about the Traditional Latin Mass. How many of them will have the spine to do that? Not many, I expect, as none of them are objecting to the growing use of unordained, invalid Novus Ordo presbyters at SSPX Mass sites. The SSPX sellout is not coming; it is already here!
---
October 30, 2009 - Ferial Day
Benedict-Ratzinger's Acceptance of Protestant Anglicanism
Will Lead to an Openly-Protestant Novus Ordo Service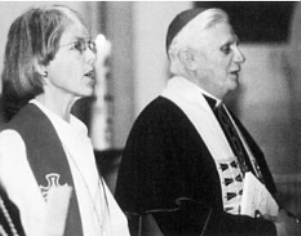 Benedict-Ratzinger Presides over a Service with a Lutheran Ministress
He Is a Protestant "Liturgical Pluralist" at Heart
Who Is Willing to Accept Any Crazy Service
If It Leads to Vatican II's Goal of False "Oecumenism"
The most striking effect of Benedict-Ratzinger's acceptance of Protestant Anglicanism is the likelihood that, within the next few years, Newchurch presbyters will be simulating the Novus Ordo service in a form that draws largely from the Anglican Book of Common Prayer. This book follows from the heretical King Henry VIII of England, the same Henry VIII who stole Church property, closed the English monasteries, and tortured and murdered Catholic priests. Of course, we all know that the Novus Ordo service is already Protestant, but this development will make that fact even more obvious.
In the Charismatic Protestant fashion, millions of Newchurchers today regularly attend services featuring Pentecostal-style faith-healing and speaking in tongues. Novus Ordo services in sub-Saharan Africa typically feature manaical dancing, not only by designated performers but also by the congregation at large, and music derived from the practices of savages, which a more Catholic Vatican used to call messes sauvages. In Europe and American as well, Newchurch worship services show local influences, with many Newparishes resembling Protestant Evangelical megachurches, not only in their theater-like architecture but also in the prominent role of lay people as administrators and "eucharistic ministers" replacing priests.
It may seem impossible to some that Benedict-Ratzinger should be presiding over such Protestant worship, but, contrary to the fallacious contention of Neocon Newchurchers and Motarians, he is a genuine "liturgical pluralist," ready to countenance any rite, no matter how crazy, if it leads to the false "oecumenism" of Vatican II. Benedict-Ratzinger eschews the uniformity of worship decreed by the dogmatic Council of Trent. By sanctioning for his New Order Church the current trend toward liturgical diversity, Benedict-Ratzinger is demonstrating just how much of a Protestant he is at heart. [Some information for this Commentary was contributed by the Wall Street Journal.]
---
A Reader Asks: How Did Latin Become the Official Language of the Church?
Dear Fathers:
How did Latin become the official language of the Church, and why are our prayers most pleasing to God when they are in Latin?
The Fathers Reply.
Latin was the official language of the Church from the first century. Formerly, the misconception abounded that the Church, even in Rome and Italy, used a Greek vernacular exclusively for the first two or three centuries, then changed to a vernacular Latin. Until recently, this had been the common scholarly opinion. More recent evidence, however, in the form of a Latin inscription from A.D. 79, discovered in 1862 at Pompeii, indicates already the liturgical use of Latin.
We known from the Acts of the Apostles (28:13) that St. Paul visited the nearby city of Puteoli for seven days, where there already existed a community of Latin-speaking Christians. Of the 1800 inscriptions cataloged in that city, all appear in Latin, none in Greek. There also exists a body of correspondence, in Latin, between St. Paul and the Roman philosopher Seneca, which modern scholars tend to accept as genuine. On the basis of a scholarly analysis of this evidence, it has been demonstrated that "the language of the Christian ritual at Rome, from the ground-line of its existence, was Latin and not Greek.... The language that mattered in the Apostolic Age was not Greek, but Latin."
It is regarded as highly unlikely that a Roman would participate in a Christian ritual celebrated in Greek. Even the Greek of the Kyrie Eleison was not officially added to the liturgy until the close of the fifth century. The chanting of the Latin hymn Sanctus, Sanctus, Sanctus can be traced to a time before the papacy of Pope St. Clement (91-100), and a Christianized Latin, harkening back to a formal, classical Latin, was already beginning to be reserved for religious and sacred use. When Sts. Peter & Paul were martyred in Rome in the first century, Rome, the seat of the secular empire, also became the seat of the Church. The Romans did not permit any language other than Latin in official business. Once, when an Eastern ambassador began to address the Roman senate in Greek, the emperor Tiberius prevented him from proceeding.
The reasons for using Latin in worship and eschewing the vulgar tongues are many and have been repeated by popes and councils over the centuries. One of the best summary of the arguments is of that of Pope John XXIII in his 1962 Apostolic Constitution on the subject, Veterum sapientia. For further information, click on LATNECES.TXT: The Necessity of Latin for the Roman Catholic Church, From the Writings of Roman Catholic Saints, Popes, and Theologians in the TRADITIO Network's Library of Files (FAQs and Traditional Apologetics).
---
October 29, 2009 - Ferial Day
Benedict-Ratzinger's Personal Archbishop Appointee Sexually Assaults 14-Year-Old Girl
The Smoking Gun Is Getting Closer and Closer to the Unholy Father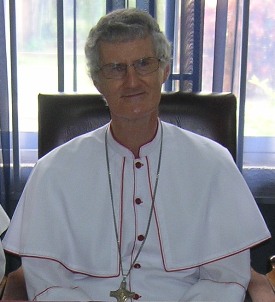 Richard Burke, Newchurch Archbishop Personally Appointed by Benedict-Ratzinger
Burke Is One of the Criminal Bishops, Some Two Dozen in the United States Alone
Whom Benedict-Ratzinger Is Sheltering from the Consequences of Their Crimes of Violence
Against Newchurch Women and Children
Newchurch's Great Sex & Embezzlement Scandal is now percolating higher than Newchurch presbyters up to bishops and archbishops -- corrupt prelates whom Benedict-Ratzinger himself has appointed, not holdovers from prior administrations. Richard Burke, appointed personally by Benedict-Ratzinger as Newchurch archbishop of Benini City, Nigeria, has been charged with sexually assaulting a 14-year-old girl. She was lying sick in a Newchurch hospital when Burke assaulted her. For twenty years thereafter he continued to assault her.
The scandal has forced Burke to suspend himself as archbishop. He is one of the most senior members of the Newchurch to be accused of assaulting a child. According to Monsignor Charles Scicluna, an official of the Newchurch Congregation for Bishops. Benedict-Ratzinger was informed of the assault charges, but failed to take any personal action.
There are a number of other bishops and archbishops, not to say cardinals, of Benedict-Ratzinger, who now have been caught with their cassocks down. The Unholy Father refuses to take direct action to rid his administration of such people, many of whom he has himself personally appointed. Thus, Benedict-Ratzinger becomes an accessory both before and after the fact to child rape and assault. That is the verdict of both Catholic theology and civil law. We will see how long Benedict-Ratzinger can hide behind his diplomatic immunity of Newrome before his Newchurch falls down around him, as it is already happening. Newchurchers are leaving the Newchurch ship at every accelerating rates, and Newchurch collections are way down. [Some information for this Commentary was contributed by the Press Association.]
---
SSPX's Fellay Continues "Negotiations" to Sell out to the Novus Ordo
Which the SSPX's Archbishop-founder Called "Not Catholic"
The Newvatican Press Office reported on October 26, 2009, that the SSPX was continuing its "cordial, respectful, and constructive" sellout to the Vatican II New Order by participating in negotiations in Newrome, which the SSPX's founder, Archbishop Marcel Lefebvre, called "heretical" and "not Catholic." The announcement implied that the SSPX was willing to negotiate its way to the New Order on such issues as the concept of Tradition, the Missal of Paul VI, the interpretation of Vatican Council II in continuity with Catholic doctrinal Tradition, the themes of the unity of the Church and the Catholic principles of oecumenism, the relationship between Christianity and non- Christian religions, and religious freedom. [Some information for this Commentary was contributed by Vatican Information Services.]
Good Catholics, real Catholics aren't "respectful" to heretics and child rapists. Pope St. Pius V certainly wasn't! Pope St. Pius X certainly wasn't! Bernie Fellay, the SSPX's current superior general, has for ten years now run the Society of St. Pius X into the ground. He has invested all its free capital into engineering a sellout to the New Order. Just think how much better off the Traditional Catholic Movement would be today if he had instead invested that money and those years in diligent work toward an uncompromised commitment to the traditional Catholicism that the SSPX's founder preached in no uncertain terms. And we all know what the Archbishop thought of Benedict-Ratzinger: "not a Catholic."
---
October 28, 2009 - Sts. Simon & Jude, Apostles
Double Feast of the Second Class
Was Killing of New Jersey Presbyter in Retribution for Newchurch Sex-Crime Scandal?
The Presbyter Had Boston Connections and Was Secretary to a Novus Ordo Bishop
From: The Fathers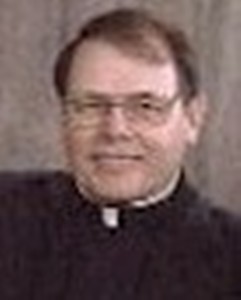 Presbyter Ed Hines, Murdered in His Novus Ordo Getup
Was Hines the Victim of an Aggrieved Father
Irate over Newchurch's Great Sex & Embezzlement Scandal?
Hines Had Served in Boston, Where the Scandal First Broke Out
As the public becomes more and more enraged against Benedict-Ratzinger and his Newchurch prelates for their rampant sex crimes, which are, by Newchurch's own figures, increasing, not decreasing, the murder of a New York presbyter may be a vengeance killing for the tens of thousands of children that Newchurch clergy have raped and assaulted. Newcardinal Roger "Rogue" Mahony, who is now under a federal grand-jury investigation as an accomplice in the sex crimes of this clergy, was already beaten up on a Los Angeles, California, street by an aggrieved father. Frankly, it is surprising that more fathers of child victims of Newchurch presbyters haven't taken matters into their own hands, since Benedict-Ratzinger himself has so utterly failed to administer justice to his criminal clergy.
The Newchurch presbyter, Ed Hines, found slain on October 23, 2009, in his Novus Ordo getup in the rectory of his Chatham, New Jersey, parish may have been the victim of such paternal justice. Even police admitted that they anticipated other Newchurch presbyters would pay the ultimate price. Hines was not only murdered with numerous stab wounds but also viciously beaten up. Hines had been a pastor in Boston, Massachusetts, where Newchurch's Great Sex & Embezzlement Scandal first broke out into public awareness. He was also secretary from 1978 to 1985 to Novus Ordo bishop, Frank Rodimer, of Patterson, New Jersey, perhaps best known for his "blessing" of the Bikers Mess, in which dragsters on motorcycles revved into the "sanctuary" on their "hogs."
The police have arrested the Newparish's janitor, saying that the murder may have arisen out of a homosexual relationship between the two, a "lovers" quarrel. Even if it turns out that this particular cases wasn't an instance of Newchurch retribution for sex crimes, you can be sure that there will be other cases. One father of a sex-crime victim told a Chicago judge that if a presbyter convicted there of sex crimes against his son was ever let out of jail, the presbyter would meet the father's justice in a dark alley. [Some information for this Commentary was contributed by the Associated Press.]
It seems that at long Newchurch is paying the piper for its crimes. Benedict-Ratzinger obviously thought that by covering up the rampant crimes of his Newchurch clergy instead of punishing the criminals, it would all blow over. Little did he know that by acting so unjustly, he could be igniting a wave of personal justice at the hands of aggrieved fathers.
---
A Reader Writes: There Will Be Grave Difficulties
With Converting These Anglican Ministers to the Novus Ordo
From: Zachary
Dear Fathers:
I must fully agree that there will be grave difficulties with converting these Anglican ministers to the Novus Ordo. There are more difficulties, for example, the "conditional" re-ordination of Protestant Anglican ministers as Novus Ordo presbyters. They will have to admit that for all those years, they have not been really priests, as they now claim to be, in spite of Pope Leo XIII's declaration that they are invalid. Such Anglican "priests" will have to dump their invalid "ordination," diplomas, previous knowledge and admit that they have been mislead. After all that, they will still not become priests, but merely Novus Ordo "presiders"!
The Fathers Reply.
The notion of "conditional" re-ordination is just not Catholic. The Freemason Bugnini's Protestantized Novus Ordo Ordinal of 1968 is invalid. It is worse than the Anglican Ordinal, which Pope Leo XIII declared invalid in 1896. Therefore, "conditional" re-ordination is not an option for Anglican ministers, much less for Novus Ordo presbyters. The presbyters or ministers must submit themselves to the full requirements for ordination de novo and, if deemed qualified after an appropriate period of study and examination, be ordained absolutely. If the organizations that play around with "conditional" sacraments, like the SSPX, were to follow traditional Catholic sacramental theology, they would have a better opportunity to rout out of their clergy homosexuals and other unfit individuals and to ensure their congregations of valid Catholic Sacraments.
"Conditional" administration of Sacraments is fraught with the very real danger of sacrilege. In traditional Catholic theology, such cases are quite rare. After all, a Catholic Sacrament is at issue here, not a magic act. You can't take a Protestant minister or his equivalent, a Novus Ordo presbyter, spin him around three times, and make him valid with a bop on the head with a magic wand and an uttered abracabra. That is sacrilege, pure and simple, and those who engage in it are just creating a phony "ordination mill" similar to the "divorce mill" that the Novus Ordo has established.
---
October 27, 2009 - Vigil of Sts. Simon & Jude, Apostles
VATICAN II-BUGNINI "LITURGICAL BOOKS OF 1962" WARNING. The 1962 Mess is particularly "messed up" on this day. It recognizes no Vigil for these two Apostle-Martyrs, just a Fourth Class "green" ferial day. Matins and the Hours are completely different from the Traditional Latin Mass. Moreover, the 1962 Mess continues to miscount the weeks, so it observes the fifth week of October instead of the traditional fourth. Therefore, all the Matins readings are "messed up." The ferial prayers are omitted, and the Apostle Martyrs are stripped of their First Vespers. All in all, the 1962 Mess has done a hatchet job on these Apostle-Martyrs. And they are not the only ones that the 1962 Mess has done in!
In Reality, Few Anglicans Are Likely to Sell out to Newrome
Benedict-Ratzinger's New Order Sect Is Beneath Them
From: The Fathers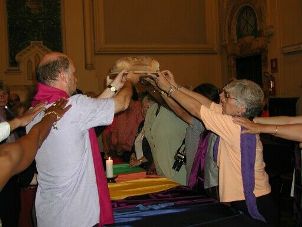 Benedict-Ratzinger's Novus Ordo "Ordinary" Rite
Are Conservative Anglicans Going to Sell out to Newrome for This? Not Likely!
Conservative Anglicans Are Far More Cultured than the Barbarian Newchurchers
They Don't Want Novus Ordo Charistmatic Services, Trash Music, and Polyglot Babbling
They Want Dignified Services, High Church Music, and Elizabethan English
Let's cut through all this recent hoopla about some conservative Anglicans maybe becoming Newchurchers after Benedict-Ratzinger's acceptance of the Protestant Anglican service, declared invalid by Pope Leo XIII, and a married Anglican clergy. Certain sycophantic talking-heads for Newchurch have been propagandizing the idea that hoards of conservative Anglicans will flow into Newchurch. Now let's cut through the fantasy and look at reality.
First, there is the money issue. Anglican ministers suffer from the same organizational intimidation that Newchurch presbyters do. Their incomes and perks are connected with the Anglican organization. Individuals may disagree with that organization, whether it is Rowan Williams's Church of England or Benedict-Ratzinger's New Order Church, but if they leave the organization, they lose their salary, their health benefits, their retirement pension, etc. And remember that married Anglican ministers have wives and children to feed.
Second, there are the property issues. Anglican sites that go over to Newchurch will lose their properties and endowments. Court cases so far have almost exclusively held that the ministers and congregations can leave the Church of England, but they can't take the church buildings, properties, or money with them.
Third, there are the human issues. Just as many Newchurchers hate the New Order, a number won't leave because of attachments that they have to its buildings, members, and history. Just so, few Anglicans will find it easy to walk away from the Anglican parishes to which they have become attached over the years. They also fear the opprobrium of their Anglican families and friends if they leave, just as Newchurchers who hate the Novus Ordo fear the opprobrium of their Newchurch families and friends.
Fourth, there is the hesitation to sell out to what purports today to be "Rome." After all, the Anglican sect was built upon hatred of the papacy. Most Anglicans are far more cultured than the barbarian Newchurchers with their Charismatic services, their trash music, and their polyglot babbling. The conservative Anglicans prefer European culture (it is the Church of England, after all), dignified services, high church music accompanied by swelling organs, and Elizabethan English. Thus, Bishop Martyn Minns, a leader of the traditionalist Anglican Church in North America told the New York Times: "I don't want to be a Roman Catholic. There was a Reformation, you remember." 
---
A Reader Asks: Is the "Motu" Mess Valid?
From: Paul
Dear Fathers:
I understand that clergy who were installed under the Novus Ordo Ordinal of 1968 are not priests. This means that they could not confect a valid Mass (either Traditional or "Motu"), even if they knew how, because they are not ordained with the power to do so. From what I understand, however, SSPX clergy are in fact ordained priests. So, my question to you is this. Is a Bugnini/"Motu" Mess of 1962-2008 that is celebrated by an SSPX priest (or other traditionally ordained Catholic priest) valid? Or is the Bugnini/"Motu Mass so defective that it would be invalid no matter who celebrated it?
It makes me angry that the things that are central to a Catholic's hope for salvation (the Sacraments, and particularly the Mass) have been so cavalierly rewritten, modified, "modernized", or done away with altogether. These things be preserved absolutely untouched. Instead, shades of gray and confusion have been introduced, as my question demonstrates.
The Fathers Reply.
The "Motu" It may be valid, but validity is not the only criterion for Mass attendance. The Eastern Orthodox and Old Catholics are valid, but they are formally schismatic, and their services, though valid, cannot be attended by a Catholic. Moreover, Fellay is now importing Novus Ordo presbyters into SSPX Mass sites, so you never know who you're getting. The best solution is to get away from the SSPX, which is going Novus Ordo anyway, and find a Traditional Latin Mass site.
---
October 26, 2009 - St. Evaristus, Pope & Martyr
Simple Feast
In Newchurch's Latest Sex Scandal, Presbyter Made a Woman at Retreat a Sex Slave
Newchurch Presbyters Sexually Assault Far More Women than Children
From: The Fathers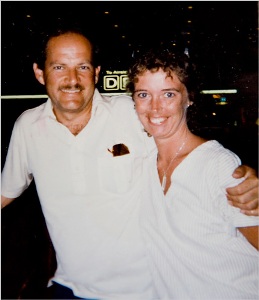 Adulterer-Presbyter Willenborg and His Sex Slave
He Turned a Retreatant into His Sex Slave
And Pressured Her to Abort Their Illegitimate Baby
The Franciscans Hushed up This and Other Assignations of the Presbyter
And Assigned Him to Counsel Other Presbyters on Chastity!
He Is Now a Leading Newchurch Pastor
Pat Bond didn't expect what she got when she attended a Novus Ordo retreat conducted by a Franciscan friar, Henry Willenborg. She was expecting counseling for a troubled marriage with three small children. Instead, Willenborg sexually attacked her. For five years he engaged in adultery with her and eventually destroyed her marriage. Eventually, an illegitimate child resulted from the conjugation. The Franciscans admitted that Willenborg was the culprit and paid Bond off for her silence, a pittance of 85,000 U.S. dollars. Now another woman has come forward to charge that Willenborg sexually enslaved her as well and ruined her life.
Willenborg's Franciscan superiors were aware of his relationship with Bond. A year earlier, Willenborg and Bond had conceived another child. Apparently, Willenborg flunked sex education, so he tried to force Bond to get an abortion, but she, with at least a modicum of Catholicism that the presbyter lacked, refused. The child eventually miscarried.
Meanwhile, presbyter Willenborg suffered no punishment, continuing to serve in a variety of Newchurch posts. In fact, adulterer-presbyter Willenborg was assigned by the Franciscans to counsel Newchurch presbyters how to remain chaste! Currently, he is the senior pastor of Our Lady of the Lake, a large Newparish and school in Ashland, Wisconsin. Typical Newchurch hypocrisy: in public, say that everything is fine in Newchurch; in private, suborn a lie. Benedict-Ratzinger has learned well this lesson.
But Bond's silence has now become stentorious. She and her illegitimate child are dying of cancer, so she has gone public at the last minute. Bond is exposing another rotten side of Newchurch's Great Sex & Embezzlement Scandal. First, the number of presbyters who have committed sex crimes against vulnerable women is far greater than the number of presbyters who violate children. Second, Newchurch has gone to great lengths to silence these assaulted women, to avoid large settlements and to keep the presbyters in the vocation-starved Newchurch ministry. A support group for women assaulted by Newchurch presbyters, Good Tidings, states that it has been contacted by 2,000 women in seven countries who have been sexually enslaved by Newchurch presbyters. [Some information for this Commentary was contributed by the New York Times.]
---
A Reader Asks: What's Going on with Benedict-Ratzinger and the Anglicans?
From: Colleen
Dear Fathers:
I have read that on October 20, 2009, Benedict-Ratzinger loosened the requirements for Anglican Protestants to join his Novus Ordo Church. What is going on?
The Fathers Reply.
There really isn't much new here. In 1980 JPII accepted the 1979 Protestant Book of Common Prayer, with certain adaptations to the Novus Ordo, for a so-called "Anglican Use" Mess for former Anglican/Episcopalians that converted to the Novus Ordo. Of course, this Mess is just as invalid as the Novus Ordo Protestant-Masonic-Pagan service. By July 2005 eighty Protestant Anglican/Episcopalian ministers had joined Newchurch when JPII allowed married Episcopalian ministers to become Novus Ordo presbyters.
Benedict-Ratzinger is rumored simply to extend the terms of the New Order Church's acceptance of the Protestant Anglican/Episcopalian service and opened the door to a Protestant married clergy in his Newchurch under a gimmick called "personal prelature." This gimmick is the one that Bernie Fellay, Superior General of the SSPX, is angling for. He seems eager to be counted in the number of the other Protestants in Newchurch. There is no surprise in this. After all, the Novus Ordo Newchurchers and the Anglican/Episcopalians are in reality Protestants -- and the SSPX is fast getting that way.
---
October 25, 2009 - Our Lord Jesus Christ, King
Double Feast of the First Class
On this day at traditional churches and chapels, as ordered by Pope Pius XI in 1925, the Act of Dedication of the Human Race to the Sacred Heart of Jesus is to take place after Mass before the Most Blessed Sacrament Exposed, together with chanting or recitation of the Litany of the Most Sacred Heart of Jesus. Benedict-Ratzinger's "Motu" has "oecumenized" the traditional form of the prayer by expunging the reference to the "darkness of Islamism" and to the Jews "who called down upon themselves the Blood of the Savior." Those who go to SSPX sites should be particularly observant whether the priest-presbyter fails to include the traditional words in a sellout to Modernistic heresy of "oecumenism."

ACTUS DEDICATIONIS HUMANI GENERIS

IESU dulcissime, Redemptor humani generis, respice nos ad altare tuum humillime provolutos. Tui sumus, tui esse volumus; quo autem tibi coniuncti firmius esse possimus, en hodie sacratissimo Cordi tuo se quisque nostrum sponte dedicat. Te quidem multi novere nunquam; te, spretis mandatis tuis, multi repudiarunt. Miserere utrorumque, benignissime Iesu, atque ad sanctum Cor tuum rape universos. Rex esto, Domine, nec fidelium tantum qui nullo tempore discessere a te, sed etiam prodignorum filiorum qui te reliquerunt: fac hos, ut domum paternam cito repetant, ne miseria et fame pereant. Rex esto eorum, quos aut opinionum error deceptos habet, aut discordia separatos, eosque ad portum veritatis atque ad unitatem fidei revoca, ut brevi fiat unum ovile et unus pastor. Rex esto eorum omnium, qui in tenebris idolatriae aut islamismi adhuc versantur, eosque in lumen regnumque tuum vindicare ne renuas. Respice denique misericordiae oculis illius gentis filios, quae tamdiu populus electus fuit: et Sanguis, qui olim super eos invocatus est, nunc in illos quoque redemptionis vitaeque lavacrum descendat. Largire, Domine, Ecclesiae tuae securam cum incolumitate libertatem; largire cunctis gentibus tranquillitatem ordinis; perfice, ut ab utroque terrae vertice una resonet vox: Sit laus divino Cordi, per quod nobis parta salus: ipsi gloria et honor in saecula. Amen.

ACT OF THE CONSECRATION OF THE HUMAN RACE

MOST sweet Jesus, Redeemer of the human race, look down upon us humbly prostrate in Thy presence. We are Thine, and Thine we wish to be; but to be more surely united with Thee, behold, each one of us freely consecrates himself today to Thy most Sacred Heart. Many indeed have never known Thee; many too, despising Thy precepts, have rejected Thee. Have mercy on them all, most merciful Jesus, and draw them to Thy Sacred Heart. Be Thou King, O Lord, not only of the faithful who have never forsaken Thee, but also of the prodigal children who have abandoned Thee; grant that they may quickly return to their Father's house lest they die of wretchedness and hunger. Be Thou King of those who are deceived by erroneous opinion, or whom discord keeps aloof, and call them back to the harbor of truth and the unity of faith, so that soon there may be but one flock and one Shepherd. Be Thou King of all those who are still involved in the darkness of idolatry or of Islamism, and refuse not to draw them all into the light and kingdom of God. Turn Thine eyes of mercy towards the children of that race, once Thy chosen people. Of old, they called down upon themselves the Blood of the Savior; may It now descend upon them as a laver of redemption and of life. Grant, O Lord, to Thy Church assurance of freedom and immunity from harm; give peace and order to all nations, and make the earth resound from pole to pole with one cry: Praise be to the Divine Heart that wrought our salvation; to It be glory and honor forever. Amen.
Benedict-Ratzinger's Own Papal Newspaper Praises His Fellow German, Karl Marx
Father of Atheistic Communism, for Whom "Religion Is the Opium of the People"
From: The Fathers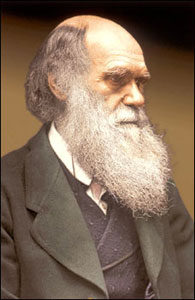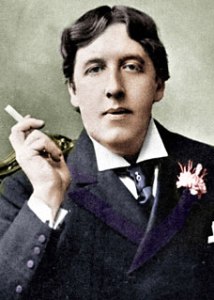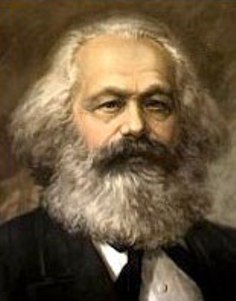 Left to Right: Evolutionist Darwin, Sodomite Wilde, and Communist Marx
These Three Immoral Characters Have Been Praised in the Official Papal Newspaper
Leading Catholics to Ask: Has Benedict-Ratzinger Gone Mad?
For the last several months, Catholics have been wondering whether Benedict-Ratzinger is going mad. His newspaper, L'Osservatore Romano, has recently been praising the worst kind of people: the evolutionist Charles Darwin, the convicted sodomite Oscar Wilde, and now Karl Marx, the Father of Communism, who famously described religion as "the opium of the people." Benedict-Ratzinger's newspaper praised atheistic Communism and condemned capitalism. Yet he does not hesitate to rake in for his Newchurch every capitalistic dollar that he can lay his hands on! Just more hypocrisy emanating from the Unholy Father of the unCatholic New Order Church.
Curiously, just two years ago Benedict-Ratzinger had been singling out Marxism as one of the great scourges of the modern age. But then the Liberalist Obama was elected, and Benedict-Ratzinger eagerly jumped on the socialist, if not communist, bandwagon that Obama is implementing in the United States. Benedict-Ratzinger's predecessor, JPII, supposedly hated Communism, although newer evidence indicates that in his former archbishopric of Krakow, Poland, one in five of his presbyters were spies for the Communist government, as revealed by records opened there after the fall of the Soviet Union.
Marx was born a German Jew, although his father became a converso Lutheran, that is, a Jew who pretended to be a Christian. Marx when an infant was baptized as a Christian, but all his adult life proclaimed his atheism. He once observed that "religion is the sigh of the oppressed creature, the heart of a heartless world, and the soul of soulless conditions. It is the opium of the people." Marx was expelled from several European countries as an anarchist advocating sedition.
The papal newspaper is reviewed before publication by the pope's agents, and its new editor was personally handpicked by him. [Some information for this Commentary was contributed by the London Times.]
---
A Reader Writes: I'm Still Laughing at Archbishop Burke and His Botched "Motu" Mess!
From: Harold
Dear Fathers:
I am still laughing at your Commentary on archbishop Burke and his botched green vestments for the "Motu" Mess at St. Peter's back altar! Although funny, it illustrates the hoops that good Catholics must jump through to convince themselves to accept Newchurch.
The information about the Mess was originally sent to me by a woman who is worried about my soul because I attend the pre-Conciliar/Bugnini Mess. At our traditional church we celebrated the feast of St. Luke, in red vestments, on October 18, 2009, with a commemoration of the Twentieth Sunday after Pentecost. This woman is more concerned about her outward dress than about the True Mass. She holds her nose and subjects herself to all the liturgical abuses that have penetrated the Church over the past forty years, including the "Motu" Mess.
She has sold out hook, line, and sinker to the Modernist Benedict-Ratzinger, who, among other sins, is complicit in Newchurch's Great Sex & Embezzlement Scandal. She claims that the occupant of St. Peter's chair is everything. I wonder whether she would obey Alexander VI, the corrupt and murderous pope who produced the Protestant Reformation, and the many other corrupt popes that litter the history of the Church. This woman is mindlessly campaigning for a "Motu" Mess in the local Novus Ordo parish. Fat chance: the pastor is a Protestantized Charismatic!
---
October 24, 2009 - St. Raphael, Archangel
Double Major Feast
Seventh U.S. Newchurch Diocese Goes Bankrupt
As Vicar General Is Accused of Destroying Sex-crimes Evidence
From: The Fathers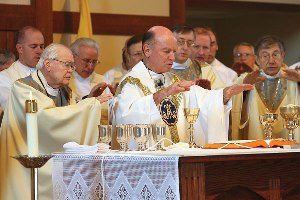 Francis Malooly, Shown Here "Con"-celebrating the Invalid Novus Ordo Service
Has Applied for Bankruptcy Protection against Sex Crimes and Novus Ordo Walkouts
Malooly's Vicar General Has Been Accused of Destruction of Sex-crimes Evidence
Benedict-Ratzinger's Newchurch of the New Order is gradually going bankrupt. A seventh Newchurch diocese, in just the United States alone, has applied for bankruptcy protection to the federal courts. The Newchurch diocese of Wilmington, Delaware, whose territory comprises the State of Delaware and nine counties in eastern Maryland, joins in bankruptcy Davenport, Iowa; Fairbanks, Alaska; Portland, Oregon; Spokane, Washington; Tucson, Arizona; and San Diego, California.
The bankruptcies are being caused by Newchurch's Great Sex & Embezzlement Scandal, which has forced Benedict-Ratzinger to pay off in the billions of U.S. dollars for the sex crimes of his cardinals, bishops, and presbyters, whom he did nothing to stop from their predations upon children. The Newchurch diocese has already paid 6,200,000 dollars, with eight more suits pending for trial, and more to come. Through 2008 Newchurch in the United States has paid more than 2,600,000,000 dollars, with more to come.
The president of the Survivors Network of those Abused by Priests [Sic] countered that Newchurch has all the resources it needs to take care of victims and described the bankruptcy filing as a way of hiding the truth. "The bottom line is that the bishop doesn't want the truth to be exposed," she said. Meanwhile, Newchurch diocesan bishop Francis Maloly's Vicar General, Msgr. Thomas Cini, has been accused of destruction of evidence in a sex-crimes case. He is accused of destroying notes of conversations with crime victims. [Some information for this Commentary was contributed by the Associated Press.]
Another significant component in the bankruptcies is that Newchurchers are tiring of the Novus Ordo Protestant-Masonic-Pagan service and its accoutrements, and are walking out in droves, as confirmed by the recent August 2009 Pew Research Institute study.
---
Benedict-Ratzinger's Newchurch Has Learned Nothing
As Pro-abortion, Pro-"gay" Presbyter Jenkins Is Reappointed President of Notre Dame
From: The Fathers
Notre Dame University, of South Bend, Indiana, once known as a Catholic institution, is a now a figment of the past. Its president, Novus Ordo presbyter John Jenkins, openly supports abortion and homosexuality. He made it a point to invite the Pro-abortion/Pro-"gay" Obama to give the May 2009 commencement address and receive an honorary degree. When Neocon Newchurch clergy and laity protested, Jenkins had them arrested. Many alumni cut off donations. But now Jenkins has been reappointed as president for five more years. [Some information for this Commentary was contributed by the Chicago Tribune.
Just how criminal does a Newchurch presbyter have to be to get kicked out of Benedict-Ratzinger's hypocritical Newchurch of the New Order? Obviously, raping children is not enough. Now, supporting abortion and homosexuality is not enough.
---
October 23, 2009 - Ferial Day
Newchurch Archbishop Botches a "Traditional" Mass at St. Peter's
He Didn't Know How to Use the Traditional Calendar and Said the Wrong Mass!
From: The Fathers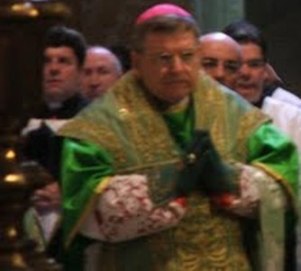 Raymond "Bully" Burke Tries to Simulate a "Traditional" Mass and Botches It
Instead of Using the Traditional Latin Mass Calendar, He Used the Novus Ordo Calendar
Here He Is Shown Wearing Not the Red Vestments Required for the Feastday of St. Luke
But the Green Vestments of the Novus Ordo "Ordinary Time"
Here's the rest of a story that the Neocon and Motarian Newchurchers won't tell you. Raymond Burke, former archbishop of St. Louis, Missouri, who was canned from that post and "promoted" to Newrome to get him out of the way because of his blunders, thought that he was going to get some good press from conservative wing of Newchurch, which he persecuted in St. Louis. So he decided that he would simulate a "Traditional Latin Mass" in a darkly-lit back alley -- sorry, altar -- of St. Peter's in Newrome.
But Burke made a big mistake. He used not the traditional calendar, but the Conciliar-Bugnini calendar that became the Novus Ordo calendar! October 18, in the traditional calendar, is the Double Feast of St. Luke, the Evangelist, but Burke blundered and used an ordinary Sunday, which the Novus Ordo uses. Moreover, he wore the wrong vestments. St. Luke, as an Evangelist and presumed Martyr of the Church, requires red vestments. Burke used Novus Ordo green vestments.
Burke has been a foul-up since he consecrated as a nun a surgically-altered man when he was bishop of La Crosse, Wisconsin. Then he moved on to St. Louis, Missouri, where he viciously persecuted a conservative parish that refused to turn over its inalienable $12,000,000 endowment to him to pay for his archdiocese's sex crimes. As a result of this controversy, Burke acquired the eponym "Bully" Burke, and Benedict-Ratzinger fired him from his post and moved him to a sinecure in Newrome, where he could be closely controlled -- promoveatur ut moveatur as the old ecclesiastical maxim goes. Readers remember that the same thing happened to the Chief Bishop of Newchurch's Sex Crimes Scandal, Bernard Law, the former archbishop of Boston, Massachusetts, who, now as archpriest of St. Mary Major, has sunk into oblivion.
---
A Reader Asks: Is the "Green Scapular" a Valid Sacramental?
From: Kathleen
Dear Fathers:
Is the so-called "Green Scapular" a valid sacramental? It is supposed to be associated with the Daughters of Charity of St. Vincent de Paul.
The Fathers Reply.
Actually, this object is improperly called a scapular, as it is not derived from the habit of any confraternity, but is more properly known as a badge of the Immaculate Heart of Mary. The badge does it have a front and back, as a scapular would, but only two pious images attached to a single piece of green cloth, which hangs on a simple string of the same color. As it is not a scapular, there is no special blessing, nor is there an investiture ceremony, as there is with the Scapular of Our Lady of Mount Carmel, the so-called "Brown Scapular," which invests the recipient into the Confraternity of the Blessed Virgin Mary of Mount Carmel and commits the wearer to praying daily the Little Office of the Blessed Virgin Mary.
One must be careful not to treat this or any sacramental as some kind of "magical" amulet. Unfortunately, there are those who have carried this sacramental to an unCatholic extreme. Like all sacramentals, its efficacy depends upon the devotion of the wearer, not on some "magical" properties. To treat a sacramental otherwise would be to commit the grave sin of idolatry, an offense against the First Commandment of God.
---
October 22, 2009 - Ferial Day
Monasteries Shut Down as No Men Want to Be Newchurch Monks
Nor Can They Save Western Civilization because They Are Ignorant of It
From: The Fathers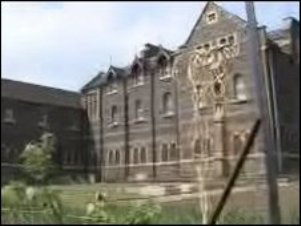 St. Augustine's Benedictine Abbey Will Be Closed after 148 Years
There Aren't Enough Monks Left in Newchurch to Keep It Going
As Western Civilization Declines, the Few Remaining Monks Cannot Save It
They Have Reverted to Intellectual Barbarism under the Novus Ordo
The Monastery. The very word sends chills up the spine of every true Catholic. Without the Catholic monasteries, Western civilization would have reverted to barbarism after the Classical Greco-Roman period. Without the Benedictines and the Irish monks, Western civilization would have lost practically all of the wisdom of Greco-Roman antiquity, and probably the Roman Catholic Church as well. For it was the Catholic monks, furiously copying the manuscripts of all Western knowledge during the darkness of the Dark Ages, who preserved that knowledge and made possible the Renaissance and the Modern period.
Without the work of the monasteries, science, philosophy, law, architecture, music, and so many other spheres of knowledge would have been lost. And the monks copied not just Plato and Aristotle, not just Cicero and Caesar, but all of Western literature: the tragedies of Aeschylus, Sophocles, Euripides, and Seneca; the bawdy comedies of Aristophanes and Plautus; the epics of Homer and Vergil; the carnal, but beautiful, love poetry of Sappho and Ovid; the biting satire of Horace and Juvenal; the histories of Herodotus, Thucydides, Livy, and Tacitus.
And now, as Western civilization and the Church decline once again in the Neo-modern period, there are no Catholic monks left to save it. Take the Benedictine Abbey of St. Augustine, in Ramsgate, Kent, named after the Saint who brought the Catholic Faith to Roman Britain, built in 1861 to house 40 monks. After 148 years, it doesn't have enough monks even to run the place. The few remaining monks have voted to move out. They used to support themselves, in the spirit of St. Benedict's motto, Ora et Labora, by maintaining an apiary and selling candles and other ecclesiastical products made from the beeswax. Of course, the Novus Ordo church doesn't use the traditionally-required beeswax candles on its turned-around dinner tables, but burns profane cooking oil, Crisco if you will. [Some information for this Commentary was contributed by BBC News.]
The saddest thing of all is that these Newchurch monks can't continue the work of their civilization-saving predecessors because they are ignorant of Latin and Greek, having sold out to the unCatholic Neo-modernism vulgarization of Vatican II. They have come under the great Roman philosopher Cicero's stern censure: "Non tam praeclarum est scire Latine quam turpe nescire" [It is not so much praiseworthy to know Latin as it is shameful not to know it]. These Newchurch monks are now part of the problem, not, as their predecessors were, part of its solution.
---
Fellow German Protestant Leader Calls Benedict-Ratzinger "Incompetent"
After His Total Botching of the SSPX/Williamson Scandal
From: The Fathers
A paper published by a senior German Protestant clergyman has attacked his fellow German, Benedict-Ratzinger, as "incompetent." The paper has thrown "oecumenical" relations between the Lutheran and Novus Ordo sects into turmoil. Benedict-Ratzinger has particularly wanted to play the Vatican II oecumenical game with the Lutherans, who originate in his native country. So desperate is Benedict-Ratzinger to patch up his tiff with the Lutherans that he plans a visit to the Lutheran Church of Rome -- this on top of his visit to the Jewish Synagogue of Rome.
On October 14, 2009, a crisis meeting of leaders the Lutheran and Novus Ordo sects resulted in the realization that all the oecumenical "consensus" that Benedict-Ratzinger had tried to achieve, even as cardinal, were merely "papering over" real theological disagreement. The paper speaks of Benedict-Ratzinger failing in his mission to end tensions between the Lutheran and Novus Ordo sects since he was elected in 2005.
The most egregious example of Benedict-Ratzinger's incompetence commonly cited is SSPX/Williamson Scandal. The SSPX's senior bishop, Richard Williamson, was "unexcommunicated" by Benedict-Ratzinger in January 2009, along with three other SSPX bishops. But Benedict-Ratzinger slipped up big time. Williamson was publicly known as a "holocaust-denier," and the radical Jewish leaders descended upon Benedict-Ratzinger like maggots on a corpse. Then, instead of revoking the "unexcommunication," Benedict-Ratzinger pretended not to know about Williamson's opinion, although the two had "negotiated" on the outstanding issues since 1988 and before. [Some information for this Commentary was contributed by Deutsche Welle.]
Benedict-Ratzinger tried to play both sides: the SSPX Fellayites and the radical Jewish leaders. As a result, he has been disowned by large numbers in both groups, and he has earned the label "incompetent" among those to whom he wants to pander.
---
October 21, 2009 - St. Hilarion, Abbot
Simple Feast
Mel Gibson Will Not Marry His Pregnant Adulteress
The Flawed Traditional Catholic Has Backed off His Bigamous "Wedding"
From: The Fathers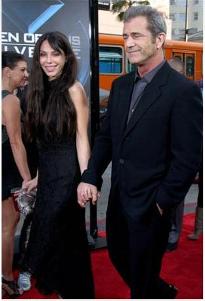 Mel Gibson and His Pregnant Adulteress, Oksana Grigorieva
Originally, Gibson Had Announced a December 2009 Bigamous "Wedding"
But Has Now Backed Off, Perhaps Because of the Criticism of Scandalized Traditional Catholics
Mel Gibson, producer-director of The Passion of the Christ (2004), known as a traditional Catholic until he publicly took up with an adulteress, Oksana Grigorieva, now says that he has no plans to "marry" his pregnant adultress. Originally, he had announced a December 2009 "marriage." Of course, any such marriage would be bigamy, as he has a living wife, Robyn Gibson, the mother of his seven children.
On October 13, 2009, Grigorieva confirmed that there were no "marriage" plans between her and Gibson. "Actually we have no plans to marry whatsoever," she told the British morning show, GMTV. "I haven't thought about it –- we haven't spoken about it. I have a 12 year old, so I've been a mother for 12 years.... I'm very dynamic, so the pregnancy falls into my work schedule." The bastard child is expected in December 2009.
Gibson has stood up publicly for his traditional Catholic Faith, although in his personal life he fell short (as do many) of its teachings. His courage in standing against radical Jewish leaders, such as Abraham Foxman of the B'nai B'rith [Sons of the Covenant], in continuing to produce and direct 2004's The Passion of the Christ in 2004, a traditional Catholic version of the Passion of Christ, was hailed by traditional Catholics and fundamentalist Christians. Heretofore his personal failures have been mainly in the form of excesses in alcohol and drunk-driving. However, his recent public appearances with his pregnant mistress have shocked and offended traditional Catholics worldwide and have embarrassed his wife and children. [Some information for this Commentary was contributed by GMTV.]
---
Newchurch Bishop Nickless: "The 'Spirit of Vatican II' Must Be Exorcised"
But What Does He Really Mean by That Platitude?
From: The Fathers
In a statement that on the surface will seem to please the Neocon Newchuchers, Ralph Nickless, Newchurch bishop of Sioux City, Iowa, has stated: "The 'spirit' of Vatican II is a demon that must be exorcised." But what Nickless actually means by that statement is an approval of the Neo-modernism of Vatican II. How is that possible, you say? It is because the Novus Ordo distorts clear language for propaganda purposes in the cause of the very demon of which Nickless speaks.
Nickless goes on to say that there is no difference between pre- and post-Vatican II. This is the same Modernist line that Benedict-Ratzinger spews. Anyone with eyes and ears can see and hear that such a notion is entirely false. There is a clear dichotomy: valid traditional Sacraments vs. invalid Novus Ordo sakraments, Catholic morality vs. Newchurch clergy's sex habits of pigs, Catholic doctrine vs. oecumenized pabulum. Nickless himself says that the vulgar tongues should be mixed with Latin -- a proposition condemned as unCatholic by the dogmatic Council of Trent.
Quoting from Benedict-Ratzinger's address to the curia in December 2005, Nickless agrees that the "hermeneutic of reform" has borne fruit. "Hermaneutic of reform" is just a Novus Ordo theological term for Vatican II's condemned Modernism. Nickless rejects at the same time traditional Catholicism and Novus Ordoism. He wants a mixture: a Missa Mixta, or mixed-up Mess; traditional doctrine mixed with Modernism; traditional morality mixed with the Newchurch clergy's sex practices of pigs. [Some information for this Commentary was contributed by the National Catholic Register.]
Nickless is no "traditionalist." He is simply pandering the New Religion of the Newchurch of the New Order as it is being drawn by Benedict-Ratzinger. This New Religion rejects traditional Catholicism, but attempts to deceive the faithful with the leavening of the Novus Ordo with a little conservatism. The Great "Motu" Mess Hoax is an example of this Novus Ordo "hermenutic." The contaminated lump, as St. Paul calls it, is not Catholicism, but the Modernist New Religion and the Novus Ordo Seclorum that Benedict-Ratzinger unabashedly supports in both the religious and secular realms
---
October 20, 2009 - St. John Cantius, Confessor
Double Feast
German Prosecutors Charge SSPX's Senior Bishop Williamson with "Sedition"
Neither Benedict-Ratzinger Nor SSPX's Fellay Will Defend His Human Right of Free Speech
From: The Fathers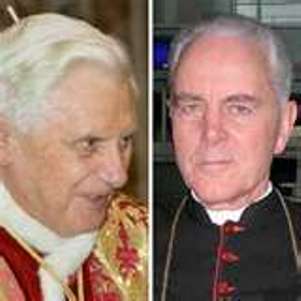 Left: A Hypocrite Conciliar Pope, Benedict-Ratzinger
And a Courageous Bishop, Senior Bishop Richard Williamson of the SSPX
Benedict-Ratzinger Claims to Be a Follower of Vatican II and Its "Human Person" Rights
But Has Not Lifted a Finger to Defend Williamson's Freedom of Speech
Meanwhile, SSPX's Superior General Bernie Fellay Has Placed Williamson under House Arrest
In Circumstances Far Worse than Those of Galilio Galilei
On October 19, 2009, German prosecutors have filed charges of "sedition" against the SSPX's senior bishop Richard Williamson merely for exercising his human right of free speech to comment on a disputed matter of secular history. On October 15, 2009, Regensberg's Presiding Judge, Johann Ploed, had indicated that Williamson will face the payment of a fine -- at least. Ploed is also considering whether to issue a warrant against Williamson to attempt to compel his personal appearance on charges of sedition. [Some information for this Commentary was contributed by Deutsche Presse-Agentur and Deutsche Welle.]
Benedict-Ratzinger, who defends Mohammendans, Jews, and other non-Christians has not lifted a finger to defend Williamson's human rights, choosing instead to align himself with Jewish radical leaders. Even more vicious is SSPX Superior General Bernie Fellay's "silencing" of Williamson and placing him under virtual house arrest outside of London. Fellay, in a sin against piety, has treated his senior bishop with disdain and vengeance. Even Galileo Galilei had it better. When the Holy Inquisition placed him under house arrest, he was housed in a palace with a personal servant, where any and all could visit him without restriction.
Good Catholics, let's face it: Benedict-Ratzinger and Bernie Fellay are once again shown as the hypocrites that they are. Benedict-Ratzinger has spurned the principles of the Neo-Modernist Vatican II Council, to which he claims to adhere. Bernie Fellay has spurned the principles of traditional Catholicism and has treated his fellow bishop and elder with contumely.
---
The SSPX Once Celebrated the Traditional Latin Mass
In the Mid 1980s It Switched to the Conciliar-Bugnini Mess of 1962+
From: The Fathers
In the halcyon days of the 1970s, the Society of St. Pius X (SSPX) under Archbishop Marcel Lefebvre regarded the Conciliar-Bugnini Mess of 1962 with horror and celebrated the Traditional Latin Mass before the Modernist corruptions of the 1950s and early 1960s. St. Lawrence Press has confirmed this fact by publishing the SSPX's Ordo, or liturgical calendar, as it was used in England after the Archbishop founded the Society. Twenty Newchurch dioceses in England maintained the Traditional Latin Mass to the mid 1980s.
Even the venerable Latin Mass Society in the 1970s and 1980s spurned the Conciliar Bugnini Mess of 1962 and celebrated the Traditional Latin Mass before the "modernizations" of the 1950s and early 1960s. The Latin Mass Society is now in an internal schism over the issue, as one part of its membership wants to retain the Traditional Latin Mass, while the other part wants to sell out to the "Motu" Mess of 1962-2008. [Some information for this Commentary was contributed by the St. Lawrence Press.]
This would be a good opportunity for us Fathers to mention that around this time of year traditional Catholics look for a traditional Catholic calendar and ordo for the upcoming new year. The calendar and ordo that we TRADITIO Fathers recommend are both based on the most traditional form of the Roman Rite, before the Conciliar-Bugnini changes of 1951, 1956, 1960, and 1962. It is the one that corresponds to the fully traditional version of the Missale Romanum and the Breviarium Romanum in four volumes. For further information, click on the TRADITIO Network's Traditional Liturgical Calendar department.
---
October 19, 2009 - St. Peter of Alcantara, Confessor
Double Feast
Presbyter Who Conjugated with Stripper Tries to Appropriate His Illegitimate Child
As Newchurch's Latest Sex Scandal Grips the United States
From: The Fathers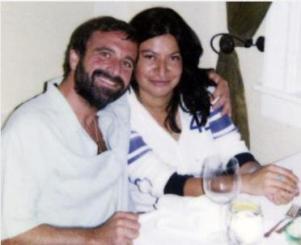 Newchurch Presbyter David Dueppen and His Jezebel
Dueppen Produced an Illegitimate Child with the Stripper
And Now Wants Custody after Being Charged with Domestic Abuse
While Do-nothing Benedict-Ratzinger's Newchurch Becomes a Laughing-stock
David Dueppen, a Newchurch presbyter of Miami, Florida, conjugated with a Miami stripper working at Porky's strip joint and produced an illegitimate child. The woman, who now owns a dollar store, got a restraining order against the presbyter because of domestic abuse, but now Dueppen wants essentially full custody of his illegitimate child. This from a man who first denied even being the father of the child! [Some information for this Commentary was contributed by the Latino News.]
Good Catholics, Newchurch's Great Sex & Embezzlement Scandal just goes on and on with no end in sight. Why wouldn't it? Benedict-Ratzinger hasn't lifted a finger to stop it!
---
Four Newchurch High Schools to Stage Lesbian's Condom-Promoting Play
The Archdiocese of San Francisco Calls it a "Sophomore Class Liturgy"!
From: The Fathers
George Niederaurer, Newchurch archbishop of San Francisco, California, has allowed the performance of a lesbian playwright's "sex-education" play, Secrets, endorsing condoms, in high schools of the archdiocese. The play will be staged at Sacred Heart Cathedral Preparatory High School, Sacred Heart High School, Mercy High School, and St. Ignatius College Preparatory High School. The archdiocese is calling the filthy Secrets play a "Sophomore Class Liturgy." Just goes to show what the invalid Novus Ordo "liturgy" has degenerated into!
The play is so graphic that the school district of Fremont, California, required a permission slip to be signed by parents before their children would be allowed to see it. In one scene a character dumps dozens of brightly-wrapped condoms on the floor and discusses which type is the best and how to use them effectively.
Lesbian playwright Patricia Loughrey is associated with Queer Theatre, which bills itself as "the nation's third-oldest Lesbian/Gay/Bisexual/Transgender theater." Loughrey also wrote The Daddy Machine, a play about children with two lesbian mothers, and Dear Harvey, a celebration of the life of the predatory homosexual San Francisco politician Harvey Milk, who was associated with the suicide cult of Jim Jones. [Some information for this Commentary was contributed by the California Catholic Daily.]
---
October 18, 2009 - St. Luke, Evangelist
Double Sunday of the Second Class
A Reader Asks: Why Is the SSPX's Fellay Such a Coward in Criticizing Benedict-Ratzinger's Modernism?
From: Kerry
VATICAN II-BUGNINI "LITURGICAL BOOKS OF 1962" WARNING. In contravention of the Traditional Latin Mass, the "Motu" services have dethroned the Evangelist and Martyr, St. Luke, author of the Third Gospel of Our Lord Jesus Christ, by replacing his traditional red feastday today with an ordinary green Sunday of Pentecost. The "Motu" Mess prohibits even the least commemoration of this Evangelist and Martyr on his feastday.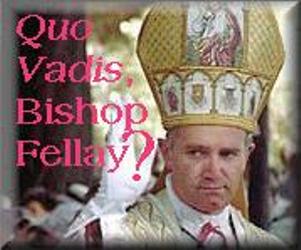 We Know Whither Bernie Fellay Is Going: Straight to -- the Novus Ordo
If You Reject the Novus Ordo, You Don't "Negotiate" with It
The Leader of the Neo-SSPX Is a Janus-faced Hypocrite
Many SSPXers, Seeing the Handwriting on the Wall
Are Preparing Their Parachutes to Get Out of the New SSPX Wing of the Novus Ordo
Dear Fathers:
I approached a spokesman for the Society of St. Pius X to respond to some of the news reports that have been coming from the Vatican, such as its support and praise for Obama's receiving the Nobel "Peace Prize" in spite of the fact that a Catholic pope is supposed to be against abortion and "gay" marrage. The SSPX spokesman's response was: "The SSPX has no need to respond; the Vatican has made its position known!" This is the New SSPX under Fellay: it will not speak out for the Catholic Faith. It is no longer traditional. I wonder whether the New SSPX is even still Catholic, or whether Fellay is.
I would think that Bernie Fellay would be eager to speak out to teach the truths of the Faith. This makes no sense to me. Newchurchers today are drowning in false ideas and unclear teachings from their local Novus Ordo bishops. To me, this is negligence or, worse, cowardice on Fellay's part. I think the SSPX is missing a great teaching opportunity by not speaking out. This silence of the SSPX on the moral issues of our time is inexcusable. What really grates on me is Fellay's removing of legitimate teachings of the Catholic Church from its websites after the SSPX/Williamson Scandal.
To me, this smacks of Judas's kiss of betrayal. Now that the media would listen to a statement of the Society, should it not take advantage of the opportunity and speak out? Maybe you Fathers can shake them up. I know they read your Daily Commentaries avidly. Time is running out. Where are the soldiers of Christ today?
The Fathers Reply.
If anyone thinks that the Catholic Faith will be preserved by Bernie Fellay, he is smoking opium. It is clear that the Neo-SSPX under Fellay has already sold out to Benedict-Ratzinger and the Novus Ordo. It is now just a matter of some bureaucratic paper-shuffling until the sellout is official, and the traditional Catholic organization founded by Archbishop Lefebvre will officially be no more. The only bishop in the SSPX that seemed to have any guts to resist the Novus Ordo was the SSPX's senior bishop, Richard Williamson, but Fellay and Benedict-Ratzinger successfully conspired to silence that voice permanently.
In a recent interview in South Africa, Fellay, when asked about how SSPXers should view "Motu" presbyters, he did not reject them, as traditional Catholics do, because they are not valid priests, but merely presbyters installed under Bugnini's New Ordinal of 1968 to "preside over the assembly of the people." Instead, Fellay temporized saying "every priest is different." No, Bernie, the truth is that Novus Ordo presbyters are not priests, and they are all the same: they are not ordained, merely installed under the Novus Ordo, and have no power to offer a valid Mass, only the invalid Novus Ordo service.
The SSPX will begin on October 26, 2009, to "negotiate" for a sellout to representatives of what its Founder, Archbishop Marcel Lefebvre, called "Modernist Rome, not the Catholic Church." Fellay himself admitted in the interview that Benedict-Ratzinger "maintains the improvisations of the [Second Vatican] Council as though they are not a break with this past [Catholicism]." Fellay is convicted from his own mouth: he is well aware that he is selling out to Modernism. It does not matter that to avoid an outright schism within the SSPX by those who reject the Modernist Newchurch, he mouths objections to (only) certain aspects of Vatican II. The fix is in.
SSPXers are opening their parachutes now to bail out of Fellay's Neo-SSPX and to find to a real Traditional Latin Mass site, not the Conciliar-Bugnini "Motu" Mess of 1962-2008, which Fellay panders to his membership. Those now contributing money to the SSPX operation are just like the Newchurchers who put their money in the Novus Ordo collection-plate, which ends up the supporting the Newchurch clergy's sex crimes. Money given to the SSPX will just end up in the pockets of the Novus Ordo organization, getting into which is clearly the focus of essentially all of Fellay's efforts these days.
---
Benedict-Ratzinger Announces that He Will Pray in Rome's Synagogue
To Show How Close He Is to Being a Jew
From: The Fathers
Benedict-Ratzinger has announced that he will pray in Rome's main synagogue on January 17, 2010. He said that he wanted to go in order to demonstrate how close he is to being a Jew. He has already prayed publicly in synagogues in Cologne, Germany, and New York, New York. Catholic popes have condemned what Benedict-Ratzinger is doing as a grave sin against the First Commandment of God. Even the Jews recognize that one! [Some information for this Commentary was contributed by the Associated Press.]
---
October 17, 2009 - St. Margaret Mary Alacoque
Double Feast
African Bishops in Newrome Claim that Obama's Election Was a "Divine Plan"
Engineered by the Vatican II "Holy Spirit"
From: The Fathers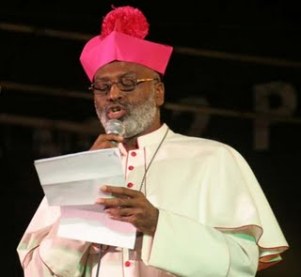 Gabriel Palmer-Buckle, Newchurch bishop of Accra, Ghana
Proclaims Barack Obama Was Elected through the "Holy Spirit"
As Part of a "Divine Plan"
If So, the "Holy Spirit" Must Have Defected from the Catholic Faith!
Obama Is a Full-throated Advocate of Abortion and "Gay" Marriage
African Newchurch bishops at a three-week synod in Newrome on Newchurch in Africa are now speaking of Barack Obama in religious terms. Gabriel Palmer-Buckle, Newchurch bishop of Accra, Ghana, said on October 7, 2009, that there was "a divine plan" behind Obama's election. He blasphemously compared the pro-abortion, pro-"gay" marriage Obama to the Old Testament Patriarch Joseph, who after being sold into slavery in Egypt, ends up becoming a top official of Pharaoh. The analogy is inept: Obama was never a slave. Laurent Monsengwo Pasinya, Newchurch archbishop of Kinshasa, Congo, told the synod that "the election of a Black as head of the United States of America was a divine sign and a sign from the Holy Spirit." [Some information for this Commentary was contributed by the Associated Press.]
---
Notre Dame University Promotes and Funds "Gay" Marriage
The Once-Catholic, Now "Gay," University Is Losing Alumni Funds
From: The Fathers
The University of Notre Dame gave financial assistance to five students to participate in the October 11, 2009, National Equality March in Washington, D.C., organized to advocate homosexual "marriage," the campus newspaper has revealed. The students, from Notre Dame's Progressive Student Alliance, marched across D.C. and then joined "gay rights" activists for a Capitol Hill rally.
Newchurchers who hold to traditional morality must be asking themselves whether Notre Dame University, in South Bend, Indiana, has learned its lesson from the scandalous ceremony in spring 2009, to which it invited Barack Obama as commencement speaker, a well-known advocate of abortion, to speak. Just more Newchurch hypocrisy! Concerned alumni have cut off donations to this no-longer-Catholic institution. If Notre Dame wants to be the "gay" university, it will have to get the money from elsewhere. [Some information for this Commentary was contributed by LSN.]
---
October 16, 2009 - St. Hedwig, Widow
Semidouble Feast
Newchurch Presbyter Teaches Newchurchers the "Morality of Gambling"
As He Accepts Payoff to Play in Million-dollar Poker Tournament
From: The Fathers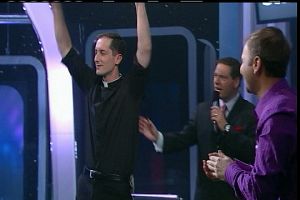 Presbyter Andrew Trapp Wanted to Teach Newchurchers the Morality of Gambling
So He Appeared on Television in Clerical Garb to Play Poker for 100,000 U.S. Dollars
Having Accepted a Payoff to Appear on the Program
Now He Wants to Win the Grand Prize of Poker: One Million Dollars
Dressed in religious garb, as if it came right from central casting, presbyter Andrew Trapp, associate pastor of St. Michael Newparish of Garden City Beach, South Carolina, appeared on a poker television show because, as he said, he wanted to teach that "gambling is acceptable in Catholicism." Trapp won 100,000 U.S. dollars in his televised poker game after he accepted a payoff from the poker impresario to fly to Los Angeles. Now he is hankering for the grand prize of poker in December 2009: 1,000,000 dollars. [Some information for this Commentary was contributed by South Carolina Now.]
Good Catholics, of all the "lessons" about Catholic morality to teach, the purported morality of rampant gambling -- especially in this economy -- seems particularly suited to Newchurch's corruption. After all, haven't cardinals, bishops, and presbyters gambled on the silence of Benedict-Ratzinger and his hierarchy to conceal their sex crimes? Why is it not surprising that presbyter Trapp is not teaching a "lesson" about the grave immorality of raping children and lying to the civil authorities?
---
Papal Newspaper Admits that Newpope Is Not "Infallible"
As Benedict-Ratzinger's Disputed "Appreciation" of Pro-abortion Obama Is Retracted
From: The Fathers
Reeling from worldwide criticism from Newchurchers, the papal newspaper made a rare admission of Benedict-Ratzinger's "non-infallibility." L'Osservatore Romano admitted that Benedict-Ratzinger had made a mistake in issuing an "appreciation" of Barack Obama on the occasion of his disputed Nobel "Peace Prize." Because Obama is an outspoken advocate of the gravely immoral practices of abortion and "gay" marriage, Newchurch leaders, such as Judy Brown, President of the American Life League, called Benedict-Ratzinger's statement "an insult to every practicing Catholic." Benedict-Ratzinger tried to walk back the disputed statement by alleging that the prize was "more of an invitation to choose peace through politics." [Some information for this Commentary was contributed by the Catholic News Agency.]
Good Catholics, Benedict-Ratzinger is mired is in politics instead of promoting the Catholic religion that he is supposed to represent. This is not the first time that he has been caught in a Janus-faced disavowal of his own statements when caught in the act. Remember his criticism of Mohammed as a murderous general -- thereafter disavowed? Remember his "unexcommunication" of SSPX senior bishop Richard Williamson -- thereafter disavowed when Williamson was publicized as a "holocaust-denier"? In fact, Benedict-Ratzinger and Barack Obama are soulmates. They are both Liberalist/Modernists, and they both love to play despicable politics on moral issues within their respective organizations.
---
October 15, 2009 - St. Teresa of Avila, Virgin
Double Feast
Two Newchurch Bishops Get into a Turf War on Priestesses and "Gay" Marriage
Catholic Doctrine Takes a Back Seat
From: The Fathers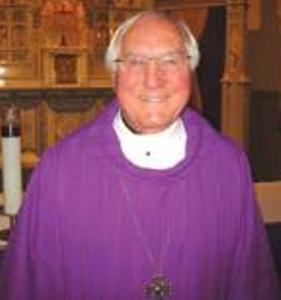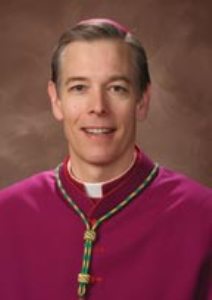 Thomas Gumbleton (Left) Has Been Canceled by Alexander Sample
The Two Newchurch Bishops Are in a Row about Priestesses and "Gay" Marriage
But the Row Is Much Less about Catholic Doctrine than a Turf War
The "Conservative" Sample Wanted the Doctrinal Dispute to Remain "Private"
Undoubtedly, the Neocon talking-heads will praise Alexander Sample, the Newchurch bishop of Marquette, Michigan, in cancelling the October 12, 2009, speech of his fellow bishop, Thomas Gumbleton, of Detroit, Michigan, who is a well known promoter of priestesses and "gay" marriage. But, as usual, that is only part of the story. The "conservative" Sample didn't want to have to go on the record against "gay" marriage and priestesses, viewing it as a "private matter."
In fact, the episcopal fracas doesn't seem to be about Catholic moral doctrine at all, but about a "turf war" between the two Newchurch bishops. Gumbleton didn't notify Sample of his appearance until the last minute. Sample retorted that it is "common courtesy" for any bishop who plans a public appearance in another diocese to alert the resident bishop well in advance. Sample then claimed that Gumbleton had "left him with no option but to disrupt the schedule." Sample went on to say that he himself had no intention of proclaiming the teaching of the Catholic Church against homosexual acts and priestesses. He wanted to keep the issue "private." [Some information for this Commentary was contributed by Fox News 6.]
Good Catholics, these Newchurch "conservative" bishops are as phony as a brass denarius! They strut around as if they are better than the out-and-out liberalism of their fellow bishops, but when push comes to shove, they don't want to stand up publicly for Catholic doctrine any more than the liberalists. Other examples of this Newchurch Neocon disease are Charlie Chaput of Denver, practitioner of the "Indian Feather Mess" and Fabian "Phony" Bruskewitz, who let his cathedral be used for a Methodist "consecration."
---
Benedict-Ratzinger Just Praised Barack Obama for "Peace Prize"
Now Obama Has Turned Around and Called Defenders of Traditional Marriage Bigots
From: The Fathers
These Newchurch popes just never learn their lesson. They try to be friendly to evil secular leaders around the world, who then turn around and attack the Catholic Faith. Just days ago Benedict-Ratzinger was issuing an "appreciation" of Barack Obama. Now Obama has called defenders of traditional marriage, like Catholics, bigots. On October 10, 2009, Obama addressed the Human Rights Campaign, telling the group of "gay" activists that defenders of traditional marriage, like Catholics, "would enshrine discrimination into our Constitution." He charged that Christians who hold to the Biblical morality on marriage "hold fast to outworn arguments and old attitudes."
Well, what do you expect from a man whose Evangelical minister is the notorious bigot, Jeremiah Wright, who told the National Press Club that the U.S. government contaminated the public water supply in such a way that it infected only Blacks with AIDS. [Some information for this Commentary was contributed by The White House briefing room.]
Obama went on to prophesy "a time in which we as a nation finally recognize relationships between two men or two women as real and admirable as relationships between a man and a woman." And this is the head of state whom Benedict-Ratzinger has consistently and publicly praised. It makes you wonder what really is going on in Newpope's head. Is the pope Catholic?
---
October 14, 2009 - St. Callistus, Pope & Martyr
Double Feast
U.S. Conference of Catholic [Sic] Bishops Official Excuses Archbishop's Promiscuity
Weakland Admitted that He Was a Flagrant Sodomite while Serving Benedict-Ratzinger
From: The Fathers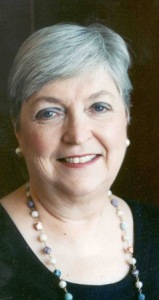 Delores Leckey, U.S. Newchurch Bishops Official
Has Praised Archbishop Weakland for Finding "Love" in Sodomy
Weakland Also Stole Half a Million U.S. Dollars from the Newchurch Collection-plate
To Buy the Silence of His Catamite
Do-nothing Benedict-Ratzinger Took No Action against Weakland for Either Sodomy or Theft
It's a wonder, isn't it, how these Newchurchers support one another in sin and crime? Now we have a long-time official of the U.S. Conference of Catholic [Sic] Bishops, Delores Leckey, praising Rembert Weakland, the discredited Newchurch archbishop of Milwaukee, Wisconsin, for finding "love" with sodomites. Delores Leckey, who headed the U.S. Newchurch bishops' Offices of the Laity, Marriage and Family, Youth, Woman, and Lay Ministers and is now with the Newchurch's Georgetown University, lauded Weakland on September 30, 2009, claiming that sodomy "humanized" him.
The Newchurch bishops knew full well that Weakland was a sex criminal. It had paid off a former catamite with $450,000 in 2002. Weakland has admitted that when he was serving Benedict-Ratzinger as archbishop, he had numerous sexual encounters with men. He also admitted that he put presbyters who had committed sex crimes into Newparishes without even alerting the parishioners. Weakland claimed he didn't know that sex acts with children were a crime. [Some information for this Commentary was contributed by America: The National Catholic Weekly.]
When Weakland was exposed not only as a sodomite, but as a thief of Newchurch funds, having stolen half a million U.S. dollars from the Newchurch collection-plate to buy the silence of one of his catamites, Benedict-Ratzinger did when he always does with his criminal hierarchy -- nothing.
---
A Reader Asks: "Isn't Quo Primum Infallible?"
From: Hugh
Dear Fathers:
Neocon Newchurchers are so ignorant when they do not believe that Pope St. Pius V's Papal Bull Quo primum is infallible. How ignorant can these people be? Here we have an ex cathedra papal decree that is not merely "disciplinary," but rooted in dogma, reinforced by Sacred Tradition, which is integral to the Church's magisterium, and in the dogmatic Council of Trent. The Neocon Newchurchers seem to blind themselves to the truth. The religious illiteracy of the johnny-come-lately defenders of supposed "Tradition," the Motarians, is more also appalling, as proven by their clueless "blogs."
The Fathers Reply.
The Official Traditional Catholic Directory quotes A Theological Vindication of Roman Catholic Traditionalism on this point. It is an excellent brief summary of the subject:
Quo primum is no "merely ecclesiastical law" that can be revoked, but has been enacted into law and declared ex cathedra to be irreformable, and is therefore a solemnly defined moral doctrine which is also of itself infallible and irreformable. Quo primum has been infallibly declared to be irreformable because the rite of Mass codified (canonized) in the Tridentine Missal is the "received and approved rite" (the rite of Sacred Tradition) of the Roman Church that has been "handed down by the Holy Roman Church." The statutes of Quo Primum, therefore, pertain to Divine Law insofar as they constitute a particular application of the divine law.
The idea that some other form of Mass (a few other Apostolic Eastern rites) have had, or ever would have, any acceptance in the Roman Catholic Church, especially some new service fabricated in the late 20th century for the purpose of making it acceptable to Protestants, is absurd. That is why traditional Catholics cannot accept the Great "Motu" Mess Hoax, based on Benedict-Ratzinger's Summorum pontificum of 2007, which accepts the phony, invalid Novus Ordo service as the "Ordinary Rite" of Newchurch. Such a service is clearly schismatic, together with any pope that would attempt to impose it, as the Fathers and Doctors of the Church taught:
The pope could be schismatic, if he were unwilling to be in normal union with the whole body of the Church, as would occur if he attempted to excommunicate the whole Church, or, as both Cajetan and Torquemada observe, if he wished to overturn the rites of the Church based on Apostolic Tradition (Suarez).
---
October 13, 2009 - St. Edward, King of England
Semidouble Feast
Novus Ordo Presbyter Described as a "Sexual Predator"
Has Lost His First Three Cases; 23 More to Go in Newchurch's Continuing Sex & Embezzlement Scandal
From: The Fathers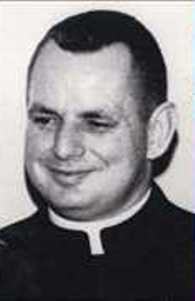 No "Altar Boy" He: Edward Paquette
The Novus Ordo Presbyter Has Been Charged in 24 Sex-crime Cases
He Has Already Lost His First Three Cases
As Newchurch's Great Sex & Embezzlement Scandal Continues
Edward Paquette is the latest Novus Ordo presbyter to be found guilty of sex crimes against a child, and the Newchurch diocese of Vermont has been ordered to pay 2,200,000 U.S. dollars in damages. Newchurch officials were charged with knowing that Paquette was a "sexual predator" and allowing him to operate under the aegis of Newchurch. Paquette and the diocese lost two other cases so far to the tune of 12,000,000 dollars. 23 more lawsuits are pending against Paquette and the diocese.
The plaintiff's lawyer laid into Newchurch bishop Salvatore Matano, of Burlington, Vermont, accusing him of: "The usual all talk and no action. They talk about how they want to resolve these, but they want to pay values that bear no resemblance to what a Vermont jury will do." The Newchurch diocese has lost four other cases in just the last two years, again proving that Newchurch's Great Sex & Embezzlement Scandal continues unabated. [Some information for this Commentary was contributed by WCAX News.]
---
First Daughter of the Church Has Upped Her Abortion Rate
French "Catholic" Women Are Now Having More Abortions than Babies
From: The Fathers
One of the saddest things to see since the advent of the Newchurch of the New Order after Vatican II is the number of once noted Catholic countries that have rejected Catholicism in the "religious freedom" of Vatican II. This is certainly the case with the First Daughter of the Church, France.
The French National Institute of Demographic Studies has released a report that although the number of "unplanned" pregnancies has dropped in France since January 1976, when abortion was fully legalized, from 46 per cent to 33 per cent, the number of French abortions has risen, from 40 per cent to 60 per cent. Now, in "Catholic" France, more babies are aborted than delivered, and over 40 per cent of French women have an abortion at least once in their lives.
Good Catholics, is it any wonder that the Mohammedans, who consider abortion immoral, are taking over the world, while Benedict-Ratzinger's Newchurchers are killing babies right and left? If you're smart, you'll start taking courses in Classical Arabic and the Koran now!
---
October 12, 2009 - Ferial Day
Even Newchurchers Express Shock at Papal Endorsement of U.S. Abortion President
As Highly-politicized Nobel "Peace Prize" Goes to Pro-abortion, Pro-"gay" Obama
From: The Fathers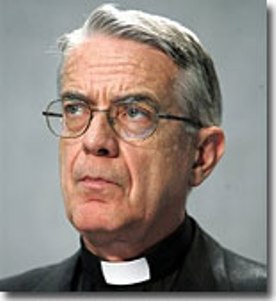 Benedict-Ratzinger's Spokesman, Federico Lombardi
Reported Newpope's "Appreciation" for Barack Obama's "Peace Prize"
Newchurchers in the Anti-abortion Movement Are Outraged at This Papal Hypocrisy
One Leader of the Movement Called Benedict-Ratzinger's Statement
"An Insult to Every Practicing Catholic"
Newchurchers in the anti-abortion movement have expressed shock -- and outrage -- at Benedict-Ratzinger's "appreciation" for pro-abortion, pro-"gay" Barack Obama's receipt of the Nobel Peace Prize. The papal spokesman, presbyter Federico Lombardi, was sent out to express to the world press Benedict-Ratzinger's "appreciation" for the award "in light of the president's demonstrated commitment to promoting peace on an international level and, in particular, in recently promoting nuclear disarmament." In opposition to Benedict-Ratzinger's stance, many voices in the United States have condemned the award because Obama had done nothing to deserve it, in contrast, for example, to U.S. President Ronald Reagan's significant role in the overthrow of atheistic Communism in the Soviet Union.
As even Newchurch leaders in the anti-abortion movement sharply criticized Benedict-Ratzinger for abandoning Catholic teaching, Newchurch officials tried to do "damage control" on Benedict-Ratzinger's statement praising an avowed advocate of abortion and "gay" marriage. Human Life International President presbyter Tom Euteneuer issued a statement, claiming, "I really don't know who Fr. Lombardi is speaking for." Is Euteneuer a hypocrite or just plain dumb? Lombardi is Benedict-Ratzinger's spokesman. That's his job in Benedict-Ratzinger's Newvatican. That's who he speaks for! American Life League President Judie Brown was more honest than the presbyter when she called the papal statement "an insult to every practicing Catholic."
There is no question that Lombardi is speaking for his boss. Benedict-Ratzinger himself received Obama in an unheard of afternoon audience on July 10, 2009, in his apostolic palace, with every sign of favor for the Liberalist/Modernist Obama. Benedict-Ratzinger was caught by press photographers in absolutely giddy expressions in the presence of Obama. The U.S. press at the time headlined the meeting "a setback for conservative Catholics." The new editor-in-chief appointed by Benedict-Ratzinger to overhaul the papal magazine has stated that Obama is not "pro-abortion" but "rather, pro-choice." Now there's a distinction without a difference! [Some information for this Commentary was contributed by LSN.]
---
A Majority of U.S. Newchurchers Now Do Not Condemn "Gay" Marriage
Benedict-Ratzinger's Weak Position on Homosexual Acts Has Led to More Immorality
From: The Fathers
Benedict-Ratzinger's scandalous "softness" on the grave immorality of homosexual advocacy and practices has had its effect upon his Newchurcher followers. His Novus Ordo seminaries have been infested with "gay" practitioners, and he failed to confirm the Catholic Church's traditional teaching that homosexuals must be expelled permanently from any study for the priesthood and that sodomy is one of the Four Sins that Cry to Heaven for Vengeance. Most of the sex crimes committed by his cardinals, bishops, and presbyters have been against children of the same sex. These Novus Ordo clergy have been trained in his Novus Ordo seminaries.
Now the respected Pew Research Center has reported the results of its August 2009 survey, which shows that only 42 per cent of Newchurchers now oppose "gay" marriage. 45 per cent of Newchurchers are in favor, and 12 per cent have no opinion. Newchurch's buy-in to "domestic partnership" is even more immoral: 68 per cent accept this "gay" marriage ruse under another name. In an even more shocking figure, only 39 per cent of Newchurchers now believe that homosexual behavior is immoral. Compare that to 60 per cent of Protestants.
It seems that "traditional" Benedict-Ratzinger has really done a job on Newchurch morals! The Pew Study indicates that Newchurch would be better off, morally speaking, with a Protestant Pope!
---
October 11, 2009 - Maternity of the Blessed Virgin Mary
Double Sunday of the Second Class
Mother Angelica of the EWTN Charismatic Cable Network
Is Officially Recognized by Benedict-Ratzinger for Promoting the Novus Ordo Sect
From: The Fathers
VATICAN II-BUGNINI "LITURGICAL BOOKS OF 1962" WARNING. In contravention of the Traditional Latin Mass, the "Motu" services have dethroned the Blessed Mother by replacing her traditional white feastday today and replacing it with an ordinary green Sunday of Pentecost. Only a mere commemoration of the Blessed Virgin Mary may be made on this day, and that only at Low Masses. So much for the "Motu" Mess and its reverence for the Blessed Mother!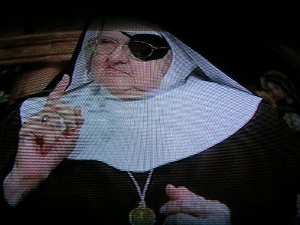 Mother Angelica of EWTN, Always Partially Blinded by the Novus Ordo
Has Received Official Recognition by Benedict-Ratzinger as an Agent for the Novus Ordo Sect
To Which She Has Pandered since the Founding of the EWTN Charismatic Cable Network
The case of Mother Angelica is typical of those who compromise with the New Order. At one time she was a traditional Catholic nun, when she entered a cloistered contemplative order of the Poor Clares in 1944. In 1981, by which time the Catholic Church had been taken over by the Modernists of the New Order, Angelica founded the Eternal Word Television Network on cable television. At first EWTN was patently Novus Ordo, complete with nuns in Novus Ordo habits.
But in August 1993, in connection with a Newchurch youth rally held in Denver, Colorado, presided over by JPII, a female mime performed the Stations of the Cross. Anglica took exception to this and had her nuns change into more traditional habits. Although this change of habit seemed sincere on Angelica's part, it was probably not coincidental that Newchurch was at that time having more public fights with traditional Catholics and had been seeing large numbers of its members walk out, tired of the Novus Ordo Protestant-Masonic-Pagan service.
It was in 1993 that the real hypocrisy of EWTN began. In front of the camera traditional habits and sets were sported, but behind the scenes it was Novus Ordoized Protestant Charismatics who ran the show, like Scott Hahn, who hawked his Protestant books, re-edited to include a thin veneer of the Novus Ordo, to a lucrative new audience of Newchurchers. This out-and-out Modernist behind-the-scenes management of the station was more in keeping with what the U.S. Conference of Catholic [Sic] Bishops wanted, the group to whose Modernism Angelica pandered all those years to get EWTN its "official" recognition as an arm of the Novus Ordo. Otherwise, she would be bounced off cable overnight.
Since Anglica's in 2001, EWTN bears even less resemblance to Catholicism, though it continues to roll out the "smells and bells," together with a few Latin phrases thrown in, which delude some viewers into thinking that the station is "traditional." It isn't. It has even gone so far as to feature some instances of the Great "Motu" Mess Hoax, which uses the Conciliar-Bugnini "revised" Mess of 1962-2008, which it calls "Extraordinary," while the "Ordinary" Mess remains the invalid Novus Ordo service. At the same time it features a cadre of kooky Novus Ordo "Ordinary" presbyters like Mitch Pacwa, who broadcasts the invalid Novus Order service in Hebrew!
Now Benedict-Ratzinger has recognized Angelica as a full-fledged agent of the New Order by awarding her the Medal Pro Ecclesia et Pontifice symbolizing the New Order Church and the New Order pope. It is probably not coincidental that this award was given in the face of books now coming out exposing the deception of EWTN. [Some information for this Commentary was contributed by LSN.]
---
Newchurchers Are Finally Getting Fed Up with Their Bishops' Involvement in Child Rape
Nova Scotian Vandalizes Paedophile Bishop's Residence
From: The Fathers
It has surprised us Fathers that some aggrieved father of a child raped by a Newchurch presbyter has not yet killed one of the criminal bishops who have suborned the crimes. As yet, it seems, the victims' fathers have pandered to the soiled purple robes of the "Most Reverends." It also seems, however, that the period of giving a pass to these criminal bishops, including the Chief Bishop, Benedict-Ratzinger, may be ending.
Raymond Lahey, the Newchurch bishop of Antigonish, Nova Scotia, recently arrested in conjunction with child pornography, has now been revealed to have taken unannounced trips, undoubtedly at Newchurch expense, to Thailand, where tourism for child prostitution is rife. It was apparently for this reason that the bishop's belongings were investigated at Ottawa airport on his return. The investigation continues, and more child pornography and prophylactics were reported in his rectory.
One bold Nova Scotian posted sign on the bishop's residence reading "Paedophile Lives Here." A few months ago a child victim's father told a federal judge in the United States that he had better sentence the child-rapist presbyter to life imprisonment; that if he ever got out of jail, the father would meet him on a dark street and take care of business. Newcardinal Roger "Rogue" Mahony was attacked on a Los Angeles street and beaten to the ground for his role in the child rapes that he suborned in that city by his presbyters. Mahony is now the subject of a U.S. federal grand-jury investigation for crimes that he himself may have committed in conjunction with the presbyteral child rapes. [Some information for this Commentary was contributed by the [Chronicle Herald and Globe and Mail].
---
October 10, 2009 - St. Francis Borgia, Confessor
Semidouble Feast
Novus Ordo Churches Are Emptying and Being Converted to Mosques
Benedict-Ratzinger Couldn't Be Doing a Better Job of Mohammedanizing Newchurch
From: The Fathers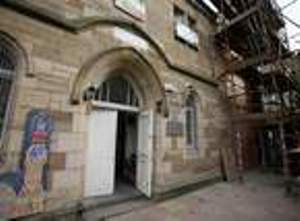 Al Furqan Mosque, Glasgow, Formerly a Church
As Novus Ordo Churches Are Emptying, the Mohammedans Are Converting Them to Mosques
Incompetent Benedict-Ratzinger Is Losing the Novus Ordo "Crusades" to the Infidels
If Benedict-Ratzinger were the Chief Executive Officer of any other organization, he'd be fired. Not only has he mired Newchurch in scandal and corruption, he has essentially sold out the Catholic "mission statement" and is losing adherents right and left.
As Novus Ordo temples, aka churches, are being closed with astonishing rapidity. the Mohammedans are only too happy to scoop them up and make them into mosques. Newchurchers are abandoning their churches, and Mohammedans are expanding theirs. Newchurchers don't much attend the Novus Ordo in vernacular languages, whereas the mosques of the Mohammedans, loving Tradition and worshipping not in a vernacular language, but the Classical Arabic of Mohammed's time, are bursting at the seams. Increasingly, mosques are being created or expanded in what were Catholic premises. Mohammedans also contribute to the mosques, whereas Newchurchers, scandalized by Newchurch's Great Sex & Embezzlement Scandal, have cut down their donations drastically.
For one 14-year-old Mohammedan worshipper, the prospect of more mosques with less crowded prayer sessions was important. His eyes lit up when asked about his Faith: "it means everything to me." How many Newchurch teenagers would say that their Faith means everything to them, with the vulgar Novus Ordo service being offered to them, in vulgar languages and with vulgar music, by presbyters not priests, and on a Novus Ordo dinner table not an altar? [Some information for this Commentary was contributed by the National.]
---
A Reader Asks: "What Are Some Good Catholic Movies that You Recommend?"
From: Gene
Dear Fathers:
What are some good Catholic movies that you recommend?
The Fathers Reply.
If you haven't investigated the Library of Files (FAQs and Traditional Apologetics) department of the TRADITIO Network, you have been missing a rich source of information that answers all of the common questions that people have. The TRADITIO Network is much larger than just the Ask the Fathers department or the Daily Commentaries from the TRADITIO Fathers department. Also, be sure to use the site search engines for answers to many questions. There are ten years of daily Commentaries that have covered almost every subject under the sun. We now have fifteen individual departments on all aspects of traditional Catholicism. If you haven't reviewed them in a while, give them a look. They are being constantly updated.
Information on the topic that you have asked about is there too. For information on this topic, click on FAQ12: "What Films Do You Recommend for Traditional Catholics?" in the Library of Files (FAQs and Traditional Apologetics) department of the TRADITIO Network.
---
October 9, 2009 - St. John Leonard
Double Feast
U.S. Conference of Catholic [Sic] Bishop Prepares to Rewrite the Bible
And Exempt Jews from Baptism in a Pro-Semitic "Oecumenical" New Order
From: The Fathers"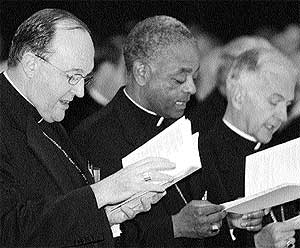 Not Singing from Christ's Hymnbook
Leading U.S. Bishops Are Moving to Dump the Biblical Teaching
That the New Covenant Replaces the Old and that Christ is the Messias for the Jews
The U.S. Conference of Catholic [Sic] Bishops
Is Rewriting the Bible's Great Commandment to Be Pro-Semitic
In yet another rejection of Catholic, even Biblical, doctrine, the U.S. Conference of Catholic [sic] Bishops is moving toward dumping what little remains of Newchurch's evangelization of Jews to Christ. The original version of Reflections on Covenant and Mission, of June 18, 2009, caused "feelings of hurt among members of the Jewish community." Ah, gee. Go tell it to Caiphas! The USCCB's leading bishops are proposing to dump the following sentences:
For example, Reflections on Covenant and Mission proposes interreligious dialogue as a form of evangelization that is "a mutually enriching sharing of gifts devoid of any intention whatsoever to invite the dialogue partner to baptism." Though Christian participation in interreligious dialogue would not normally include an explicit invitation to baptism and entrance into the Church, the Christian dialogue partner is always giving witness to the following of Christ, to which all are implicitly invited.
So, these pseudo-bishops, who are supposed to be consecrated to Our Lord's Great Commission: "Going therefore, teach ye all nations: baptizing them in the name of the Father and of the Son and of the Holy Ghost (Matthew 28:19/DRV), are going to make the Commandment "implicit" instead of "explicit" (Newchurch-talk for dumping the Commandment).
Oops, sorry, good Catholics. We forgot that these pseudo-bishops are no longer consecrated since the Freemason Hannibal Bugnini's invalid Novus Ordo Ordinal of 1968 replaced the traditional Catholic Ordinal. Now Novus Ordo bishops are merely "installed," with no essential difference from the ordination of Novus Ordo presbyters. Among those instigating the denial of Catholic and Biblical doctrine in a new Statement of Principles for Catholic-Jewish Dialogue, dated October 2, 2009, are:
USCCB President Newcardinal Francis George, of Chicago, currently enmeshed in scandal by his knowing appointment of a paedophile-presbyter to several Newparishes, where he raped and assaulted the children
Newcardinal William Keeler, USCCB's point-man to keep the Jewish radicals happy
Wilton Gregory of Atlanta, Chairman of the USCCB Oecumenical and Interreligious Affairs Committee, who was responsible for much of the corruption of the Novus Ordo Protestant-Masonic-Pagan service in the United States as head of the liturgy committee and point-man in the USCCB's cover-up of Newchurch's Great Sex & Embezzlement Scandal
These leading U.S. Newchurch bishops are promoting the false teaching that God has not revoked the Old Covenant. This teaching is found clearly in the New Testament, from the mouth of Christ Himself, and argument directly by St. Paul in his Epistles.
---
A Reader Asks: "Should a Traditional Catholic Do "Adoration" at Novus Ordo Church?"
From: Kathleen
Dear Fathers:
Long before my return to the Traditional Latin Mass, I was encouraged to become a member of a "Eucharistic Adoration Society." Members make a promise to spend an hour a month in prayer in front of the Blessed Sacrament -- usually in a group. Now that I am re-learning the real Catholic Faith, I wonder if this Society may have some Novus Ordo contained within it. If there are traces of Novus Ordo, I should think that I would need to resign my membership.
---
The Fathers Reply.
The web site that you supplied shows that this Society is an operation run by the Novus Ordo. Moreover, the operation is advertised on that page as being associated with the Novus Ordo catechism, which does not even recognize the object of the adoration as being the traditional Sacrament, but more as a Protestant "communion" table item. Therefore, to answer your question, there is not just "some" Novus Ordo contained within it. It is all Novus Ordo! It certainly isn't the Blessed Sacrament. The only thing present in Novus Ordo churches is the invalid Novus Ordo cookie, produced by the invalid Novus Ordo service, performed by an invalid Novus Ordo presbyter. Thus, this Society is adoring a "cookie," which is idolatry.
A good rule of thumb to use about the Novus Ordo is to consider it Protestant. After all, the Novus Ordo is a Protestant sect, with a little Freemasonry and paganism thrown in for good measure. So you should ask yourself: Would I go to a Protestant church and adore the bread on the altar table? Of course not. So, don't do it with the Novus Ordo. It's no different from the Protestant sects.
---
October 8, 2009 - St. Bridget, Widow
Double Feast
Benedict-Ratzinger's Master of Ceremonies Arrested Soliciting by Rome Police
He Escaped at High Speed, Injured Three Officers, and Tried to Kill Them with His Car
From: The Fathers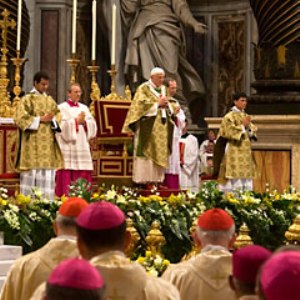 What Kind of a Church is Benedict-Ratzinger Running?
His Master of Ceremonies at St. Peter's Was Caught Soliciting in a Red-light District
When Police Attempted to Arrest Him, He Led Police on a High-speed Chase
That Injured Three Rome Police Officers and Attempted to Kill Them with His Car
Benedict-Ratzinger's Master of Ceremonies at St. Peter's Basilica has been arrested by police. Presbyter Cesare Burgazzi led police on a high-speed car chase leaving three officers injured after he was caught apparently soliciting in a red-light zone. During the twenty minute chase, two police cars crashed,and three police officers were injured.
Police gave chase after Burgazzi was spotted driving slowly in an area of Rome well known for prostitution and transsexual solicitation. When the police flagged him down, Burgazzi floored his Ford Focus and tried to escape at high speed. When he was eventually stopped, he tried to pull rank, saying: "You have no idea who I am. You don't know who you are messing with," and he tried to kill the officers by ramming his car at them.
Presbyter Burgazzi was arrested for resisting arrest and injuring police officers and is currently appearing a Rome court. The pope's man faces 18 months in jail and nearly 100,000 U.S. dollars in damages. [Some information for this Commentary was contributed by the London Daily Mail.]
---
A Reader Asks: "Why Do So Many Traditional Catholics Try to Work within the System?"
That Is Bent on Destroying the Faith?
From: Shannon
Dear Fathers:
We traditional Catholics in the 21st century have a lot to be thankful for. We have so many different ways to help us get firmly grounded in the traditional Faith and to aid millions of lost souls in doing likewise: books, internet, DVDs, CDs, periodicals, newspapers, etc. [For further information, click on FAQ05: What Traditional Catholic Resources Do You Recommend? in the TRADITIO Network's Library of Files (FAQs and Traditional Apologetics).]
Yet we crib and carp: "Why don't the pope and bishops return to Tradition? Why has God allowed this to happen? Is there no end to this apostasy in sight?" Sure, the papacy and the diocesan hierarchies bear a large share of the blame, but that this no excuse for us traditional Catholics to sit tightlipped, waiting for miracles to happen. God has supplied us with the miracle of all the available tools that we need for the Traditional Catholic Movement. Now we had better get to work, remembering the maxim: "Help yourself, and Heaven will help you."
It is understandable why traditional Catholics get angry, despair, and rant and rave, but why can't we go one step further and channel these negative emotions into positive action? What is preventing us from seeing that the New Order in Newvatican and its leaders are anything but Catholic and that we must break off all ties with them? Why do so many of us try to work within the system that is bent on destroying the Faith? Why do too many of us settle for the hoax of a "Motu" Mess, designed by the same Vatican II and Hannibal Bugnini that just seven years later brought us the full blown, invalid Novus Ordo Protestant-Masonic-Pagan service?
Why can't we work outside the New Order and rebuild the Church instead of settling for a few crumbs? The New Order has stolen our Catholic institutions -- schools, colleges, universities, publishing houses, ecclesiastical supply houses -- and turned them to serve the New Order. Yet, Newchurch has an Achilles' heel. It depends on financial resources to survive, primarily the Sunday collections from laypeople. The embezzlement of parishioners' funds to finance the luxurious lifestyles of the corrupt bishops and presbyters and to pay off the victims of their sex crimes are a lesson for us to learn from.
Those traditional Catholics who participate in Newchurch parishes (as at the "Motu" Mess) and put their money into the collection plate to support the Novus Ordo and its clergy's sex crimes form the bread and butter of Newchurch. By ceasing contributions to Newchurch, they would accelerate the destruction of the New Order that they claim to hate. If they continue to fund the New Order, they are just so many hypocrites.
The Fathers Reply.
Well said. The feastday of St. Francis of Assisi occurred just a few days ago. In St. Francis' time the Church was plagued with vice and corruption among the clergy, just as it is in our own day. From the crucifix in the little Church of San Damiano in Assisi, St. Francis seemed to hear the image of the Crucified Savior say to him: "Francis, repair my falling house." St. Francis took these words literally, thinking that the Lord wished him to repair San Damiano. Little did he realize then that Our Lord's call not to rebuild the little church, but the falling Roman Catholic Church itself, to rid it of its corruption, and to return it to its traditional Catholic values. The Franciscan revolution certainly did that, together with the revolution of St. Dominic, which returned traditional Catholic values to the religious orders.
The Catholic maxim is: Ecclesia semper reformanda. But that does not mean that the reformation is to "update" the Sacred Liturgy or to turn the Catholic and Apostolic Church into some New Order. No, it means that the souls of Catholics, and particularly the clergy, are to be returned to the traditional Catholic values from which they periodically fall.
---
October 7, 2009 - The Most Holy Rosary
Double Feast of the Second Class
The "Motu" Mess Is Already Sinking in Newchurch
The Latest Thing Is the "Disco" Mess
From: The Fathers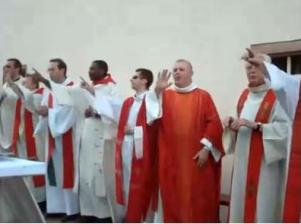 Benedict-Ratzinger-approved Ordinary Rite in the "Disco" Form
While the Great "Motu" Mess Hoax Sinks
The Ordinary Rite Maintains Its Grip on Newchurch
With the Full Blessing of Benedict-Ratzinger
The Conciliar-Bugnini "Motu" Mess is sinking, but Benedict-Ratzinger's Ordinary Rite is continuing in full force in Newchurch. Here we have the Pentecost Mess at Plobsheim, France, "concelebrated" on May 31, 2009, by a mob of presbyters in the "disco" style, with hands waving and bodies undulating before the Novus Ordo dinner table. [Some information for this Commentary was contributed by the London Telegraph.]
---
Is Faustina Kowalska to Become the Next Novus Ordo "Doctor"?
The "Divine Mercy" Cult Associated with Her Was Condemned even by Conciliar Popes
From: The Fathers
Rumor has it that the Newchurch may try to make Faustina Kowalska, who is associated with the "Divine Mercy" cult, a Novus Ordo "doctor." Newchurch already "conanized" her in 2000. The Novus Ordo sect established a new holiday, Divine Mercy Sunday, to propagandize the cult. The "Feast of Divine Mercy" is strictly Novus Ordo and has no basis in the traditional liturgy.
So, what is the truth about Kowalska and the Novus Ordo "Divine Mercy" cult? A local devotion under this title, which is associated with Kowalska was approved by the Ordinary of Vilnius, Poland, in 1936 and from there spread, especially after World War II in the United States. It appears that Kowalska could not write, except for a few lines phonetically.
Most of her "diary" was concocted by her sisters after her death. Because of the incongruities of the dairy (different handwriting, different use of terms), the devotion was suppressed, and the book of her diary was condemned and placed on the Index Librorum Prohibitorum [Index of Forbidden Books] by none other than the pope whom Newchurch calls "Blessed" and whom many traditional Catholics consider to be the first of the Modernist Conciliar popes, John XXIII.
In early 1978 a cardinal, who, curiously also just happened to be from Poland, petitioned Newchurch to remove the popes' suppression of the devotion, which was being practiced without sanction in the cardinal's own diocese. Newvatican replied in the negative to that cardinal, confirming the suppression of the devotion. That Polish cardinal was none other than Karol Woytyla, who later that year became known as John Paul II. Later JPII ignored the condemnations of the cult by his predecessors, including the Conciliar popes and rammed through her "conanization" in the jubilee year of 2000. So much for Tradition!
By this time the original devotional prayer that Kowalska composed in 1935 had been illegally replaced by an oecumenized version framed in New Order terminology -- with substantially changed prayers to promote non-Catholic beliefs and the heresy of universal salvation. Among other things, it omitted Kowalska's quotation of Our Lord's words condemning "pagans, heretics, and schismatics." After JPII's election in October 1978, the modernized version, twice condemned, was now entered onto the Novus Ordo liturgical calendar on the Octave Day of Easter.
The Octave Day of a feast, particularly of the greatest feast, Easter, is a significant day in itself. The Divine Mercy cult is thus in contravention of the focus of the Catholic liturgy for that day, which is on the Resurrection of Our Lord and faith in His Divinity. As Dom Gueranger, the noted Benedictine liturgical scholar, commented in his fifteen-volume Liturgical Year: "Such is the solemnity of this Sunday that not only is it of greater double rite, but no feast, however great, can ever be kept upon it." That is the Roman Catholic attitude, which the New Order spurned.
Not surprisingly, the "Divine Mercy" cult in post-Conciliar times is increasing in its association with another cult, that is, the cult of "Catholic" Charismaticism. This Charismatic Movement is far from true Catholicism, but is a derivative of the Protestant heresy, based on the erroneous notion that emotional experience always accompanies the conferral of grace, whereas the Catholic doctrine is that the only sensible indication of the conferral of grace is the Sacrament itself. Perhaps the cult's association with New Age ideas is why it has become lionized in recent years, whereas popes up to JPII have condemned it.
For further information, click on FAQ11: "How Do You Explain These Traditional Catholic Practices" in the TRADITIO Network's Library of Files (FAQs and Traditional Apologetics) department, in the section "Divine Mercy."
---
October 6, 2009 - St. Bruno, Confessor
Simple Feast
SSPX's Bernie Fellay Caught Skulking around Newrome
Reports Grow of an Internal Schism within the SSPX
From: The Fathers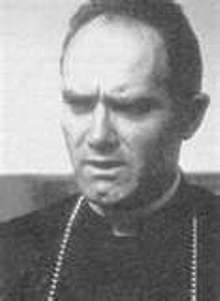 A Beleagurered Bernie Fellay, Superior General of the SSPX
Reports Continue that an Internal Schism Is Growing within the SSPX
Fellay Has Been Continuing to Pander to Newrome
While a Majority of His SSPX Members Are Said to Reject the Sellout
He Is Reported to Be Replacing SSPX Pastors Who Oppose Him with Those Who March to His Orders
The Janus-faced Bernie Fellay, Superior General of the Society of St. Pius X, was caught paying another visit to the bowels of Newchurch in Newrome in late September 2009. For the half of the membership of the SSPX that wants nothing to do with the New Order, Fellay always says that he has nothing to do with the New Order. Yet the man is now so accustomed to telling falsehoods in furtherance of his sellout to the Novus Ordo that this wouldn't be the first time that he has been caught in mendacity.
The TRADITIO Network has been receiving reports from around the world that the SSPX is in a growing internal schism. Half of SSPX membership looks at the Novus Ordo sect and its leader, Benedict-Ratzinger, as a Modernist plague. That was the opinion of the SSPX's Founder, Archbishop Marcel Lefebvre, who knew the man intimately from when he was the business-suited "Fr." Ratzinger at Vatican II (1962-1965). The other half of the SSPX membership, in which Fellay resides, will do anything for recognition from the Modernist Newchurch and its leader, who have sold out the Roman Catholic Faith and replaced it with the Protestant-Masonic-Pagan Novus Ordo sect.
It appears that within the SSPX, the Fellayites in a growing minority. Fellay's dictatorial grasp over the SSPX has become shakier and shakier since his sellout program has become more well known among his membership. In France, an Anti-Fellay Movement has arisen, and former French SSPX priests have celebrated public Masses invoking the help of God against Fellay's sellout strategems. In the United States, more and more SSPXers are leaving, fed up with Fellay's Novus Ordo shenanigans. It has been reported that Fellay, in a desperate maneuver to hold onto his power, is quietly replacing American SSPX pastors with French/Swiss pastors and Neocon Novus Ordo presbyters who are more loyal to him.
---
Feature Article: Novus Ordo Annulments: "Catholic Divorce"
From: Patricius Anthony, Traditional Catholic Author
I draw your readers' attention to my latest exclusive piece for the TRADITIO Network, in which I treat one of the most reprehensible features of Newchurch: its corruption of the Sacrament of Matrimony through its issuance of "annulments" for just about any flimsy excuse. The Newchurch of the New Order has, in effect created an Unsacrament of "Catholic divorce" completely contrary to the specific Commandment of Christ in the Scriptures. This corruption was seen in the recent Newchurch "white" funeral for the bigamist U.S. Senator Ted Kennedy. For further information, click on Novus Ordo Annulments: "Catholic Divorce" in the TRADITIO Network's Special Features department.
---
October 5, 2009 - Sts. Placidus & Companions, Martyrs
Simple Feast
A Reader Reports: "Motu" Mess Uses Invalid Novus Ordo Cookies
Ciborium Contains Not Hosts, But Cookies from the Novus Ordo Service
From: Nicholas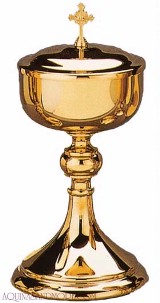 Is It or Isn't It? What Is Really in the Ciborium at "Motu" Messes?
Usually They Are Leftover Cookies from the Invalid Novus Ordo Service
"Motu" Presbyters Deliberately Use Invalid Cookies
So that Conservative Newchurchers Are Forced into the Novus Ordo
Dear Fathers:
I recently attended what had been announced as a "Tridentine Latin Mass" in a city far from my home town. When I got there, I found that the altar table had been pulled forward into the center for the "Tridentine Latin Mass." When the time came for Communion, the presbyter walked behind the altar table and took a ciborium from inside the tabernacle and gave "communion" to the communicants from the ciborium. The hosts had been "reserved" from earlier Novus Ordo services. Is it usual to use reserved "hosts" at a "Tridentine Latin Mass"? I was mystified as to why the presbyter did not distribute the "hosts" from his own "Tridentine Latin Mass."
The Fathers Reply.
First off, the service that you are describing is not the Traditional Latin Mass, but the Conciliar-Bugnini Mess of 1962+, sometimes known as the "Motu" Mess. It has many problems, one of which you have described, the use of cookies consecrated at a previous invalid Novus Ordo services at a subsequent "Motu" Mess. This is a typical ploy at these "Motu" Messes to force conservative Newchurchers to munch invalid Novus Ordo cookies. It is just another reason to avoid like the plague the "Motu" Mess of 1962+. For other characteristics of these "Pseudo-Traditional Messes," click on the TRADITIO Network's Official Traditional Catholic Directory department.
By the way, "Tridentine" is an incorrect term. For further information, click on FAQ06: "What Do These Traditional Terms Mean?" in the TRADITIO Network's Library of Files (FAQs and Traditional Apologetics) department.
---
A Reader Asks: "Can Wishing It So Make an Invalid Novus Ordo Service a Valid Mass?"
From: Tom
Dear Fathers:
I have argued with several Newchurchers who contend that even if the presbyters did not confect the Eucharist at the invalid Novus Ordo service, by the principle of Eccesia supplex, the "consecration" takes place "as far as the recipient is concerned," with all the graces, etc. I have responded that if that were true, all sects calling themselves Christians would automatically have the True Eucharist. And all Christian ministers would automatically be priests because of the same principle. This is all, of course, completely contrary to the teaching of the Church. It is absurd!
The Fathers Reply.
First of all, these Newchurchers didn't even get the theological term right! It is not Ecclesia supplex, which means "the kneeling Church." The term is Ecclesia supplet iurisdictionem, the Church supplies jurisdiction. Nor can "wishing" a Sacrament to be valid make that Sacrament valid. Can wishing make an orange into an apple? Of course not. Jurisdiction is an ecclesiastical matter, not a Sacramental matter. The Church cannot make valid what is invalid.
What those Newchurchers are purveying is pure Modernism. It smacks of the condemned philosophy of Subjectivism, which is associated with Protestantism and is directly opposed to the Realism of Catholic theology, as most authoritatively presented by St. Thomas Aquinas. For further information, click on FAQ10: "How Do You Explain These Traditional Catholic Beliefs" in the TRADITIO Network's Library of Files (FAQs and Traditional Apologetics) department, in the section "Phenomenology."
---
October 4, 2009 - St. Francis of Assisi, Confessor
Semidouble Sunday
Bishop Imprisoned in Newchurch's Great Sex & Embezzlement Scandal
Bishop Lahey Joins Two Dozen Other U.S. and Canadian Bishops Charged
From: The Fathers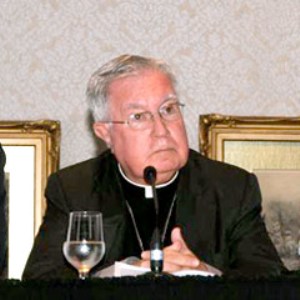 A Glum Raymond Lahey, Newchurch Bishop of Antigonish, Nova Scotia
Imprisoned on Charges of Possessing and Importing Child Pornography
Lahey Had Resigned Just Days Before, Lying to His Diocese
That He Was Leaving for "Personal Renewal"
Raymond Lahey, the Newchurch bishop of Newfoundland, Canada, from 1986 to 2003, and of Antigonish, Nova Scotia, from 2003, has been charged with possessing and importing child pornography. On September 10, 2009, Lahey had paid a $15,000,000 Canadian-dollar settlement to child victims of sex crimes in his diocese -- with more to come. Lahey joins over two dozen bishops in the United States and Canada who have been charged or implicated in sex crimes.
Ironically, as it always seems with these Newchurch sex criminals, Lahey had completely bamboozled his diocese. He was said to have been held "in high esteem as a theologian and liturgist." He lied to his diocese, claiming that he was resigning "to take some much-needed time for personal renewal." The sex-crime charges came to light just days later!
Lahey went into hiding until he surrendered himself and was jailed. A TV reporter repeatedly asked Lahey, "What do you have to say to your parishioners?" Lahey was mute as a stone. [Some information for this Commentary was contributed by the Toronto Sun and the Chronicle Herald.]
---
An SSPXer Writes: "I Can Confirm that the SSPX Is a Mixed Bag"
From: Zak
Dear Fathers:
As a man who reluctantly goes to an SSPX site because there is nothing else in this country, I can confirm that the SSPX is a mixed bag. We are lucky here -- so far -- not to have any presbyters from Newchurch, but there are practices that reveal the SSPX's Modernism: "readings" in vernacular, use of Vatican II-Bugnini rubrics, "Dialogue" Masses, and other aberrations.
We have experienced people here who have studied Latin and are able to pray the Divine Office, but they are not allowed to serve Mass, because the laywomen in charge reward social and economical status more than knowledge of the Faith and the Sacred Language of the Church. So, the SSPX is a mixed bag, and one must be always on guard against major breaches of the traditional Faith.
---
October 3, 2009 - St. Teresa of the Child Jesus, Virgin
Double Feast
Greek Orthodox Monks Would Go to Jail Rather than Accept Newchurch
They Reject the Greek Orthodox "Oecumenical" Patriarch's Overtures to the Novus Ordo
From: The Fathers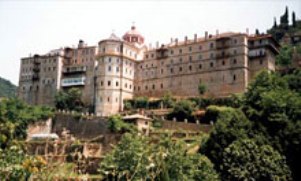 The Historic Mount Athos, Where Eastern Orthodox Monks Reject the "Oecumenical" Patriarch
They Call Bartholomew I a "Schismatic" for His Efforts to Sidle up to the Novus Ordo Sect
Traditional Orthodox Members Consider Newchurch unCatholic and Unapostolic
And Refuse to Have Anything to Do With It
As Vatican II's False "Oecumenism" Has Fallen on Hard Times
A Greek court has convicted an Eastern Orthodox abbot and thirteen of his monks for refusing to leave their 1000-year-old monastery on historic Mount Athos at the order of the "Oecumenical" Patriarch, Bartholomew I. The abbot and his monks were given one-year sentences. The occupants of Esphigmenou Monastery are in a bitter fight against the Greek Orthodox "Oecumenical" Patriarch, who has made overtures to the Novus Ordo sect and its head, Benedict-Ratzinger. The abbot and his monks call Bartholomew I a "schismatic" for his sycophancy to what they call the unCatholic and unApostolic Novus Ordo. [Some information for this Commentary was contributed by the Associated Press.]
---
A Reader Asks: "Is There Such a Thing as 'Conditional Communion' from the Novus Ordo?"
From: James
Dear Fathers:
Is there such a thing as "conditional Communion" from the Novus Ordo? You TRADITIO Fathers have been very clear in your arguments from Tradition, dogmatic councils, and pre-Conciliar popes that the Novus Ordo service is clearly invalid and cannot effect the Sacrament. But there are others that want to cut the Novus Ordo some slack. They claim that "sometimes" the Novus Ordo is valid, but never know when that "sometimes" is. Also, they seem to be willing to accept unordained "presbyters" as able to effect the Sacrament. They even claim that one can receive Novus Ordo "communion" and adore the Novus Ordo cookie "conditionally." Can there be any basis to this apparently Novus Ordo-invented notion in traditional Sacramental theology?
The Fathers Reply.
No, there is no basis to this absurd statement in traditional Sacramental theology. This sounds just like the false "armchair theology" that one hears from those mindless lay "blogs," which one should avoid like the plague.
Obviously, whoever is talking about "conditional" Communion is confusing a basic point of Sacramental theology. A minister of a Sacrament is the one that chooses to confer that Sacrament conditionally, only in certain very specific kinds of cases. For instance, the minister may confer the Sacrament of Extreme Unction on a person who has died within the last short period of time because it is not known exactly when the exact time of death, the articulum mortis, occurs. Such a case is entirely different from the Sacrament of the Holy Eucharist. The minister does not choose whether or not to effect it. Either the Sacrament is valid or it isn't. It would be absurd for people not to know whether a Sacrament is valid or not, to worship a cookie "conditionally."
People know -- whether they want to admit it or not -- that the Novus Ordo cookie is invalid. The dogmatic Councils have made it clear that it is invalid. The pre-Conciliar popes have made it clear that it is invalid. Traditional Catholic Sacramental theology has made it clear that it is invalid. Whether in form, matter, intent, or minister -- or any or all of these -- it is invalid. To pretend that a Protestant-Masonic-Pagan service presided over by a Novus Ordo "presbyter" is absurd. For further information, click on the Novus Ordo Service Photo Gallery department of the TRADITIO Network.
---
October 2, 2009 - Holy Guardian Angels
Double Major Feast
Benedict-Ratzinger Invites Punk Rocker to a Formal Papal Audience
Representative for "Culture" Bono Writes Blasphemous, Irreligious Lyrics
From: The Fathers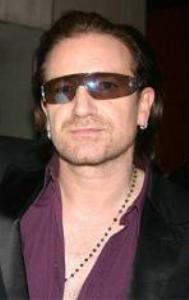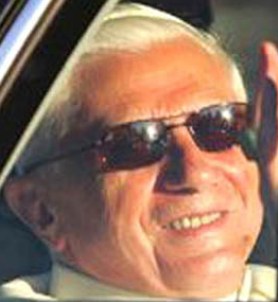 Left: Bono in His Designer Sunglasses
Right: Benedict-Ratzinger Aping the Punk Rocker
Benedict-Ratzinger Has Invited Bono to a Formal Papal Audience
As a Representative of "Culture"
The Irish Punk Rocker Is Known for His Blasphemous, Irreligious Lyrics
The U2 punk rocker who goes by the name of "Bono" will be formally received by Benedict-Ratzinger in the Sistine Chapel in November 2009 as one of several representatives of Newchurch-defined "culture." Benedict-Ratzinger, like his predecessor, JPII, has associated himself with punk rock music. He met with the rocker in 2005, on which occasion Bono gave him the designer sunglasses that he sports.
Benedict-Ratzinger has called the Irish rocker "the best front man the Roman Catholic Church ever had." Certainly not the Roman Catholic Church, but Benedict-Ratzinger's New Order sect! Bono is known for his blasphemous, irreligious lyrics. [Some information for this Commentary was contributed by Irish Central.]
---
Irish and Irish Americans Are Abandoning Newchurch in Record Numbers
Latest Survey Shows Newchurch's Great Sex & Embezzlement Scandal Taking a High Toll
From: The Fathers
A survey by Trinity College shows that 34,000,000 Americans, or 15 per cent of the population, say that they have no religion. Even more significant is that one-third of those, about 11,000,000 are Irish Americans, who are by far the highest number of people who are losing their religion every year in America.
The reason for the abandonment is said to be Newchurch's Great Sex & Embezzlement Scandal, which has disproportionately affected Irish-American Newchurchers, and most of the sex criminals have been Irish presbyters. The Boston archdiocese, a hub of Irish Newchurchers in America, has been ripped apart by deep scandals.In Ireland too, hundreds of thousands of Newchurch have abandoned Newchurch, and vocations have plummeted when it was revealed that presbyters were sexually assaulting handicapped children in Newchurch institutions.
Irish Catholics before Vatican II (1962-1965) had a deep, almost mystical attachment to the Catholic Church and followed her rules more devoutly than other groups. Then they were faced with the destruction of the Roman Catholic religion perpetrated by the Council and its implementers, such as Hannibal Bugnini, Paul VI, JPII, and now Benedict-Ratzinger, who, far from being traditional, is an outspoken advocate for the New Order.
It is this destruction of the traditional Faith -- its Traditional Latin Mass, its doctrine, and its morality--, coupled with the outright moral corruption of Newchurch cardinals, bishops, and presbyters up to the Conciliar popes themselves that has led to a wholesale rejection and abandonment of Newchurch. [Some information for this Commentary was contributed by Irish Central.]
---
October 1, 2009 - St. Remigius, Bishop & Confessor
Simple Feast
Newchurch Hierarchs Call Each Other Liars over the SSPX/Williamson Scandal
Fired Newcardinal Hoyos Tries to Defend His Incompetence by Attacking Other Newcardinals
From: The Fathers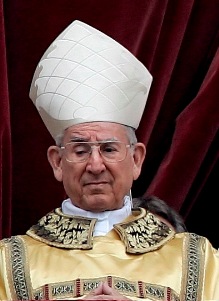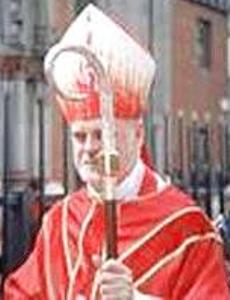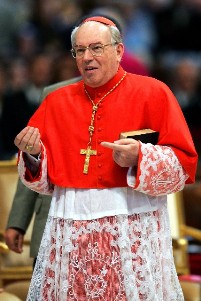 Left: Newcardinal Dario Hoyos, Fired President of the Ecclesia Dei Commission
Center: Stockholm's Newcardinal Anders Arborelius
Right: Newcardinal Giovanni Battista Re, Prefect of the Congregation of Bishops
The Newchurch Prelates Are Engaging in a Very Public Cat Fight
Calling Each Other Liars over the SSPX/Williamson Scandal
Arborelius Claims that Benedict-Ratzinger Knew of Williamson's "Holocaust-denial"
Hoyos, Who Was Fired by Newpope over the Scandal, Claims that Benedict-Ratzinger Didn't Know
Newchurch hierarchs are giving the world an entertaining spectacle by engaging in a bitter cat-fight with claws bared against each other. The Newcardinal of Stockholm, Anders Arborelius, stated on Swedish Public Television September 23, 2009, that he had forwarded information about the SSPX's senior bishop Richard Williamson's "holocaust-denial" to Benedict-Ratzinger via the latter's personal nuncio in November 2008. Yet Benedict-Ratzinger proceeded to "unexcommunicate" the four SSPX bishops anyway (Fellay, Galaretta, Tissier, and Williamson) on January 24, 2009, three days after the Swedish Public Television had broadcasted an interview with Williamson, in which he confirmed his "holocaust-denial."
Newchurch certainly didn't want Benedict-Ratzinger to take the fall for destroying Vatican II's false "oecumenism," so he fired Newcardinal Dario Hoyos, the President of his Ecclesia Dei Commission, who had been pushing the sellout by the Society of Pius X (SSPX) to the New Order, and abolished his commission. But now, in an interview with a Munich newspaper, Hoyos publicly called Newcardinal Arborelius a liar and a "slanderer." Hoyos asserts: "None of us knew about Bishop Williamson's statements. None of us!"
Hoyos advanced that laughable claim, even though journalists had taken note of the fact that Williamson had stated his view on the "holocaust" publicly on numerous occasions and was even expelled from Canada for espousing them. Moreover, Hoyos claims: "No one had the duty to know it!" So not only does Hoyos appear to prevaricating on the matter, but Newpope's point-man has painted himself as an incompetent! In addition to calling Mewcardinal Arborelius a "slanderer," he went on also to blame Newcardinal Giovanni Battista Re, the head of Newchurch's Congregation of Bishops. [Some information for this Commentary was contributed by Reuters.]
Do any prelates in Newvatican take Catholic responsibility for their actions any more? Hoyos and his Ecclesia Dei Commission are now being exposed for the joke that they have always been. Far from having any real sympathy for the Traditional Latin Mass, it is clear that Hoyos and his cohorts have merely been playing ecclesiastical one-upmanship games, engaging in the same lies in which all other prelates of the Novus Ordo sect routinely engage to foist off their Modernist programme onto Newchurchers.
---
A Reader Asks: "Is My SSPX Chapel Engaging in a Modernistic Musical Practice?"
From: John
Dear Fathers:
Congratulations on your fifteen years on the World Wide Web, and may you continue telling us of the True Faith. It's great to know you're out there to give us the real scoop on the Traditional Catholic Movement.
I read your Commentary on what Pope St. Pius X really meant by "active participation" in the Mass. My chapel has us congregants singing the responses at a Missa Cantata on Sundays. Is this a Modernist practice? This practice is being forced by the Swiss Superior General Bernie Fellay and really seems to be more "Frencification" in the United States by the SSPX's French and Swiss priest-presbyters, who are taking over in the U.S. I heard about this new direction by a European SSPX priest-presbyter recently.
The Fathers Reply.
Yes, that is a Modernism. At a Missa Cantata, it is traditionally the Gregorian schola or polyphonic choir that is to sing the music. The SSPX is, as you know, not a fully traditional organization. It adheres to the Conciliar-Bugnini Mess of 1962+ with many corruptions like the one that you describe.
---

Return to Daily Commentaries from the TRADITIO Fathers.